You're getting married, and you've decided to wear a red bridal lehenga on your big day because when you walk down the aisle on your wedding day, all eyes will be on you. And it's every girl's dream to flaunt her red bridal lehenga on her wedding day.
Red is the quintessential colour of love and joy, and what better way to celebrate your marriage than by donning a stunning red bridal lehenga? Not only will you look beautiful in it, but you'll also feel confident and empowered. As the wedding day comes near, it becomes your duty to choose a red lehenga. But it becomes a headache when you are not able to do so. Don't worry. We have made a great guide list for you to solve all your doubts regarding the types and designs of wedding lehenga. And help you to choose a perfect red bridal lehenga.
But before that, here are some tips you need to remember while buying red lehenga. Tips on how to make sure your red bridal lehenga stands out against the sea of traditional lehengas:
Choose a bright, bold red instead of a duller shade
Accessorize with metallic details like gold or silver to add extra sparkle
Team your lehenga with fabulously festive jewelry like chandelier earrings and a statement necklace.
Different Types of Red Wedding Lehenga
A red wedding lehenga is a perfect way to make a statement and feel like a queen on your wedding day. Red Bridal Lehengas come in all shapes and sizes, so choosing the right one is important. There are three main types of red wedding lehenga: the designer lehenga, the replica lehenga, and the custom-made lehenga.
The designer lehenga is the most expensive but also the most impressive. It's usually made of high-quality materials like silk, velvet, or satin and is adorned with exquisite embroidery and embellishments. If you're looking for something truly special, a designer red bridal lehenga is the way to go.
The replica lehenga is a less expensive option that still looks fabulous. It's made of similar materials as the designer lehenga but may have fewer embellishments. It's a great option if you want the look of a designer lehenga without spending a fortune.
The custom-made lehenga is perfect if you want a unique lehenga. You can choose the style, colour, and fabric and tailor it to fit your body perfectly. This option is more expensive than the other two, but it's worth it if you want something that no one else will have.
Well, Red bridal lehenga is not only limited to these 3 types. Instead, it is varied by different designs that enhance its beauty. Let me brief you about some of the designs that will be around for a while.
Red Color Floral Designed Lehenga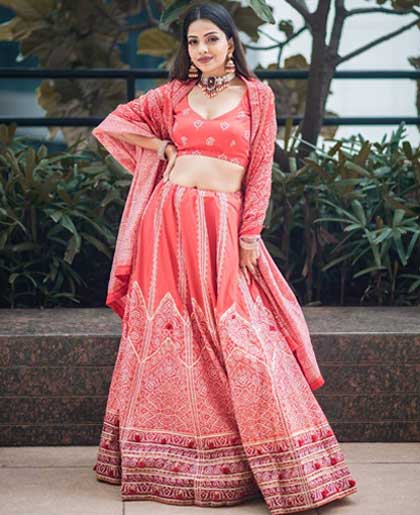 What could be more beautiful than a bride flaunting a designer red bridal lehenga on her wedding day? A red lehenga is perfect for a bride who wants to make a bold statement and stand out from the crowd. The vibrant colour is eye-catching and festive, perfect for any season wedding. The lehenga choli is made of luxurious silk fabric and is adorned with an intricate floral print. The Anarkali cut is timeless and elegant, while the gotta patti detail adds a touch of glamour and sophistication. Complete the look with matching accessories and dazzling jewellery, and you're sure to look like a million bucks!
Thread Embroidery Red Lehenga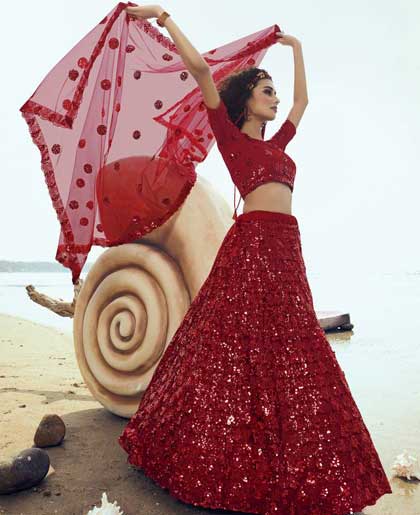 If you're looking for an elegant, one-of-a-kind red bridal lehenga, look no further than the RED THREAD EMBROIDERY NET SEMI-STITCHED LEHENGA from Mirraw. Made with luxurious net fabric and expert embroidery work, this royal red colour is perfect for the wedding day! This A-line flared lehenga has intricate edge detailing with threadwork all over, making it a showstopper for all occasions. Perfectly designed to make you look like a royal queen on the big day. This lehenga is sure to make your dreams come true!
Red Bridal Lehenga with Zari Work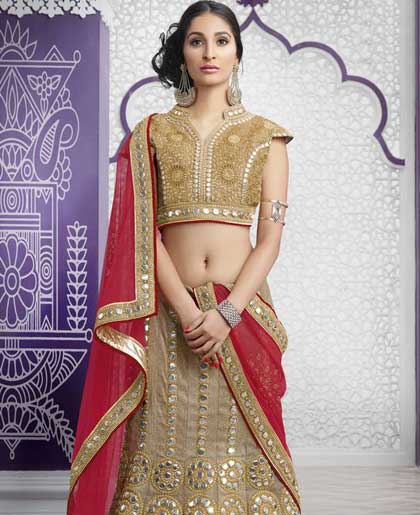 The Mahotsav Beige Gota Bridal Wear Lehenga Choli from Mirraw is perfect for your special day. It features hand embroidery on the soft net and silk fabric. The blouse has a deep V-neck neckline with straight sleeves and an alluring front zari work. The circular lehenga has shimmering golden gota detailing, giving it an intricate and exquisite look. The dupatta completes the ensemble with its scattered gota work. Make a statement in this stunning red bridal lehenga at your wedding!
Mesmerizing Red Badla Worked Lehenga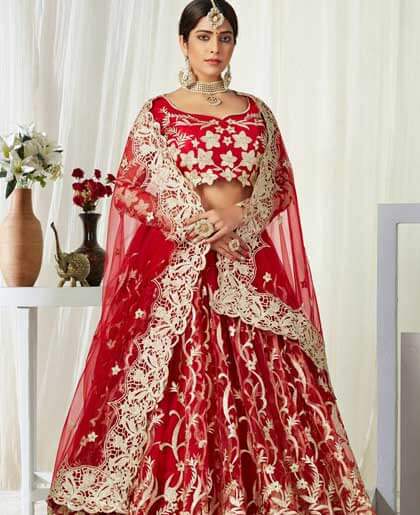 What could be more dazzling than a bright red lehenga with intricate badla work? The double-layer lehenga with luxurious net fabric will flow gracefully as you walk down the aisle, and the sequins in the blouse will shimmer in the light. The silk satin fabric on the inner layer of the lehenga will make you feel like a goddess in this ensemble!
Red Soft Net Lehenga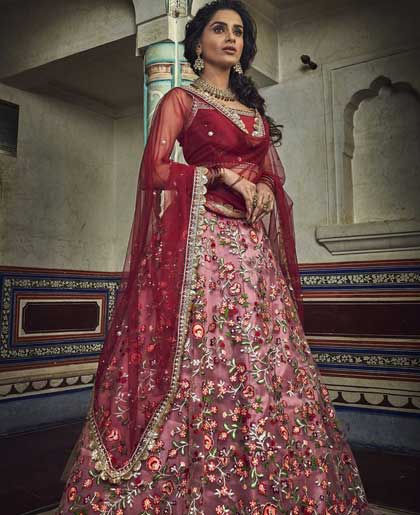 Don this beautiful Red Soft Net Lehenga from Mirraw to look more glamorous. This lehenga is made of soft net fabric and features stunning crystal work and a stylish border. The zari and thread embellishments give it an extra touch of elegance. While the satin lining fabric on this A-line lehenga ensures you'll stay comfortable all day long.
Red Cord and Sequins Embroidered Silk Lehenga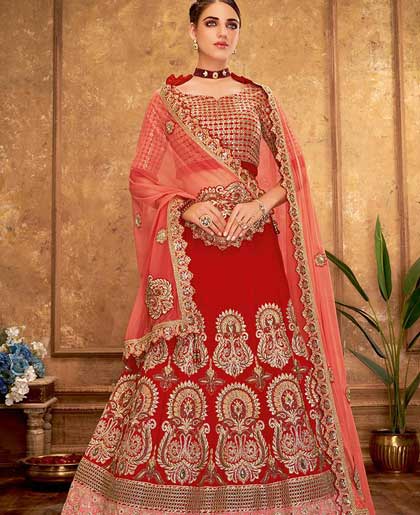 This Red cord and sequin lehenga is made of luxurious silk fabric. And is adorned with intricate zari, cord, and sequin embroidery in red and golden hues. The floral pattern on the lehenga is simply beautiful and will make you feel like a princess on your big day.
Semi-Stitched A-Line Silk Lehenga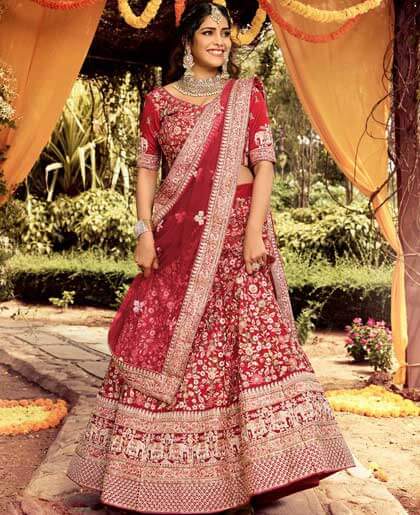 If you're looking for a classic and elegant wedding ensemble, look no further! This semi-stitched A Line Silk Lehenga features Zarkan, Gota, Zari, and Resham embellishments for a vintage look that will make you feel like a royal queen. The lehenga is perfect for any special occasion and has an embroidered pallu for added charm. And the most interesting thing about this A-line Silk lehenga is that it is a perfect match for your groom's sherwani.
Desiring Carmine Red Lehenga Choli for Bride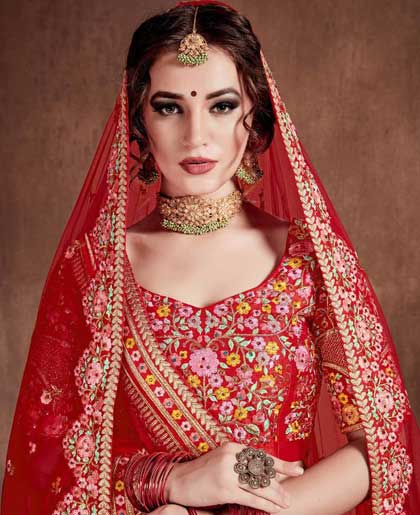 Do you need clarification about what bridal lehenga to purchase for your wedding? If yes, then Carmine Red Lehenga Choli is the answer. It adds a sense of feminine beauty to the bride. It is made of Mulberry silk fabric with two Nylon net dupattas and has heavy thread embroidered work on the border.
This stunning and hypnotic red-coloured carmine bridal lehenga has been specially designed to wear at weddings, functions, engagements, ceremonies and special occasions like Diwali parties. The blend of rich fabrics and a traditional look with thread, dori, zari, sequins embroidery and diamond work embellishments makes it an iconic pick for the bride-to-be. So get ready to shine like a star wearing this fabulous carmine red bridal lehenga on your wedding day!
Red Embroidered Net Lehenga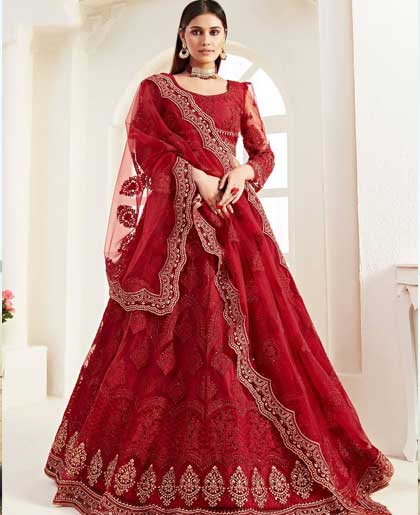 If you're looking for something special, you can go for the Red Embroidered Net Lehenga. This timeless classic net fabric, A-line bridal lehenga with designer pallu features dori embroidery work to make every inch of it stand out. That's not all: the ensemble also has a silk lining fabric to give it that extra edge! This could be your dream red bridal lehenga. Check it out before it gets stock out. You won't regret it!
Red Velvet Stone And Dori Work Lehenga Choli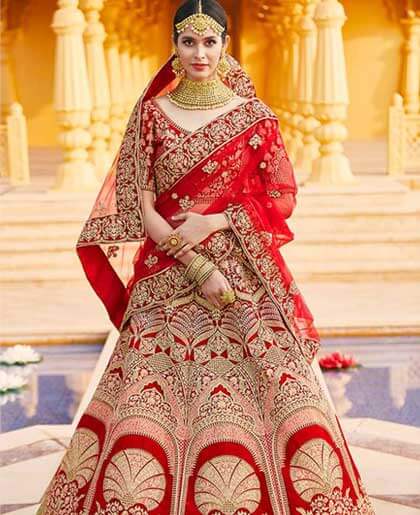 This exquisite red velvet stone and dori work lehenga choli from Mirraw will make you look glamorous on your special day! The rich velvet fabric is detailed with ornate circular lehenga and stone, dori and aari work. The boat neck blouse with plain pallu gives it a good traditional look, making it timeless and beautiful. Plus, the short-sleeve design ensures that you will be both fashionable and comfortable in this ensemble. This bridal wear will make you stand out for occasions or traditional festivals.
Conclusion
Wearing a red bridal lehenga on the wedding day is every girl's dream. And at Mirraw, we make it a reality. We have a stunning selection of red bridal lehengas that will make you look like a goddess on your big day. Our lehengas are made with high-quality materials and exquisite craftsmanship, so you can be sure that you'll look amazing.
With a wide range of stunning red bridal lehengas, we're sure you'll find the perfect one. Not only are our lehengas gorgeous, but they're also available at a fraction of the price of other designer lehengas. So what are you waiting for? Shop now and prepare to look like a royal bride on your big day!