It is rare for stores of offer heavy discounts, in most cases, they usually increase the the original rate of the product subtly before offering the discounts. That's not the case at Mirraw. They're offering the greatest quality products at the best possible prices with the biggest discount percentages.
Mirraw aims to be the online destination for the fashionable. They have a wide range with everything from beautiful designer sarees to gorgeous designer suits. On the 22, 23 and 24 of June, they have organized a mega sale that offers discounts of up to 90%. Their section of the discounted products has some of the best pieces available in their online store. They're certainly not compromising on quality to offer discounts to their customers.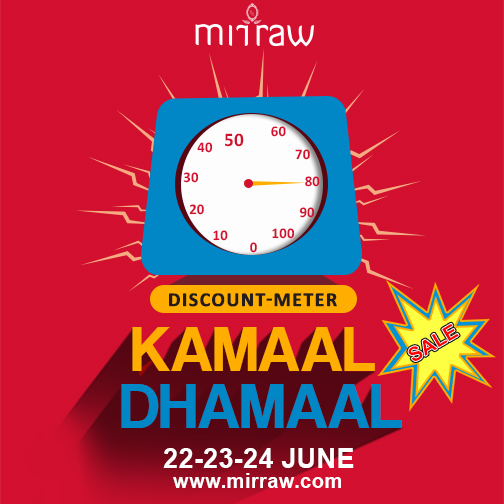 Sarees Galore
Saree is the go-to garment for all Indian women, especially when there's a wedding or other such formal events to attend. They have an eclectic collection of beautiful sarees in every possible colour, design and fabric available to the customers. Since sarees exemplify grace, elegance and beauty, they're a great purchase to make.
All most customers have to do is log onto their website on the 22nd, 23rd or 24th of June. It would be hard to be disappointed by their collection. They have taken care to ensure all their products are of high quality. The gorgeous sarees available probably cost a fraction of what they're really worth. Whether the customer requirement is a printed saree or a plain one, an embroidered saree or something more simple and elegant, they're likely to find something that fits their taste in Mirraw online store.
Stunning Anarkalis
They don't just have a sale on sarees, which has become a bit too common these days. They have great offers on anarkalis as well. Anarkalis have been dominating the fashion scene for many years now and no lady's wardrobe seems to be complete without one. Their collection of anarkalis is no impressive that it is very unlikely that customers would be satisfied with just one. With such great discounts on offer, it is likely that many would indulge and buy a couple or even more.
With our incredible, discounted prices there really is no reason to hesitate. Customers can pick their favourites and be surprised by just how affordable these anarkalis are.
The Traditional Straight Suit
While anarkalis and sarees are well and good, they're not optimal for daily wear. If a customer wants something simpler, something they can wear daily to work, Mirraw offers a collection of straight salwar kameez suits. Available in different colours and patterns, these suits can be ideal as formal wear. The salwar suits that has a great cut and design and yet is restrained enough to be great for work.
With up to 90% in discounts, it is doubtful the stocks will last long? The sale is on for only three days. Customers would get to enjoy all the benefits of historically low prices.
Aside from clothing, their fashion jewellery is also on sale.
The extraordinary sale will be held only the 22nd, 23rd and 24th of June. Fortunate customers might still find something and enjoy the benefits of the greatest online fashion sale to date.