Chains are the type of Jewellery item that instantly changes the personality of a person. It is sleek, beautiful and charming. The best part about chains is that it looks great on every age group, gender and with every attire. It accessories your neckline in the most sophisticated way. Chains are found in many different metals like gold, silver, brass, and more. Out of all, the Gold chains are the most preferred ones and it gives the expensive vibes. Not only this, but chains can also be worn in the neck, wrists and ankles. You will admire its charm.
In many designs, you will find a significant attachment in it that makes it contemporary. These attachments are known as pendants. A right chain can make you look confident and stylish.
When we talk about Gold chains, these are very beautiful and royal. These are found in many different styles and patterns, which makes it a must in every closet. From long to short chains, you can get whatever you want to. Also, you will love the glamorous look of this jewellery. There is so much flaunt. And if you are looking for a neckpiece for yourself, you can slide down and choose from 15 classy gold chain designs:
1.Simple Gold Chains
The simple Golden chains are simple, pure and look great at any occasion. Its overall yellow look makes it very popular and that's why it is loved by both, men and women. It is cheaper than other design, but still, everyone loves to have it. There is no need to define the attire or occasion to wear a simple neckpiece. Wear this chain and reflect your health and wealth.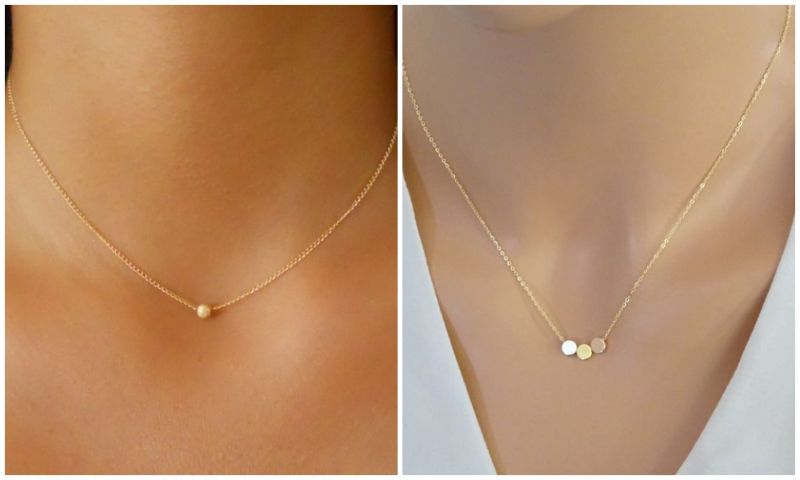 2.Gold and Silver Chain
Gold and silver merge beautifully together and gives a beautiful finish to your attire. It is again perfect for every age group and gender. From thick to sleek, you can pick any style in these chains. All kind of silver looks perfect with the Gold. You will enjoy the causal feeling of these chains and you can also use it as daily wear.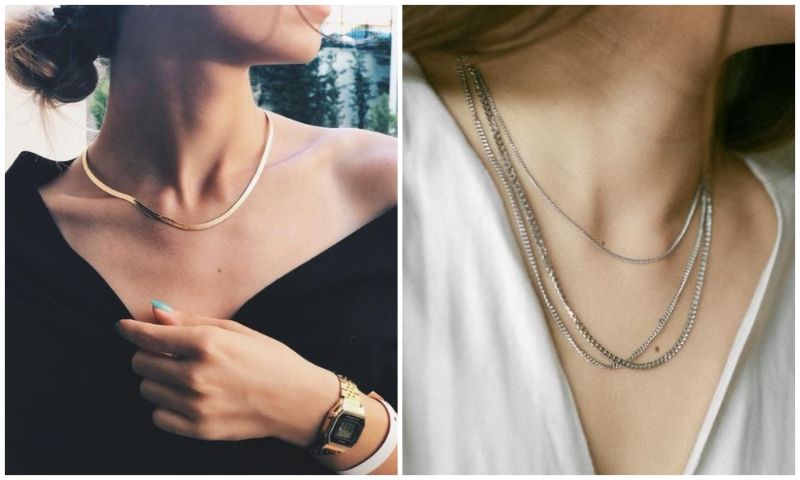 3.Personalised Goldan Chains
The personalised Golden neckpiece is very trendy nowadays and it is because a person can design it in the way he wants t. It comes with the name, dates, sayings, word, quotes and sayings. These styles of chains are very fashionable and help you to flaunt your neckline. This can even be the best gift.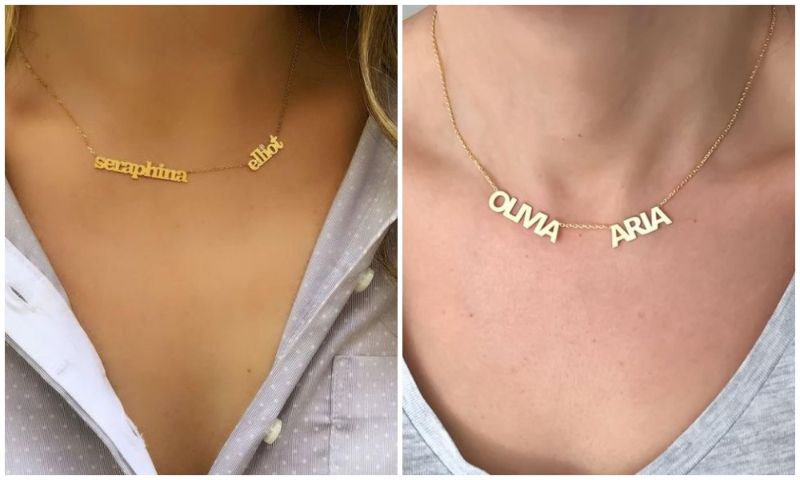 4.Short Gold Chain with Pearls
If you are a fan of minimalism and elegance, simply choose the Golden chain with pearls. These designs are classy and look perfect in the short patterns. Also, pearls and gold merge beautifully together. The best part about these chains is that you can carry it with western as well as Indian attires. You will enjoy the classy look of these chains.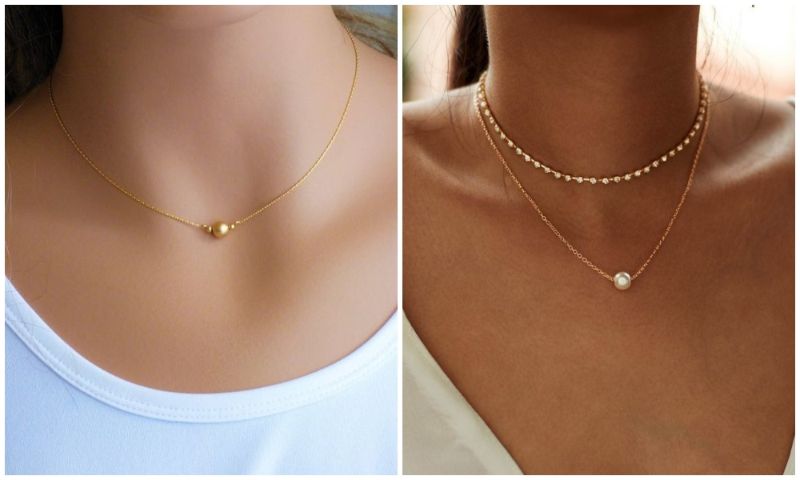 5.Rapper Gold Chains
If you want to look like a rapper and gangster, these thick and heavy neckpieces are perfect for you. It is stylish and gives you a funky look. The thick and overall gold pattern makes it really expensive. Also, it's very heavy to wear so someone who wants to show off their wealth can go for it.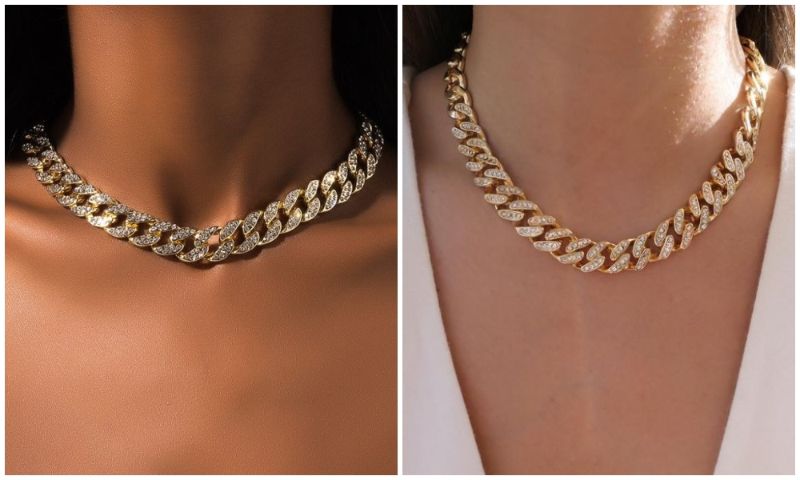 6.Rose Gold Chains
If you are not a fan of yellow gold, you can choose the rose gold neckpiece for yourself. These are unique and have a balanced colour. The rose gold are known as the red gold and pink gold as it has a little touch of copper. These will help you to look luxurious and expensive. Anyone can go for these chains.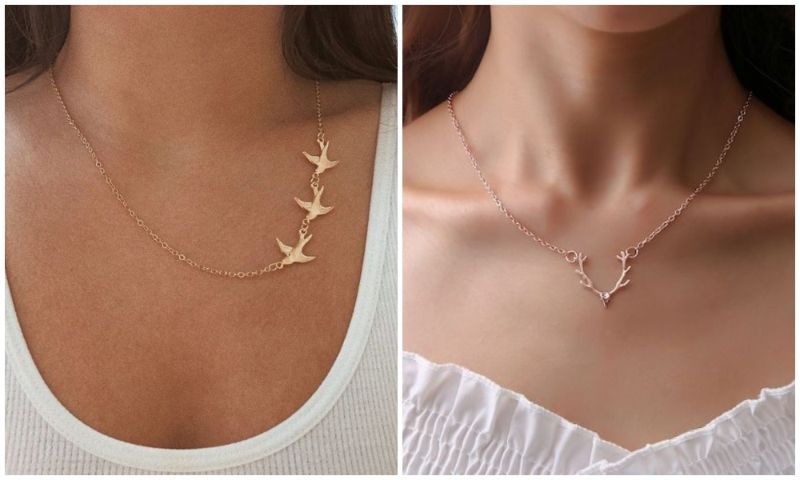 7.Gold Chains with Swarovski Crystals
Swarovski Crystals are very funky and merge well with gold. The crystals are usually studded in the chain and jewellers have to work hard to design them. The neckpiece and Swarovski Crystals will look great together and help you to get a contemporary look.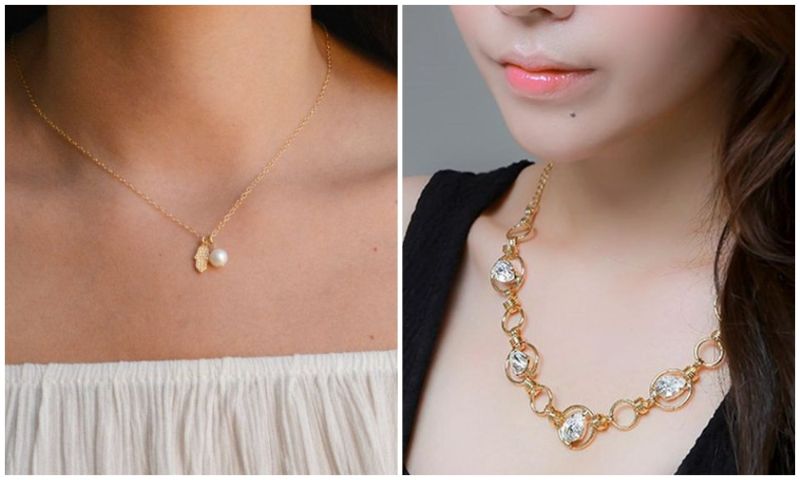 8.Gold Chains with Peacock Design
Gold neckpiece have a traditional look and it combines beautifully with the peacock pendants. Peacock designs are colourful and made on the gold frame. It looks great with any traditional attire. You can define the size of the peacock pendant according to your choice and place it in the Golden neckpiece.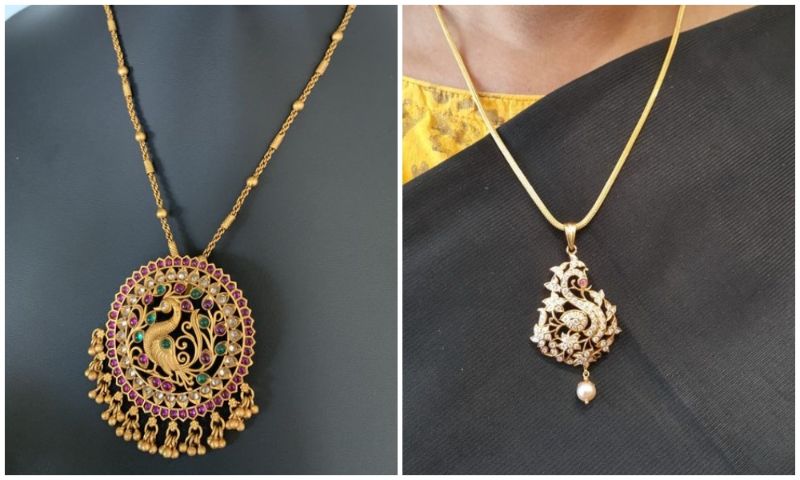 9.Snake Gold Chain
Snake has the beautiful Outer skin and that pattern looks great in the chain also. The Golden metal makes you look perfect as it reflects your wealth. When these two patterns are combined together, they look perfect together. You can define the size and weight of these chains and enjoy it's out of the box look.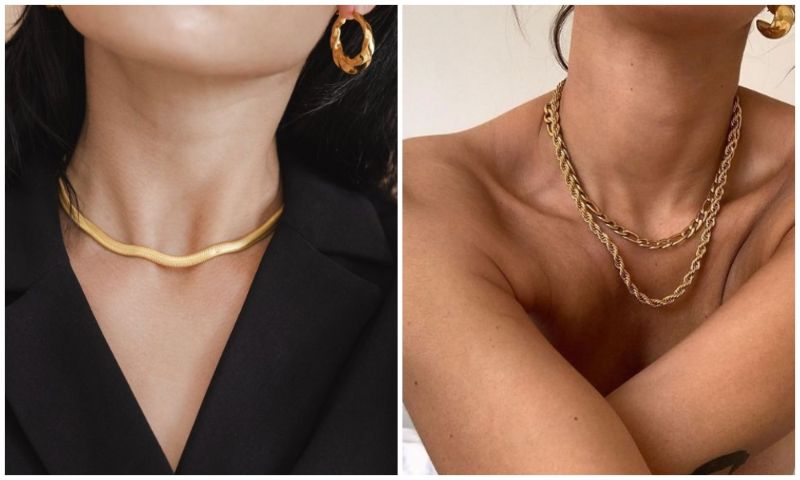 10.Gold Chain With a Ring
There are many people who don't like to wear a chain in their hand. If you are one of them then you must have this style of Gold chain. It gives you a place to hang your ring in it and look stylish. These look great with casual clothes and its lightweight look makes it perfect in every sense.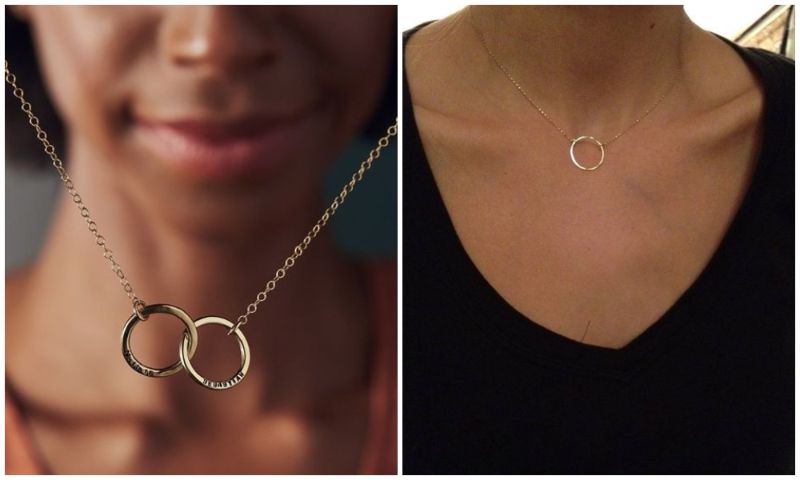 11.Gold Chain With Black Beads
This style of Golden chain is a symbol of marriage in India and popularly known as Mangalsutra. These are unique in design and merge well with black beads. Women wear this neckpiece to protect their husband from bad things. You can choose from thousands of options in mangalsutra and enjoy its spiritual look.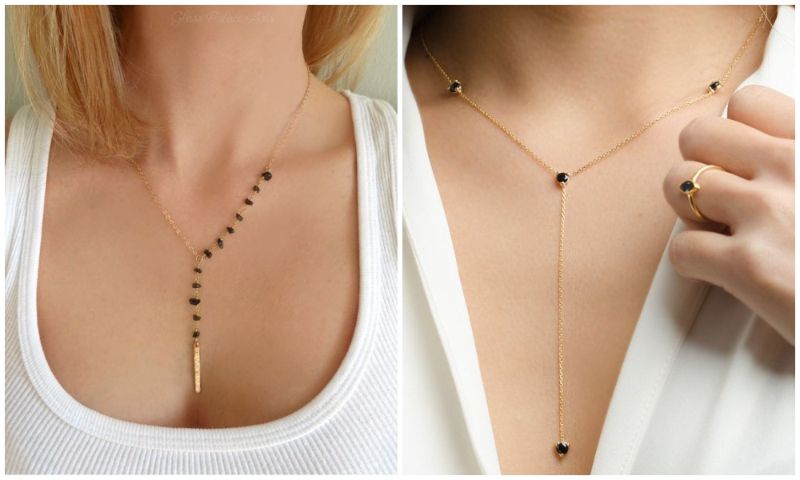 12.Cubic Zircon Gold Chains
The latest design of neckpiece comes with Cubic Zircon (CZ). It is bright, sharp cut stones and bling with a lot of lustre. These give the vibes of the diamond. You will enjoy its overall look. And the Golden and shiny stones merge beautifully together. Everyone should have this style of hold chains.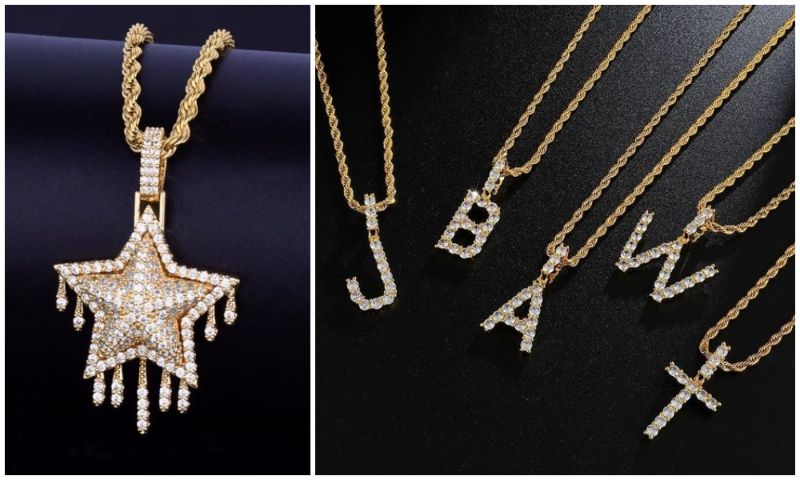 13.Gold Chain with the Spiritual Figures
Golden Chains with the Spiritual element looks really amazing and helps you to feel positive. It helps you to feel strong and keep your God with yourself. You can define the size of the pendant and thickness of the chain and enjoy its peaceful look.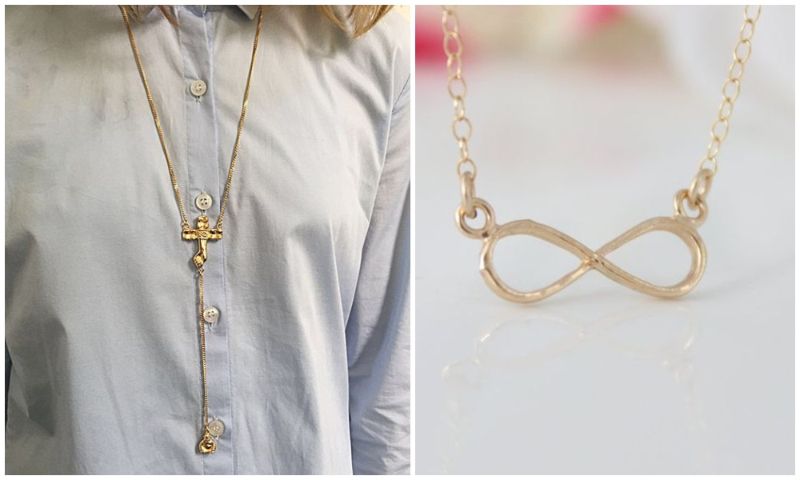 14.Evil Eye Gold Chain
The Evil eye is used to stay always from negative energy. And when the same element is combined with a gold chain, it becomes a must-have. The evil eye in a chain helps you to feel positive as well as confident. These types of gold chains look amazing in the sleek design. Every person should own it.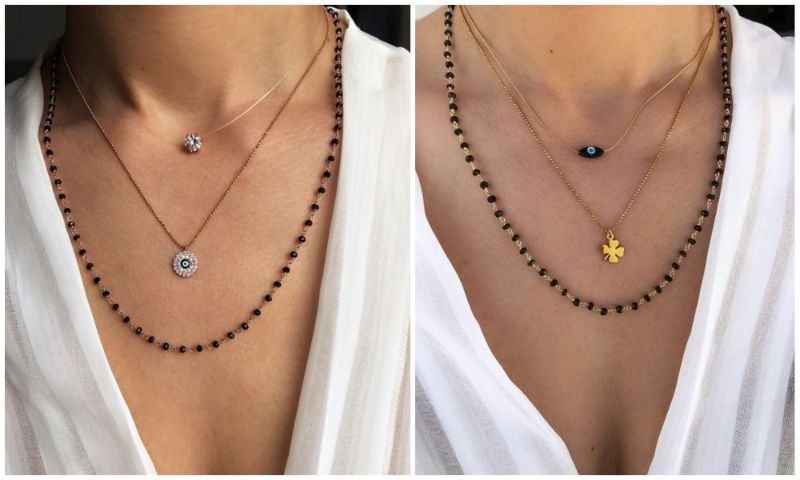 15.Feathered Gold Chains
If you are looking for a modern style of neckpiece, then this one is the best for you. It looks sleeks and beautiful. You can wear it with your casual attire and feel confident in the same. These new styles of neckpieces are replacing the old fashioned bulky Golden chain designs.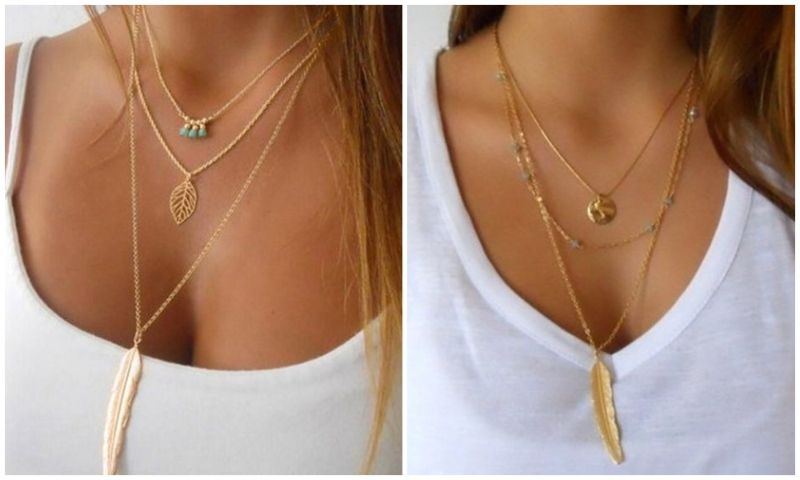 Gold Chains are fashionable and help you to feel flawless. It gives you expensive vibes and any gender and age group can go for it. This blog will help you to choose the best neckpieces for yourself and flaunt your ornament in the most elegant way.