Navratri is the major festival of Hindus in which they worship Nav-Durga for 9 days and this will become more joyful. Navratri means 9 nights in Sanskrit where we celebrate and pays the goddess for good health, happiness and good life. Navratri is the festival where many of us will always get excited. This festival is the festival of colours, clothes, joy and prays. Many of us will always follow the colour list of Navratri and are excited about that too. These 9 days will be full of joy and fun and for all nine days, we always make our day more classic with different colours. Here is a list of the colours which will be adding more fun into your occasion.
Navratri 9 Days Colors List Of 2021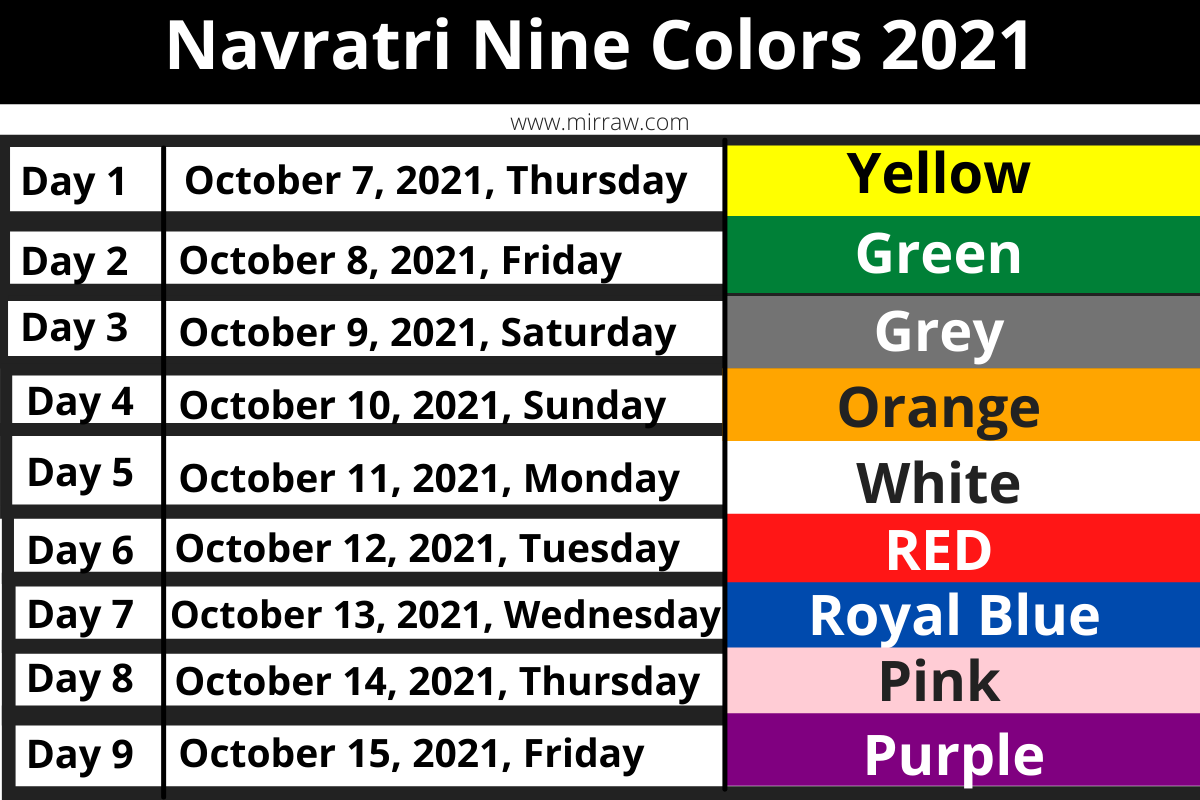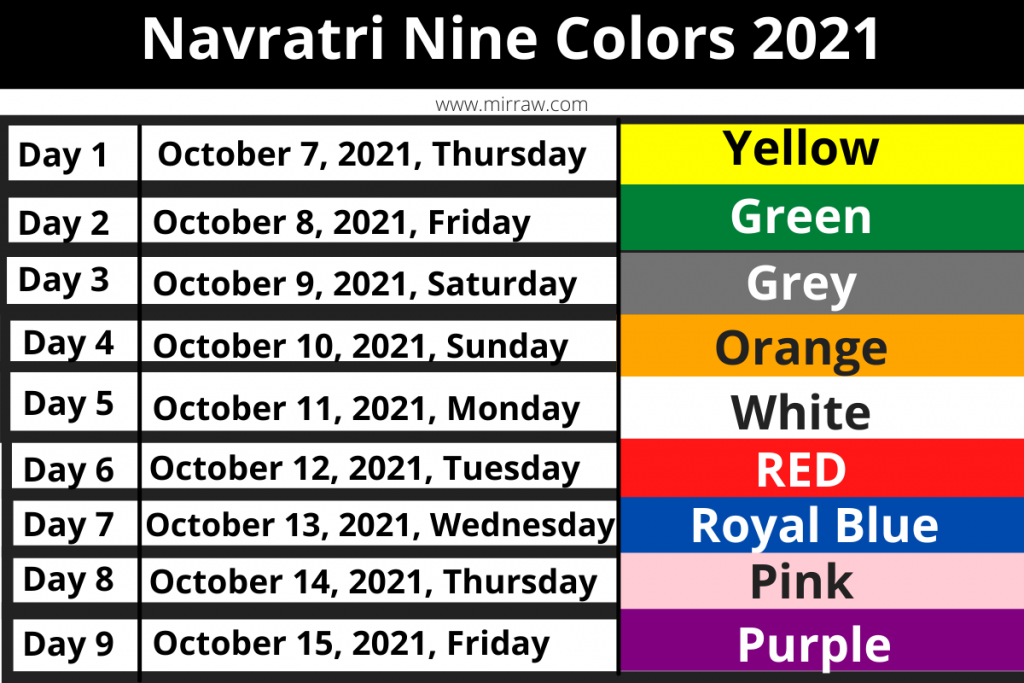 Day 1 : Yellow ( October 7, 2021, Thursday Yellow )
Yellow is the colour of optimism, of knowledge and creativity, light and spring. Yellow is the colour of Friendship. If you love wearing such classic colours then yellow will be on the first day of Navratri. On this day Maa Shailputri Worship is there.
Day 2: Green (October 8, 2021, Friday)
Hey, It's the 2nd day of the festival and on the second day will pray to Maa Brahmacharini goddess with beautiful green color. Green is the colour of growth, peace, freshness, safety, productivity, and environment.
Day 3: Grey (October 9, 2021, Saturday)
The meaning of grey colour is cool, neutral, and balanced colour. On this day we worship to goddess Maa Chandraghanta. You can flaunt your style on this day with classic grey colour.
Day 4: Orange (October 10, 2021, Sunday)
Uff! This colour will always take first place on all of our wishlists because of its charm. Orange colour depicts joy, warmth, heat, sunshine, enthusiasm, creativity, success. You can break the heart of many by flaunting this colour.
Day 5: White (October 11, 2021, Monday )
White Color signifies purity or innocence and freshness. We always have at least one pair of white colour cloth in our closet. On the 5th day, we worship Skandamata.
Day 6: Red (October 12, 2021, Tuesday)
We all know that the red colour will always use to depict life, health, vigour, war, courage & anger. This colour has a vibe of love and feelings. On the 6th day, we pray to Maa Katyayani Devi.
Day  7: Royal Blue (October 13, 2021, Wednesday)
Royal Blue colour is the colour of power, dependability, tranquillity, understanding. On the day 7th, we will rock with royal blue colour and make the worship to MahaGauri.
Day 8: Pink (October 14, 2021, Thursday)
For many ladies, pink colour has a special place and many ladies love to wear pink colour on any occasion. On this day will rock the stage with the colour pink which depicts the universal love of oneself and of others.
Day 9 : Purple (October 15, 2021, Friday)
On the last day Worshipping Navdurga wearing purple colour which represents royalty, nobility, luxury, power, and ambition. On this day we have a big pooja on and celebrating all 9 days Nav-Durga pooja.