Discover the captivating journey behind the iconic Sabyasachi Lehenga! Unleashing its history and evolution, we delve into its origins – its cultural importance as well as what inspired its distinctive style – including cultural elements that led it into fashion history and more recently global markets. Brace yourself as we journey through this extraordinary ensemble that stands as an everlasting symbol of elegance and grace! Join us as we unravel its captivating narrative where tradition meets innovation to reveal all that makes up its captivating tale!
Origins of Sabyasachi Lehenga
Sabyasachi Lehenga can be traced back to India where its tradition can be found there. Sabyasachi Mukherjee, one of India's premier fashion designers, found inspiration for this stunning ensemble from various sources such as art, culture and history – reflecting its origins of Sabyasachi Lehenga. Lehenga or lehengas are traditional Indian skirts worn with a blouse and dupatta (scarf) often featuring elaborate embroidery or decorative elements. Sabyasachi Mukherjee's exquisite designs pay a fitting ode to Indian craftsmanship, creating designs which honour that legacy with pieces like his Lehenga being worn at many Indian wedding ceremonies and seen around the globe as symbols of elegance and luxury in fashion. Sabyasachi has dressed many Bollywood celebrities for wedding ceremonies as a popular bridal couture designer.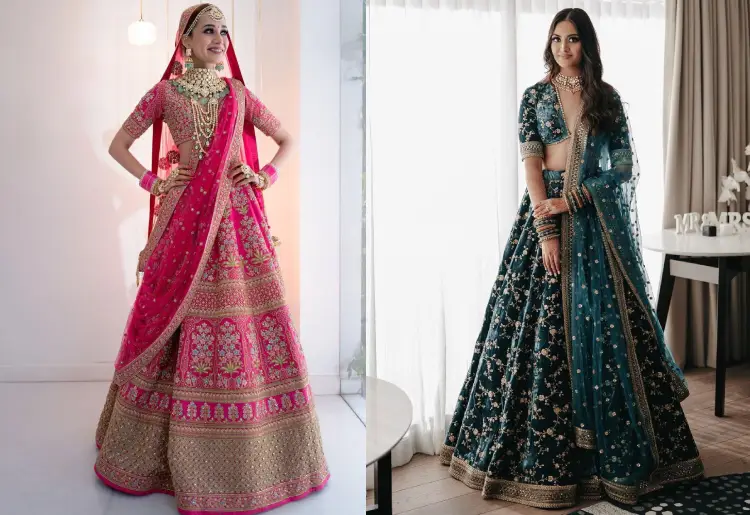 Influence and Inspiration
Sabyasachi Lehenga draws its design influence from India's rich cultural traditions and craftsmanship, reflecting vintage-inspired details in timeless designs with intricate detailing that pays homage to India.
This designer prides themselves on using vintage charm in all aspects of his designs – the vintage flair is evident throughout each intricate lehenga made.
Sabyasachi lehengas often reflect the grandeur of Indian royal fashion. Drawing inspiration from nature and art alike, his creations often contain royal elements and motifs like floral elements or intricate hand-painted patterns that give their designs their royal flourishing quality.
His travels and exposure to various cultures have greatly shaped his designs, leading him to create pieces incorporating both classic Indian aesthetics with global trends.
Designs and Features of Sabyasachi Lehenga
Sabyasachi Lehengas are nothing short of breathtaking designs and features; everything from their choice of fabric, intricate embellishments, embroideries and elegant cuts makes these mesmerizing creations stand out. Come explore this fascinating world where Sabyasachi stands apart! Are you ready for some inspiration?
Fabrics Used
Sabyasachi Lehengas are known for their stunning designs, and fabric selection plays a pivotal role in producing them. Sabyasachi is well known for his impeccable selection, employing luxurious silk, velvet, brocade, net organza and chiffon to craft exquisite lehengas that showcase his talents – be they traditional silk lehenga designs or contemporary net lehenga styles; Sabyasachi always knows exactly which fabrics work well in creating them! His use of fabrics never ceases to impress! Whether traditional silk lehenga or contemporary net lehenga styles – Sabyasachi never ceases amazes his creations!
Embellishments and Embroideries
Embellishments and embroideries play an integral part in elevating the beauty and intricacy of Sabyasachi Lehengas, known for their impeccable craftsmanship and meticulous attention to detail. Each piece designed by this master craftsman features ornate and subtle decorations, further amplifying their elegance and intricacies. Sabyasachi Lehengas are decorated with exquisite zardozi work, stunning sequins, elegant beads and intricate thread work embroideries inspired by traditional Indian motifs and techniques resulting in timeless and royal aesthetic. Phulkari embroidery adds vibrant hues while intricate and luxurious Zardozi works add grandeur. All these embellishments provide added luxury and grandeur in each collection from Sabyasachi Lehenga collection.
Silhouettes and Cuts
Sabyasachi lehengas have an exceptional design and appeal thanks to their tailored silhouettes and cuts, each carefully created to flatter a specific figure and enhance their wearer's figure.
A-Line: An A-line silhouette enhances one's natural curves as it fits snugly at the waist before gradually flaring out towards the hem, giving an hourglass shape.
Mermaid Cut: This silhouette wraps from waist to knees before flaring out dramatically like the tail of an aquatic creature.
Flared Cut: Similarly, this cut features an fitted waist with an elegantly flared skirt reminiscent of princess-like characteristics – creating a feminine and princess-like aesthetic.
Straight: For an effortless yet elegant appearance, choose this cut that runs straight from waist to hem. These various silhouettes and cuts offer options tailored specifically for various body types and personal preferences; each wearer can look and feel their best wearing a Sabyasachi lehenga!
True story: Amy had always dreamt of wearing a Sabyasachi lehenga on her special day and made an appointment at their boutique to try various silhouettes and cuts – the A-line silhouette was especially flattering to her curves and made her feel like royalty on this important milestone in her life. The intricate embroidery made Amy feel like royalty on such an important milestone day!
Celebrities and Sabyasachi Lehenga
Celebrities and Sabyasachi Lehenga in the spotlight! Explore the allure of red carpet appearances and wedding ensembles as we dive deep into celebrity fashion choices. Take note of Sabyasachi Lehenga's grace at these high-profile events with its exquisite designs and craftsmanship that elevate their elegance even further – not forgetting your favorite stars who elevate its charm even further with their style choices!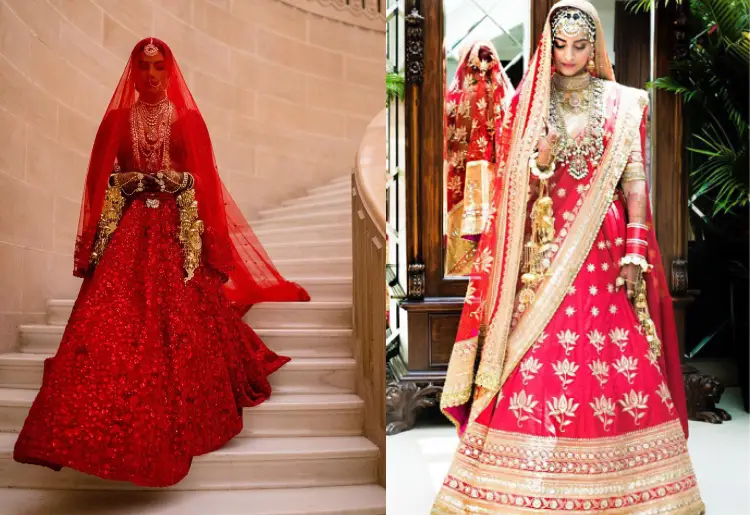 Red Carpet Appearances
Sabyasachi Lehengas have made numerous red carpet appearances, adding glamor and sophistication to various events. Deepika Padukone famously donned one at the Cannes Film Festival to garner widespread admiration. Her elegance and timelessness received wide acclaim.
Priyanka Chopra dazzled at the Met Gala wearing an intricate Sabyasachi Lehenga that combined traditional with contemporary elements.
Sonam Kapoor: Sonam Kapoor chose an intricate Sabyasachi Lehenga with vibrant embroidery for her red carpet appearance at Cannes Film Festival and exuded grace and poise through its rich colors and delicate embroidery.
Aishwarya Rai Bachchan: At the Cannes Film Festival, Aishwarya looked radiant wearing an exquisite Sabyasachi Lehenga that showcased both craftsmanship and attention to detail by this designer.
Wedding Ensembles
Selecting an ideal wedding ensemble is of vital importance to brides-to-be, and when selecting Sabyasachi Lehengas there are numerous factors that must be considered:
Design & Style : Sabyasachi offers various designs which cater for different tastes ranging from traditional to contemporary designs and aesthetic preferences.
Fabric Selection: Sabyasachi incorporates luxurious fabrics like silk, velvet and organza for their lehengas for an opulent and graceful appearance.
Embroidery and Embellishments: Sabyasachi adds lavish details like hand embroidery, zardozi work and embellishments into his lehengas to enhance their elegance further.
Sabyasachi offers brides a broad spectrum of colors for their special day – from vibrant tones to soft pastel shades – so they can select outfits tailored specifically to their event theme.
Sabyasachi Lehengas are known for their impeccable fitting and flattering silhouette, emphasizing the bride's beauty and drawing attention to herself. Additionally, customization options allow brides to incorporate personal details into their ensemble.
Buying and Cost of Sabyasachi Lehenga
Are You Dreaming of Wearing an Eye-Catching Sabyasachi Lehenga on Your Special Day? Join me as I dive into the realm of Lehengas by Sabyasachi for your big event and discover where and how you can purchase one, from authorized stores and platforms, as well as pricing ranges that showcase amazing craftsmanship, luxurious details and exquisite design features that come standard in each ensemble. Prepare to be entranced by these exquisite creations that promise an exquisite attire on special days such as these and everything that needs to happen for making that dream outfit come true.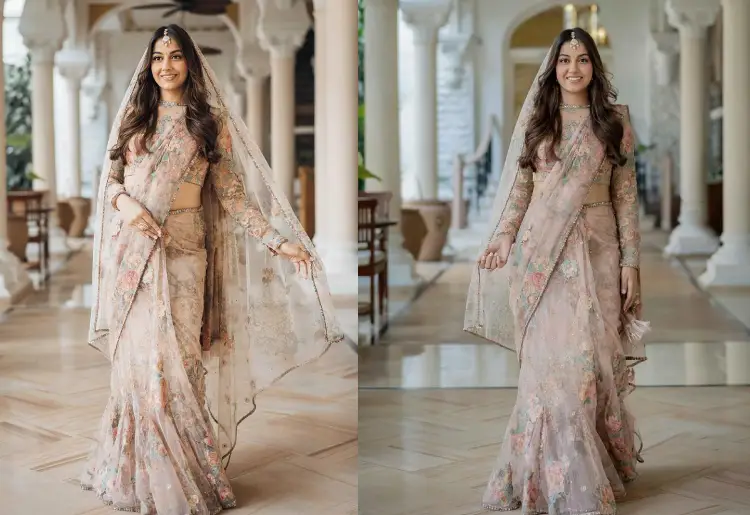 Authorized Stores and Online Platforms
For your Sabyasachi Lehenga purchase, there are various official stores and online platforms you should explore. Here are a few things you may wish to keep in mind when looking at various options: Authorized Stores: Visit one of Sabyasachi's flagship stores located in major cities such as Delhi, Mumbai or Kolkata to explore a wide array of designs offered.
Multi-Designer Stores: If you prefer shopping multiple designer collections at once, Ensemble are top fashion boutiques offering Sabyasachi lehengas alongside other iconic collections by other acclaimed fashion houses.
Online Platforms: Explore popular e-commerce websites such as Sabyasachi's official site. These platforms make shopping effortless!
Price Range
Sabyasachi lehengas range significantly in terms of design, fabric quality and craftsmanship based on factors like design, fabric type and the attention paid to details such as hand embroideries on premium fabrics with meticulous attention paid to every stitch; starting around $3,000 up to over $20,000. Due to this intricate hand work and attention paid in attention to details that contributes to higher prices as well as specific collections or limited edition pieces; ultimately the price a Sabyasachi lehenga represents is legacy as an Indian fashion industry icon!
True story: Anita had always dreamed of wearing a Sabyasachi lehenga on her wedding day, yet its high price point seemed out of her reach. By planning and saving, Anita managed to find pre-loved Sabyasachi lehengas for more reasonable rates; her smile as she walked down the aisle wearing it proved that with hard work and determination dreams can indeed become reality!
Designer Sabyasachi's Journey and Influence
Sabyasachi Lehenga has left an indelible mark on the Indian fashion industry through its rich legacy. We explore its journey and reveal its remarkable impact in shaping couture in India; from timeless craftsmanship and its impactful impactful contributions on shaping Indian fashion landscape to elegance and artistry associated with Sabyasachi's designs – join us as we embark on this fascinating exploration! Join us as we journey along this designer's remarkable path and witness his unmistakable mark left on fashion history!
Brand Legacy
Brand Legacy is of great significance when discussing Sabyasachi Lehenga. Designer Sabyasachi Mukherjee's impactful creation made a strong mark in the Indian fashion industry and left an indelible mark behind him which stands the test of time – creating a memorable Brand Legacy in its wake. Sabyasachi Lehenga has gained immense acclaim due to their exquisite designs, impeccable craftsmanship, and meticulous attention to every detail. They continue to become more sought-after every year! Sabyasachi Lehengas are famous for seamlessly merging traditional Indian elements with contemporary aesthetics to produce stunning bridal ensembles that have become iconic over time. Many celebrities and brides-to-be have worn Sabyasachi Lehengas during red carpet appearances or wedding ceremonies to further reinforce its influence within the fashion world.
Impact on Indian Fashion Industry
Sabyasachi Lehenga has had an immense effect on the Indian fashion industry. With its signature designs, use of traditional fabrics, and intricate embellishments it set a new benchmark for bridal wear in India and made an indelible mark on it all. Celebrities as well as brides alike embraced his creations contributing to its lasting impression in the Indian fashion scene – not forgetting other designers being inspired by this brand which created significant growth & evolution of industry growth & evolution with continued long-term effect from their contributions too! Innovative designs and meticulous attention to details have made sure its lasting effect is felt throughout the Indian fashion scene today and well into its future!
FAQ
How can I buy the latest Sabyasachi lehengas online?
Panache Haute Couture provides the latest Sabyasachi lehengas online at their vast online collection, as well as other outfits available for purchase. To do this visit their website today..
Are Sabyasachi lehengas available in mehendi green color?
Yes, Sabyasachi lehengas come in various shades; mehendi green may be one of them when shopping online or directly. Check their listing pages or connect directly with sellers directly for additional details.
Can I personalize a Sabyasachi lehenga before buying?
Yes, it is easy to customize a Sabyasachi lehenga before purchasing one! Simply choose your options and provide any information requested in the "Add your personalization" section on the listing page. If one or more options do not meet your specifications, contact the seller via Messages inquiring about personalization options.