Indian ethnic wear such as sarees and salwar kameez is quite flexible as they can be bifurcated into casual wear, traditional wear, occasional wear, party wear, wedding attire and so on.   These Indian ethnic wears can be best teamed up with a perfect matching make up, high heels and perfectly matching royal looking jewellery set. These two traditional outfits can be worn anywhere depending on the occasions. You can buy simple as well as designer saree and salwar kameez from wholesale stores in India. They have a plethora to latest designs, patterns, and fresh colors that are trending in the fashion arena.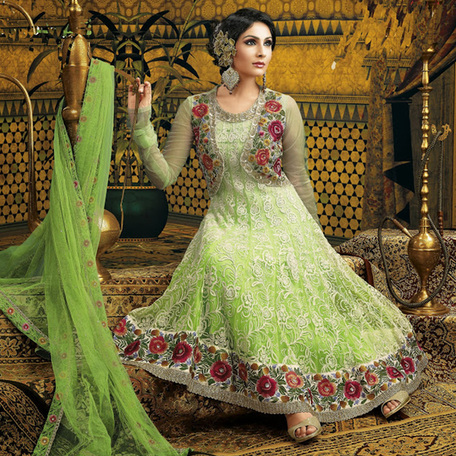 Online shopping has been trending in lot, along with new patterns and styles in salwar kameez and saree the online hopping portals are  also provide immense options to the wearers with a facility to sit at home ,select and buy the outfit that fits in their budget as well as looks good on them. The get the Indian ethnic wear at a cheap cost than it is recommended that to buy from wholesale stores that have an online portal. They have innumerable intricate designs that are one of its kinds. You can buy them from the online store where you will find various updated styles and designs that are regularly updated depending on the latest market trends.
Sarees can be worn to several occasions from a casual wear or to weddings and parties. Thus sarees are available in simple designs that comprises of floral prints and simple embroidery sarees that can be simply worn on a day out with a contracting color blouse.  The wedding saree has a bit more intricate designs heavy stone and diamond work on them which makes more on the pricey side. You select saree from the online wholesale store and select the type of pattern and cut that you desire suitable for the occasion. Indian salwar kameez is a quite popular among women of all ages; the salwar kameez can be availed in various styles such as Anarkali suit, bollywood style salwar kameez, straight fit and much more. You can get the lucknowi chikan work, the gota work, the stone embellishments, the zari work and much more in salwar kameez. The cuts such as
the fish cut and the umbrella cut are trending this season with different neck lines, hem lines, sleeve patterns and much more.
The most elegant looking materials for both saree and dress material are Georgette, Chiffon, or Chignon. Women tend to look slimmer in a Heavy Mysore Silk saree. The other materials such as silk, crepe, net and cotton are also among the popular choice of women. You can select pastel colors, dark colors, multi colors, bright colors and other mish mash of colors while selecting the color of the attire depending on your body posture and skin complexion. Buy a saree, salwar kameez, and a matching jewellery set from a wholesale online store and select the best of your choice at a reasonable cost.