Bollywood has spread its tangles of fashion in the common world. Such is its magnetic grip that it can easily entice anyone with the power of sensuous appeal. The way Bollywood presents these six feet drapery is simply amazing. It has revamped the complete look and appeal of this apparel taking it up to the pedestal by another step. Indian sarees and dresses have gained global accomplishment taking ethnicity to a completely different level altogether. Contemporary patterns which invoke tradition and modern art work in a precise manner are the probable reason of its popularity.
Bollywood sarees are known for their chic look, style and design that set them apart from the rest of the genre. Here are some of the reasons why Bollywood sarees splurge a splash of dazzling appeal to anyone in the first go: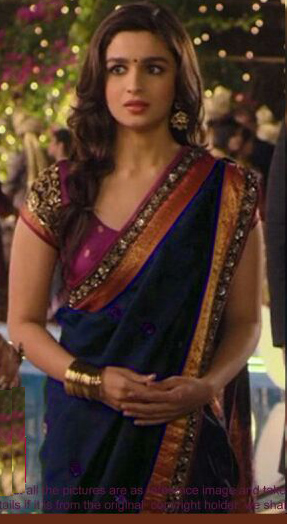 Intricately fabricated design: Designer sarees which are embraced with exemplary embroidery pattern is the basic reason behind the glamour quotient of Bollywood sarees. Attire is exclusively designed by a profound designer keeping in mind every nuance. Right from the cut to embroidery pattern every detailing is excruciatingly taken care of. Embroidery patterns such as cutwork, appliqué, bandini work, mirror art form, chikankari and phulwari are some of the popular designs which are embossed in sarees. They are coupled with myriad range of prints such ikkat, machine prints and fabric paints that are beautifully done on vibrant hues to add a hint of elegance. Sequins, bead, struts and embellishments are used to adorn the apparel giving it a glamorous appeal. Be it sarees, lehengas or anarkali suits, Indian dresses when designed in this fashion raise an awe that is simply mesmerizing. Mirraw online services extend their creative ideas to replicate and form same kind of sarees with almost same design patterns creating a range of Bollywood sarees that can be enjoyed with everyone.
Trending Styles-Style of the drapery is yet another reason why one is exclusively attracted to the Bollywood sarees. They drape the apparel in different forms of anchal pattern, like the simple pleated ones, back to front pattern, a square neck shape and formal pleated airhostess style design. Every style is unique in its own sense. Moreover the blouse design ranging from plunging necklines to high neck and deep cuts with embedded strings and beads sets apart the entire appeal of the sarees. In addition sarees are also available in different cut patterns such as fish cut, lehenga pattern and frock style pattern that give a platter of option to try out from. Mirraw online services are renowned for their styling quotient fabricating exclusive pieces that are just alike Bollywood ones remolding the magic.
Apart from the rich embroidery patterns and styles statement, Indian sarees look gorgeous when accessorized in the proper way. Kundan jewel pieces with matching color stones can add charm to the outfit. Opulent crystal works are another great alternative to flaunt the Indian sarees in a remarkable manner.