Pakistani dresses have always been known for their flare, beauty, elegance and feminity. Pakistani women mostly prefer to wear Salwar Kameez as it is their traditional outfit. It is one of the famous Indian clothes too. Salwar suits are not only a favorite in Indian and Pakistan markets but they are in trend across the globe. The reason this attire has garnered so much popularity is because it is easy to carry and comfortable too. They are made of fabrics like cotton which are suitable in every season. Also the designs of the kameez i.e. the long top is available in various patterns like stone work, embroidery work, croche patch borders and various neck styles.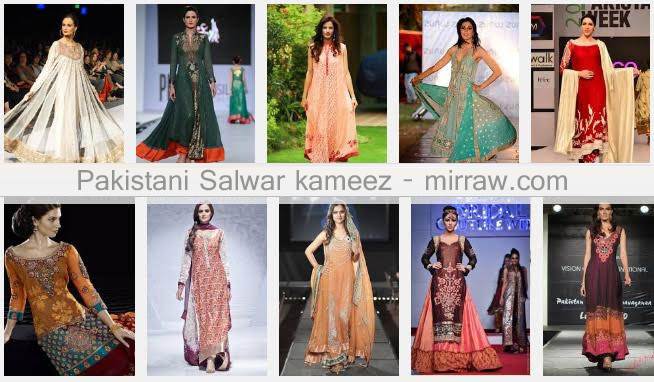 There are number of salwar suit patterns available like Dhoti cut salwars, Patiala Salwars, Sindhi Salwars and Baggy salwars. The Pakistani Salwar is available in varying features and prints, thread work and dabka designs which further enhance the charm of the attire.  Apart from cotton fabric the attire is also available in silk, satin, georgette, velvet, jamavar, banaras, crepe and chiffon fabrics.
In Pakistan the top is usually longer as compared to Indian tops or kurtas. Also in Pakistan ladies prefer loose fit i.e. Patiala styled bottoms. The suits have printed necklines and borders or colorful embroidery work that adds elegance to the suit. Nowadays many women wear Pakistani suits for special occasions like wedding, reception and festivals too. As it is one of the favorite Indian clothes too many Indian women too choose this attire for grand celebrations and occasions.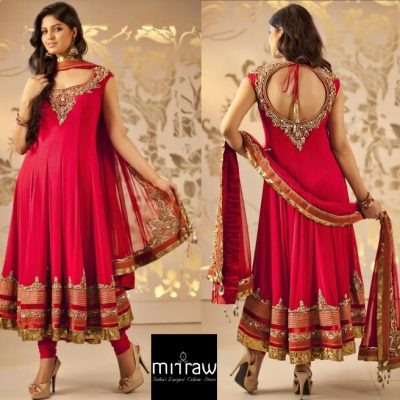 The western fashion world has always been attracted towards the Pakistani style of fashion and clothing but the acceptance of Pakistani salwar kameez in western world is considered to be a benchmark in the fashion industry. Bollywood actresses have often been observed donning beautiful Pakistani Anarkali suits. As a result of which the anarkali suits  are quite in vogue in the Indian clothes market.
Pakistani Salwar suits have really created a huge popularity for salwar suits in India and other countries in the world. India styled Salwar suits have always gone through various phase of changes whereas Pakistani salwar suits have always depicted tradition and conventional styles. Both the modern styled salwar kameez and the traditional styled salwar kameez are quite readily available in the market.
You will get a lot of option to buy Pakistani salwar suits online. There are dozens of online sites where Pakistani salwar suits are offered of sale. There are variety of designs, patterns and colors available to choose from. In fact there are salwar suits available for all types of occasions whether it is a wedding or a casual get together. The online sites also offer discounts and attractive offers which make the salwar suits more affordable.  You can easily exchange and return the clothes if you do not find them matching your requirement. You can shop from simplesarees.com or any other clothing site and complete your collection of traditional wardrobe.