Apart from the skinny jeans harem pants are the latest trend in fashion industry. Earlier considered as lounge wear harem pants are now worn by pop stars and celebrities for almost all occasions. These pants are comfortable, quirky and are available in various styles. The harem pants have various sartorial advantages like-
They blend well with almost all tops in your closet
You can wear them as low waist, high waist and arrange the cuffs as you want.
Most of the harem pants have elasticized waist which means women with all waist can easily get their pair of harems.
Most of the harem pants in the market are unisex which means you can easily use them as couple wear.
Harem pants make everyone, each and every one look trendy.

Who should wear harem pants?
Guys with short heights, girls who have wide hips and athletic posture all can wear harem pants.  Even people with muscular thighs can comfortably don the pants.
Harem pants as mentioned before are suitable for all occasions. Let's have a look at occasions where you can wear harem pants.
At work-
Guys- It is a myth that harem pants are made for casual occasions only. In fact harem pants can give you as much as crisp and official look as other pants can. You can match your harem pants with cropped jacket, oxfords and a fitted tee too. A tight fit sweater would also look good. Make sure that you wear black socks that cover your ankles.
Girls- Make all the heads turn your side by matching your harem pants with high heels. The harem pants are available in leopard prints, silky finishes and shimmering colors for girls. You can couple the pants with cropped blazer and a long line shirt. To add more glamour to the outfit you can sum up with some jewelry and belt.
To Dance Class:
Guys- There are tailor made harem pants available for dance forms like skate boarding, hip hop and for gym wear too. You can choose a couple of pairs with cuffs and blend them well with boots, slip on or sneakers.  Go for a comfortable fabric like cotton.
Girls- Girls too can wear harem pants for their gym session, yoga classes or for their jazz sessions. You can wear the pants with skinny tops, t-shirts or with hooded style jackets. A plain shirt and denim and denim singlet would also look good. On winters you can keep yourself warm by wearing thermals beneath the pants.
To the beach-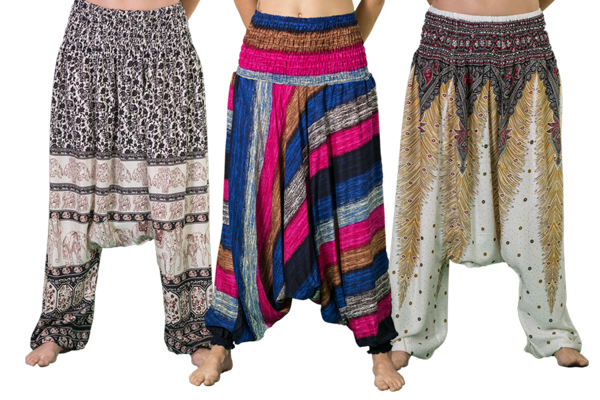 Guys- Harems are perfect outfit for casual hangouts and picnics or music concerts. You can couple up the pant with a slogan tee and with sandals.
Girls- You can get a classic bohemian look for the music festival that you want to end by coupling up the pant with tropical or Ganado prints. You can also wear sheer blouses or fringed T-shirts. A bandanna style hair band and glares would be like icing on the cake.