SO, It's your special day that is arriving and you are panicking more about your wedding outfit than shifting with New people?
DON'T worry!!! Just keep reading and I promise you will get all your answers.
1.COLOUR :
Before any other point stands the colour choice. It can either make it or break it up entirely. Yes! Choosing the right colour is that Important.
EXPERT ADVICE: Usually in Weddings , the brides should stick to the traditional colours or atleast have the touch of it if you want to go for the trendy colours, after all GUYS , it's all about TRADITION that day.
Girls with a lighter complexion should go with BRIGHTER colours like MAROON,RED,MAGENTA,PURPLE, NAVY BLUE ….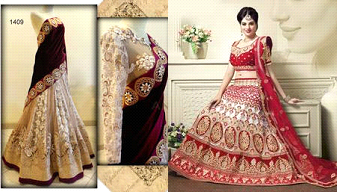 While Girls with a complexion on the darker side, should go for GOLD-OFFWHITE , PEACH-GOLD kind of classic combinations with touches of those bright colours.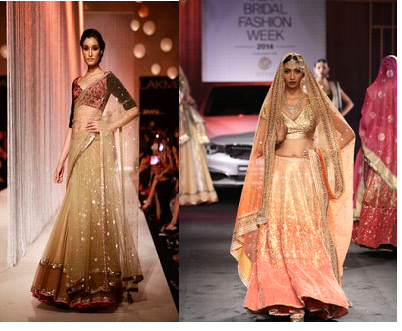 2.FABRIC:
 I WONDER! Why does this essential point never crosses anybody's mind while sitting in the air-conditioned shop for choosing the bridal lehenga.
EXPERT ADVICE :One should look for a Durable fabric which should look rich at the same time. The fabric of your lehenga is also responsible for the rich or dull look. So BE CAREFUL!!
3.THE CUT OF THE LEHENGA :
After the major two points, next comes the behaviour of the cut. It may make you look fatter or thinner, shorter or taller than you are.
EXPERT ADVICE: A flared lehenga(left)is the most preferred option these days for slim ladies out there as it compliments you well because of it's pleats whereas a straight cut lehenga (right) is most suitable to all body types.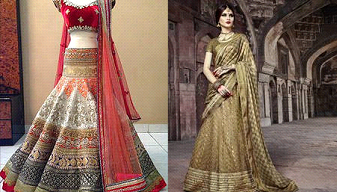 A fish-tale cut is suitable for hour-glass bodies
4.DIFFERENT LOOK:
EXPERT ADVICE: Go beyond the old common styles and choose the one which has some different element altogether,like a jacket or a new silhouette that takes you way above the brides of the past but still looks traditional.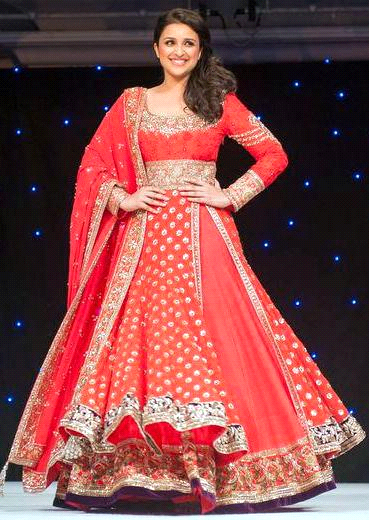 5. COMFORTABLE:
 EXPERT ADVICE: Comfort comes first on this Big day to keep you calm in every way so that you can enjoy all the rituals and not worry about the pain some rough fabric or the heavy weight of the lehenga might give you.
6. EMBROIDERY:
EXPERT ADVICE: Don't go for something with the type of embroidery which makes people say – "TOO MUCH". Keep it simple yet sober.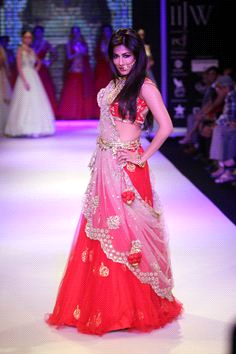 7. PATTERN:
Expert Advice: Look after the patterns used in your outfit as they can make you look what you aren't. If you are slightly on the heavy side avoid going for broad patterns as it will make you look even heftier and viceversa.
8.BALANCE:
EXPERT ADVICE:It has to be a stable balance. If you are going with a heavier skirt, make sure the blouse is lighter and vice versa. Bustier people should avoid too much work on the blouse.
9.SEASON:
EXPERT ADVICE: Always keep in mind the season that you are getting married in and choose the fabric, colour, and patterns accordingly. For eg. You can go for a full embroidered sleeve blouse if it's winters but carrying off the same in winters might be difficult.
10.FASHION TREND
EXPERT ADVICE: Inorder to end up buying a stylish yet suitable outfit for your Wedding , you should read fashion magazines and browse the internet for getting updated with the latest trends before ending up looking blank at the shop.
It's your wedding and it's YOU who should decide what you want and not the shopkeeper.
WISHING YOU A HAPPY AND WISE SHOPPING WITH LOTS OF HAPPINESS .