When it comes to the part of the wedding, the first and foremost thing that enters into the mind of a bride is the shopping for lehengas. No matter, there are many ethnic dresses available, lehengas are given much importance. Not just for the marriages, these lehengas are for all other occasions like parties, college annual day, or any other functions or festivals. Though other traditional wears like churidar, salwar kameez, or sarees, looks great during functions, lehengas have certain unique attractive feature.
However, these are not feasible for office, tours, etc. rather other dresses can be worn for different purposes. These lehengas that are worn as a combination to choli, needs a perfect conglomeration of chunri as well. You must find out the exact color and design that is required by you during your grand family function.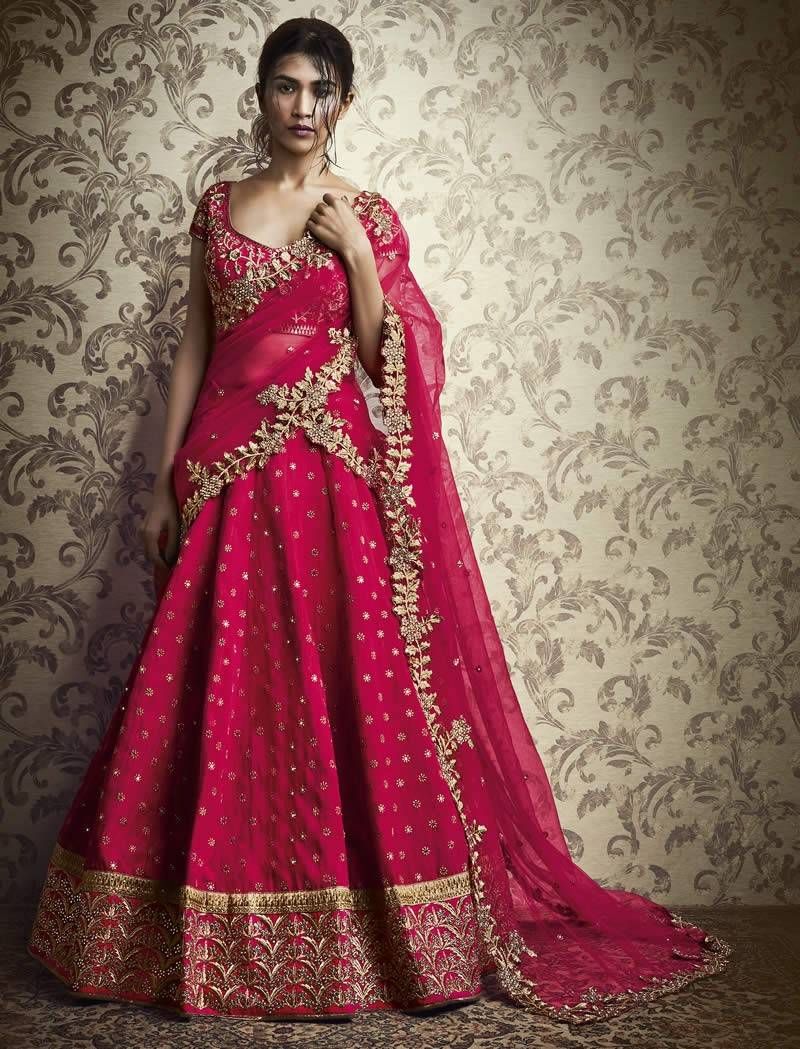 Different Designs and Patterns of Lehengas
There are lehengas with various designs, patterns and colours. Probably, you may have to think about your skin textures while selecting colours. You cannot wear dark lehengas when you have dark complexion, or you cannot wear light color lehengas if you have fair complexion. Also, if you have a bold look, wear too fancy lehengas with stones, bindis, mirrors and other heavy works done over it. While, if you have mild looks, wear simple but fancy lehengas. You'll definitely find a large volume of fans for your great looks when you move around in any functions.
Suppose you are a bride, then you can obviously wear bridal lehengas with too attractive designs. You can get such types of excellent designer lehengas with various designs and patterns in several designer stores. You can wear a long jacket on the choli, that is pulled even on lehengas little bit, which gives a gorgeous look; or you can wear half-rhombus shaped neckline blouse, on which you can wear attractive jewellery that should match both choli and lehenga that is worn. You can wear these lehengas on sleeveless, medium sleeves, or full sleeves blouse. Anything goes well with lehengas, and it supports all types of body structure.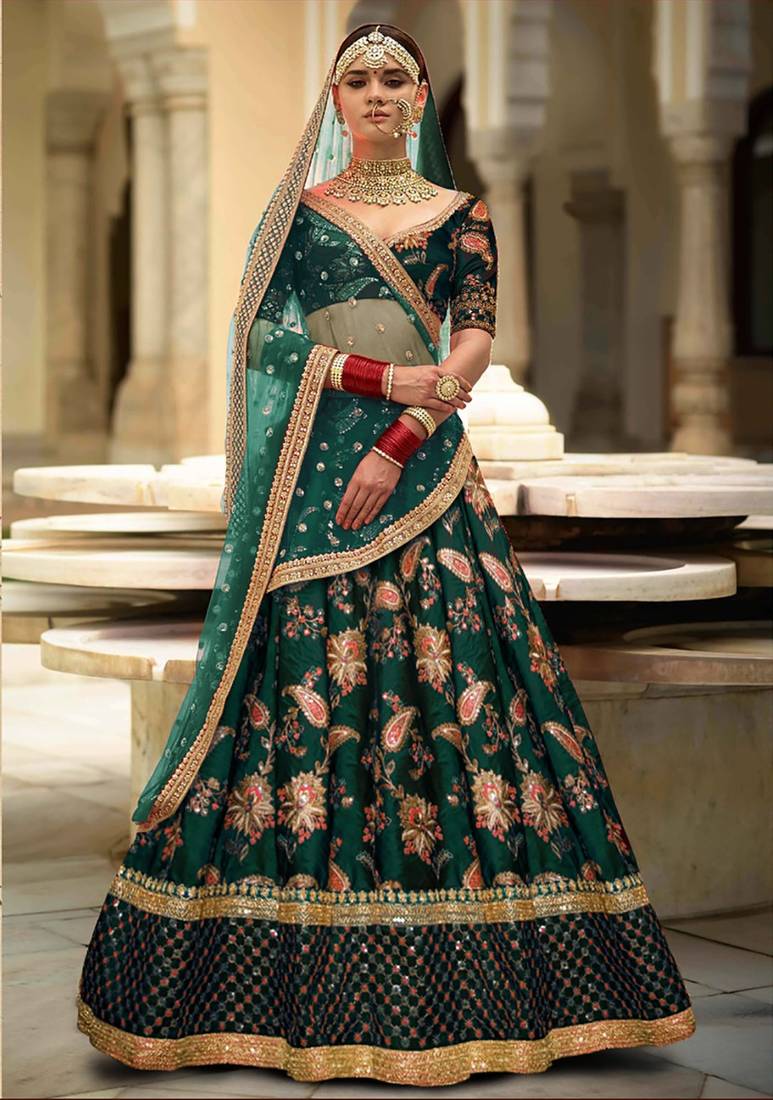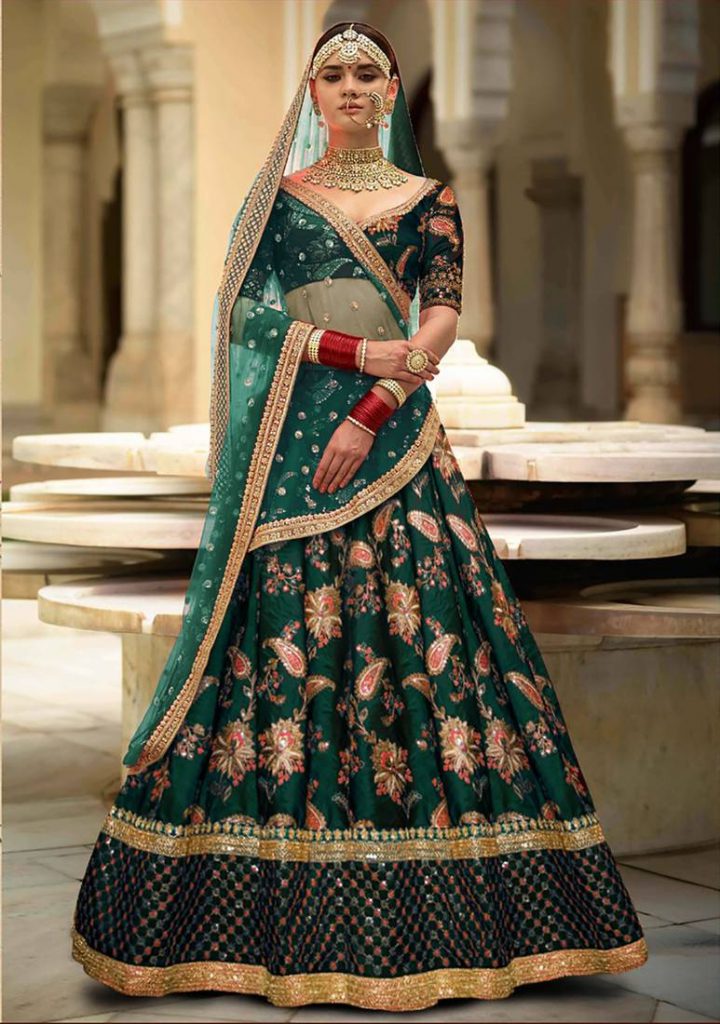 Who Should Wear Lehengas?
This is bit a tedious question, anybody can wear lehengas. These lehengas arrive with irrespective sizes, which can be worn by kids, children or adults. So, there is nothing special about the ages, ladies of all ages can wear these lehengas. However, as per the age, you can change the way of wearing dupattas. It's as simple as wearing lehengas.
How to Wear Dupattas?
You can wear dupattas in several ways – either you can wear it overhead, if you are a bride; else wear it to your neck and leave both ends of your dupatta back. You can also try wearing dupattas on any one side on your shoulder and wear like a saree; else you can wear it making some nice plates and hang it on your one side shoulder. Likewise, you can try out various combinations with your dupatta and make different styles of your choice as per your comfort.