Life of women is filled with difficulties and one of the major difficulties is selecting the right colour scheme for their dresses. You may be wearing the best of brands but if the colour scheme of the look is not synchronized, it will look odd and the whole look and feel of the outfit will just die.
Colour combinations has the potential to completely make or destroy the outfit. Therefore, it is clear as to why women feel sceptical about trying out new Punjabi suit colour combinations. When it comes to Punjabi suit for women, they have to nail the colour combination every single time for the suit to stand out.
Here is a list of 20 classy colour combinations of Punjabi suits that every woman should try:
1.GREEN AND ORANGE COLOR PUNJABI SUIT:
The traditional Punjabi suit looks the best in Punjabi suit colour combinations of green and orange. Green for the salwar and orange for the kameez. Glam up the look by wearing golden heels.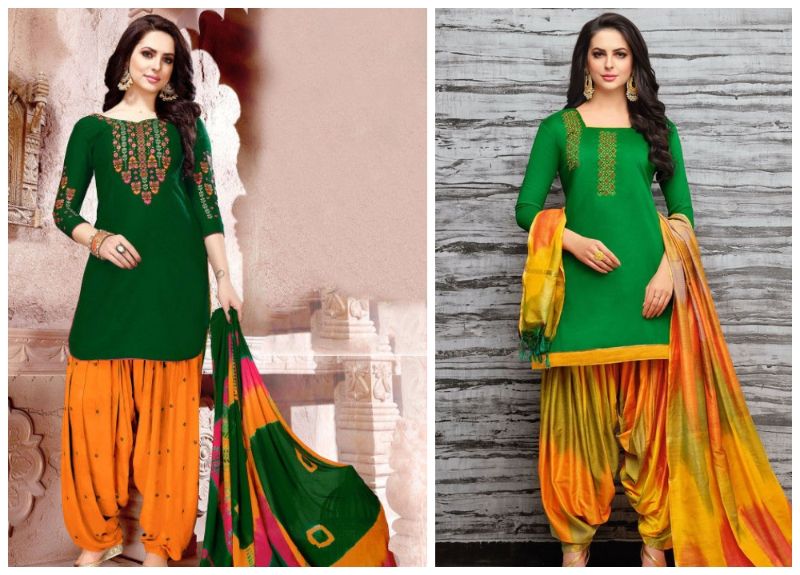 2.BLACK AND PINK PUNJABI SUIT:
Pink is a light colour and is in trend for quite a while. It can be teamed up with any dark color but the black colour goes pretty well with Pink . This Punjabi suit colour combinations is sure to grab some eyes.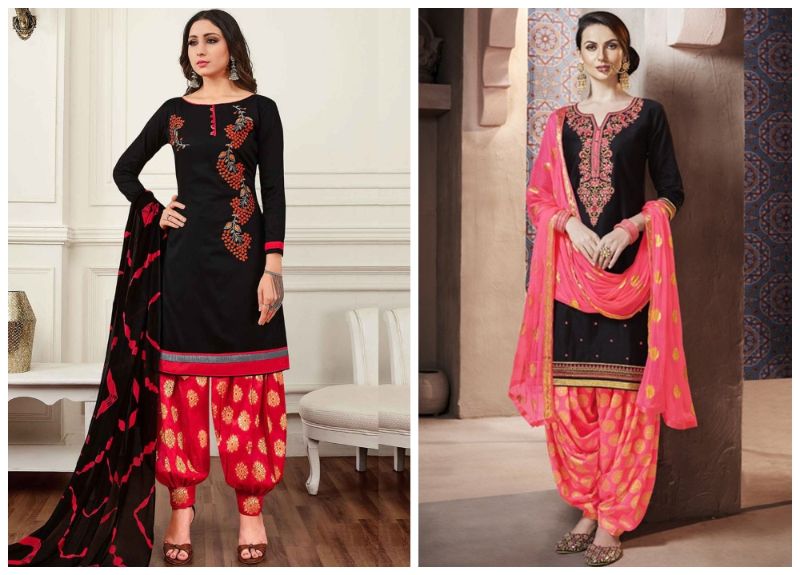 3.DARK AND LIGHT PINK PUNJABI SUIT:
These are two hues of the same colour and to be frank, such colour combinations look pretty dope and you will hardly go wrong with such a combination.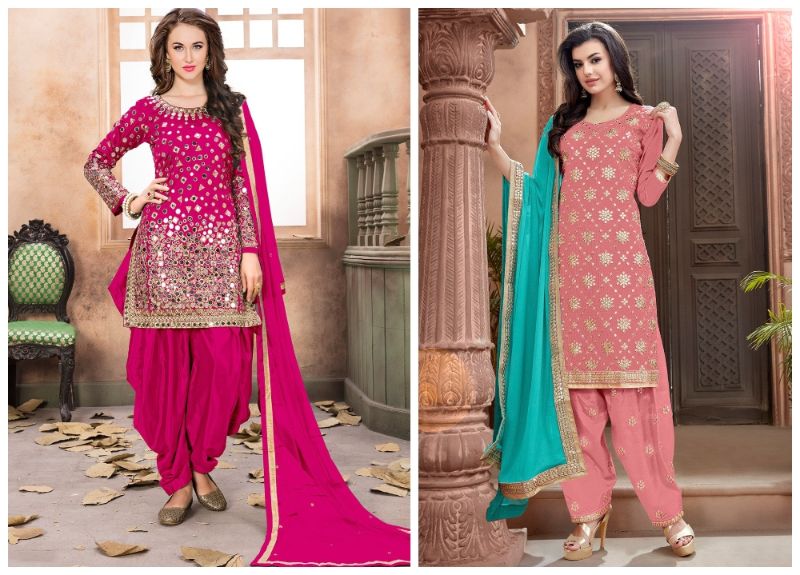 4.OFF-WHITE AND PINK:
Again, these two colours are very close to each other. This Punjabi suit colour combination looks absolutely fantastic. To increase the appeal of the Punjabi suit in these colour combinations, wear silver jewellery and heels.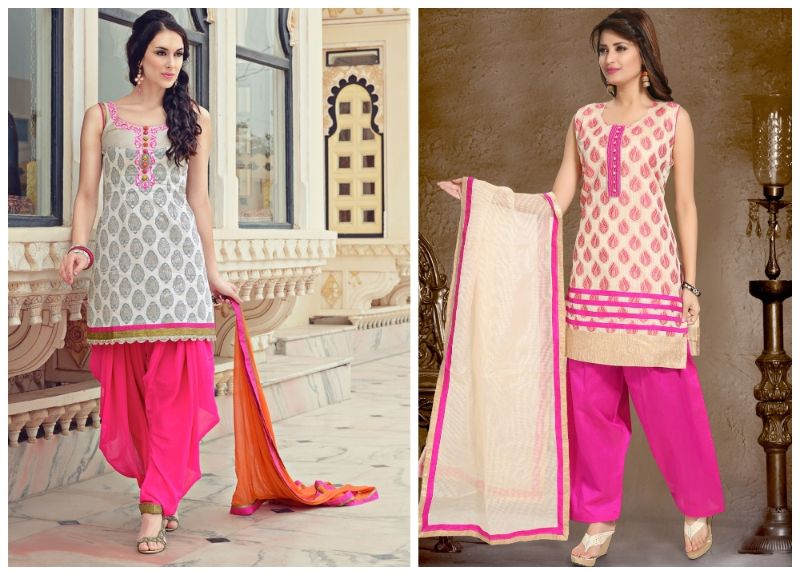 5.BABY PINK, PINK, AND PEACH COLOR PUNJABI SUIT:
These are very similar colours. All of them are subtle yet elegant. Reserve the baby pink for the top, peach for the dupatta, and pink for the salwar.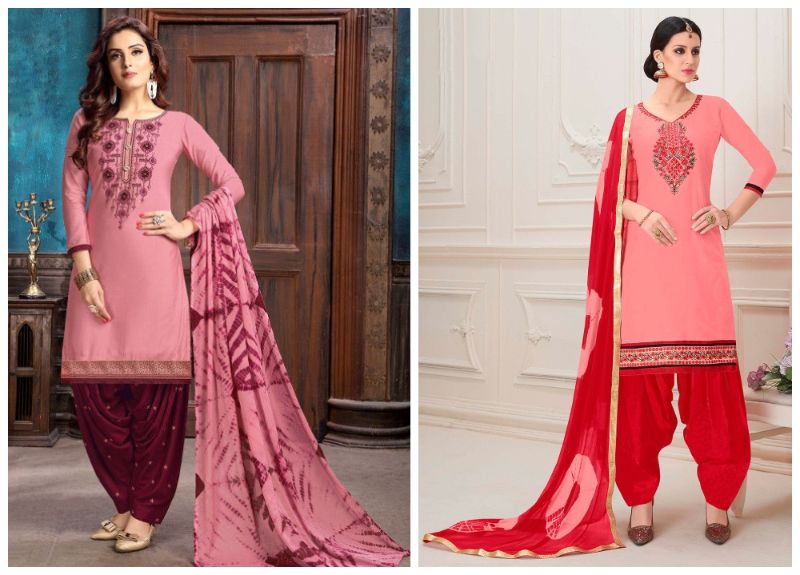 6.CREAM AND RED COLOR PUNJABI DRESS:
Cream color is also called off-white and the best part about the cream color or any other shade of white is that it accentuates every other color you pair it with. Red perhaps looks the best with white.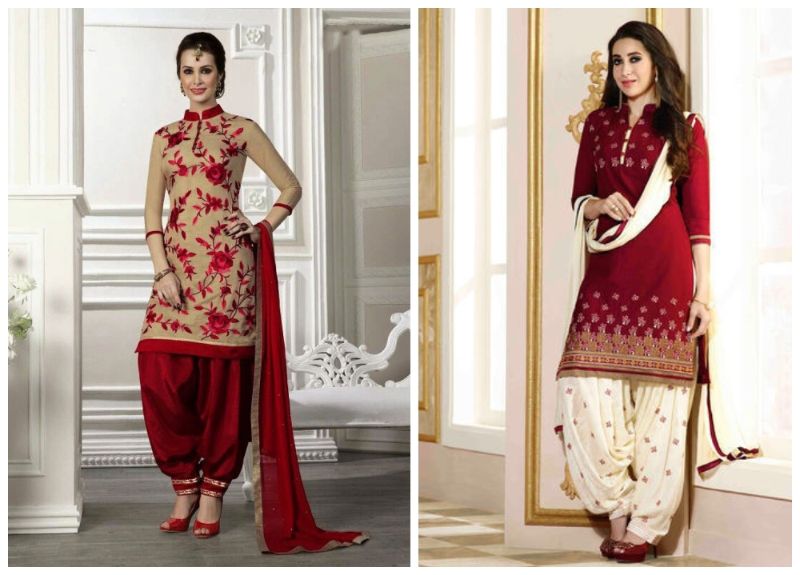 7.RED AND GREEN PUNJABI SUIT:
These colour combinations is by far the hard to ignore. In fact, this is an evergreen Punjabi suit colour combinations and you will never go wrong with this. Reserve green for the kameez and red for the salwar.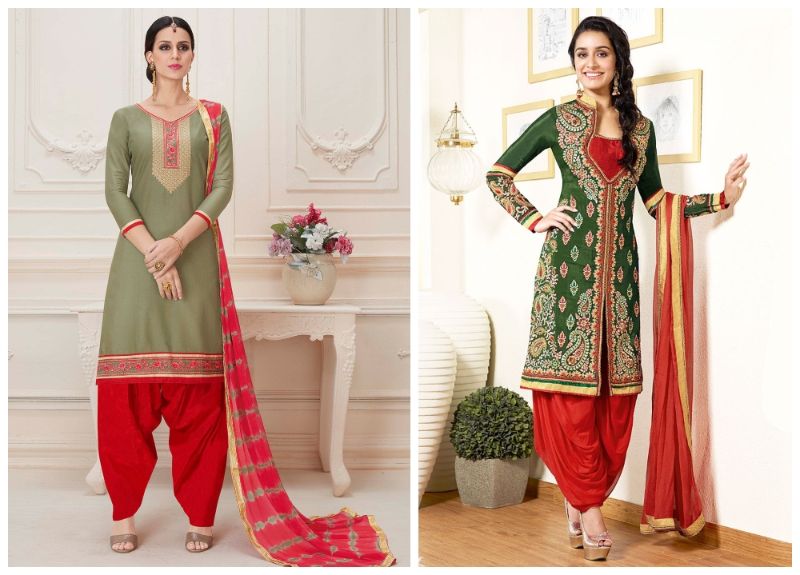 8.YELLOW AND GREEN:
A large majority of Punjabi suits are made in these colour combinations mainly because it suits all skin tones well.
9.LIGHT BLUE AND DARK BLUE COLOR PUNJABI DRESS:
Blue colour is a saviour irrespective of the shade. If you are confused on what colour Punjabi suit to wear, go for a combination of light and dark blue. It won't disappoint you.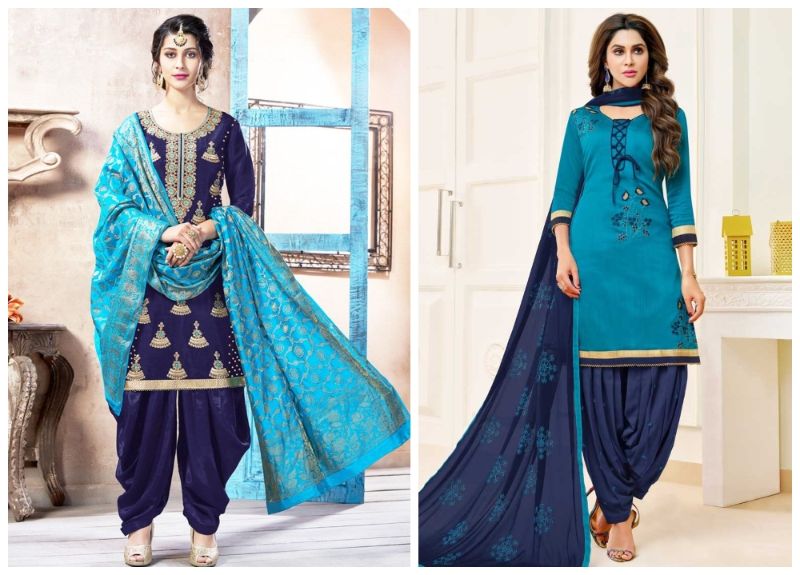 10.BLACK AND SEA GREEN:
Some people are so mad about black that they choose black over every other hue. Team up black and sea green for Punjabi suit and you will surely steal the limelight. The look of the suit will elevate a couple of notches if the hemline of the black kameez has golden embroidery. Rock a golden dupatta with the suit to make heads turn your way.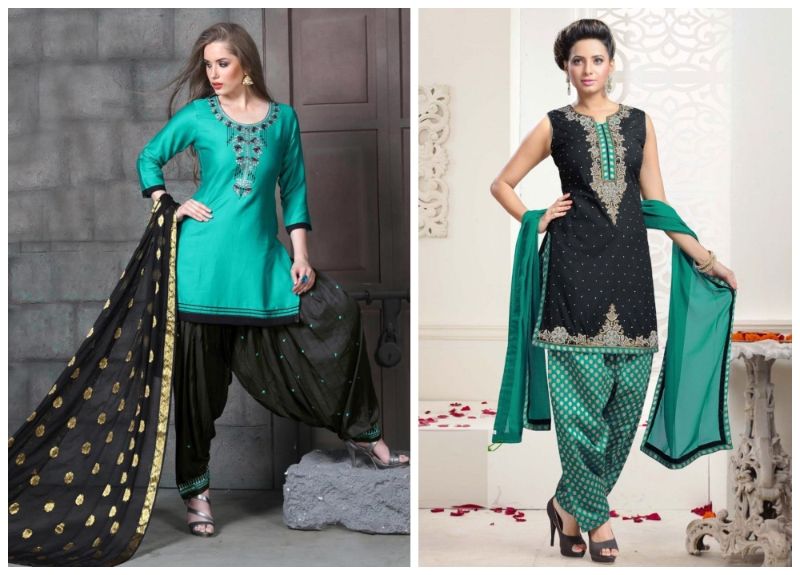 11.CORAL AND BLUE COLOR PUNJABI DRESS:
Earlier, coral was considered only as a shade of lipstick. But now top in coral colour sell like hot cakes. Team it up with a blue salwar. This colour combinations suit almost all skin tones and strikes a perfect balance of contrast.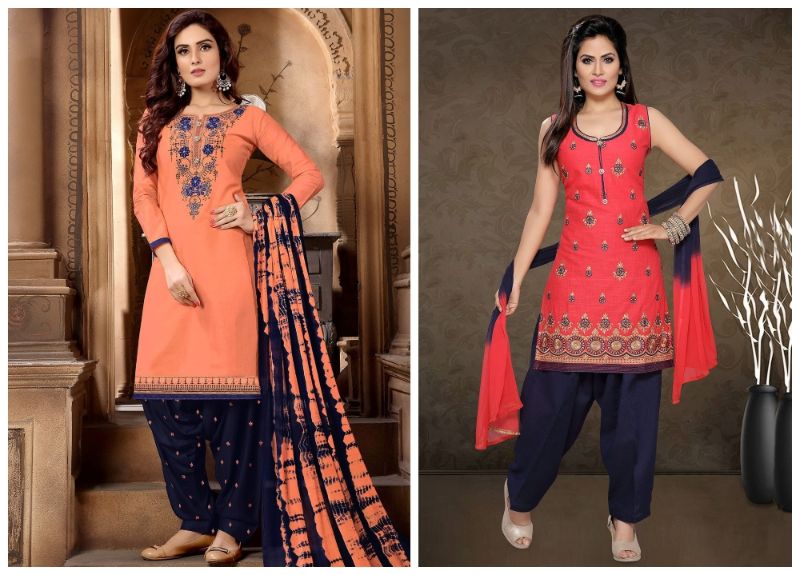 12.GREEN COLOR PUNJABI DRESS:
Green is a shade of pink. For more of the part, it just looks like pastel green. Nevertheless, this is a great combination to try out in casual parties. Just make sure to wear fuchsia coloured kameez and carry a netted dupatta.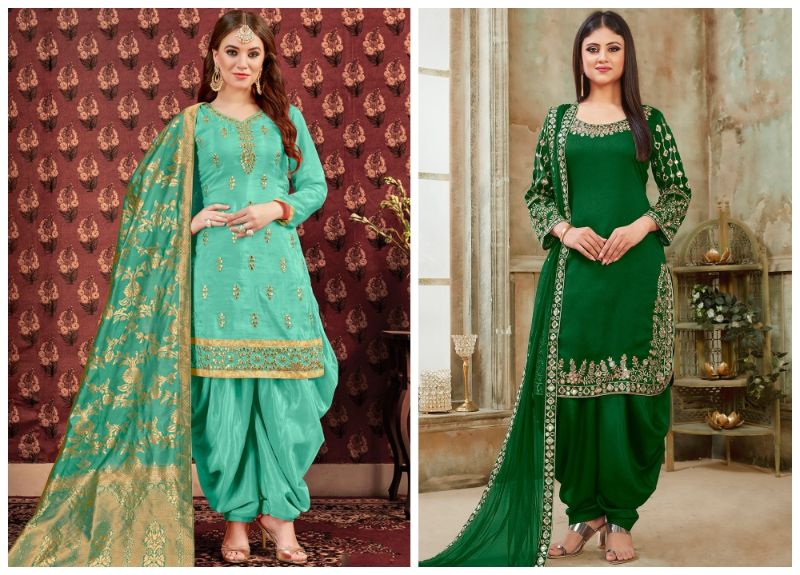 13.BLACK AND RED COLOR PUNJABI DRESS:
This is another evergreen combination. Feel free to play with them as they look great together.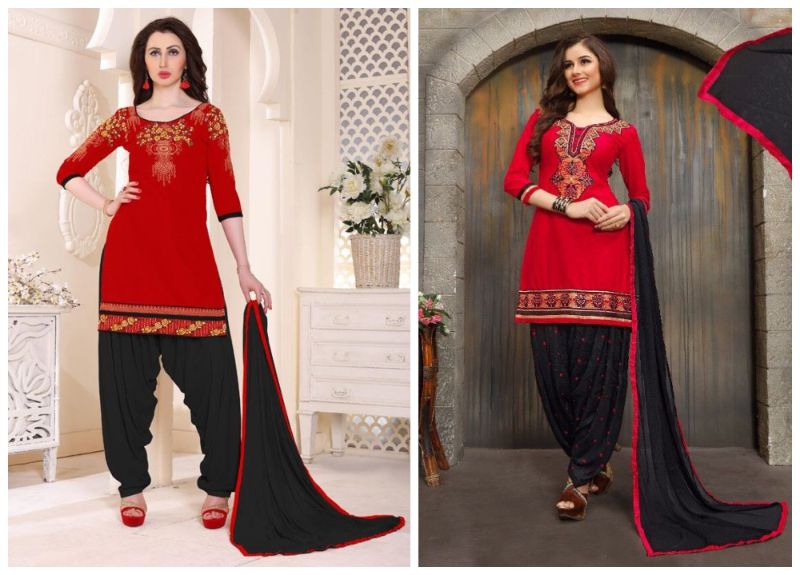 14.GREY AND BURGUNDY COLOR PUNJABI DRESS:
Burgundy is a deeper shade of the maroon color. A burgundy kameez with a shiny grey salwar is perfect for wearing in a Diwali party, sangeet, or mehndi function. This combination is a bit unorthodox and looks extremely flattering.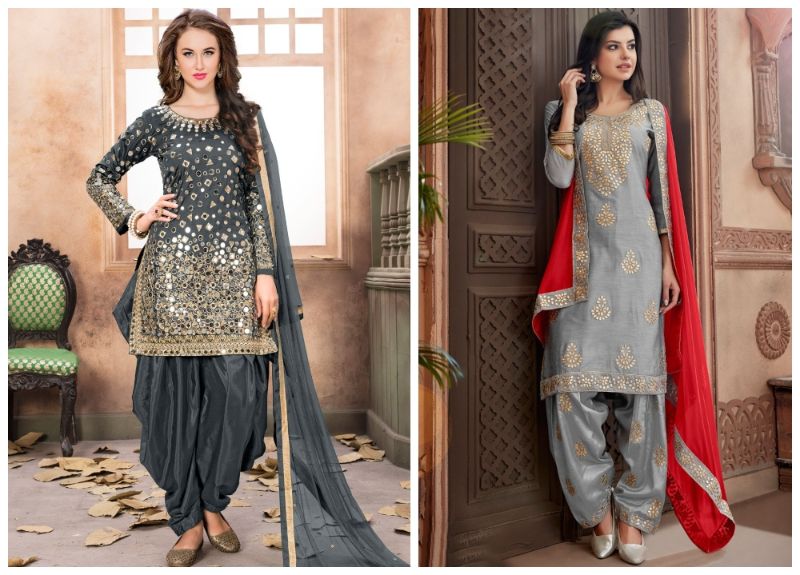 15.BEIGE AND RED:
Beige is a colour mostly seen in car interiors. It is a lighter shade of brown and when you pair it with red, the Punjabi suit goes to a whole new level. This colour combinations is a must try for all women.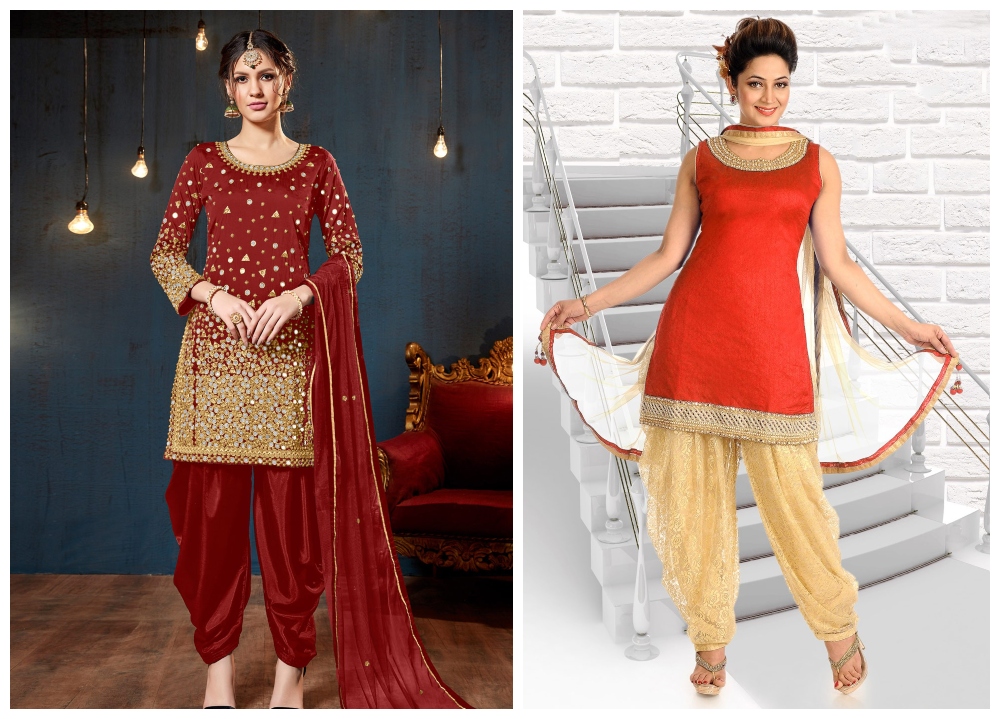 16.WHITE AND GREEN:
As mentioned above, white colour accentuates every other color you pair it with. Keep green for the kameez and white for the salwar.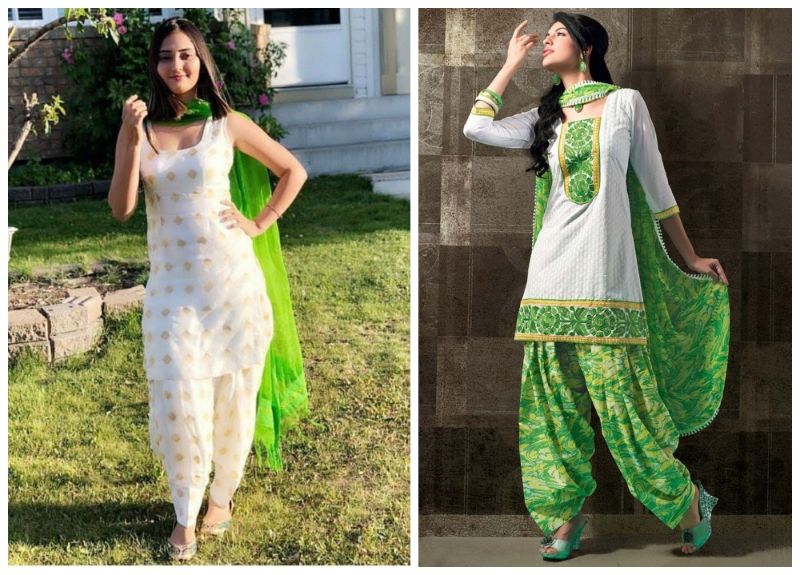 17.BLACK AND WHITE COLOR PUNJABI DRESS:
These are two solid colours and you can never go wrong with these. Even better if the top has some golden embroidery irrespective of the base colour.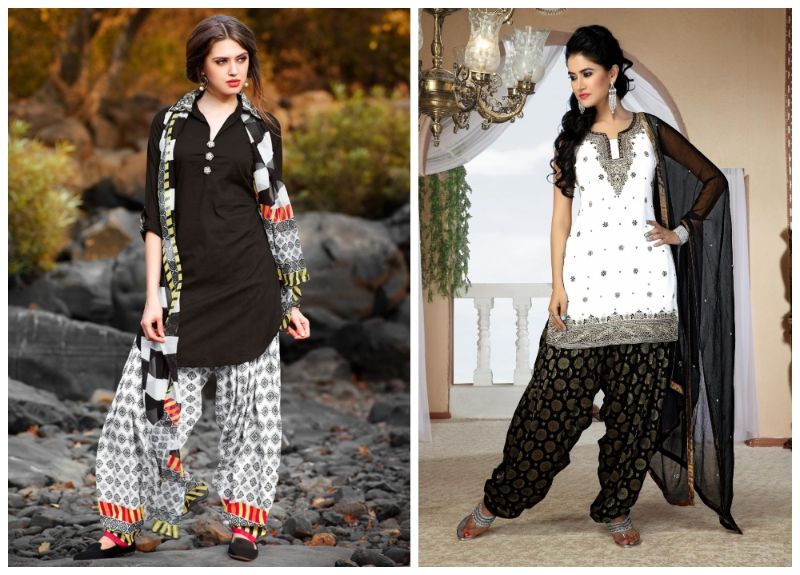 18.AQUA AND BLACK COLOR PUNJABI DRESS:
Aqua colour is a bit neon-ish and might not suit everyone. But when you combine it black, the previous statement becomes null and void. Try an aqua kurti with black salwar and dupatta. It is most likely to become your new favorite.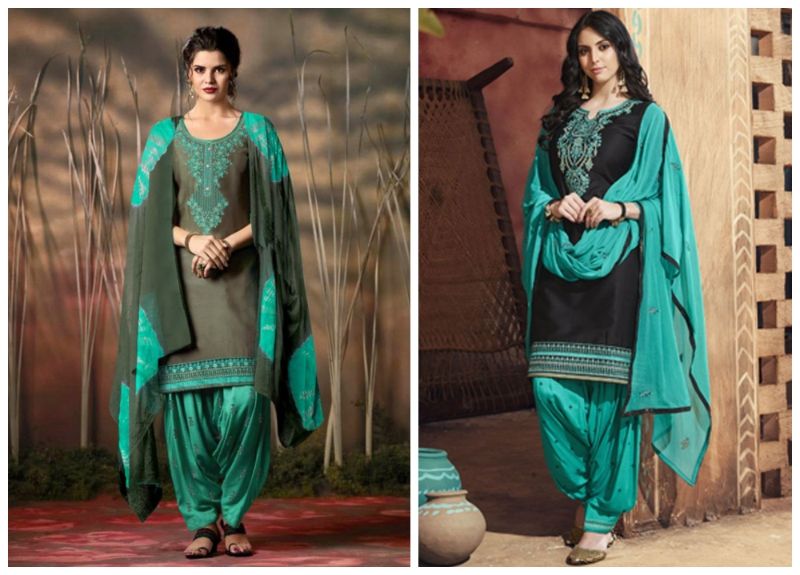 19.BLACK AND YELLOW COLOR PUNJABI DRESS:
These colours strike a perfect balance of contrast. Wear a black kurti with yellow salwar and dupatta. This colour combination is perfect for occasions like rakhi and bhai dooj.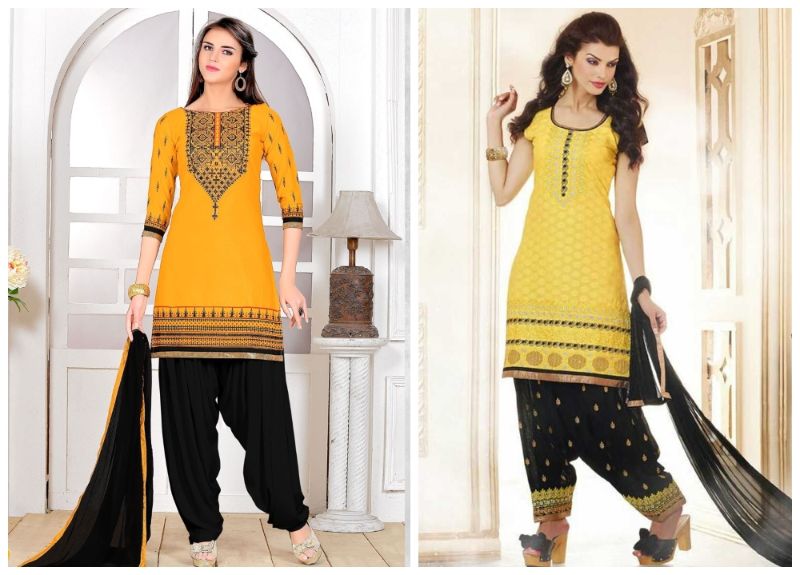 20.YELLOW AND WHITE:
Both these colors are light and bright. You can interchange them between salwar and kameez according to your choice and preference.