Churidar is one of the most sophisticated and elegant types of Salwar Kameez. But do you what adds better effect to it? Its Neck designs. The Neck designs of a Churidar is a perfect combination of style, charm and perfect delicacy.
Even the most expensive and colourful churidar is nothing without the matching neck design. The designs include embroidery, embellishments and even some different prints. Choosing the right style of churidar becomes necessary because everyone has a different body shape, and the worst churidar can make you look weird. So choose wisely. Here is a list of 15 latest Churidar neck designs that will make you look more Stylish:
1.Shirt Collar Neck Design For Churidar:
These types of Churidars are one of the most loved styles. It looks appealing and girly.
It looks great when it comes with 3/4th sleeves or folding sleeves.
It suits the most on a woman with a longer neck.
A healthy woman should avoid it.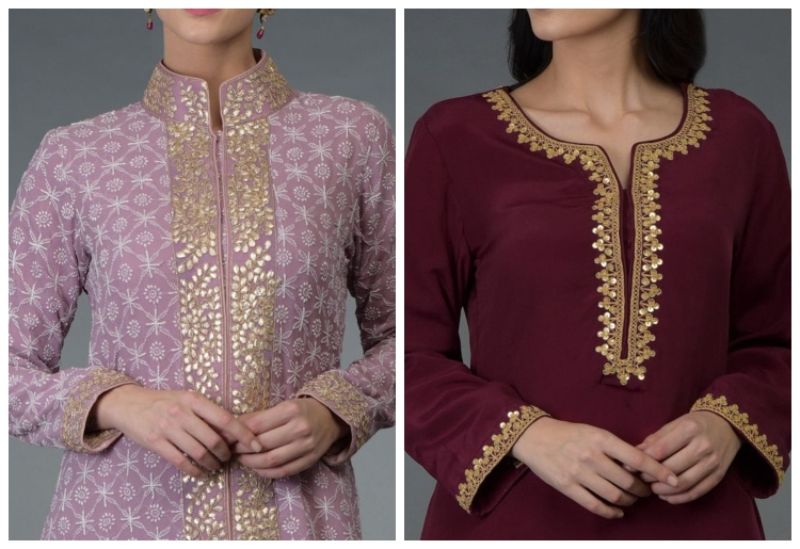 2.Mandarin Collar Churidar Neck Style for churidar:
These types of collar neck styles are found in many different styles. It is very popular nowadays.
This neckline suits best on A-line, Apple cut and asymmetrical kurtas.
It looks great with all the sleeve styles.
A healthy woman can choose it.
You can choose this kurta with buttoned-style.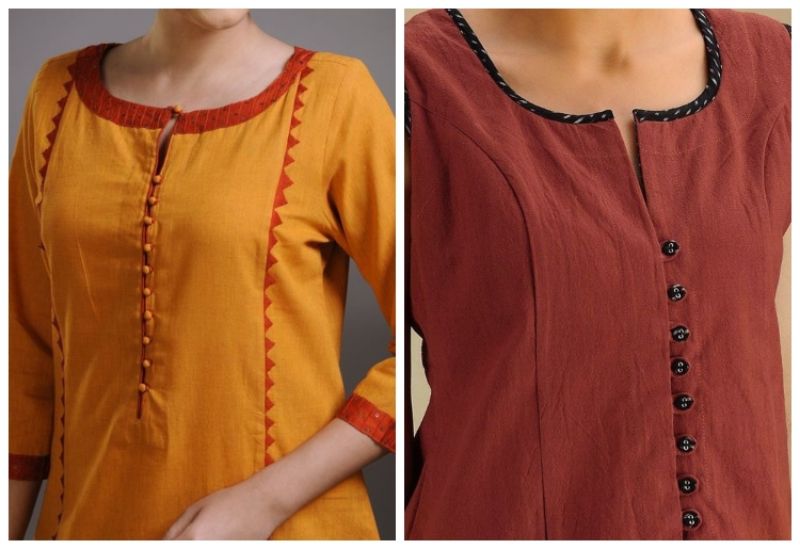 3.Illusion Netty Neckline for Churidar:
It is one of the graceful churidar necklines that has gained a lot of popularity. It gives a modern look.
Such churidar should be paired with the fitted pants or leggings.
It gives a vibrant look.
These churidars looks perfect on any body type.It gives an illusion of jewellery.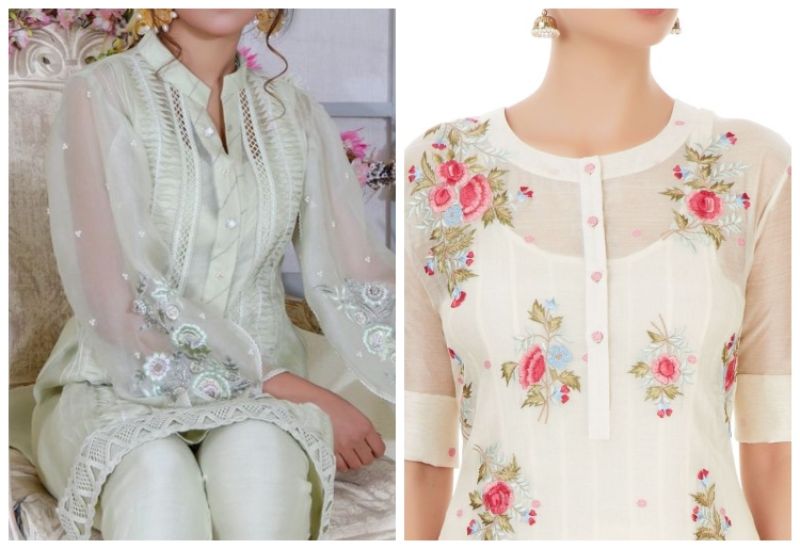 4.Boat Neck design for Churidar:
Boat Neck design is one of the most elegant design. It looks graceful and highlights the neck of a woman.
You can also call this neckline as oval neckline design.
It suits the most on the women with smaller busts and waist size.
It suits the most on the women with smaller busts and waist size.
Even the women with heavier bust can give it a try, just remember to go for heavy fabric and designs.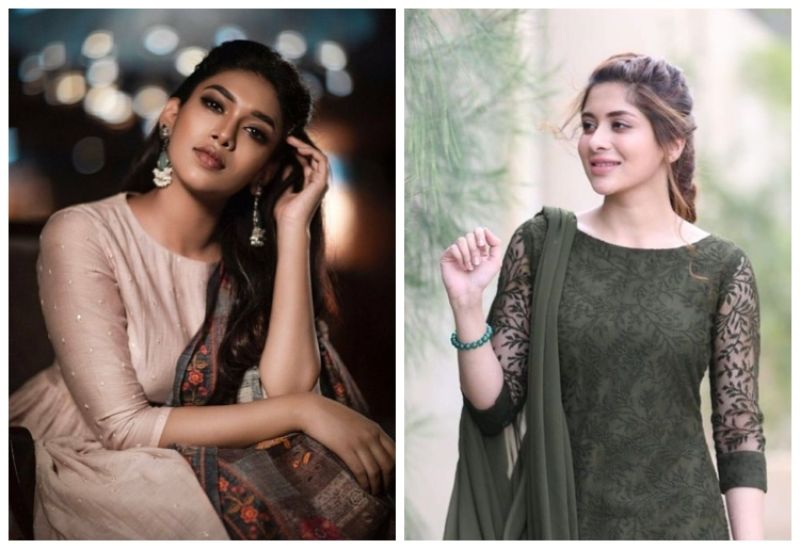 5.Jewel Style Churidar Neck Design:
As the name suggests, the Jewel style neck design gives an illusion of jewellery. It is a unique and charming style of neck design. It will add a shine to your look.
Never wear a neckpiece with these types of churidars as it will make you look weird.
These styles look the best on the curvy and busty women. Additionally, other women can also go for it.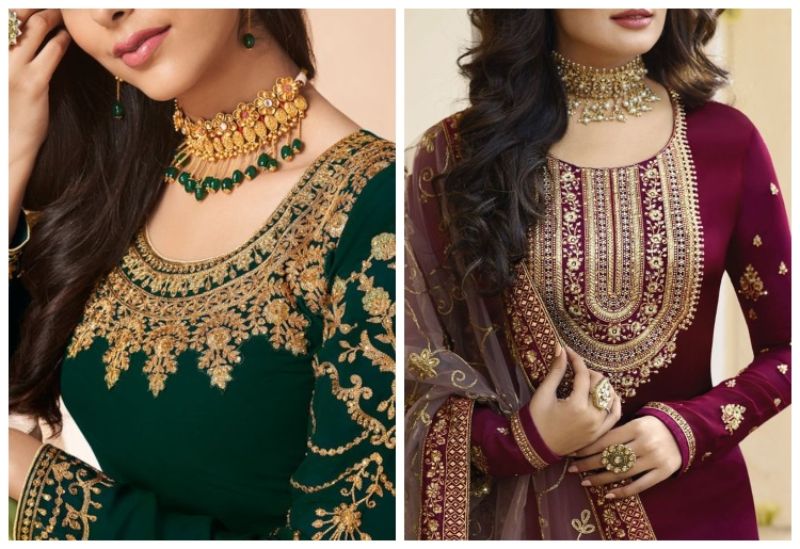 6.Raglan Churidar Neck Designs:
Raglan neck design gives a modern vibe to the churidar. You can wear it at a cocktail party or get-togethers.
These neck styles help in highlighting your shoulders. A broad-shouldered woman can go for it.
Try to get the bright colour combinations of this suit as it will highlight your neckline.
This neck design suits the best on the slim women.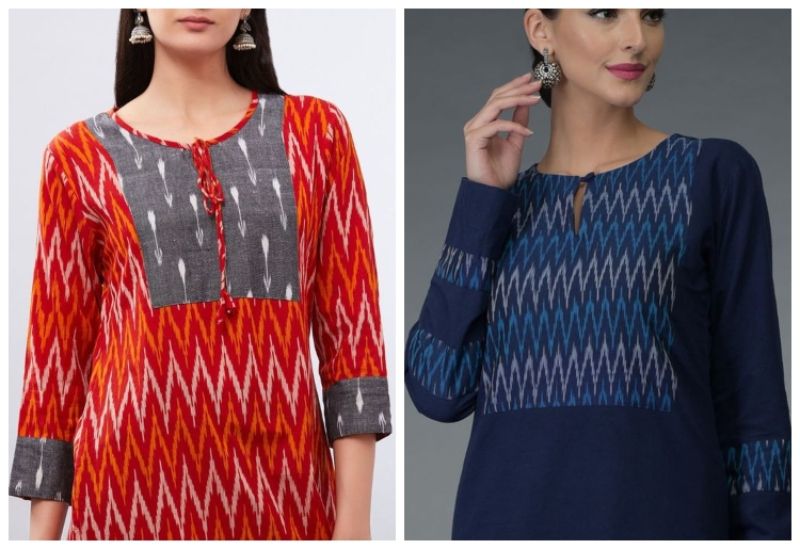 7.Deep Square Churidar Neck designs:
A square neck pattern is one of the simple and most loved necklines. It highlights the neckline in a perfect way.
This neck design makes your shoulder looks wider. You can try the different styles of square necklines and leave everyone falls in love with your attire.
A looks great on a woman with a smaller bust or a pear-shaped woman.
It is said that a woman with heavy bust should avoid it, but at last, it's your choice that what you want to wear.Combine it with a net dupatta.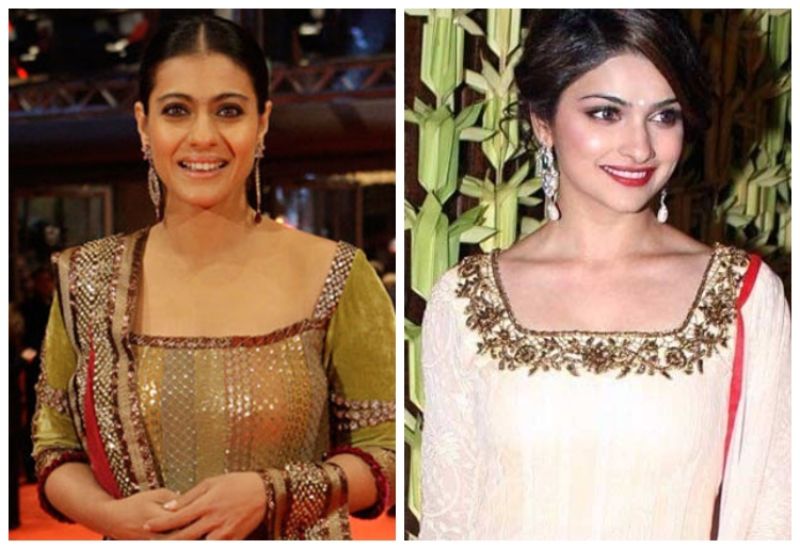 8.Portrait Churidar Neckline Designs:
If you love the illusionary design then you must go for a portrait neckline. It will highlight your collar bone and highlight your neck.
It is a kind of deep neckline but doesn't give an effect of it.
A woman with the broad-shoulder should not go for it.
Sometimes a skinny woman will not able to carry it perfectly, so make sure to get it in a perfect fitting.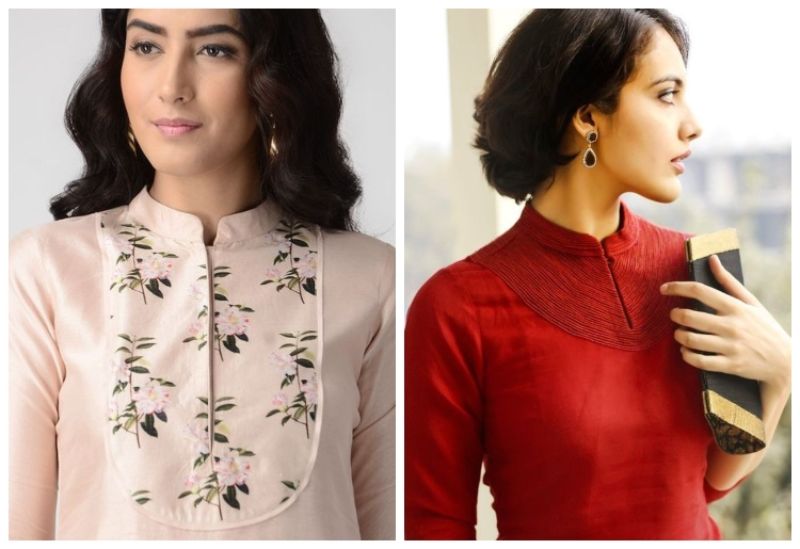 9.Scoop Churidar Neck design :
A Scoop Neck design gives an illusion of oval shape. It helps in making your neck longer.
These necklines makes your shoulder looks wider.
It should be avoided by a heavy busted woman as it will highlight your cleavage in a weird way.
This helps in highlighting the shoulder bone. If you want to accessorise it then go for the choker necklaces.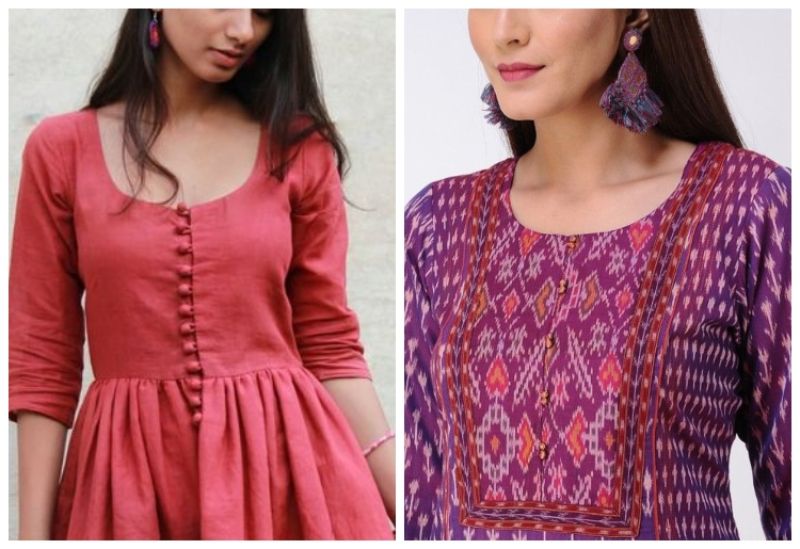 10.Sweetheart Neck design for Churidar:
No other style can replace a sweetheart neck design. It is found in many fabric options and patterns.
Prefer a push-up bra underneath it. Just take care when you bend too much.
If you are not sure about this neckline then either wear some necklaces with it or avoid these churidars
Carry your dupatta on the side or as a choker.Keep your makeup simple and easy.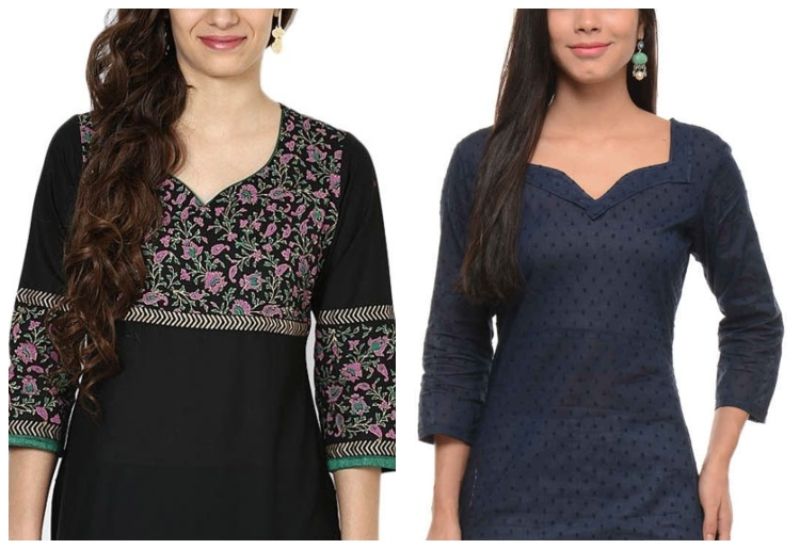 11.Jacket-like neck design for churidar:
These types of necklines add a royal look to your churidar. You will fall in love with its comfort and beauty.
Don't wear jewellery with these types of churidars.
Also, avoid wearing a dupatta. If you still want to carry it then pin it up on your either shoulder.It suits every woman.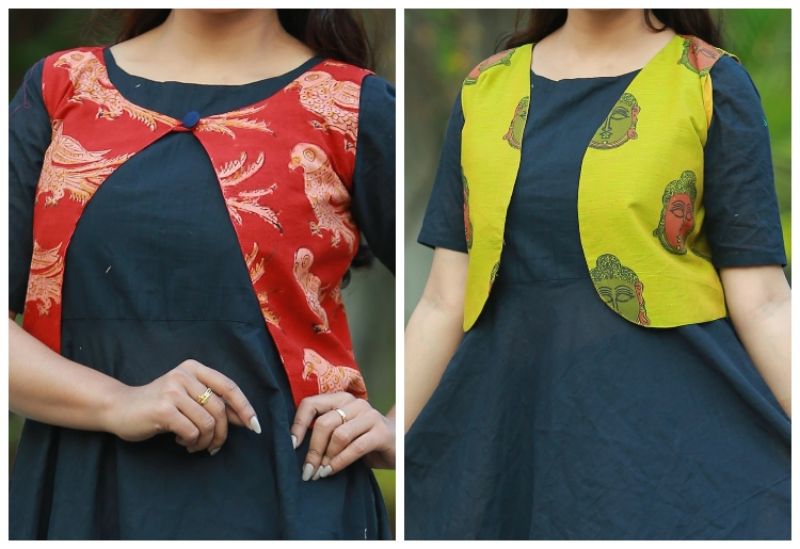 13.U-Neckline Design for Churidar:
These types of churidars are perfect for the winter season. It looks powerful and flatters a lot of figures. It will add a bohemian vibe.
Avoid wearing a neck-piece with it as it will not be visible.
Go for the simple sleeves, because other styles will not go well with it.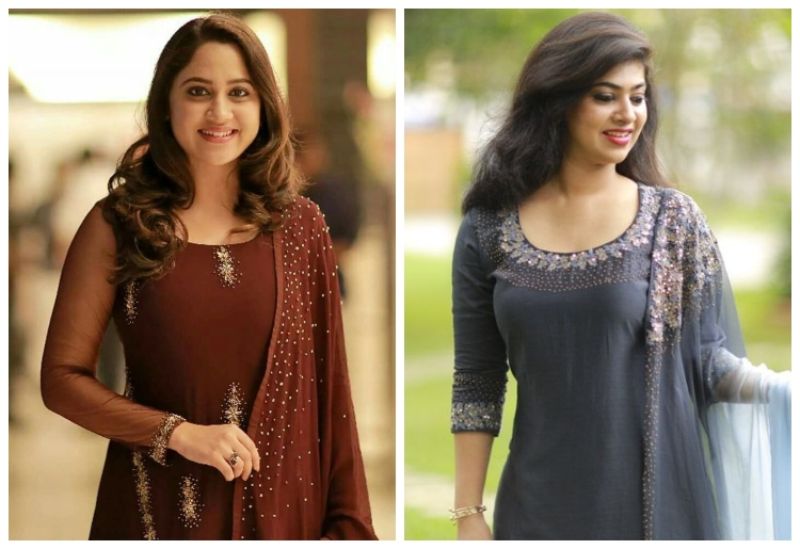 14.Crew Neck design for Churidar:
These neck designs are known for their round and close-neck pattern. It adds class to the whole look.
These are very popular and are either full sleeved or sleeveless.
It suits the best on busty and plus-sized women.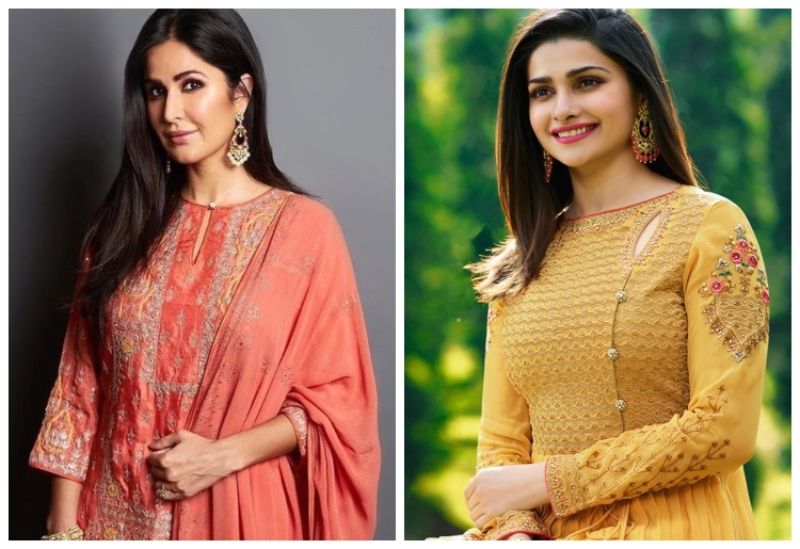 15.Peter Pan Neck Pattern for Churidar:
Peter Pan collar type is a new trend of churidars. It gives a dressy and pretty effect.
Puff sleeves compliment this neckline in the best way.
It looks great on all the body types.
Choose such necklines in brocade and jacquard cloth and add a traditional look to your churidar.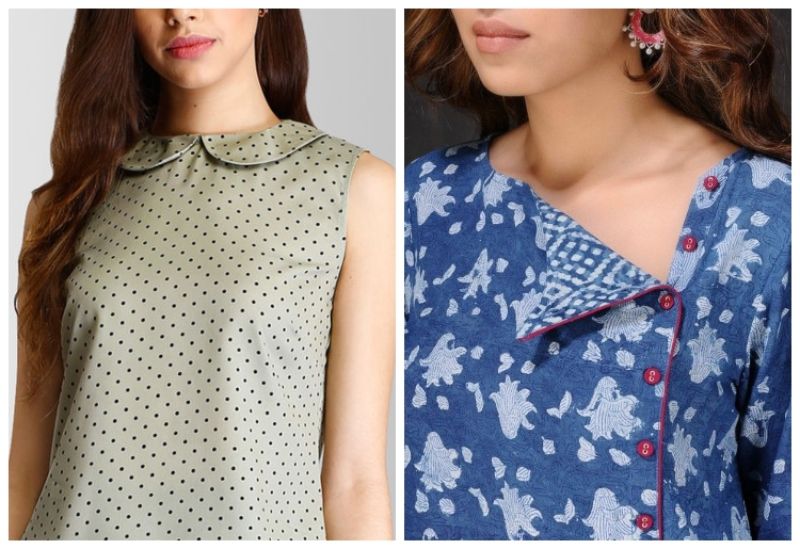 If you don't like to show you're a lot of skin, choose Peter Pan Neck pattern.