India is precious for its art culture varieties. One of such art is kolam, as we are aware of. It is an ancient form of rangoli which is formed by the connection of dots and turned into a sophisticated and traditional pattern. Kolam is a famous rangoli design and pattern in southern India. The courtyards of their home are decorated and intensified with this art.
Kolam is a very versatile and beautiful art having numerous colours, small muggulu designs, shapes and implementations. Here are some of the most famous Muggulu Kolam art designs to enlighten your house and embrace the beauty of India's art culture
#Chukkala Muggulu Kolam Designs
1.GEOMETRIC KOLAM DESIGN:
This design is the combination and result of one of the ancient kolam art techniques where dots are connected to form grids and then designs. This design is more of a symmetrical one and is one of the most unique ones. This design is formed on the basis of a grid which is used a guideline and the dots are connected to form a design which comprises of starry and flowery patterns all across. This design is perfect for sophisticated occasions. Being a classy choice, it could be found in most homes.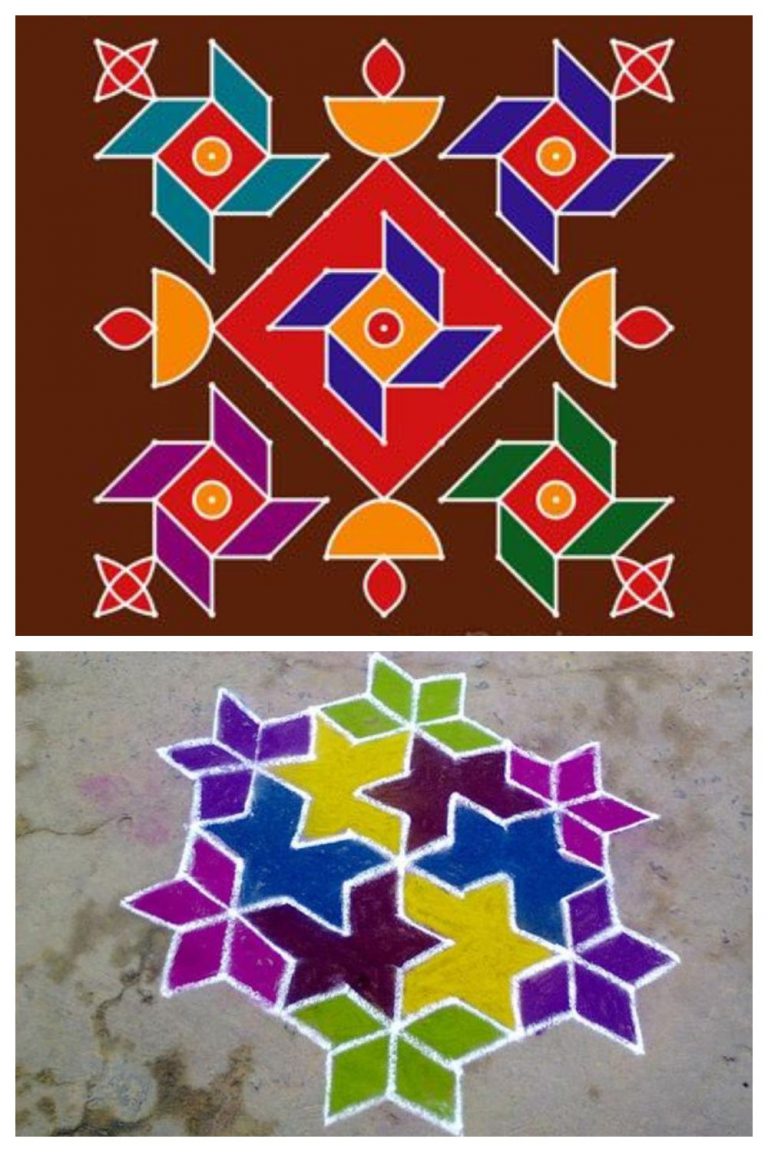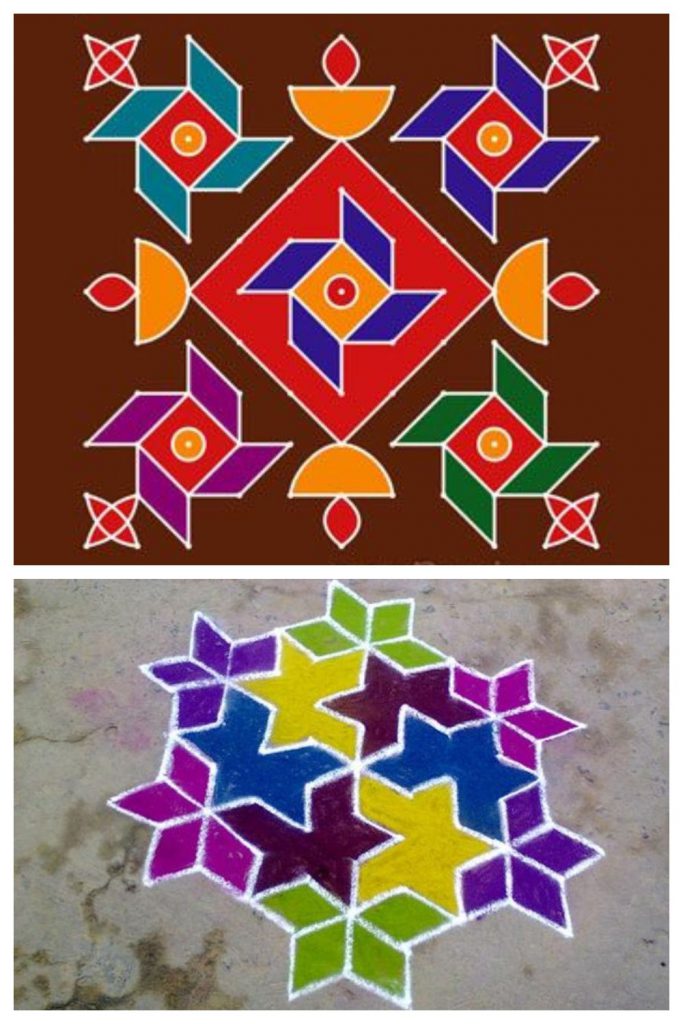 2.STRAIGHT BLACK AND WHITE KOLAM:
This design defines simplicity. Colors like black and white provide the required boldness and it is an attention seeker despite being facile as well as simple in making and outlook. This pattern is perfect for you if you are a beginner. The primary step would be to prepare the grid which will be a base for the foundation of lines and patterns, further in the process. Now, as you follow the grid and the picture, you might easily be able to draw lines and form dots. This design is easier because all you have to do is connect the grid patterns with straight lines.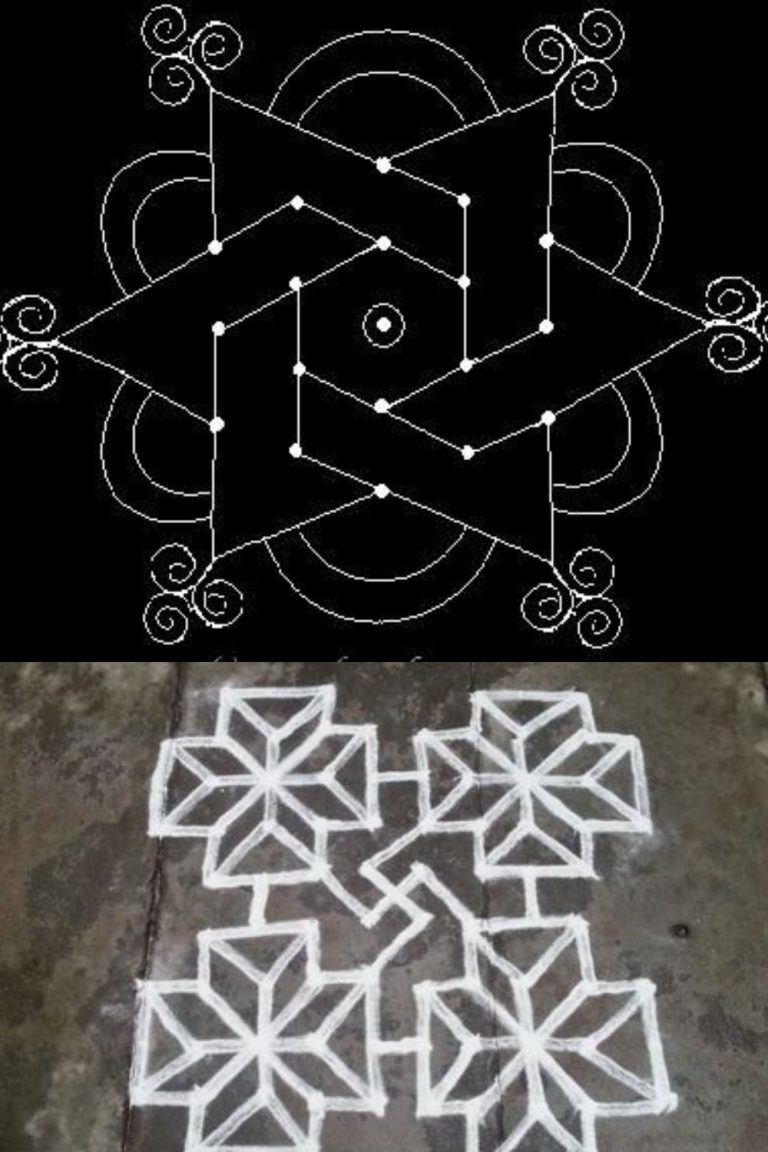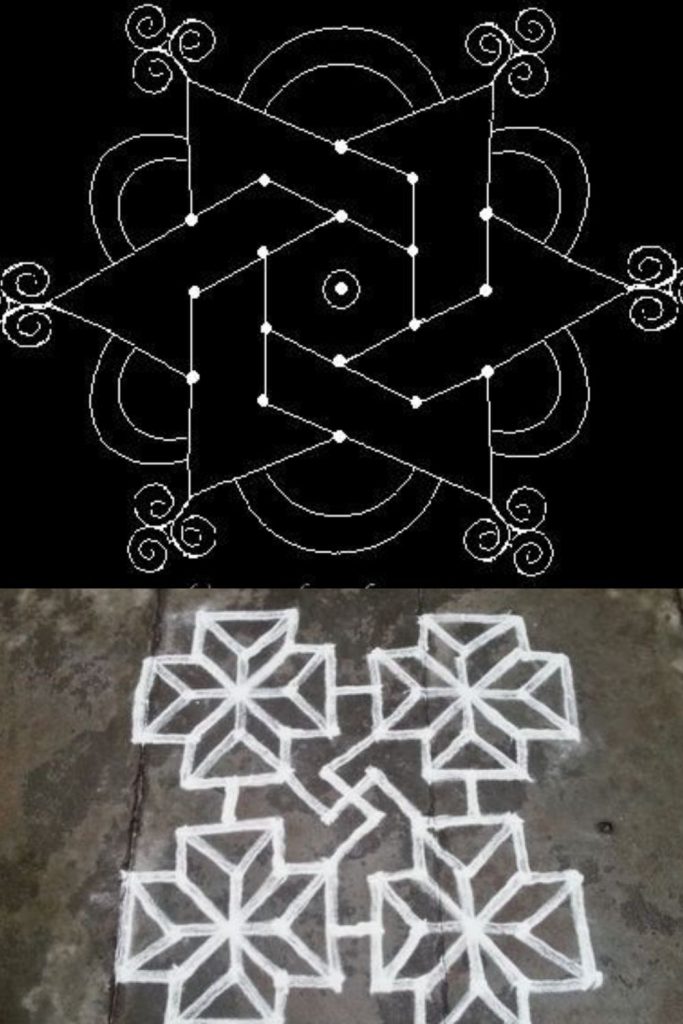 3.KOLAM WITH FLORAL DESIGN:
Design patterns have an all-around buddy which is floral designs. We can never get rid of floral patterns, because not just kolam art but many other art designs consist of floral forms and colors. In this design, floral patterns are formed by connecting the dots. This is your perfect go-to kolam pattern if you don't excel in these skills but need to do something creative. The use of colors can totally enhance the design. Outlining this design is not a tough task and it gives a very positive as well as pretty look. You can use colors like pink, purple, and green, magenta, orange or red which are bright and catchy.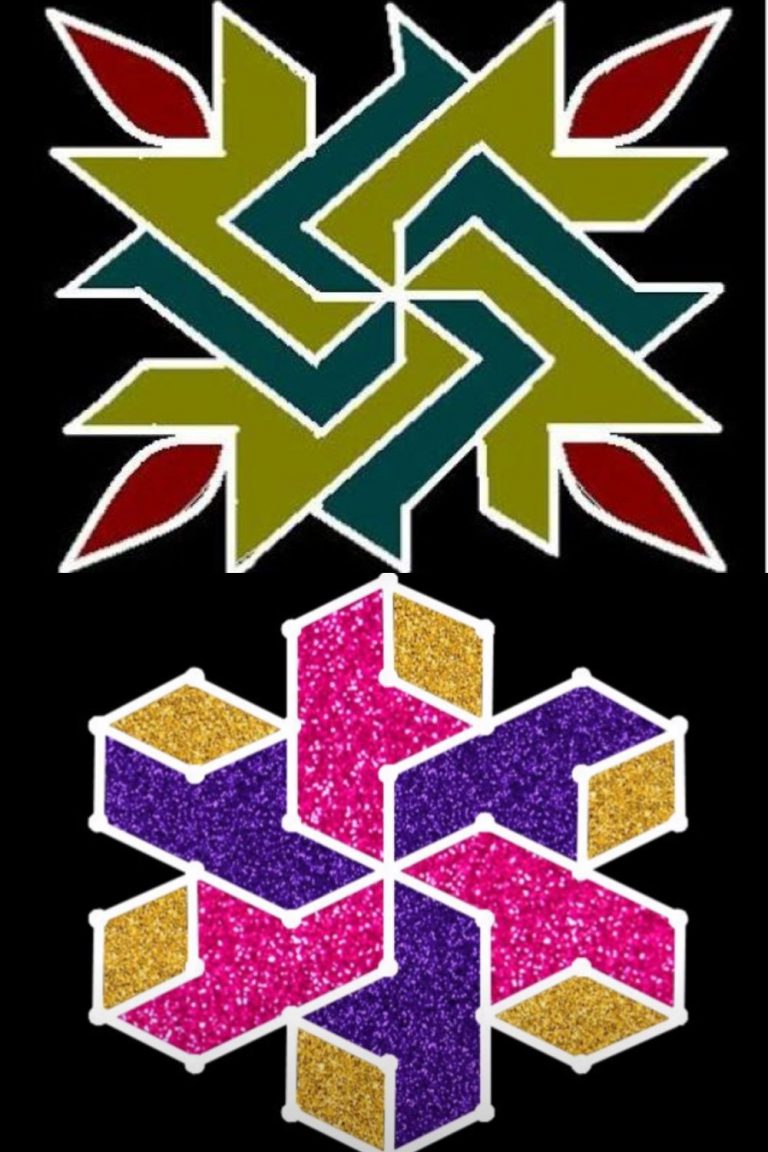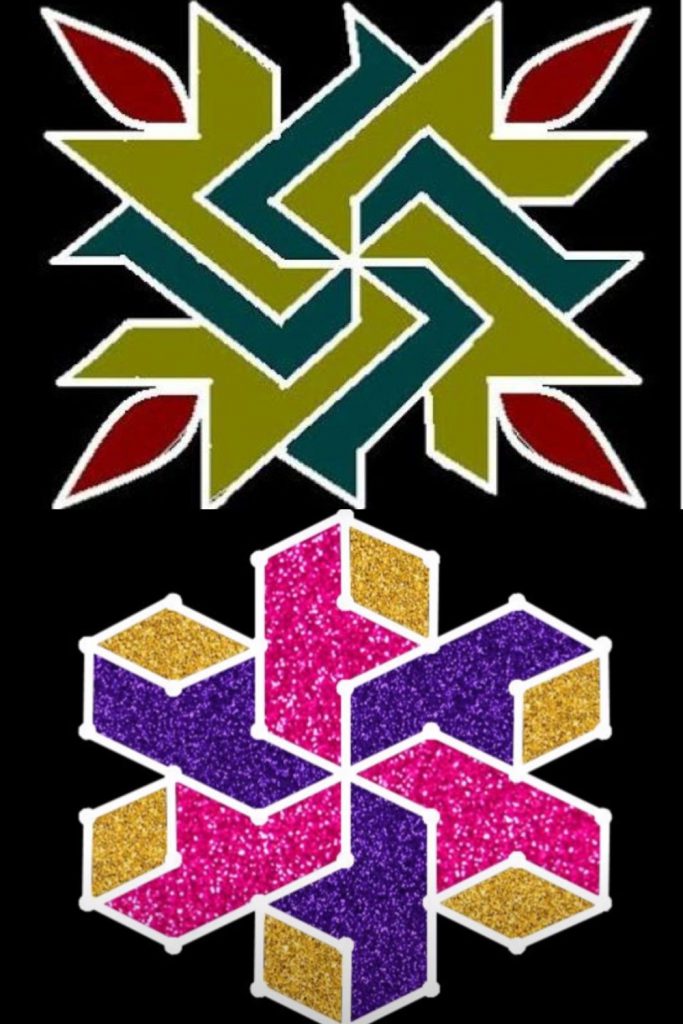 4.WHITE AND MAROON INFINITY LOOP DESIGN:
This is a sophisticated and important design in the Kolam art technique. It is also formed with the aid of dot connection. As there are numerous fixed patterns in Kolam art which form the base of other patterns, this design is a result of the infinity loop pattern in Kolam which is quite famous and always in style. This design is versatile and could be formed in smaller sizes as well. The infinity loop pattern gives a lot of choice to experiment with kolam designs. This design is formed with plain white outlines, giving a very traditional, homely and unpretentious look.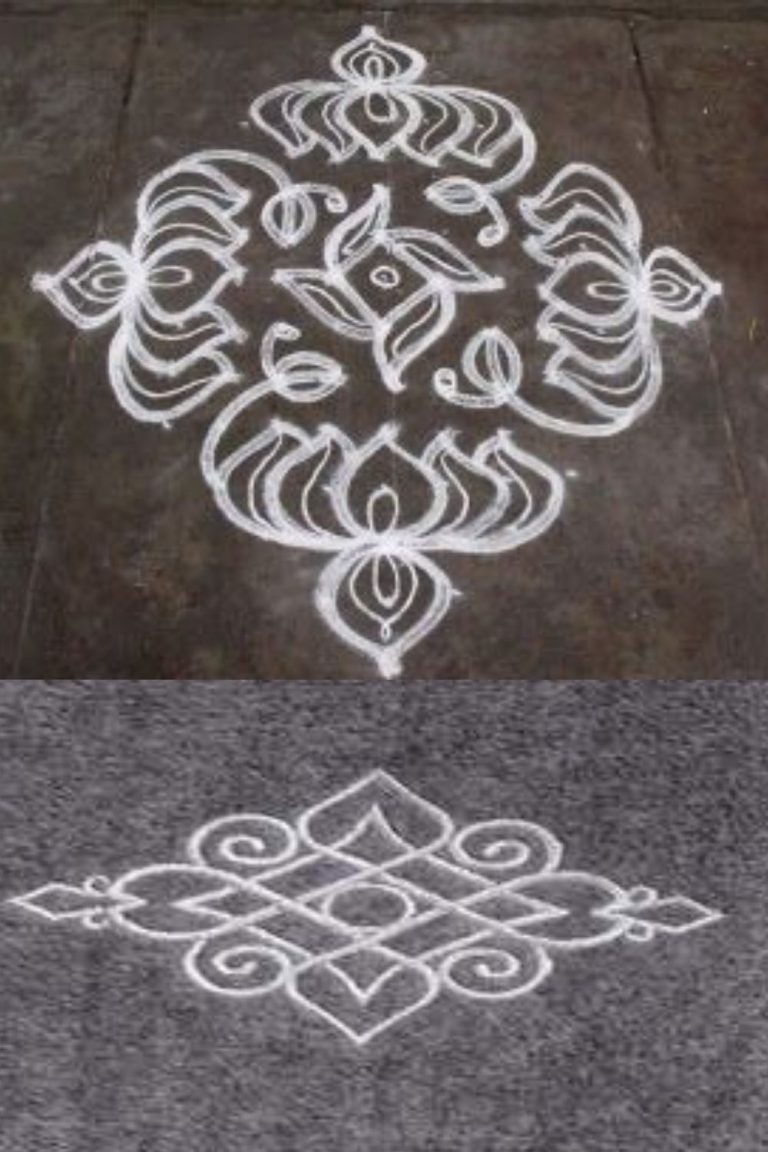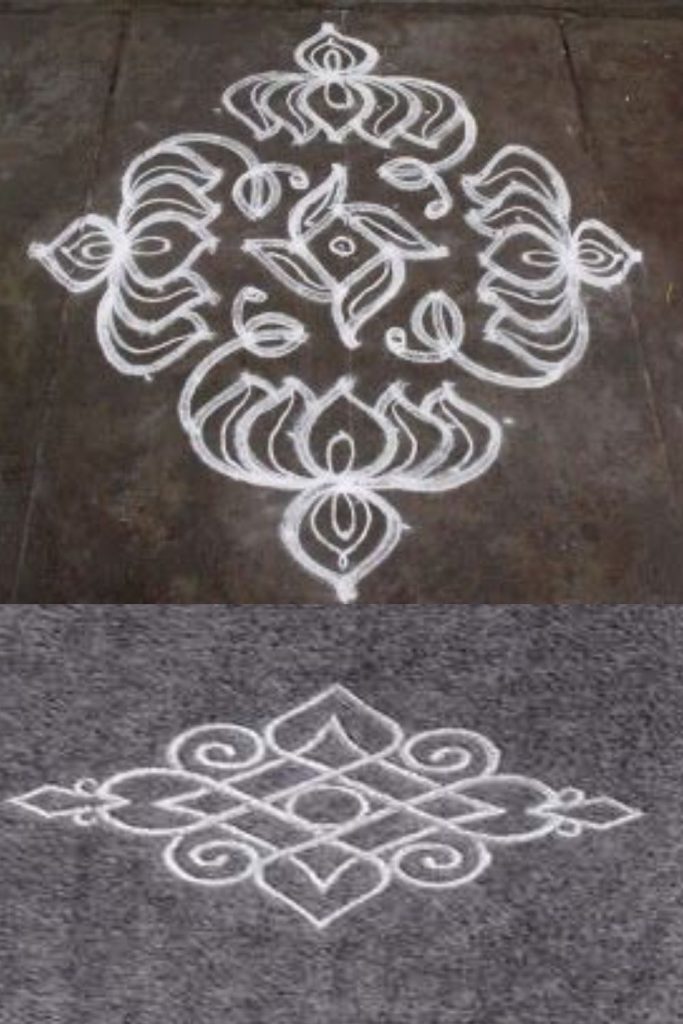 #Simple and Easy Rangoli Design with dots
5.STAR KOLAM DESIGNS:
This shape and design is also evergreen and beautiful. The formation of this kolam design is in a star shape which is combined with bright and on-going colors like green and blue. This kolam design is also a result of the infinity loop patterns which gives it an enhanced structure. This design requires constant focus and skills in the technique that is why it is not preferred for beginners. It is a perfect blend of colors and square shaped patterns with dots. It looks voluminous, professional and gives a good finishing to your courtyard.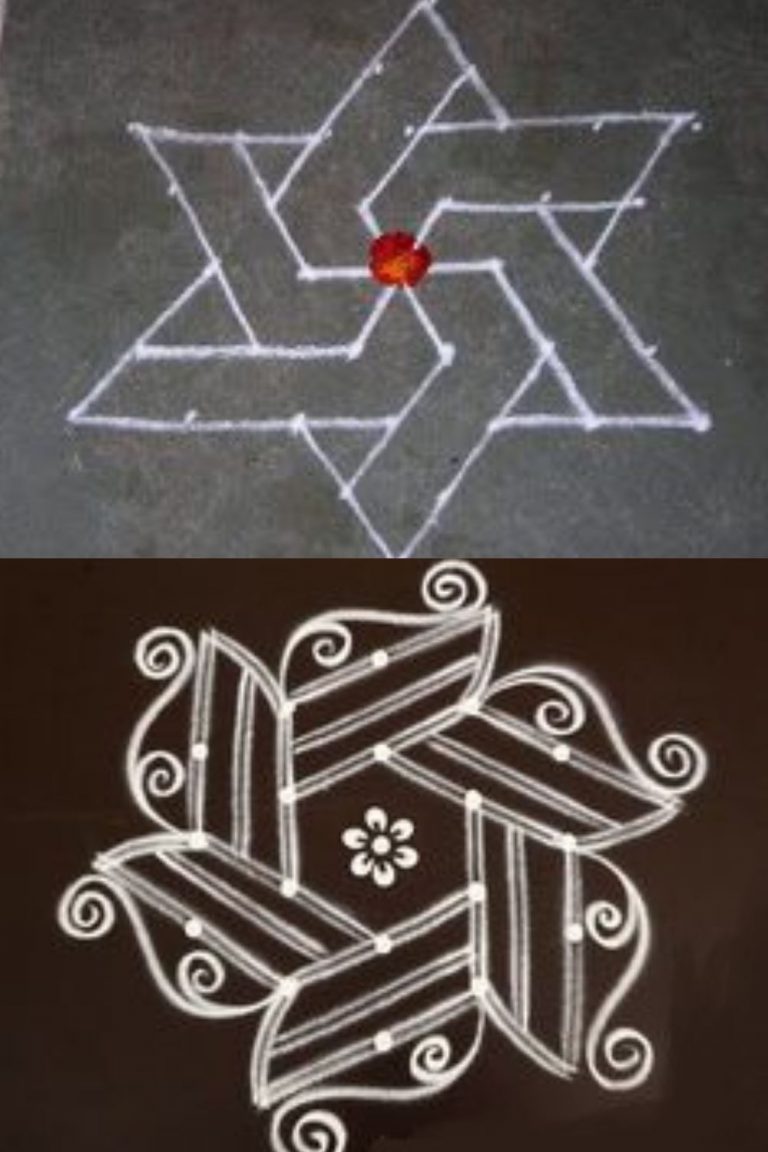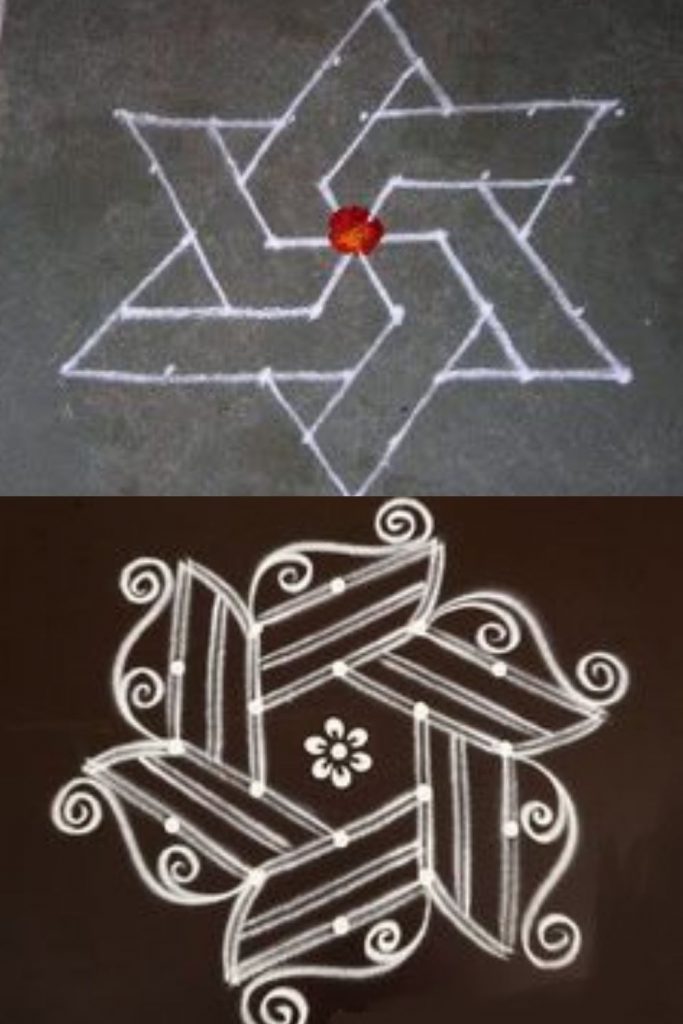 6.GRID AND DOT FLORAL KOLAM:
This is another formation and result of the dot technique in kolam art. The only difference is that instead of geometrical patterns this design comprises of floral arts and bird designs. This is what makes this design unique and beautiful. The formation is not that tough as it is done by connecting the dots and forming grid. It is recommended for beginners as well. The outlining is done in a very sophisticated manner and shapes including birds, leaves and flowers are drawn. It is a beautiful and elegant pattern for your courtyard which is simple as well as creative and unique than others.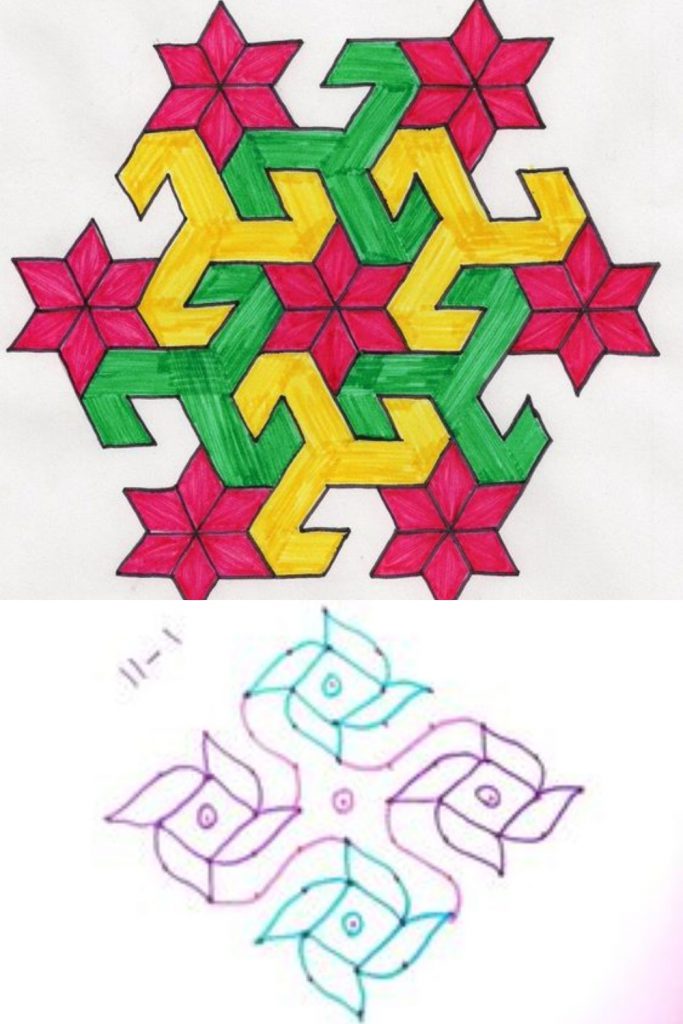 7.SYMMETRICAL KOLAM RANGOLI:
This kolam art design is also one of the simplest patterns of all time. The technique of dots and grid is used a base for forming straight lines which are connected for completing the design. This pattern has a sophisticated foundation and outlook. This design pattern does not require much time and effort which is what makes it compatible as well as neat. The design is in a symmetrical form like many other kolam designs. This is recommended for people who have limited expertise in the technique and want to do something creative.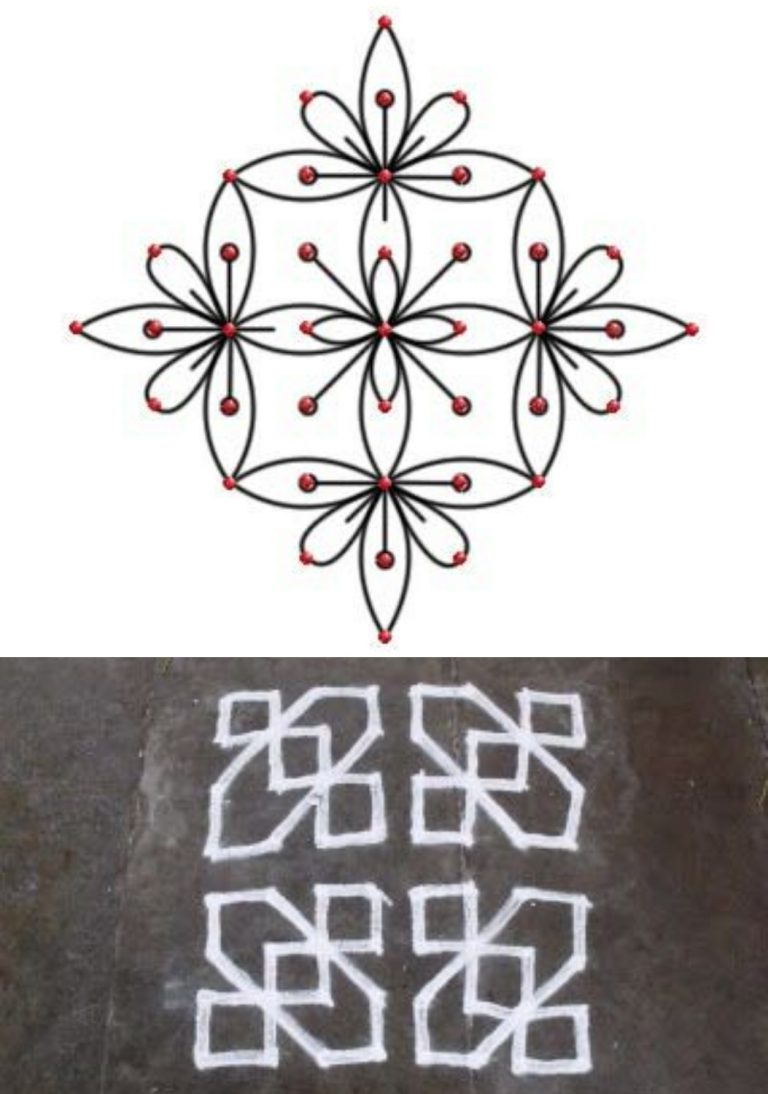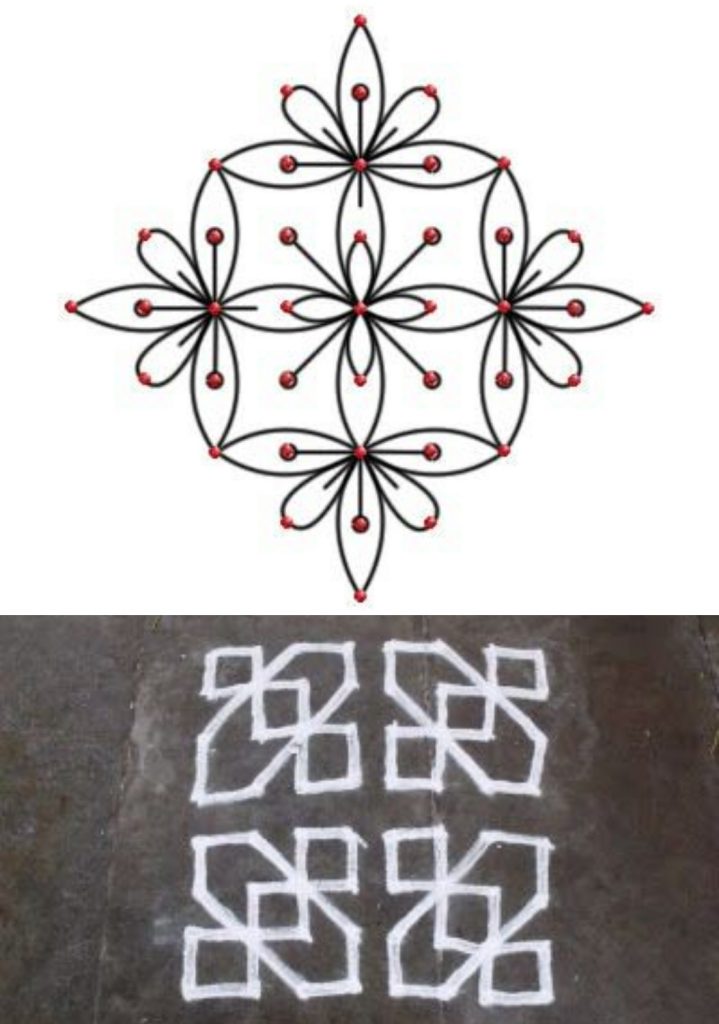 8.COMPLEX KOLAM ART:
This design is a result of extra creativity and efforts. This design is formed on the basis of the dot technique as well. The design is not geometrical of straightforward but much complex than others. The pattern consists of numerous shapes and mini designs within the whole art. The dots are connected and grids are formed in order to form patterns like flowers and leaves, hearts, human faces and so on. This design requires time, efforts as well as expertise and this is why it is not recommended for beginners. This is a classy and complex design which seems engaging at the first sight itself.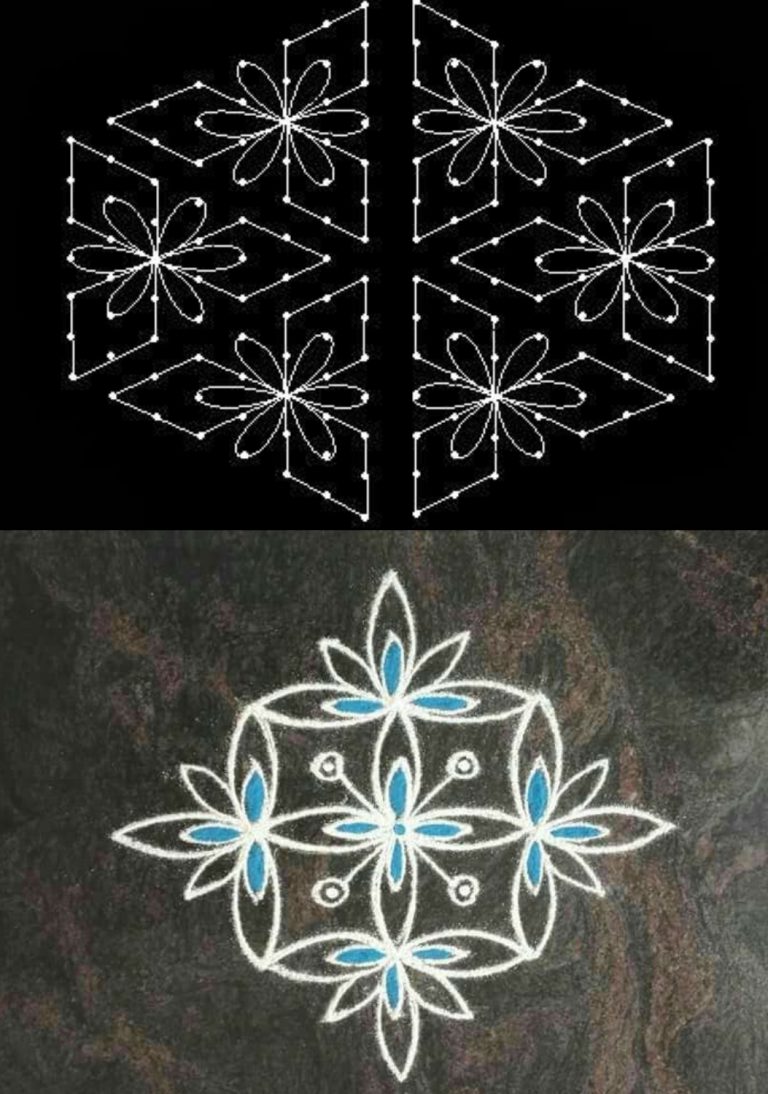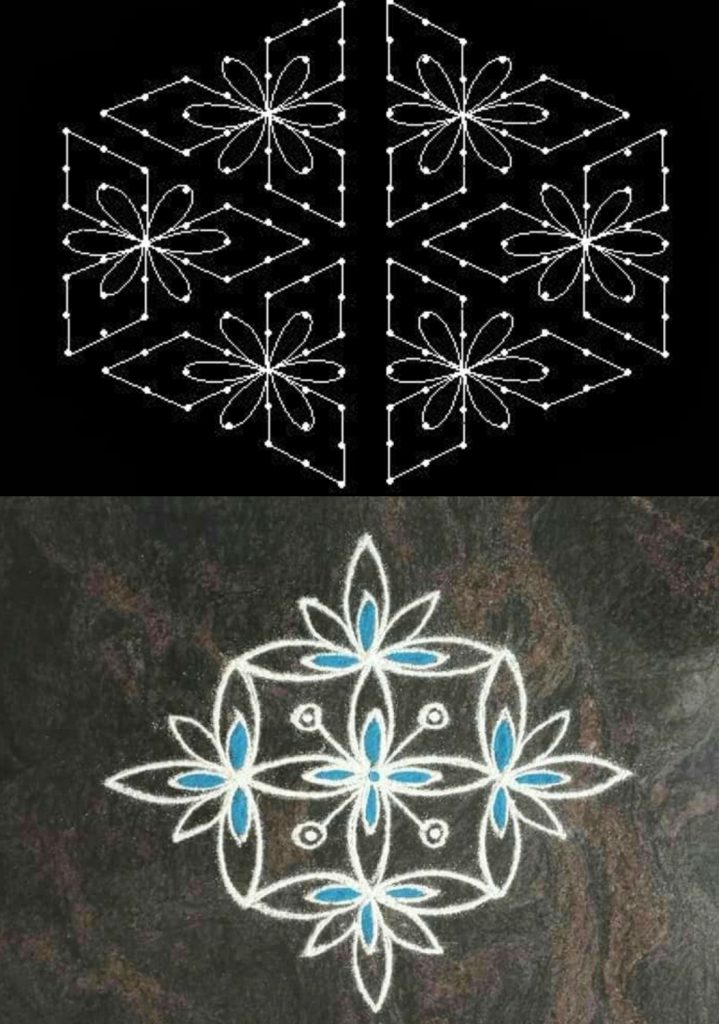 #Classy Muggulu Designs Latest Styles
9.ANIMAL COLORED RANGOLI DESIGN:
This design is more of a colorful and happening rangoli. This Muggulu kolam art is a bit unique and different than most others with symmetrical and straightforward patterns. This pattern is also in a symmetrical form but the patterns are more likely to match with colorful rangoli designs. The formations are in the form of flowers and leaves which are formed with dot connections are using bright and on-season colors.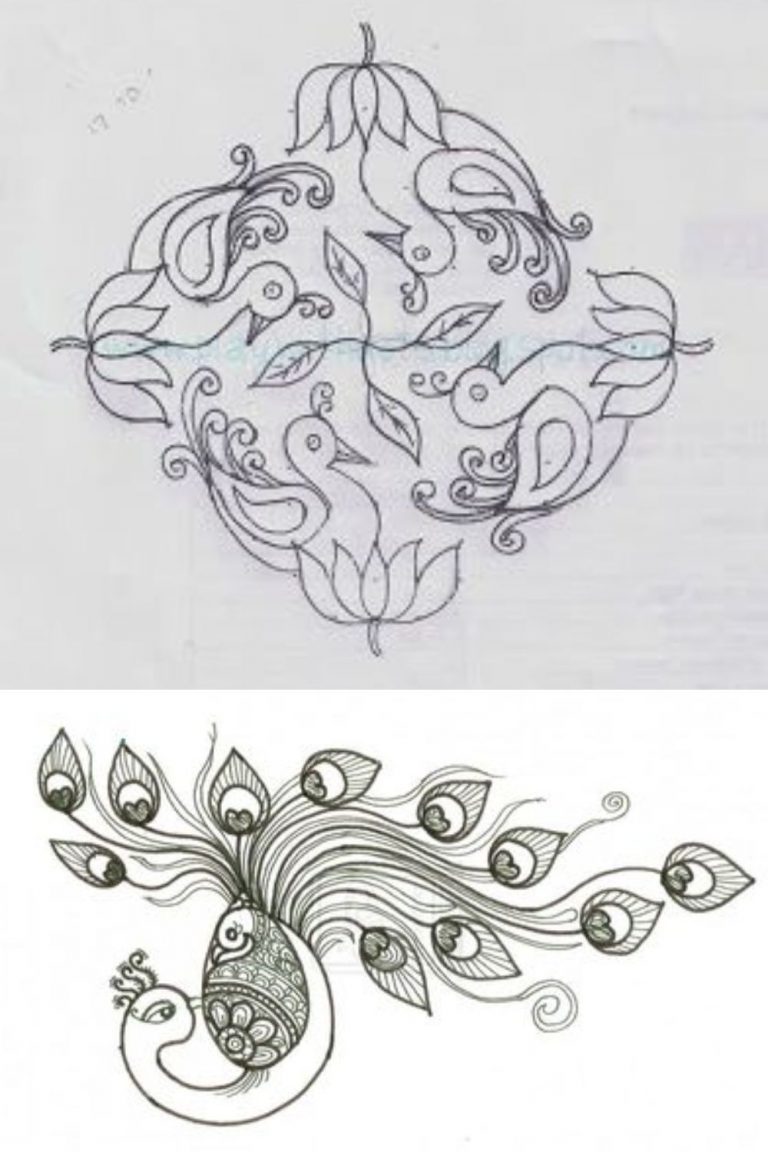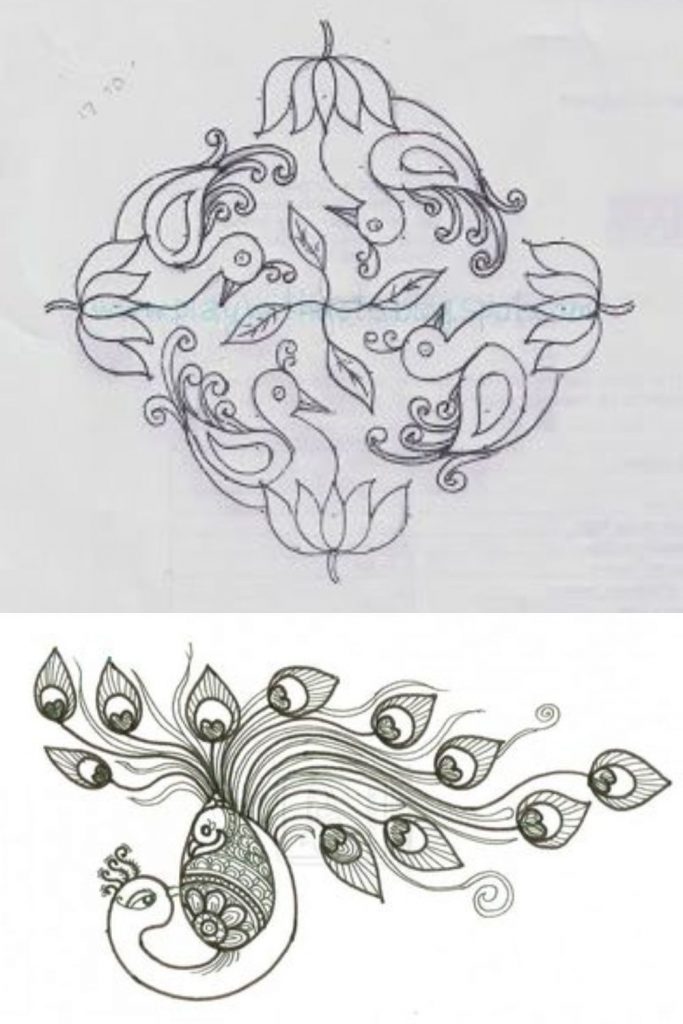 10.PONGAL KOLAM PATTERNS:
This kolam design is perfect for the homes in south India as the formation is based on the Pongal patterns. The designs in this formation express the real essence of the traditional art of kolam. The best part about this traditional art is that it is easy to form and present. The pattern of this design is in a square form. This is a very on-going and traditional form of kolam design in the south states.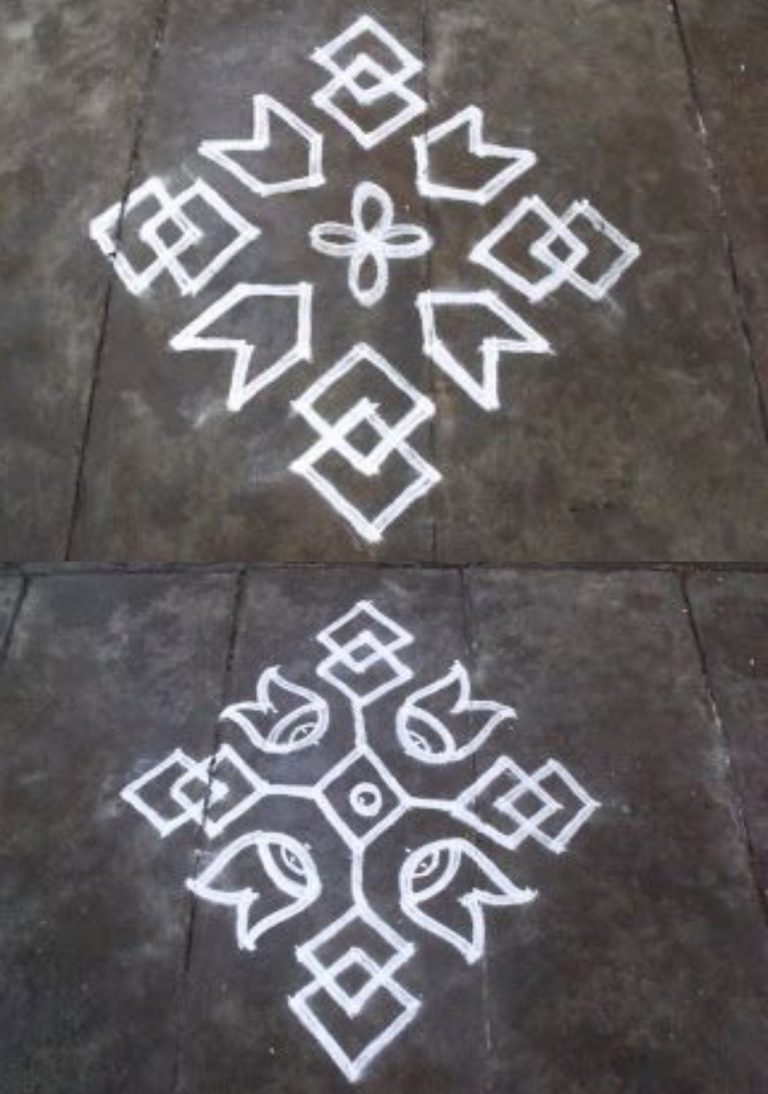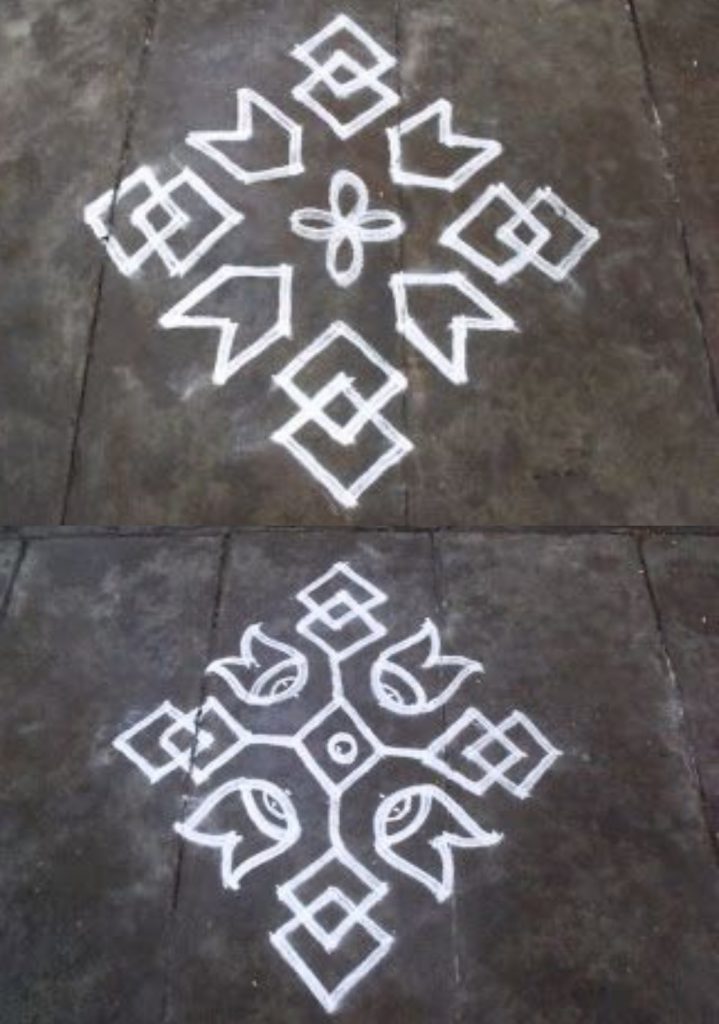 11.COLORED SQUARE PATTERN:
This design is in a square form which is always an on-going style of kolam. This is an evergreen pattern which is formed easily with the dot technique and the design has a white outlining which gives a good finishing to the overall look. The design is simplistic and sophisticated yet colorful. All the on- season colors are used to fill the shapes and patterns inside the design. Colors like magenta, yellow, green, blue and white and so on could be used for giving it a happening and bright look.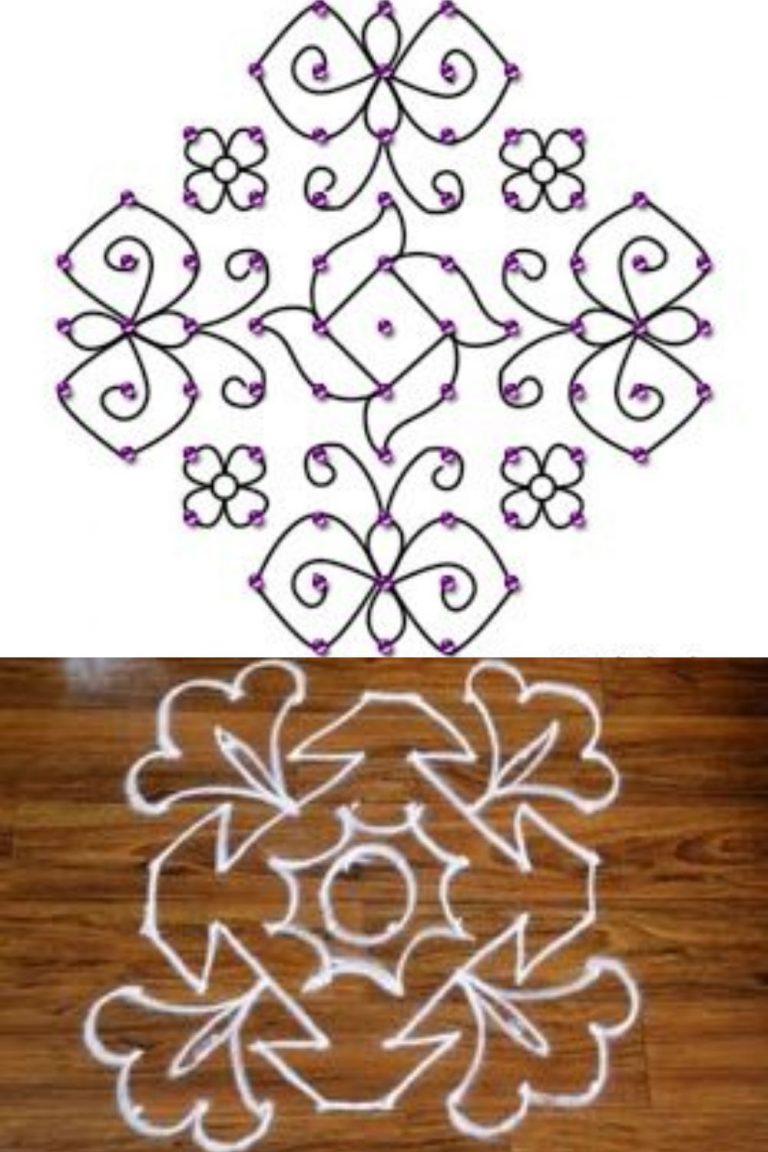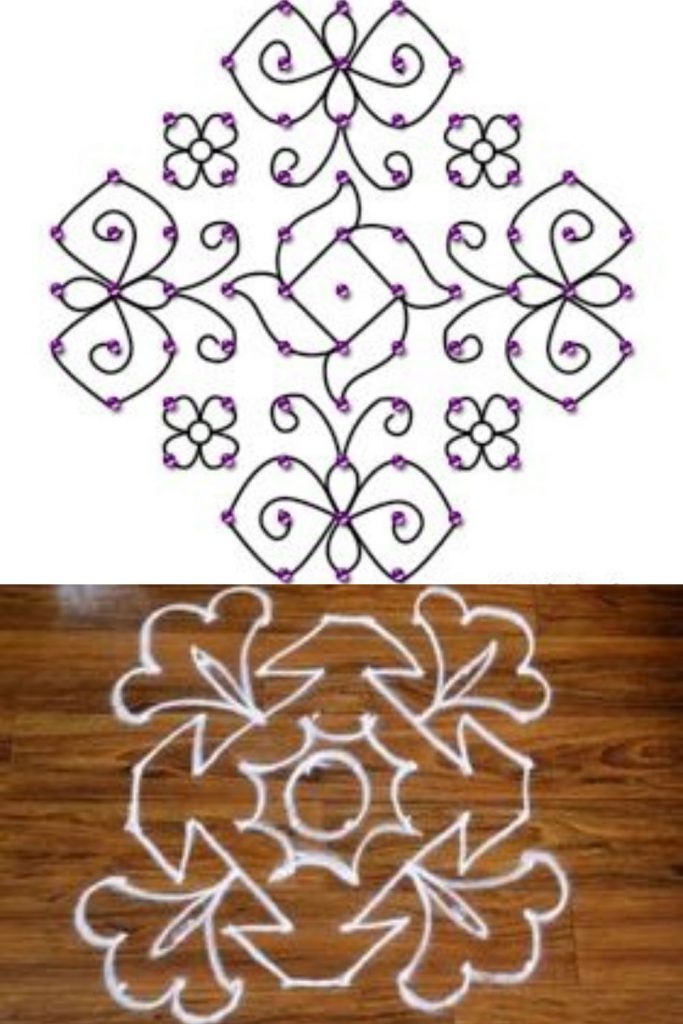 12.PATRIOTIC KOLAM DESIGN:
This kolam design is quite different from the rest and follows the theme of patriotism. The formation is based on the same grid and dot technique of kolam art and the shape is in the form of a "satvik" which is always the best way to attach to the tradition. The colors of Indian flag are used to fill the edges insider patterns of the design. This is a perfect blend of art and culture which is suitable for occasions like Republic and independence days.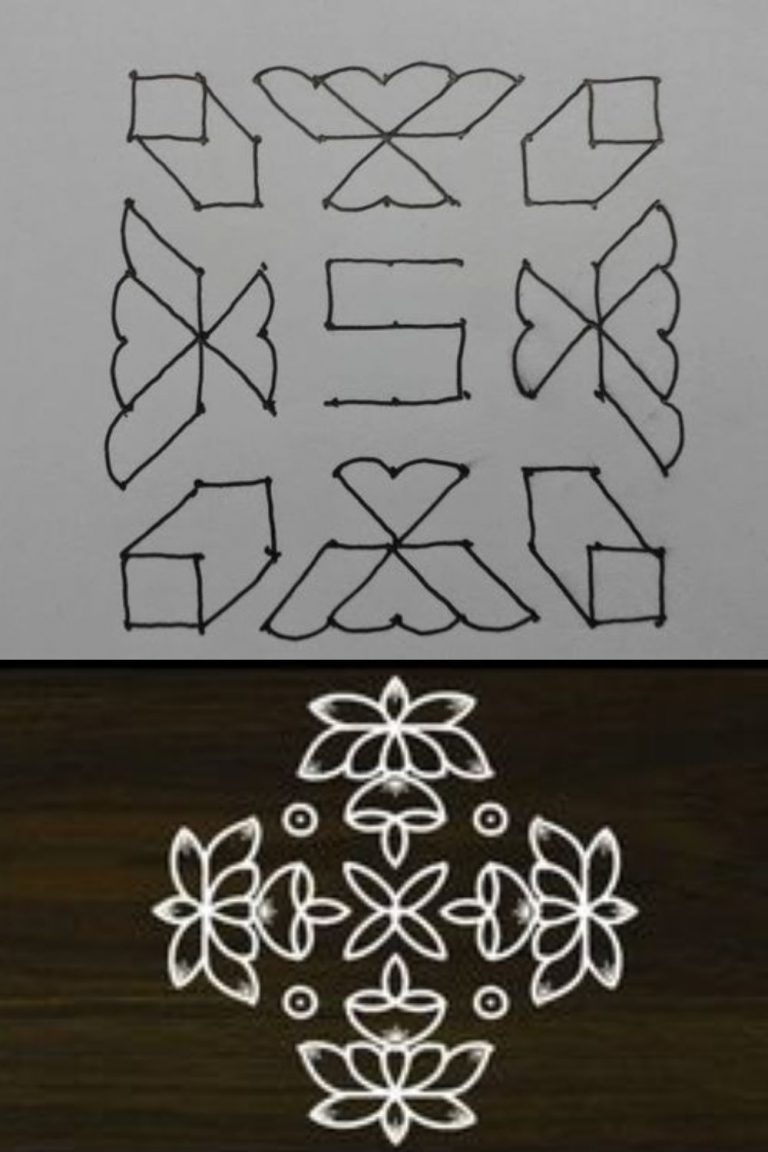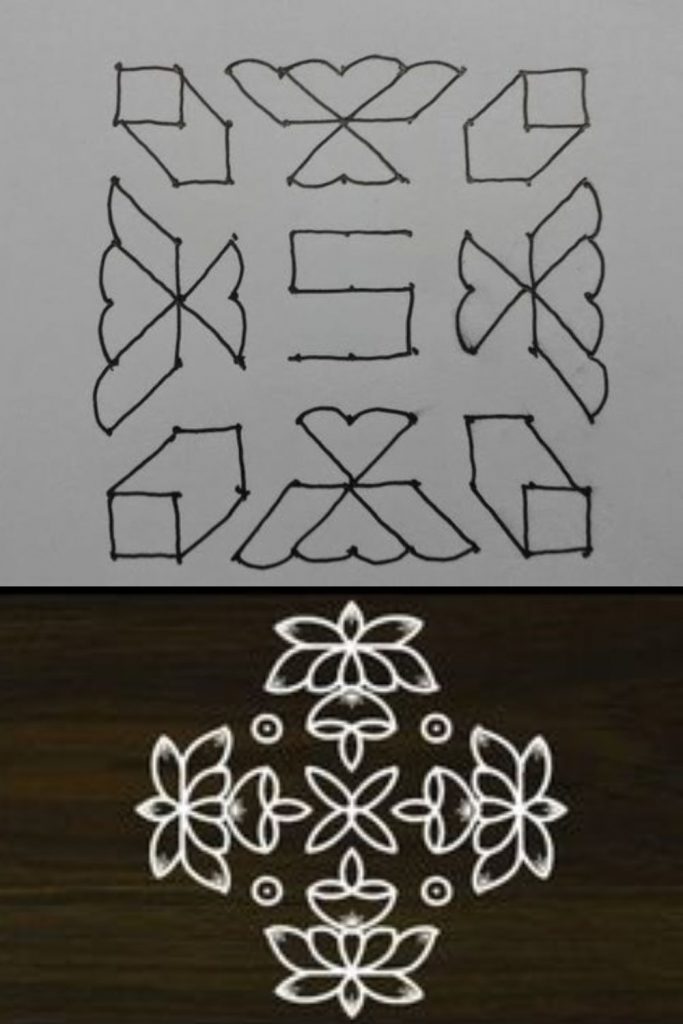 These were some of the top kolam art small muggulu designs which embrace your dwellings with traditional art and modern essence.