Rangolis is the best way to beautify your home, especially when you live in India. It is made in every home during the festival and wedding time. It plays an integral part in such occasions as it makes your home look colourful. But what a Rangoli is? The answer is very simple, it is the craft that is made on the floor with the help of powdered colours. It is found in many different shapes and each shape has its value.
The Rangoli pattern depends on a person's creativity. And when you have to make daily rangolis, it becomes hard to choose the complicated designs. In that case, one has to look for simple 3 and 5 dots Rangoli design. Although each Rangoli is made by connecting dots, 3 and 5 dots Rangoli helps you to design something simple and sophisticated. These rangolis are usually in the 3*3 square shapes.
Here are 10 Rangoli designs made up of 3 and 5 dots:
1. Easy 3 Dot Rangoli Design:
Some beautiful rangolis don't require too much time and creativity. They look the best without any effort, and this specific Rangoli design is one of them. It is the simplest design usually starts with one dot and ends in another. Its 3*3 pattern is also made by joining several dots to form some part of an overall design. You can try this Rangoli if you are a beginner.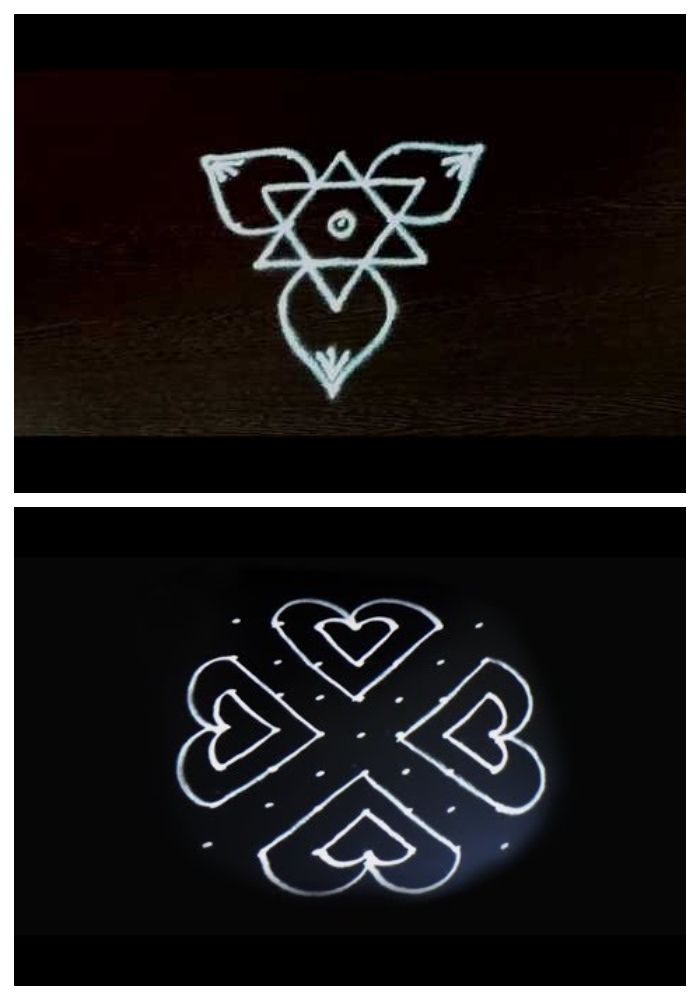 2. 5 Dots Bird Design Rangoli:
Bird designed Rangoli is very popular as it is made by connecting a few dots and give a whole new peaceful effect. It is usually made of white powder colour. Here, the duck is made and connected with the help of dots. This design can also be filled with colours. You will the attractive design of this dot Rangoli.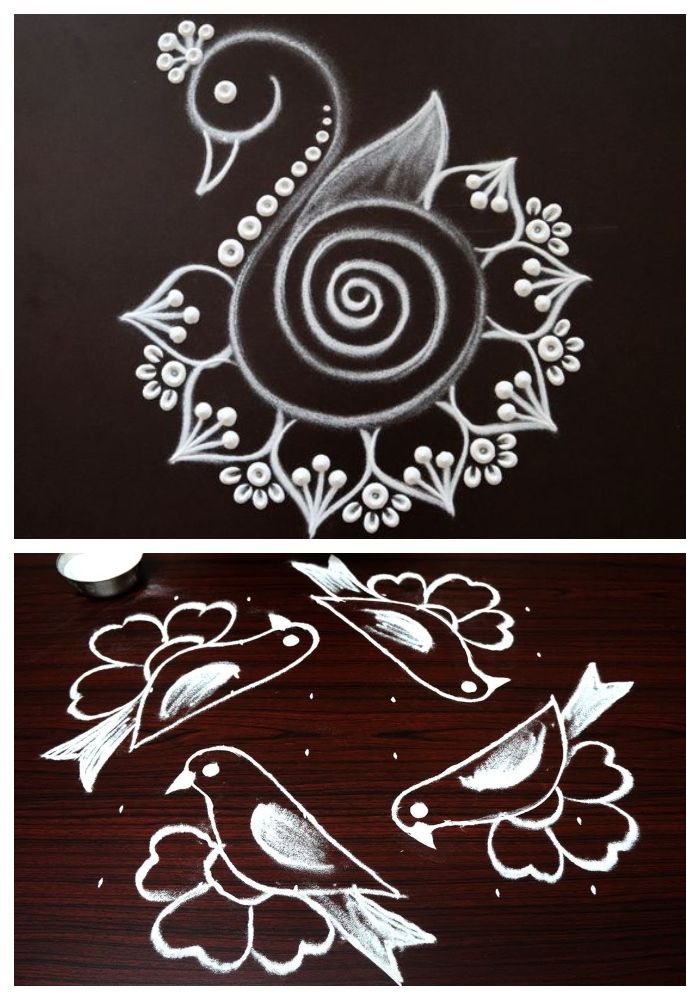 3.Beginner 3 Dot Rangoli Design:
If you are a beginner and genuinely looking for a Simple Rangoli design, simply go for this Kollam design. This design has the leaves and flowers pattern made in the 3*3 shape. This pattern can be used to improvise any pattern. Even though it's simple, this pattern can make some wonderful designs. You can combine lines and curves in this pattern and come out with a unique pattern.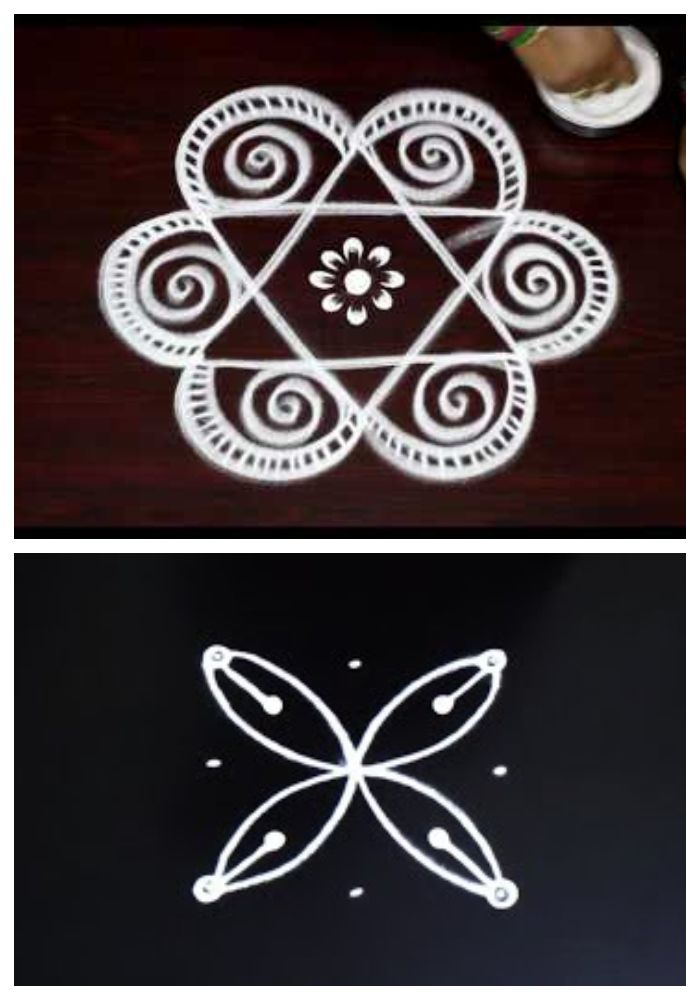 4. 5 Dots Kolam:
This type of Rangoli is made in the Pooja room to enhance the positivity of your house. It is surely blessed with peaceful energy. In this 5 dots Kolam Rangoli, the white powder is used to draw a 5 dots design. This created a dark and light effect as it is drawn on the black background. You cannot add further colours to this Rangoli. This will also look great in front of your house.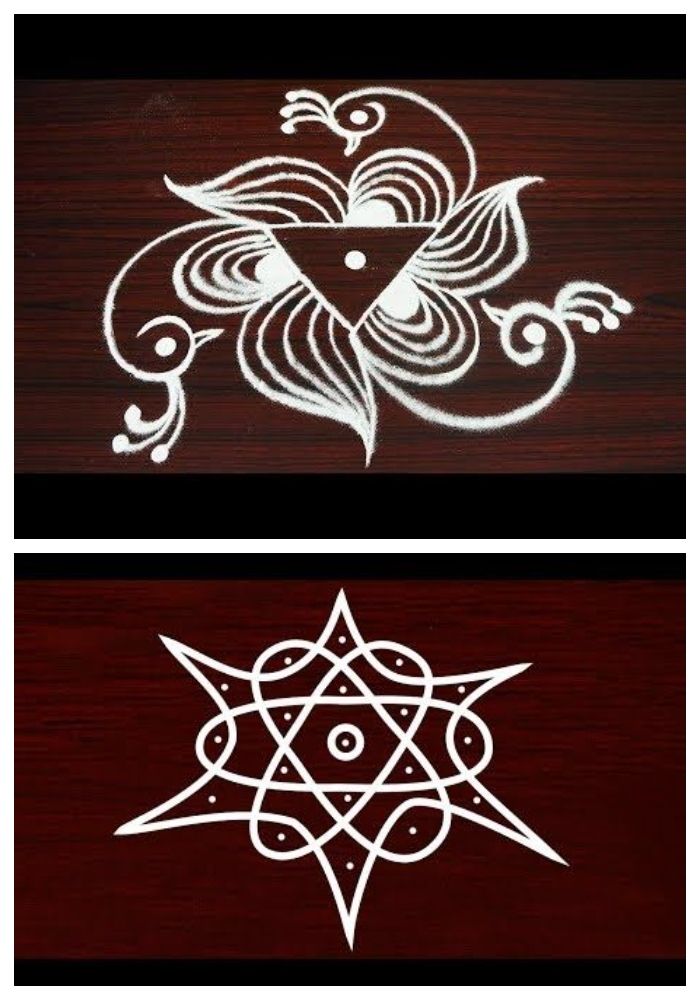 5. 3 Dot Kolangal:
Kolangals are again the 3*3 square pattern that helps in making the intricate rangolis. Again, this Rangoli is also made by combining curves and lines through dots. The round and simple design used in this design will give spiritual vibes. It is the reason why this Rangoli is used as a temple decoration. You can try this style and take the fun of designing easy patterns.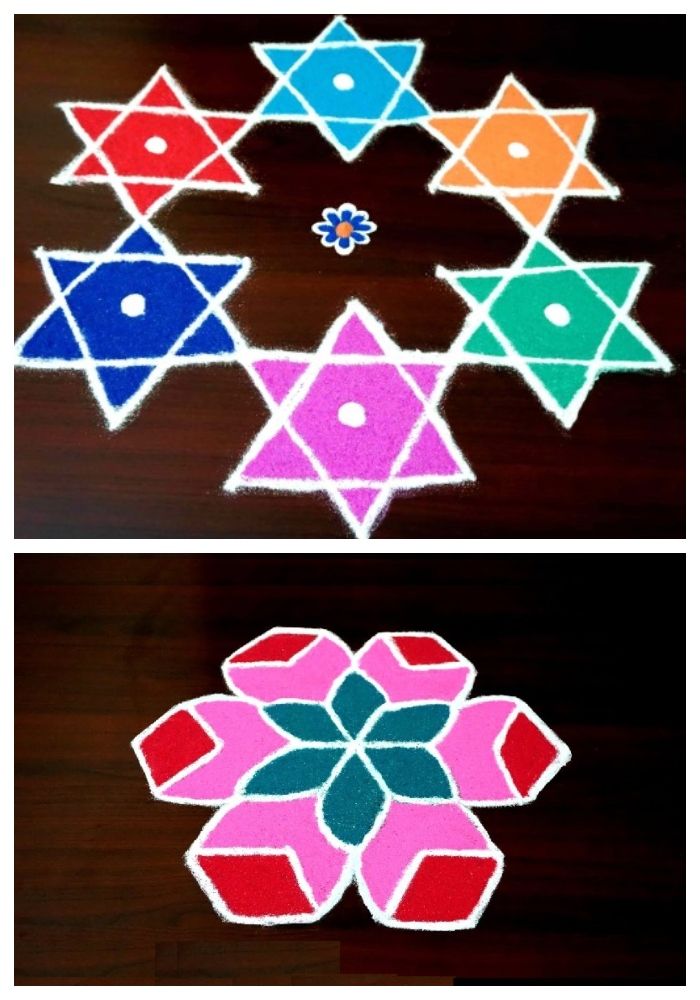 6. 3D Kolam Design:
Do you know you can also design a 3D kolam design with the help of 5 dots? Yes, this design gives the impression of 3Dness. It comes with the white outlining filled with the colours so that your home can look bright and beautiful. In most of the cases, this Rangoli is made on special occasions and festivals. It is very simple to make and gives a fabulous feeling.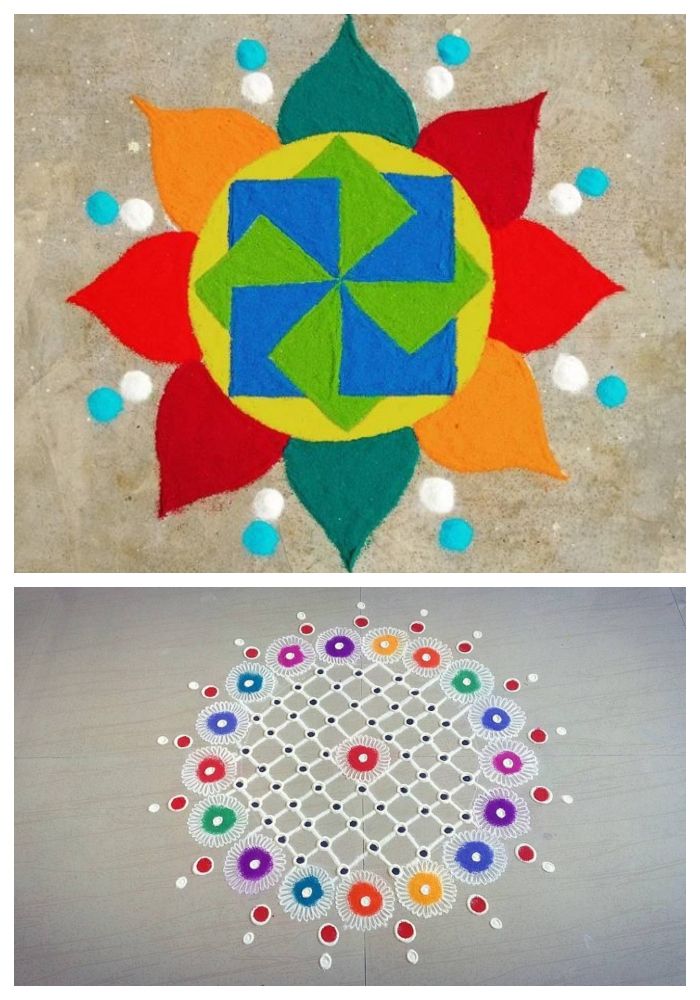 7. Simple Kolam Rangoli Design:
If you are a fan of colours, then you can go for this Sikku Kolam 3 Dots Rangoli. It is simple and has more than 2 colour options. When colours are merged with white, the whole combination becomes vibrant. This vibrant style is preferred during festival time. The intricate designs and floral pattern of this Rangoli make it different. You will love the prettiness of this design.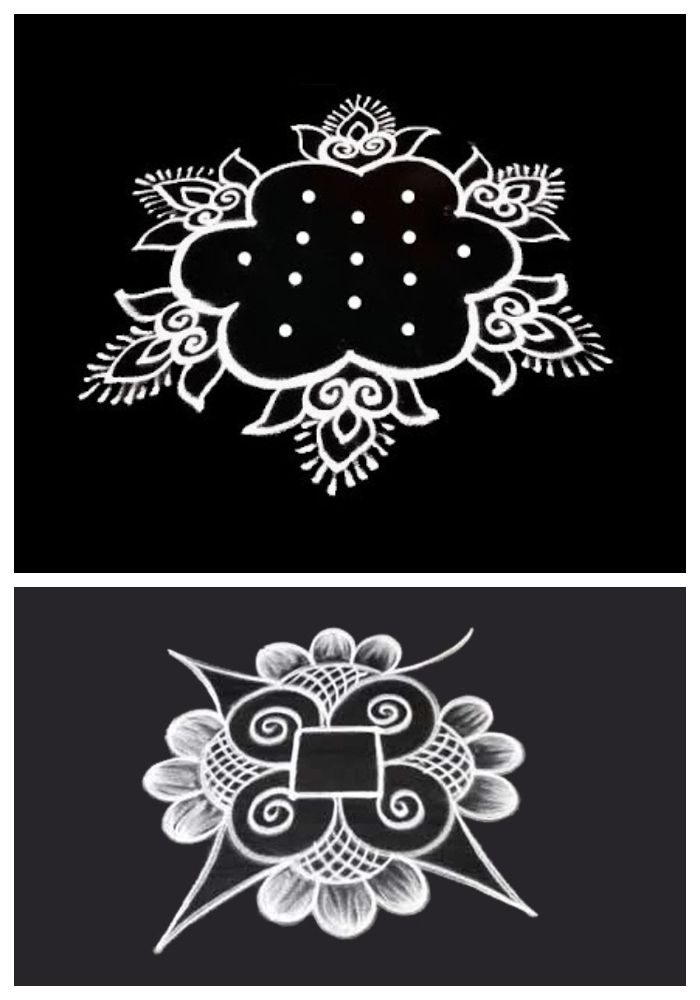 8. 5 dots Sikku Kolam:
One of the simplest 5 dots Rangoli is Sikku Kolam. It is very pretty, easy to make and give some stunning effects. You can add amazing colours to this design. A beginner can go for this design and add a vibrant look to their home. You will admire this Rangoli at the curves of your Pooja room or any other room.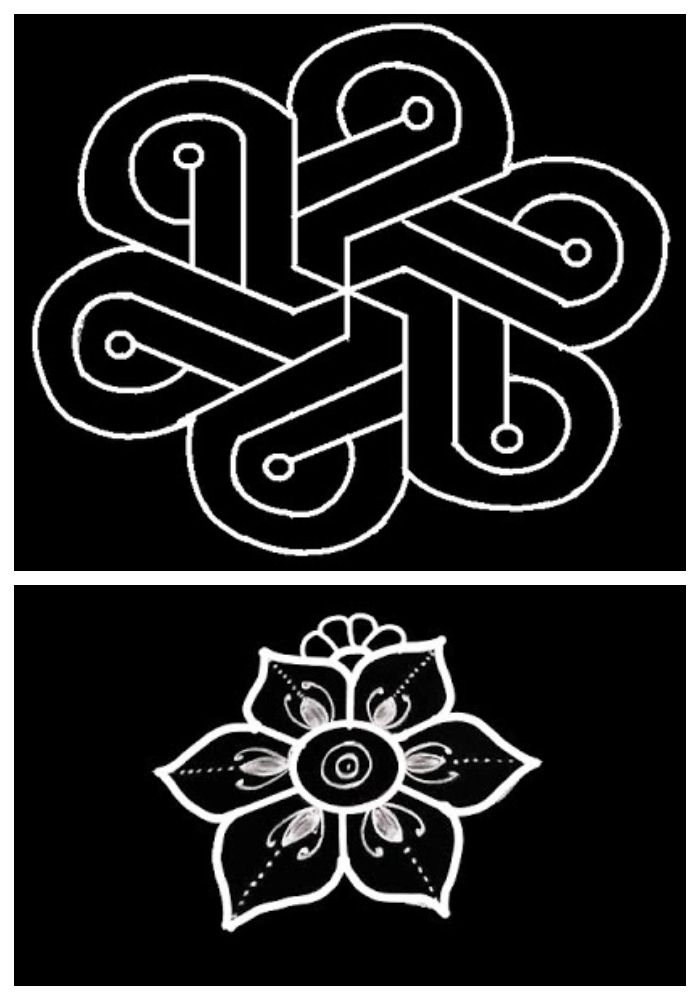 9. Singular Rangoli Design:
Try to make some unexpected designs using the 3 dots. This pattern is mostly drawn in the shape of a flower. To start, you have to draw one dot and start connecting them. Some people draw this shape in a square platform while some draw it in a larger shape, without any frame. These types of Rangoli designs follow some serious steps.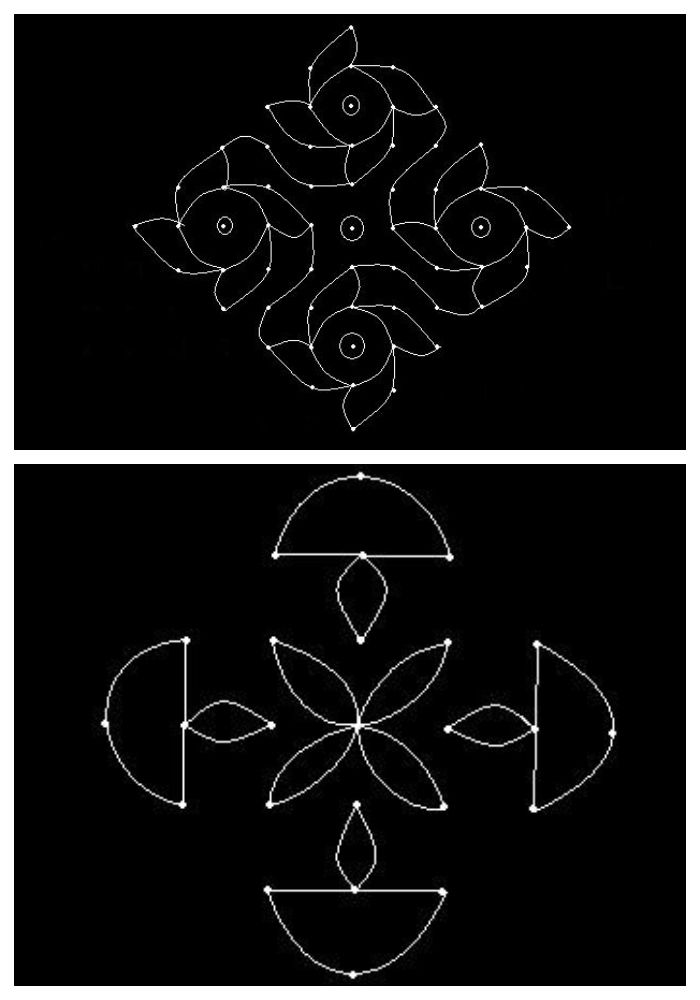 10. 5 Dots Floral Rangoli:
Floral pattern in the Rangoli gives a pretty as well as different feeling. It is mostly found with the 5 petals and leaves. When you'll complete this Rangoli, you will admire its feminine feeling. In this Rangoli, you simply have to join the dots and make a completely different design. The tear-drop and diamond shapes involved in this Rangoli makes it contemporary.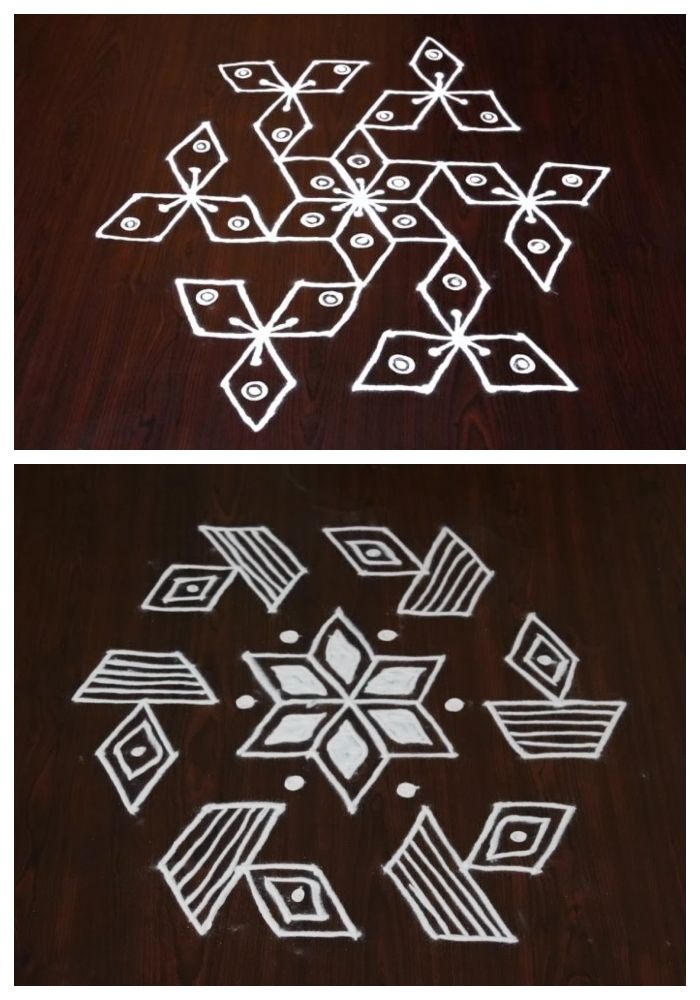 These 5 and 3 Dots Rangoli design can be drawn by beginners as well as experts. So simply draw this pattern during the festival time and enjoy its beautiful effect.