Ganesh Chaturthi is one of the most celebrated festivals in India, especially in the Indian state of Maharashtra. During the welcoming season of Ganpati at home, everyone decorates their home, colonies and doorsteps with the Rangoli, flowers and petals.
Now, every time you have to think what type of Rangoli design you should decorate your home with, right? But not now! In this blog, you will get all the latest and different ganpati rangoli design and patterns and designs that you can look for while making Rangoli for Ganpati Chaturthi.
Let's take a look at the below mentioned 15 easy and quick Rangoli designs for Ganpati utsav.
1. Ganpati Rangoli
Well, the first and foremost designs that comes to the mind is ganpati rangoli design . The picture of Lord Ganesha made with the different colour blends. The animated feel and vibe of this ganpati rangoli design will make your home look beautiful on Ganpati Chaturthi. You can even add glitters on the sides of the Lord Ganesha Rangoli to make it look great just like the Lord himself.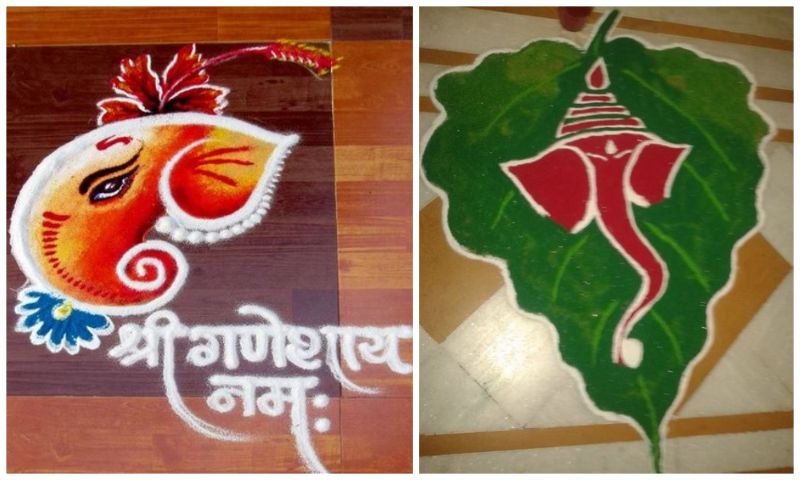 2. Surrounding with Diyas Ganpati Rangoli Design
What do you think about the Lord Ganesh Rangoli design surrounded with diyas? Yes, to enhance the beauty of the Rangoli design, you can adorn it with the diyas or candles to brighten up your muggulu as well as home this Ganpati Chaturthi. This is definitely a simple and easy Rangoli pattern to decorate your home with!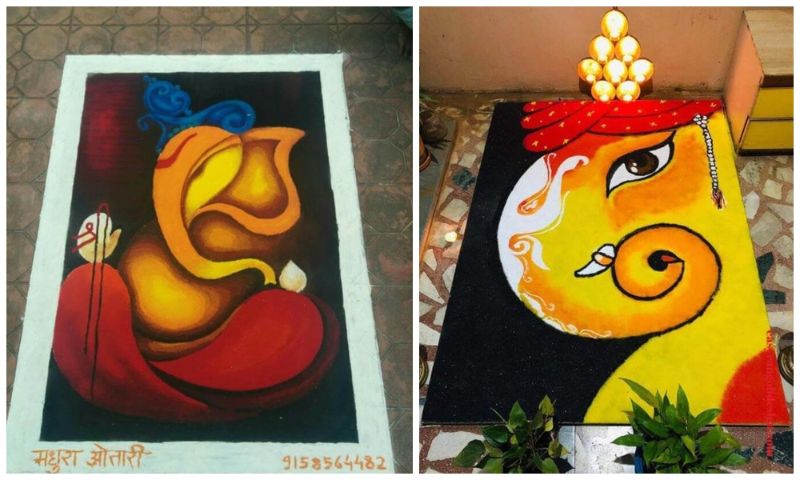 3. Freehand Rangoli simple ganpati rangoli
The freehand Rangoli of Lord Ganesha is quite easy to design to adorn your home this Ganesh Chaturthi. You can choose to go with the bright Rangoli colours like yellow, orange and red along with the dark brown shades to design its boundaries. Now, decorate your home with the circular style freehand ganpati rangoli.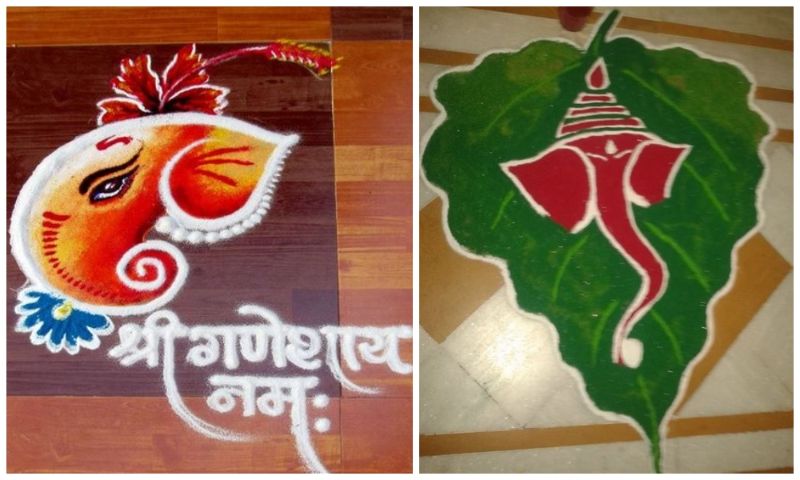 4. Rangoli with Flower petals Ganpati rangoli design
Rangoli patterns that are made with the flowers and petals are definitely trendy these days, first of all, they are easy to made and design and secondly, you can choose the different varieties of colours in petals to decorate the ganesh ji ki rangoli . For an impeccable look, this Ganpati Chaturthi pick this style of ganpati rangoli design to adorn your home rather than decorating it with those regular and boring rangoli designs.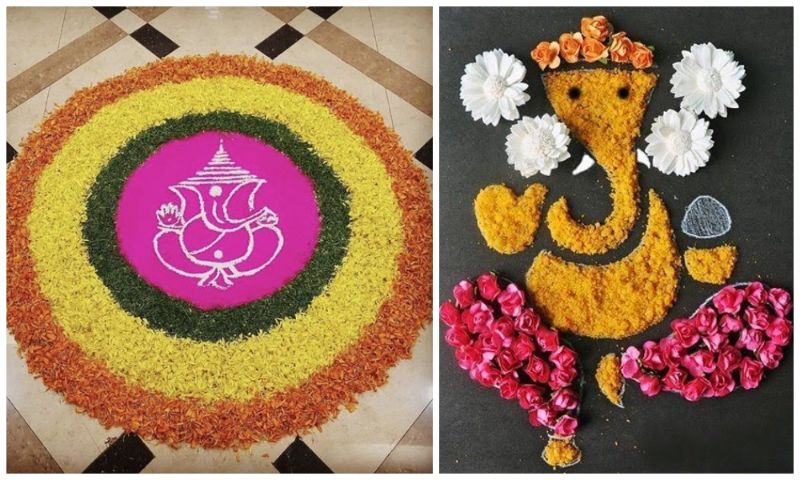 5. simple Ganesh Rangoli
The simple rangoli design at the doorstep will never fail to garb the attention of the visitors. You can use the different charming colours to design this style of muggulu along with the Swastik design on the sides. This ganpati rangoli pattern is hardly time consuming and your ganpati rangoli design will be ready within a limited time period.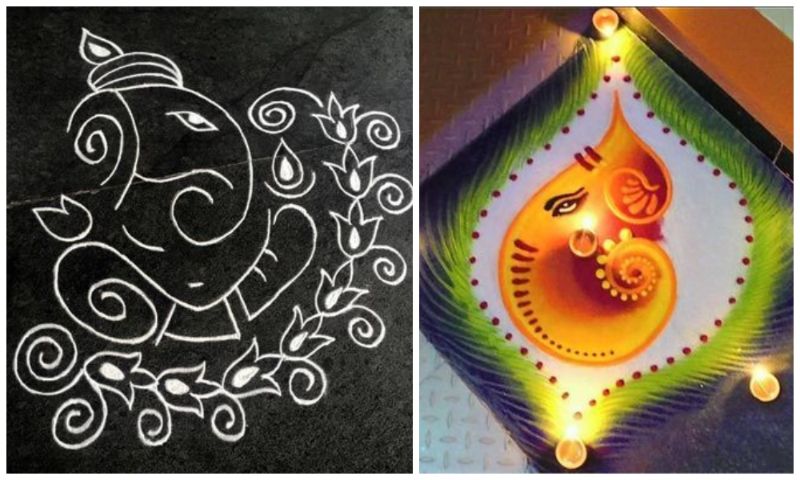 6. Decorative Ganesha Rangoli Design
Yes, you can design decorative mugguluat your home or any other place to welcome Ganesha. While decorating this ganesh ji ki rangoli , you will need different kinds of flower petals, ganpati rangoli colours, betel leaves and of course, diyas to adorn its beauty. This is absolutely a wonderful rangoli design or pattern that you should not miss this Ganpati Chaturthi to stun every visitor at your place.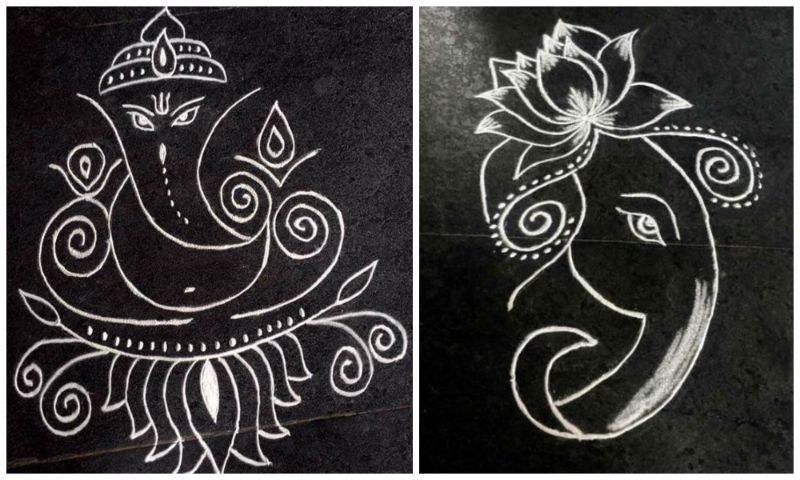 7. Ganpati Kolam Rangoli Pattern
This Ganpati Chaturthi festival, ditch those boring decorating ideas for ganpati muggulu . Now, you can decorate your home with modern rangoli patterns, which are easy to make and loos wonderful just like Ganpati kolam muggulu design. The Ganpati kolam rangoli design created with flower petals will look beautiful when designed carefully at the corners of you home. You can easily curate this rangoli design at your comfort. So, are you ready to welcome the Lord Ganesha with full fervour?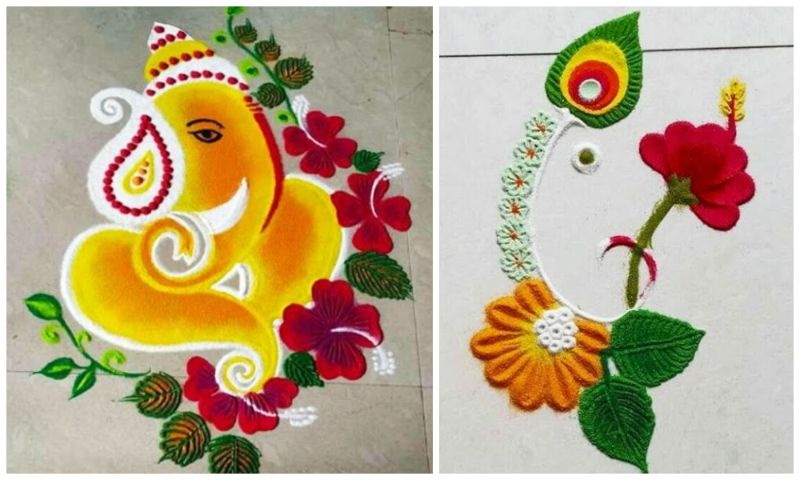 8. Easy Rangoli Design for Beginners
If you are a beginner in rangoli designs, then you can choose to go ahead with this wonderful yet simple ganpati rangoli design to decorate your home this Ganpati Chaturthi. The perfect blend of colours like black, white, blue and pink can enhance the beauty of the rangoli design. You just need to draw an outline of the Ganesha with white rangoli colour and then start embellishing it with different colours. Don't keep it too flashy with colours, just keep it minimal in design and colour to add elegance to this design.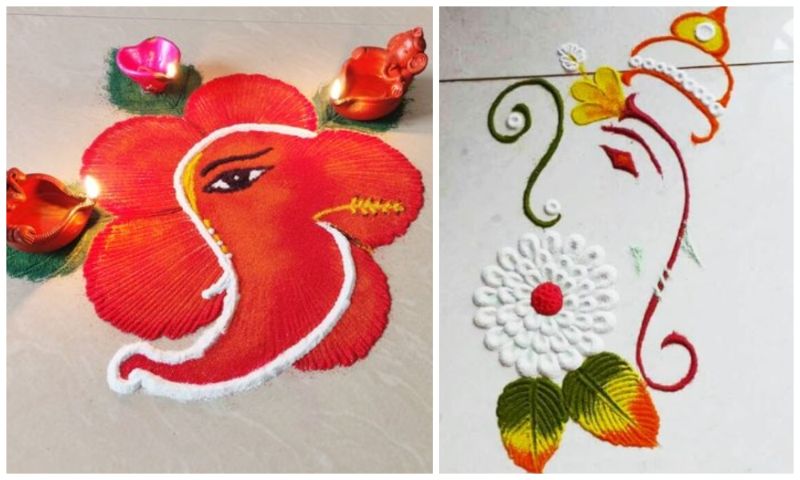 9. Fresh Flowers Rangoli Design
Some people also prefer to design rangoli with fresh flowers and petals. So, if you are one of those who love fresh flowers and love to decorate your home, then this Ganesh Chaturthi, don't miss out on this rangoli pattern to decorate your muggulu as well as home. Just pick the right flowers but it should be absolutely fresh to add freshness and fragrance to your muggulu design. Hence, would you prefer this rangoli design on Ganesh Chaturthi?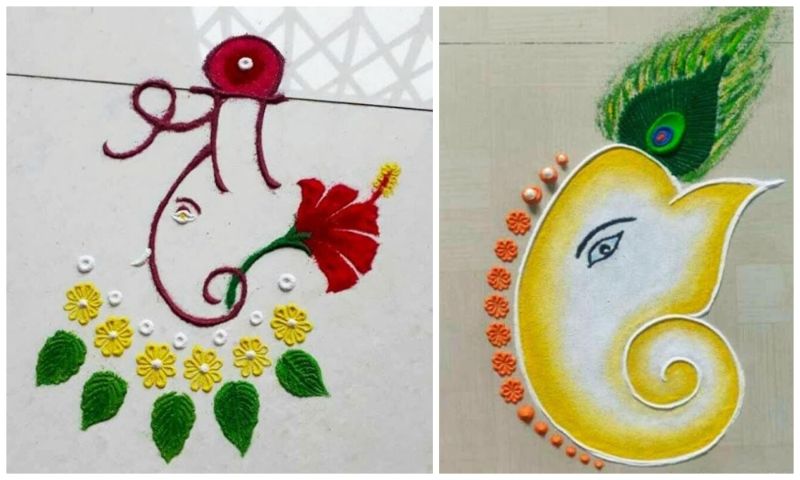 10. Multi-colour Rangoli Design
Do you want to design a wonderful muggulu on Ganesh Chaturthi? Well, the Multi-colour rangoli design can be the one you are searching for! To make your home look vibrant and beautiful on the festival of Ganesh Chaturthi, you can go with this Multi-colour rangoli with Lord Ganesh picture himself along with stunning boundaries. Hence, don't go with those boring rangoli colours and choose something extraordinary this festival.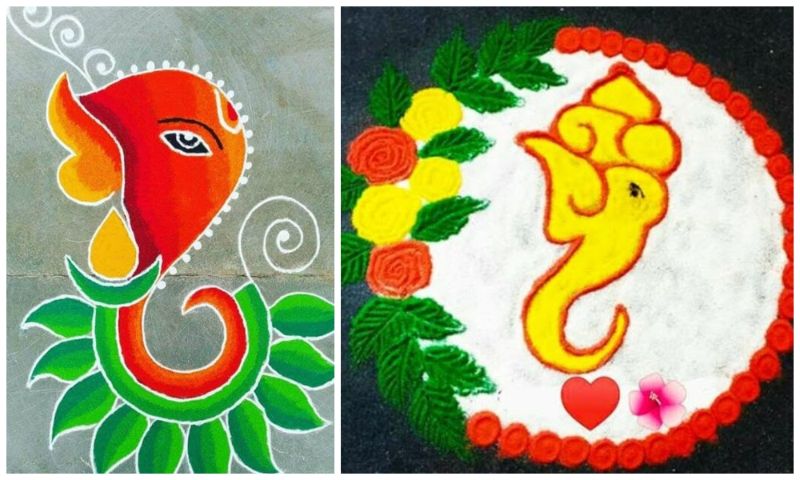 11. Intricate Ganesha Rangoli Design
If you are a professional in making muggulu designs, then this one might be perfect for you! The intricate ganpati rangoli design patterns on the boundaries and Ganesha image in the middle with different layers can make only be made by the professional itself. Of course, it is little bit time consuming but it can make your home look wonderful and vibrant. With merry all around, welcome Lord Ganesha with full band and bang!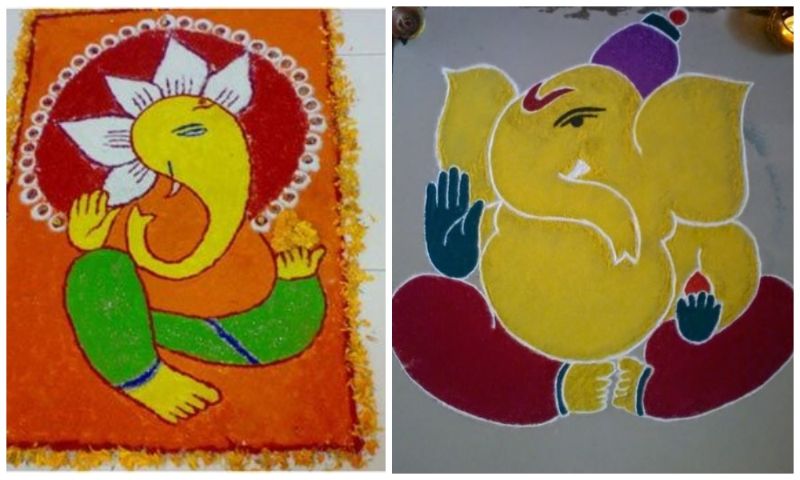 12. Beetle Leaf Rangoli Design
You can decorate your muggulu with beetle leaf's as well. Yes, if you haven't tried this before, then this Ganesh Chaturthi festival, you can goa head with Lord Ganesh rangoli along with the blend of beetle leaf, diyas and candles to enhance its beauty. Use the colours like red, yellow, blue and green to make it look wonderful to everyone who pay visit at your home!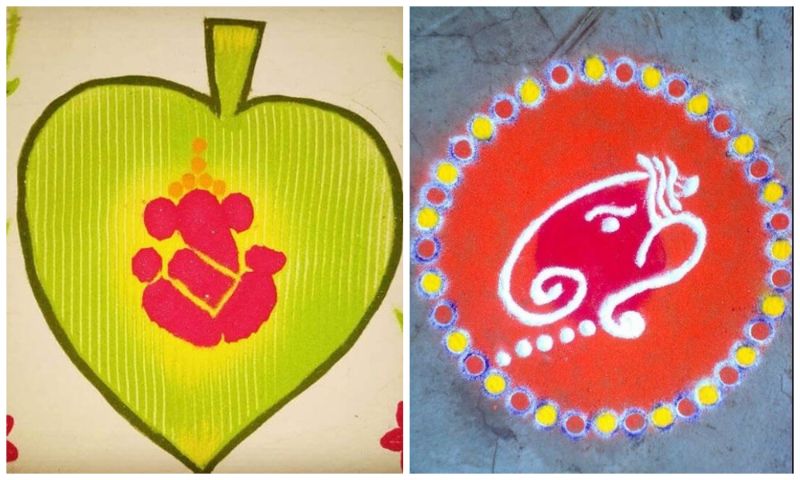 13. Dots and Circles Rangoli Design
This Ganpati festival, you can decorate your home with the Ganesha image ganpati rangoli design that's made with the dots, circles and lines. Without nay doubt, it's a modern style ganpati rangoli design pattern that will make your home look wonderful and beautiful with the perfect festive vibes.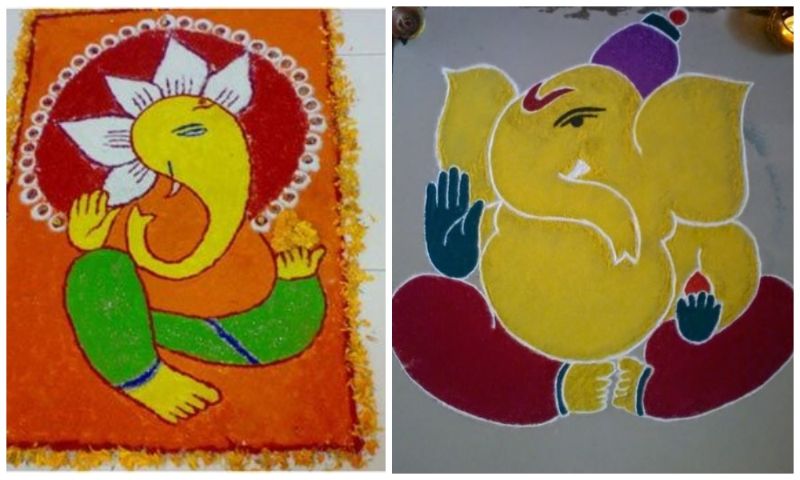 14. Coloured Powder Rangoli Design
The simple yet sterling rangoli pattern with Ganpati kolam and coloured powder is surely a great one to look forward for this Ganesh Chaturthi festival. First of all, this muggulu design is easy to create and secondly, it just requires some skills to create this design from freehand. Thus, decorate your home with this amazing rangoli design with coloured powder and you are all sorted!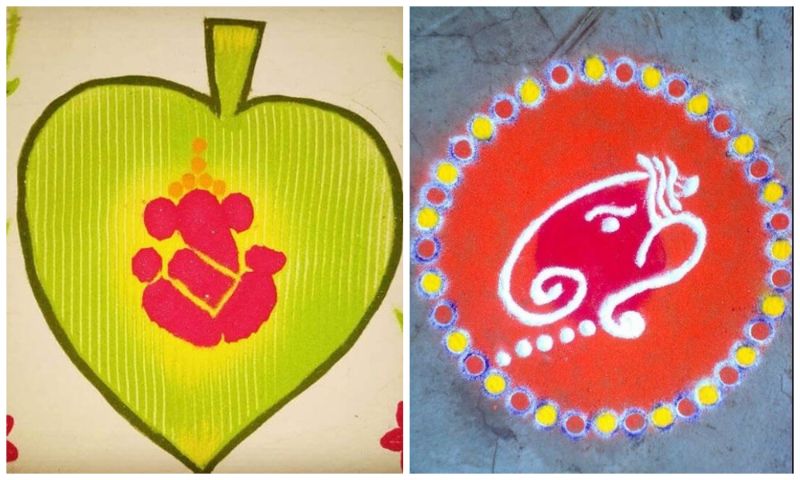 15. Decorate it with Lotus Flowers
The last and final muggulu design for Ganesh Chaturthi is simple Ganpati image ganpati rangoli design in the middle and outer boundaries are designed with lotus flowers. Th adorn it, you can add diyas and candles to make it look vibrant and beautiful.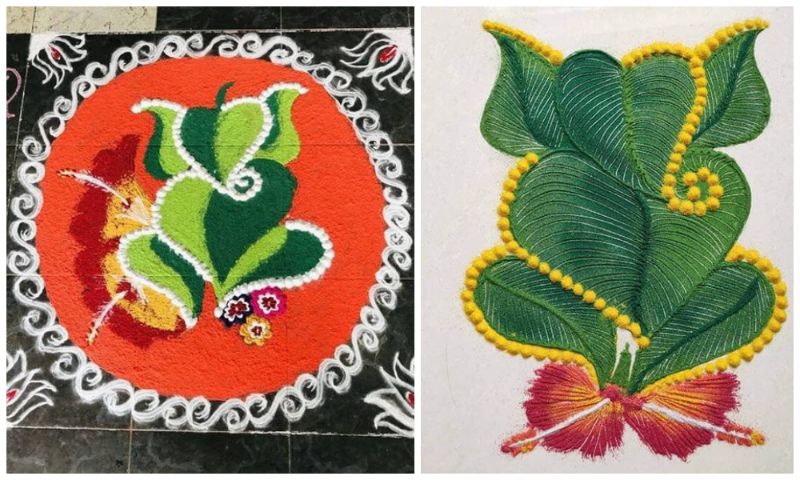 To sum it all up, the above mentioned 15 unique rangoli designs will help you to choose the one for you on this Ganesh Chaturthi festival.