Rangoli helps in making our home beautiful and perfect on special occasions. But do you know we have Rangolis from different parts of India? Yes! One traditional and cultural Rangoli type is from Tamil Nadu. It is known as Pongal kolam and are natural and easy to learn. This word is derived from the word 'Kolam', which means Rangoli. From beginners to professionals, everyone can draw it and make their home look perfect. You can even use colours, stones, lights, flowers, diyas and rice to make it better.
Significance of Pongal kolam Rangoli:
Kolangal is all about culture and ritual. Even the women in Tamil Nadu use to draw it one daily basis. They believe that it symbolizes honour, welcoming and hosting vibes. Also, this is their way to show gratitude to Gods and Goddesses- Mata Lakshmi, Surya Dev, Bhudevi and Ganesh Ji.
It is a visual device that is believed to fulfil all the daily Obligations of a Hindu Household. Besides that, it is considered as the pride to know how to make a beautiful Pongal kolam rangoli. After all, making a beautiful Rangoli is all about talent and art. This gives the women of Tamil Nadu some free time, where they can show their skills and add positive vibes to their home.
Additionally, it is said that making a beautiful and perfect Pongal kolam Rangoli requires six mathematical skills: Locating, deigning, counting, measuring, experimenting and explaining. When women will have knowledge about these six categories, they will be able to make perfect curves and lines.
Therefore, it is not wrong to say that Kolangal Rangolis is diverse and all about experimenting. Each style has its values and we should respect this fact.
So here are 10 Kolangal Rangolis Designs that will make your home perfect for every occasion:
1.Simple Kolangal Rangoli:
The Simple Pongal kolam designs is all about simplicity and attractiveness. It is perfect for beginners who want to start their Rangoli practice using dots. In this kind of design, the lines are drawn following the dots and fixed patterns. These may look quite difficult to design but are quite easy. You can even make them using different colours.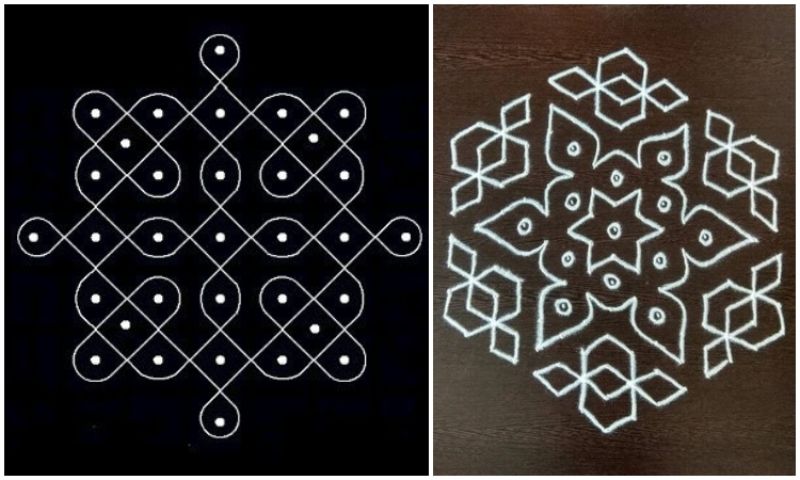 2.Star Kolangal Rangoli:
Another simple kind of Pongal kolam is made using stars and triangles. This is very easy to design and give the contemporary vibes to your home. You can use straight lines, small dots and centre circle to make this Rangolis complete. Also, you can make it better by combining colours to it. You will enjoy the authentic look of this design.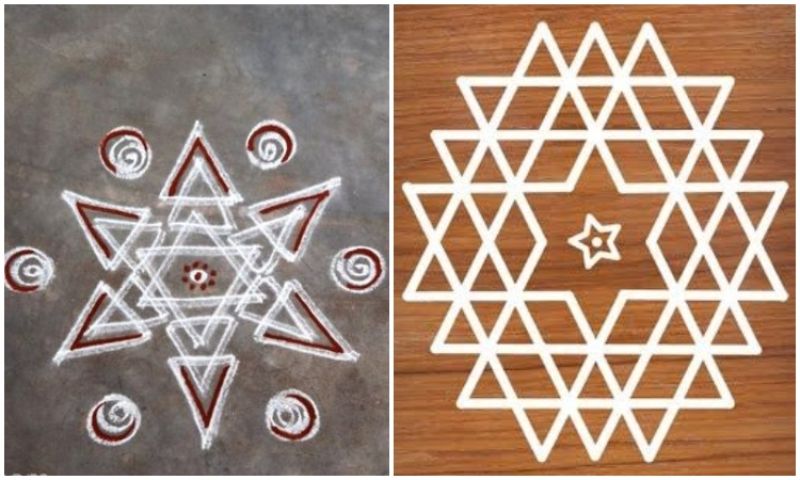 3.Colourful Kolangal Rangoli:
As the same suggests, this kind of designs is all about colours. It follows the floral and diya styles and combines well. Also, its birder helps this Pongal kolam Rangoli to get the right shape and form. Different elements, colours, outline and style of this Rangoli makes it attractive.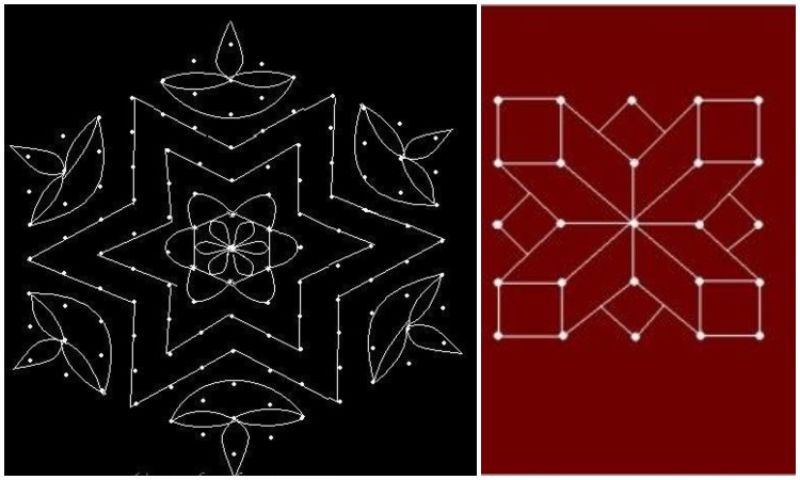 4.Kolangal Diya :
One of the most beautiful and enthralling Pongal kolam designs comes with the natural diyas. When you will put five diyas in the centre of this Rangoli, it will start looking even better. You can design the rest of the muggulu using white colour and square shape and let diyas do its work. The texture and perfectly drawn shape will make it unique and fascinating.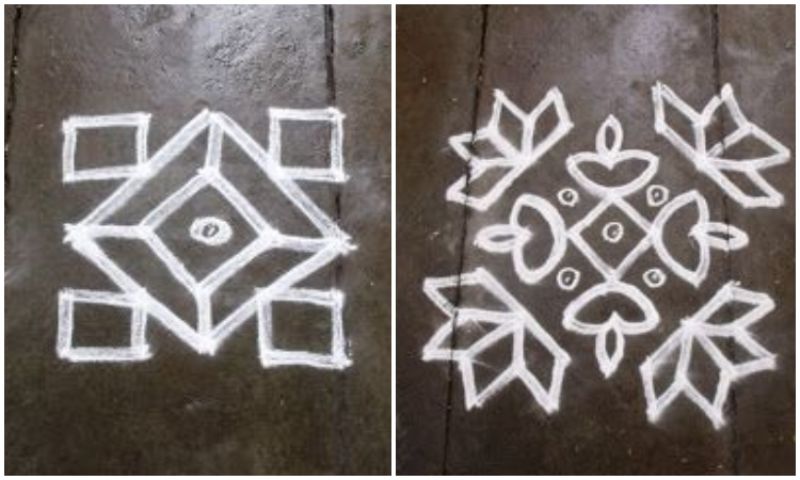 5.Lotus Kolangal Rangoli
Some Kolangal Rangoli designs are found with flowers, one of them is this one. It is found with four lotus flowers drawn on each side of the classic square muggulu . Additionally, another flower is drawn in the centre to maintain symmetry. The green and peach colours of this Rangoli will make it contemporary. You can even combine white, brown and yellow colour to it.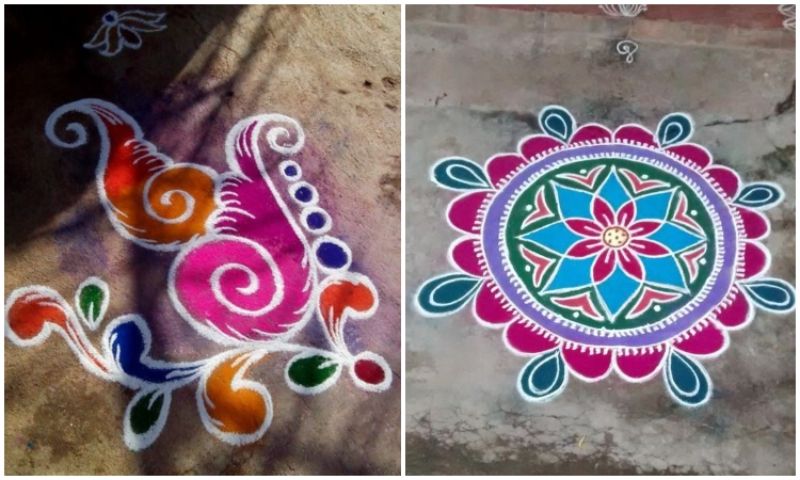 6.Newest Kolangal Rangoli:
One of the simple and sophisticated Pongal kolam muggulu styles is the one that comes with six unique petals. All these petals have small swirls and edges. To give it a floral feel, the plain red dot is made in the centre. You can use green, white and yellow colours to design this Rangoli. The swirls of this muggulu makes it different from others.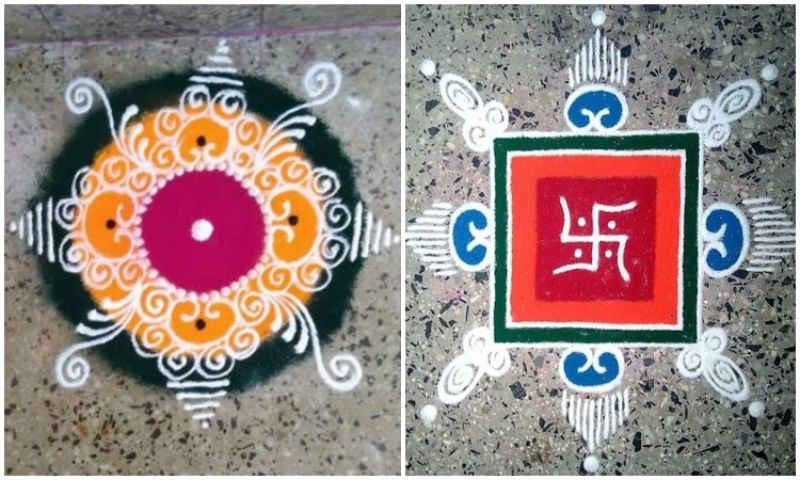 7.Diamond Shape Rangoli:
If you want to make a professional kind of Pongal kolam muggulu at your home, go for the diamond-shaped Rangoli. It is a combination of sleek lines, colours, thick borders and enthralling overall designs. You have to spend a lot of time in designing this Rangoli, but the after look will be worth it. The diamond and square pattern of this muggulu makes it more attractive.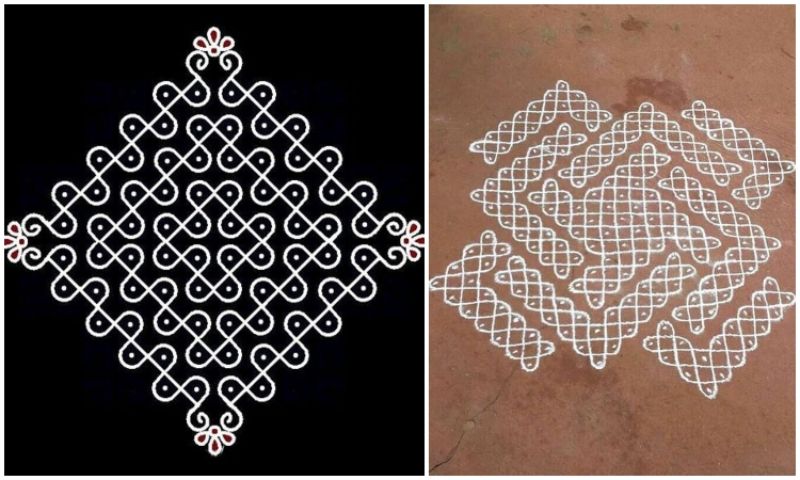 8.Peacock Kolangal :
If you want to have the Kolangal Rangoli with contemporary vibes, choose it in Peacock style. It has four peacocks drawn at the four corners. These are the combination of dots and various floral and border elements. The two semi-circles on opposite sides make its perfect. You can choose any colour to design the peacock and make its outline using yellow or white colour.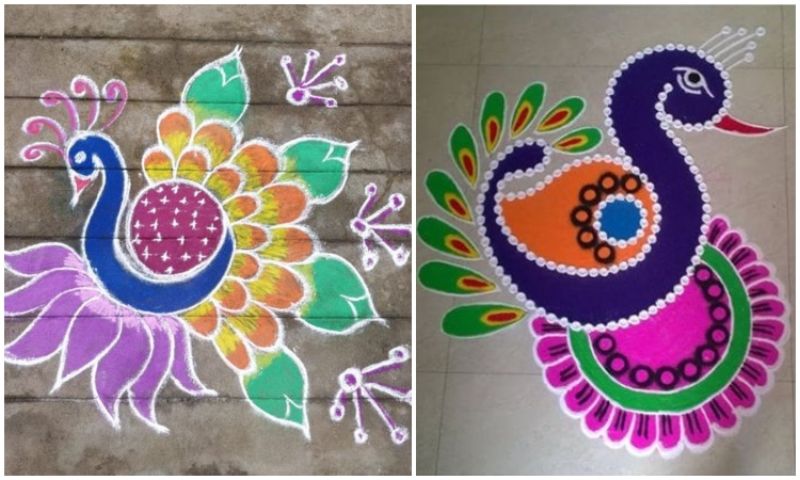 9.Lord Ganesha Kolangal :
Lord Ganesha helps in bringing happiness in the family, so you can choose this type of Pongal kolam Rangoli before starting a new thing. You can draw Lord Ganesha in the centre and draw some circular borders around his drawing. You can add as many frames as you want to and fill them with different colours and designs. Other white colour detailing will make a huge difference.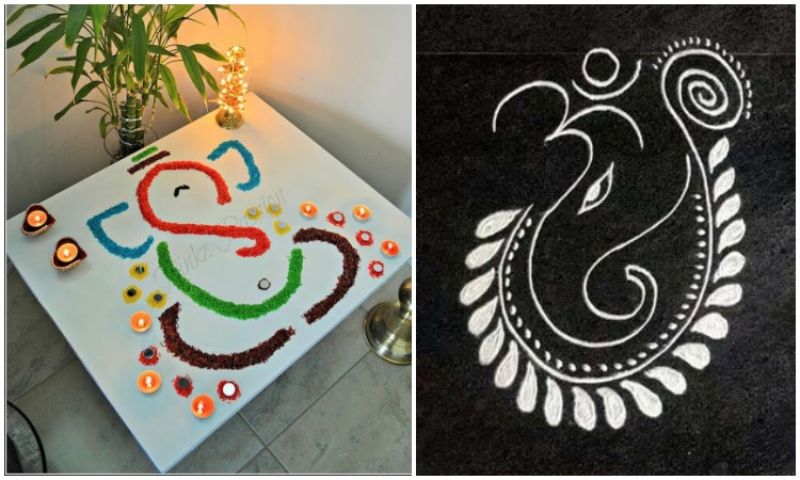 10.Circular Kolangal Rangoli:
Circular shaped rangolis looks perfect at every home and every occasion. You can choose rainbow colours to design it. Just make sure to divide the whole Rangoli into three main circles and fill them with different patterns. Choose the most attractive pattern for the centre circle. Divide each of them using the white colour and enjoy its unique touch. This Pongal kolam Rangoli will make everything perfect.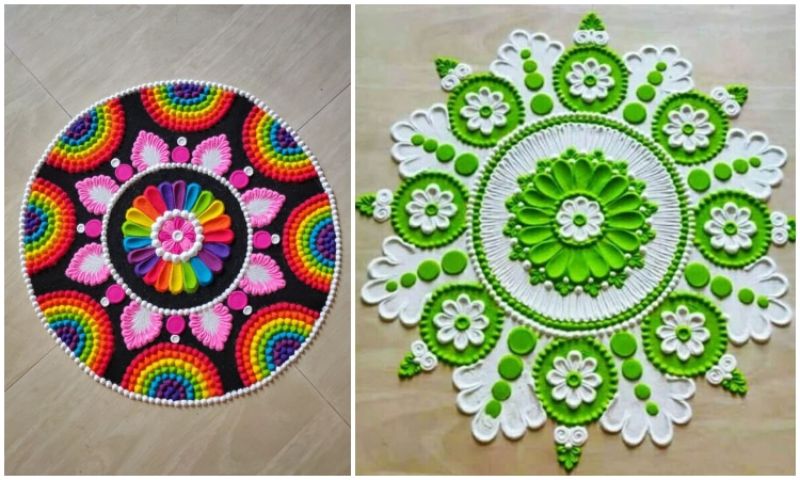 Kolangal plays a very important role in South India and is all about clean design. You can find the best design for your home and add welcoming vibes to it. We hope you like our collection.