Pulli Kolam are designs which have more science in it relatively than normal kolam or rangoli designs. Pulli kolam is a beautiful art form of South India which is said that it came into existence about 5,000 years ago. It is a prosperous design made on the entrance and the courtyard to welcome prosperity and it is believed to get rid of evil spirits. It was made by the women of South India every single day in the earlier times by waking up really early in the mornings. But now they are made occasionally. Occasion such as onam, Pongal, weddings and other important occasions. A kolam is symmetrical design using geometric patterns and dots with the use of rice flour but now to avoid the wastage, they use chalk power and coloured powders.
A Pulli Kolam follows different rules than Kolam designs. Pulli Kolam design involves the use of line looped around or curved around a collection of dots (pulli). Dots or better known as pulli are the main part of the Pulli Kolam designs and every design particularly revolves around dots. There are 3 main rules to follow while making Pulli Muggulu Designs which are as follows: all dots should be perfectly encircled, orbits of all lines should be closed & two lines cannot overlap one another if they don't create closed loop.
Pulli Kolams are very detailed with fine work of art. It is complared to a brain exercise as the patterns aren't different but one needs to remember them completely. Here are 10 beautiful Pulli Kolam designs to decorate the wedding venue with these beautiful designs.
1.Classic Pulli in diamonds
The classic Pulli Kolam designs are made with diamond shapes and the best part about this designs is that it's made of one closed loop. Petal formation are followed in most of the Pulli Kolam design with the use of course dots in it. Start with the base of the design just like a creative rangoli design is, by creating inner square shape using long curvy loops and then finishing with the outer square which is moulded into a diamond shape using the same petal designs. This is very classic and is made up of a single loop design.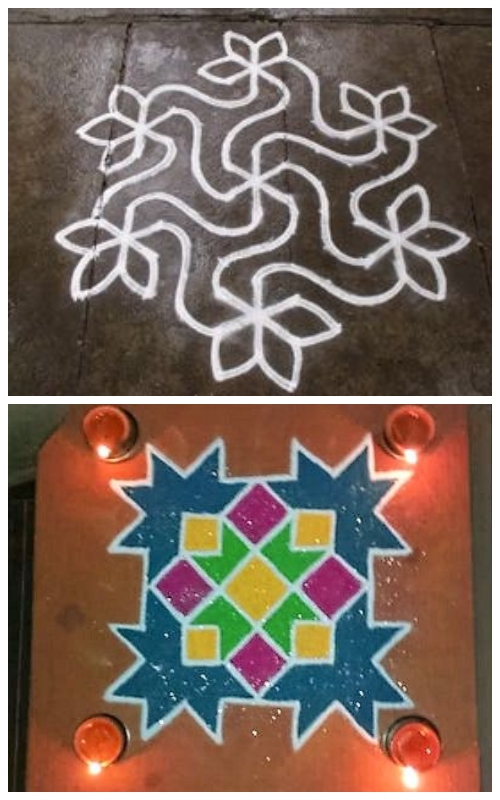 2.Start with basic circle design
Pulli designs using circle are the perfect example of contemporary designs . Start by making dots or pulli with equal spacing making them so that they form a circle then draw curving lines or line loop to cover the pulli then repeat the same steps for outer circular loop as well , connect the two circles with the use of any petal or diamond shaped formation from the four sides and make sure the petal shape or diamond shape has pulli in them too. It will take sometime to do it with precision. Keep practising and maintain the thickness of lines.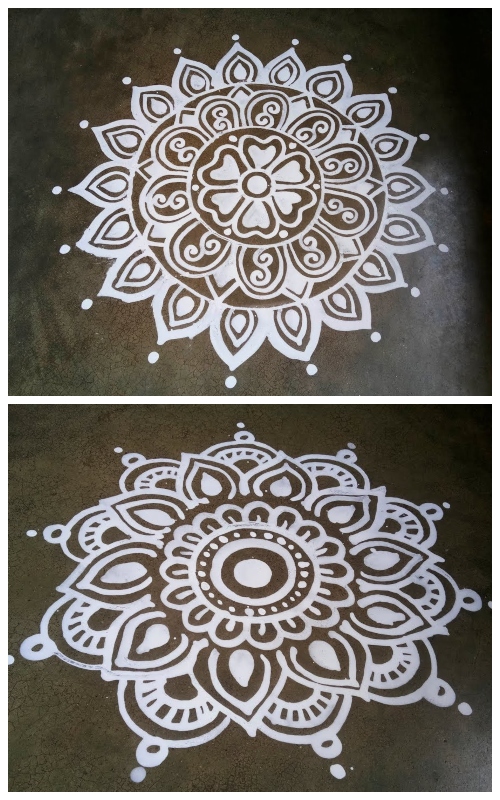 3.4 parallel lines designs
We've all created four parallel designs in our sketchbooks likewise we create a pattern using four parallel lines constantly making them as curling each other or twisting them making two petals of flower but around dots . All the designs using four parallel lines should be done around the dots or pulli , heavy design and intricate work add extra beauty to the design and makes it apt for weddings!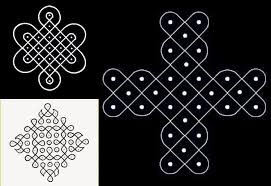 4.Edgy Pulli Kolam
Have you ever thought about a pointy edge design of pulli kolam? Make the usual Pulli Kolam designs by using any natural shapes or geometric patterns with precision but add pointy edges to the outermost layer of the Pulli designs for some new addition to the age-old art.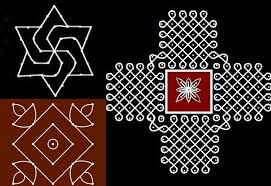 5.Easy geometric design
Kolam designs are usually made up of using geometric shapes and dots so why not use the same geometric shape to make Pulli Kolams too , start with easy geometric shape which ever you like. Use only one shape if you're a beginner, use a single shape and overlap the shape with different sizing of the same shape ; add pulli in the middle of the closed loops where ever you see them.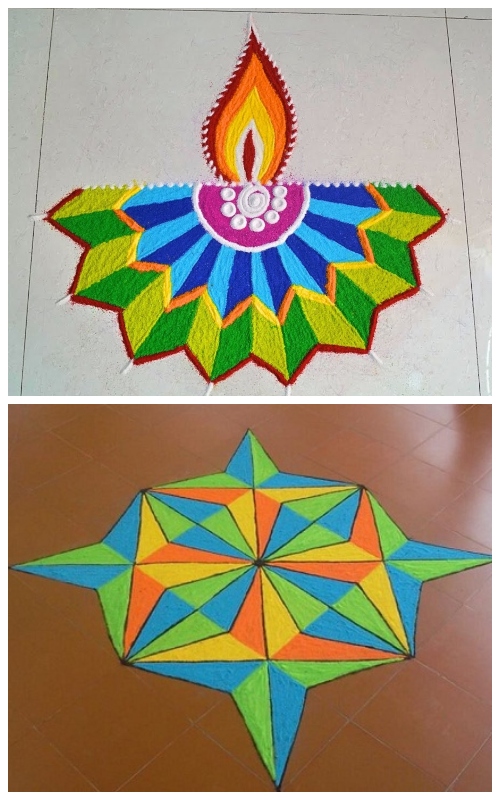 6.Maze pattern
Twisted maze , every single one of you knows maze so let's make art with it. A twisted maze pattern looks beautiful but is a complex design to make. Start with making four lines in different directions starting from the centre using the same curvy loop design the bend the rightwards with the same curvy loops continue doing the rightward bend making it bigger and better and stop when you're satisfied. It has many details and needs an eye which can catch details properly and it is time consuming so have patience while doing the Maze Pulli Kolam.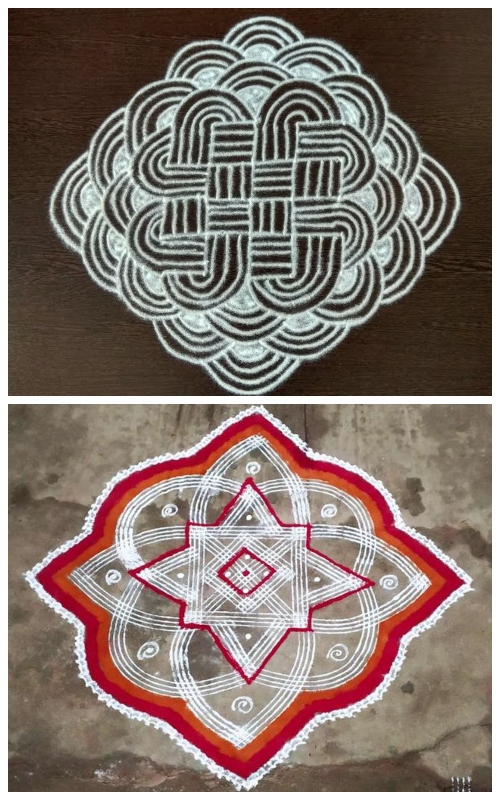 7.Mix of geometric designs
If you're good with Kolam designs and know about the use of geometric shapes and patterns in them , lets use them in Pulli kolam too . So now you're done with using one geometric shape now it's time for mix of multiple geometric patterns. It's easier to draw geometric designs as symmetry can be seen more easily than in curved lines also curved lines are hard to master. Geometric Pulli Kolam are best pulli kolams as they are new & trendy yet simple to make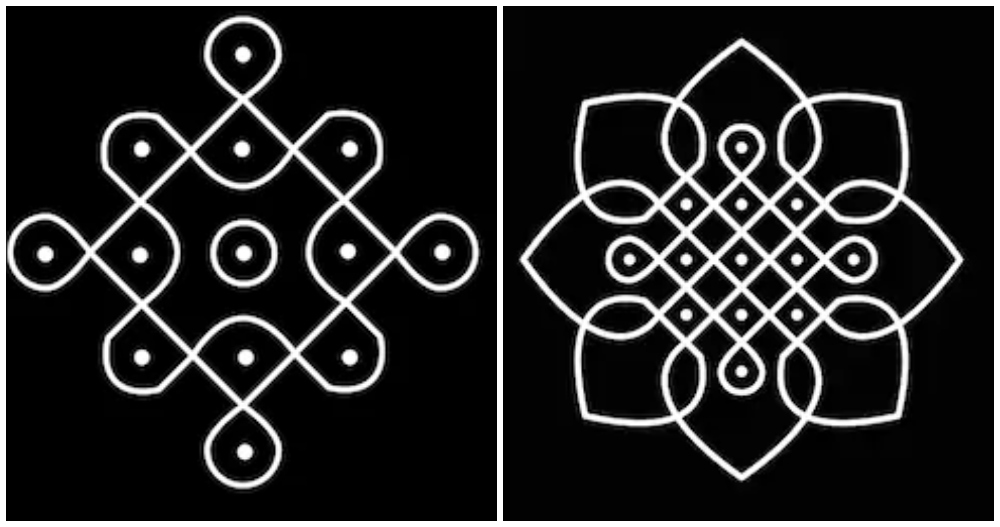 8.Attractive big design
It's simple, do a Pulli Kolam design of your liking but make sure you make it huge so that it gets recognised by everyone. You want to make sure that everyone recognises your Pulli Kolam at the wedding so let it be massive to look at and intricate of course!
9.A hint of colour is needed
White Pulli Kolam designs are seen everyday and everywhere, try thinking out of the box and add colour to your Pulli Kolam design. Make a Pulli design outwards using dots and line loops. Make a flower design or geometric design inside by adding different colours to it. Try different colour combinations and try making a blueprint of what type of Pulli design you want will help you with the actual execution of the Pulli Kolam.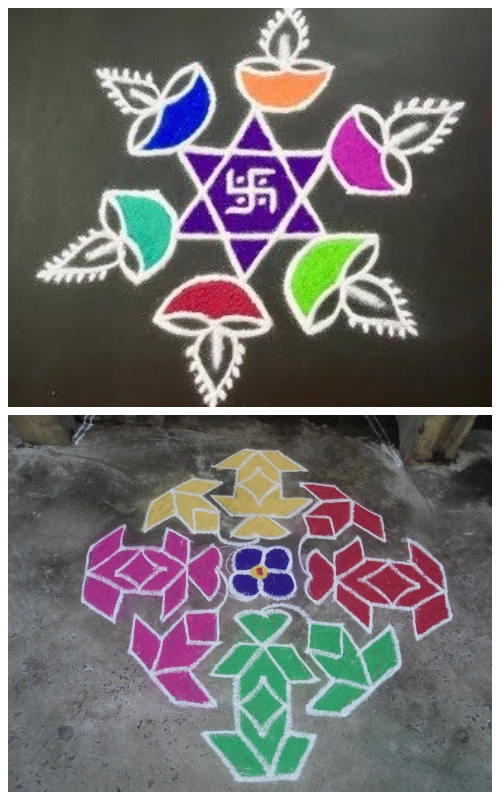 10.Do something unique
Is it necessary to make Pulli Kolam design in circle or diamond shape? Let's do something different that attracts the attention and makes you think out if the box too. Making things like plant with their post in curvy lines or a house full of pulli (collection of dots) are some examples. Take help from your elders and get some quality time to spend with them.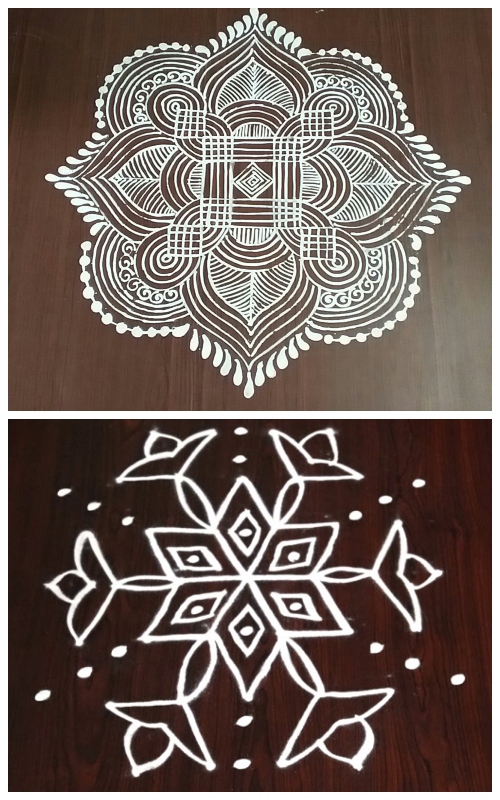 Pulli Kolam makes you realise the importance of patience and concentration in life. After the above-listed designs you must have some idea about what you need to make at your wedding or some other functions which are coming your way. Keep practising and think outside the box!