Do you love wearing a halter neck blouse? Halter neck blouses are so versatile and they look great with any kind of saree and also goes perfect with bottoms, legging, or skirt. It can be really hard to find the perfect work outfit. With so many options, it's hard to keep track of what you're wearing and what you like. If you're anything like us, you may find yourself a little overwhelmed by all of the different colours, styles, and lengths of your office clothes. Whether you want to rock an office and wedding look casually or you want to stand out with a bold look, our list of the best halter neck blouse designs is the perfect place to start. From work shirts to blouses, these office wardrobe staples come in a variety of different styles.
Find the perfect blouse for your office looks and go from every day to the amazing in no time. They're also a great choice if you want to tone down your Blouse volume and give it a more simple look. You can mix and match a lot with a halter neck blouse design, so this New Halter Neck Blouse Designs list is a great place to start if you want to spice up your wardrobe!
1. Simple Halter Neck Blouse Design
Dress The Halter Neck Shift Dress is an elegant, comfy dress that can be worn to any event. It's a great choice for a lunch date or brunch with friends. The halter blouse is so flattering and the cutout in the back of the dress gives it a sexy touch. This dress can also be worn as a beach cover-up or as a great layering piece for those chilly nights.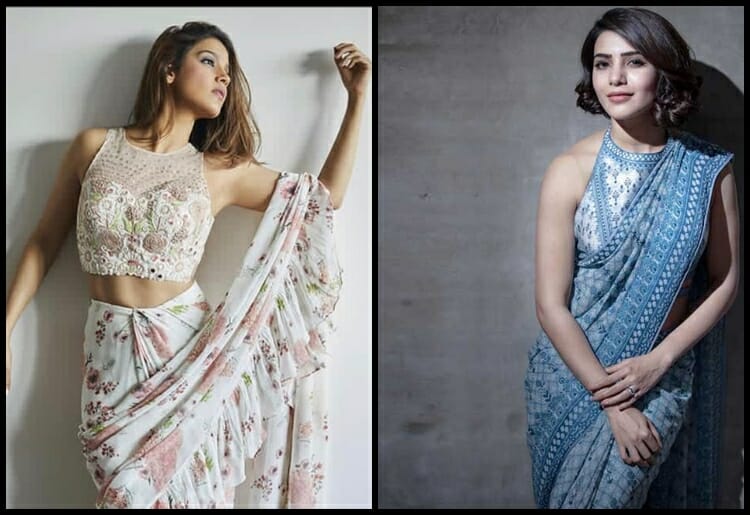 2. Designer Net Pattern Halter Blouse
Net Halter Neck Blouse This New Halter Neck Blouse design is a great blouse for spring and summer. It's a simple halter neck blouse with white fringe detail on the shoulder. This is a great way to add some fringe detail without going overboard. You can wear this Net halter neck blouse with jeans, shorts, or skirts and it will match everything. The white fringe detail will look best when worn with lighter colours like beige or light blue denim. Remember that you can also dress this up by adding some heels!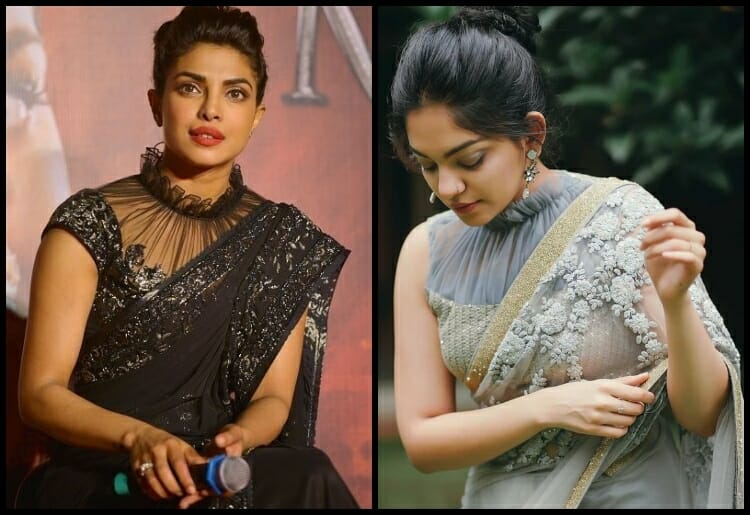 Also Check Out:- 12+ Classy Deep Neck Blouse Designs That Will Turn Your World Upside Down
3. The Floral Halter Neck Blouse Design
The floral halter blouse is a great way to add some colour and pattern to your wardrobe. It has a white background with a tropical watercolour-style print of flowers on it. The bottom is made from a sheer fabric that's cut asymmetrically, giving the blouse its halter neckline.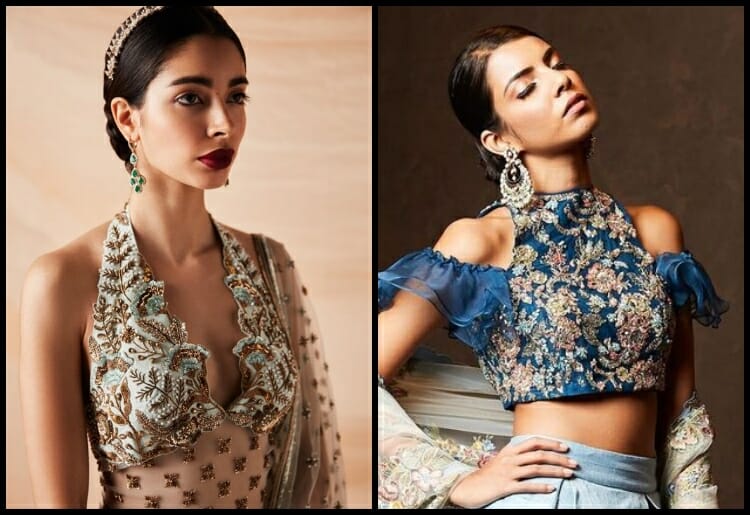 4. The Lace Halter Neck Designs
This halter is the perfect summer blouse. It's light and airy, which is perfect when you're looking for something to wear on a hot day. The lace trim at the blouse of the blouse gives it a nice feminine touch that you'll love wearing!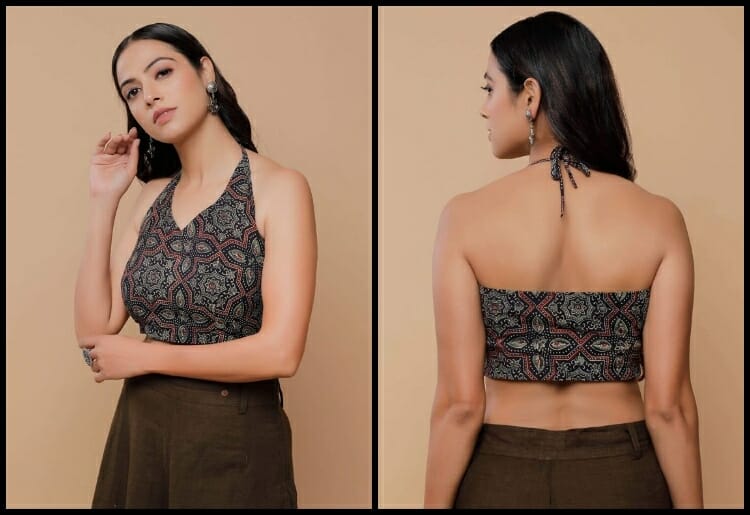 5. Cold Shoulder Halter Neck Blouse Design
If you're looking for a more basic work blouse, this design is perfect for you. The plain work blouse is a classic look that's easy to incorporate into your wardrobe. You can wear this blouse with jeans, skirts, or pants and it will always be appropriate. This blouse also comes in plus sizes so that everyone in the office can look great!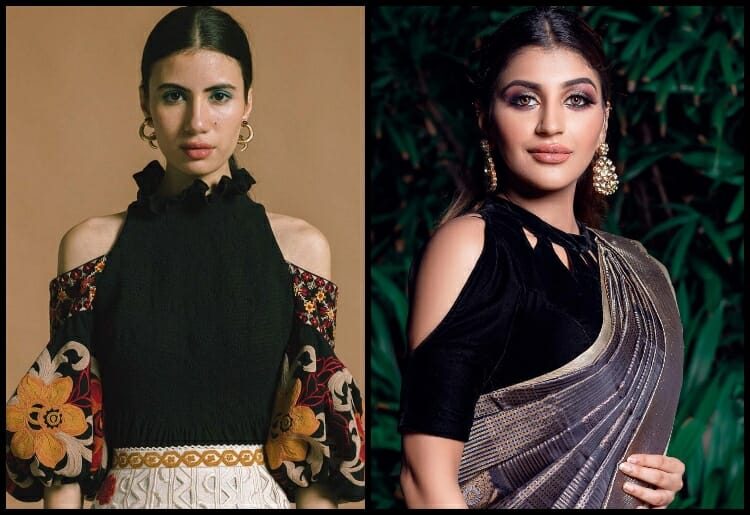 6. Halter Neck Embroidery Work Blouse
One of the most popular halter neck blouses is the halter neck work blouse design. This look contrasts your upper and lower body with a higher hemline and a vulnerable neckline. The look is elegant, yet still practical enough to wear to the office. The halter neck blouse design is great for women who want to show off their feminine features while still being professional. The halter neck can be made of lace, silk, or another light material that will be comfortable at the office as well as out on the town. When paired with pants or a pencil skirt, this style will make you feel like you're getting away with something!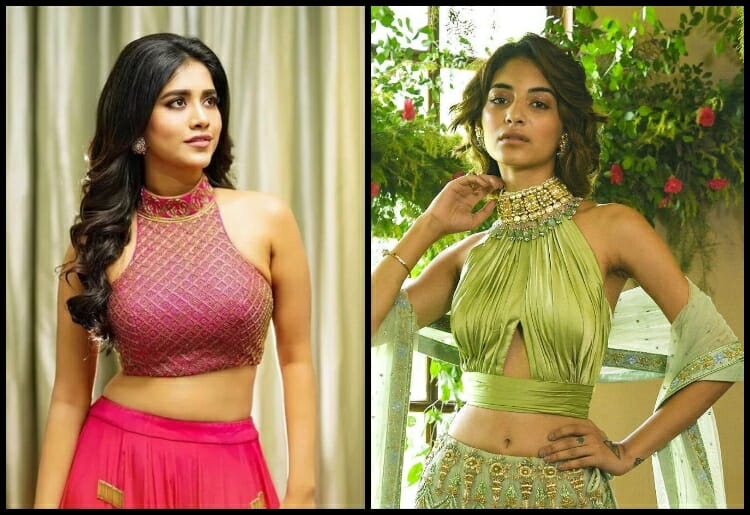 7. Bow-Strap Halter Neck Blouse Design
The Bow-Strap Neckwork Blouse is a chic and sophisticated option for work. This blouse comes in a sheer black material and is cut in a fitted shape. It has a bow detail on the back which makes it stand out from other options. The interesting back panel with the bow detail also gives the illusion of a slimmer waistline, making this blouse perfect for all shapes and sizes.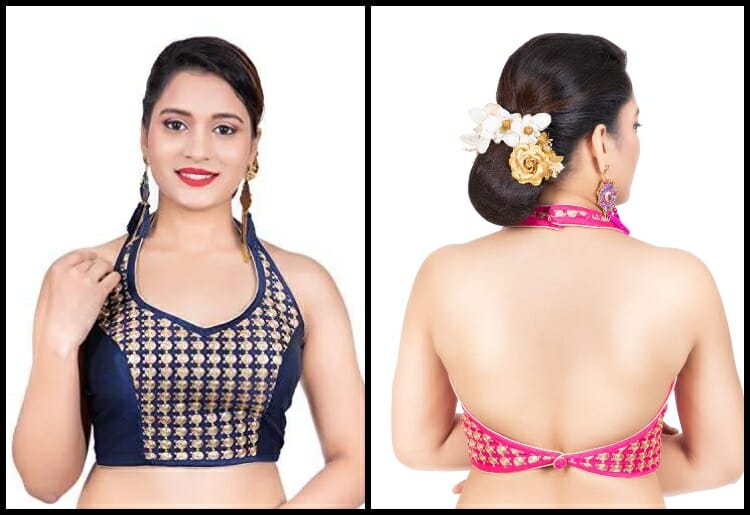 8. Designer Halter Neck Blouse Design
If you are looking to keep it simple, the button-up work blouse is your best bet. This essential office wardrobe staple comes in a variety of colours and prints, from solid black to floral patterns. The buttons on this blouse give it a very professional look that can be worn casually or with a pair of skinny jeans for a more formal look.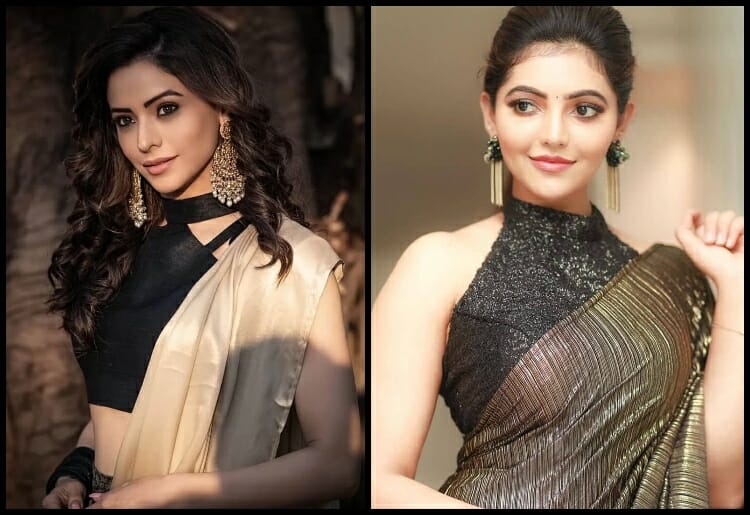 9. Collar Halter Neck Blouse Design
The first work blouse on our list is the Shoulder Collar work blouse. This blouse has a sleek and chic look without being too flashy with a simple collar and button. The sleeves are long and have buttons to adjust the length.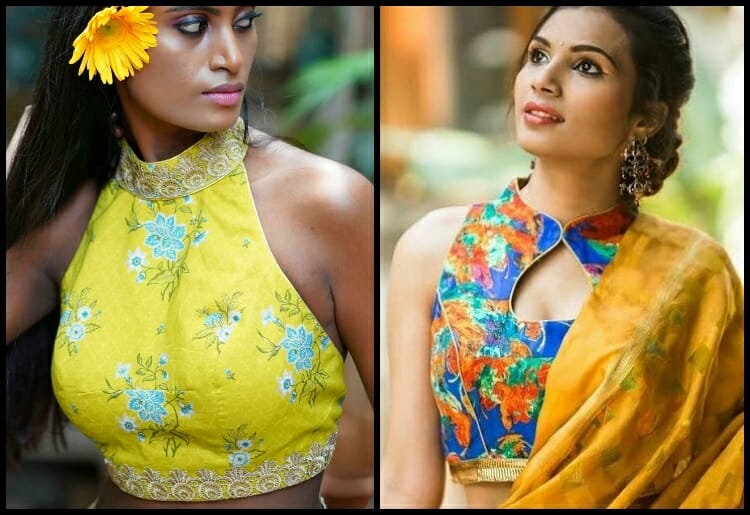 10. Long Sleeve Halter Neck Blouse
If you're looking for a long sleeve office blouse, then check out the women's long sleeve blouse by Wrangler. This blouse is made from 100% cotton and will have you feeling cool and confident at the office. It features two chest pockets, two hip pockets, and a button-front placket. You'll love how easy it is to take care of this cotton blouse as well- machine washable and tumble dry low.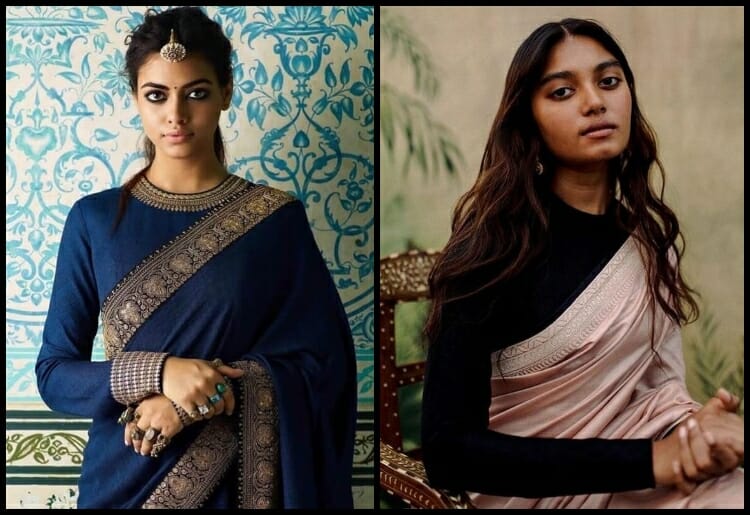 11. Block-Print Halter Neck Blouse
This black block-print work blouse is a great addition to any work wardrobe. You can wear this with jeans for an office look that's casual or add it to your formal office outfit for a cute, but still professional touch.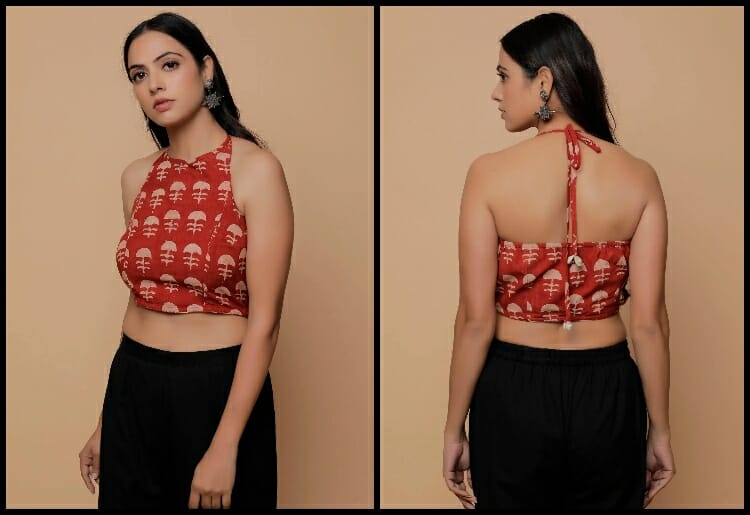 12. The Side Tie Halter Neck Blouse
This halter neck blouse has a tie at the waist to hold it in place. The tie has enough length to make it adjustable, which is good because this style of the blouse might not be tight enough for everyone. So if you need more room, you can untie and re-tie the blouse according to your preference.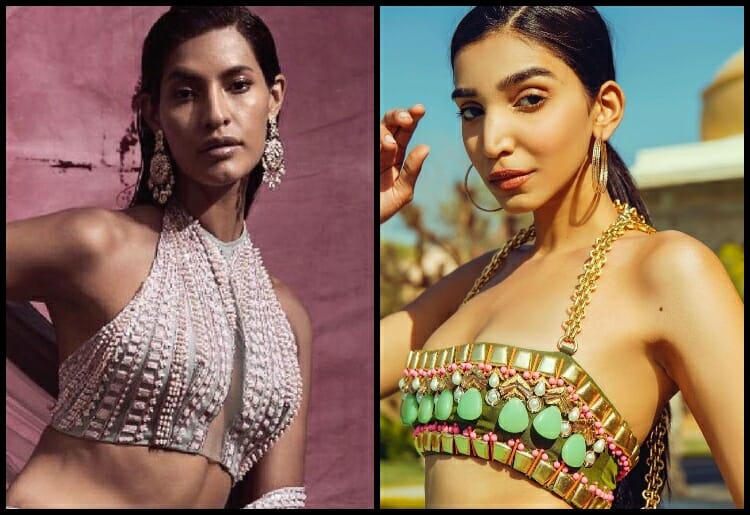 13. The Boho Halter Blouse
If boho is your style, then this halter neck is a perfect choice! It has a light colour and embroidery detail that gives it a very bohemian vibe. Just make sure you wear the right shoes with it, so it doesn't look too casual.