Indian festivals are full of colors and joy, Raksha-bandhan is one such Indian festival which is token of respect, bonding and protections among siblings. The festival of rakhi is celebrated with great enthusiasm among hindus. This festival comprises of a decorated band that a sister ties on his brother's hand to keep her protected always. And as a return gift the brother presents a rakhi gift to the sister.  Selecting a gift brings a smile on the sisters face, thus buying a gift which is perfect to the receivers interest adds glitter to the occasion.  You can buy rakhi gifts for sister from an online store.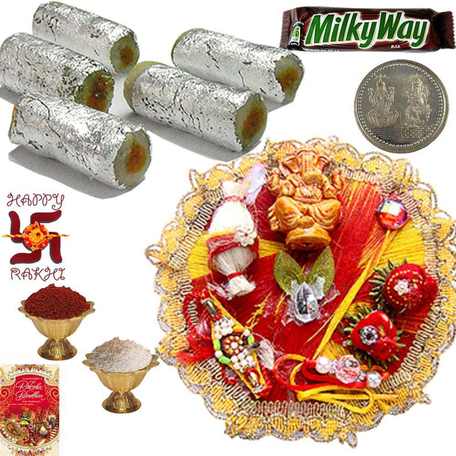 Traditions gift that are most trending for girls during the rakhi season are jewelry and traditional clothes and branded items. You can buy gift that fits in your budget as the online stores have gifts varying from every price range, you select rakhi online, and rakhi gifts online from the e-catalogue that is available on the homepage of the website. These gifts can be customized and personalized on request as per your requirement.  There are innumerable gifts that look adorable and practical to use, thus gifts such as coffee mugs are quite popular among brothers to offer it as a gift. The coffee mugs can be customized such as the person can print the photograph of his and his sister. Magic mugs are one explicit form of coffee mugs, these mugs are completely black, but when a liquid is poured in it the color changes and an image is displayed.
Other gifts items to offer during rakhi are funky photo frame, traditional and braded outwear branded electronic items such as mp3 player and so on.  You will find plenty of options in rakhi gifts for sister that are wonderful to gift and can be kept a token of memories.  Buying gift online provides a huge spectrum to explore many gift items as per the requirement and budget of the buyer.  The gift items can be properly analyzed and compared to other gift items to select the perfect one that suits the best to the receiver's personality and choices.  There is a multiplicity of choices in the gift items as well as in the styles and designs of rakhi.  Not only brothers, but sisters can also select the various styles of rakhi as per the age of brothers. For kids rakhi with a cartoon character or toys such as car or a butterfly are popular and well liked.