Westernization has had its effect on every commercial business in India so it isn't a surprise that fashion comes under its influence too! Indian population have diverted to sporting westernized articles of clothing, for example, pants, trousers, skirts, shirts, suits etc that have been paired with Indian street clothing. Despite few wanting to stick to conventional clothing, indo-western garments have been popularized in Goa and this fame has spread to all corners.
Indo-Western combination is favored by residents young and old alike and has now turned into 'the in thing'. These articles of clothing are picking up acknowledgement in the Indian outlook, and are turning into a comfortable choice of attire at formal and casual occasions. There are a few designers who are plunging deep inside their creative zones to innovate authentic Indo-Western garments.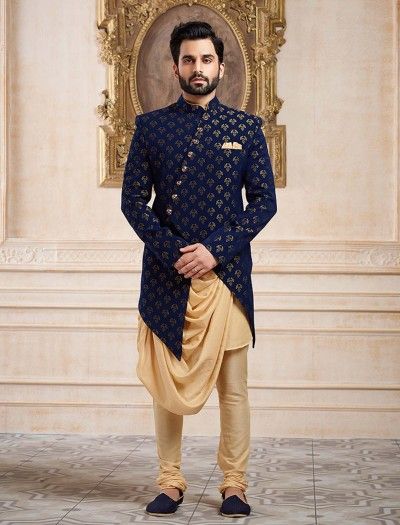 What to See and Wear?
Indo-Western clothing is typically a mix of Western-style examples and Indian designs fabricated into fashion. Ordinarily, in Indo-Western style salwar or kameez, enriching stoles, kurtas etc are utilized for an extravagant. The utilization of ethnic weaving styles from distinctive parts of India -, for example, Phulkari from Punjab and mirror work from Rajasthan – on dresses with western look is another part of the indo-western fusion.
Indo-western sherwani these days is renowned in India as well as amongst teenagers of South-Asia. It is worn by individuals for its style and colorful fusion of designs. The extravagance and grace which an Indian sherwani provides is only enhanced by a blend of western look. Stand out in the crowd wearing indo-western garments to create a change in your look. That extra spark that you've been searching for is only found with the fusion of fashion styles.
Indo western garments are the coolest trends in the market featuring long lehenga skirts that are combined with sophisticated tunics. It has gotten to be so prevalent in so less time that in every occasion you would recognize a substantial number of people sporting this look. Indo western style was created with the thought of blending the western society with the Indian fashion sense and drawing out new look that suits the cravings of modernization. Give another look to your figure and expand the limits of western dresses as you combine such wonderful cultures.
The indo western fusion has spread like rapid fire around different parts of the globe. In fact a clothing known as 'harem pants' has entered the fashion world which is being paired with t-shirts and even kurtas. Such an exclusively fashionable look can only be enhanced by accessories like potli bags to give a new sense of style.