How to Shop for Comfortable and Stylish Sherwani?
Typically traditional outfit in Indian weddings is the 'sherwani' which certainly makes the groom look handsome and sophisticated. If you think wedding shopping is meant just for women, you're absolutely wrong! It is very important for men to pick out wedding garments that not only suits their body type but also compliments their personality. A sherwani brings a regal look which has become an all time classic however it can also ruin your wedding photograph if you have made the wrong choice!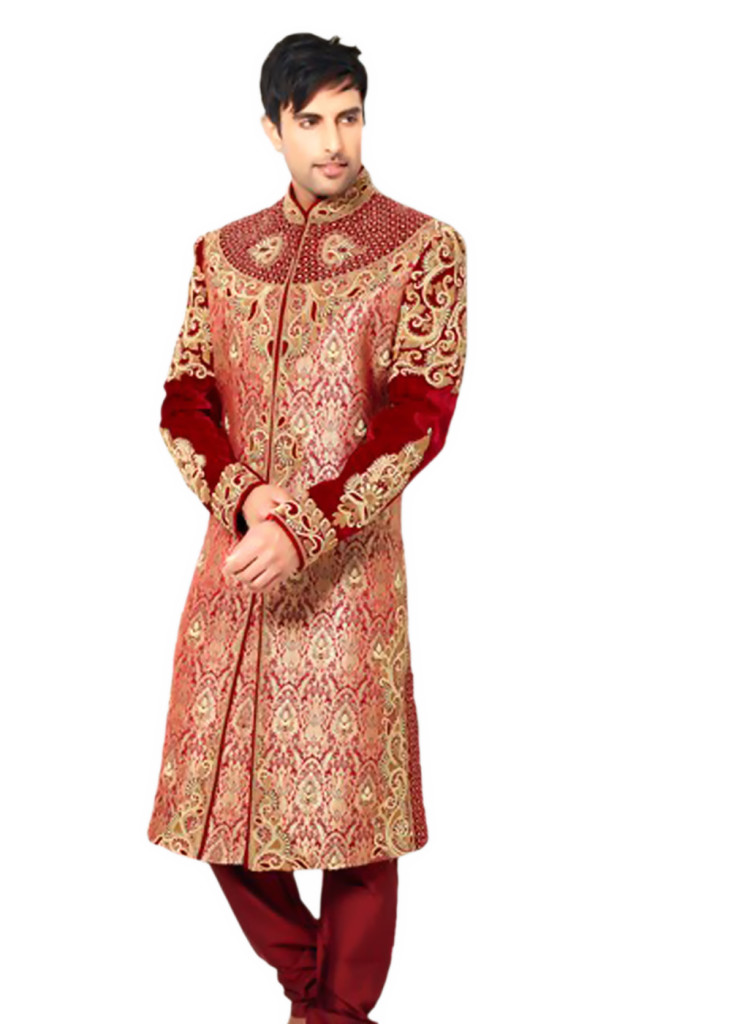 Things to Note While Picking Sherwani
Always avoid picking out a sherwani which has been composed of low grade fabric. You shouldn't dream of going cheap with your wedding dress! It is the basic and fundamental apparel that requires immediate attention and the best care. A poor quality sherwani will not look elegant or have a good impression. As the groom all eyes will be on you so why risk a chance where your fiancé might be wearing a stunning saree while your low grade dress is a minute comparison?
Go for colors that don't clash with your fiancé's dress, in fact ensure that you both are together while buying wedding garments. Always make it a point to talk to her before you pick out a sherwani because the color matters the most! Make sure that the shade of the fabric looks coherent with her dress so much so that you both look like a match made in heaven. Having wedding photographs clicked with awkward and unsettling hues is not a pleasant activity.
Sherwanis must be designed according to your body size and measurements. It is an obvious fact that you must get it designed instead of buying a premade piece. Since it is your wedding you cannot take any chance in terms of looks and feel of the garment. Nothing is more important than your comfort on the wedding day. Ill fitted clothes can either make you look fat or take away the shape of your body.
Picking out a sherwani with incredible prints is another feature to consider while you're out shopping. Ensure that your sherwani actually suits the color of your skin tone else you'll end up looking like a clown. A light colored piece with large prints compliments grooms who are thin whereas dark colored sherwanis should be worn by grooms who are slightly overweight. If it doesn't make you feel comfortable and doesn't bring out your best assets, it isn't for you.
There are a range of popular stores from where you can pick out a sherwani that highlights your features. You should always ensure that you design the sherwani a month before the wedding to avoid last minute mishaps. You might realize the sherwani isn't suiting your body type or simply doesn't match your bride's dress code; in that case it is necessary to leave ample time for revisions. The ideal perception of a sophisticated groom is that the dress should compliment figure and features. This traditional dress can only be enhanced with accessories like a watch and matching shoes that reflect a grace and intelligence.