The introduction of the Nehru jacket has been a motivation for various fashion brands in India especially since it signifies professionalism. The garment has been used mainly for formal occasions because of its sophisticated layout. Nehru jacket is an overall example of what fashion was during times of Independence. It gives a perfect finish to formal dressing and you can always pair them with denims, plain shirt, kurta and so on. The jacket embodies Indian tradition in a sophisticated fashion that can impress anybody! It is known as the Nehru jacket because it was adorned by Jawaharlal Nehru, first prime minister of India and has become a fashion icon today.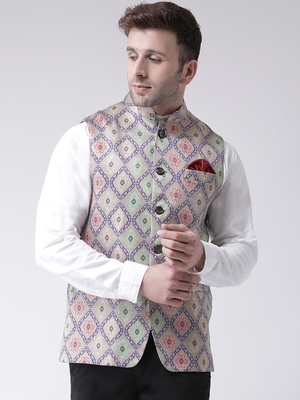 Why Pick Nehru Jackets?
Young men follow this style of clothing for its regal and authoritative look that comprises of high quality neck line and sleeveless openings. The jacket has become a renowned possession for its increasing demand in the market. You won't be surprised to note that the jacket is being used for wedding occasions and improves the appeal of the individual. It is one of the absolute necessities for a man's closet! This is an article of clothing that overflows style and makes a man look to a great degree prosperous and vivid.
The Nehru Jacket, as the name infers, was made prevalent by Indian government official Jawaharlal Nehru who was seen donning one frequently. Mr. Nehru regularly wore a Nehru suit jacket for formal and even state visits. The Nehru jacket, as it got to be regularly known during his time still holds its appeal with the crowd. It includes a front-fastened placket and fabric secured substantial buttons. The Mandarin neckline is the significant highlight of the jacket which is accessorized with a splendid shaded handkerchief. It is quite similar to a western suit that frequently includes a jacket and jeans. However the classy design of the jacket is unique and advanced.
A more extended adaptation of the Nehru neckline is likewise present in a Jodhpuri or a Sherwani jacket. These are styles that are commonly found in India and are regularly worn by individuals of all ages. While the sherwani is the typical choice for weddings and entertaining occasions, the Nehru jacket is worn for formal or business meetings. Celebrations like Diwali are occasions during which you'll come across individuals wearing this jacket.
Wearing a Nehru Jacket
In the years passed by, men used to wear a Nehru jacket of dark colors with a red handkerchief for all key authority occasions like critical state gatherings or even corporate meetings. You can combine trousers or even pants with the jacket making it highly versatile. Chacha Nehru frequently wore the jacket in lighter and more pastel shades, however such outfits featured a structured suit and not as a stand-alone jacket. You might find it surprising that the jacket has become a fashionable trend today so don't be surprised if you find a large collection online. The variety in terms of color and fabric for Nehru jackets has made shopping convenient for men.