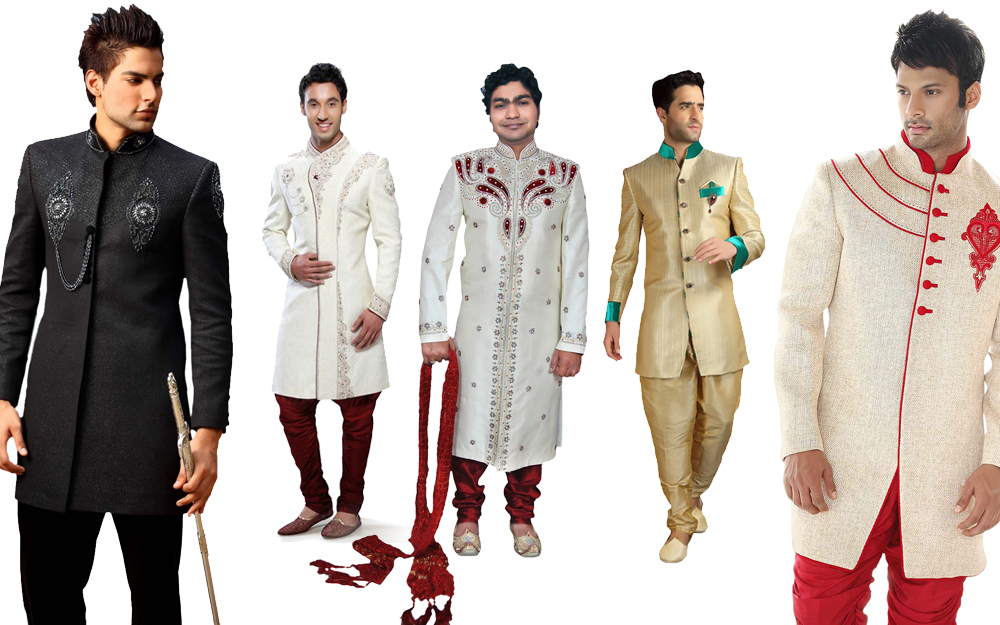 Dated back from the royal emperor days, the ancient apparel Sherwani was imported from Persian Empire and continues to remain immortal for smart ethnic wear in Asian countries. Men's Sherwani has gained love and considered as reliable clothing for festive wear.  Every thread of fashion designers are weaved to bind to suit the taste and preference of bold men's look. In the contemporary times, there are divulging colors and a pattern available for sherwani, the realm of sherwani is as follows:-
1)      Silk Fabric Sherwani: -With the flawless comfort, these silk fabric sherwani are couture and embroidered with the contemporary colors thread. Art lovers could also avail Sherwani with the handmade embroidery. For sheen and perfect look the apparel should be paired with the churidars and stoles. Normally this type of sherwani is preferred widely during the wedding function and events. Lot of Kings in India was wearing from exotic silk fabric sherwani made from Tuscan silk, pure silk and other ostensible materials. Normally this apparel is adopted by the grooms in the Indian aristocracy.
2)     Front button style Sherwani: –With jell of colors, the modern style Sherwani for giving a gracious appearance the modern Sherwani does have front style button patterns. Many Bollywood stars to have adapted this style gracious look apparel.
3)     Indo Western Sherwani:-  In India the sherwani are carved with the niche of exception and interim bold looks. The Indo western sherwani are perfect for wearing during festival, get together or events.
 4)     Dhoti bottom and Sherwani Suit:-  The fashion stylist have given a tweak to the modern style Sherwani , the dhoti bottom sherwani are available with the flairs for giving complete elegant look to your ethnic wear.  Comprehensive choices of fabrics are also available like Art dupion Silk, art silk, banarasi silk, raw dupion silk, linen, khadi and much more.
 5)    Heavy work and bordered Sherwani:- The most contemporary of trending times are the bordered sherwani, the work here is basically done up on the sleeves, colars and in the centre of Sherwani. The Indian customers are given a complete leverage of selecting from the border work, brocade, cut dana, fancy work and much more.
The embellishing Sherwani can be best paired with the turbans and majoris for complete royal ecstasy. In order to provide you with the comprehensive and tailor made solutions, the designers do give detailed attention to the fabrics and different combination of colors too. The intricate thread work on the sherwanis is simply alluring and designed to give complete rich look.  Every Sherwani does have enmeshed patterns for the collars; you could have your pick as per your body type. Many sherwani do have stiffness that gives complete rich and elegant look. The designers and reputed online stores do give a complete leverage of selecting the sherwani with different lengths too. With the forte of creativity by the designers, you could avail designs on the sleeves too.  Indulge into royalness by wearing a smart ethnic wear called Sherwani!