So you helped your roommate in her wedding trousseau shopping and you already feel like a designer yourself??But when it comes to a women's wardrobe there's much more than what meets the eyes,the colour patterns,the sequins,the traditional prints and arts of regions divided geographically and culturally.The world is huge and a confusing place to be in,but here we are to help anyone and everyone who feels the need to understand the charisma of what a blouse of perfect fitting and type apt for your body shape and size can bring out for you, any day anywhere.
Here are few designs to help you understand better the much less talked about vast world of blouses and the features they accentuate in you :
1. Long Sleeved Blouse
Apt for someone with long but flabby arms these long sleeved blouses swear by to never go wrong.One can even play a little with the sleeves for adding a slight twist to them,like going all flared,or by adding ruffles near the wrist.As a plus point,they divert attention from your tummy flabs a bit and take them to your slender looking arms.Anyone keen on making the most of winter or not in mood to accessorize oneself with stacks of bangles can try the look.But always remember always try to stick to the sleeves that go according to your body shape and size and save the day.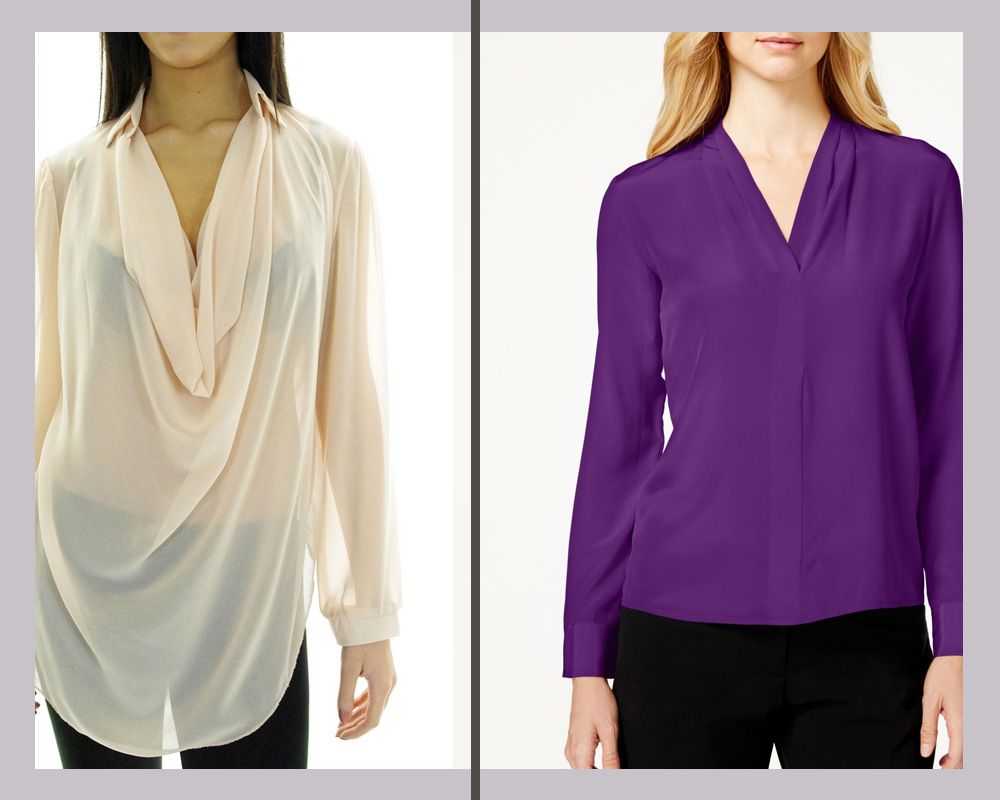 2. Panelled blouse
If you have a busty figure and want to take off the unwanted attention from them,then panelled blouse are the ones you are looking for.Panelled blouses are made with two or more panels or fabrics stitched together for a quirky sense of style.For a save,avoid wearing one if you are flat-chested or with full sleeves.Just play with the sequins and designs or panels and try not to ruin it bu adding en no.of panels.Perfect blouse to accompany with a skirt or lehenga or to pep up a plain saree.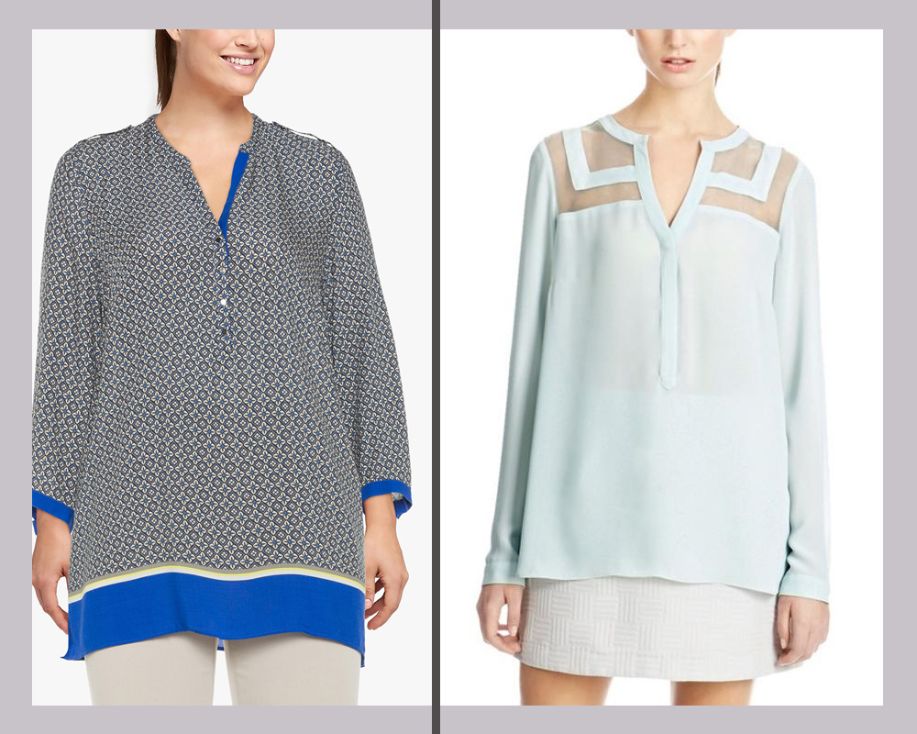 3. High neck blouse
High neck blouses are a less fuss blouse,not much show of skin or pondering over the cleavage show,these blouses are meant for anyone with a long,slender,toned neck or quite obvious and toned set of collar bones.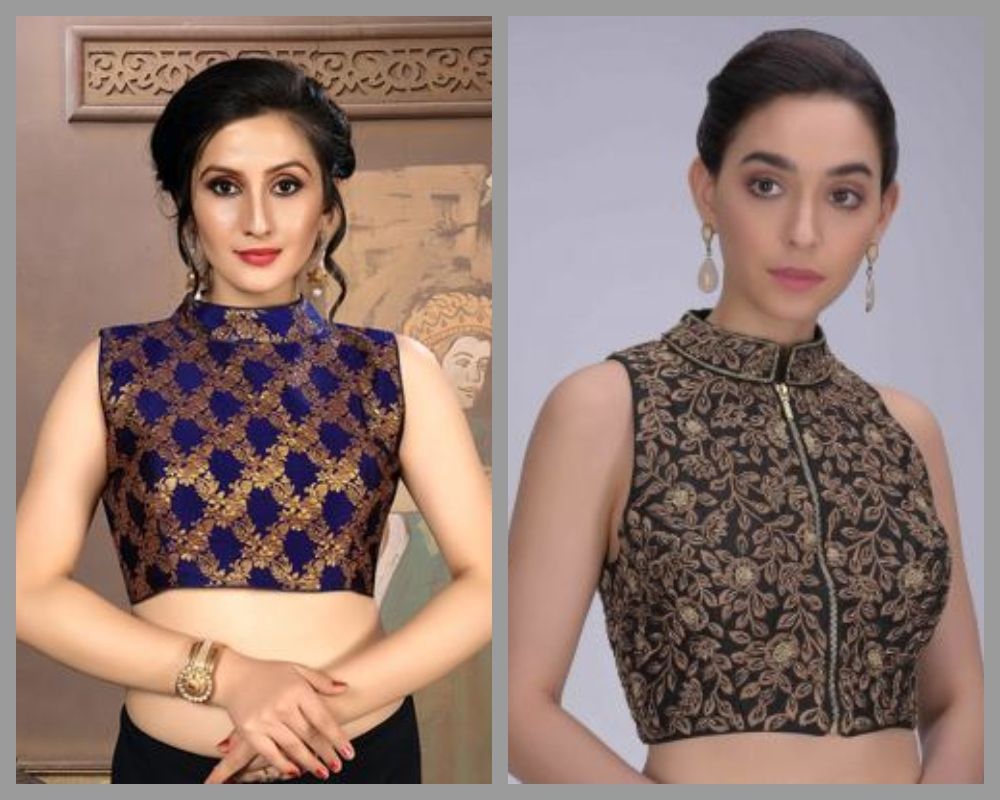 Once you want to try this trend,be sure to go for a drape that's not too heavy a fabric.Go for lightweight flowey fabric that remains clinged to the body but gives blouse ample space to leave a mark.One can even opt for stitched dhoti and huge bangles or a headgear for a warrior princess look.
4. Off shoulder blouse
Not everyone is keen on skin show all the time,a great trend to make a statement wherever you go this trend is sure to go places.Anyone who likes to sweat it out in gym or have a toned pair of arms(god gifted) can try this,for this look good shoulders,good toned collar bones can do wonders.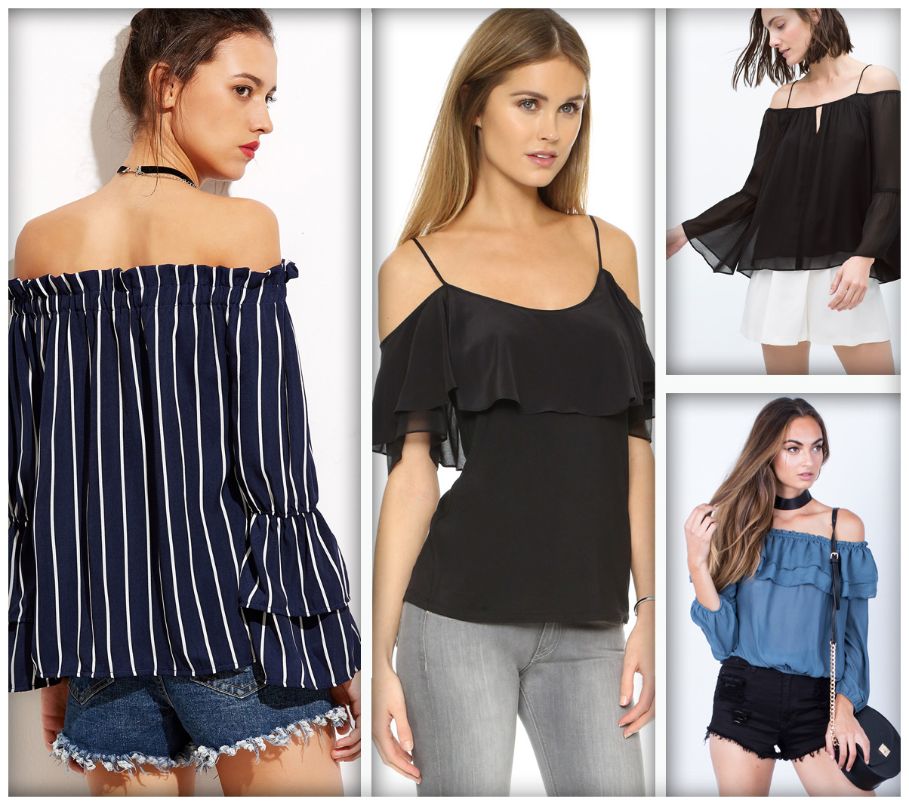 While we have already seen off shoulder blouse trend on Sonam kapoor,the trend is one of the most chick try to quirk a regular saree.
Just try to drape saree or dupatta of your lehenga as close as to your neck and let your toned collar bones steal show .But if you have broad,heavy shoulders or heavy bust try to avoid for it brings all the attention on that portion only. Accessorize it with huge danglers and a bun and steal the show.
5. Lace blouse
Since lace oozes feminity,there's not much that's required while getting a lace blouse stitched just try to stay away from too much of sequins and huge patches of embroideries,in other words keeping it as simple as it can be will be enough.Anyone can go for this trend,but since lace looks delicate and your curves become obvious in it,try to keep off if too flabby.
Goes best with any fabric,light or heavy.Depending on the body type and taste,either accessorize the neckline with studs or keep it classy with pearls.
6. Sweetheart blouse
Sweetheart neck is the choice of every celebrity bride and the bridesmaids followed by nearly every women who has a toned body to be flaunted.Since sweetheart neck focuses on accentuating the bosom,a perfect bust or someone with nearly flat chest can even try it,for a needed cleavage show.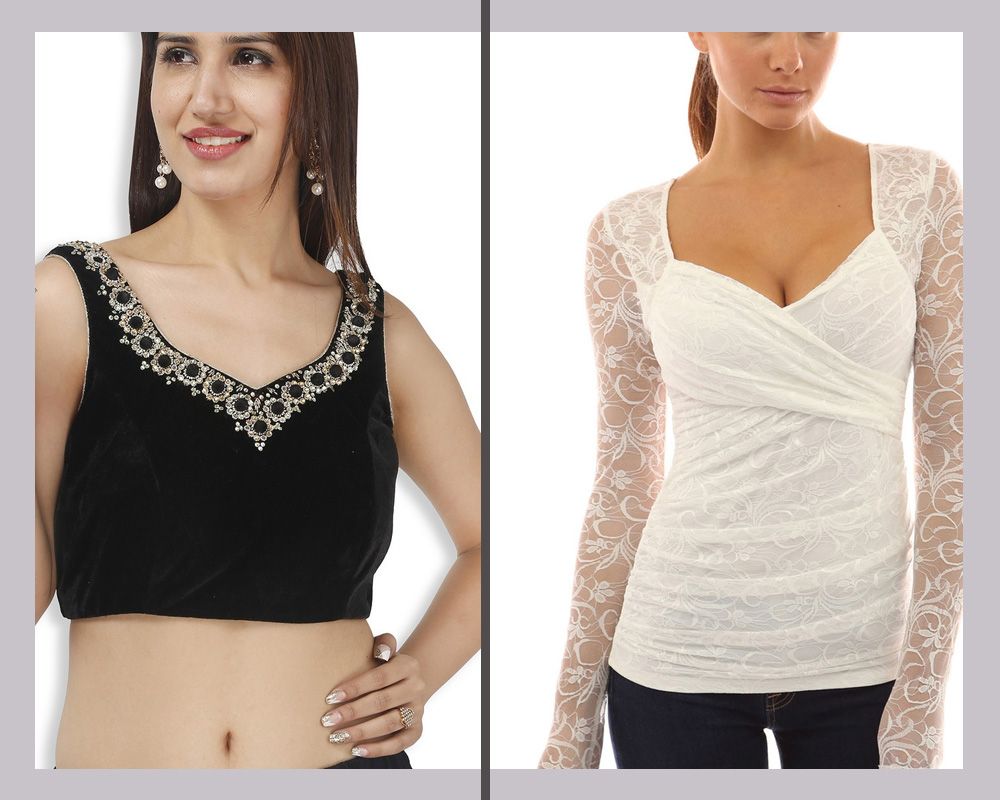 Try to stay away if too busty or on the heavier side ir it will look tacky.Any neckpiece that clings to the neck or a pair of huge earrings will add charm to it.
7. Long blouse
A hit with women who fell in love with the Sharara trend of the season,this blouse has made a comeback all the way from madhuri movies.Known for it's least show of skin,this blouse trend is for someone who wants to be free from worrying about cleavage and tummy flabs.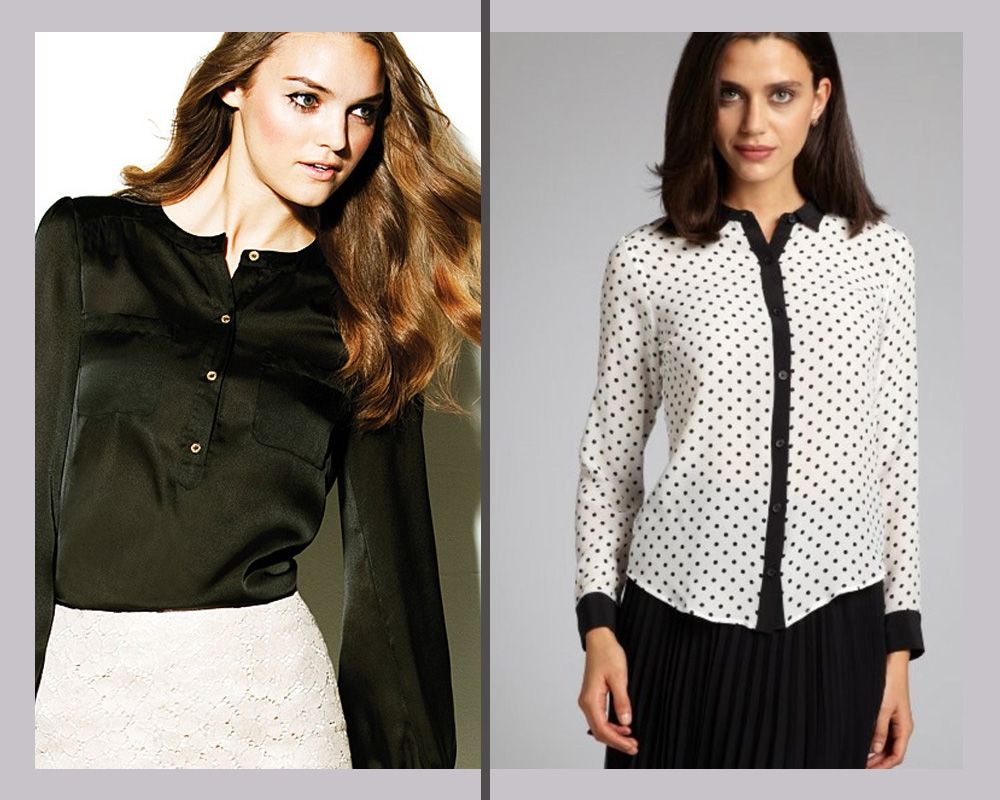 Anyone with a toned or am average body shape can try it,but it is advised to try it without dupatta or with side slim pleated dupatta for the blouse show.Accessorize it with Chand bali or a regular pearl passa for a vintage begum look.
8. Sheer blouse
Sheer blouses are everywhere and so are the tops,thanks to kardishians.Though for sheer blouse trend you don't need a body like kardishian but even a plump body can ruin the look cos being sheer the flabs and extra unwanted skin can be a real spoiler.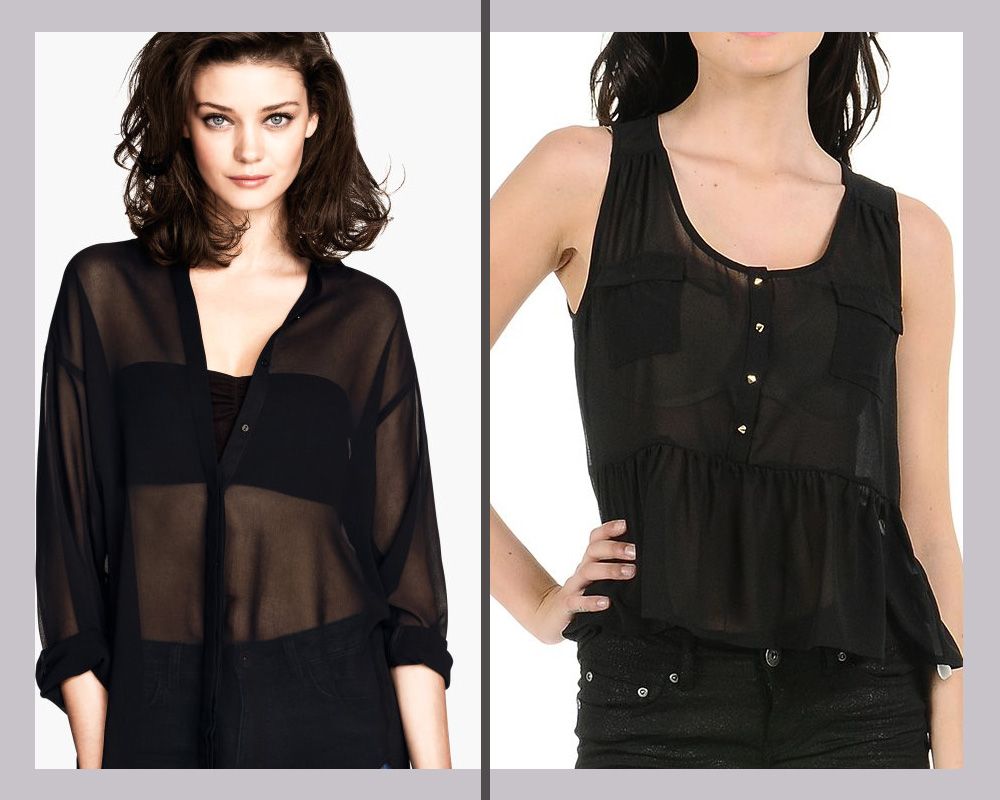 Keep it elegant with a heavy brocade saree or satin pre stitched saree and pleat the the free end of.it as marrow as possible for a obvious blouse show.
Keep your hair tucked and accessorize it with jhumkas and head gear and try to keep low on neckpiece.
9. Strapless blouse
Remember the 90's when strapless blouses were so much in vogue that almost every music video had one model flaunting it.The good news is they are back and they are here to stay.Wear it with a well fitted strapless bra,keep your jewellery minimal and try to keep the look less messy and more classy with a side braid or a bun.
Suits anyone with a toned body,so just try to keep the dupatta or saree pleated narrow for a sensuous body show.
10. U neck blouse
Just like U necked suits U shaped blouses too suit everyone,irrespective of shape but not size.While they are a bug thumps uo for average busted women, flat or heavy busted women are advised to keep off cos they bring all the attention to it.average busted women to flat the U shape.The unique part about this neck is that although conventional when wore with a saree or a pajama or dhoti it stands out. Accessorise your neck with anything that is bold and accentuates your neck,and you are ready to go.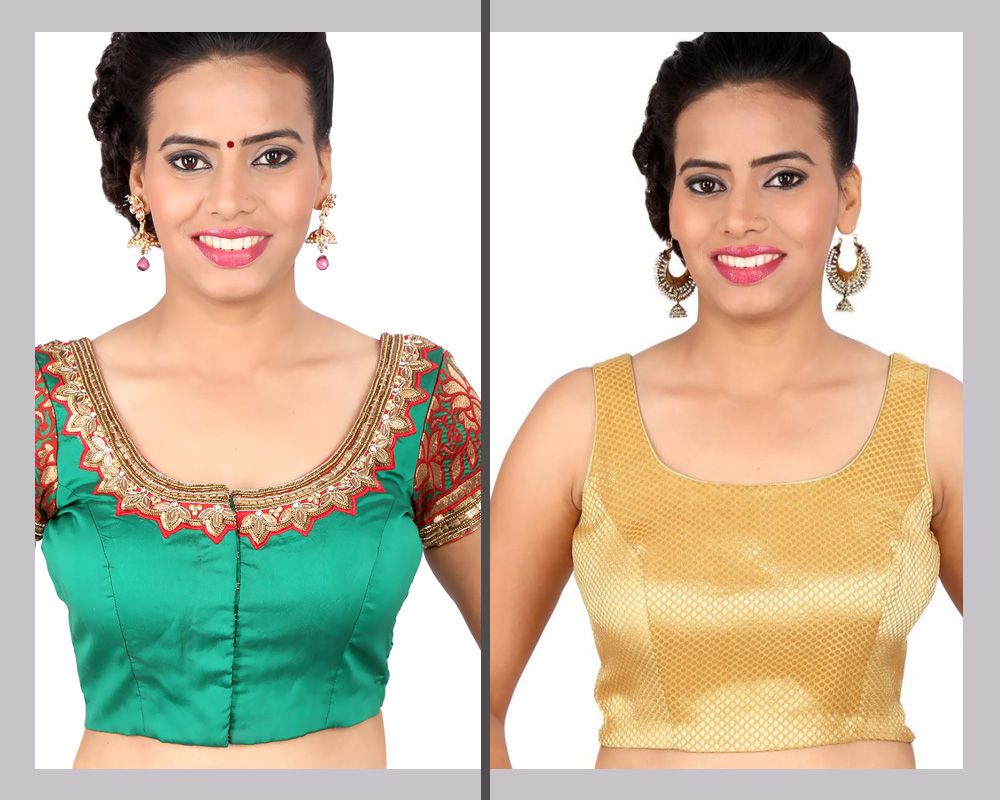 11. Cutwork blouse
While last year the cut work was the new lad on the block,this year the trend has remained in news but on really exclusive occasions.Cut work blouses are for women who like to keep it classy and trendy and like to go innovative with their wardrobe choices.Cut work blouse suit women of good figure,with well toned bust and shoulder.Flaunt a delicately tailored cut work blouse in any colour of your choice with a light fabric saree or a dupatta and turn heads wherever you go.
12. Criss Cross blouse
From Sonam kapoor to Jacqueline Fernández you have seen almost every bollywood diva sporting this style but doubt if it will suit you??Then here is the good news,if you have average or heavy bust and an average but not really heavy body figure then you can definitely try it.From lehengas to sarees it looks good with every drape and dupatta.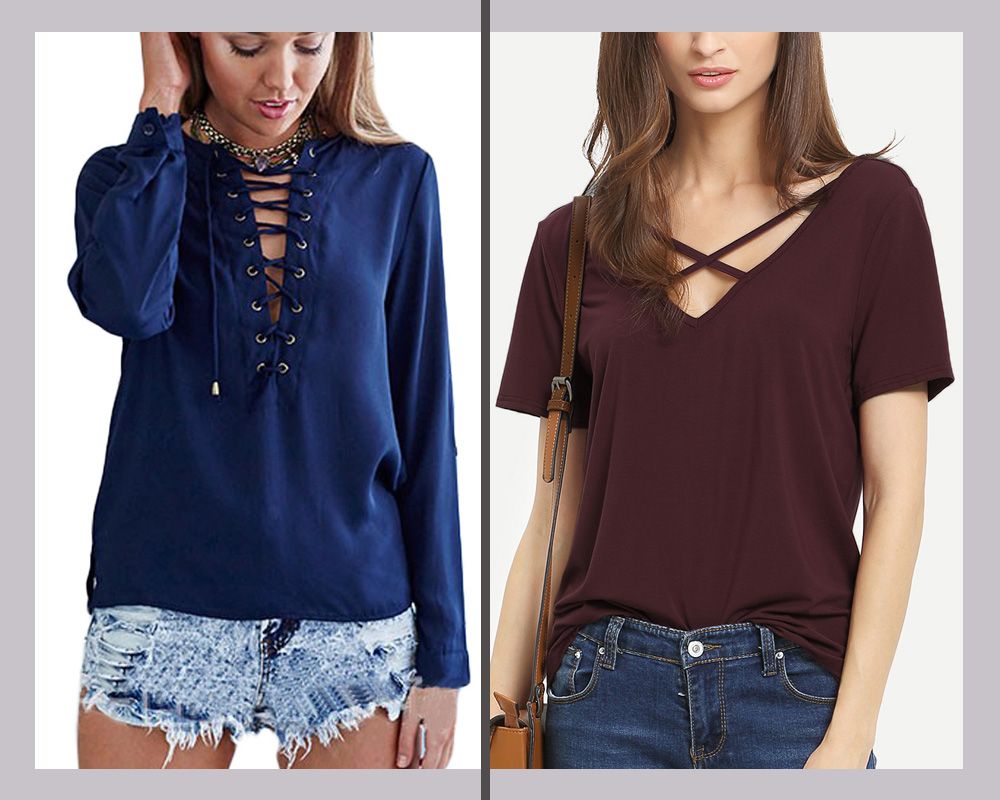 Just add your statement chandelier earrings or a delicate neckpiece to the look and get ready for the attention you deserve.
13. Jacket blouse
Jacket blouses have been an all time favourite at socialite gatherings and art gallery's since a long time,but now all the trend aware women keen on keeping up with the changing fashion have started trying out the same look.While for a party jacket blouse in silk looks flawless with a silk or satin,for a meeting or a office routine anything in cotton or georgette suits best.
If you have a huge physique try to give this style a miss,apt for women with petite or pear shaped figure this style can be worn with a saree,lehenga or a dhoti and accessorized easily with a waistbelt or an armlet if sleeveless.
14. Asymmetric blouse style
The best part about asymmetric blouses is that you can do your thing to them.From neckline to the shape and size of the blouse is open to innovations and demands a certain degree of attitude while carrying it.As the name says it all,it suits every body shape and size if you know what style or what pattern suits you and where it reaches the awkward stage.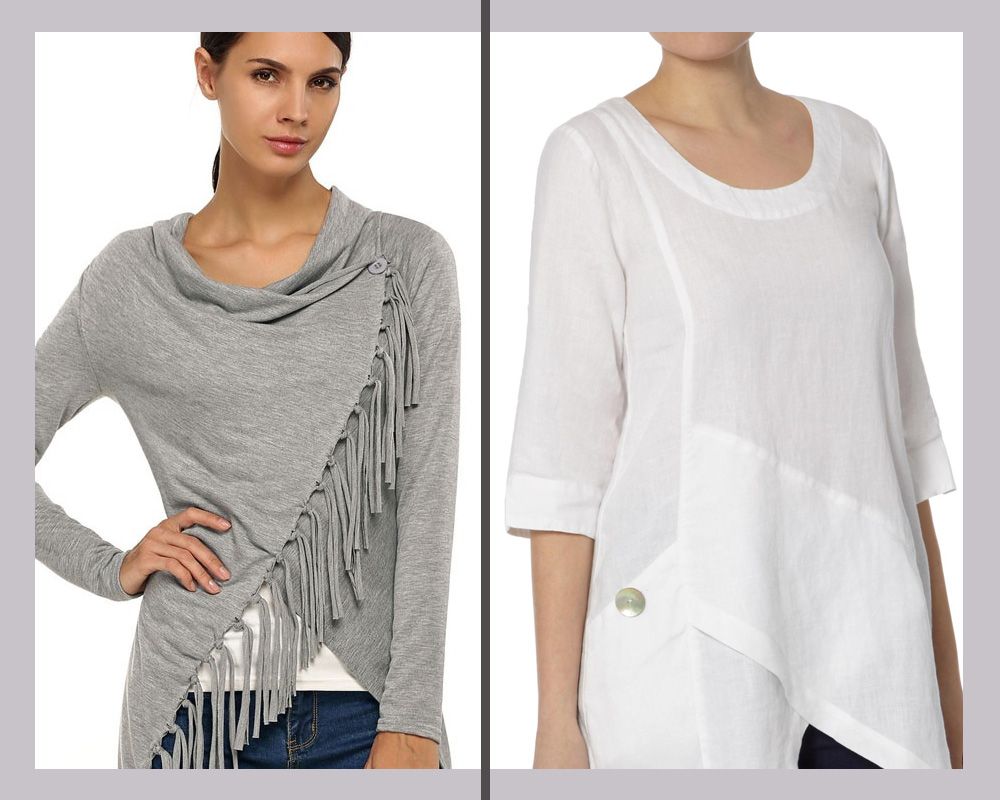 We suggest to wear it in bright colours with bold patterned sarees in monochrome,and statement jewellery to accompany.
15. Mirror blouse
While women in Rajasthan and gujarat have been wearing mirror blouses since centuries,the trend reincarnated in the fashion space with a storm.Beautifully embroided blouses with mirror patterns chosen wisely to suit not just one piece of cloth nut many,the delicate work done on the blouse oozes oomph and elegance.Wear it with a bright coloured chiffon or flowey fabric like georgette and get it right.
While accessorized blouse backs never fail to make a statement,if you like it simple,statement earrings can do the needful.
16. Halter neck
Halter neck is a complete no no for short necked and heavy busted women.Since it stresses other neck and flaunts the shoulders,tug to it if you are not very broad shouldered.
Halter neck is no alien to anyone,depending on your choice and sense of styling,one can play with the sleeves and the back.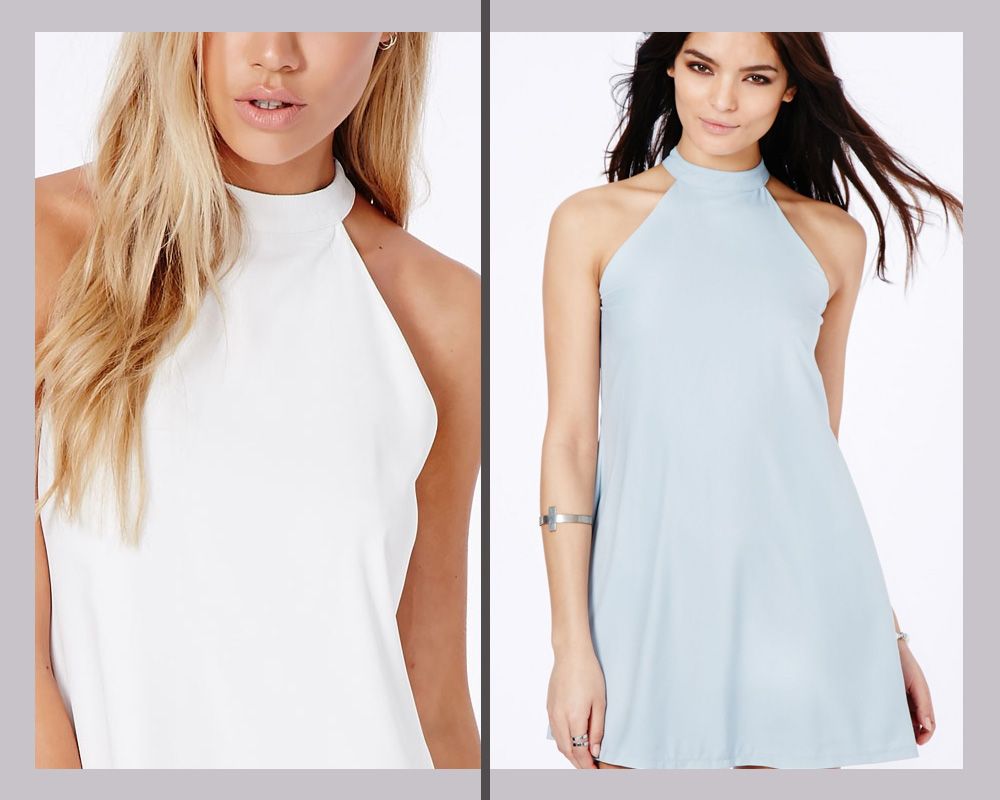 Goes best with satin silk,crepes,chiffons and flowey fabrics.For accessorising choose hige danglers and armlets rather than going for a loaded neckpiece.
17. Crew neck blouse
Crew neck blouses leave no chance to the much dreaded cleavage show,and is perfect for for someone who thinks on the same lines.Since the crew neck blouses settles perfectly clinged around the neck,someone with double chin or heavy bust should keep off the idea of wearing it.Though one can easily experiment with the back of blouse by accessorising it.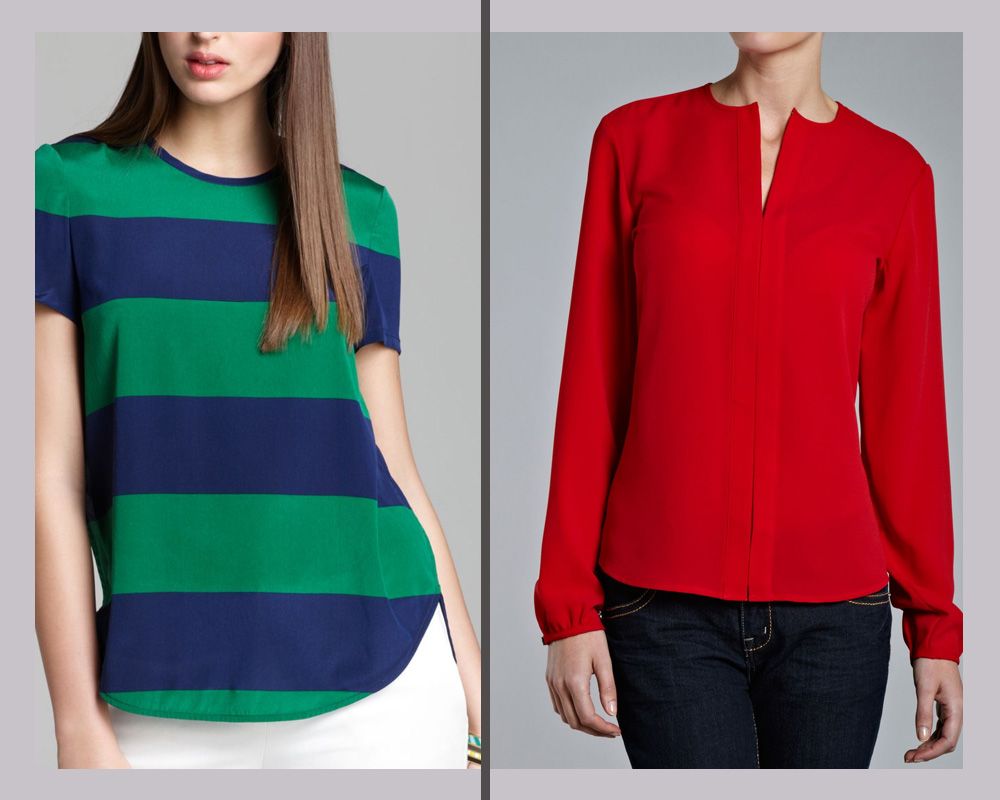 Looks best in silk and crepes,one can incorporate the look in sarees,lehengas or even with dhoti and harems. Huge gemstone earrings or a kundan neckpiece is all you need.
18. Peter pan blouse
Since peter pan neck accentuates the neck,its advisable to stick to the trend if you have toned neck and not much bust or heavy shoulders.Any body shape looks good in peter pan shoulders.
Quite daring and innovative, this style is one must try trend for millennial women.Just keep it limited to flowey drape like satin and georgette and accessorize the look with peppy accessories or retro hair accessories for the effect.
19. Peplum blouse
Peplum blouses are designed.to accentuate a tender waistline,so if you find yourself adding a few inches here and there, please drop the plan of sporting a peplum blouse.The flirtatious frills and a defined.waistline makes it a perfect blouse for a date night.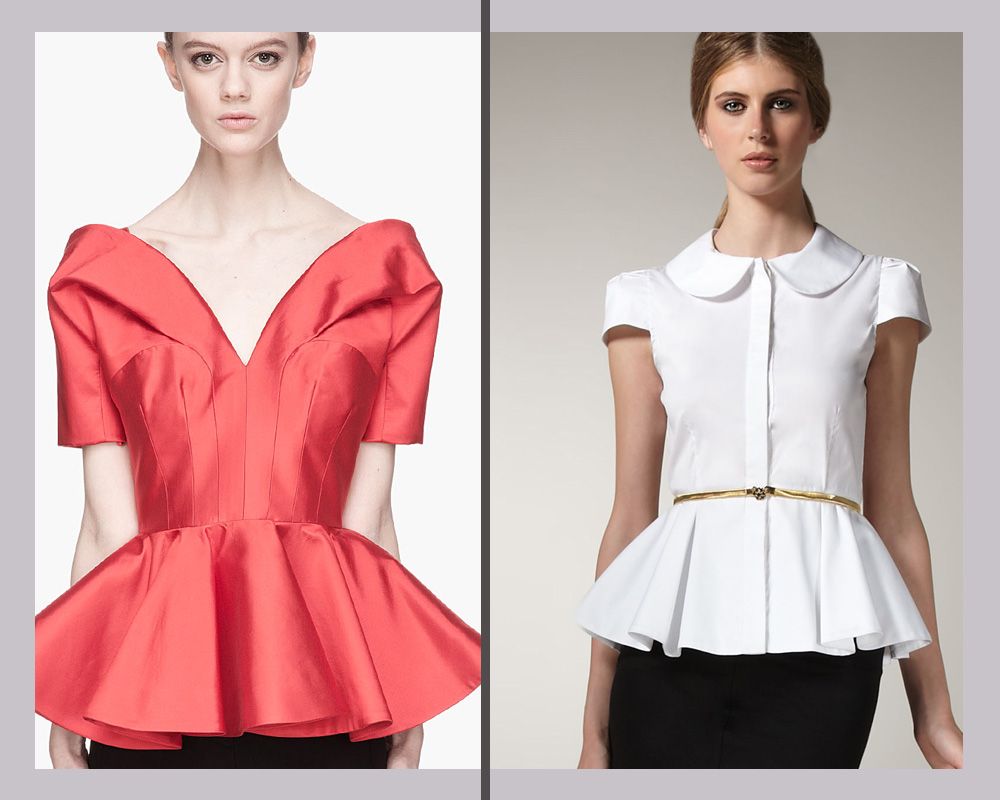 Either wear it with a saree,a half saree or a skirt inihht flowey fabrics like crepe and let it flow. For accessories keep it minimal with a choker or statement earrings.
20. Corset blouse
If you are gifted with a well toned body or a person who keeps a check on her carbs then this style is. A match made for you from heaven.Corset blouses are inspired by regular corsets,with a design that accentuates your torso and multiple the seductiveness of it.
Give it a try with a saree or a lehenga in any fabric and glam it with a heavy multilayered neckpiece for a Disney Princess look.
21. Knotted blouse
Can't keep it regular,eh!?You bettwr not cos then who will fluant the knotted blouse at the next kitty party?? knotted blouse work on the concept of playing with the back of the blouse by giving it a prominent knot at the back.Just scrub and moisturise your neck for the days to come and you are full proof for the look.Fabric and sleeves are yours to decide but be aware of what length of blouse suits you and to what extend you can experiment with the look.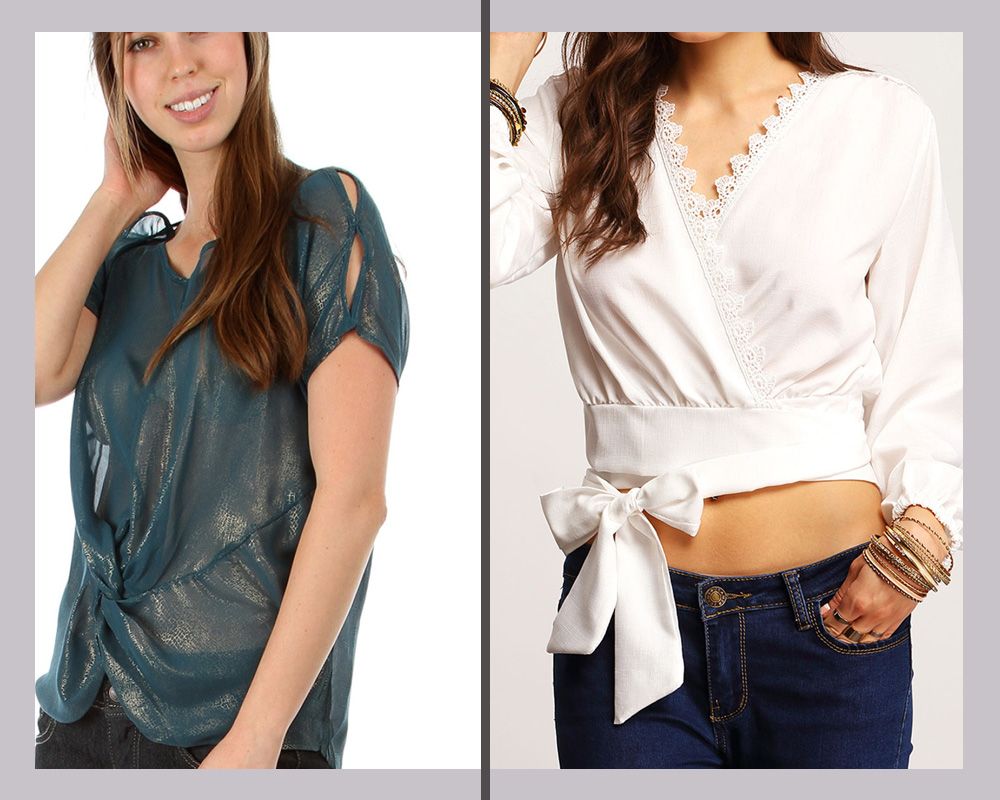 Either accessorise your hair or keep it minimal with just a pair of earrings.
22. Mandarin blouse
A mandarin blouse suits every body type but be weary of it if you have a plump neck.A trendsetter this look requires an attitude and nothing much.For a dressy look,incorporate this look in fabrics like georgette,crepe or satin and bling it with a brooch or chopstick hair accessory for the effect.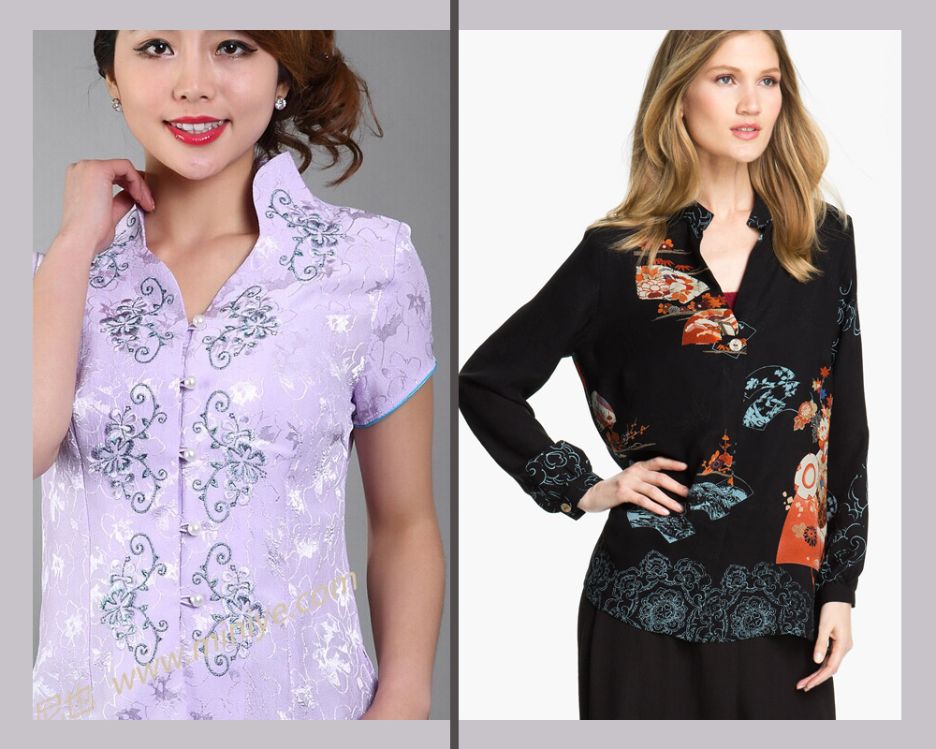 23. Backless blouse
Backless blouses are a statement in themselves,a daring look with a oomph of femme fatale this look makes sure one look at the back is enough to knock out the target. All you require is a moisturised clean back,low on back flabs and you are good to go.Play with necks and patterns and embellish it with choice sequins for a party look.
A back tattoo or a a hair accessory will be enough to make eyes wander every time to your seductive back.
24. Spaghetti strap blouse
Spaghetti blouses make the traditional dressing scene look much fun.For a peppy effect one can accessorise the noodle straps with gemstones and embellishments.Experiment as much as with the fabric,sequins and the patterns for this young look and keep up the oomph.Though it suits almost everyone,be conservative if you have heavy arms and heavy bust.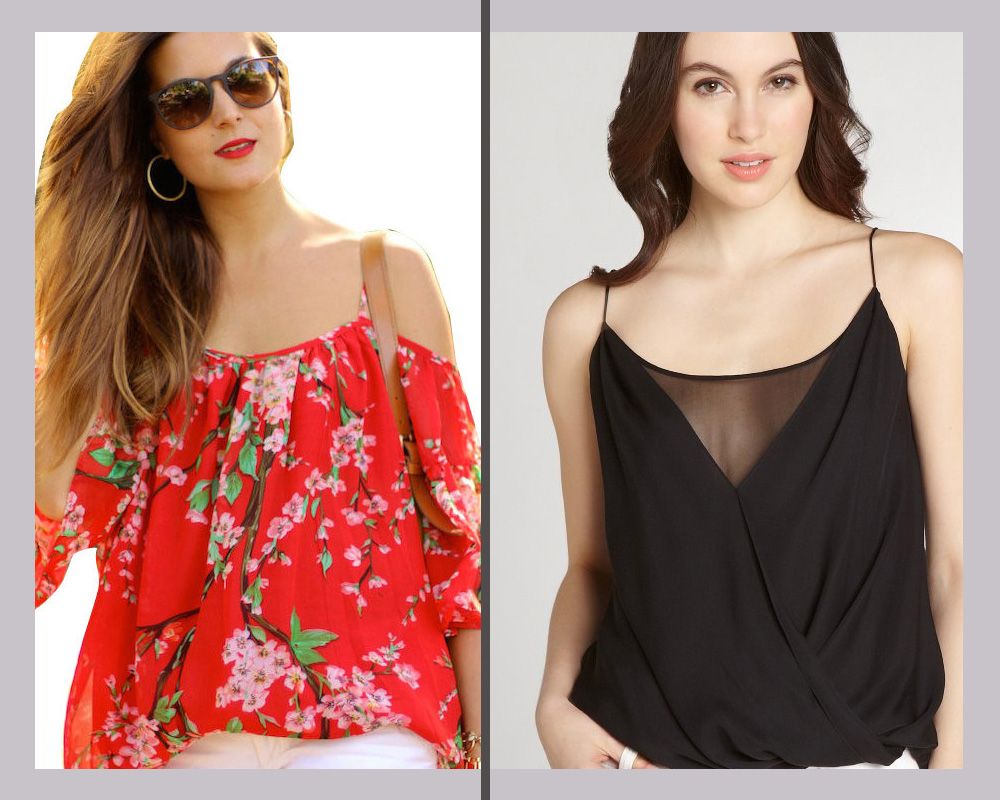 25. Angrakha blouse
You gotta try it for the sake of keeping up with your bollywood quotient,even ranveer singh couldn't keep himself from trying it with a skirt.LOL jokes apart this look is the b towns new favourite for it's eternal style,in this style angrakh blouse is tied just under the bust not in the middle but at the side.One can accessorise the knot for a regal look or play with the sleeves.
Looks most elegant in khadis and silk.Wear it with a lost Ghaghra or a saree and see for yourself.
26. Round Neck Blouses
Right from the deep patterns to simple ones, the pattern of round neck blouses has presence from ancient times. If you wish to give that perfect twist to this simple style then you could experiment even with the necklines. If you wish to save your time and efforts, online stores has exclusive range of readymade blouses.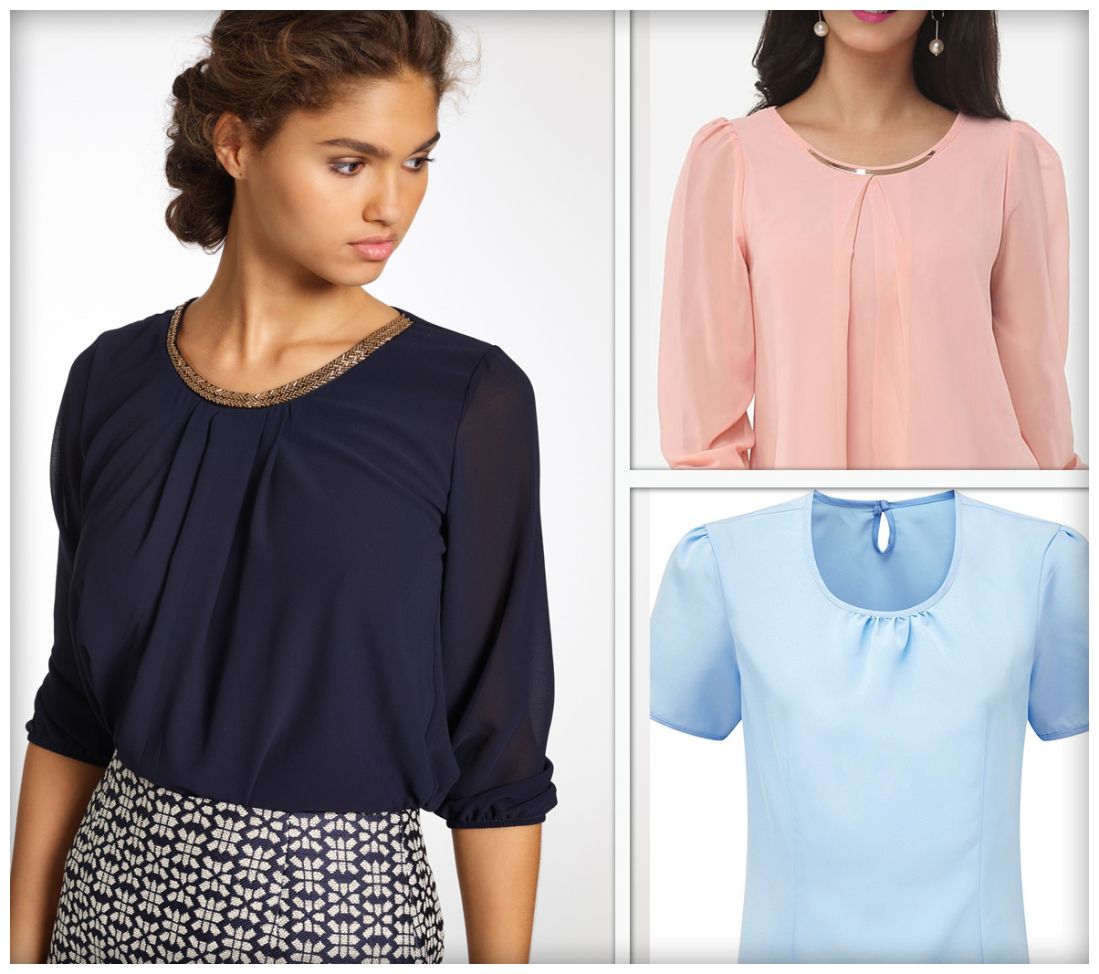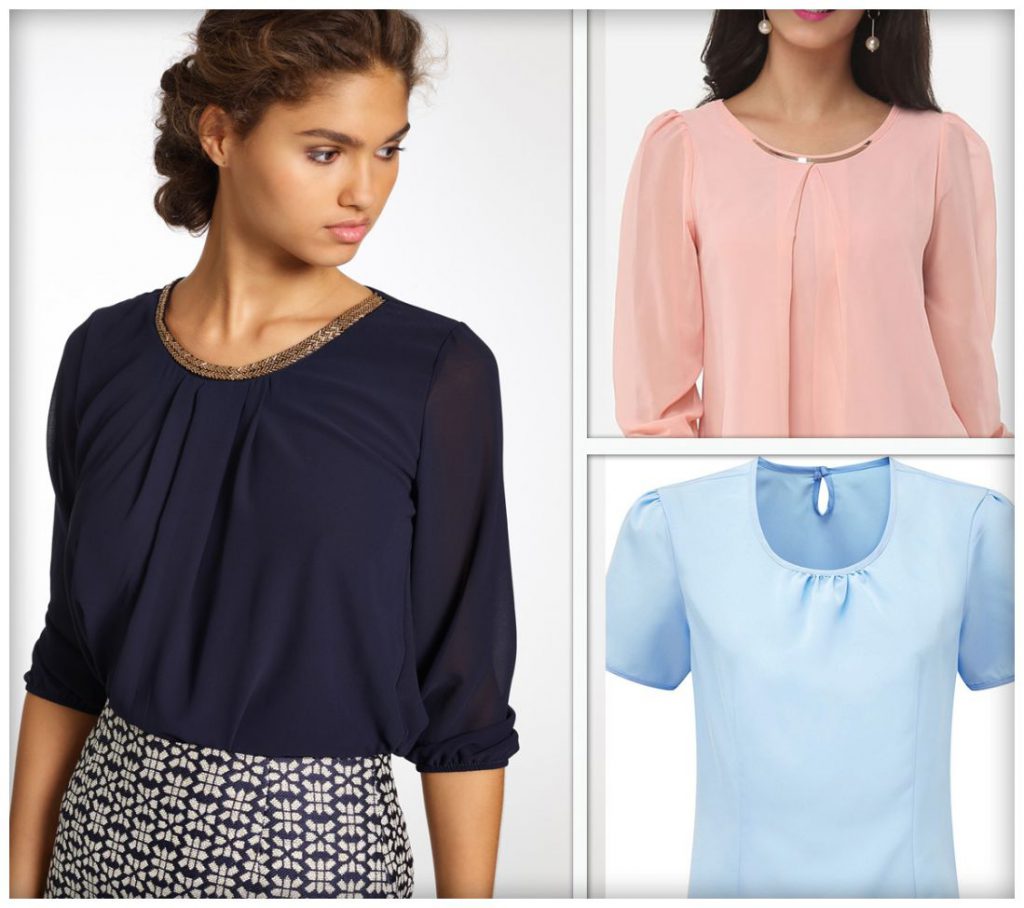 27. Square Neck Blouses
This is considered to be one of the simplest patterns. You could even try out Deep Square and knot with hangings from behind. To be a perfect summer ready you could try out the brighter hues.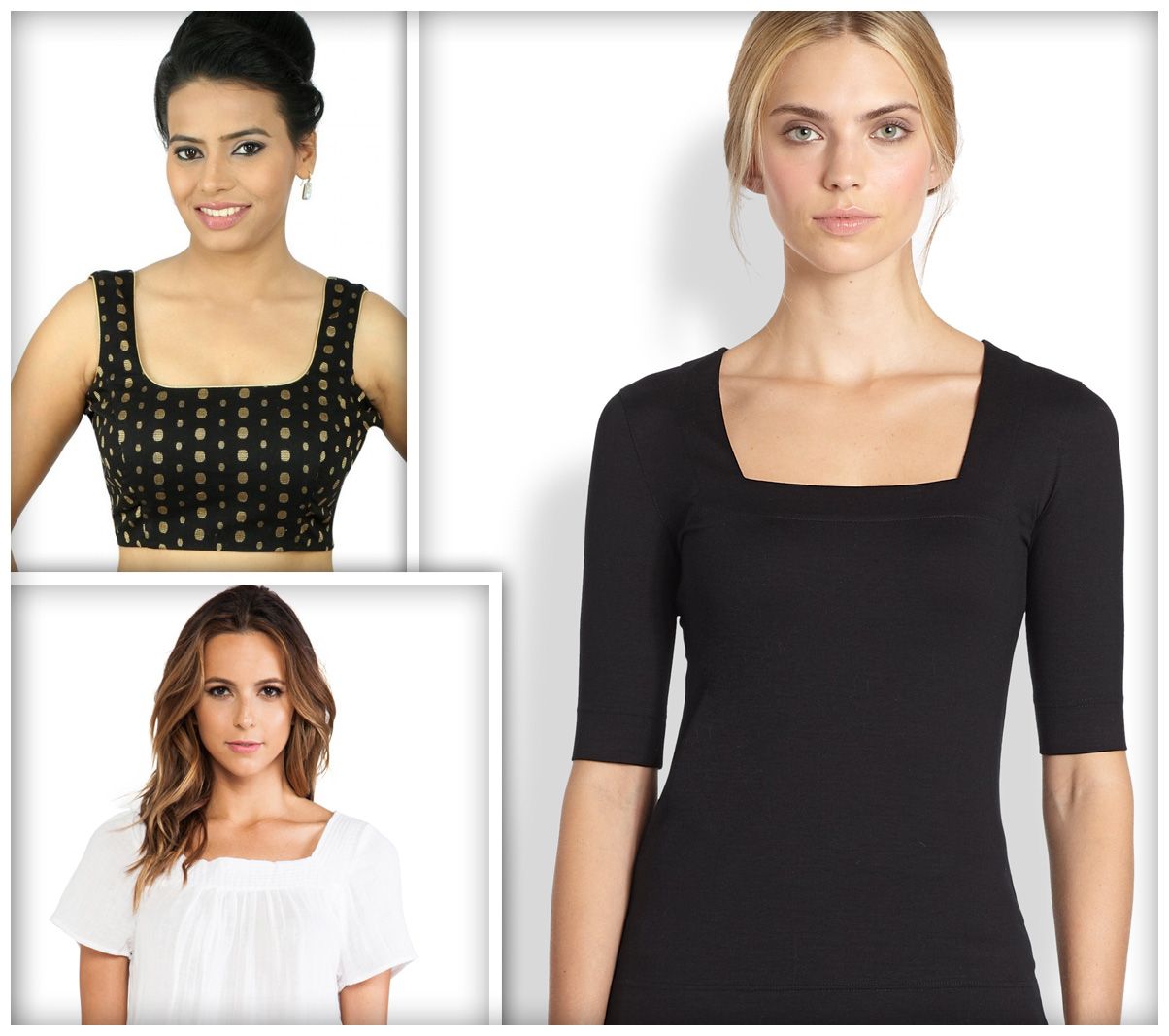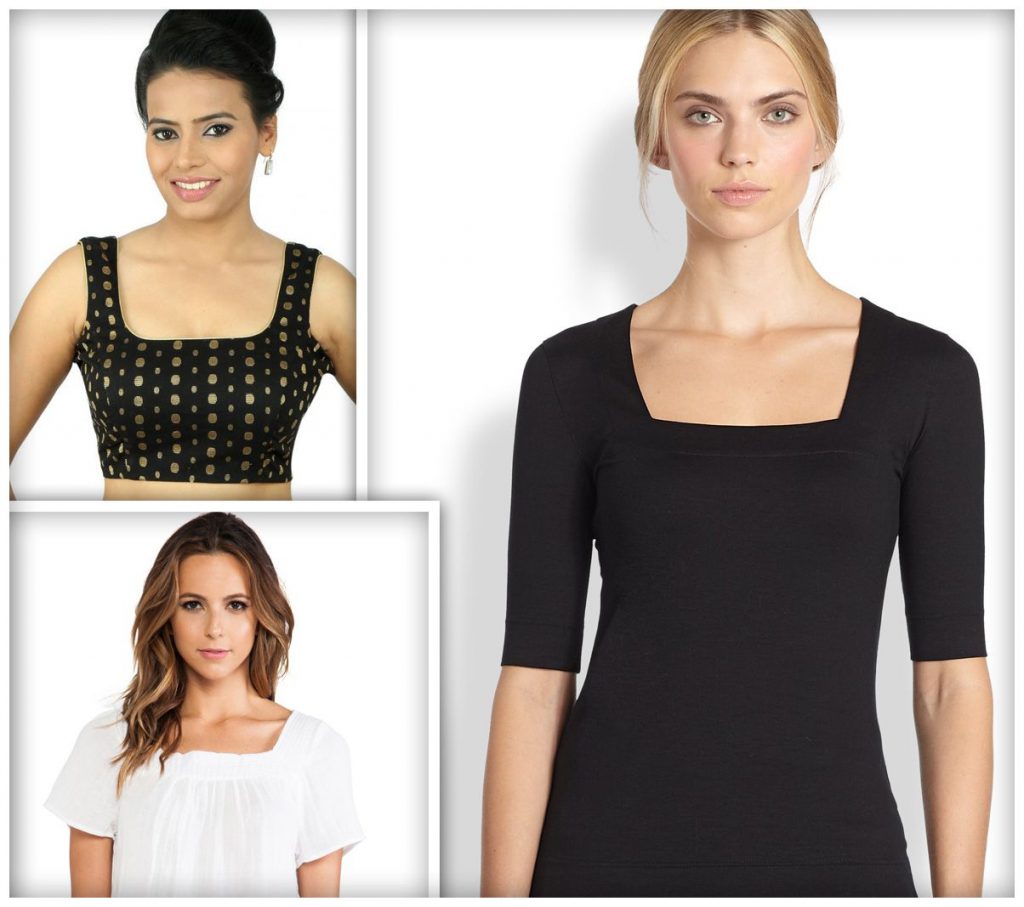 28. Tier Blouse Designs
The aspiring continued doris with same pattern could give you an ultimate chic look. Three doris with hangings is simply impressive to flaunt well your confidence. The bold pati in the last tier could give you that perfect style element.
29. Pseudo Halter Blouse
Instead of any kind of classic knot or belt, this style of blouse showcases the amazing back placket style. Generally the back placket is created with the lace material. Moreover if this style chosen with sleeveless pattern then it will give you flamboyant grace. Contrast color of blouse and sarees are much in trend.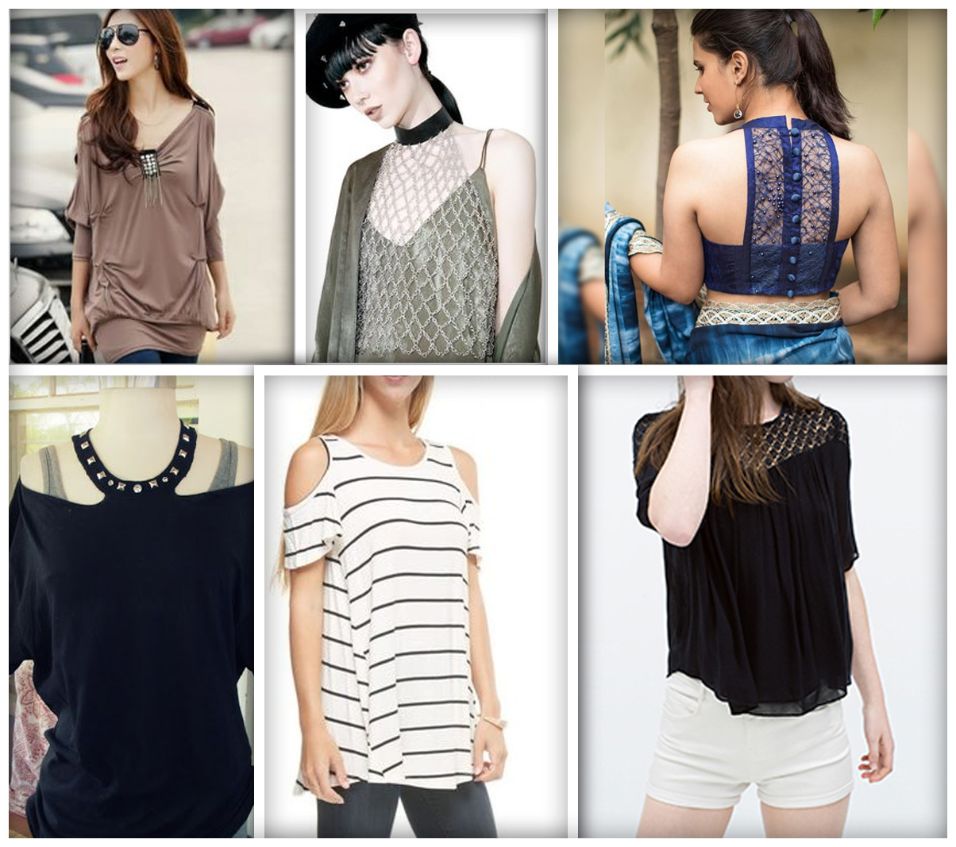 30. Ruffled Neck Blouse
This year of Runway trend did observed lot of puffiness and ruffled texture. Gearing up the fashion game and winning numero uno could simply give you an sense of contentment. Ruffled thing could also be carried well even in sarees.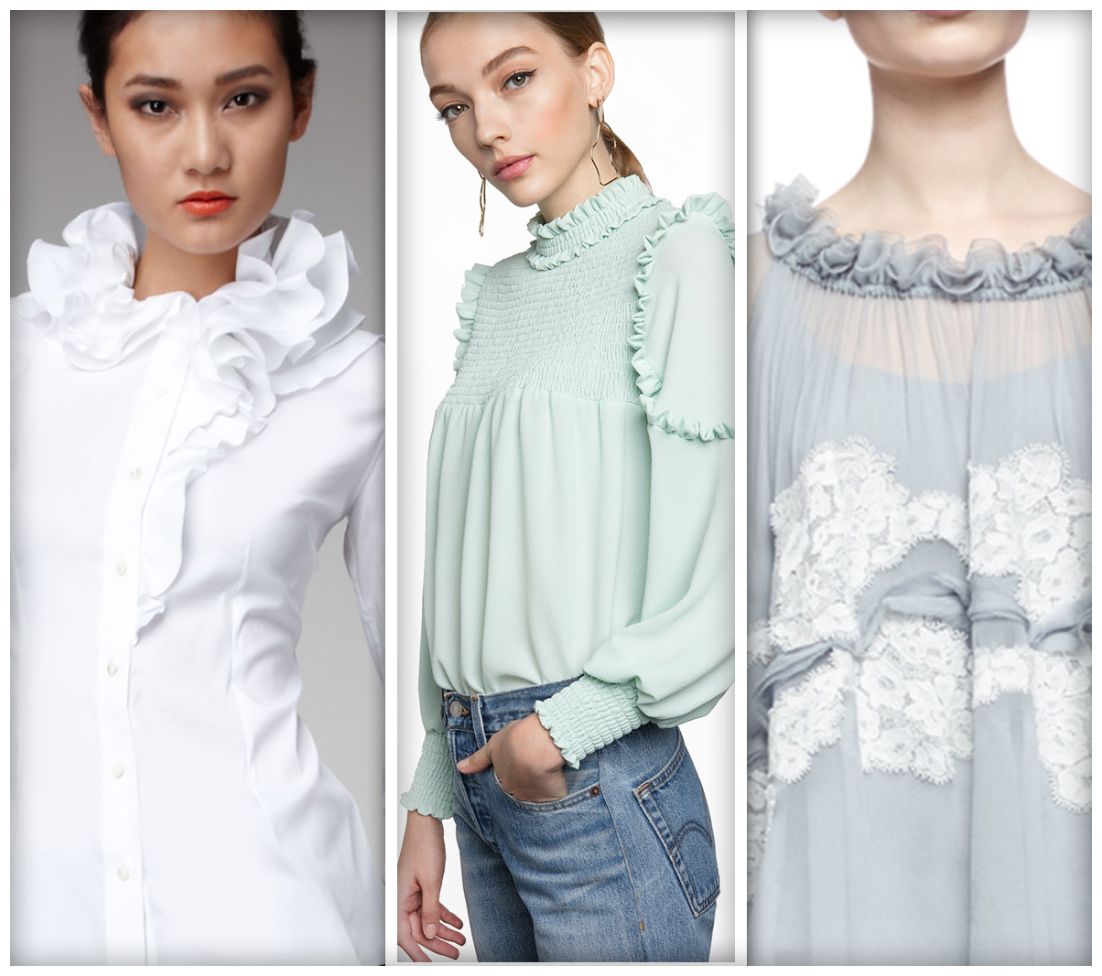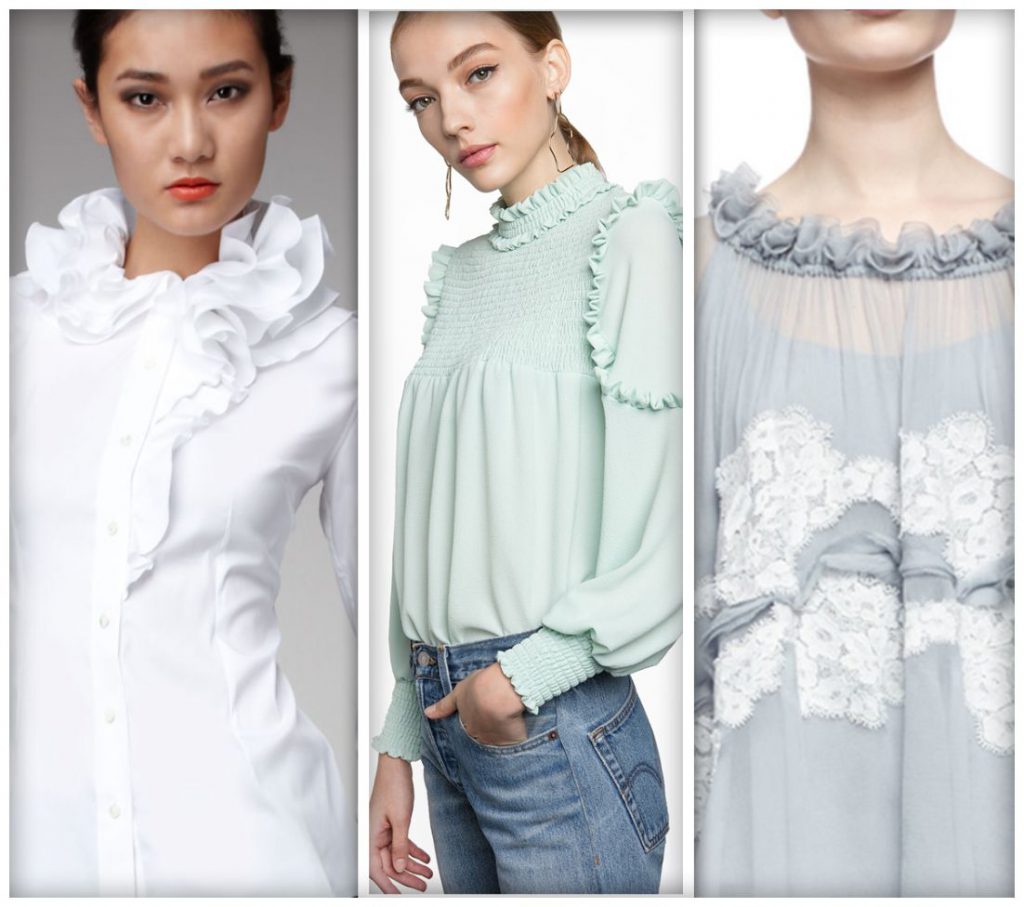 31. Half & Half Style Blouse
A lot has been discussed and said about the western style and patterns, the Indian designers are infusing lot of creativity to give out perfect element of traditionalism and fusion of perfect contemporary look. Generally considered as Tube blouse, this trend is present right from the British times. Little part of shoulder being covered gives a perfect touch of a unique look.
32. Back Buttoned Blouse Designs
Who says buttons could only be limited for shirts? The concealed beauty of back buttons and short sleeves could give you that perfect appealing look. You could consider wearing them with designer sarees. In order to ace up your look it is advised to team up statement jewellery.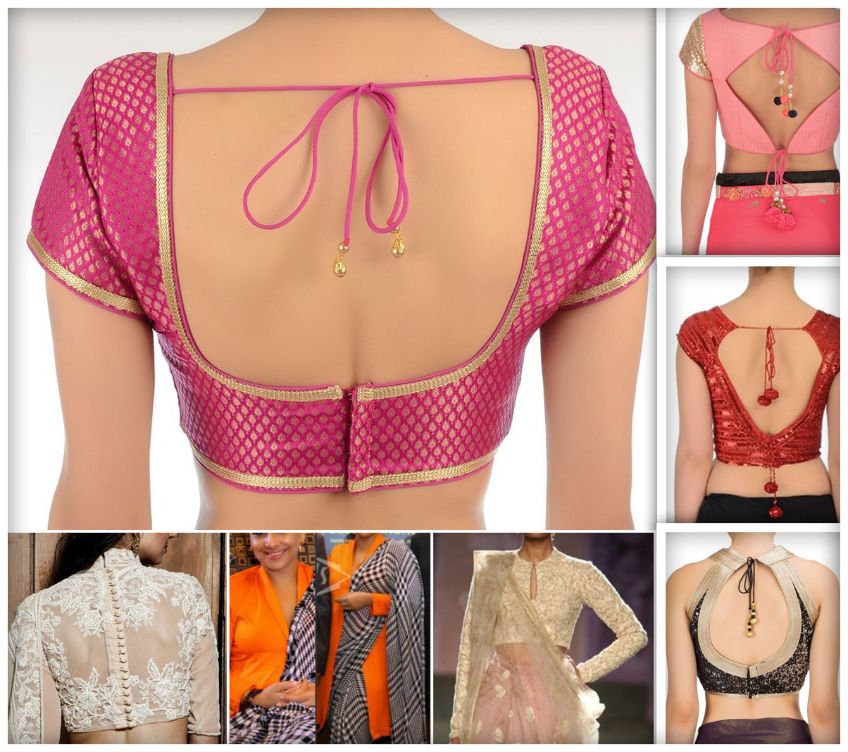 33. Long Sheer Blouse
Long style blouse on the sheer material gives an perfect ecstasy look. The perfect see through on the necklines and lining on the bust area makes your style statement a perfect one.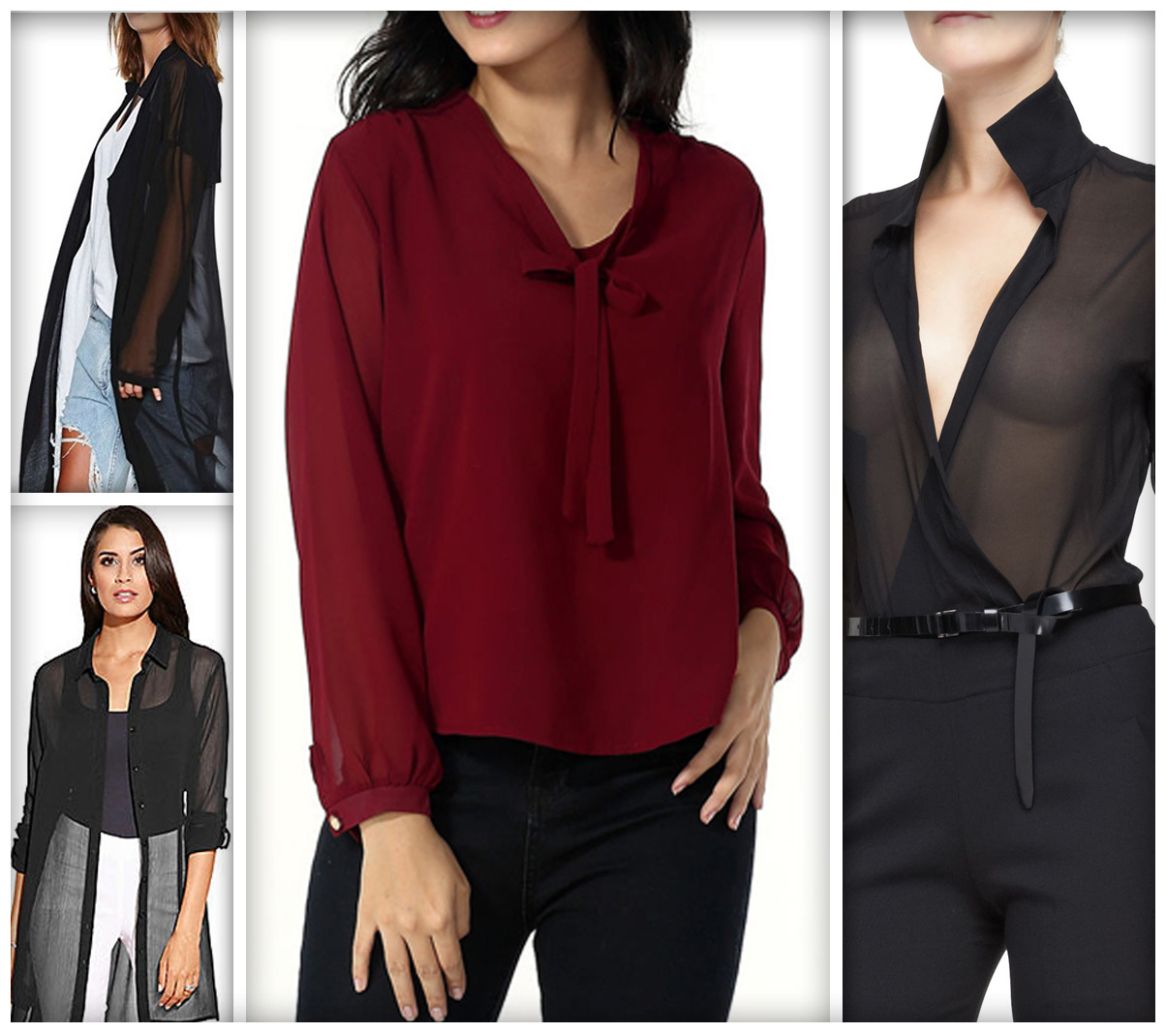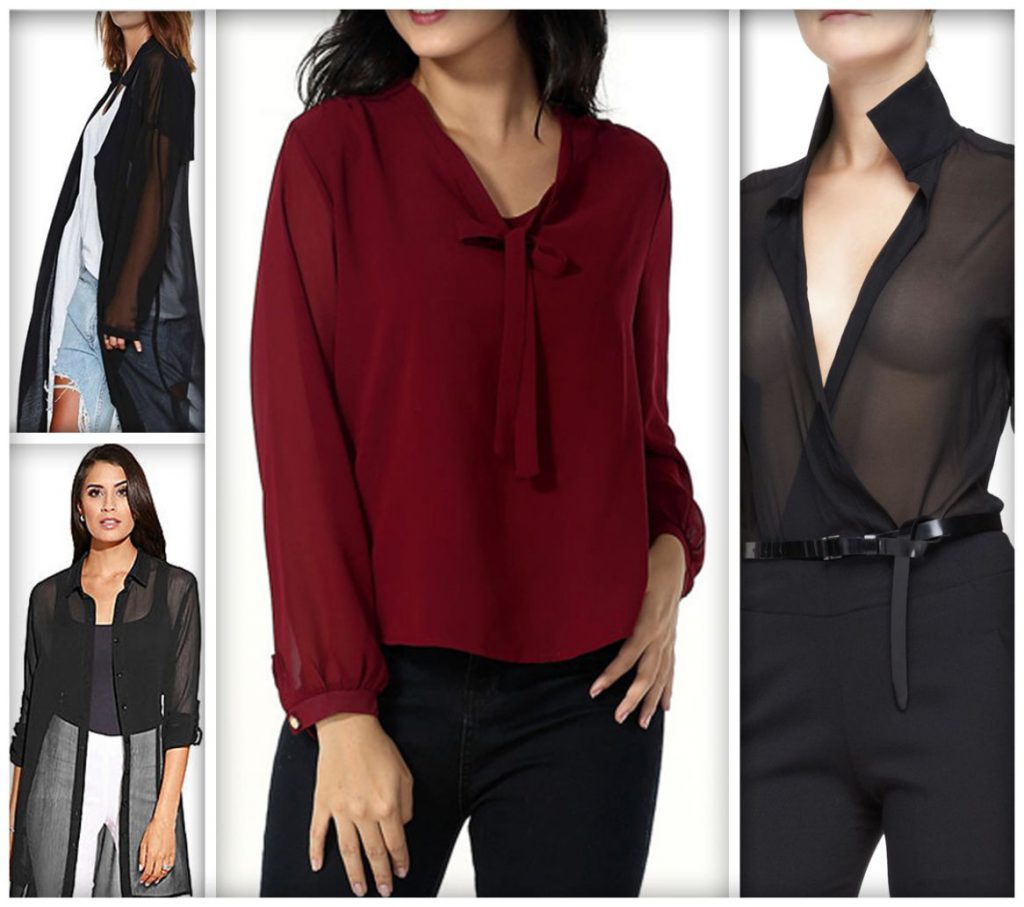 34. One Hand blouse
This pattern is being followed right from Bollywood times. One hand blouse with embellishment. This combination is excellent for flaunting well your little bit of skin. This style of blouse could be well paired with little bit of embroidered sarees.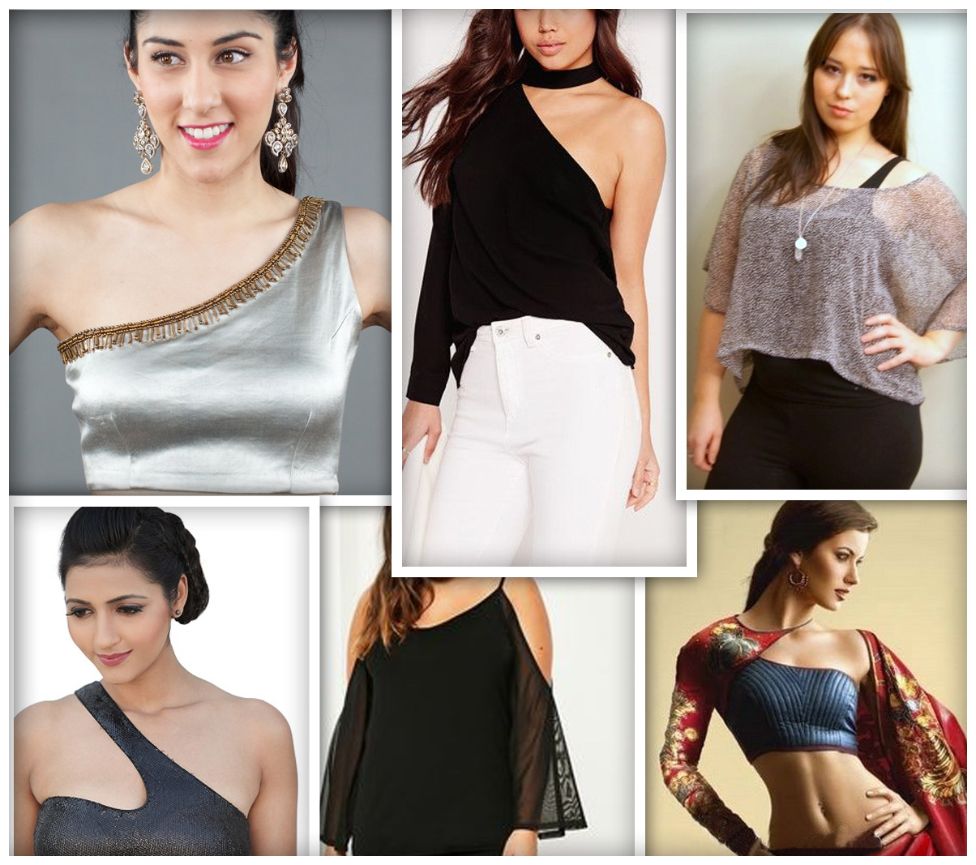 35. Peplum Blouse
This style gives you perfect reason to droll over in fashion. Peplum blouse are simple and can hide even extra fats.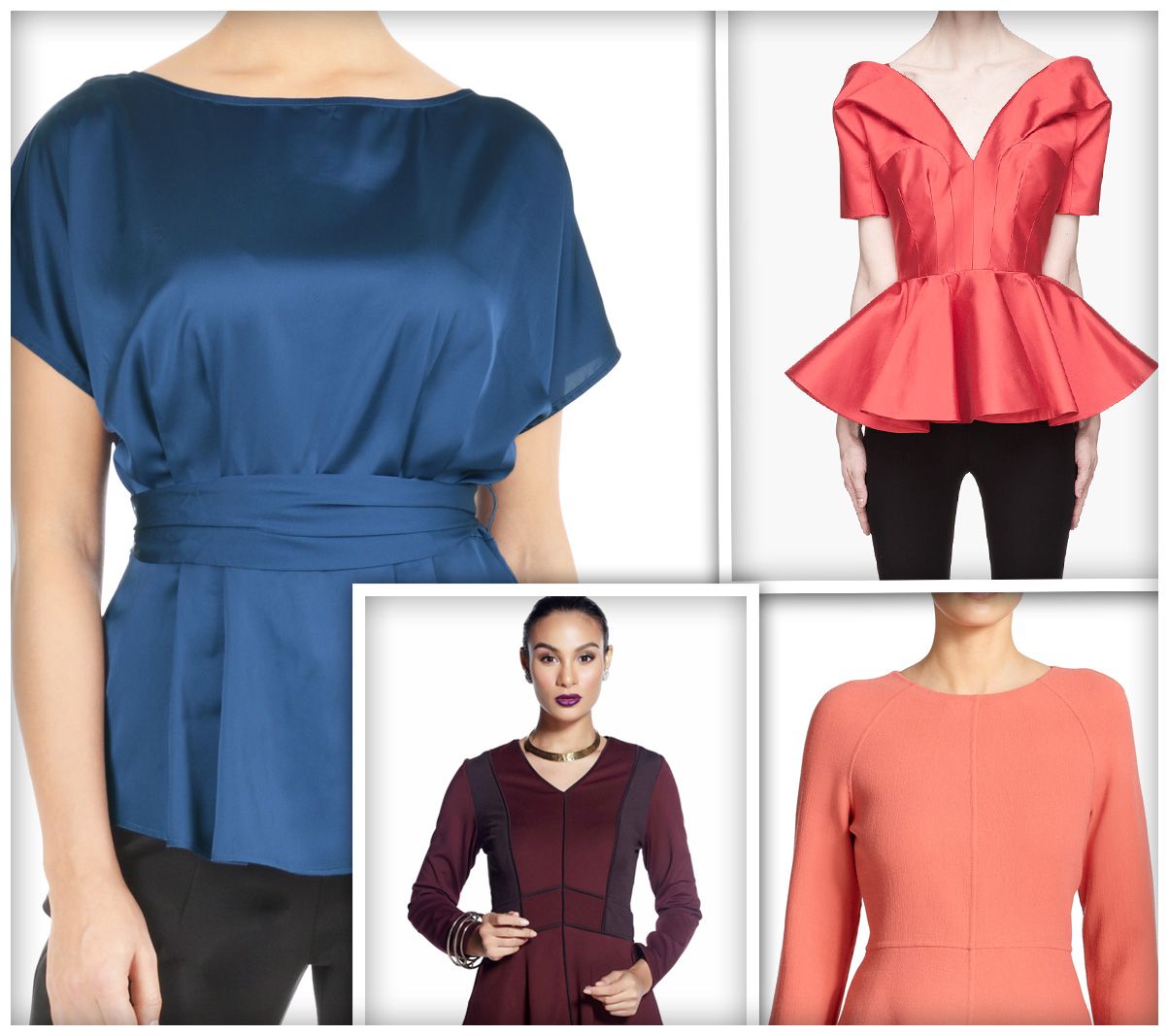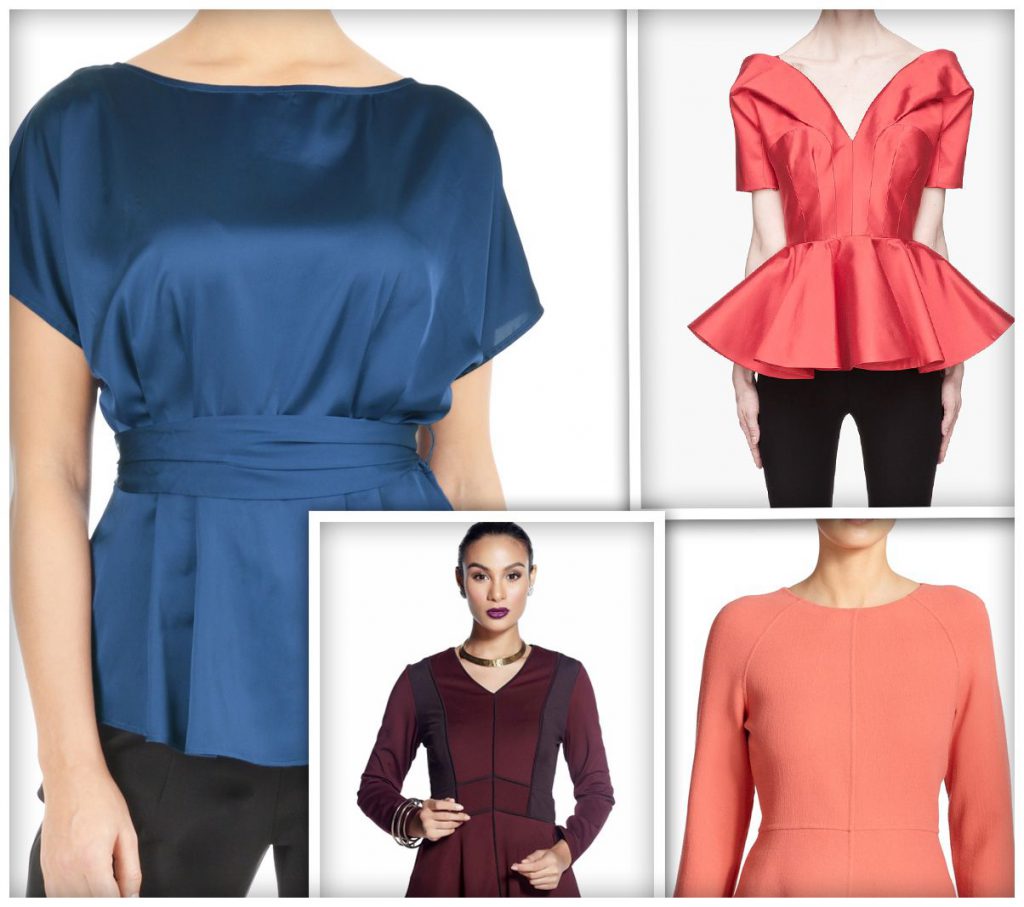 36. Asymmetrical Blouse
The unplanned design is ruling the ramp of fashion trends. They could be a great thing to pair if you are looking out for some fusion look.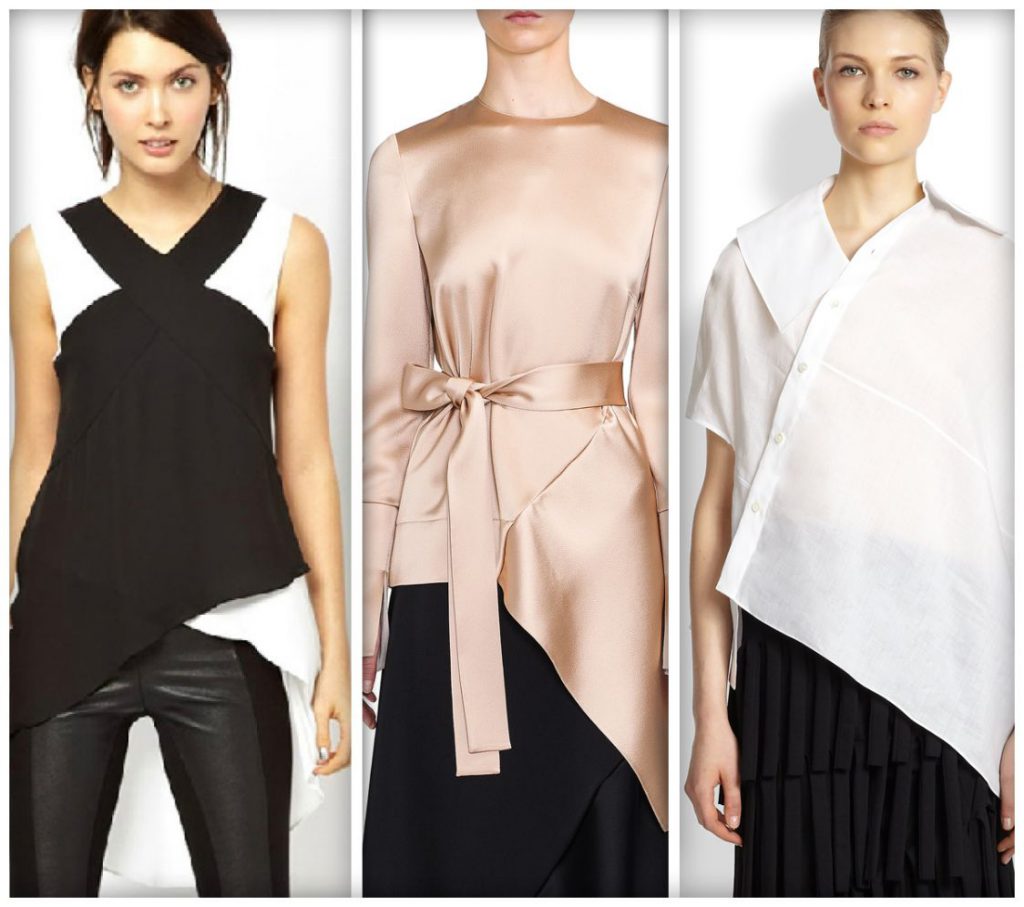 37. Corset Style Blouse
The trend of this style blouse is present right from the Victorian age. If you love to get ready with minimalistic efforts then this style would be an perfect option for you. If you are opting for this style it is important to note that you should not overemphasize yourself.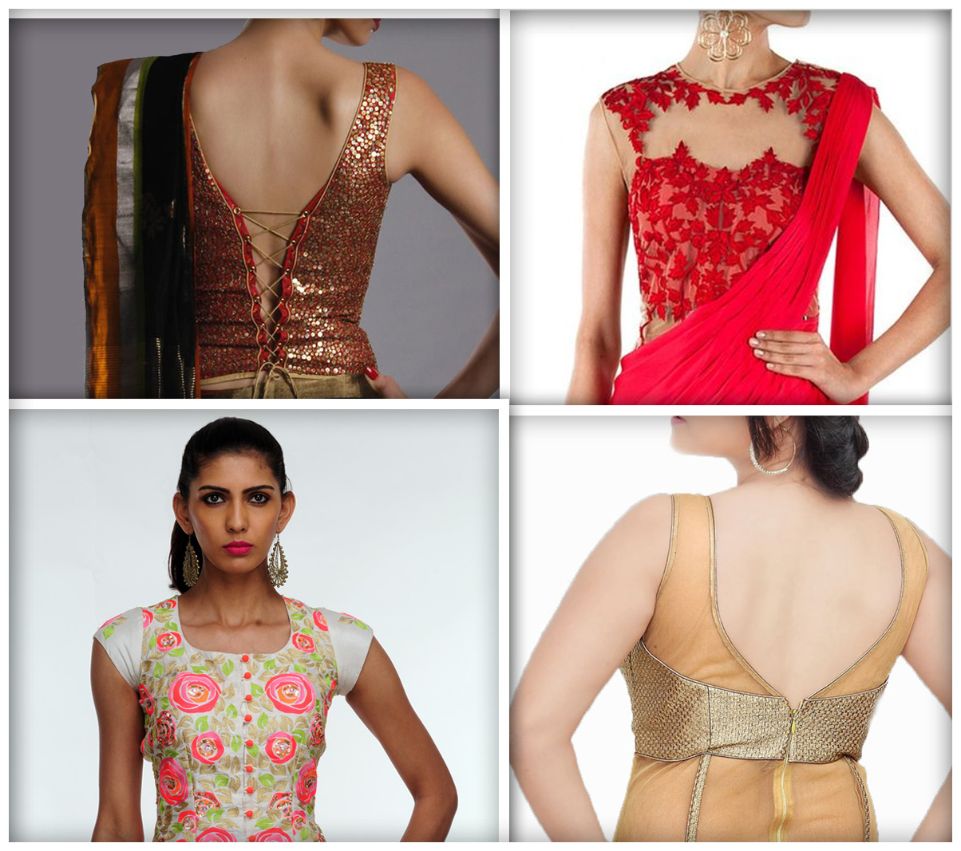 38. Knotted Style Blouse
Get the perfect dose of sexy look with alluring knotted style blouse. They could simply grace up your charm and will surely make that heads turn in white collar events or parties. Online stores has exclusive range of collection and varieties of fabrics are easily available with door step delivery option.
39. Jeweled Neck Blouse
One of the most fascinating way of wearing your accessory is keeping it tucked with your blouse. The jewels embellished on the necklines or collar is perfect to pull attention of onlookers like magnet.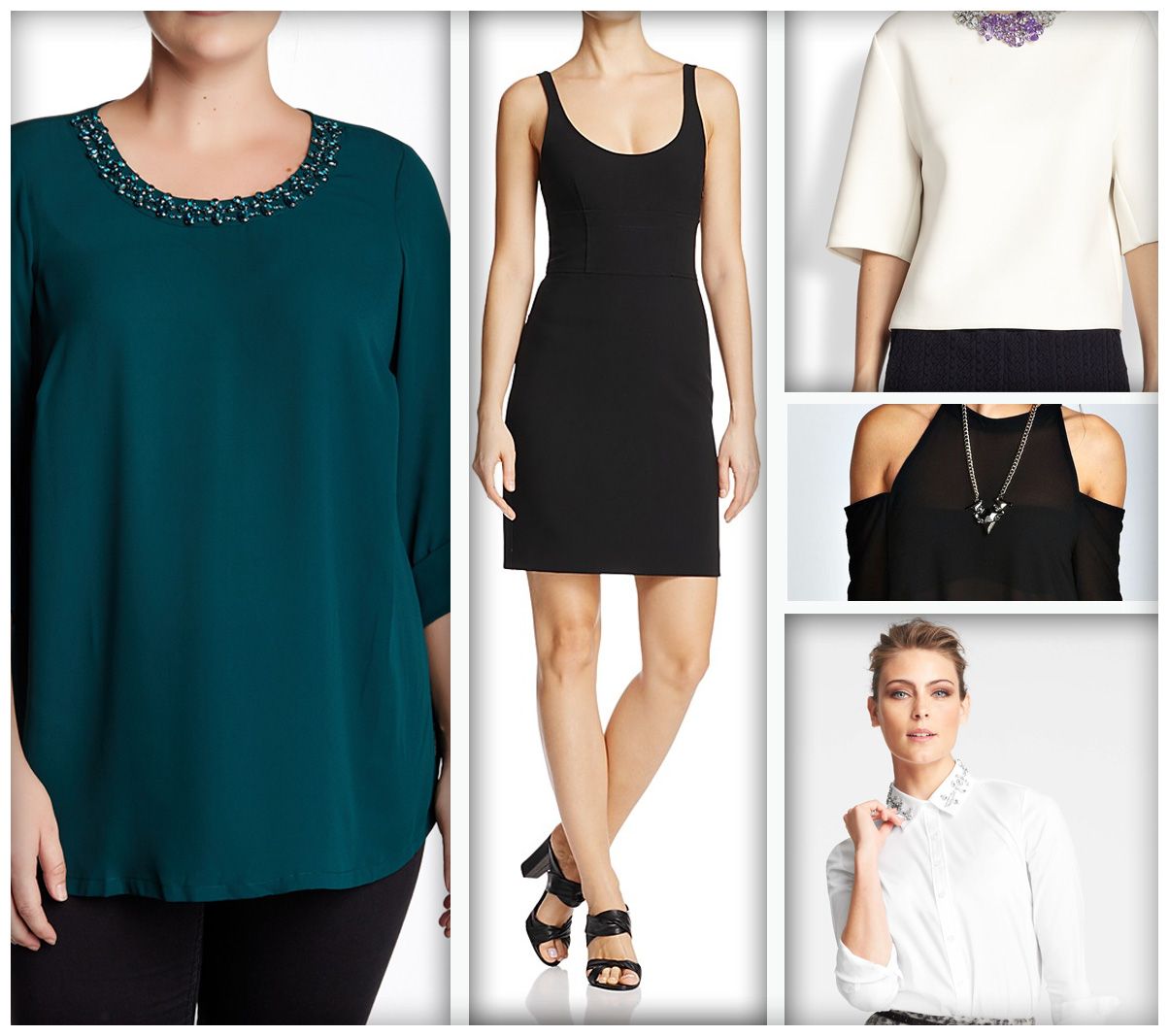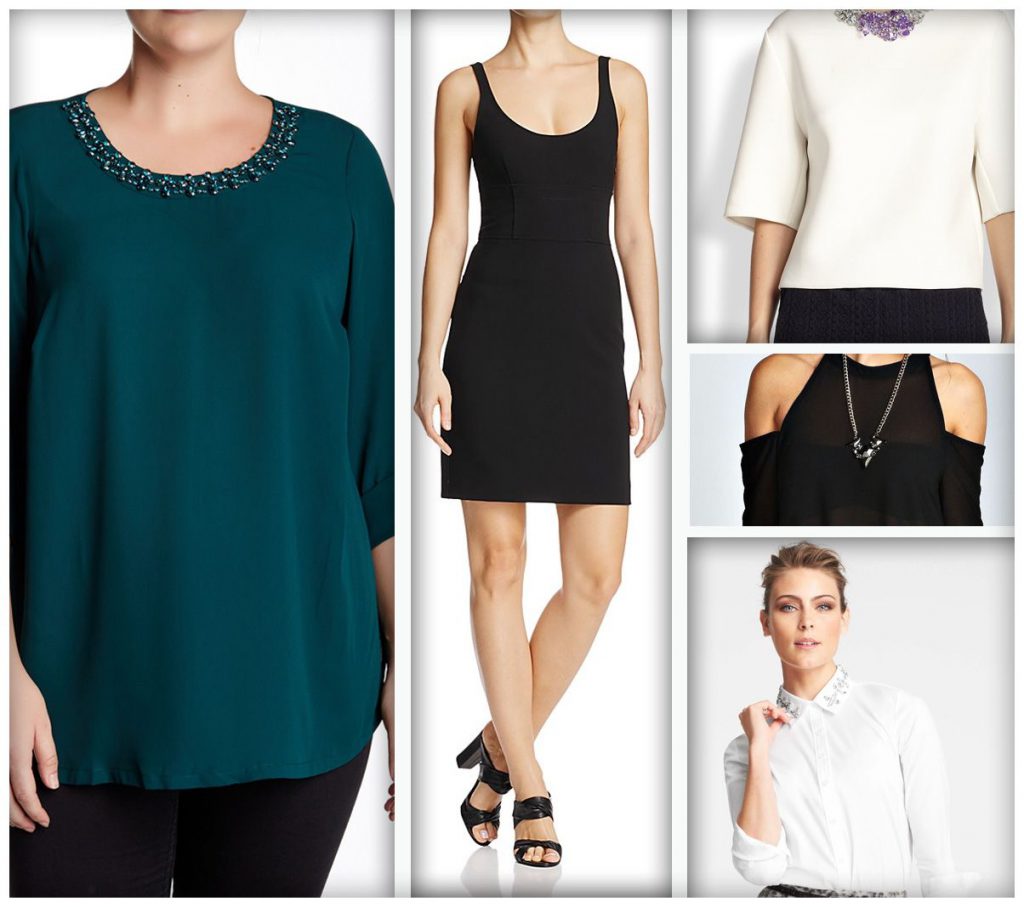 40. Jacket Style Blouse
Even in the time of fashion revolution this style has amazingly stood up to every expectation and remained to be unbeatable one. Complete awesomeness could be well defined if you would team it up with traditional style of Sarees.
41. One Side Fashion Blouse
If you wish to be style icon then this style of blouse could be one of the sorted solution. online store even has variation of colors available.
42. Bra Style Blouse
If you wish to add some desi swag with twist of western appeal, the bra style blouse could give you complete sexy and bold look. This style of blouse could go well with light weighed sarees.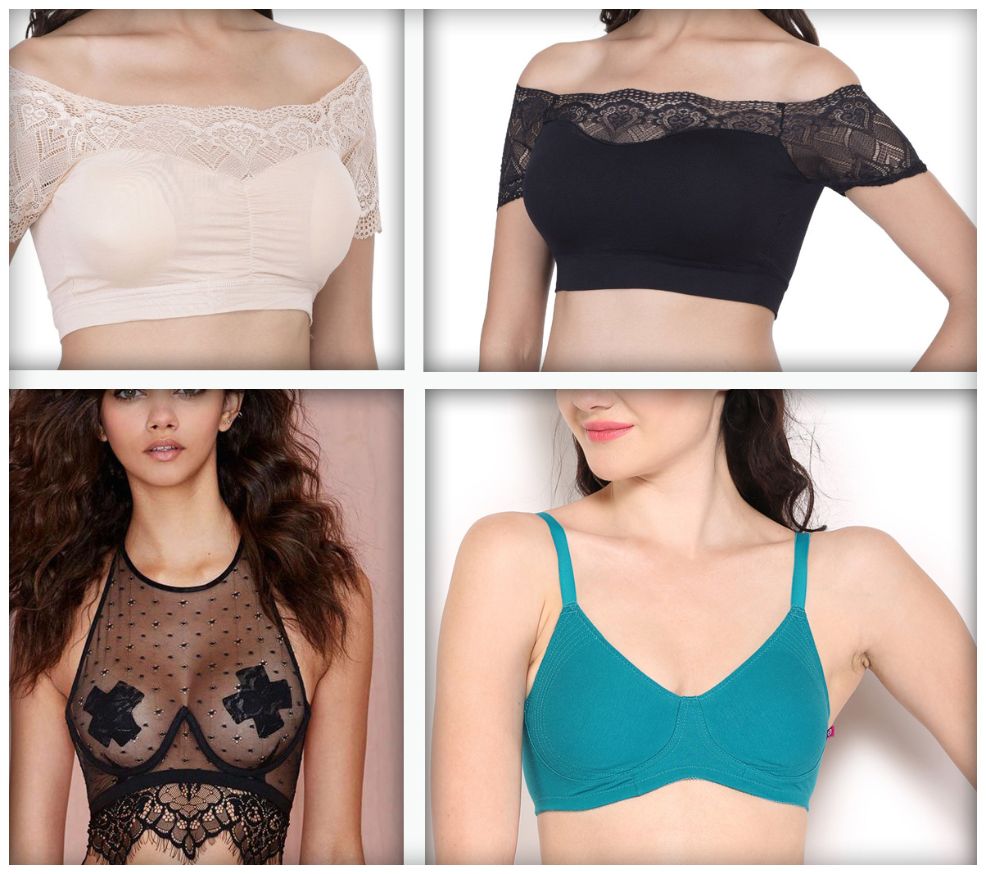 43. Body Suit Blouse
When you wish to flawlessly flaunt your feminine magic, then this style could be one of the unbeatable option. Best in the fittings also the unique range of collection is easily available on online store.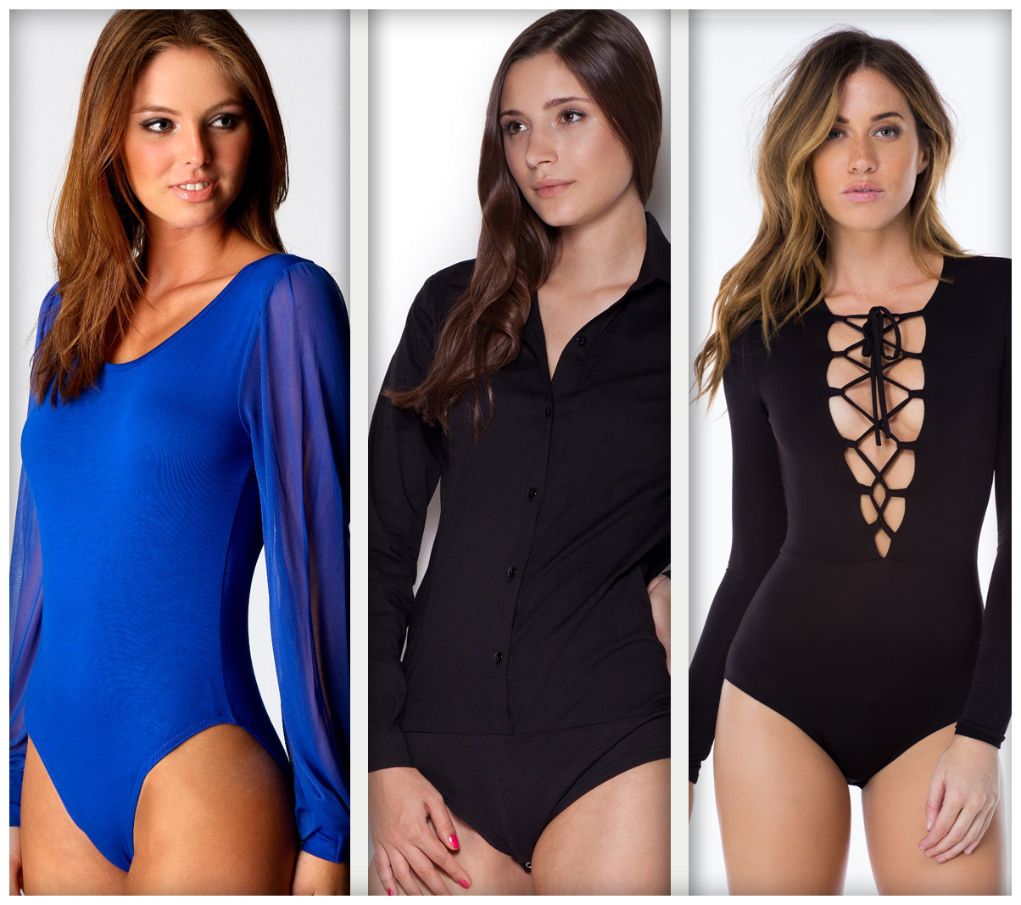 44. Cape Style Blouses
Even the Bollywood damsels love to have them in the wardrobe. online stores offers you extensive embroidered styles or overall work done up styles. The flow and dreamy style of appeal gives a charismatic charm. They would perfectly work wonders if you would team them up with light weighed fabric sarees.
45. Plain Blouse
Every feminine beauty have her smart ways to get ready and flaunt herself like a pro chic. Right from home maker to corporate lady, plain blouse could be a perfect option for all age group.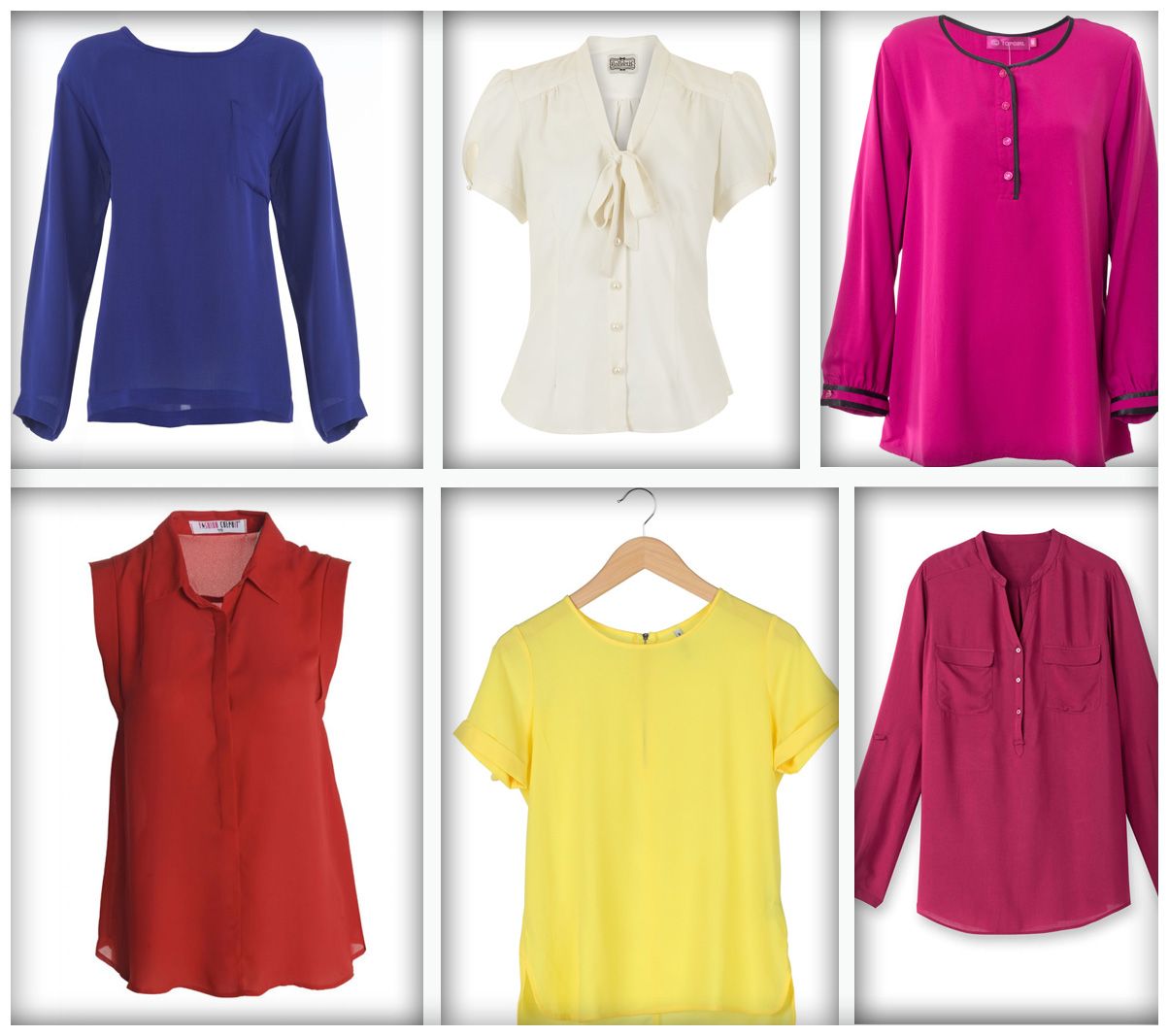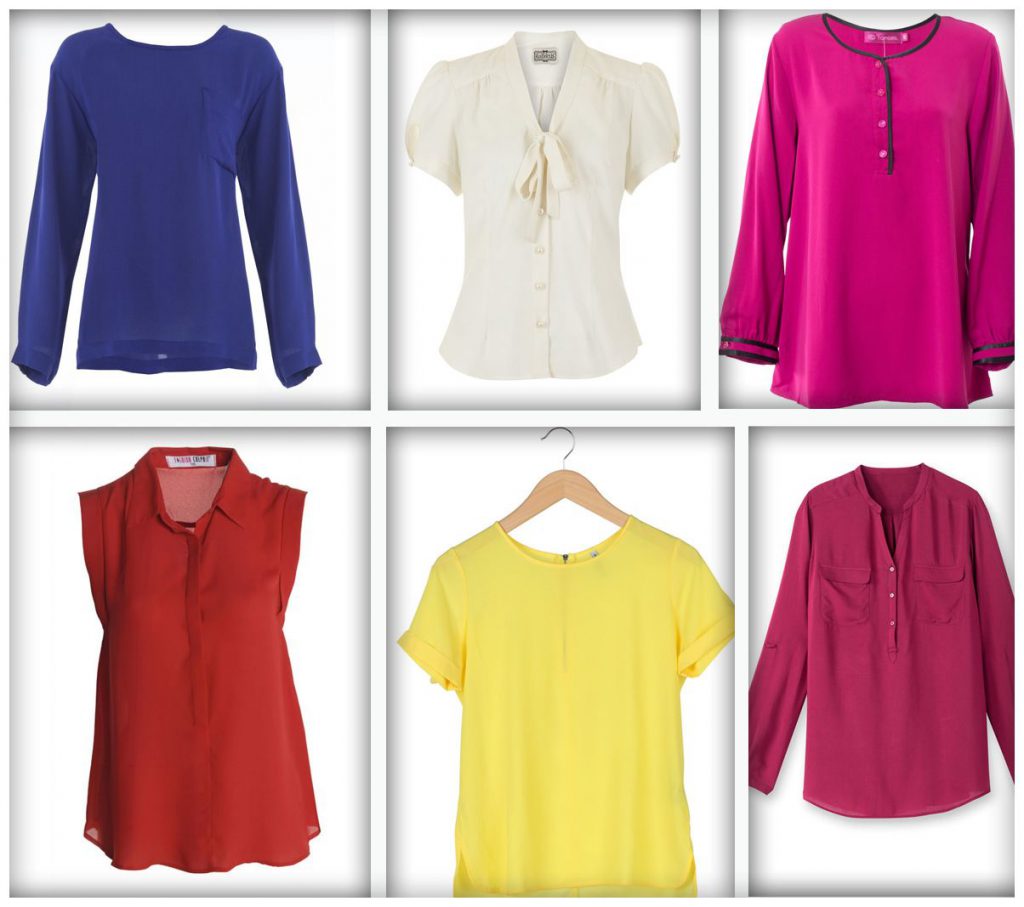 46. Shirt Style Blouse
Nothing could beat the western look of shirts. What if the same style is infused in blouses? If you wish to beat the blues of regular corporate look, then perfect saree and this shirt style blouse beneath will work wonders.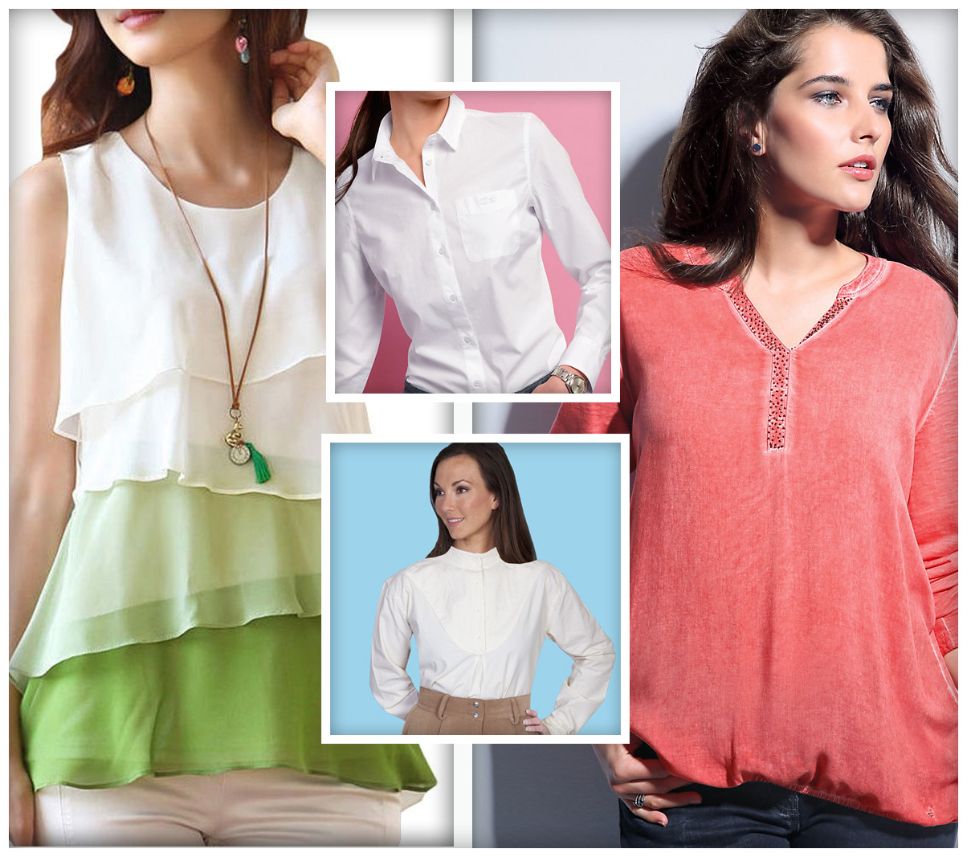 47. Backless Blouse
This is perfect for confident chic look. Right from deep broad strap or Zip look, this style gives an vivacious personality confidence. The knot thing is totally is in the loop.
48. Sheer Sleeves Blouse
The full sleeves are sure shot thing to make that heads turn. Sheer is new in of fashionista. Sheer style blouses are the latest addition to Bollywood likes. It's a full sleeves blouse and a must try for every female. Net blouses provide a glam doll appeal.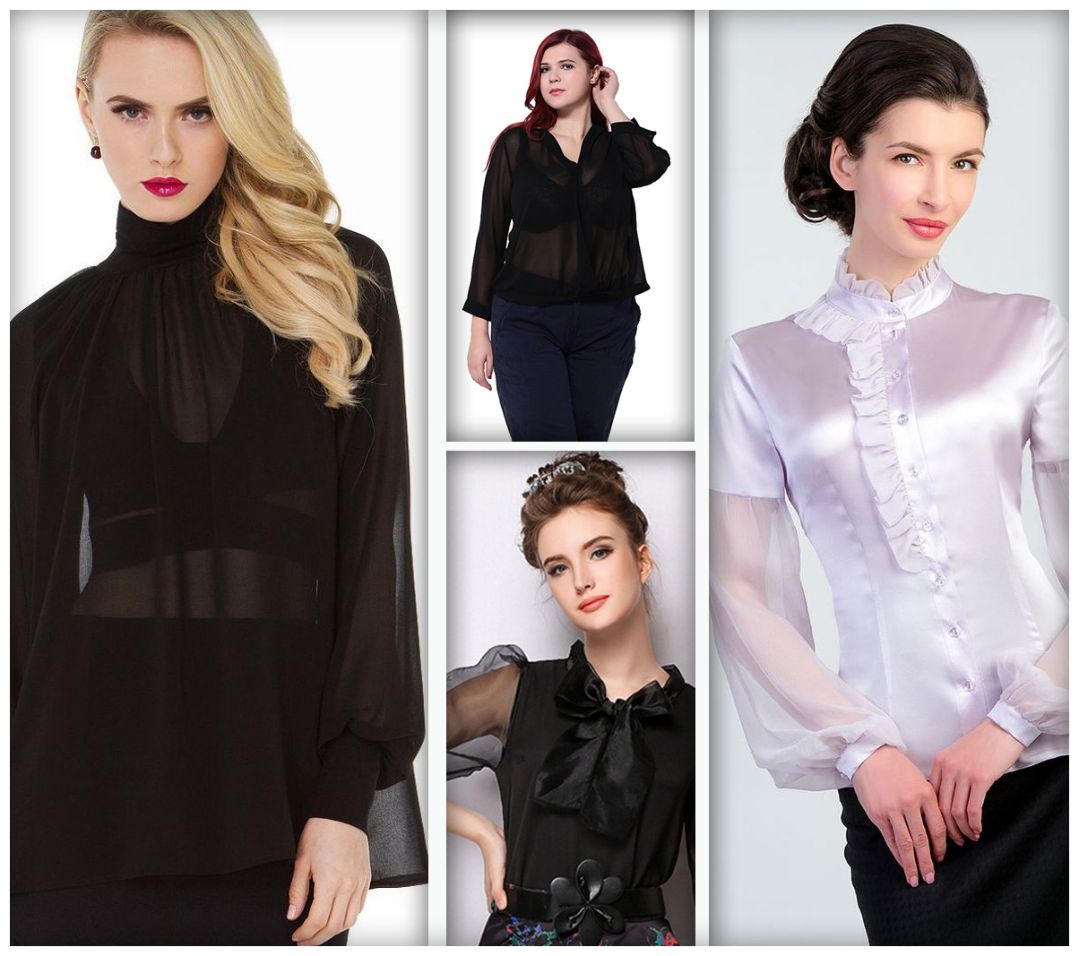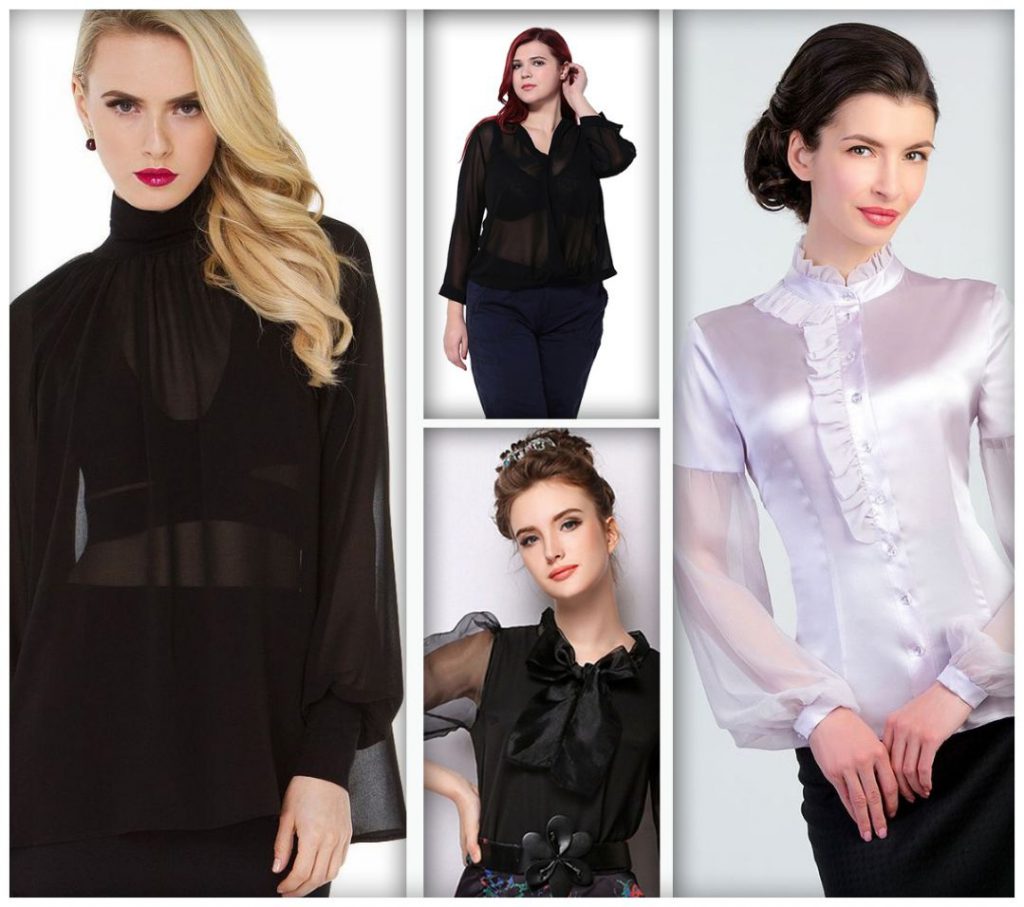 49. Tube Style Blouse
Strapless appeal and zero-coverage style this blouse scores numero uno in the fashion trend. You can team them up heavy embroidered sarees or sheer light weighed sarees.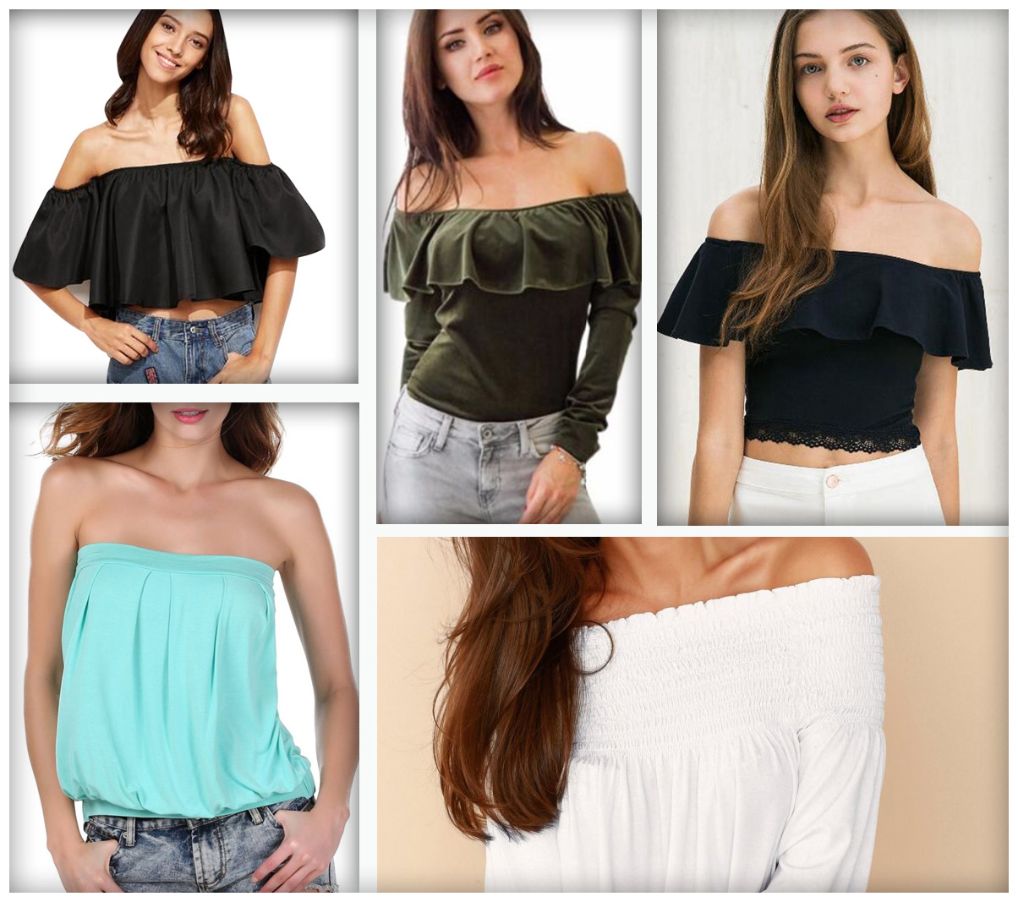 50. Spaghetti Strap Blouse
The spectrum of colorful design gives you high end look. Wondrous straps are perfect to give you redefined look. Straps made from rich fabrics or metallic chain is simply good option to give you that perfect quirky look.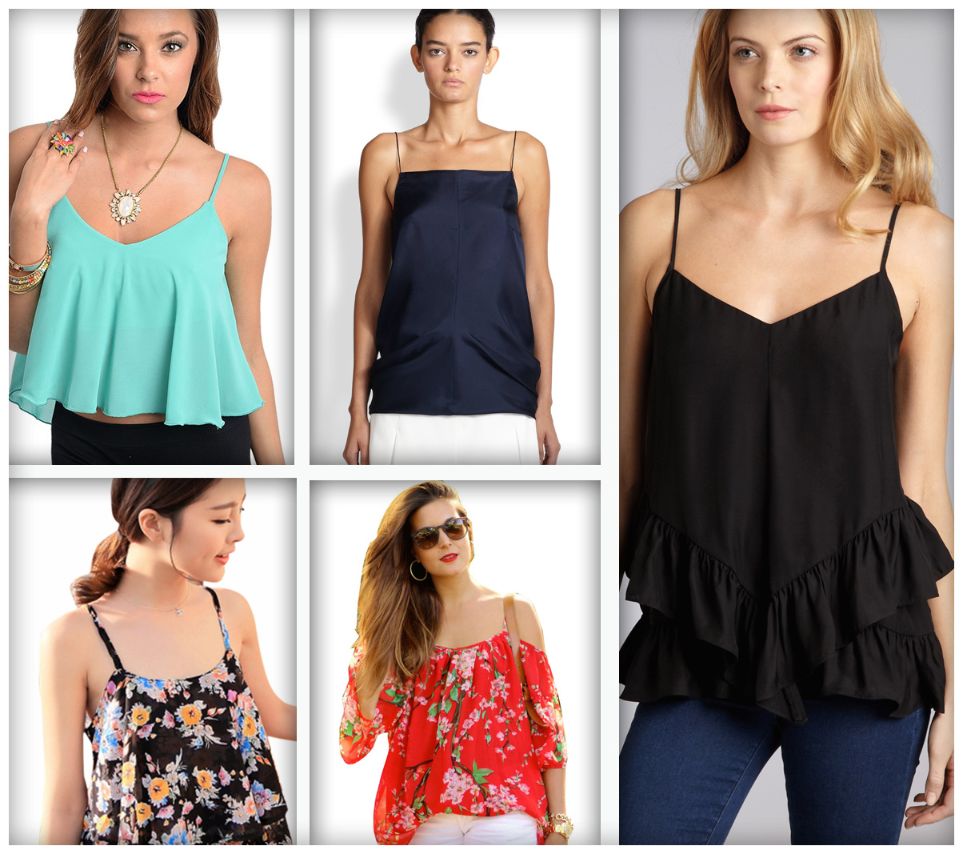 If you have got slim athletic figure then this style of blouse is perfect option to gleam up your confident look. This style would make you look drop dead gorgeous.
51. Halter Neck Blouse
This style is perfect for people who have medium bust size. The pear shaped design gives you a perfect solution of trendy fashion zest. They give an indo western appeal to the saree. They can be paired with short patli or dhoti saree. They are generally made with georgette, satin or crepe.
52. High Neck Blouse Designs
This style resembles like a t-shirt but could be one of the smart solution to grace up your overall look. If paired this style with good designer saree it could envy your gossip makers.
53. Chinese Collar Blouse
One of the luminous advantage of this style of blouse is that they can help you to look fuller. Online store has amazing range of options with viability of materials like crepe, chiffon, cotton and embroidered sarees. This style of blouse is sure shot way to give you that high profiled look. This blouse design was a hit in 2016 and can be given an elegant look by basic tailoring. They are coupled with crepe and chiffon sarees.
54. Full Sleeves Blouse
The fashion of this style of blouses existed right from the 50's. Retro trends are truly charismatic and totally in. The spirit of femininity could be well reflected by this style of sarees.
55. Quarter Sleeves Blouse
When you wish to have that perfect essence of smart ethnic dressing, then this style is ultimate option to reach your fashion goals.
56. Full Sleeves Blouse Pattern
One of the luminous advantage of wearing this style of blouse is that it could easily suit well to all body types. Many of them even have the embroidery work done up on the edge which reflects the pure precision of ultimate craftsmanship.
57. Cap Sleeves Blouse
The trend of this style blouses did aroused during 90's yet it continues to remain one of the favorite one among the fashionistas. This style of blouse is advisable for people who have extra lean shoulders. You could even complete your look by adorning statement jewellery.
58. Halter Illusion Style Blouse
When you love to adorn that experimental style, this style of blouse could be just an add on thing to flaunt well your charismatic personality. A jhumki style earrings or pearl danglers could be one of the perfect options.
59. Bishop Sleeves
60. Puff Sleeves Blouse
The trend of this style was inspired from eastern India and within no time it spread like an wild fire. This style of blouse is even loved by college goers and same could be considered for wearing during ethnic events or occasions.
61. Boat Neck
These blouses are quite famous among Bollywood diva. Sparkled fabrics or heavy embroidery can be coupled to show off the blouse. This style is talk of town even for your corporate wear as you don't need to worry about the cleavage show. Boat neck is simply perfect to play safe and display your unique fashion zest. They go with all kinds of drapes. Boat neck blouses can be made with silk and linen.
62. Elbow Length Blouse
The length of the sleeves do vary from 3 to 7 inches. These style of blouse do have presence right from the ages but you could always quirk up the look.
63. Off Shoulder Blouse
Inspired by western off shoulder gowns, this style has become one of the instant hit and appealed a lot to the wearer. The little low in the arms do give you a perfect doll like look. Some DIY Ideas will work wonders to give you that confidence of pro chic look.
64. Bell Sleeves Style Blouses
The trend is on upbeat but had deep root presence right from ancient times. Over the period of years, there is drastic transformation for good. This style is sure shot way of taking your imagination to the next level. The extra flutter and comfort is one of the note worthy thing. The quirky style has different element of colors and patterns. Online stores has varied prints and Sassy hemlines style of blouses that could curate well your overall look. The online store gives you an complete leverage of selecting from the Bollywood styles and patterns.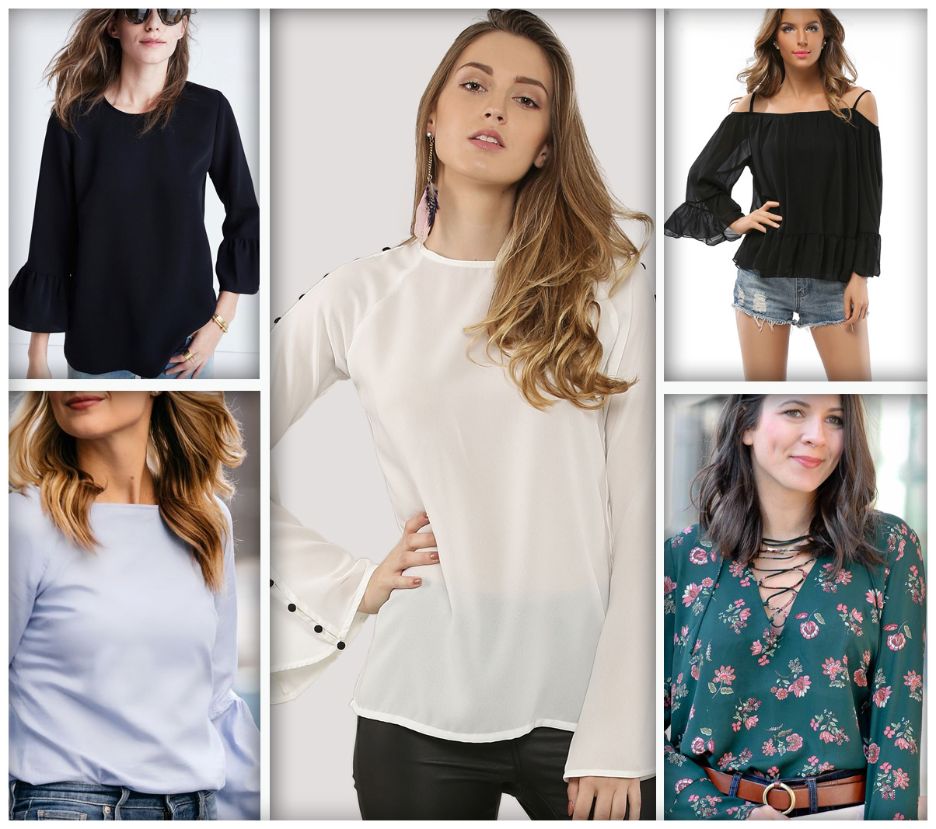 65. Boxy Sleeves
This style is totally trend next. The amazingly loose in nature could be one of the favorite things for all seasons. A messy bun and a great saree teaming could make up selfie smart with the entire graceful look. With great style thing, Boxy sleeves are totally here to provide ultimate comfort.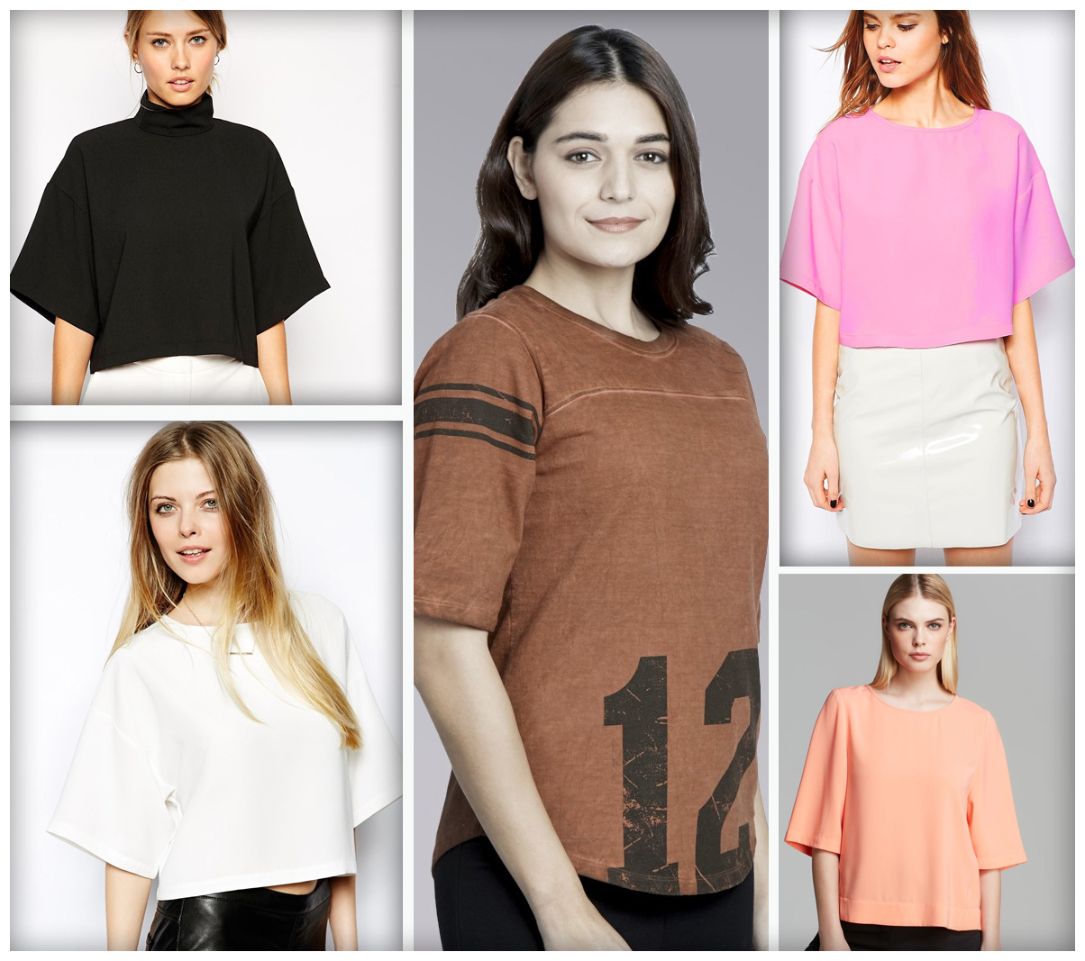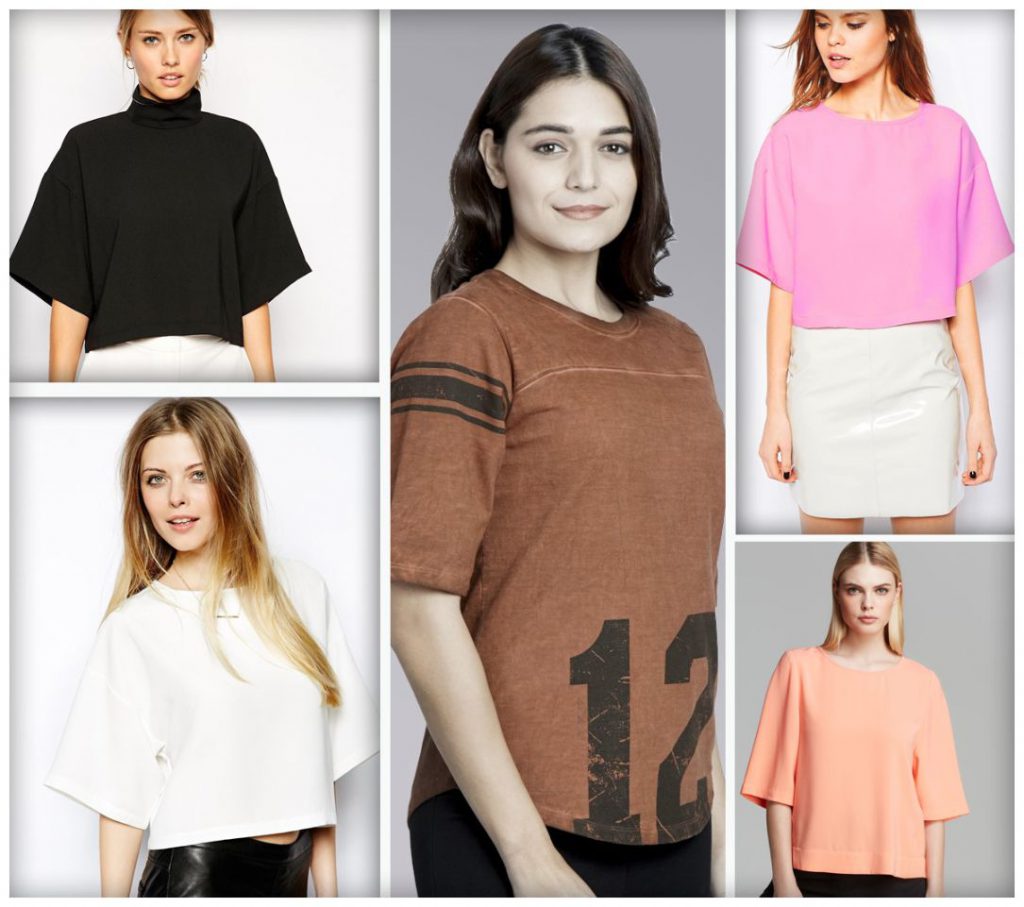 66. Butterfly Sleeves Designs
when you wish to add up an X-factor to overall look, then butterfly sleeves designs could be one of the next thing. The suggested factor is to add up a quirky element you could do V neck and try out different hemlines. This style is surely here to stay for long period of time. Have this style in your wardrobe if you are social butterfly and style conscious.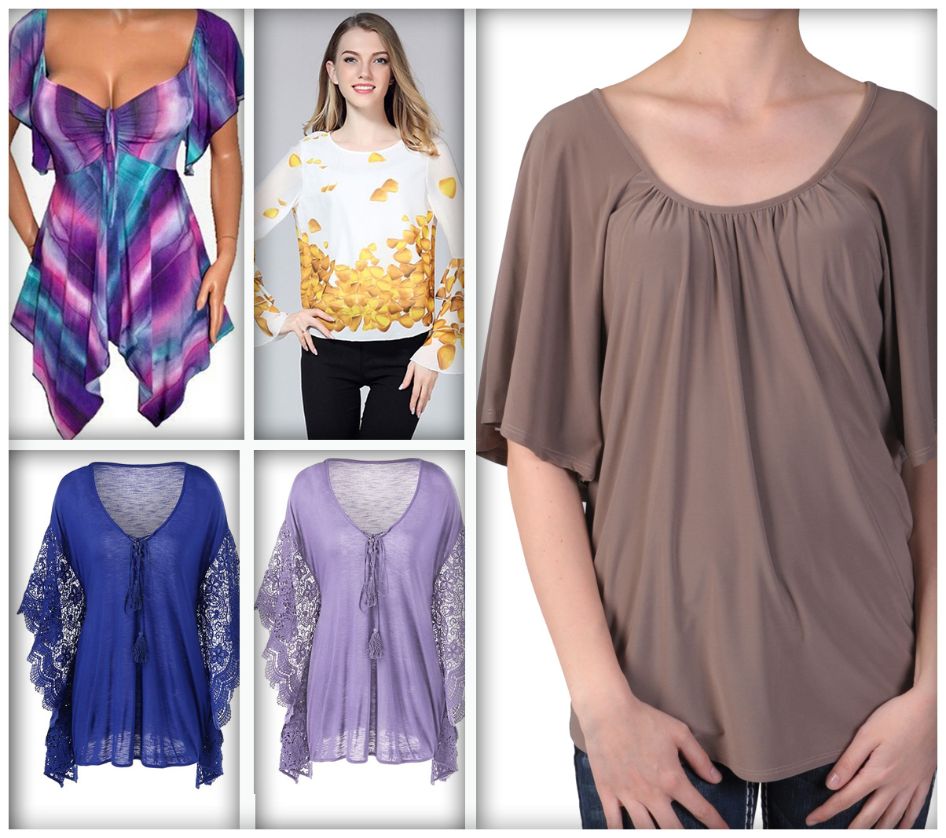 67. Princess Cut Blouse
These style of blouses are trend of the B-town. This style could add up a twist and contemporary look. This blouse could be a perfect option if teamed with light weighed sarees. When it comes to fulfilling the different needs of shopping. Many online store will fulfill.fashion needs with simple clicks.
68. Keyhole Neck Blouse
The impressive hole style whether in front or back brings in complete exemplary fashion statement. Online shopping stores brings you exclusive range of collection and various designs inspired by the Bollywood trends.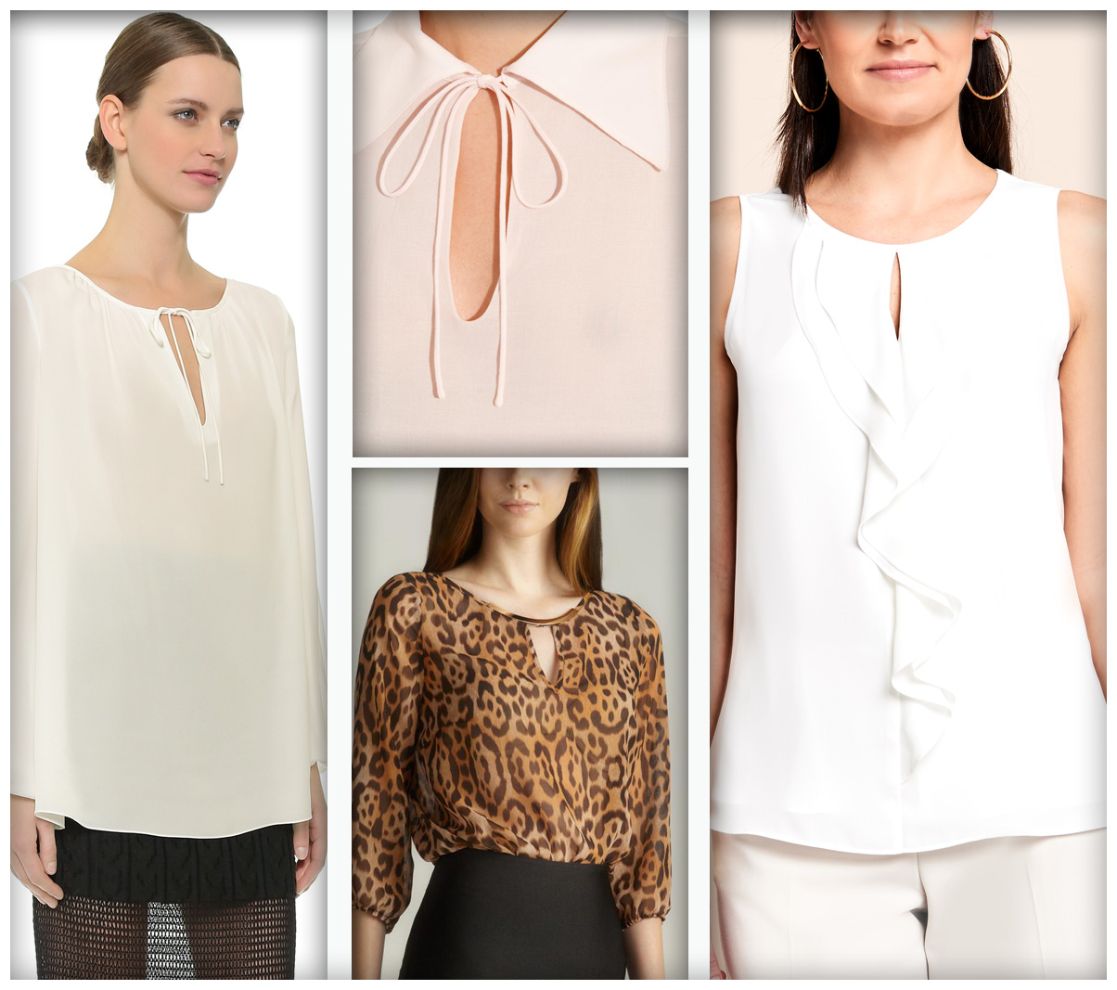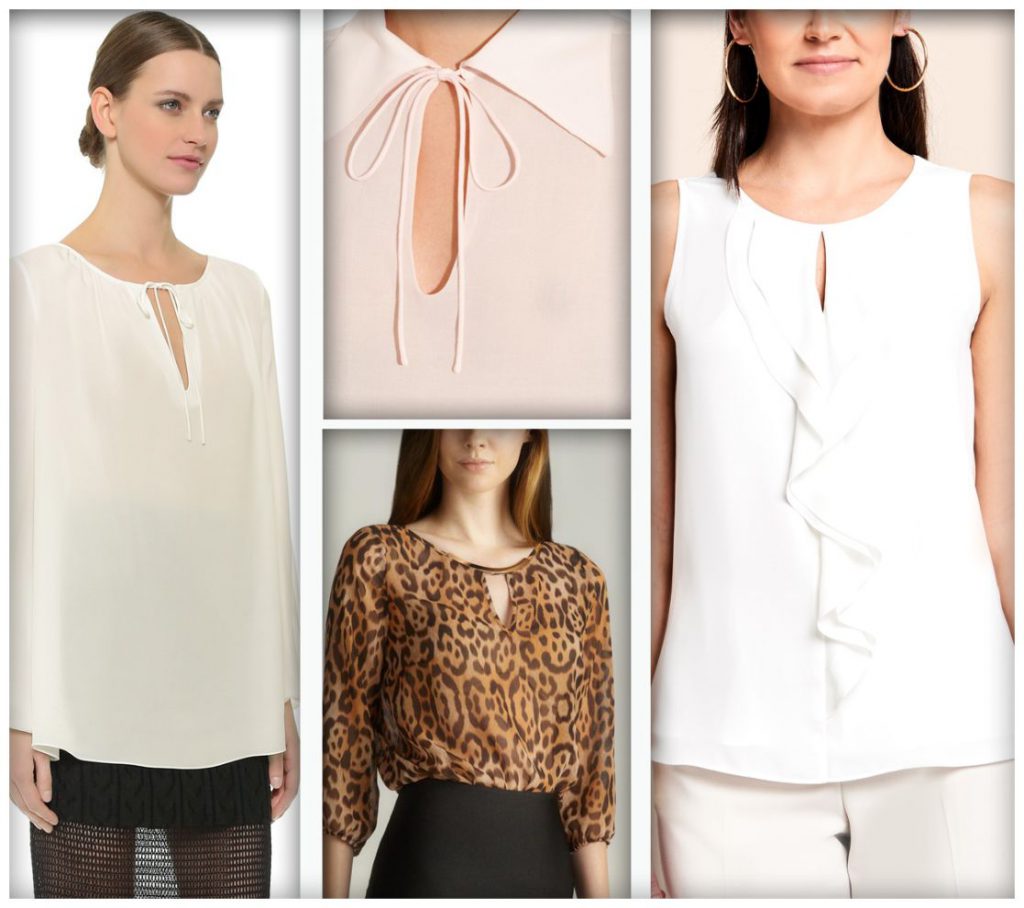 69. Attached Duppatta Style Blouse
When you wish to have modest style of blouses for attending high end parties, this style of blouse should be counted in.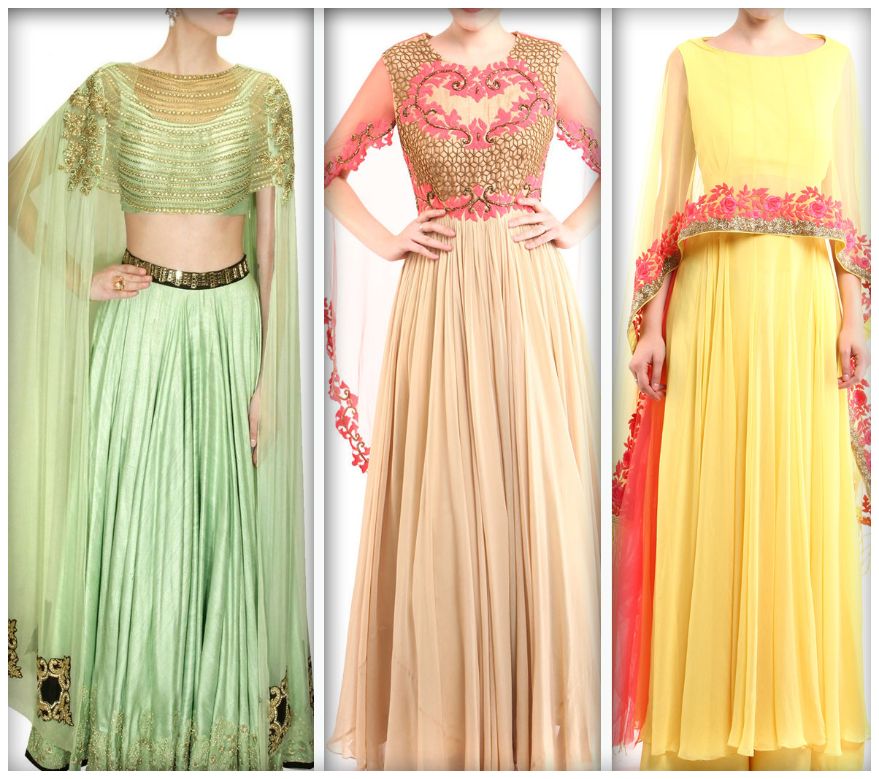 70. Long Blouse
The retro fashion is totally in and we should not forget the beauty of it. Long blouses do make an exemplary fashion statement and even could be looked upon during winters. Even the flamboyant Bollywood divas have showed up their special performance with this one of the kind blouse. Right from sequenced, embroidered or lace pattern ones you could find variety of them only at online store.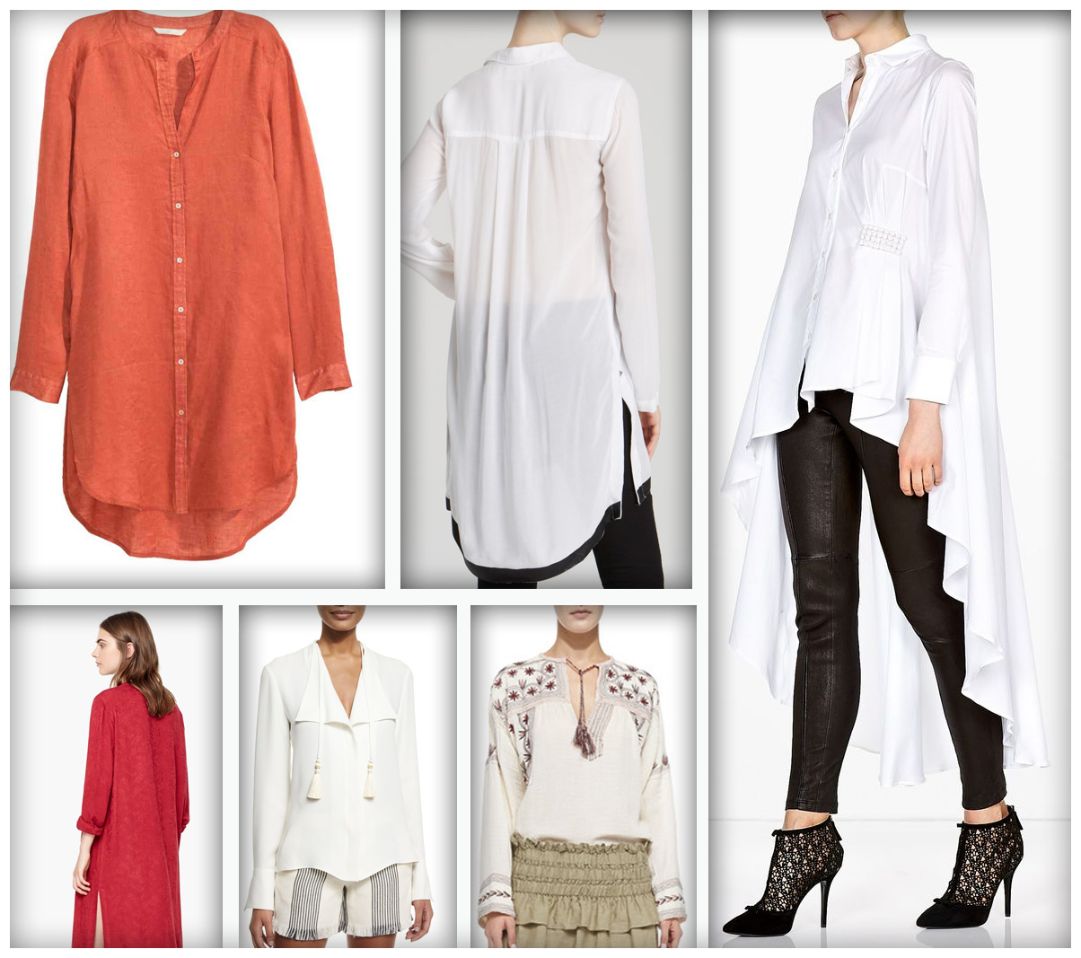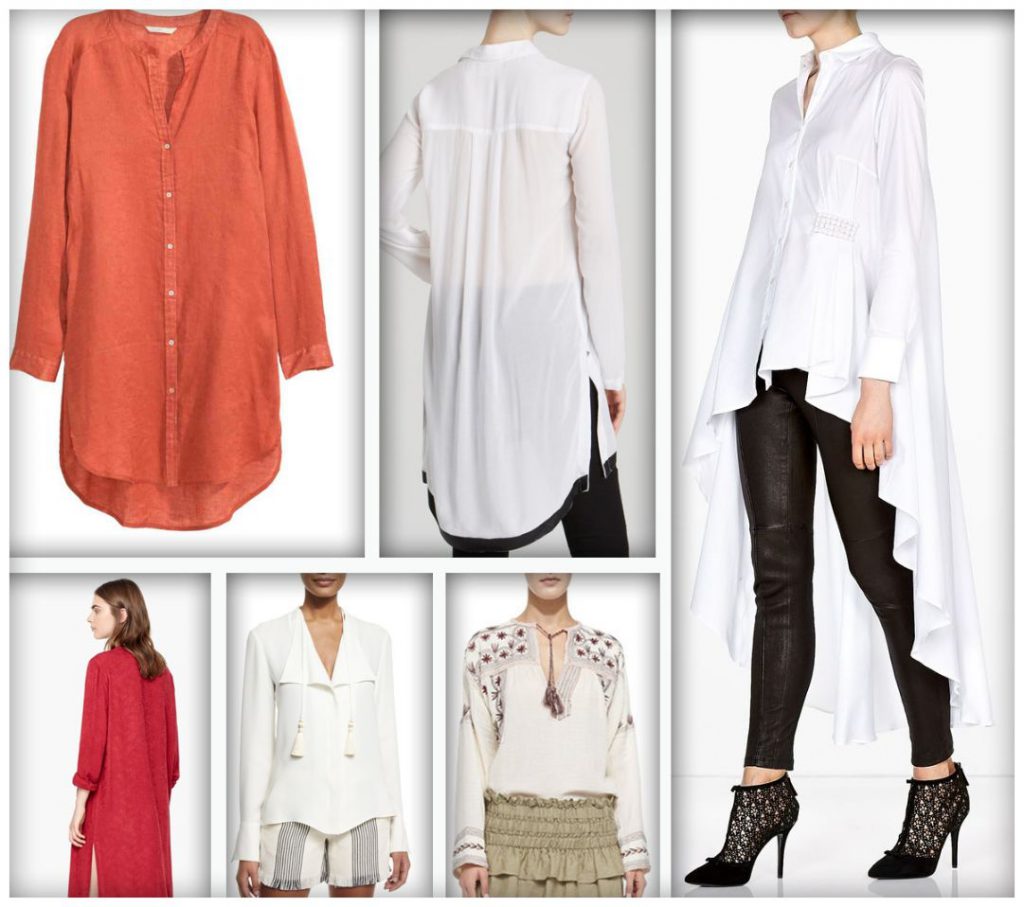 If you have got slim athletic figure then this style of blouse is perfect option to gleam up your confident look. This style would make you look drop dead gorgeous.
71. Corset Blouse
If you have got slim athletic figure then this style of blouse is perfect option to gleam up your confident look. This style would make you look drop dead gorgeous.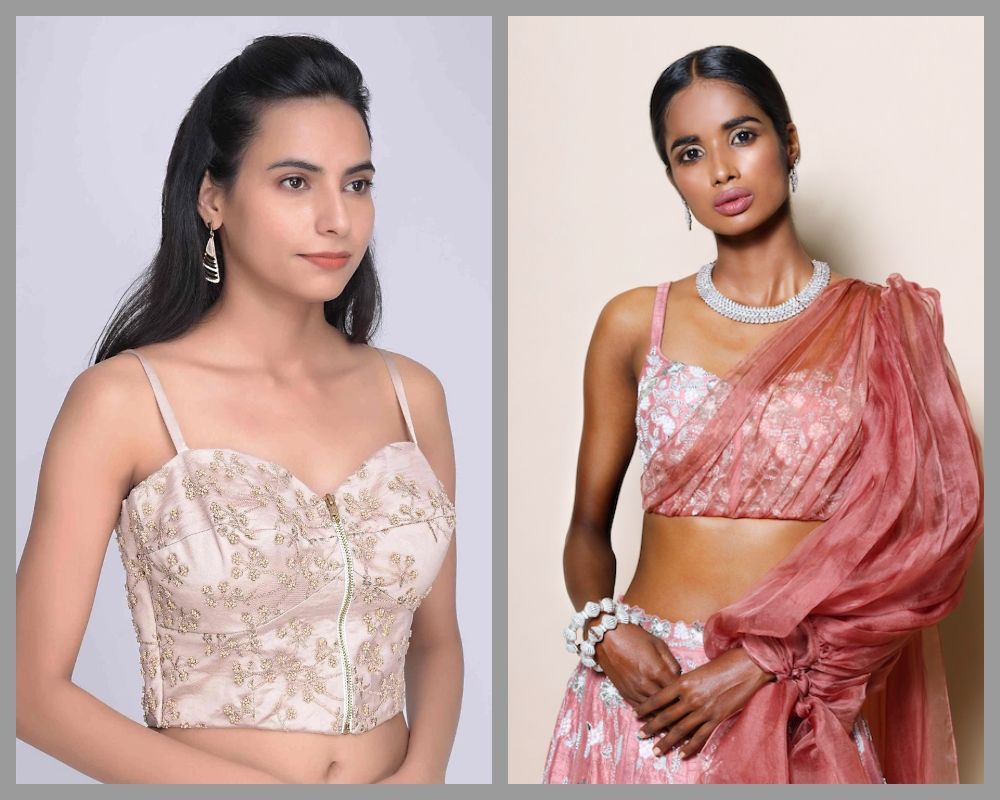 72 High Low Style Blouse
Sounding similar like a t-shirt, the high low style blouse is perfect one to gleam up your ethnic look. Even if you are social butterfly then this pattern will work wonders. Online shopping stores offers light weighed fabric option.
73. Mandarin Blouse
This style is simply an perfect option if you wish to hide that extra fats. It is advised to do contrast, if you have got printed blouse then the saree should be plain to amp up the chic meter. Even when it comes to closing there are designer zippers, back closing or statement style buttons. This style of blouses could go well to women who have got slim necks. One of the crucial thing to note is that this style of blouses could work wonders to all body types.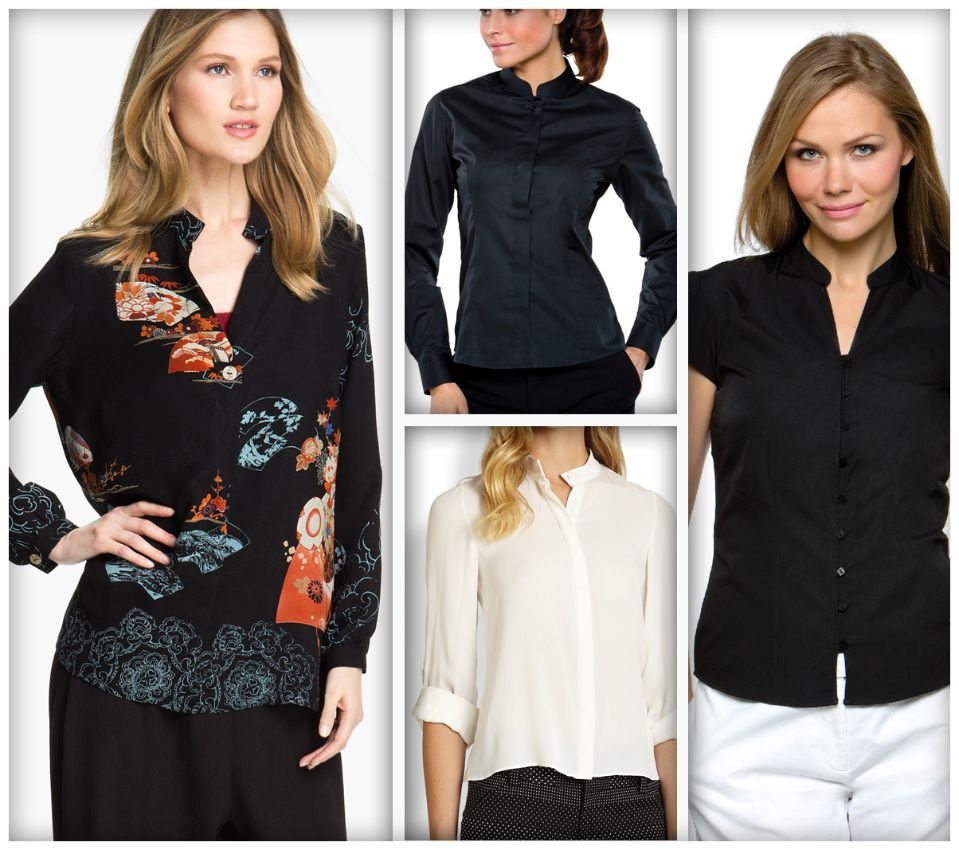 74. Cropped Blouse
The idea of this style was generated after the western crop top were big hit. The cropped blouse is simply perfect to showcase your slim belly button. This style of blouse and statement designer saree would simply steal the show. Cropped blouses are great pick of the season and one of the effective run way trend. The shortened height and little part of exposure is perfect to make your beau mad in your looks.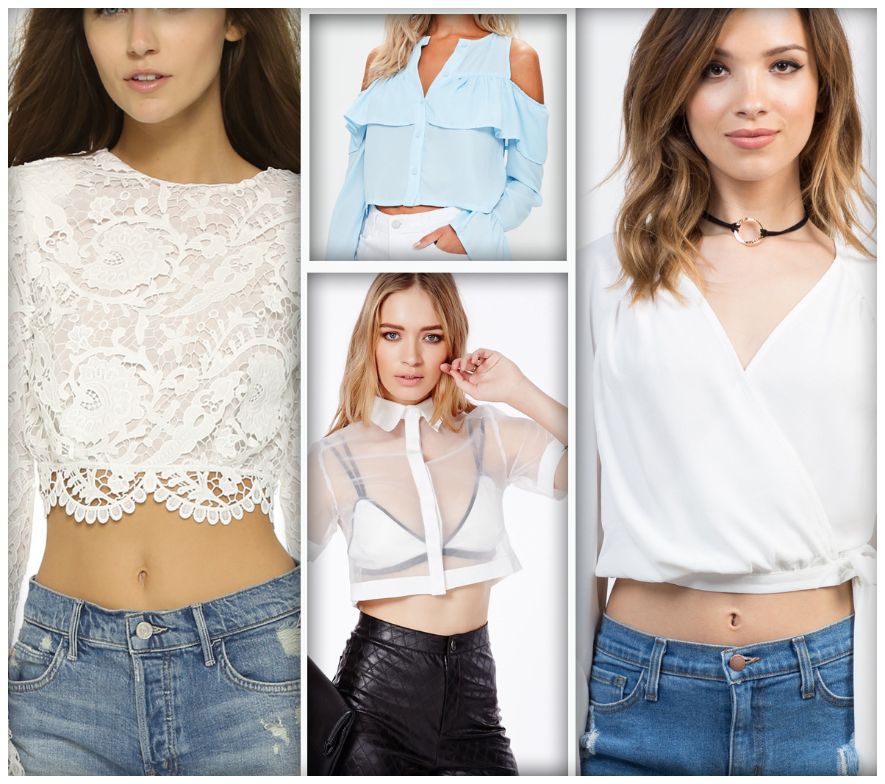 75. Asymmetric Style Blouse
When you wish to play with the different cuts, this style could be an perfect in trend option. If you wish to flaunt off your tattoo on the navel area, this style is an alluring option. This style would simply go great for people who are blessed with triangle shaped figure or hour glass shaped figure women. This style of blouse will go well with dhoti style saree or patli style sarees.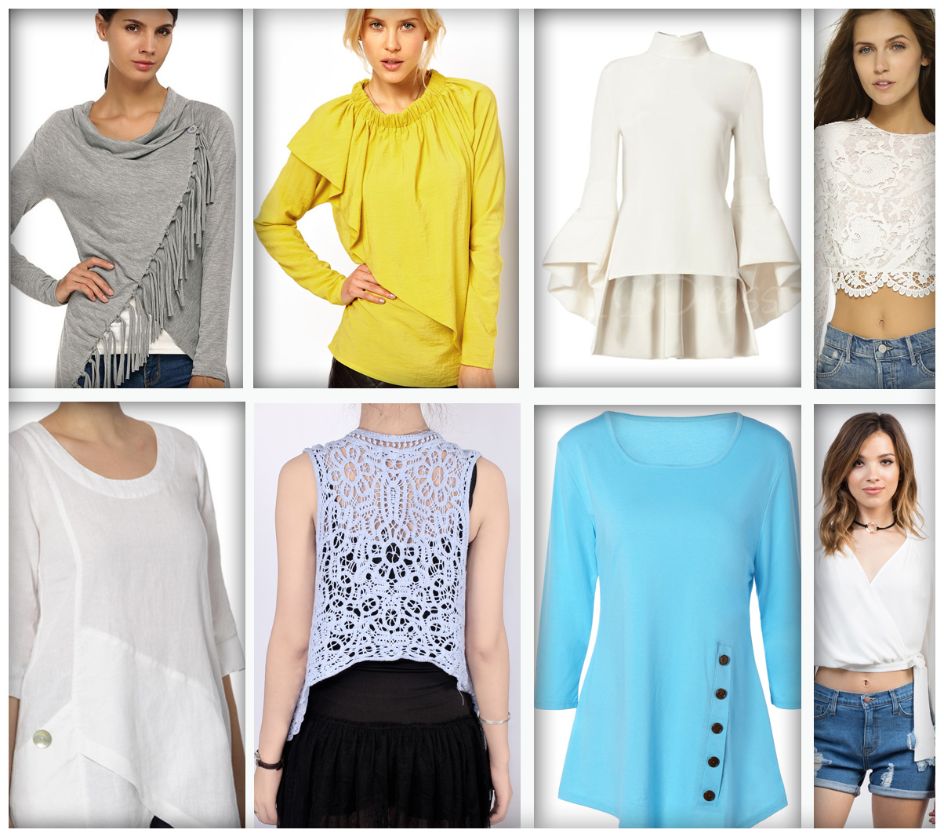 76. Peter Pan Cut Blouse
The round collar meeting on the neckline could be simply perfect for women who have long necks. This style would also be an worth a try even if you have broad shoulders. You could even pair with plain saree to make an statement style impression. Peter pan cut blouses is one of the brilliant idea of the designers.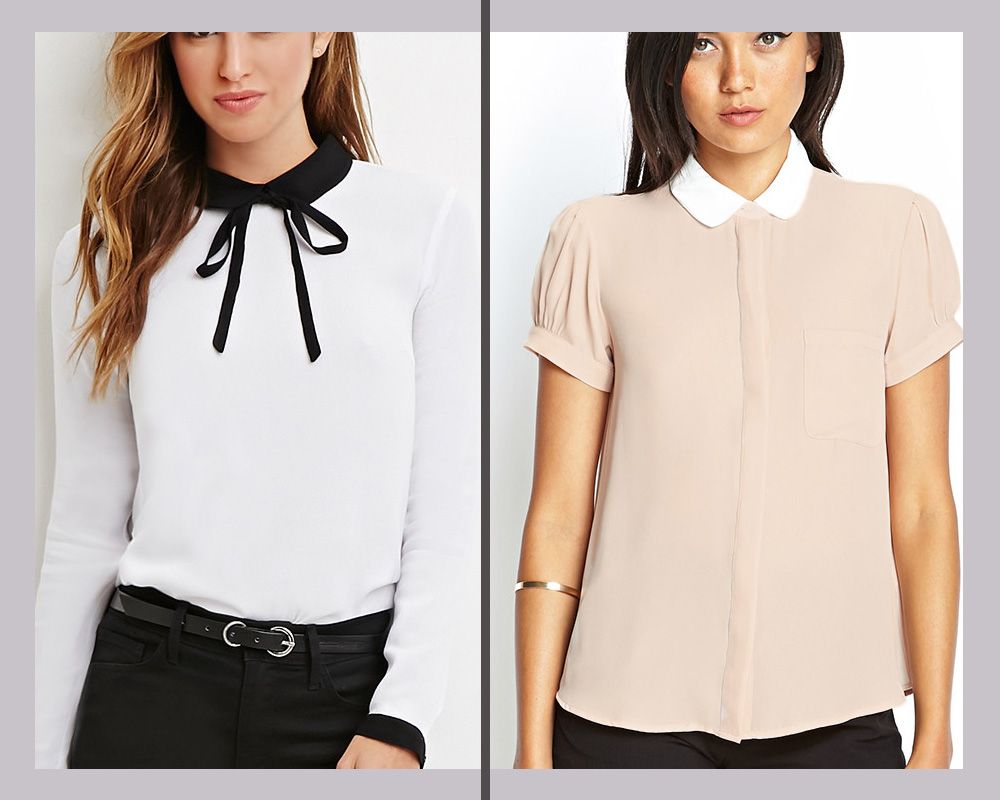 77. U-Shaped Blouse
If you are simply a beginner with the saree thing, then U-shaped blouse is totally in trend solution. Best part of this type of blouse is you could team it up with designer or traditional style of sarees. Compared to any kind of complicated blouses, the U-shaped blouses are one of the easiest things to maintain.
78. Embroidered Blouses
Nothing in this world is as good as feminine power. Born for multitasking and giving out traits of fashion, the women of today are simply the goddess in every way. This style accentuates your feminine curves, they are simply one of the best thing to go for. This style will work wonders if paired with Bollywood style sarees or traditional sarees.
79. Cut-Work Blouses
There could be nothing as amazing as customized tailor work blouses. Mostly even the delicate style of cut work can also be availed from online store. You could easily team up light weighed saree to complement well the overall look of the blouse.
80. T-back Blouse
When you are keen to style the show and wish to look best in parties, this style of blouse can be your ultimate pick.
Not just the sarees, even the blouses could be the right hero to accentuate your uber glam ethnic look. In the contemporary times, there are various different patterns introduced in the realm of blouses, A lot is depended upon the blouses we choose according to our needs.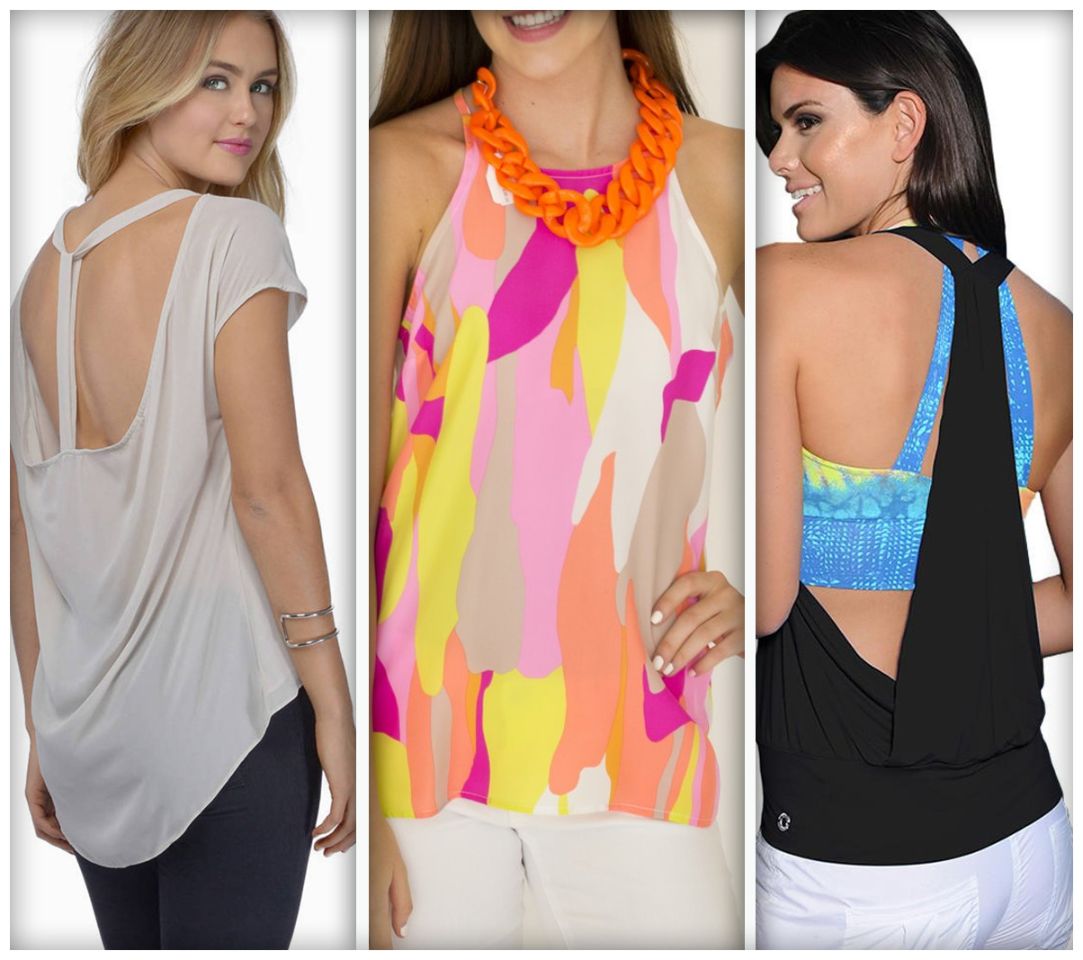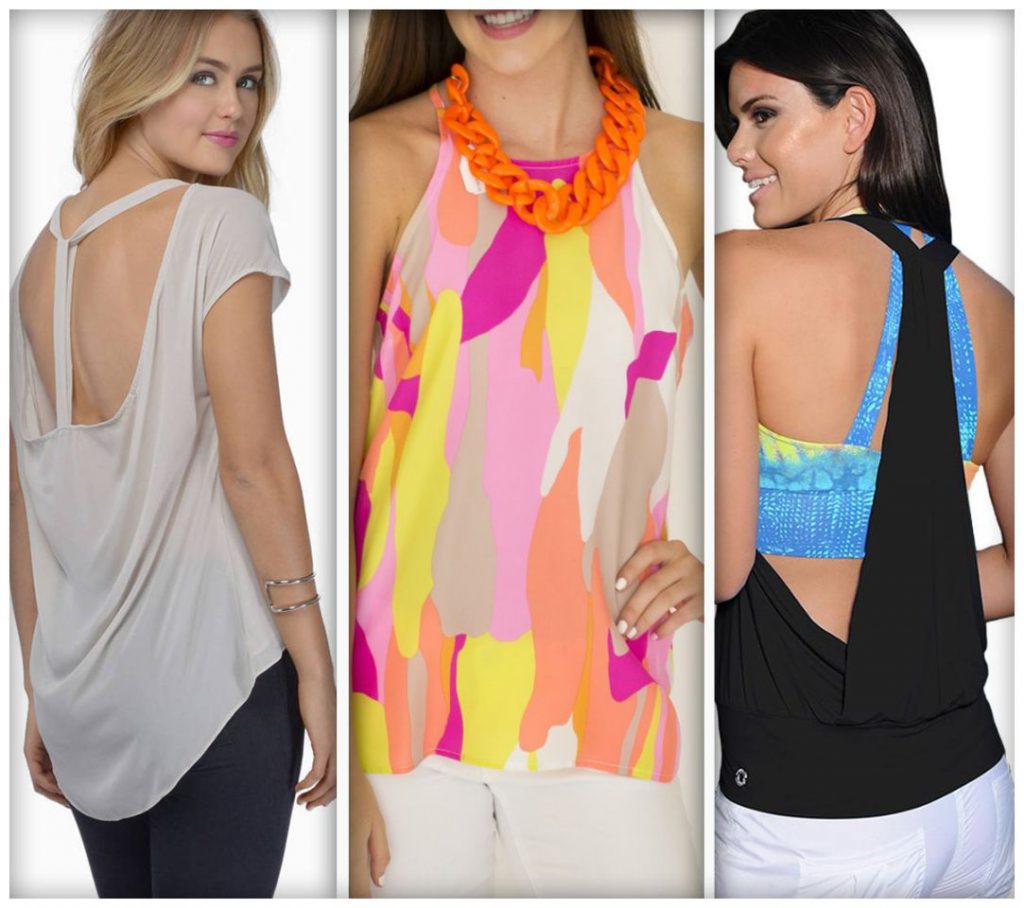 Hope this was of some help in your deciding the look for the next kitty party and the upcoming bestie's wedding.Whatever you wear just be confident of yourself and keep your head high.