The glamour of an off-shoulder blouse is unbeatable. Earlier, people use to believe that only a lady with the beautiful neckline can carry the off-shoulder blouses, but recently, they have discovered that it looks great on any women. However, a healthy woman should choose her down shoulder Top wisely.
If you think that off shoulder blouse designs are limited to plain effect, then you are extremely wrong. The market is full of different designs like off shoulder Tops, ruffle off shoulder blouses design, sequined off shoulder waist and many other wonderful designs. Here are some beautiful and stylish down shoulder Tops designs that will suit any women.
1.Stunned off shoulder blouses:
A silver off shoulder Top with the studded work looks really special. This style is perfect for all special occasions like anniversaries and receptions. Combine such Tops with the sober saree and achieve that special look.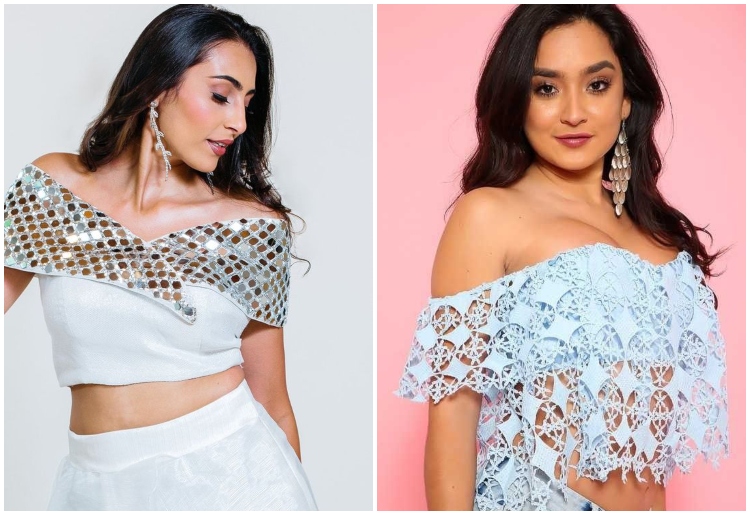 2.Printed off shoulder blouse design with the sweetheart neckline:
Printed Necklines are known for their stunning and girly look. When it comes in the down shoulder pattern then it looks even better. Pick up a printed off shoulder Tops with a sweetheart neckline and highlight your shoulder bone.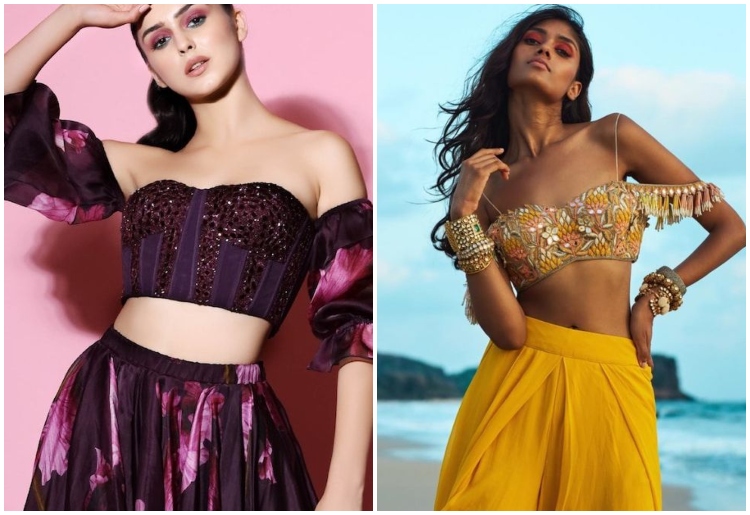 3.Sequins Work off shoulder blouses:
Sequins work can never go out of fashion. It adds glamour to any look. When the down shoulder Tops is combined with the sequins work, it looks really sparkly. Such Top can go with any dark colour saree.
4.Golden Embroidered off shoulder blouse:
India is known for its heavy golden embroidery work. When a golden embroidery is done on a down shoulder waist, it becomes a great combination of Indian and western look. Combine such Tops with a golden saree.
5.Border work off shoulder blouse:
Women who love the bright coloured top should definitely try this down sleeves waist. This down sleeves top has some great work on the top. It looks heavy and contemporary. Pair such Tops with any saree but it will look better with a light weighted saree.
6.Elegant elastic-like tops style down shoulder blouse:
An elastic-like top style off shoulder blouses looks really modern and girly. It looks really decent and doesn't feel heavy on the body. You can achieve a glamorous look with such tops. These are found in solid colours so get yourself a matching waist.
7.Plain Off shoulder blouse with tassels:
A unique style of off shoulder blouse design is the one that comes with tassels. It adds a class to your normal down shoulder waist. Mostly, this blouse comes with the tassels across the neckline. These are found in many prints and patterns.
8.Printed Off-shoulder Tops with Beaded neckline:
Printed pattern can never go out of fashion. When such a pattern is used on the down sleeves waistit makes everything even better. These blouses look extremely sophisticated and the beads along the neckline add more gracefulness to it.
9.Designer Net Off shoulder blouses design:
Net is counted as one of the most beautiful fabric, which can be used to make the best looking waist. When the off sleeves design are made from the net or sheer fabric it gives the unique and simple look. You will love its sophistication.
10.Off shoulder Top with the cross pattern neckline:
Cross patterned off shoulder Tops is counted as the most glamorous piece of all time. It looks extremely glamorous and will add a western touch to your saree. These Tops can be found in all types of sleeve styles.
11.Sheer Full sleeved off shoulder Tops with flowers and crystals:
If you want to get a royal and sophisticated look, then get yourself a sheer full sleeved off sleeves Tops. It also comes with the floral embellishments and crystals, which adds more beauty to the Tops. You can match this Tops colour with your saree.
12.One off shoulder sheer blouse:
One of the unique styles of down sleeves blouse design is the one that only has the down sleeves pattern on one sleeve. It looks sexy and beautiful. You will love its contemporary style. It will look best in the parties.
13.Ruffle style off shoulder blouse:
Ruffles give a feeling of fullness. It looks really fashionable on the down shoulder waist. You will mostly find this style in the sheer and net fabric. These Choililook the best with the net sarees. You don't have to wear heavy jewellery with such waist.
14.Sheer sleeves Off shoulder waist:
Do you want to get the jasmine-like feel? If yes, then get yourself an off-shoulder top with the sheer sleeves, It looks extremely unique. These styles will look great on the pastel colour fabrics. Combine it with the net or cotton saree.
15.Plain black Off shoulder blouse:
The best thing about the plain black off-shoulder waist is that it looks fabulous with most of the sarees. You can pair it with a heavy saree or a simple saree, the both will go well with this waist. Combine it with any style of blouse design.
16.Floral off shoulder blouse with beaded border:
Floral work is loved by everyone. An off-shoulder waistwith such pattern will look really beautiful. Such blouse design also comes with the beaded border with adds the prettiness and lightness to it.
17.A velvet off shoulder blouse:
Velvet fabric is known for its heaviness and royalty. It gives an elegant effect. You will love its modernity. Such blouse design looks great on any saree or lehenga. You can wear it with heavy jewellery.
18.Off shoulder webbed blouse design:
An off shoulder webbed blouse looks fantastic with any net saree. These blouse designs have a drop down effect that makes it more attractive. It is elegant and every woman should have it in their closet.
19.Off shoulder Wrap blouse:
A wrap-around pattern will look extremely designer and modern. When you will wear it with any saree or lehenga, it will turn out to be the most eye-catchy piece. So get yourself a wrap blouse design and add awesomeness to your look.
20.Off shoulder blouse with the turtle neck:
A turtle neck off shoulder blouse is known to be the outstanding designer piece. It looks glamorous and gives you a top-like look. Match this down shoulder blouse with your saree or skirt and enjoy the swag of the attire.
21.Lace off shoulder blouse:
Another most elegant and glam up off shoulder blouse design is the one with Lace. It is admired by everyone. When the neckline of a blouse has the lacework, it started looking very classy. Combine it with any style of saree.
22.Off shoulder blouse with belt details:
An off shoulder blouse design with the delicate belt details looks really elegant. It high lights your waistline. This blouse design stands out to be very different from the rest. So if you want to look bold and classy then you must have this style of a blouse design.
23.A sultry Off-shoulder blouse with falling straps:
One of the sexy and beautiful off shoulder blouse design is the one that comes with the falling side straps. It looks extremely modern and decent. You will love its fitted and falling pattern.
24.An all fringed off-shoulder blouse:
One of the gorgeous and stunning styles of off-shoulder blouse design is the one that comes with too much fringe. It gives a mesmerising look and adds shine to the whole outfit. You will love the modernity of these blouses.
25.Off shoulder blouse design with tassels and feathers:
A unique style of off shoulder blouse design is the one which comes with tassels and feathers. It looks extremely classy and gives a sassy effect to the women. You can never say no to these types of blouses.