Women are attracted to trends and contemporary designs. Same happens with the saree blouses. Saree have the power to make anyone beautiful, but sometimes the same styles make us look boring. So it's better to do something interesting and pick up a different style of the blouse for your saree. Here is one of the most sophisticated and stylish blouse designs that can be perfect for any occasion- High Neck Collar Blouse. It is one of most picked blouse pattern by the Bollywood actresses. Every woman should have it in her closet so that she can add a sporting and rocking effect to her saree.
The market is full of many designs of high neck collar designed blouses. The best part about these blouses is that every woman, either with a longer neck or shorter neck, can go for it. If you are picking such blouses for yourself then make sure to carry it with right saree and jewellery. These types of blouses are known for its regal and princess look. We have come out with 20 high neck collar blouse designs, which will add a style to your look. Enjoy our list!
Some List of Classy Collar Neck blouse Designs:
Fancy Blouse Designs Catalogue
1.Shawl Collar Neck Blouse designs:
Do you want to add a vintage and aesthetic look to your saree? Get yourself a Shawl Collar neck blouse designs. It has some amazing brocade work which adds an antique look to the blouse. These blouses are usually made up of net or light weighted material, with some thick and heavy work on the neckline. They match perfectly with the light weighted saree or light coloured saree.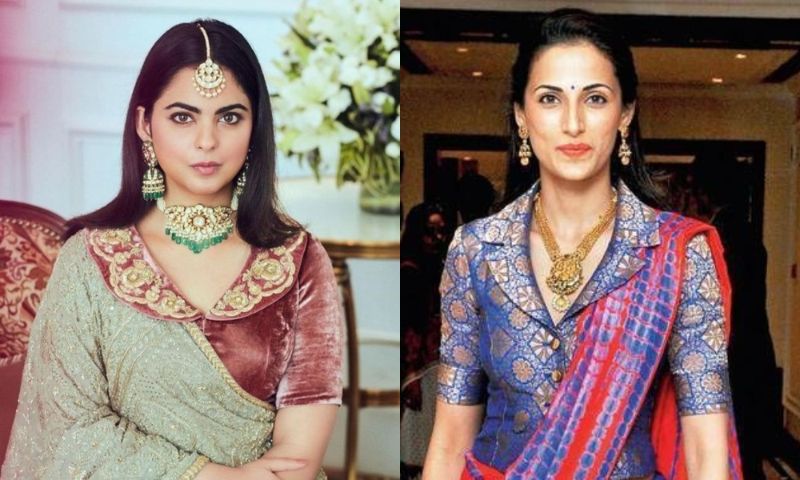 2.Shirt Collar Blouse:
Shirts are known for their professional and elegant look. But have you ever imagined wearing a shirt with your saree? It will look really amazing. The skirt collar neck blouse designs are the boldest and sophisticated. It usually comes with the front buttons. Though a shirt looks simple, it goes well with a saree. Pick a plain saree with this blouse and rock any show.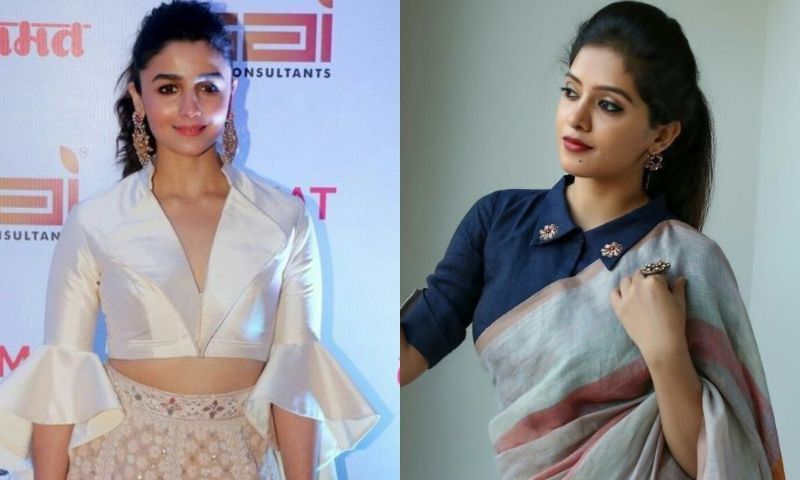 3.Formal Collar Blouse:
From Formal collar, we mean a blouse with an extremely sophisticated look. These blouses are usually worn by the teachers and the politicians. Not only this, these are perfect for the workplace. It usually has a simple collar design with a V cut in the front. These have minimal embellishments and some matching work as the saree. This blouse design looks the best in the cotton, silk and linen sarees.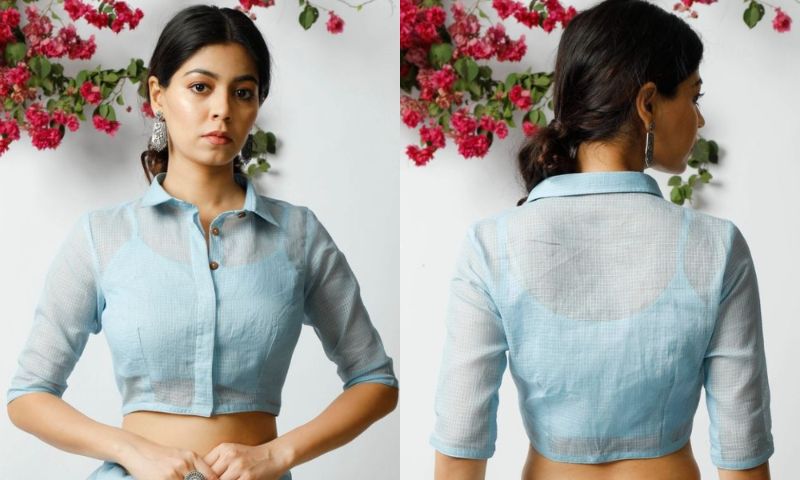 4.Collar blouse for Brides:
When you hear the word Bridal blouse, what is the first thing that strikes to your mind? Of course, a Red blouse designs with some golden work. So, a collared blouse for a bride also comes with the same type of work. It has a collar with effective golden work and found in the red colour. It looks great with a lehenga or saree. Blouse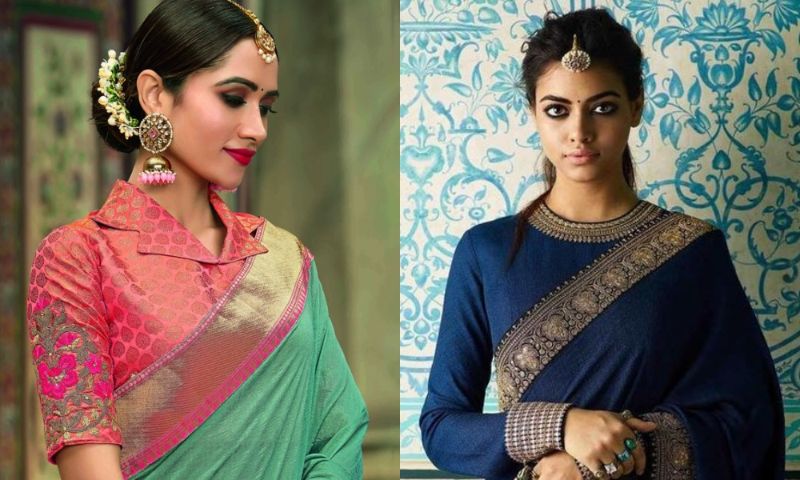 5.Coat Style Collar Blouse:
Coat Collar is usually found with the Angrakha Collar. When we talk about blouse designs with such effect, you will fall in love with its grace and elegance. It is perfect for both, formal and traditional events. You will love its sporty and uniqueness. When some gold and silver work will be added to these blouses, it can create harmony for your normal saree.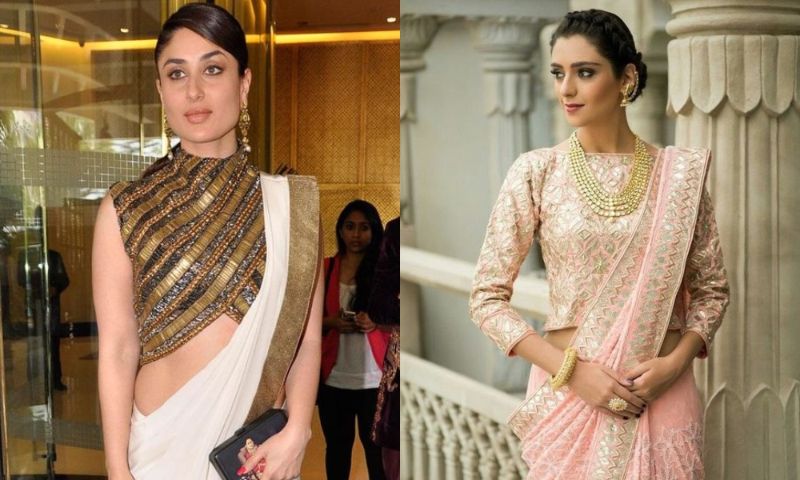 Simple Blouse Designs and Designer Blouse Pattern
6.Fancy Netty Collar Blouse:
A collar blouse designs with most of the net and sequins work can add power to your any kind of saree. You can pick such blouses with any fabric combination and achieve a party look. These blouses give a feminine feeling as it will show your shoulders through the net fabric. If you are picking such blouses in the black colour then you can combine it with any type of saree.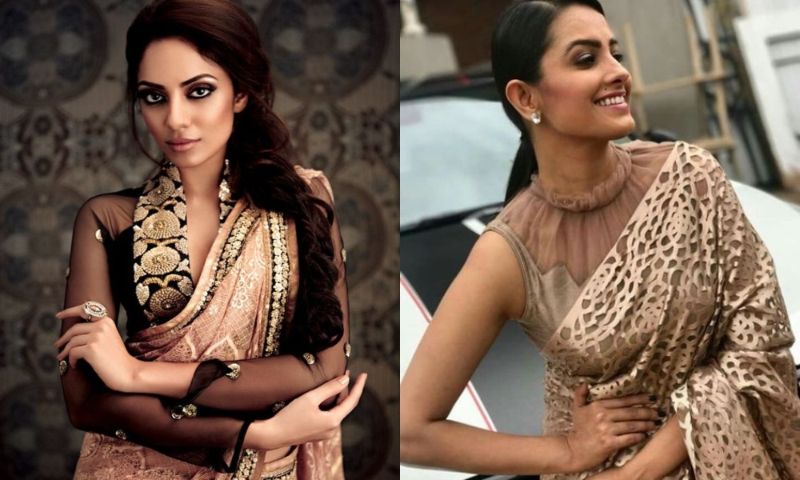 7.Stand Collar Blouse:
As the name suggests, the stand collar blouses come with the standing collars. Most of these blouses are found in kundan work, cut work or thread embroideries. These are a great combination of Indian and western design as its collar gives a western touch but its work adds the Indian touch to the saree. You will the simplicity of these blouses.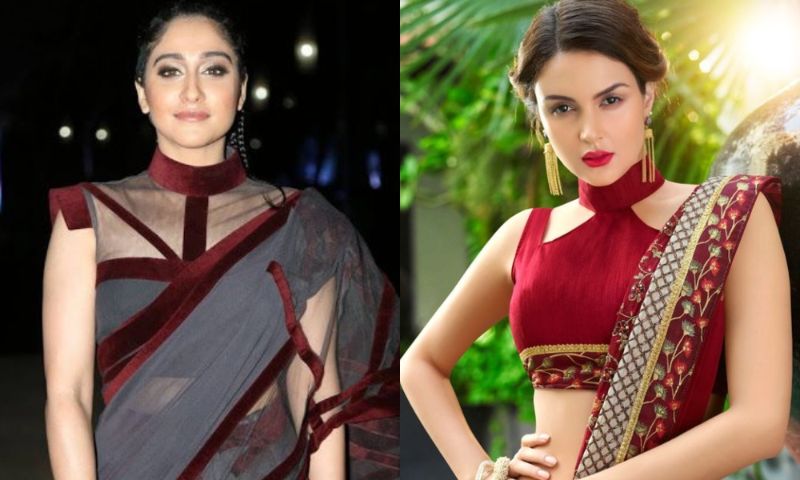 8.Polo Neck Collar Blouse designs:
Polo Necks are very comfortable and gives a vibe of coolness. When it comes to a blouse, it becomes even more beautiful. These neck blouses are usually made up of light weighted material with amazing shine. Also, it has some fancy netty sleeves, which adds a feminine look to it. These types of blouses can go with both western and traditional sarees.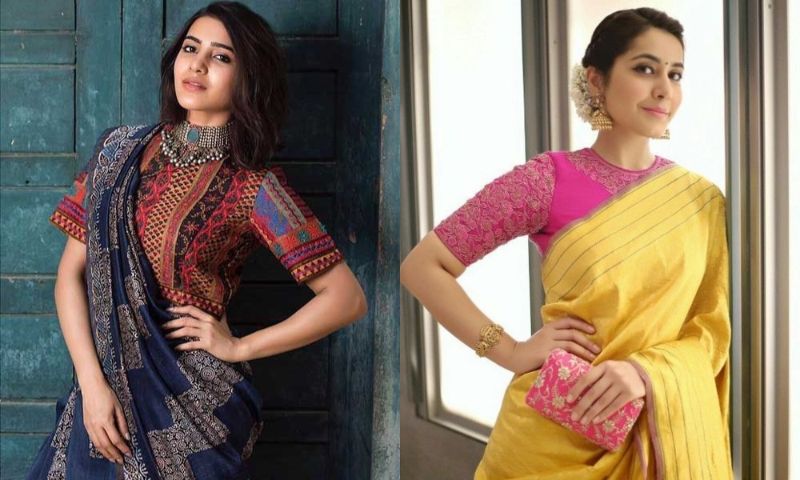 9.Mandarin Collar Blouse:
Mandarin collar blouse gives the vibes of 'band gala'. It overall covered with the net fabric and has the matching colour of the lining. These are usually padded because these blouses require a smooth finish. They offer the best coverage while showing some skin. If you want something light, comfortable and fancy, then get yourself a Mandarin collar blouse.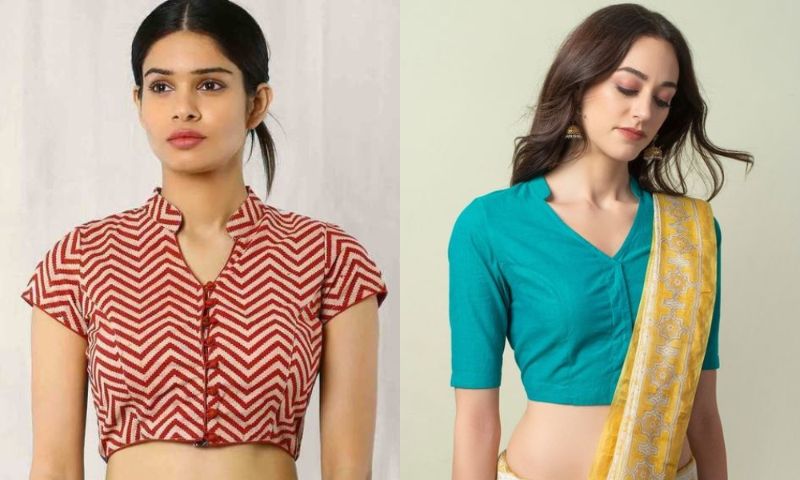 10.Checked design collar blouse:
One of the most trendy and contemporary high neck blouse design comes with the checked pattern. It is mostly made by combining two or more fabrics. Sometimes it also comes with the cut designs, which adds uniqueness to your look. It gives a vibe of a choker necklace. If you will wear your saree with this blouse, it will take your whole look to the next level.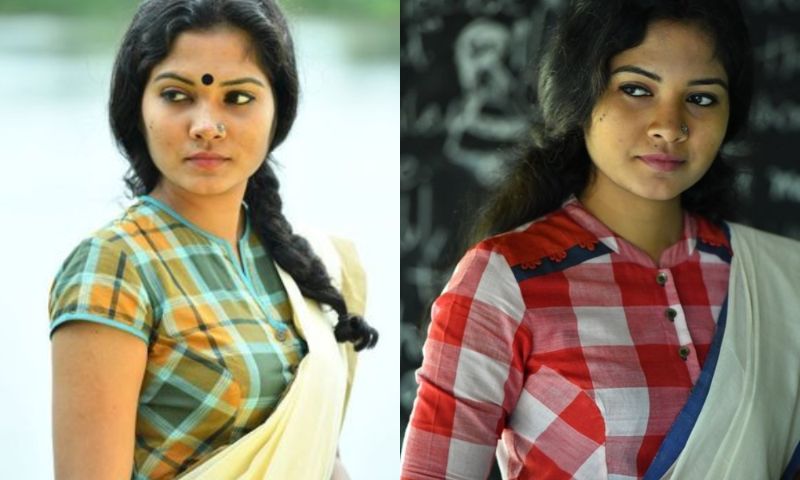 Latest Blouse Back Design
11.Net Collar Blouse:
It is another design of Net collar blouse, which also gives an illusion of backless. It usually comes with sequins work. Such blouses are perfect for the cocktail parties or any fancy event. The best thing about these blouses is that it is found in the universal colours like black, silver and gold, so you can reuse it with any saree.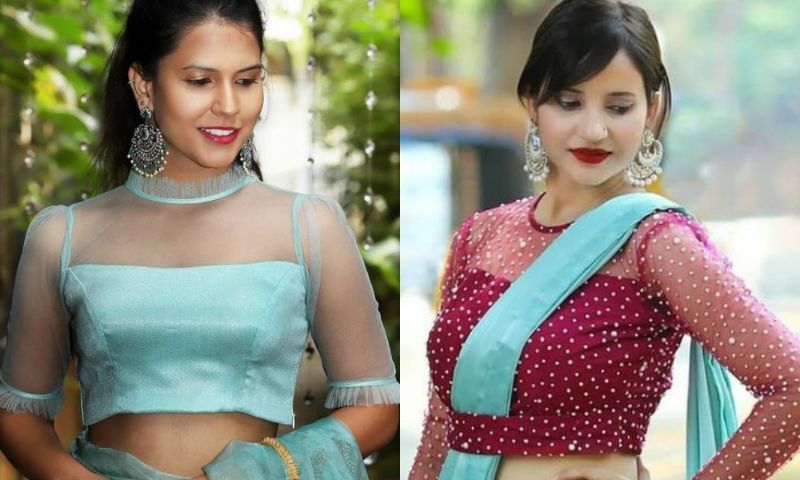 12.Butterfly Style Collar Blouse:
The butterfly blouses are latest in the market and have a bohemian vibe to it. It has a vibe of wings. Such blouses give a beautiful and contemporary look to the saree. You will fall in love with its minimalism.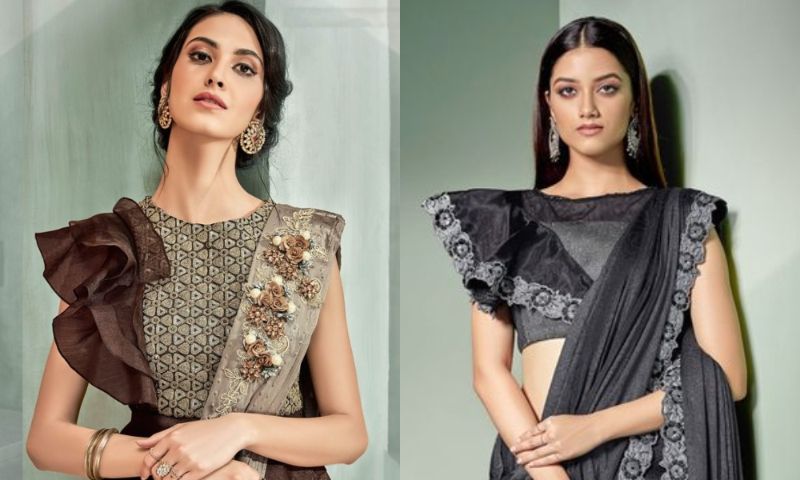 13.Designer Collar Blouse:
From designer, we mean a blouse with some beautiful neck cuts and patterns. It usually has a contemporary vibe to it which adds a heaviness to your saree. The upper portion of the blouse gives a collar-like look. From the thousands of such blouse designs, you can choose something matching for your saree.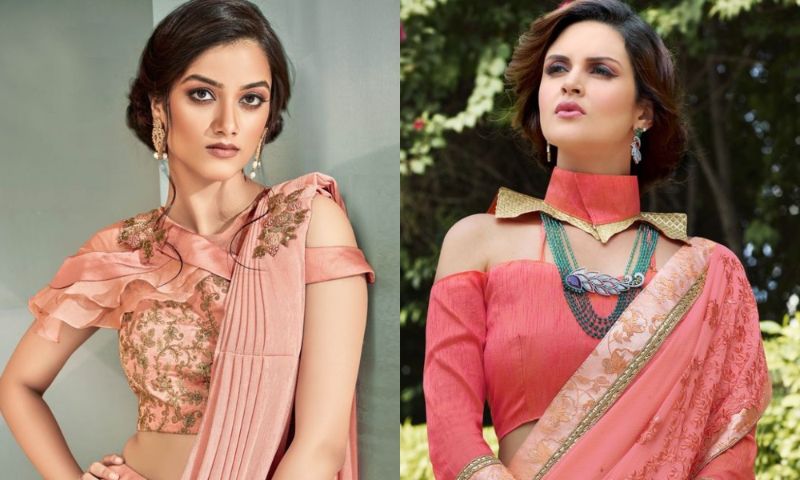 14.High Neck Blouse with piping:
A high neck blouse with the piping work looks amazing and simple. It is simple so you can carry it with your daily wear. Sometimes it also comes with the patchwork, which adds a little contrast and heaviness to the whole fabric. You will love the way piping will look on a simple blouse.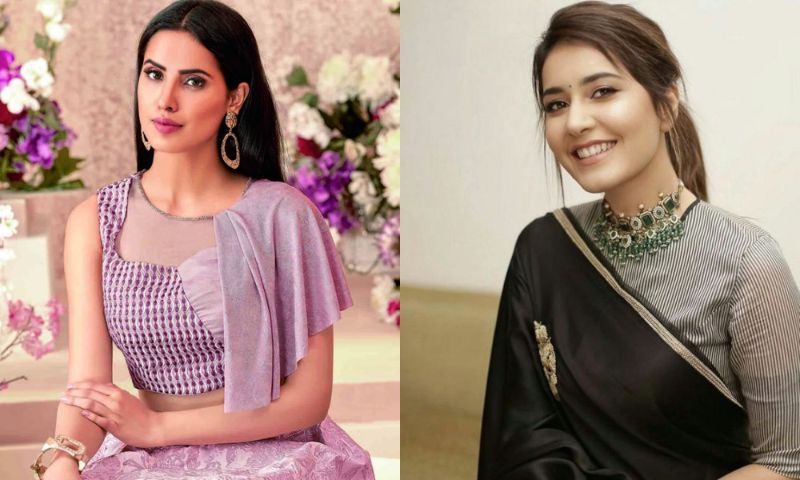 15.Fully embellished golden Collar blouse:
The latest style of collar neck blouse designs is the one which comes with heavy embellishments on the golden fabric. It can transform your saree look by adding heaviness to it. You don't have to wear any neck jewellery with it as it is enough to add glamour to your saree. Wear this blouse to the next function and get that picture-perfect look.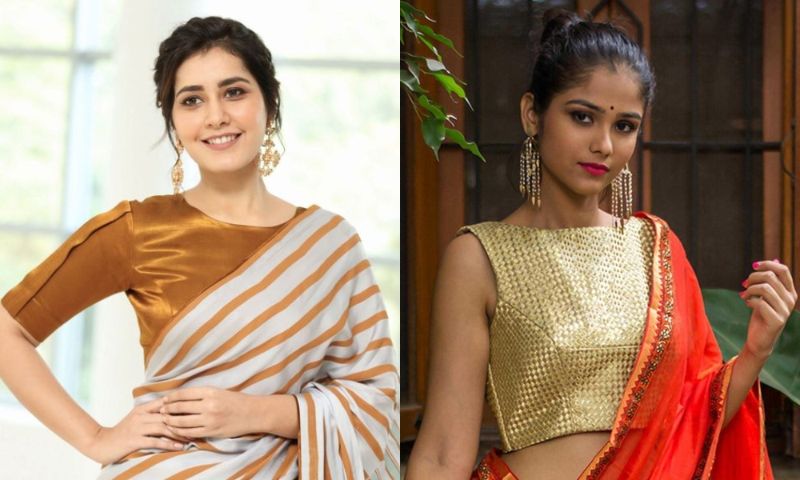 Designer Blouse Neck Design
16.Lace Collar Neck blouse designs :
Lace is a light-weighted material but looks very beautiful. If we talk about a high collar blouse made up of Lace fabric, it is generally transparent, beautiful and shiny. It always comes with the lining on the chest area, while keeping remaining area plain. Adding a keyhole in the front can add a much better look to your blouse.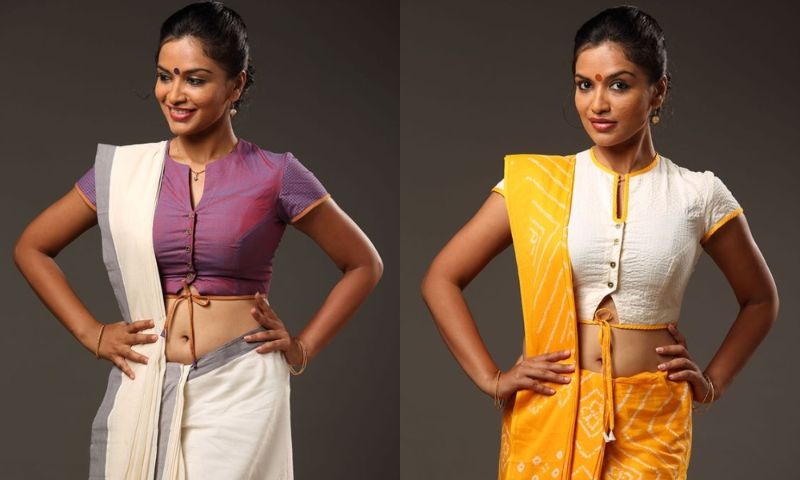 17.Back Open Collar Blouse:
These types of high collar blouses come with an open back look. It is mostly found in the traditional looking blouses, where an open back adds a beautiful touch to it. You can even found it with Dori or hooks. These blouses are usually found in the matching fabric as a saree.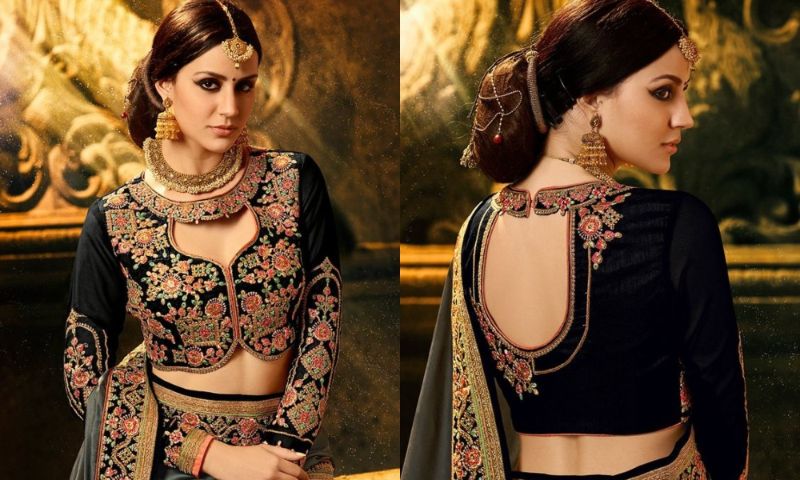 18.Chinese Collar Neck Blouse designs:
A Chinese collar neck blouse designs comes with a collar, front hooks and some matching gota work along with the outline. Such blouses can highlight your any saree. These blouses are found in many patterns and embellishments. Such blouses are perfect for the wedding season as it has a heaviness on itself.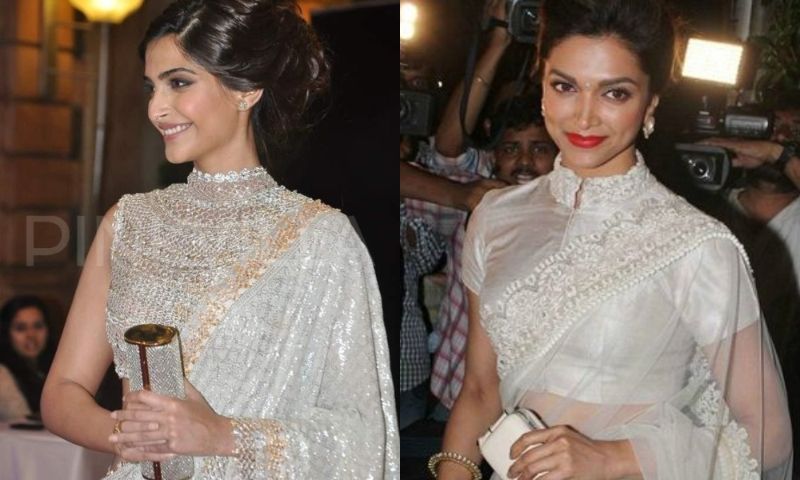 19.Scorching Heavy Work High Neck blouse:
There are many actresses who love these types of high neck blouses. It has gorgeous vibes on itself and will steal anyone's heart. Prefer to wear such blouses with a net saree as it will help you to show off your beautiful blouse. As these blouses are fully covered, so a front keyhole will add a little revealing effect to it.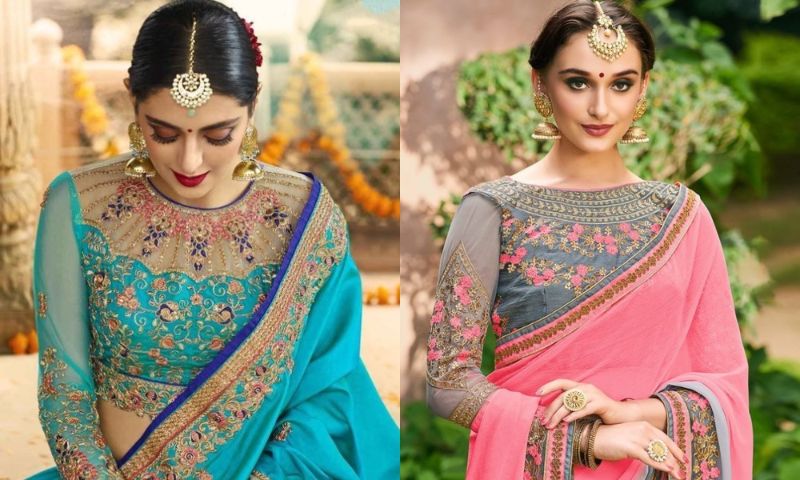 20.Contemporary Taper and sleeveless high neck blouse:
These blouses are counted as one of the most elegant and erotic styles of blouses. It usually comes with the heavy work, which goes well with your both Indian and western saree. These are modern so it looks well on young women. It will show your figure and you will love the way it will look on your body.