Saree and blouse are such an integral part of the indian attire. A blouses is a sort of top worn with a saree to enhance your look. The blouse is a customary, typical top that is worn by ladies in india. Blouse comes in various colours and designs. 2020 should be the year to experiment with the blouse styles that one can wear to weddings and wedding functions. There are a few examples of blouse jotted down just for you to have a read.
New Bridal Blouse Designs
1.It's backless!
Do you want to be the poo from kabhie khushi kabhi gham? The backless design is such a stunner when it comes to wedding wear and glam look. The backless design is for all those women who don't shy away from showing much of the skin which looks sexy and bold to be worn at a party or any wedding functions.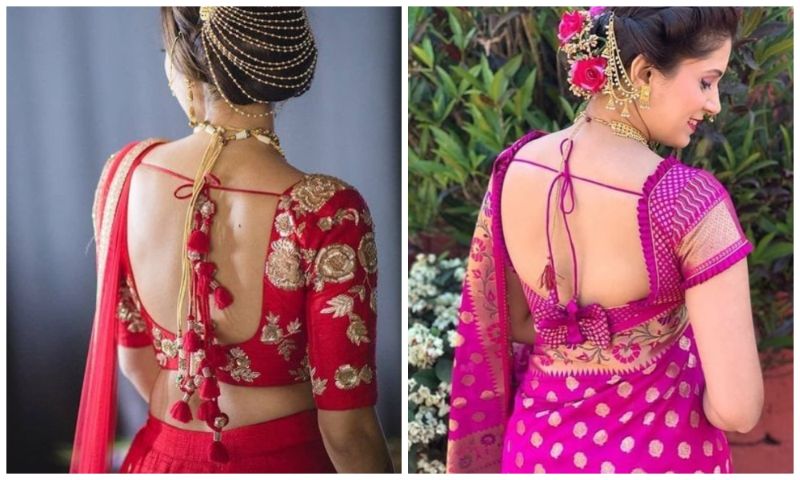 2.Frills style
frills starting from the shoulder of the design all over the blouses to give it a dreamy look which is in trend right now. It looks dreamy and cute with amazing sarees. Feel like a butterfly in all those layers of frills on the styles. It is a dicey situation as the blouses may not suit some of you or the look of it is not of your choice, which is completely alright but trying new trends is great experimentation.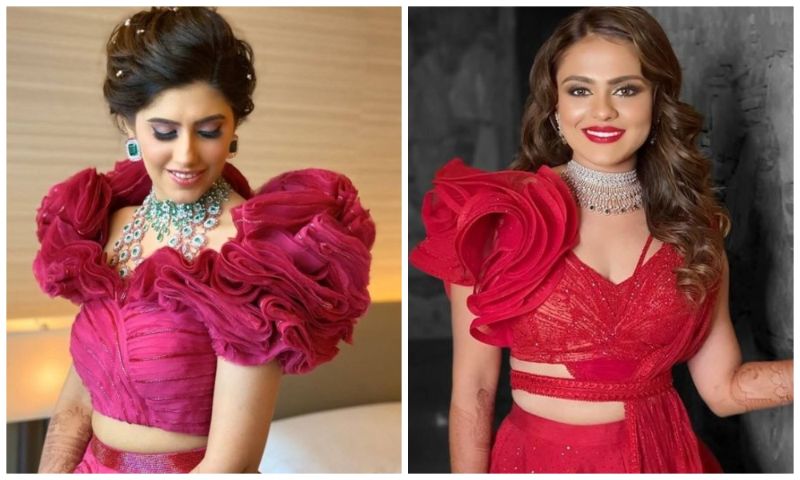 3. Halter neck design
the halter neck design is the one where the style is held by a strap going all around the neck holding the bottom part of the blouse covering the chest which is reaching out into a backless silhouette. It looks sexy and extravagant to be worn at wedding functions.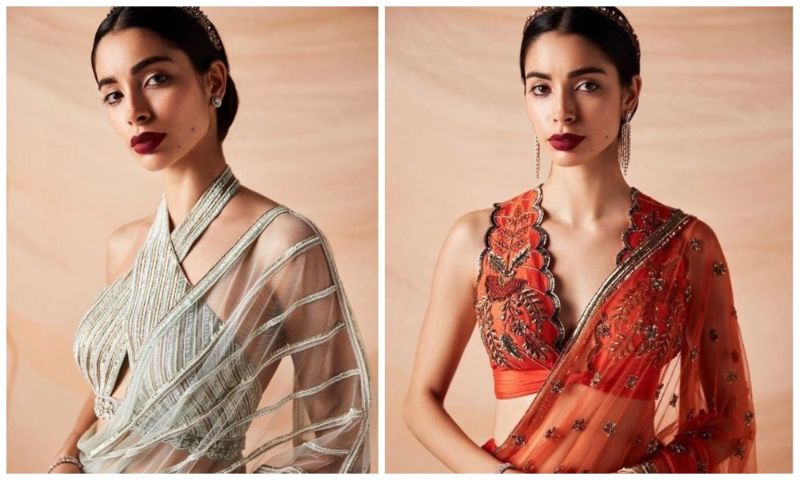 4. Chinese collar pattern
chinese collar is in such a trend right now, that one can easily be a talk of the town wearing the chinese collar as it gives much needed modern look to the saree and style. Chinese collar with full sleeves is a classic and chic way to wear a saree. Weddings are all about experimenting and becoming the talk of the party so here is one way to do it.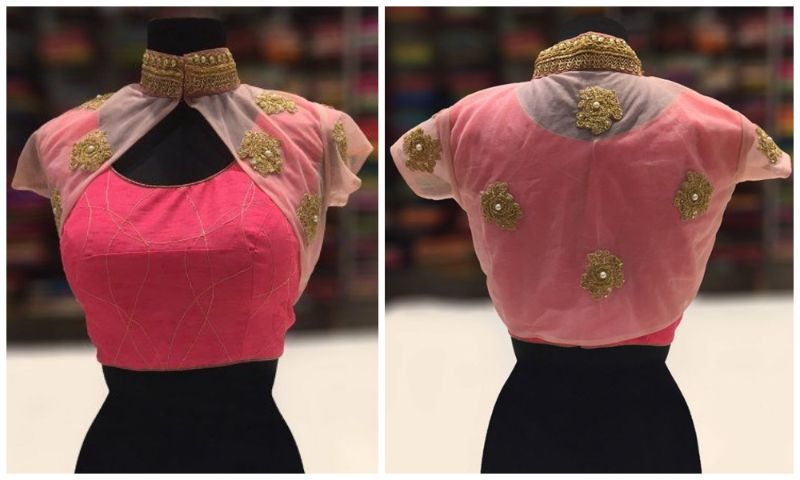 5. Lace blouses
laced blouse comes in a variety of dainty loves. Laces are simple yet unique in width and designs to suit one's type and style. Lace adds so much of oomph factor to the whole look that it has to be everyone's wedding design.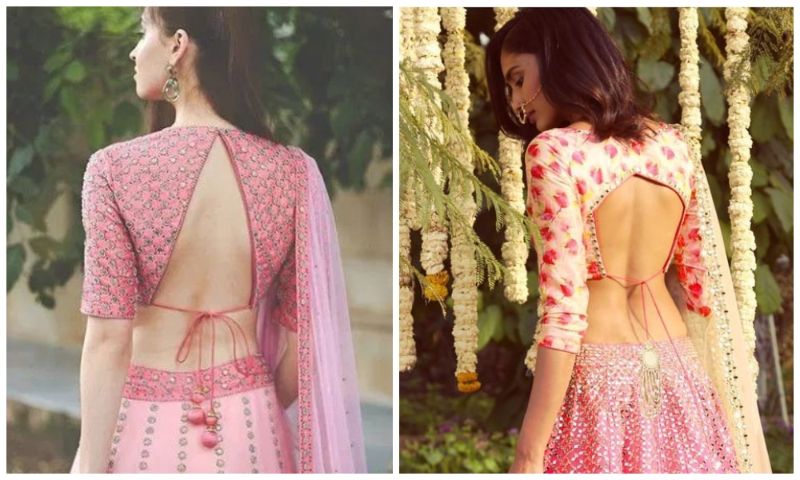 Wedding Blouse Designs Catalogue
6. Classic round neck with long sleeves
a blouse of the round neck is such a classic piece or art that should be there in every woman's wardrobe. Round neck with elegant sleeves of ¾ length or a bit shorter or longer is elegant and simple to style which comes in a variety of colours and shimmering designs to choose from for indian weddings, also jewellery looks amazing on round neck design.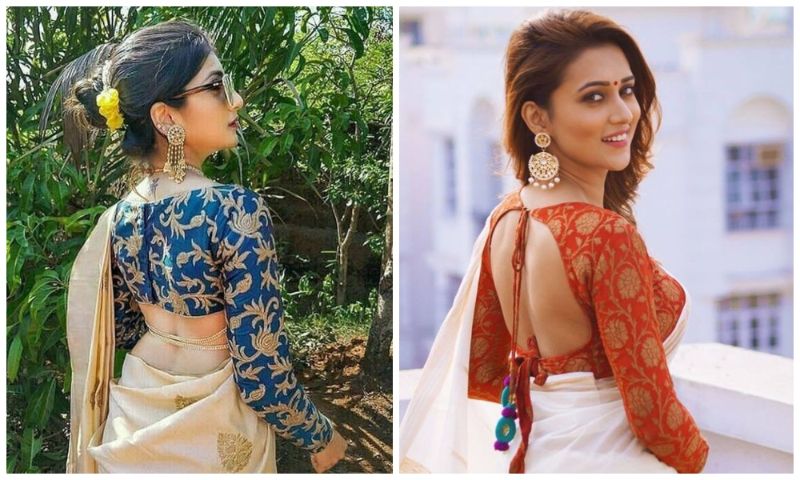 7. Rectangular back blouse
pattern which has a deep back is the best kind of design especially when the back of the blouses is in rectangle shape with a deep back. Oomph factor is doubled with a rectangular sassy blouse with embellishments on it.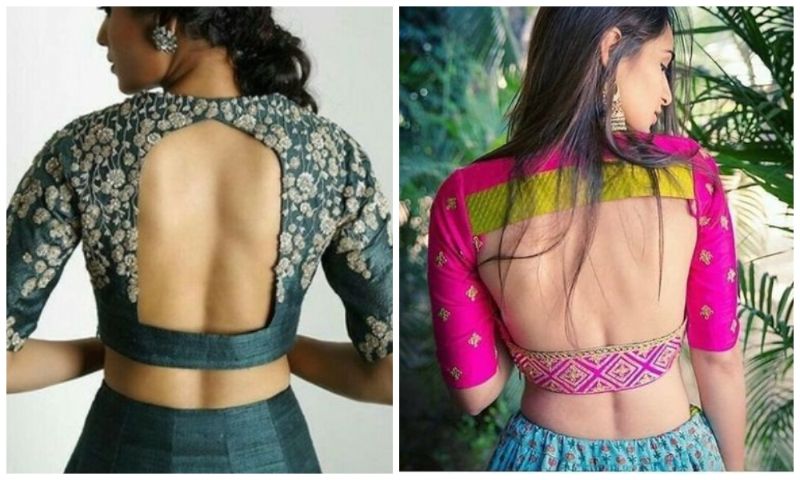 8. One-shoulder blouse
for all the young ladies out there trying to experiment with your style, this is the right way to do it by simply creating or purchasing a one-shoulder blouse with all the bling in it to make it fancy and appropriate for wedding wear.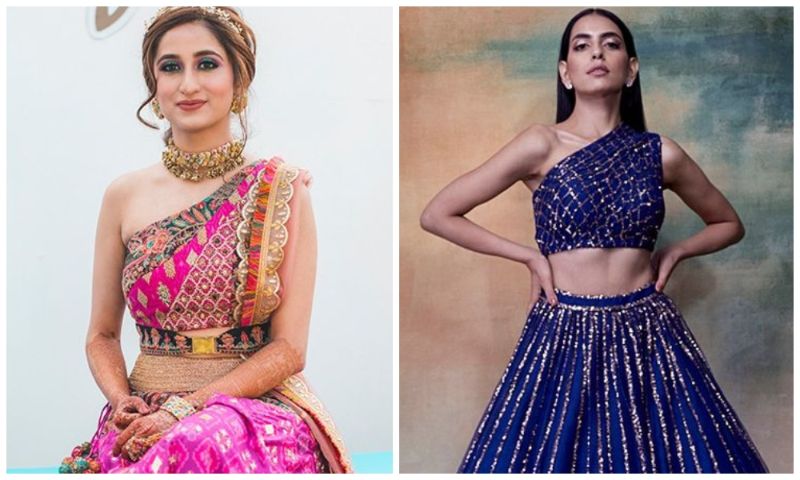 9. Back slit pattern
back slit designs of the patterns are a real classic deal. If you don't want any skin show from the front but don't mind from the back then back slit is the one decision you should stick to which is appropriate for summers as it's breathable enough and classy.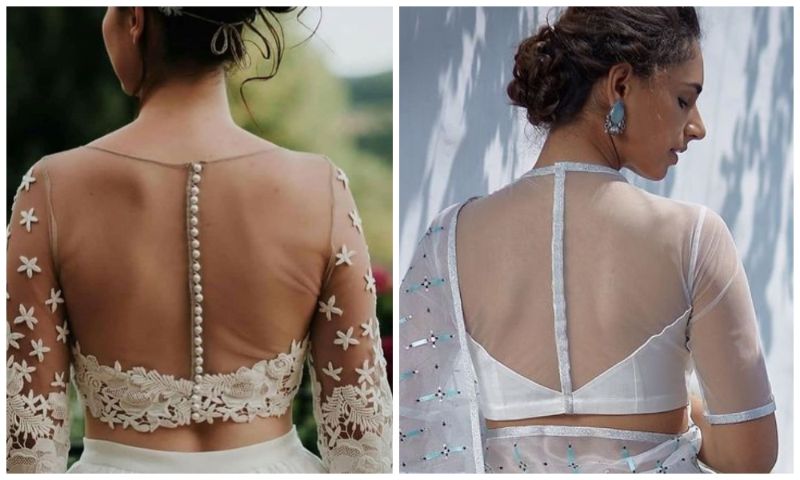 10. Sweetheart blouse
sweetheart blouse is a pattern which has a net on the shoulder and upper chest and on the breast, it sits on the territory of your breast making it look like the shape of the heart. It's so refreshing to look at and appealing to the eyes, it's not bold or too simple to carry. Weddings are meant for such class apart feel.
Stylish Blouse Neck Designs and Patterns
11. V neck style
v neck blouses are those that make a v like an illusion on the front in between the chest which is so sexy to wear and flaunt the skin. It goes well in conventional look and best when paired with heavy-duty saree and perfectly accessorised with a choker or statement necklace.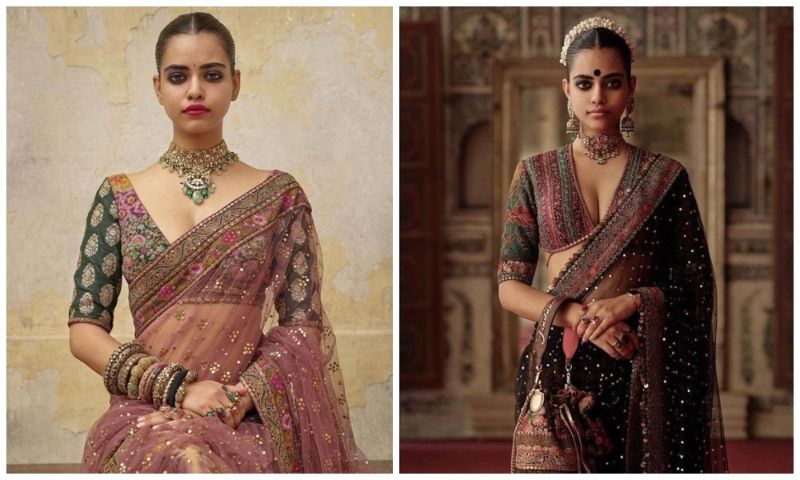 12. Sexy in strapless
the strapless blouse is stunning to wear and any word associated with strapless design should be sexy, bold and beautiful. The strapless blouse is open from the shoulders but they've got you covered from the back, it looks the best with embellishments and heavy work on it to suit the occasion of weddings.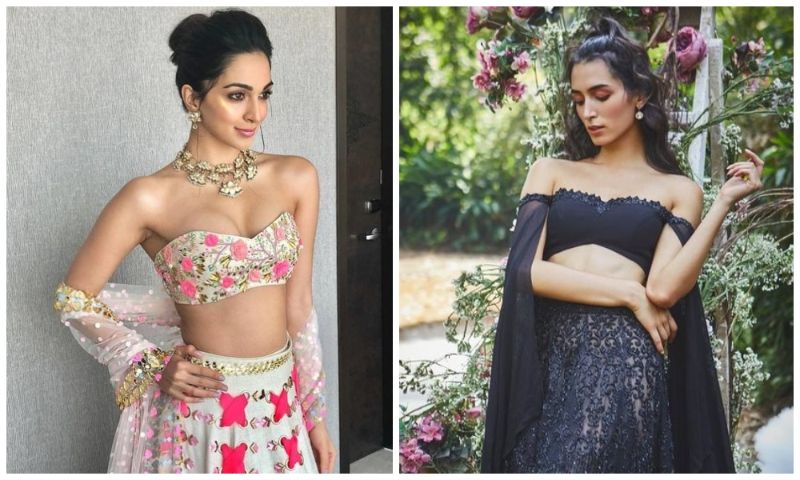 13. Velvet blouse
this basic blouse structure in velvet texture and wonderful conventional work on sleeves can assist you with accomplishing the ideal wedding look. Velvet is such a sassy piece of fabric to be made in a pattern as it can uplift any plain or simple saree with the shine of velvet pattern.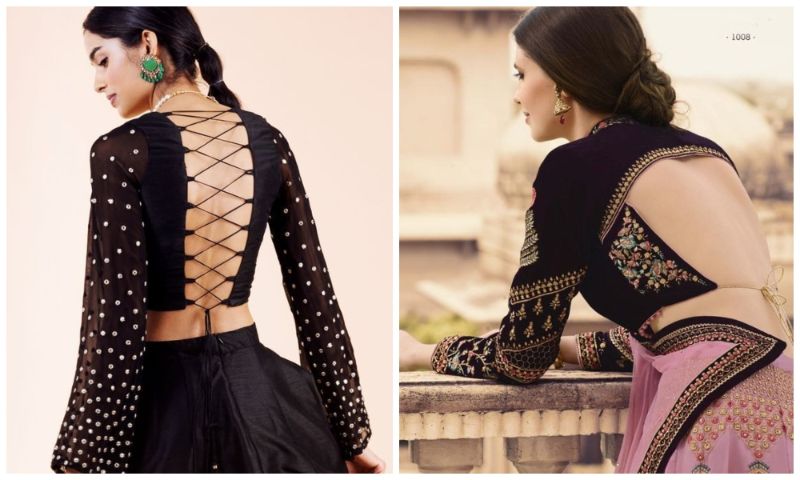 14. Shirt design
shirt style is a classic combination of a shirt in a style which is comfortable with collars and stylish as well. It can be worn in multiple ways to dazzle the look. Pick sarees which are decorative in nature to bring the chic look.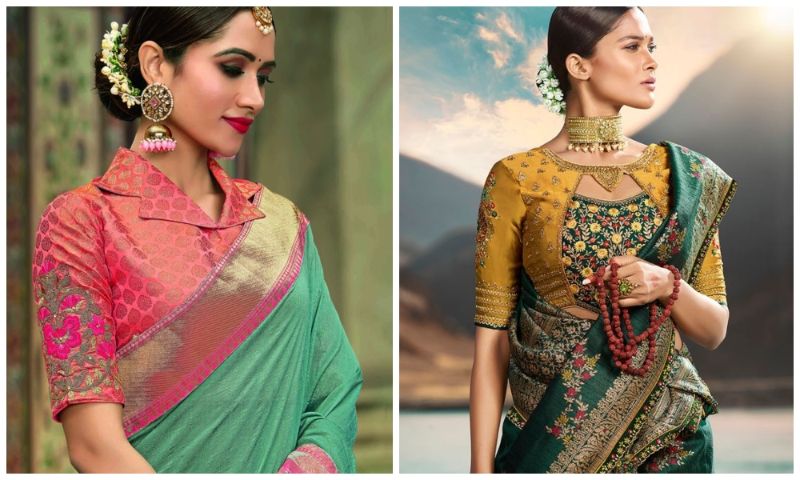 15. Spaghetti strap pattern
one young woman going to a wedding function can never go wrong with spaghetti strap blouse which looks absolutely stunning when paired with a beautiful saree and the right amount of accessories to pair it up with. Weddings are fun and happening and so is your blouse.