Wedding season for all the soon-to-be brides comes like some kind of a hailstorm, where keeping track of everything, becomes somewhat chaotic! This is why, here we have gathered the top 15 best bridal hairstyles that you can easily choose from, to rock wedding as well as the pre and post-wedding ceremonies!
WEDDING HAIRSTYLES FOR SAREE OR LEHENGA
1.Fishtail style braid with flowers
Most brides grow the length of their hair just to be able to style them into beautiful hairstyles! If you too are one of those brides, then you can surely go for this hairstyle. Braid your hair into a fishtail style and cover it up with fragrant and beautiful flowers!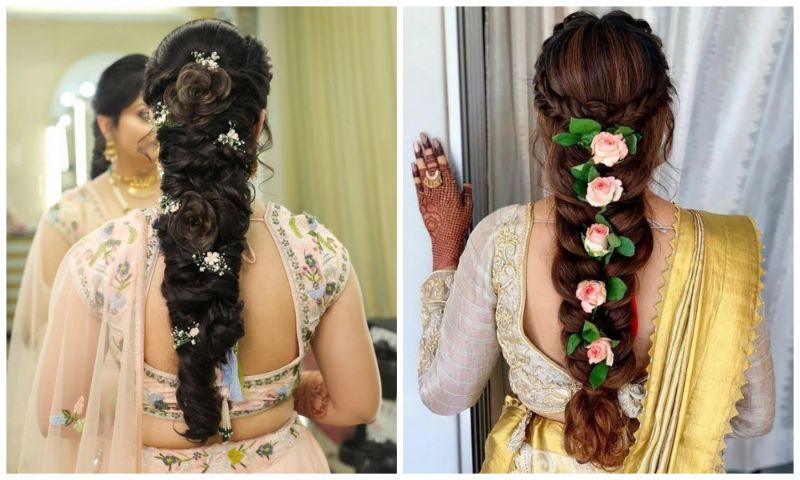 2.Princess Braids and Ringlets
We all have seen princesses and Barbie's with this gorgeous hairstyle since childhood! Those were the days when we all wanted to be like them, look like them! What's better than wearing this hairstyle at your own wedding?!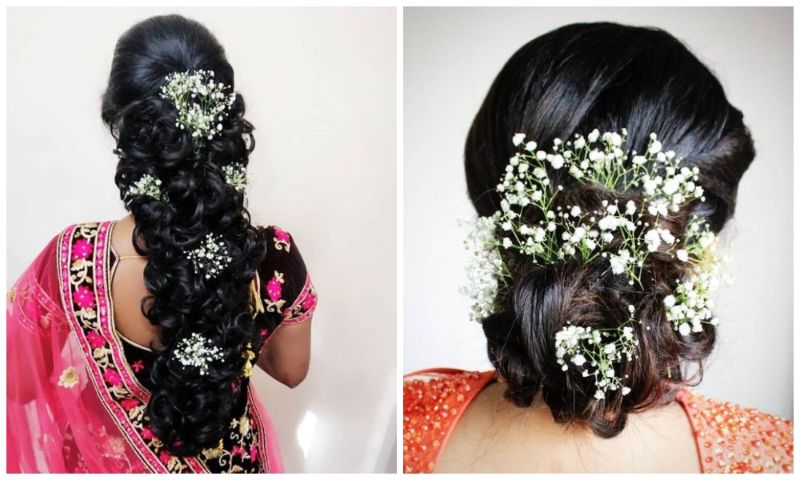 INDIAN WEDDING BRIDAL HAIRSTYLES
3.Beachy-Waves Hair
Not every girl can have voluminous hair that can fall into thick cascades, right? So, you might be wondering about the best way to style your hair into a bridal hairstyle that makes them look fluffy and elegant! The solution is this beachy-waves open hairstyle, that can make you just rock you wedding day!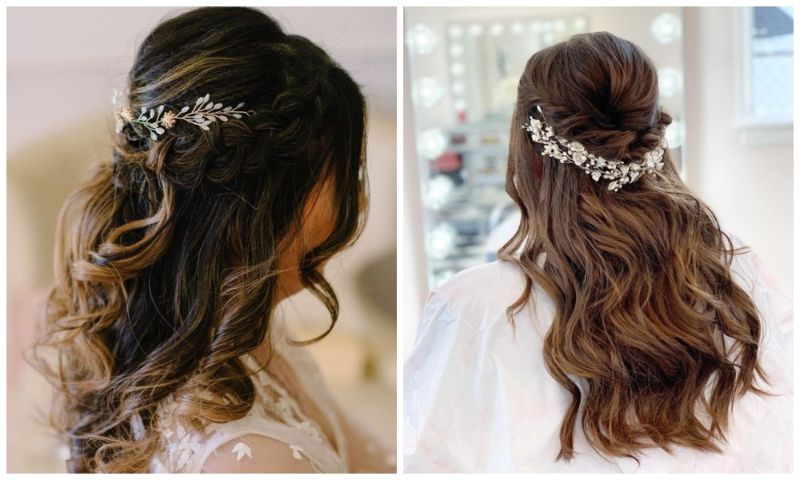 4.Messy Bun
You must have heard or even adorned a messy bun hairstyle when going for that street/nerdy look during your teen's right? Well the messy bun we are talking about here is quite similar yet very different from it. Pulling your hair into a messy but elegantly made puffy bun, at the base of your neck can make you look like bridal goals!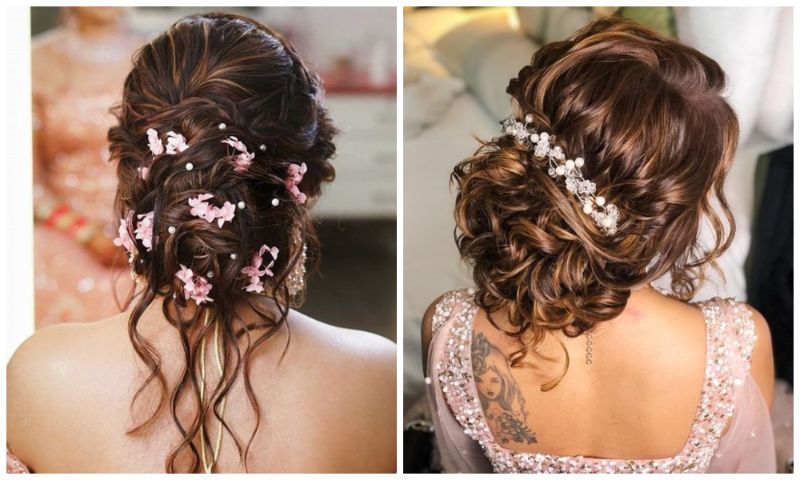 GIRLS HAIR STYLE FOR WEDDING
5.Mermaid Braid
The elaborate mermaid braids are the best way to make your once-in-a-lifetime event, an extravagant one! This hairstyle includes intricately twisted hair that can give you a stunning look!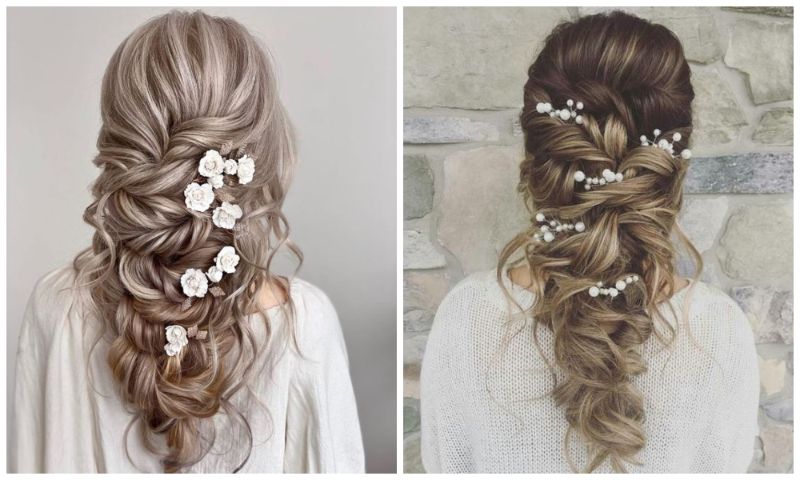 6.Meshwork Bun
The mesh bun look is one of the most popular hairstyles for girls who wish to tie all their hair back in an elaborate up-do! Pinned with beautiful studs or flowers, these buns can make you look just like an artful masterpiece!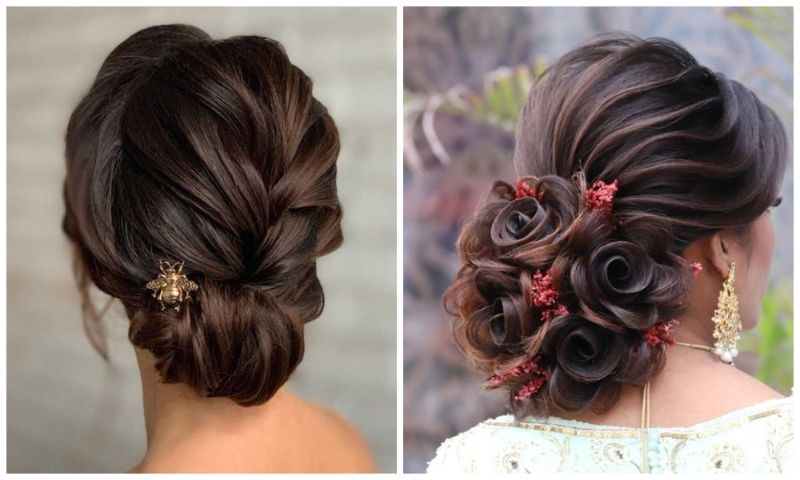 TRADITIONAL BRIDAL MARRIAGE HAIRSTYLE
7.Naga Jadai Braid
The Naga Jadai braid is a classic and traditional South Indian Hairstyle! This hairstyle looks absolutely stunning and magnificent because of all the jewels studded all over the hair!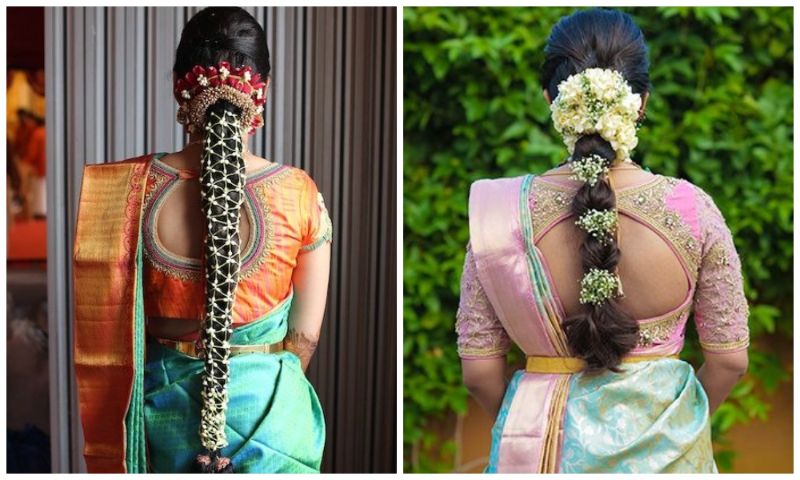 8.Ponytail Hairstyle
The ponytail style hair with soft curls is just the look a bride can ask for on her wedding! The ponytail style is sure to make you look like a boss on your wedding!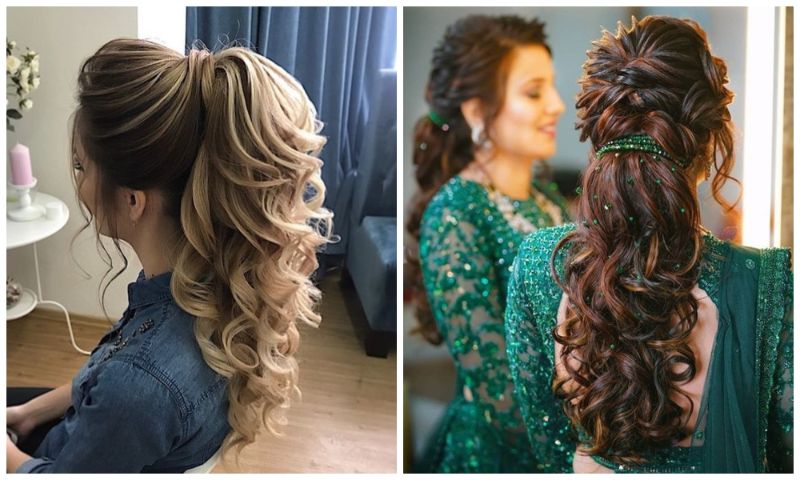 WEDDING HAIRSTYLES FOR SHORT HAIR AND LONG HAIR
9.The Floral Crown Look
Enter into the wedding venue with a look that makes a lasting impression on all the attendees! With a graceful floral crown on your head, give yourself a 'your majesty' worthy look for this day!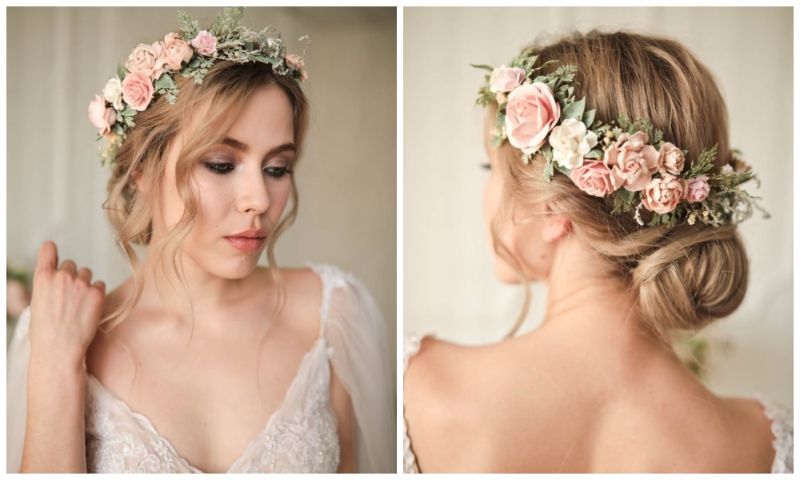 10.Senorita Buns
The senorita bun gives a very Bollywood twist to your wedding look! With a lusciously red rose tucked under your ear, it becomes an even more attractive hairstyle on every bride!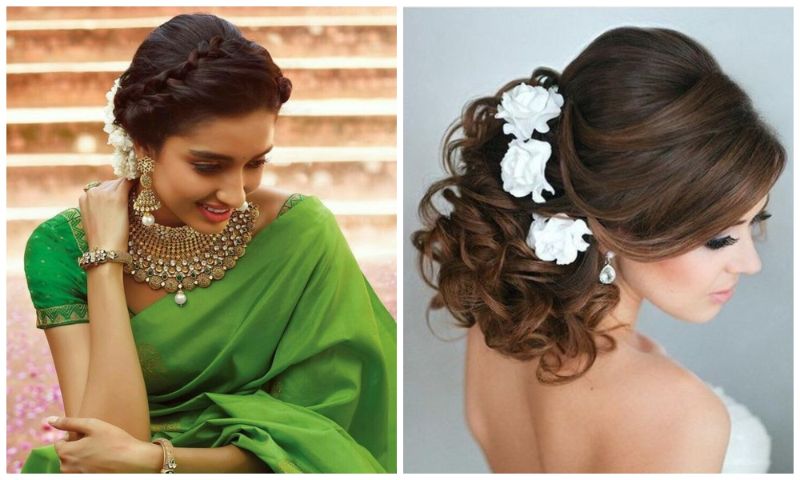 11.Dutch Braids
Make your braid thick and intricate by twisting it into a Dutch-style braid! Top that off with a mang tikka and a few pearls sewn here and there, and your look is complete!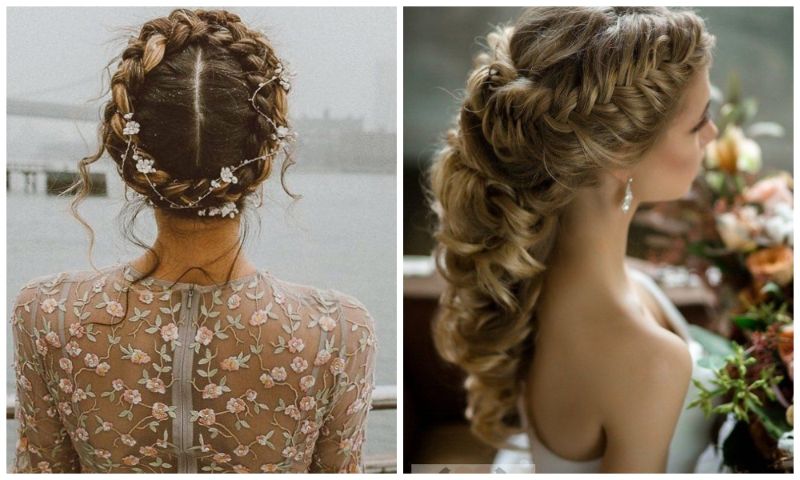 SIMPLE BRIDAL BUN WEDDING HAIRSTYLES
12.Wavy Curls
There are some brides that would rather opt for a simple, yet sophisticated look rather than an elaborate hairstyle for their wedding! For such brides, there is always the classic wavy curly hairstyle to go with! Making your face and your sharp jawlines look even more defined, this hairstyle has been in trends this wedding season!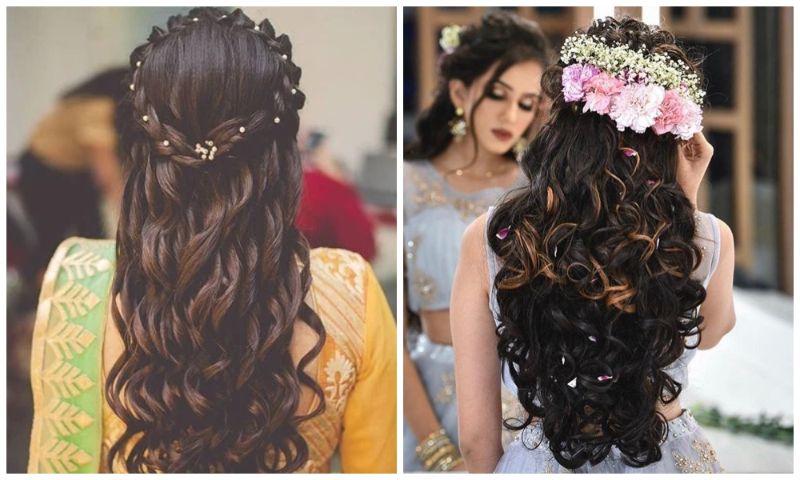 13.The Gajara Hairdo!
Ever heard of 'gajara Mohabbat Wala'? Well if you have, then you must know the significance of this hairstyle for your wedding! A simple braid adorned with jewels and covered with a fragrant 'Gujarat' is all that a classic Indian bride needs as a stunning hairstyle!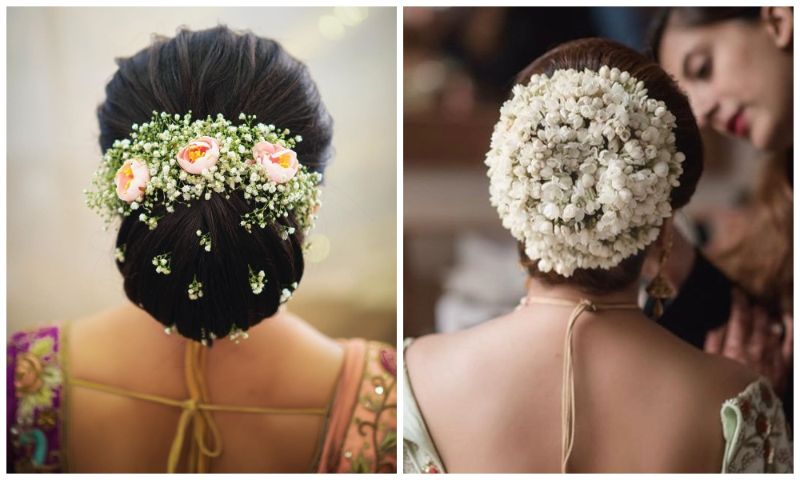 14.Braided Curls
This is one of the most popular hairstyles this wedding season among all Indian brides! This is because it keeps the hair tightly pulled back while making them look absolutely fabulous! With braids at the top and curls at the bottom, it can give you the best of both worlds!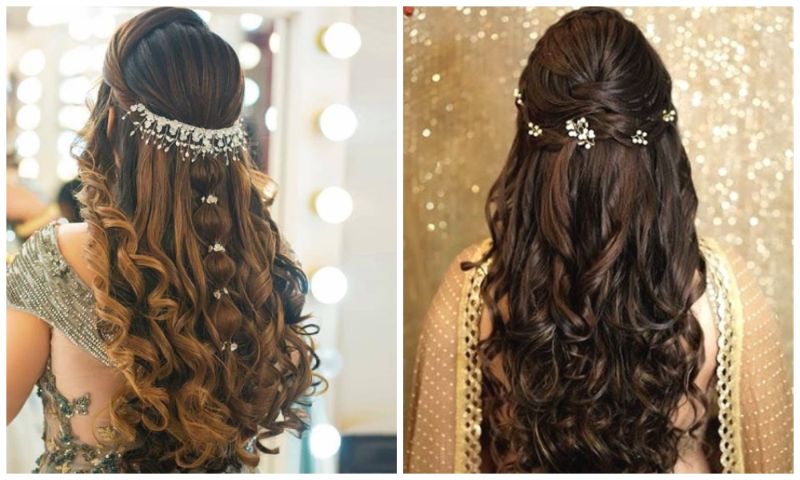 15.Tiara Waterfall!
Every bride is undoubtedly the centre of everyone's attention at her wedding! Therefore, it is very important for you, as a bride, to look worthy of that attention by serving some great looks to all the wedding guests! And the Tiara Waterfall hairdo is just what can help you do that!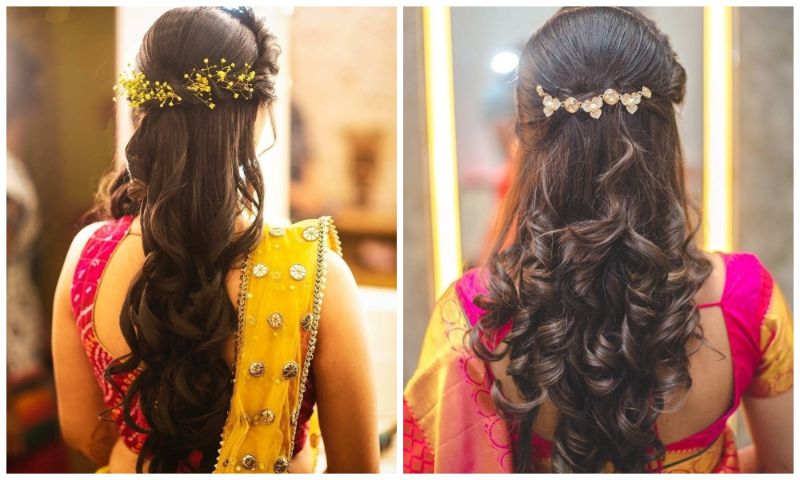 All the above hairdos are undoubtedly gorgeous and attention-grabbing, right? Therefore, make sure to choose one of these hairstyles for yourself to make yourself shine bright as a star and to look your best on your wedding day!