In India, weddings are much like festivals and this festival goes on throughout the year. Now, being the bride at a wedding is the most difficult job. All eyes are on the bride and this day might never come again for the bride.
To make full of your day, you must make sure that your makeup is on point, your bridal dress/gown well fitted, and your jewellery must be in sync with your makeup and attire.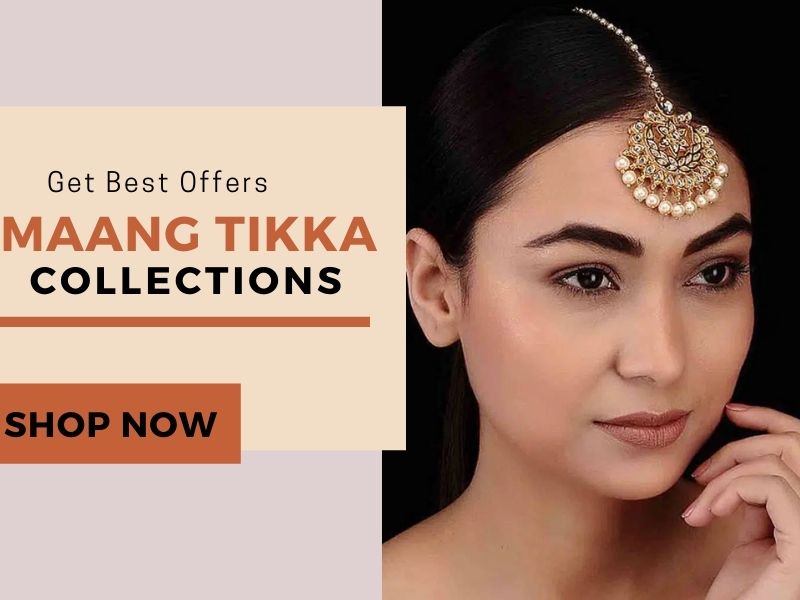 Maang tikka is an essential part of the whole bridal get up and a wrong maang tikka could spoil a bride's complete look. Whatever the custom, tradition, or even the style of attire may be, there is always a great deal of space and requirement for a maang tikka.
Here are ten best maang tikka designs for brides to choose from depending upon their attire, face size and shape, makeup, and other factors:
1.Traditional Rajasthani maang tikka:
Also known as a borla, a traditional colourful Rajasthani tikka would go best with any bridal attire that has even a hint of Banarasi pattern or gotta Patti. There are different sizes and colours of borla available, therefore a bride to be can choose from a plethora of Rajasthani tikkas depending upon the colour of her rest of the jewellery and the shape of her face. Tip: If you have a square face, then borla would suit you the best.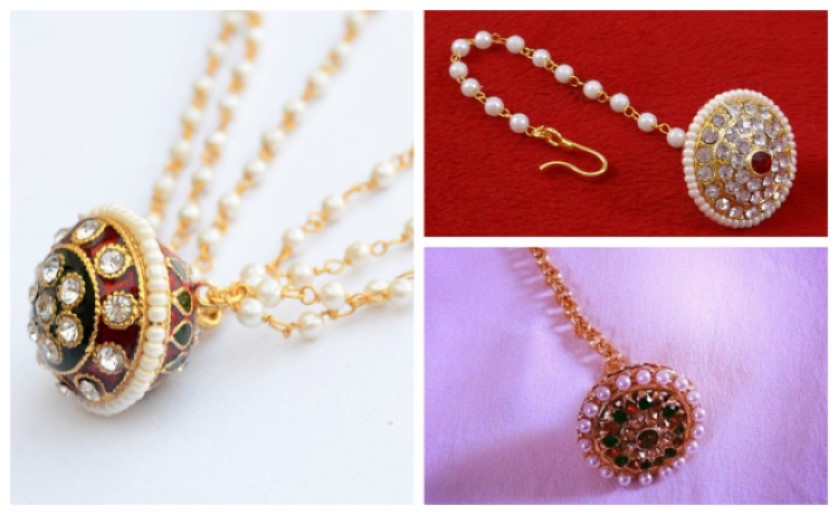 2.Tiara Maang Tikka:
If your bridal attire is in anyway a fusion of modern and tradition or simply modern then this must be your go to. As the name suggests, Tiara Maang tikkas are in the shape of the tears that cover only the tip of the maang and go back to covering and circling a part of the head. Tiara maang tikkas also go well both, gowns and lehengas. Tip: The best hairstyle for a tiara maang tikka would be open hair with a puff.
3.Matha Patti:
This is one of the best tikkas a bride can choose to wear. Whether you have a round face or an elongated, thin one, matha Patti could simply be the best choice for you. Tip: a two or three tier Matha Patti must be worn only if the bride chooses to go with minimal makeup.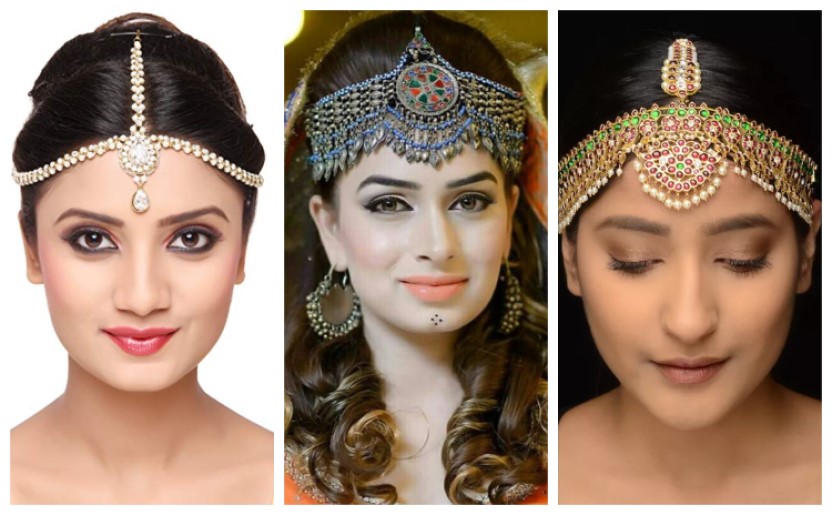 4.Pendent style maang tikka:
 Usually small in size, the maang tikka is the very symbol of elegance. It goes best with silk lehengas, gowns and sarees. If you are a South Indian bride, this could be the best choice for you. The tikka is available in a variety of designs and shapes. Tip: Round shape pendant style maang tikka goes with any type of face. Wear the tikka in such a way that it covers at least half of your forehead.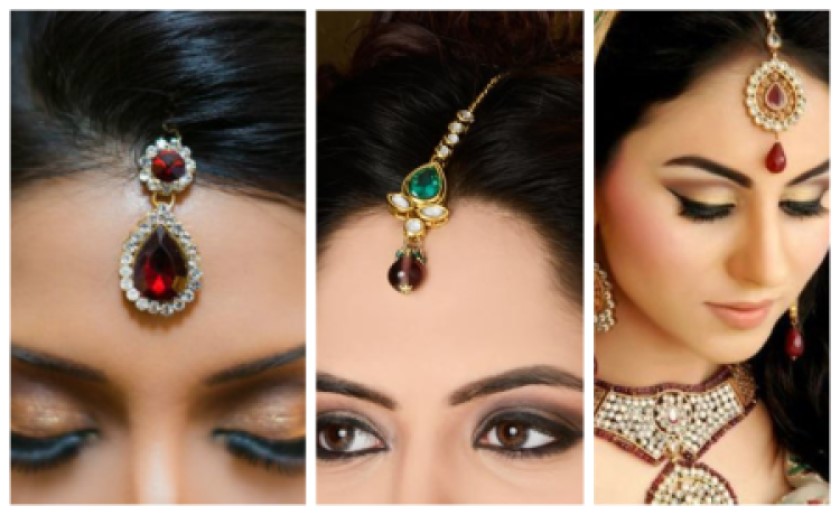 5.Passa Maang Tikka:
A Muslim bride's attire is not complete without a passa maang tikka. However, now non-Muslim brides have also started adopting this style. Traditionally, a passa maang tikka is triangular in shape and heavily embellished with pearls, studs and beads. Tip: The larger the size of your passa maang tikka, smaller should be the size of your earrings.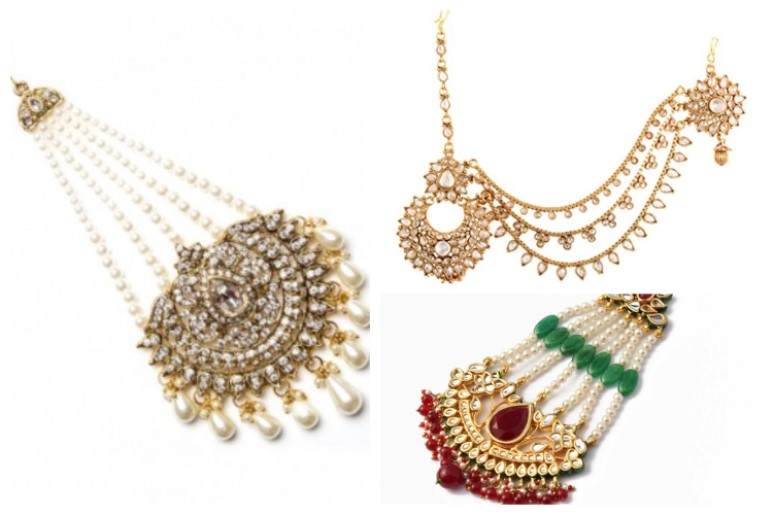 6.Chand/Crescent Maang Tikka:
the most common designs in today's time is the Chand maang tikka as it is suitable for any occasion. However, a bride can pull of a Chand tikka much better than any other guests. These maang tikkas comprise of pearls, Kundan and a sleek chain. Tip: Chand maang tikkas are most suitable for round shape faces.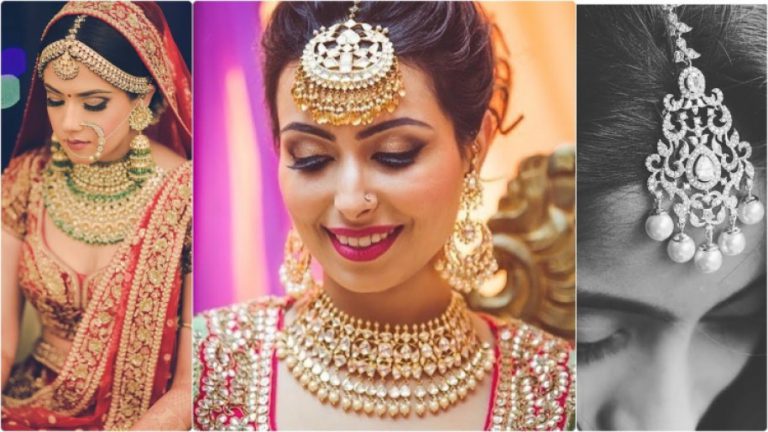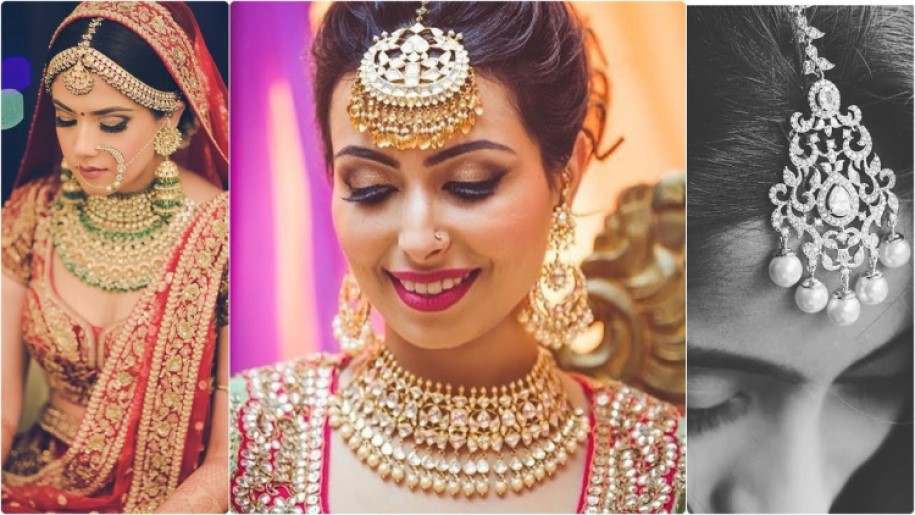 7.Kundan maang tikka:
The most authentic and elegant are Kundan maang tikkas. The perfect combination of colour, Kundan and diamond, Kundan maang tikka gives a rich look to one's makeup. Tip: If you have a heart shaped face, Kundan maang tikka will only make it prettier.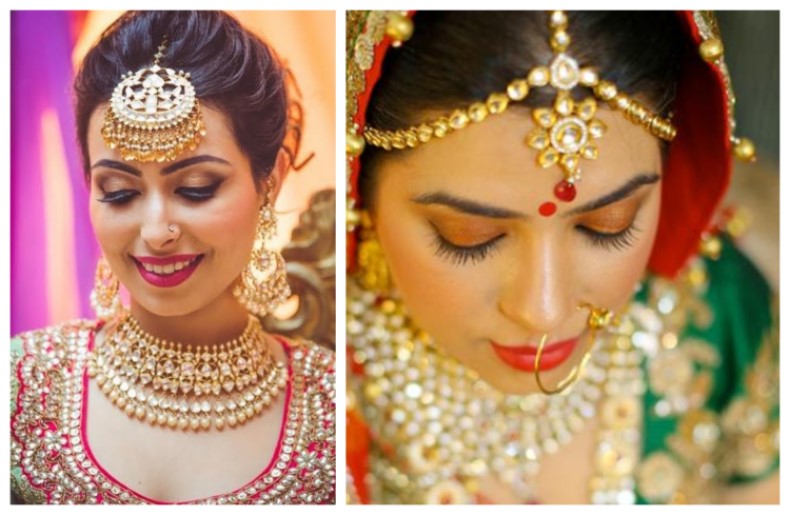 8.Hairline maang tikka:
A more elegant version of matha Patti, Hairline maang tikka is definitely a trend setter! The bold look makes for a perfect Indian bride. From covering the head, to covering the forehead to compensating for minimal jewellery, this tikka has all. Tip: hairline and tikka goes best with hair tied in a bun.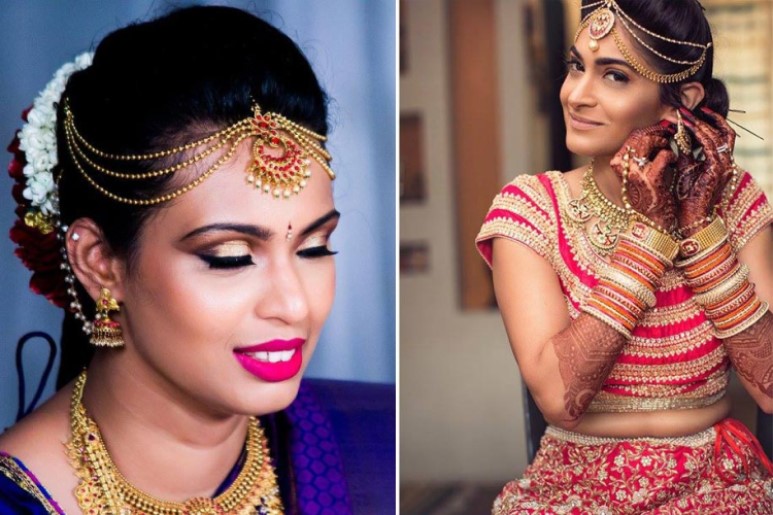 9.Diamond maang tikka:
Nothing displays elegance and grace more than a diamond maang tikka. A pearl drop tikka would add to the charm of your face. One could simply go for a Tikka with a simple end and a leafy chain. Tip: a thin line diamond maang tikka will go best with a collar blouse and dangling earrings.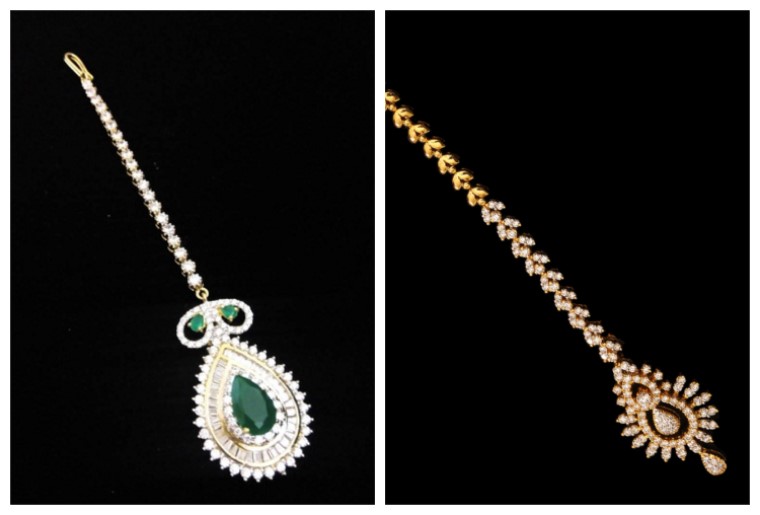 10.Side string maang tikka:
With a beautiful centerpiece, the maang tikka stretches all the way to the back of the head covering, mostly, the right side of the head. The tikka has a number of string attached which help adding a rich look. Tip: the maang tikka goes best with an oblong face.