Diwali, the festival of lights, diwali decoration idea, diyas, Rangoli and sweets. The festive vibes of Diwali are incomparable with any other occasion. Whenever the Diwali festival is around, every Indian mom gets involved aggressively into cleaning the home and then decorating it with beautiful flowers, beads and Rangoli colours, isn't it?
Whenever we plan to decorate home for Diwali, we have a limited choice every time. However, this Diwali, you can prepare yourself beforehand to decorate your home with some innovative and aesthetic ideas.
Here is the list of 18 simple but attractive Diwali decoration ideas that you can on this Diwali festival.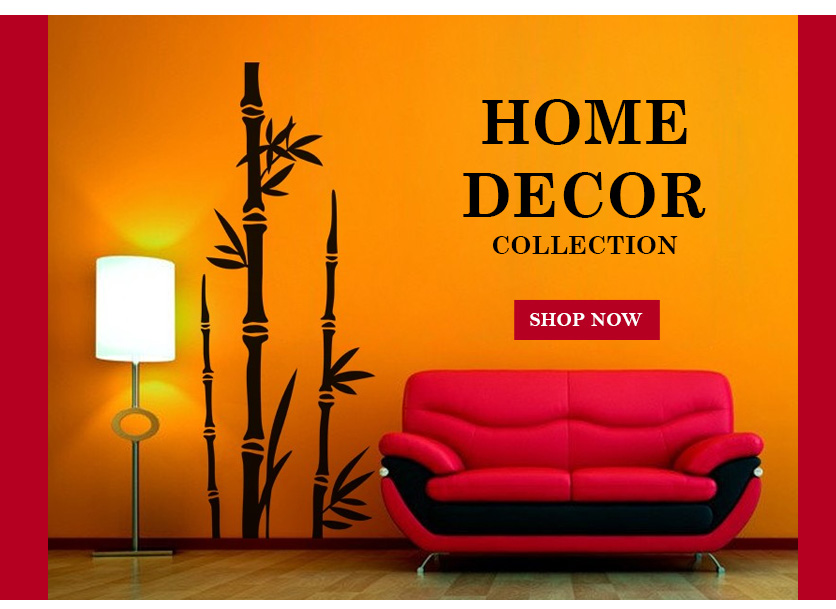 Diwali Decoration Ideas for Home
#1. Rangoli
You must agree with the fact no Diwali occasion is complete without Rangoli. diwali decoration idea for your home with the vibrant Rangoli colour along with the usage of flowers and its petals in between makes the best Rangoli. This Diwali festival, you can decorate your home with amazing Rangoli designs along with using the flowers petals, diyas and earthen pots to make it look attractive and beautiful.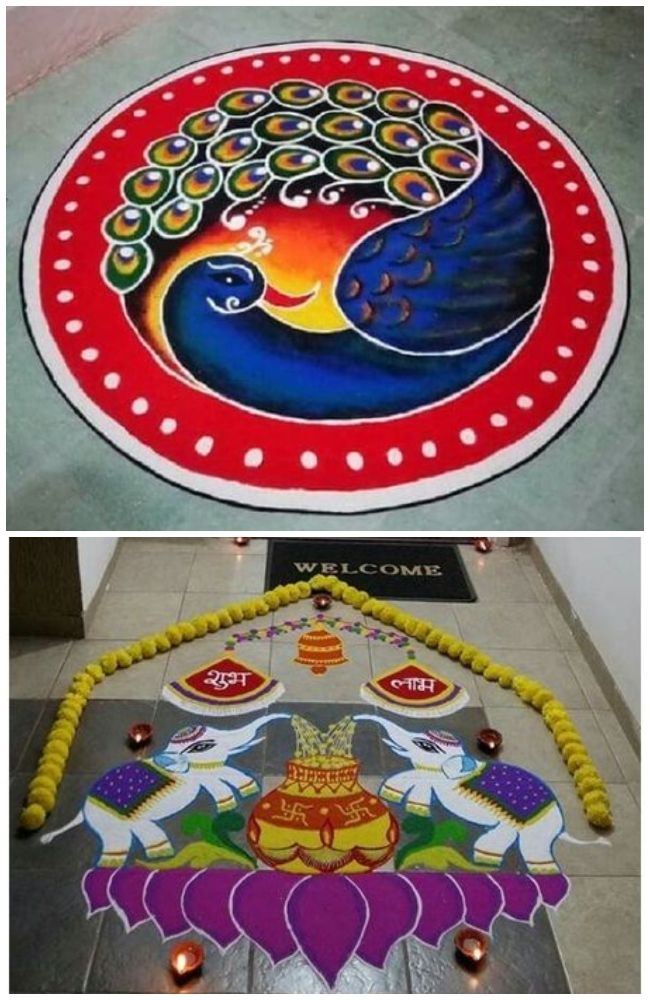 #2. Lights
Without lights, the festival of Diwali is absolutely incomplete, isn't it? You can dazzle and brighten up your home and mandir with the lights while also using the colourful papers to decorate it. Give a personal touch to your own lightning way this Diwali occasion to make it look attractive.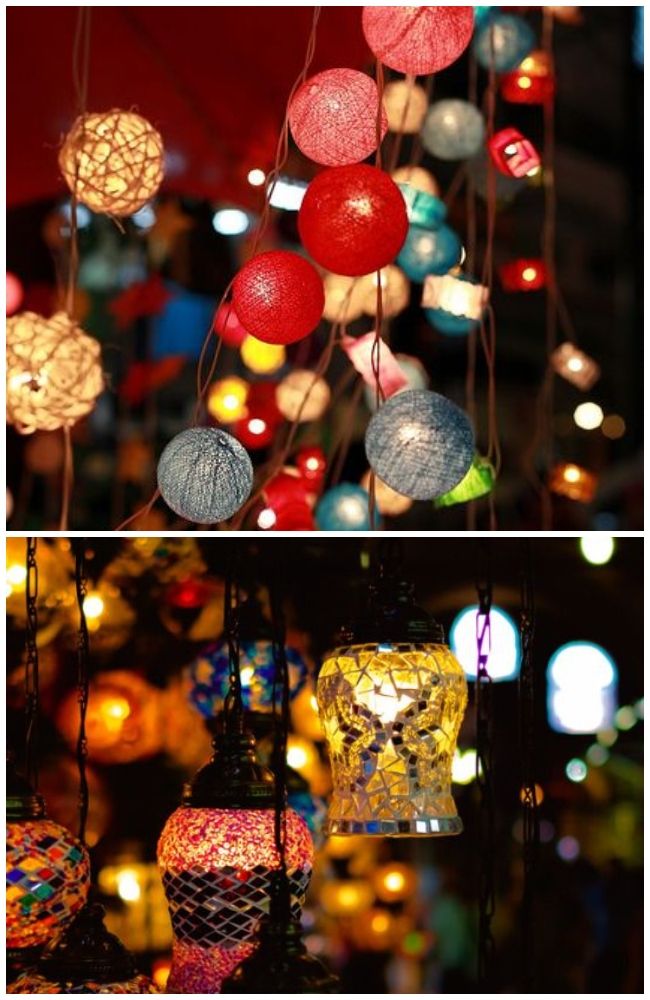 #3. Lampshades
Every year during the Diwali time, the markets are filled with different types of lampshades that you can use to decorate you home. Nowadays, Chinese lampshades are coming that are affordable to buy. However, you can easily make your own lampshades with some sterling diwali decoration idea on it. It just requires a few stationary items and within 10 to 20 minutes you can create your own lampshade to décor your home.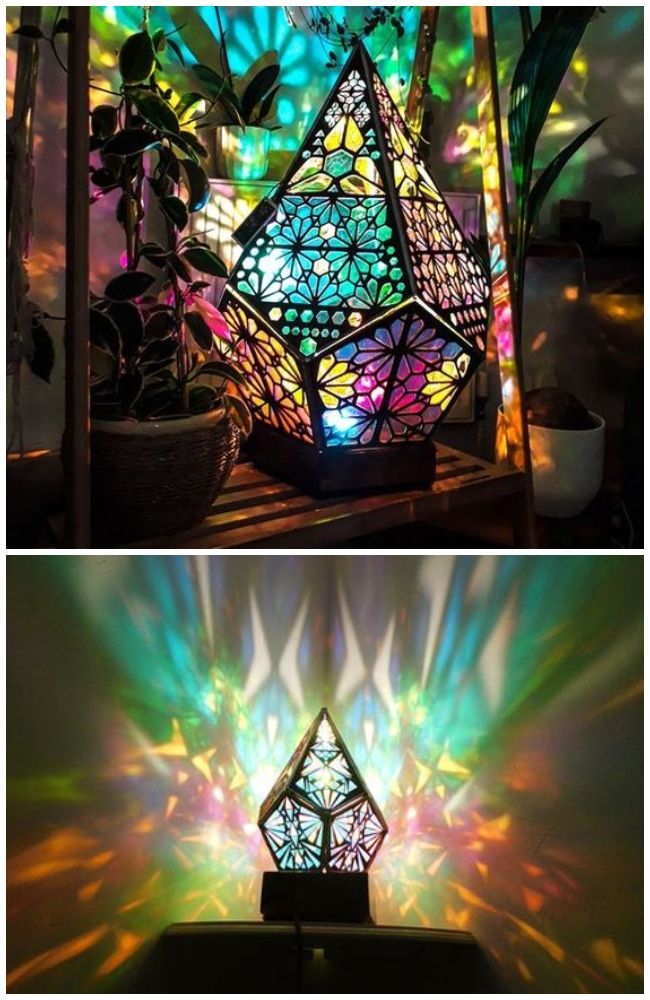 #4. Toran
Are you tired of using those plastic made torans on Diwali occasion? Well, this time, you can create your own torans not from the fresh flowers or plastic ones, but with the beads, papers, cardboards or from old jewellery. Simply add some glitter and shine to the entire toran and you can easily hang them on walls to make it look stunning as wall Diwali decoration idea.
Diwali Decoration Ideas for Living Room
#5. Diyas and Candles
To brighten up your home, use diyas and candles with some different colours and shimmers. You can even use the scented candles and diyas, which spreads fragrance along with radiance. Alternatively, to save few bucks, why not to make your own diyas simply out of flour dough or seashells? This is definitely time-saving and a better way to decorate your home on this Diwali festival. Even the candles with a scented fragrance can create a sweet aroma in your home, which spreads happiness and optimism all around.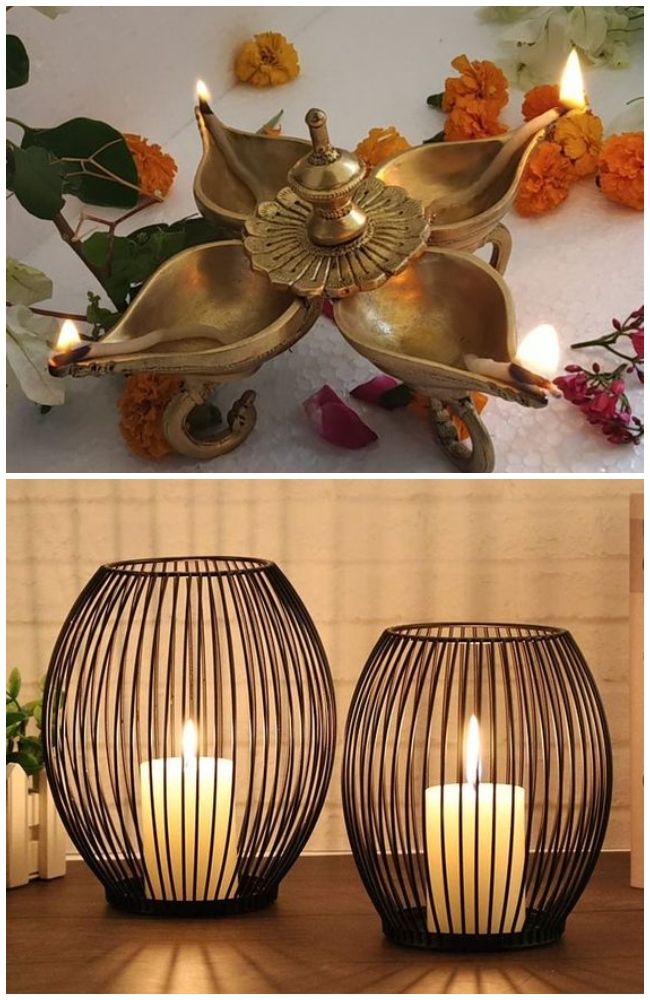 #6. Wall Hangings
Rather than purchasing the old and boring styles of Wall hanging from the markets, you can choose to craft on your own. To make wall hangings, it doesn't require much stuff and time. You can use the cardboard, old newspapers, colourful papers/sheets and fairylights to decorate it. With this material and DIY strategy, you can easily make your own wall hangings with the benefit of decorating them on your own.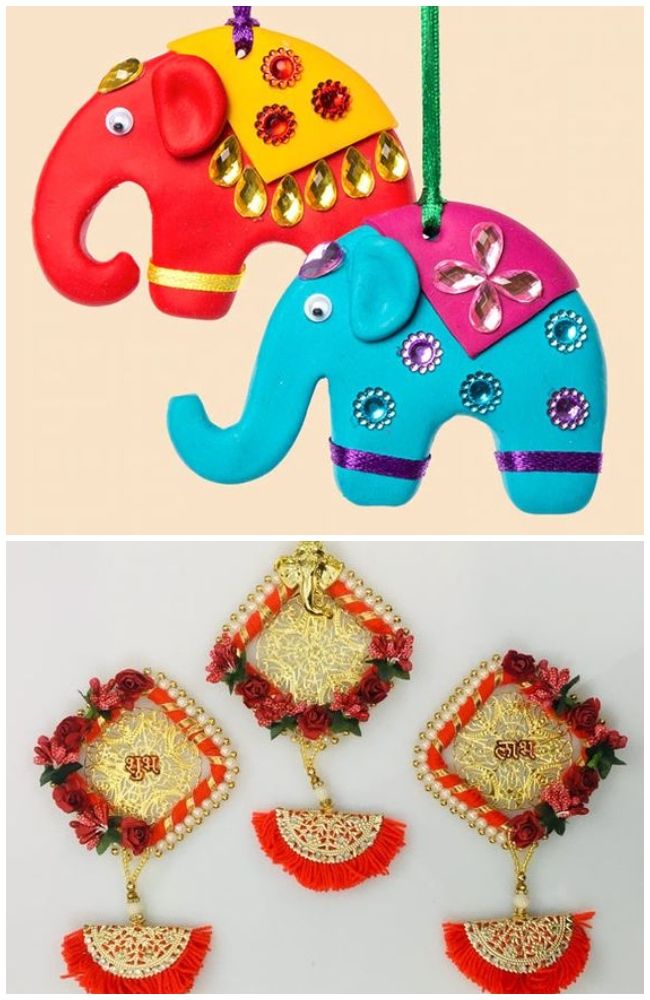 #7. Glass Bottle Lights
The glass bottle lights are quite trending these days. The empty glass bottles with amazing fairy lights or light strings looks wonderful. Just find the unused or even used the empty glass bottles, decorate it with the glitters and fill it with the lights to brighten up your home and rooms.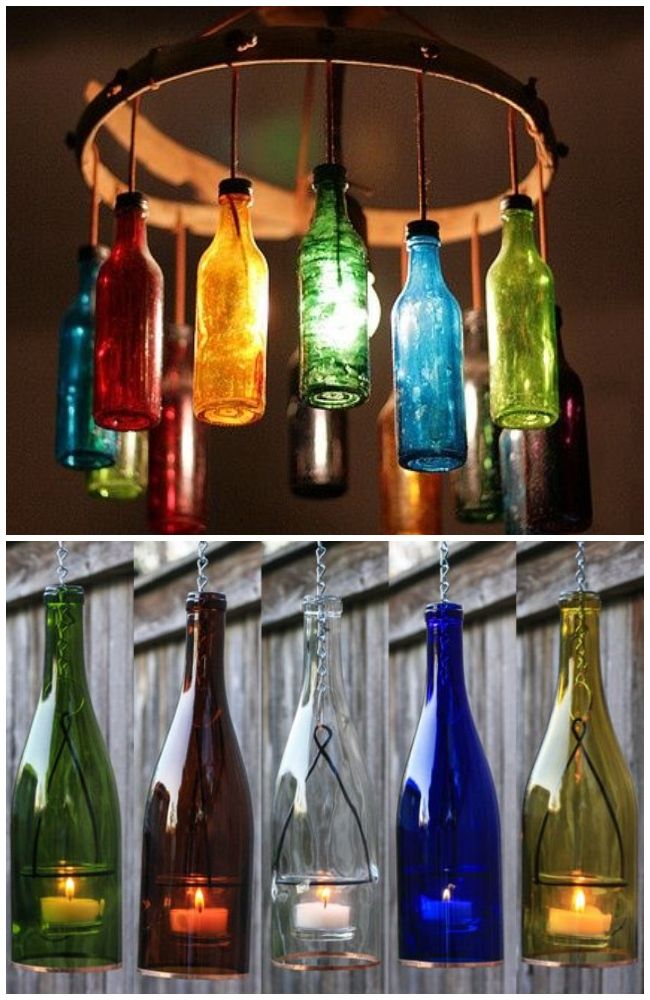 #8. Floating Candles
Now, you can even decorate your home with the floating candles on this Diwali festival. Yes, the different patterns and designs in floating candles in a glass full of water, flowers, beans, beads and glitters is a sure shot way to bring back the old-world charm back to life. So, are you ready to buy some amazing floating candles to decorate your home on this Diwali occasion?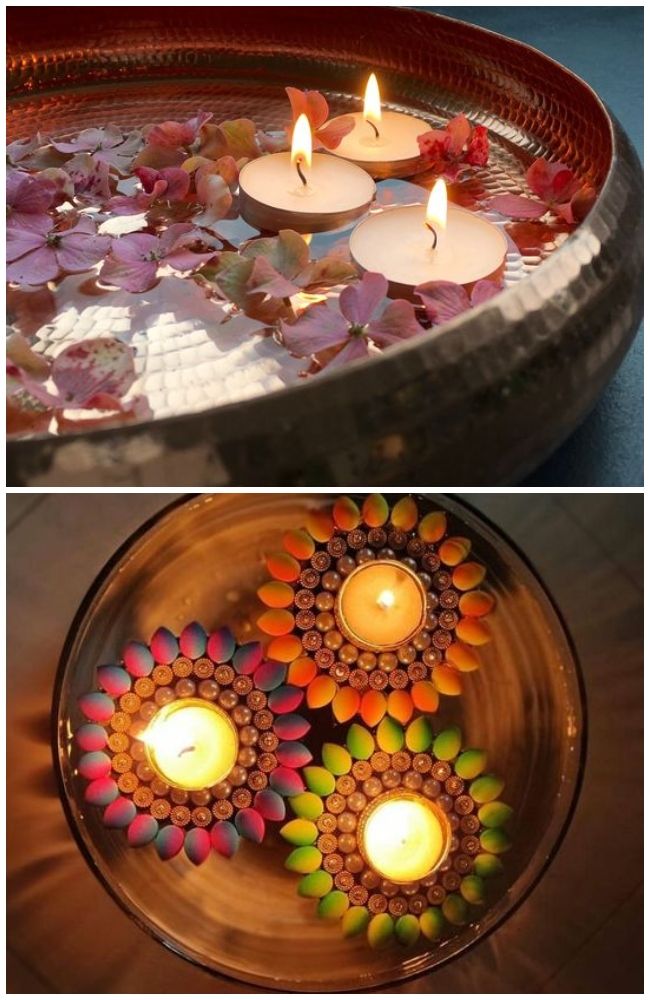 Traditional Diwali Decorations
#9. Plastic Bottle and Glitters
Plastic bottles, glitters, colours and flowers can do the wonders, do you know that? If not, then take out an unused plastic bottle, decorate it with glitters, flowers and colours to make it an innovative piece of decoration. You can even place the candles to enhance its beauty.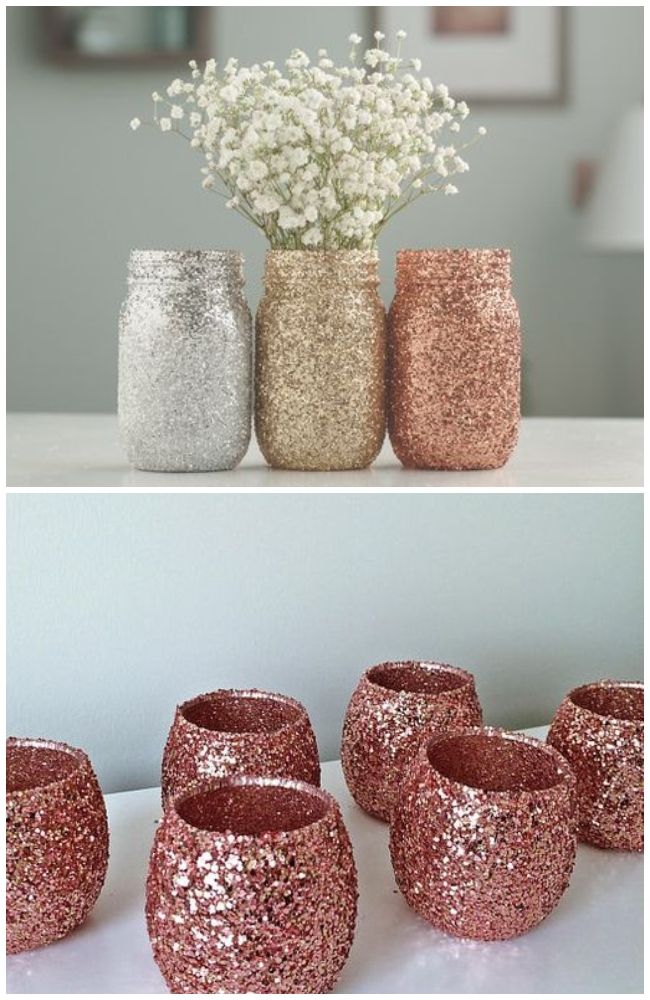 #10. Flower Decoration with aroma
Decorate your home with the different types of flowers either artificial or fresh. To give a pure freshness and fragrance to it, you can add some aroma to it to keep the room fresh and smell good. Without losing the festive spirit, you can innovate your own ideas for decoration with flowers and aroma to make it a memorable one for everyone.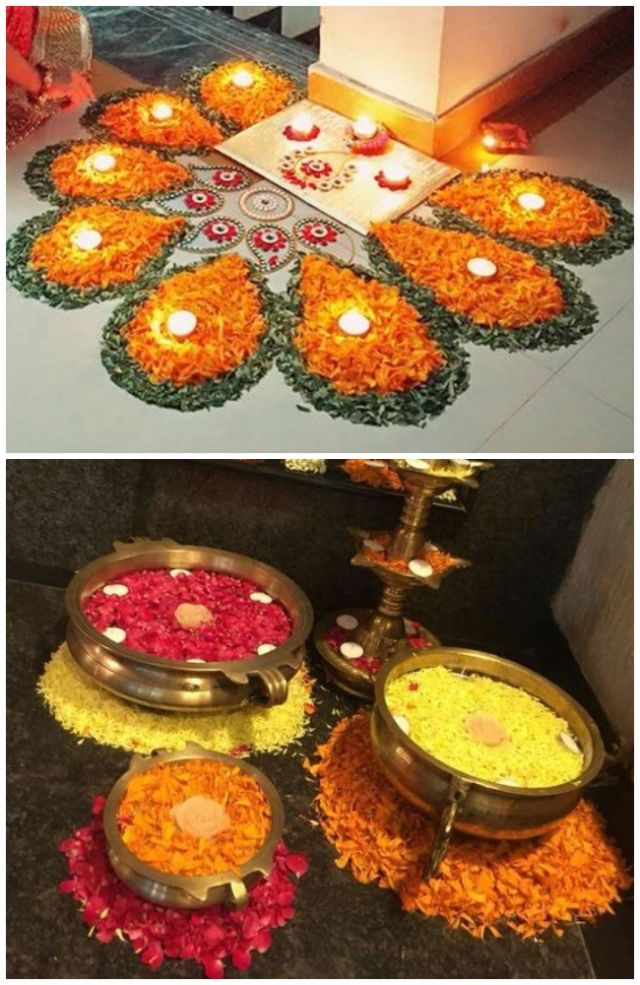 #11. Paper Cups with Lights
Forever loved and extremely wonderful in design for decoration diwali decoration idea, the paper cups garlands are just attractive to decorate your home with, especially on Diwali occasion. Now, you can create your own paper cups garlands fitted with lights for a pretty and quick decoration for your home. Simply wraps the paper and make cups from it in different colours and then mark the hole to put the light bulb in it. Isn't it easy?
#12. Toran from paper
Of course, you can decorate your home with the homemade torans from the papers. In comparison to fresh flowers, it will surely not give you that fragrance but it will last longer than that. Just buy the crepe papers in varied colours and create it in your own design.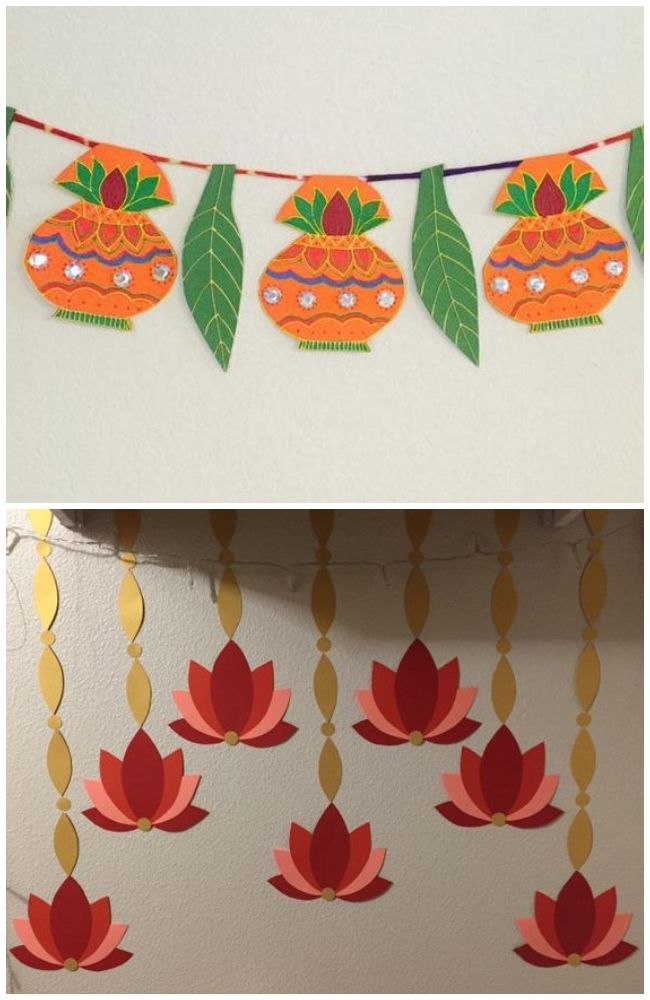 Diwali Light Decoration & Diya Decoration Ideas
#13. Candle inside the Jar
Here is another amazing diwali decoration idea – Candle inside the jar. Yes, take out those old and unused jars from your kitchen and decorate it with the laces and ribbons and then place a scented candle in it. It's that simple to decorate your home on Diwali festival. You can even go with the acrylic paints on the glass surface to make it look wonderful and beautiful form the outside.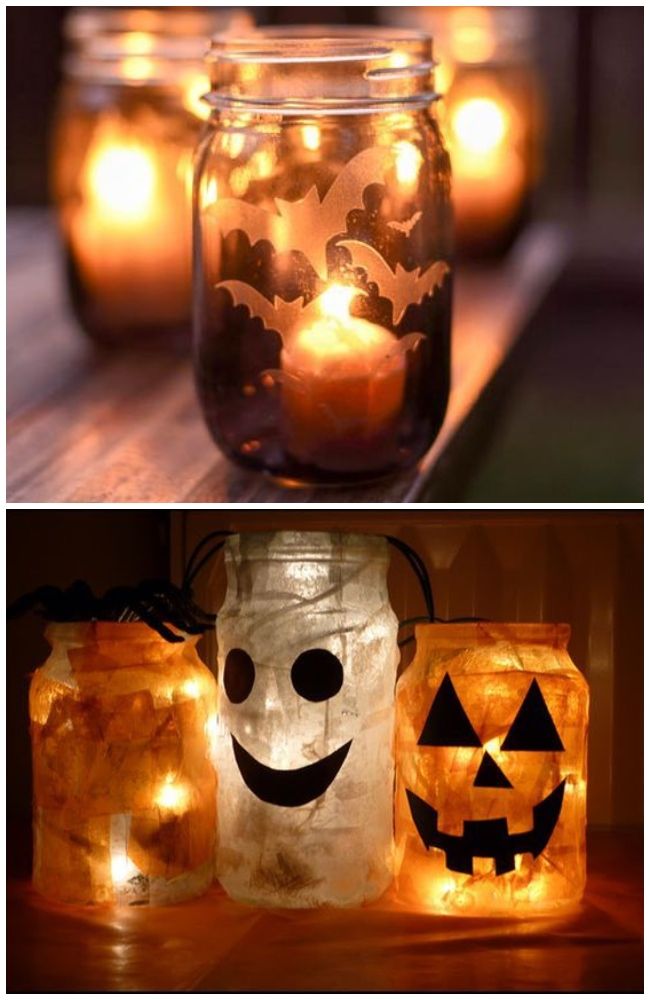 #14. Paper bag Lights
Another excellent way to decorate your home on Diwali occasion is with paper bag lights. Nowadays, the paper bag luminaries in different shapes and styles are available in the market during the time of Diwali. However, you can choose to craft your own paper bag along with the fitted lights or bulbs to keep the ambience warm and little cosy. So, feel the dramatic effect in these sterling and magnificent paper bag luminaries on this Diwali festival.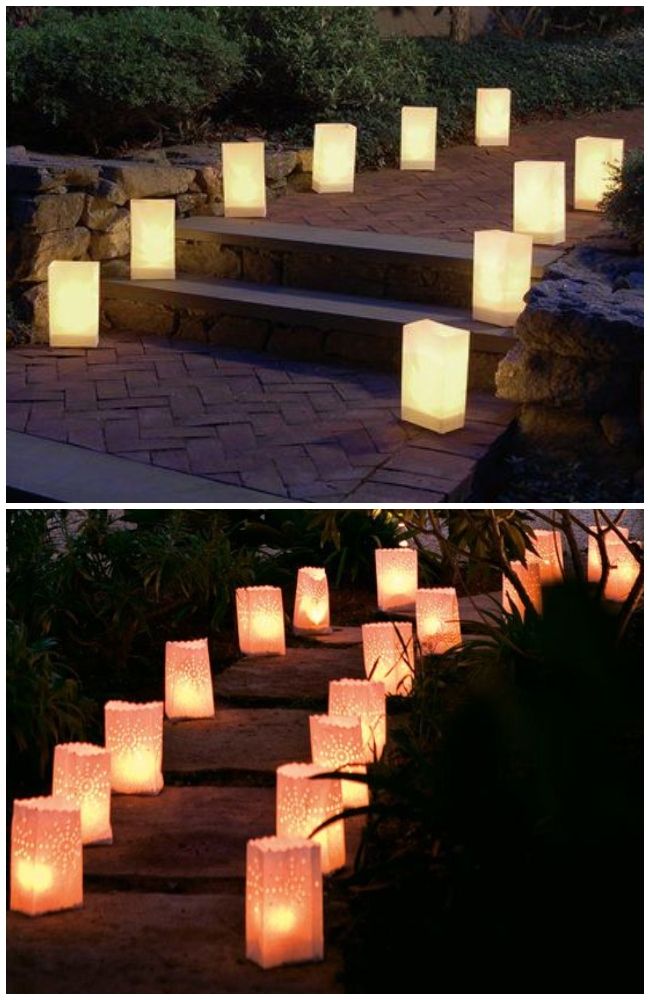 #15. Tealight Candles for Decoration
One of the staple and all-time favourites for Diwali decoration is tealight candles. You can even decorate the tealight candles with the gorgeous and designer washi tapes. Just buy the perfect tealight candles and then embellish it with the washi tapes to make it look wonderful and eye-catching even among the visitors. Keep the washi tapes in different colours to make it look vivid.
#16. Hand painted Diyas
Without diyas and candles, Diwali is incomplete. Now, you can paint the diyas on your own with some innovative and aesthetic designs on this Diwali festival. Simply buy the plain diyas from the market and then decorate it with the acrylic paint along with using the sequins, beads, mirrors and other ornamentation. Hence, plan to decorate your diyas and make everyone go crazy over the design.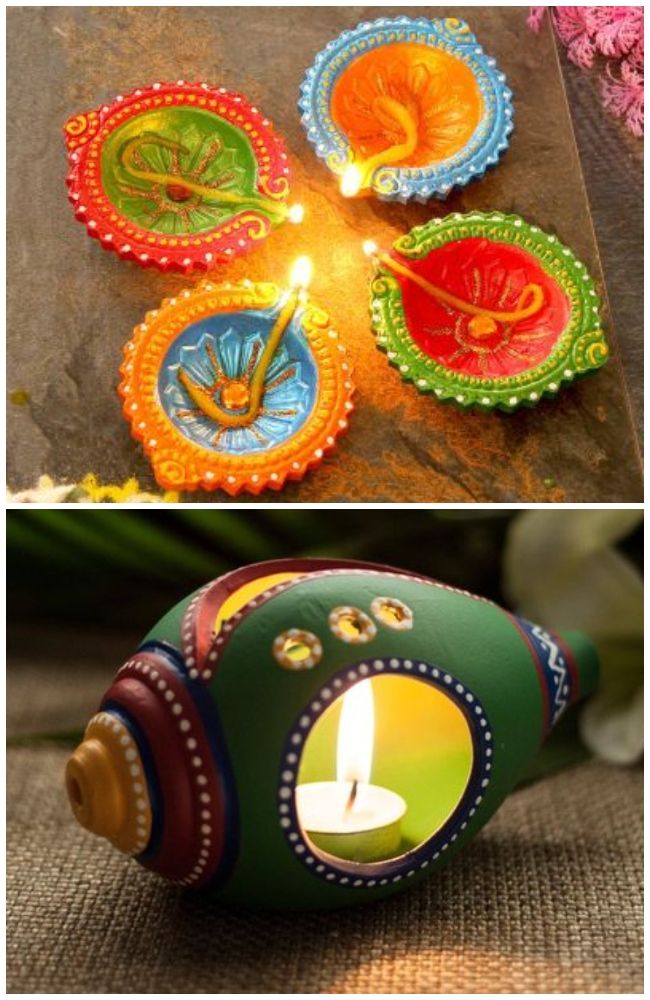 #17. Fairy lights with Pictures
This Diwali festival, you can add some twist to your decoration style. How? Everyone usually decorate their house with lights, right? So, yes, we have to use the fairy lights but with a twist. We will be using some of the best pictures from the past months to remember the memorable days of the year that we have spent with our family and friends. Hang the photos or snaps in between the lights and then hang the entire garland of lights on your favourite wall. So, start clicking pictures and create some magical moments to remember them forever.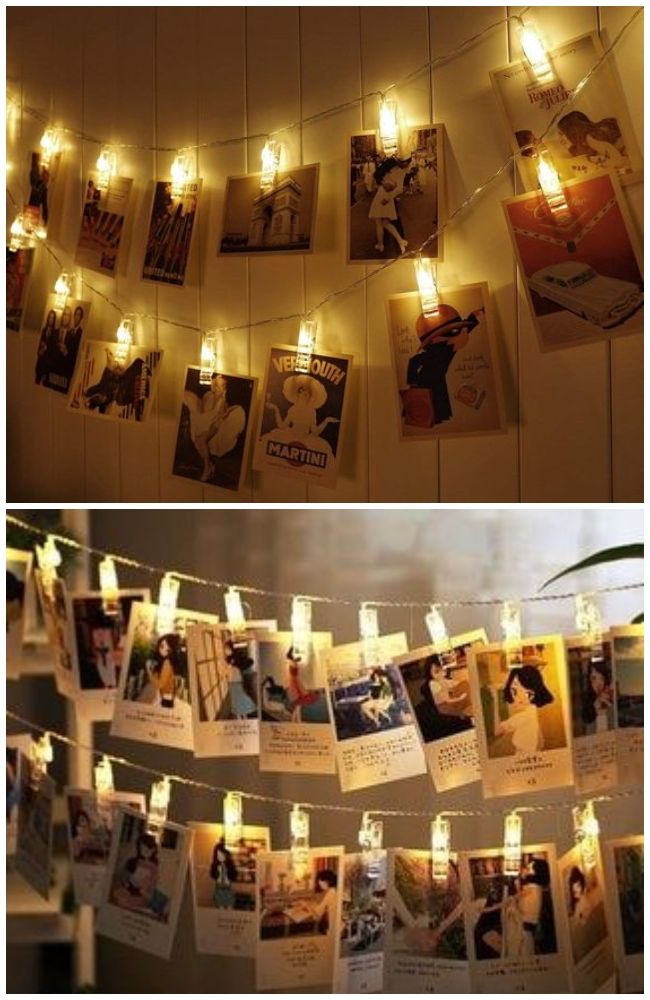 #18. Candles decorated with Henna
The last and final is ladies' favourite, Henna design. Yes, you have heard it right. You can decorate the plain white candles with the sterling henna design basically at the bottom to make it look wonderful. When the henna gets dry, apply a single coat of PVC glue on it with some water. Once the singe layer of the glue gets dried, then apply the second as well to make sure the design remains. This is definitely an innovative and out of the box idea to decorate your candles on Diwali occasion.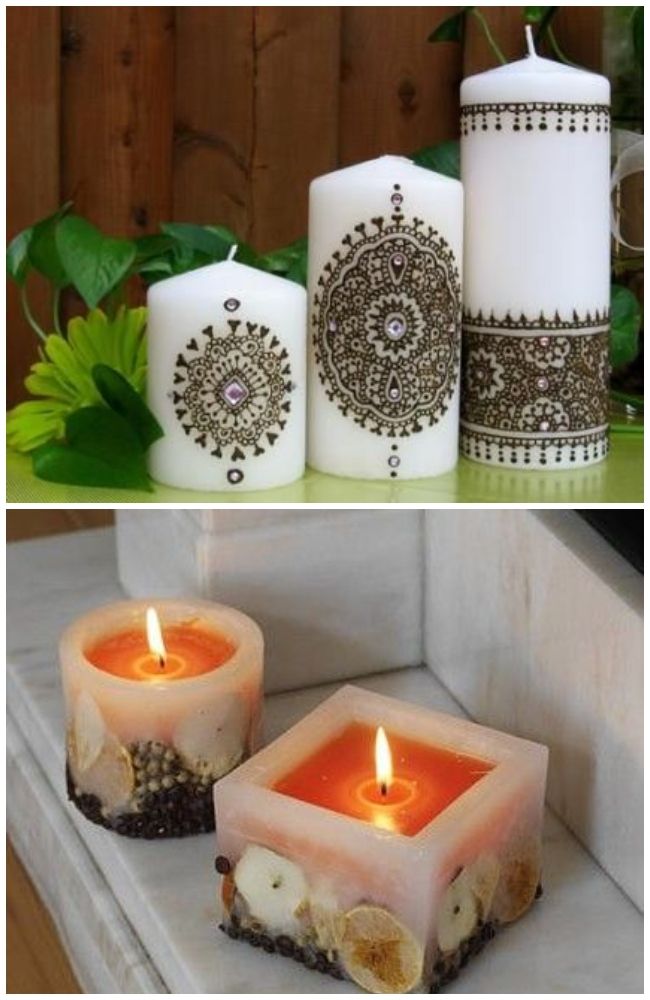 To sum it all up, we hope that the above-mentioned diwali decoration idea in 18 different types and designs will help you to finalize the one you are looking for this season. Hence, primp your home space on this Diwali with some unique and innovative diwali decoration idea.