Navratri is a special festival for all Hindus. This is the occasion of 9 nights which completely dedicated to the ma Durga. This event is celebrated like a big occasion in the whole world by Hindus and north Indian people and every night they have organized many functions like Jagrata (pray to the lord Durga), Garba etc.
These 9 days becomes more special part for everyone because each day has some value, specification and importance. In these nine days, every Hindus pray for 9 soles of ma Durga. Navratri has its own story and everyone celebrating these days because our old age people and Shasta has an opinion that once upon a time there is a battle between lord Durga and Mahishasura (demon) in against of egotism.
All nine days of Navratri dedicated to the 9 avatars of lord Durga, Shailputri, Brahmcharini, Chandraghanta, Kushmunda, Skand Mata, Katyayani, Kalratri, Maha Gauri, Siddhidatri and all days having dedicated and has some specification. Let's See what the 9 colours are there.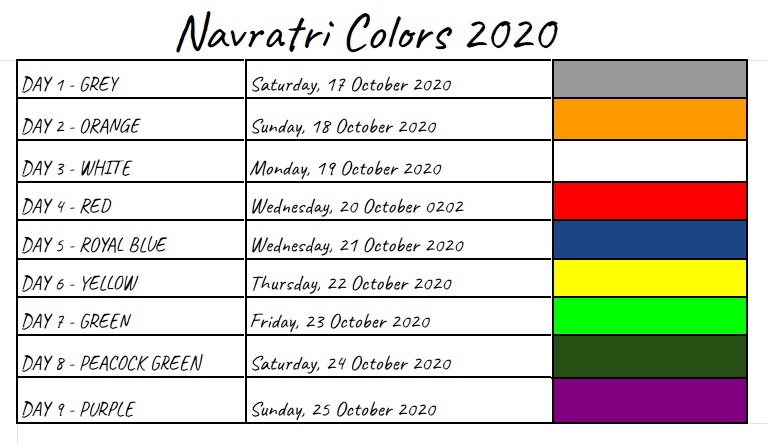 Navratri 9 Days Colors List Of 2020
DAY 1 – Grey (Saturday, 17 October 2020)
This Navratri festival starts with Grey colour. Grey colour has priority. In Navratri colours, grey colour is the best and signifies the power of conceptual understanding and peace. This colour is dedicated to the goddess "Shailputri", Meaning of Shailpurti is Shail means mountain and Putri mean daughter.
DAY 2 – Orange (Sunday, 18 October 2020)
Orange colour is made up of red and yellow colour which signifies energy and happiness respectively. On this day Hindus do pray for Devi "Brahmacharini", and this year on the second day of Navratri red colour is dedicated to the goddess Brahmacharini.
DAY 3 – White (Monday, 19 October 2020)
White colour is the colour of innocence, purity and goodness. On this day people will worship Goddess Chandraghanta.
DAY 4 – Red (Tuesday, 20 October 2020)
The red colour is the colour of energy, love and creativity which indicates strong leadership signs and this colour is dedicated to the Goddess "Kushmanda".
DAY 5 – Royal Blue (Wednesday, 21 October 2020)
Day fifth is the day of the colour royal blue, All of us are really love the royal blue colour and each of us has at least one pair of the royal blue dress in our closet. Royal blue colour gives the significance of superiority and intelligence. Everyone worship Skandamata on this day.
DAY 6 – Yellow (Thursday, 22 October 2020)
The yellow colour is the identification of happiness, freshness and brightness. Day sixth is dedicated to Ma "Katyayani".
DAY 7 – Green (Friday, 23 October 2020)
On 7th day,  When it comes to giving a positivity via colours then green will be on the top of the list of colour. Green signifies growth and the beginning. On this day people will honour to Devi "Kalaratri ".
DAY 8 – Peacock Green (Saturday, 24 October 2020)
This day is special and has its own importance in the whole Navratri days and this day also called as Ashtami with the worship of Devi "Mahagauri". On this Day everyone performs Kanjaks and in all public sectors, people love to play Garba and dandiya for all night because this day is the second last day of Navratri nine days.
DAY 9 – Purple (Sunday, 25 October 2020)
The Last Day of Navratri Named as Navmi and on this day people worship of goddess Siddhidhatri, Purple colour signifies the beauty and it is also the sign of integrity.