India is one such country where there's a mix of cultural elements and religion and still we are intact in the name of India and our love for the country. We celebrate festivals with enthusiasm and zest and Indians do believe in grand celebrations. Each state and culture has something special to offer; be it different types of food variety, rituals, clothes and many more. Keeping the love alive with the thread of rich Indian attire and one such attire is "A Saree"
A saree or sari is traditional indian attire worn by the women and girls of India. It is the most elegance and gorgeous looking piece that one woman can try. Every woman has seen a saree once in her life and wished to own some for herself. Saree is a fabulous fabric with a length of 4 yards to 9 yard long and a breadth of 2 feet to 4 feet that is typically wrapped around the waist and then goes up on the shoulder which becomes the pallu of a saree. A saree is worn with the blouse and one petticoat or the underskirt to help the saree to be secure all the time. But it's much more than a 9 yard fabric to us because of our mothers as we've seen them hoard the different types of sarees in her wardrobe and secretly we all dreamed of wearing every saree in her closet. A saree is said to be the cultural icon.
So we, here are listing down 15 different types of saree that one should definitely try. Let's expand our love for saree and the collection that you have as well.
1. Leheriya Saree
Leheriya is mainly associated with Rajasthan. It is said to be the other form of Bandhani with the Rajasthani occurrence. It follows a different form of tie – die technique. As suggested by the name, Leheriya in Hindi means leher or waves, likewise the saree has distinctive patterns produced by the tie – dye technique which looks like wave pattern. The colours used are so aptly used that it's pleasing to see. This type of saree can be worn with different blouse to give different results every time you wear it.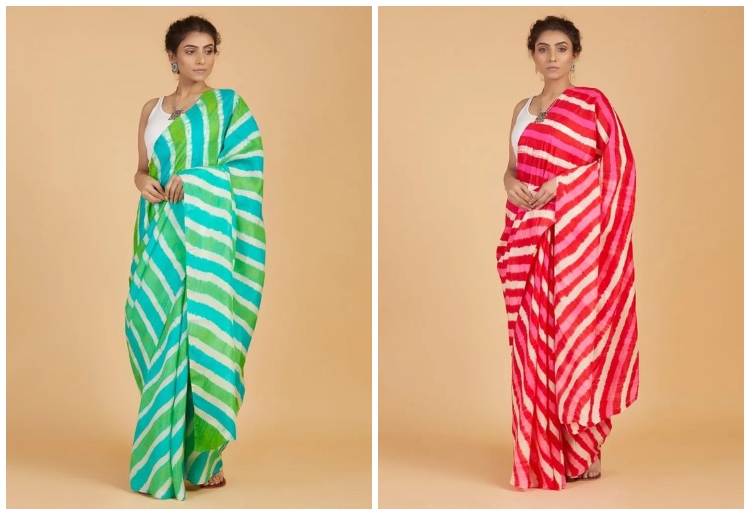 2. Tant Saree
Tant saree are the tradition Bengali saree. West Bengal is famous for the Tant weaving. The Tant is favourite of Bengali women as it's a casual wear saree made of cotton which is breathable and easy to carry. It has broad borders and beautiful prints which makes it a must buy saree.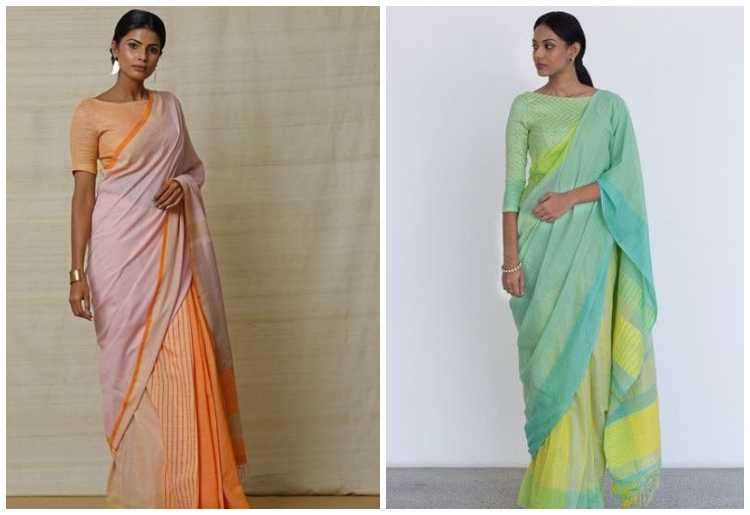 3. Phulkari Saree
Phulkari, who doesn't know about the famous work of Punjab. Phulkari when translated means "flower work" and the work in absolutely true to it's name. Different patterns in the form of flower patterns are made using bright colourful threads. The embroidery pattern of flower is done mostly on the cotton blends fabrics that are easy to use in daily lives. One should definitely have this bright colourful and vibrant saree to up their saree game.
4.Bandhani Saree
Bandhani Saree are said that it belongs both to Gujarat and Rajasthan as it is worn in both the states. But history suggests that the weavers of Khatri community of Gujarat are the pioneers of this style. Bandhani word is  derived from the word Bandhan which means connection or tie. We assume that tie is the hidden meaning in the word which suggests the technique of tie and dye textile that makes the design of saree by plucking the cloth with fingernails into tiny bindings that makes the whole design. It is a beautiful saree that is apt for casual and occasion wear.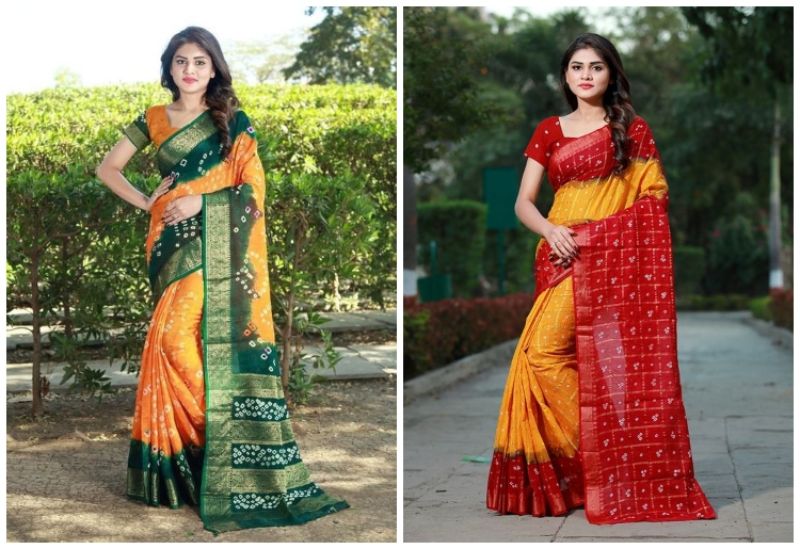 5. Paithani Silk Saree
Paithani silk saree is made of very fine silk specifically made in the Paithan town of Aurangabad, Maharashtra. It is mainly handwoven in Paithan and is considered as one of the most expensive saree that are available in India. The peacock specialised designs, fine motifs and beautiful zari border work is what sets this saree apart and makes it par excellence.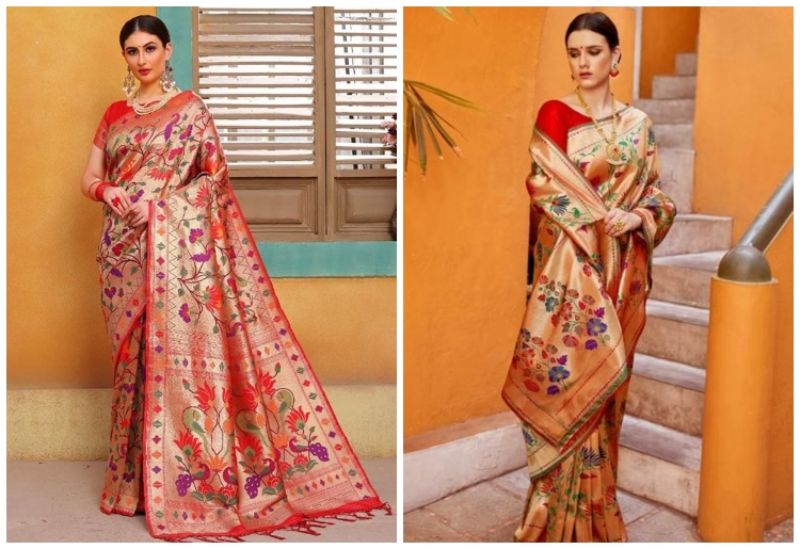 6.Banarasi Saree
Banarasi saree as suggested by the name itself belongs to Varanasi.  Originally the Banarasi saree were made only for the royals as each saree was made with real silver and real golden threads with intricate work on it to makes it even more special for the royalties. It is said that the work on the saree took more than a year to complete as it was so intricate to do. Zari designs and motifs are the special intricate work that attracts the attention of everyone. Now, there are so many more options to choose from.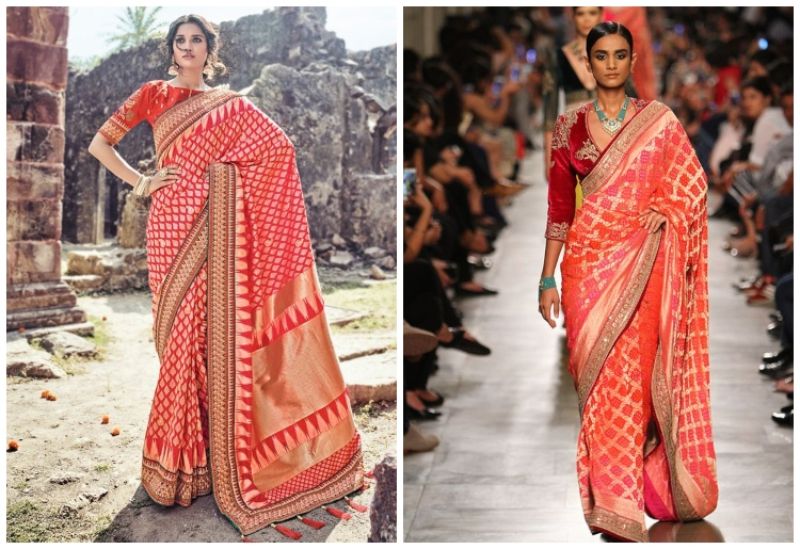 7.  Chikankari Saree
Chikankari work is the soul of Lucknow. It was traditionally done on muslin cloth with work so intricate and appealing to the eyes. These days, Chikankari work is available on various kinds of fabrics which are available in the market. One should definitely get their hands on this one.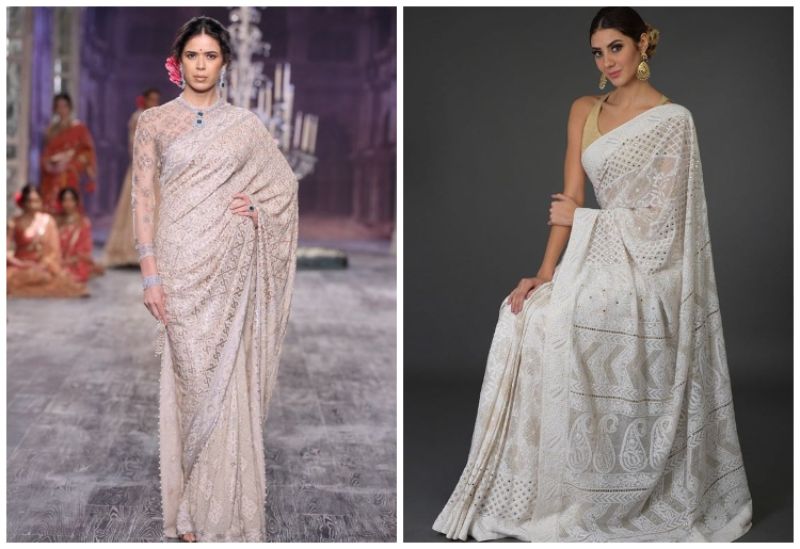 8. Chanderi Saree
Chanderi saree are the handwoven tradition saree from Madhya Pradesh. Chanderi sarees are made with a mixture of three different fabrics namely chanderi cotton, pure silk and silk cotton which makes the fabric as light as a feather and has a lustrous sheen to it. It's the most amazing fabric to be worn as a saree and is easy to carry.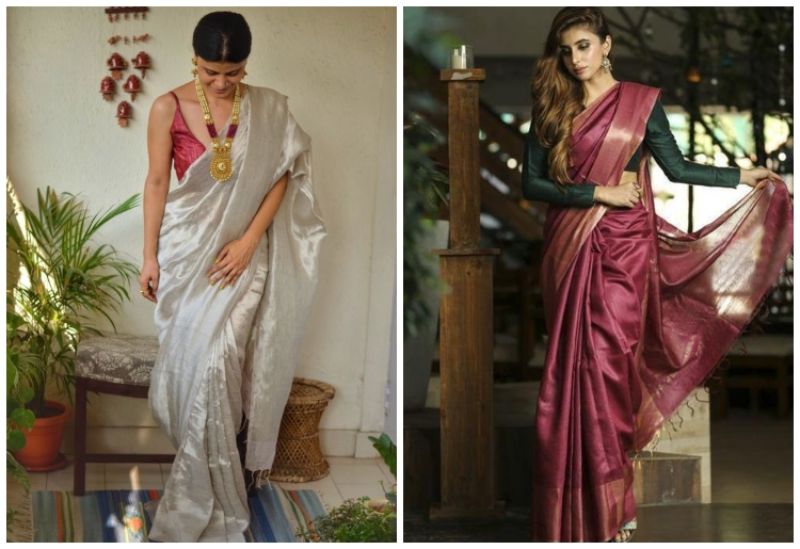 9.  Muga Silk Saree
Muga Silk Saree is a speciality of Assam. Muga silk is said to be wild silk. Saree of Muga silk is made with a special silk produced by  larvae that feeds only two brilliant leaves. End result of the larvae is said to be the best for a fabric as it's said to be extremely durable. The Muga is super glossy and best for the saree with the extraordinary golden shine. This saree is a symbol of royalty.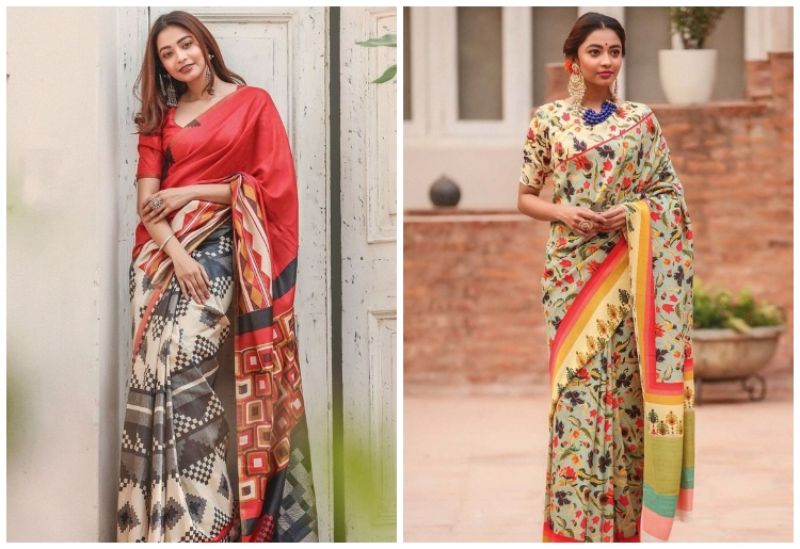 10. Kanchipuram Saree
We have all heard about the famous Kanchipuram Saree from Tamil Nadu. Worn by the women of Tamil Nadu, Andhra Pradesh and Karnataka mostly worn on some special occasions or as bridal saree. These silk sarees are mostly woven by the mulberry silk in the Kanchipuram area of Tamil Nadu. Kanchipuram silk sarees have distinctive saree pallu which are contrary to the whole colour of the saree. Both the pallu and the saree are done in intricate work of golden thread and then joined intensively. Kanchipuram sarees are so rich in appearance that one cannot say no to them.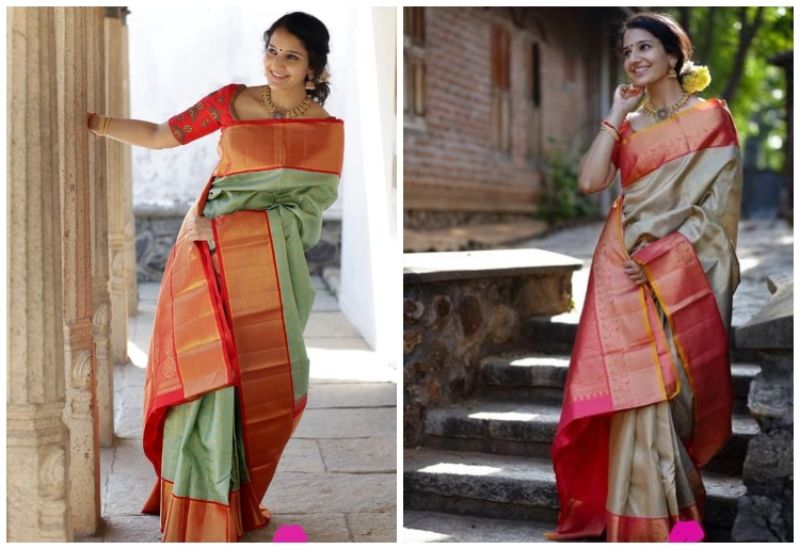 11. Pochampally Saree
The history of Pochampally silk is associated with Bhoodan  Pochampally in Telangana. It is saree made with the combination of silk and cotton. The intricate work of Ikat style and geometric patterns is bonded well with each other to produce such pleasant work of art onto a saree. These types of sarees are made to fall in love with.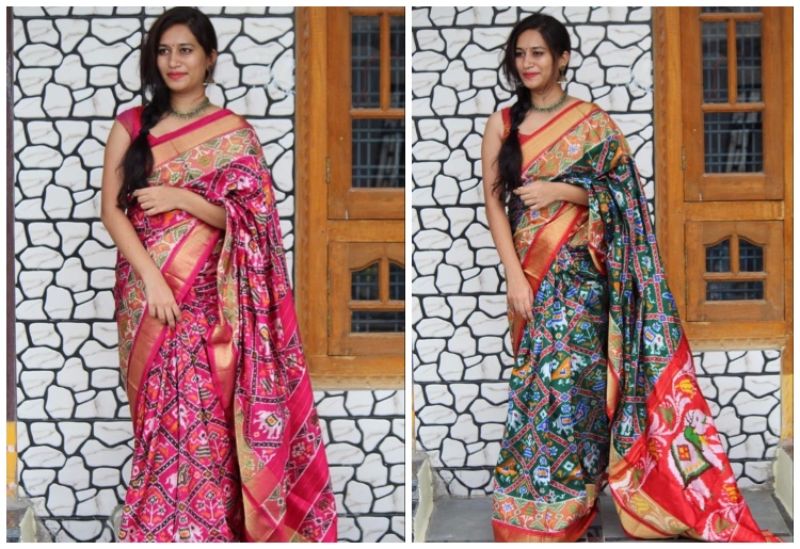 12. Konrad Saree
Konrad saree belongs to Tamil Nadu and are popularly known as temple saree as these were originally woven for the temple deities. The fabric of the saree usually has checks or horizontal stripes with the animal motifs or any natural elements as it's inspired from nature itself. The main attraction of the saree is wide borders that makes the Konrod saree so gorgeous.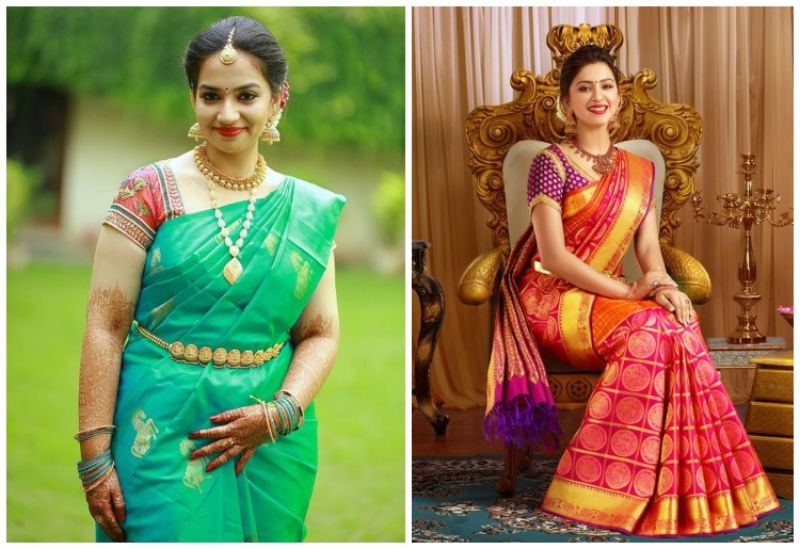 13. Kasavu Saree
A Kasavu saree is the modern version of the Settu Saree which was traditionally a dhoti , a blouse and a dupatta to go with. Kasavu saree belongs to Kerela and now has big good borders which are woven by the threads of real gold.  With time, modernisation in the design has led to the addition of artificial threads and colours.
14. Bomkai Saree
Bomkai saree belongs to Odisha and is also known as Sonepuri Silk. .Bomkai have Ikat embroidery and intricate thread work. These are said to be handloom sarees. Bomkai are available in silk & cotton both and are apt for festive wear.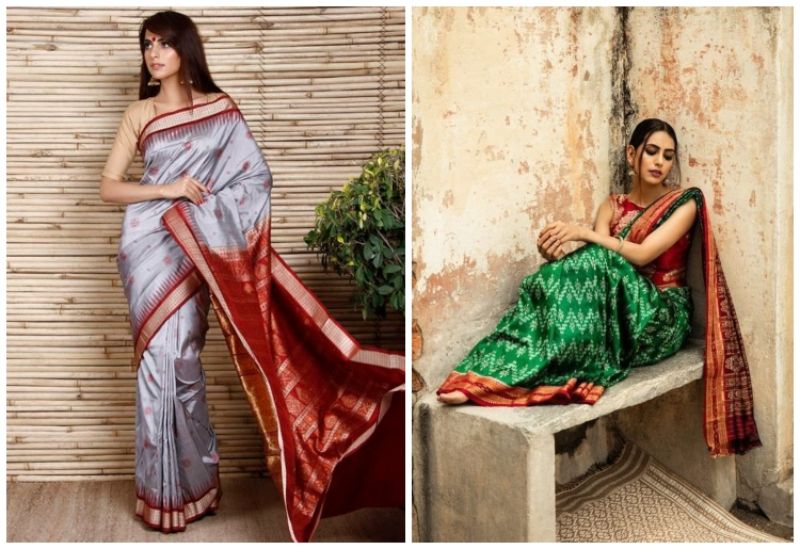 15. Kantha Saree
Kantha saree belongs to the parts of West Bengal and Odisha. It is popularly worn by the  women of Bengal. The stitching is called Nakshi Kantha and is an embroidery craft. The work looks amazing and is good for working women as it gives the look of formal wear as well.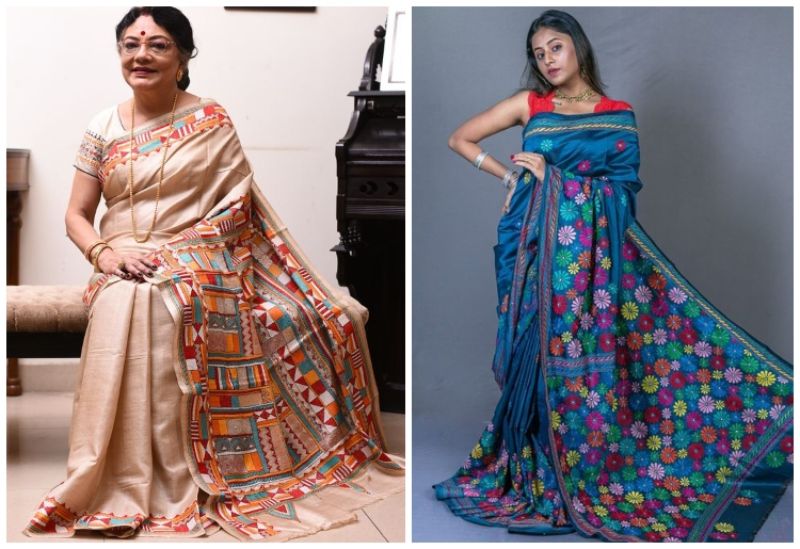 These were the most amazing different kinds of saree that you'll definitely be in love with.