Indian marriages hold a special significance in the lives of the people as per the culture and tradition of the country. It is considered something very auspicious as it is not only a union of two people but two families. Such a grand and auspicious occasion calls for grand celebrations and sarees are an inseparable part of Indian weddings.
Though times have changed and married women in India are no longer expected to wear sarees all the time but for the wedding day, a saree is unanimously accepted as the most preferred choice of bridal wear. Brides are welcomed into the new household as incarnations of the Goddess Lakshmi, the goddess of wealth and thus she is dressed in all her finery. Along with the traditional jewellery, what can adorn the bride more beautifully and value the age old traditions better than a saree?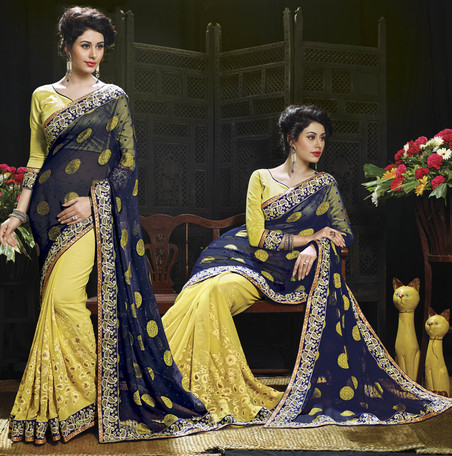 Red is traditionally accepted as the color meant for the bride, but different traditional sarees too are chosen as bridal wear. Red is auspicious, hot, and fiery color and every woman loves flaunting red color. There are ample hues and kinds of sarees to choose from among the myriad of weaves produced in India. You may wear a designer saree resplendent in its fusion of modern trends with the richness of Indian culture or you may go the traditional way and be the perfect Indian bride. You can never go wrong with it. Gujarati brides look ravishing in the traditional Panetar and Gharchola sarees in the front pallu style, the South Indian brides in the neatly pleated Kanjeevaram pattu Sarees  and Bengali brides in their maroon Benarasis worn in the Bengali traditional way.
There is no hard and fast rule in selecting a bridal saree. You can choose anything from the brighter palette like red, maroon, golden, green, pink, royal violet or magenta. Make sure you do not choose black as it is traditionally considered inauspicious. Bright sarees with fine embroidery and detailing makes the bride glow and look ethereal among the bright pomp and show during the wedding.
Here are some sarees that you can select for weddings as they are the best among the best.
1.    Kanjeevaram silks: – A silk saree is considered the purest for a bride and nothing can be better than Kaneevaram silks in emerald and maroon shades. Replete with fine zari and thread work, Kanjeevarams are the ultimate bridal wear.
2.    Benarasi silks: Benarasi sarees and their ornate zari embroidery make them heavy but they are just tailor made for grand occasions like weddings. Benarasi sarees and bridal get up are just made for each other.
3.    Gota sarees: – gota is like a lace that is sewn onto bright fabrics to make it attractive. They are very good for bridal wear when teamed up with traditional jewellery.
4.    Zardosi sarees– zardosi sarees are typically traditional Indian sarees with beautiful thread and at times metal embroidery done intricately on sarees and requires a lot of skill. The designs and sequin work make them popular bridal wears.
5.    Georgette sarees– you can also try modern designs of fashionable designer georgette sarees for fantastic bridal wear. You may even innovate with your bridal look by going for lehenga sarees that looks both trendy and traditional.
With such exciting options available at hand, sarees are definitely the best bridal wear in India and Indian brides look exquisitely beautiful for this wide range of bridal sarees native to each state.
" Discover more such fabulous sarees & styles on Mirraw.com's – Great Indian Saree Festival from 28-30 September. Tons of choice at great prices. Follow #gisf "