As a kid, I always had a dream of looking exactly like my Mom. Right from my understanding age, I always admired her way of dressing up and unique attire and obviously her blissful charm. I still remember when I use to take her dupatta and drape it like a sari. She always admired my cute act.
It was my school farewell, when I first wore the saree. I still remember the day; my mom's eyes had tears of happiness. The drape and the pleats initially were new to me, but the final results did fascinate me so much. The soft cotton like fabric was pretty comfortable and my mom had neatly pinned up the pleats and pallu of the saree.
The shades of different colors did the best of soothing well with my skin color, complexion and looks.. The most exemplary thing I felt for the saree is that they can easily adapt our body figure. The delicate lace with the sari and design on the pleats simply fascinated me to wear it all day long. The shades of pink and orange were simply perfect for the farewell party. My mom even helped with the preparations of accessories that will compliment well with the saree. The embroideries on the edges on the bottom were truly gorgeous.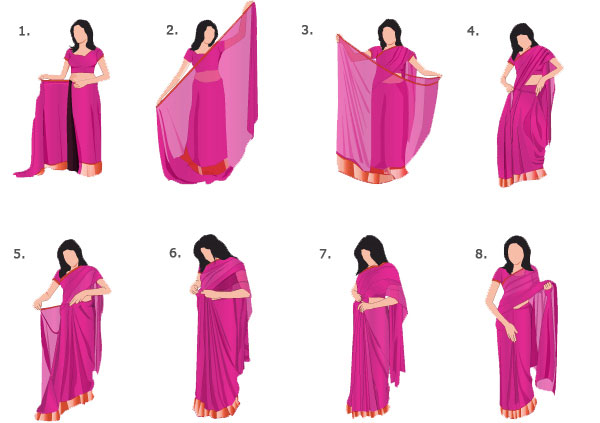 Finally my farewell day arrived; my friends and teachers did shower compliments. My saree was classy, unique and very different from my batch mates. The shades of Sarees did give a groovy impact and picture perfect day. I and my friends clicked lot of photos and believe me with this desi drape I was feeling beyond words and truly charismatic. The colorful sarees do look good on young people and in my growing years too in lot of ethnic occasions I choose to wear sarees.
Thereafter in my cousin weddings too I choose to go with my Mom's Sarees. Now a days for the perfect designed pieces, I and mom do choose online portals. With lot of trending selection, we do get the blend of finesse fabrics. The contemporary embroideries and richness of traditional gota pati work brings the exclusive fervor of nostalgic past.
In the present times too, for any kind of important business meeting or social get together I do prefer sarees over other attire. Being a writer, the noble sarees do completely suits my appearance and style. My life does consist of the entire secret sacrificed done my mom. But really I want to thank her for making me turn from girl to women. My wardrobe has the huge collection of Sarees with the alluring asymmetrical prints, lines, contemporary hues, exquisite designs. For buying the different style of attire, I choose the option of online stores. Believe me all my acquaintance does say that I exactly resemble my mom and we both have very much in common similarities when I opt for ethnic wear. Feels so great… Thank you mom for your beautiful sarees!