Skirts have always been a part and parcel of a ladies wardrobe. Easy to wear along with the feminine quotient attached to it, skirts can be counted as one of the must have apparels. Typically a favorite in the summer and monsoon season, skirts finds its way as one of the stylish apparels to don a women's figure. But there are different variants of skirts that fit the body type of each individual in a somewhat different manner. Here is a list of top 5 skirt patterns that are creating waves in the fashion industry.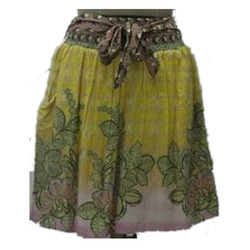 1. Trendy Short Skirt- Never going out of fashion, trendy short skirts are the flavor of all seasons. Whether it is scorching summers or chilly monsoons, a short skirt can sport the apt look gelling with the mood of the season. Available in fabrics such as leather, jeans and cotton, a short skirt can be donned for a flirty or a chic look. Go for sequined or laced skirts when wearing it to a party or a date. Pleated short skirts or denim one's can befit the formal look with ease. Ease of wearing along with a stylish angle, makes short skirts a popular favourite.
2. Flamboyant Maxi or Long Skirt- Popularly known as full skirts or circle skirts, the
maxi is a great way to get the princess kind of look. Accentuating the waist and dramatically flowing till the toe, maxi is a great way to hide those extra flabs and still look gorgeous. Pair it up with a sleeveless short top and you have the look of the day. Go for chiffon and other floosy fabric that adds justice to such kind of wear.
3. Demure A-Line Skirt- perfect for that contemporary look that you have been yearning for, a demure A-line skirt is a must have in every girl's closet. The beauty with which it highlights the assets perfectly winding towards the hemline is simply marvellous. Another advantage of such as skirt is that it can be donned on almost all events to get a graceful and elegant appeal.
4. Chic Bell Shaped Skirt- Give wings to your dreams with the perfectly inverted bell shaped skirt that is chic in appeal and comfy in donning. Typically weaved of heavy fabric to keep the folds in position, bell shaped skirts are gaining demand owing to the varied look that it levies. Splurge in a dash of colors and enjoy the look by teaming it up with a fitted top.
5. Sensuous Pencil Skirt- Fitting at the waist and then hugging the natural curves of your body, a pencil skirt is an easy way to get the sensuous look instantly. Pair up the pencil skirt with a loose long sleeved shirt and enjoy a look which is amazing. Pencil skirts usually are flaunted with slits to get the extra oomph factor.
So check out the one that suits your body type and flaunt your figure with style.