Your business attire can say a lot about you so if your wardrobe is stacked with outfits that completely define your work ethics, make sure you're making the right choices. If you're wearing a neat skirt to office there are tons of things that signify your style, creativity and personality. Whether you're aiming towards striking professionalism or plain simplicity, picking office skirts is very easy. Make sure your outfits are attractive and bring out your beauty when you impress your colleagues with your intelligence. Storm your way into the office with an outfit that completely challenges other trends!
Why You Need Office Skirts?
Though office wear can consist of a range of styles, wearing skirts and professional tops will allow you to boost your image. Professionally such skirts bring out the exotic beauty of your body and don't reveal too much of everything. Cut around the right corners, office skirts are definitely a fine choice of comfort and style so long as you balance the goods. Office wear demands accessorizing which can be a watch or even a classy hand bag depending upon your outfit.
If you pair a solid black pencil skirt with a beautiful and bright patterned top, it will certainly reveal your cheerful attitude. You can always try the classic printed skirt with a sweater on top to highlight your waist and trim features. Whether you choose prints and patterns over simplicity, the idea is to carry such an outfit. Women pick color and design based upon their personality. If you aren't used to wearing bold outfits you should avoid prints and stick to classic designs.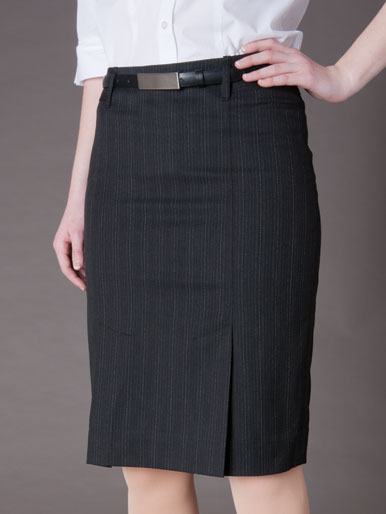 Picking Skirts for Office
1. Picking the Style
Skirts in office require a certain length that follows a strict protocol however you certainly cannot walk around in layers. Miniskirts are inappropriate and have indefinite length however you can pick pencil skirts that reach a little above the knees that are best for office wear.
2. Picking the Color
You cannot show up dressed in bright colors and shades because after all it is an office! Generally women prefer picking neutral colors of black, white, grey, dark blue etc for office since it gives a clear perspective. Try a high waist skirt which usually can flatter your figure especially if it is modestly black.
3. Finding the Right Cut
The style of wearing office skirts and tops is in the cut. So you must find the right cut that suits your figure. You can pair a white blouse with a trim pencil skirt or perhaps experiment with a cardigan that compliments an A-line skirt.
4. Fabric Matters
If you think that buying any kind of skirt for office wear is alright, think again! Your professional mind shouldn't get jumbled up but should combine your flair for fashion into a sophisticated blend. Pick out clothes with a fabric that suits your needs and workplace. In the summer lighter fabrics like cotton will let you run around in peace while in the winters you should consider wool and tweed.