Indo-western garments have already initiated a craze in the fashion industry giving customers a glimpse inside traditional designs and sophisticated embroidery. With tons of talented designers coming up with exquisite designs, it isn't a surprise that simple outfits like kurta pajama have become so popular. A lot of urban dominant places consist of customers who love shopping online. With the introduction of kurtas on online stores, you can catch a wide variety of garments to suit your style. Adapting to global fashion trends, salwars have become an instant hit with fashion followers living abroad. Kurtas have become part of contemporary fashion for their simple design, easy to use and wash attributes. They're sophisticated and look absolutely beautiful.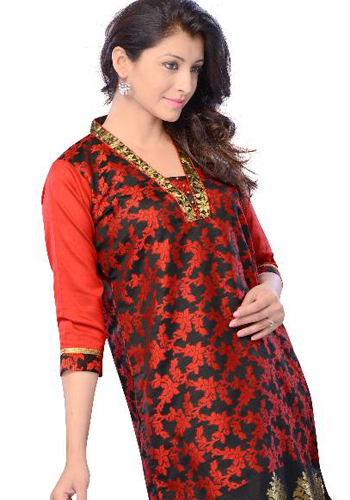 Why Kurtas are Modern Tunics?
While many women sport tunics or shirts, kurtas have become a regular wear today for their design and comfort. With a chic design, kurtas compliment women of all body types. The casual short salwar kameez has become a contemporary wear. We know that in terms of Indian fashion the sari has always maintained a high standard and to this list we can add kurtas for their meaningful fit and simple design. Traditional yet not so fussy, kurtas and salwars are meant for the sole purpose of comfort wear.
If you think you can't experiment with such outfits then you're absolutely wrong! Women of all age groups are mixing up garments to come up with cool, stylish and ethnic trends. You can pick a lovely white kurta that compliments your slim figure and match it with a pair of tight skinny denims. Perhaps a sling bag to add a little bit of effect and accessories like a scarf to complete your look? Kurtas have a length that reaches till your waist approx and hides away the extra pounds so easily. While tight fitting tunics can exaggerate your weight, kurtas give your body shape and balance.
Experiment with Styles
Women love sporting salwars with loose t-shirts for a completely retro feel. Combined with a set of pants, kurtas and denims give a very indo-western feel. Different designs and prints are now available in terms of kurtas. You'll come across a fine collection of talent who present their styles on the web at affordable rates. This season you might like to try a Lucknow chikan embroidered kurta or perhaps khadi silk incased Bengali kurtas are more of your kind? Creative design elements are being introduced in Indian fashion manufactured in a range of fabrics – silk, cotton, jute, linen, khadi etc.
You can experiment with kurtas on various occasions – business meetings where a plain white kurta that is matched with black pants gives a professional and ethnic feel. Perhaps you're attending a wedding and can't think of any outfit! A beautiful red kurta with embedded stones will look absolutely priceless with a pair of tight fitted denims or you might try a comfortable salwar instead. If you have to attend a school meeting for your child/sibling this is one of the best outfits to pick. Make your selection based upon style, color and size so that it matches every outfit you can think of!