With new trends and fashion tastes, the traditional blouse designs are out of the industry, and the role is taken by Maggam blouse designs. Majorly formed on silk material by Jardoshi work all over, here are some very elegant and spicy designs of maggam work blouses for the new fashionistas:
Beautiful Maggam Work Blouse Designs
Maggam work blouse branch designs
It has circular branch patterns all over, and a deep U necked shape with a border or maggam work. Even the saree has a similar matching border for a more synchronized look.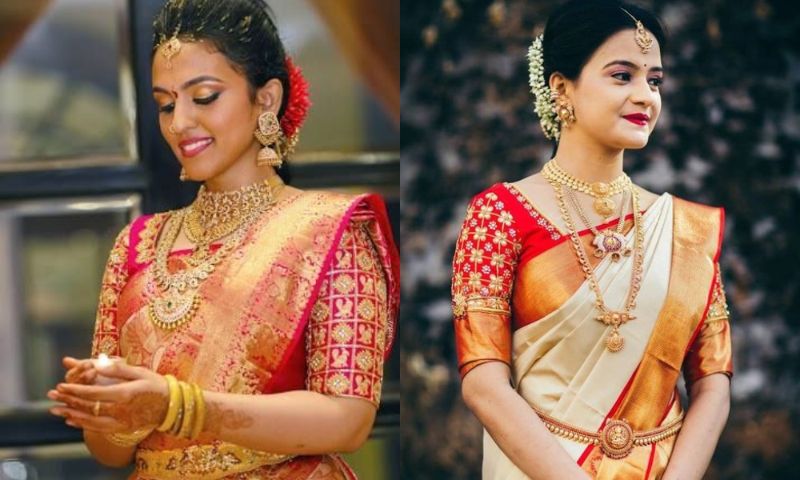 Maggam works with peacock design
Green stones and the golden thread is used to give a very simple yet classy peacock design on the back. These look good for bridal blouses as well.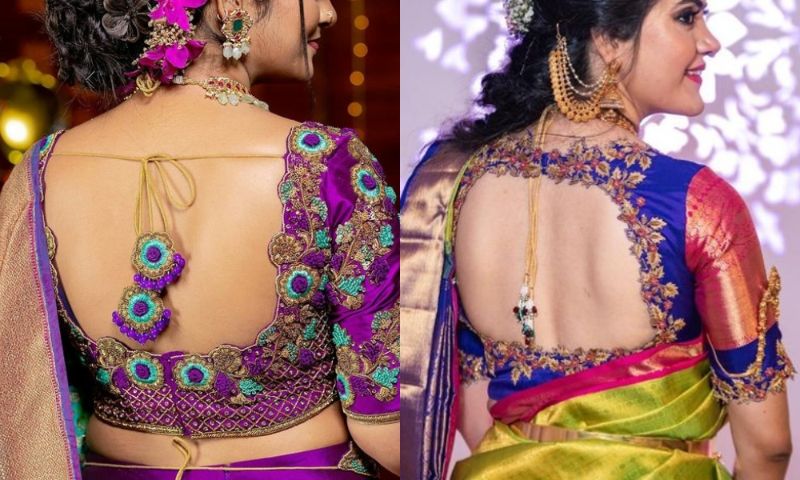 Maggam work on pot neck
Very fine and elegant work with lace and floral prints and patches work well with a pot neck for simplified looks. These go better with chiffon or silk sarees.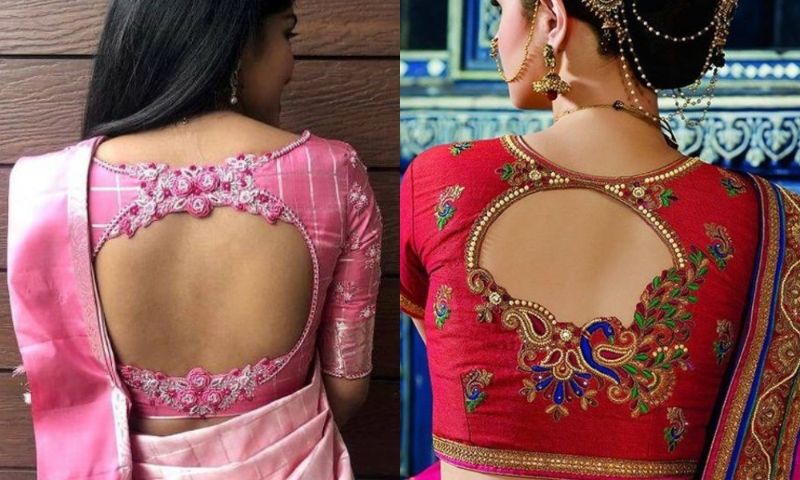 Maggam work blouse designs with front neck Pattern
Borders on the front neckline with golden thread and patches work well on velvet blouses. The combination is preferred by teen girls.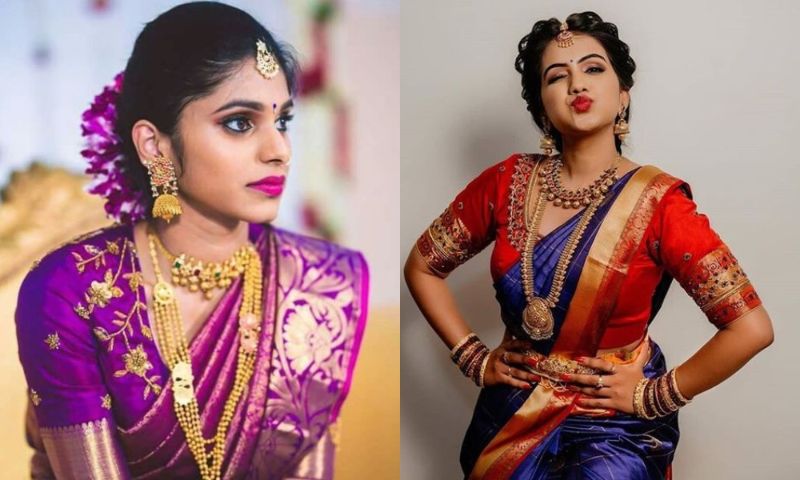 Heavy neck maggam work blouse designs
A heavy design is best suited for bridal blouses. It might work well with chiffon saree and studded pearls, studs or stones.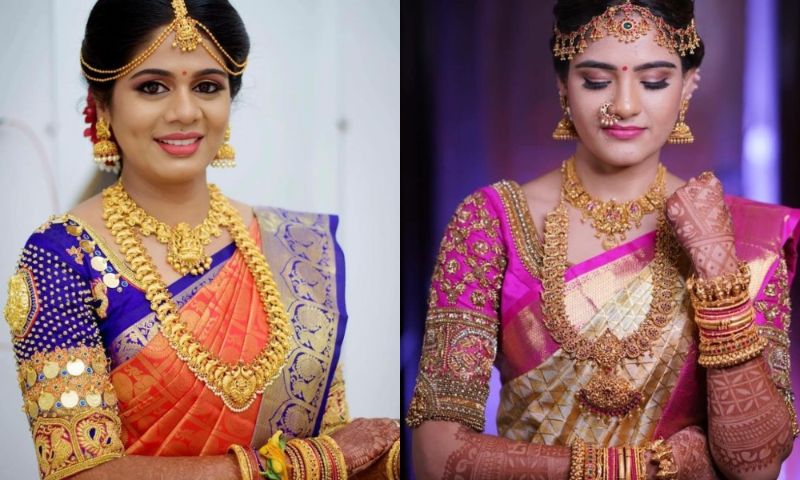 Maggam work blouse designs with patchwork
Such blouses go well with lehenga and choli. Maybe a deep v neck would work with big patches and a couple of strings attached.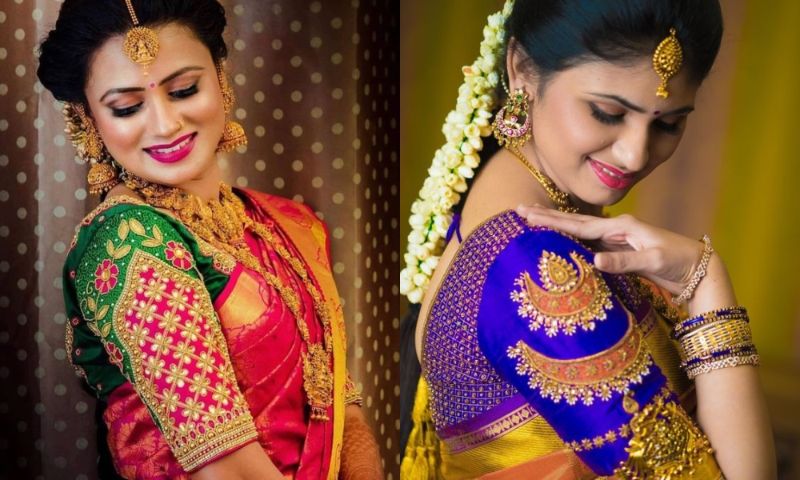 Floral maggam work blouse designs
Floral patterns like leaf-shaped borders and golden laces or peals are always appreciated when it comes to maggam work blouses. Maggam work enhances such patterns.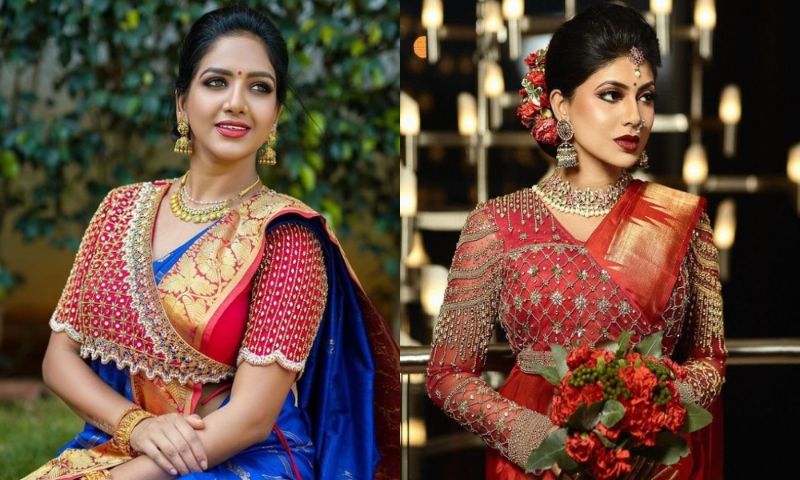 Beautifully carved lotus work
Some lotus patches on shiny silk cloth in Kashmiri style work well with plain sarees with a bit of touch on borders.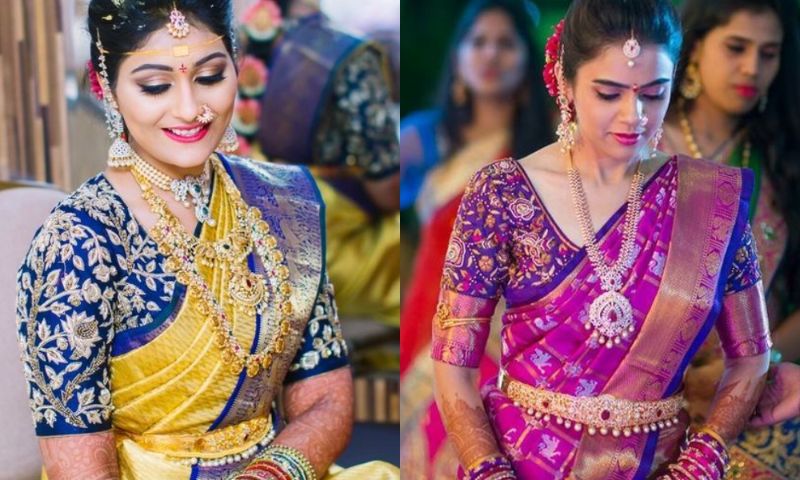 Maggam Mango design blouse work
Traditional sarees bode well with a couple of mango design patches and some strings on the back of the neck for a classy look.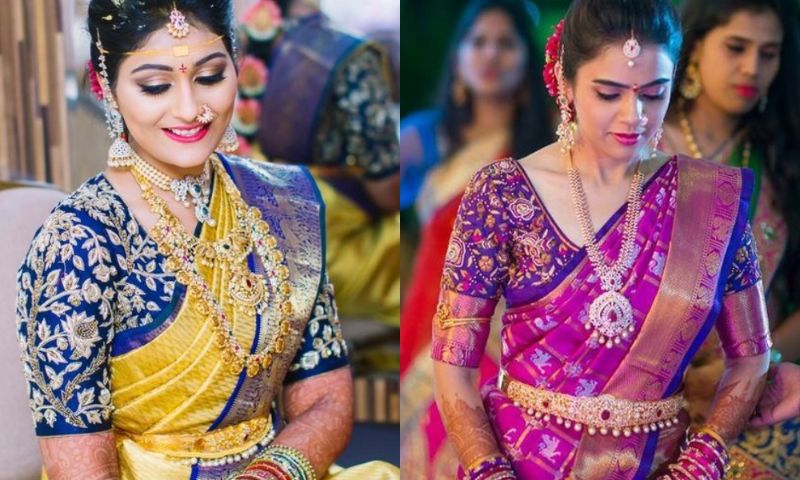 Long sleeved maggam work
Long sleeves depict sophistication. Some patterns of golden work or pearls similar to that of the sleeves can work on the blouse well.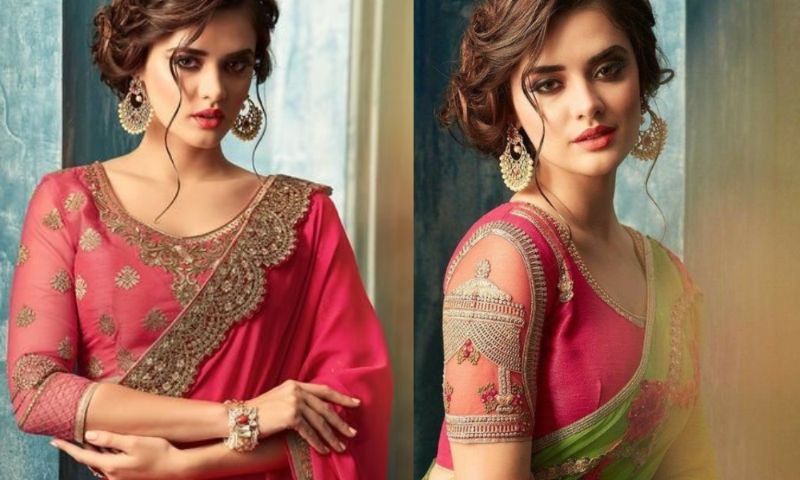 Simple Maggam work Blouse Designs
Sheer high-neck maggam work
A mixture of beads, lace or net and velvet is a classy choice because the beads can be tucked into pretty designs.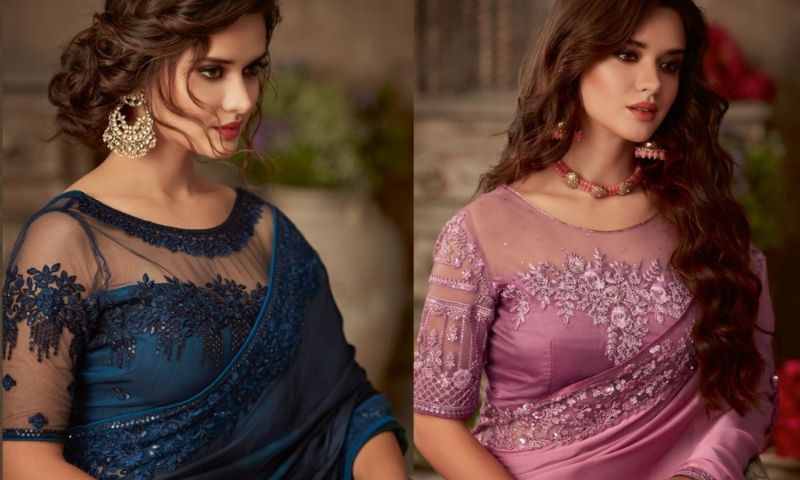 Jardoshi maggam work blouse designs
It often opts as a bridal choice. Deep necked with some threaded and tiny work seems pretty sophisticated and beautiful.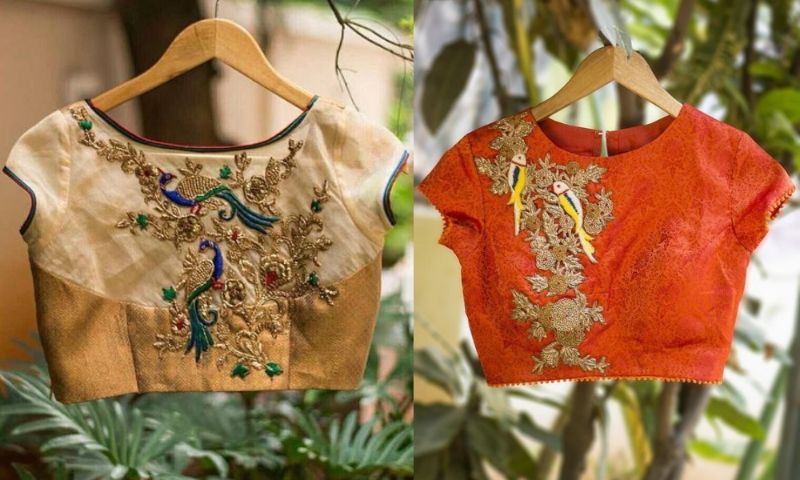 Designer choli maggam work blouse designs
An umbrella cut design combined with some pearls or beads is perfect for georgette sarees at ceremonies.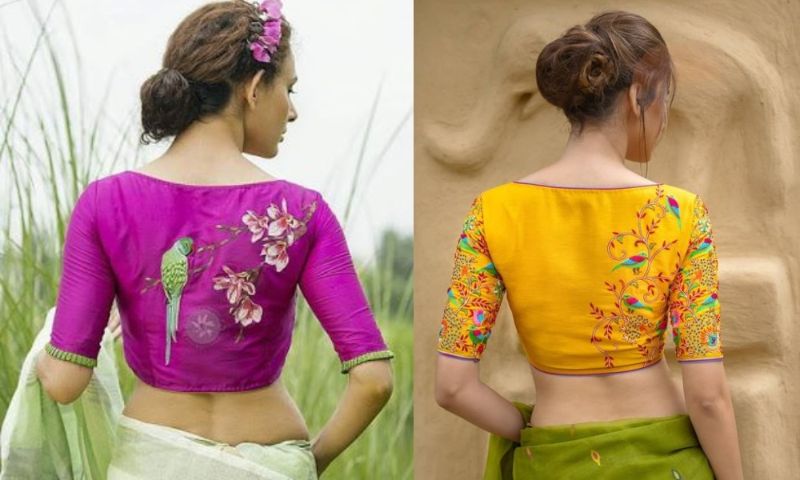 Colour maggam work blouse designs
Combination of jardoshi work and border work with designs cut on the back neck are always fashionable and elegant.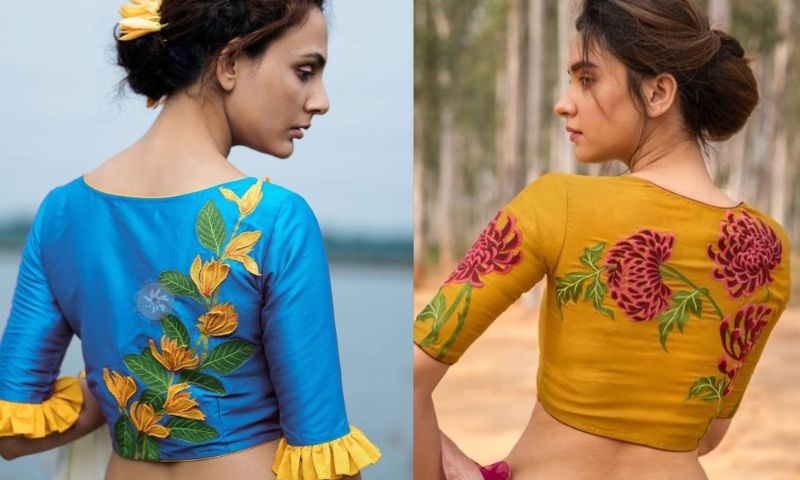 Striped back design
Strips decorated with stones and studs at the back neck are always sensual just like Mehendi designed laces and patterns.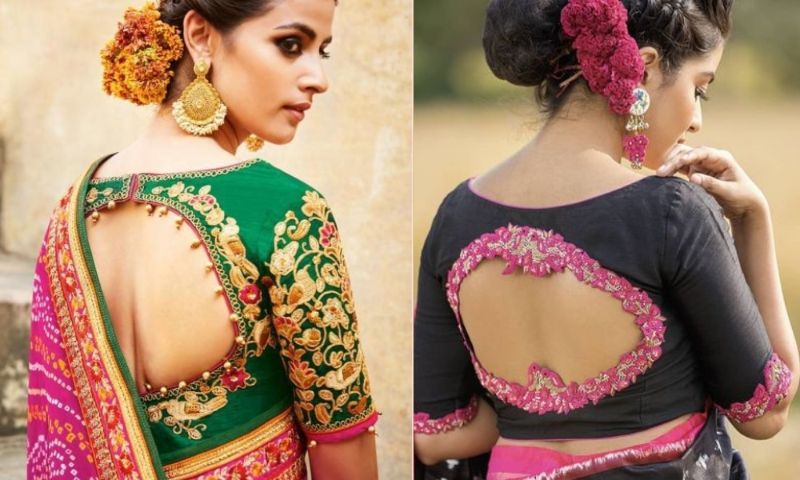 Butterfly designs for maggam work blouse designs
It is a combination of traditional and modern with string line sort of sleeves and wing-shaped design.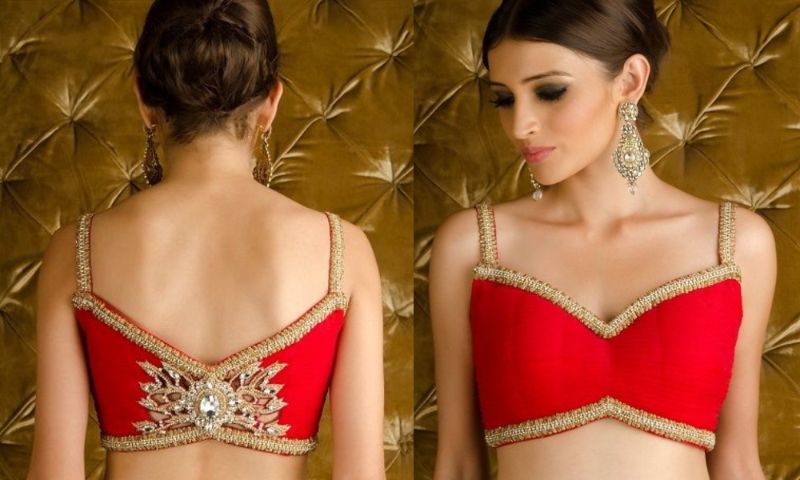 Mirror work blouse Design
Mirror work is always classy with a plain saree or some work on net material and borders.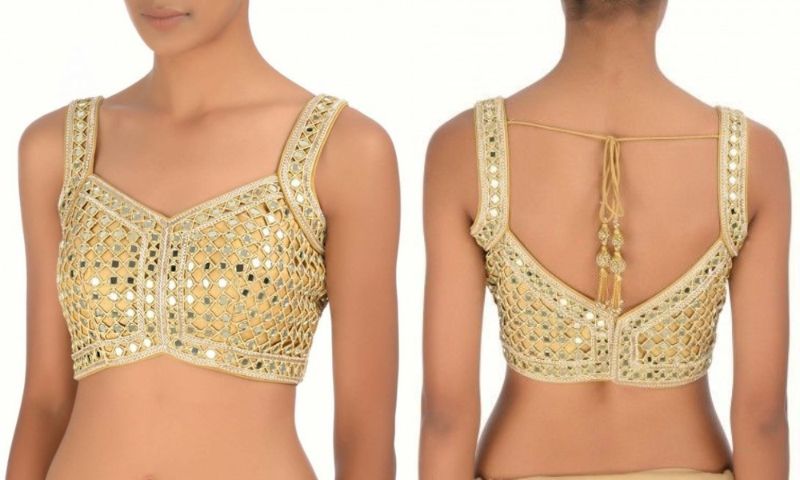 Cap sleeves with maggam work Blouse
Cap sleeves are good to go for informal functions with matching thin border with the saree.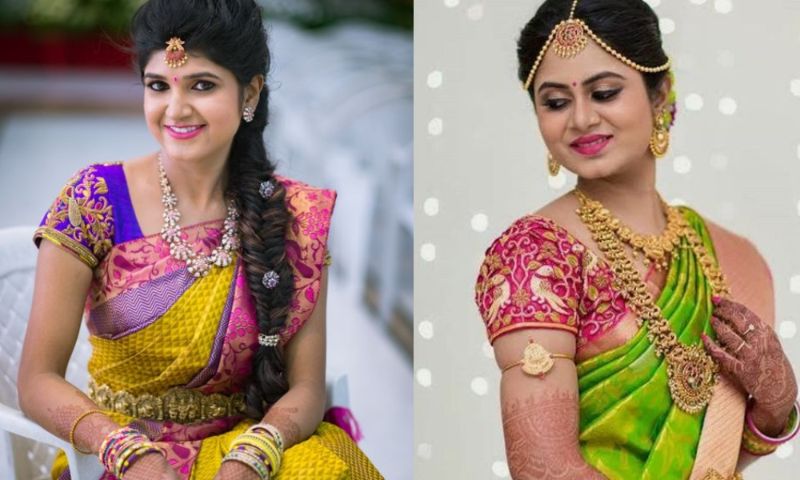 Velvet long blouse
The blouse is extended to the waist with a collar and is inspired by a vest coat design.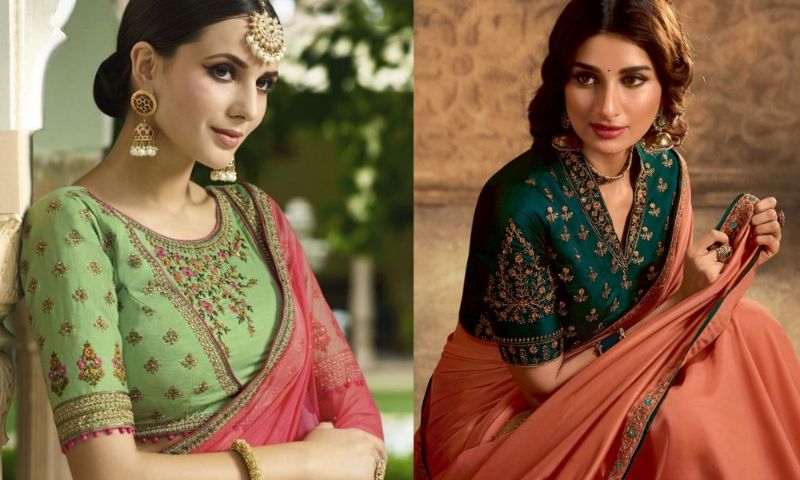 Eye neck pattern design
A front cut piece in an oval shape surrounded by studs stones and thin borderlines is always trendy.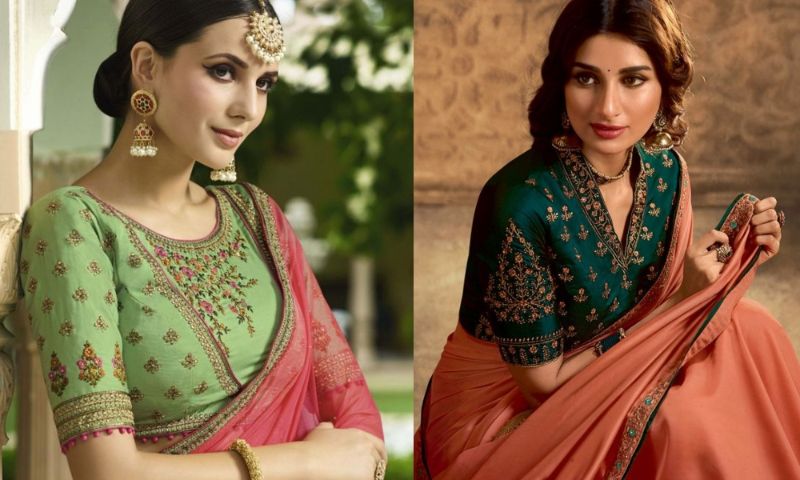 Latest Maggam work Blouse Designs
Maggam work with boat neck
Maggam works suits well on boat neck with net-front neckline and pearls or stones with plain sarees.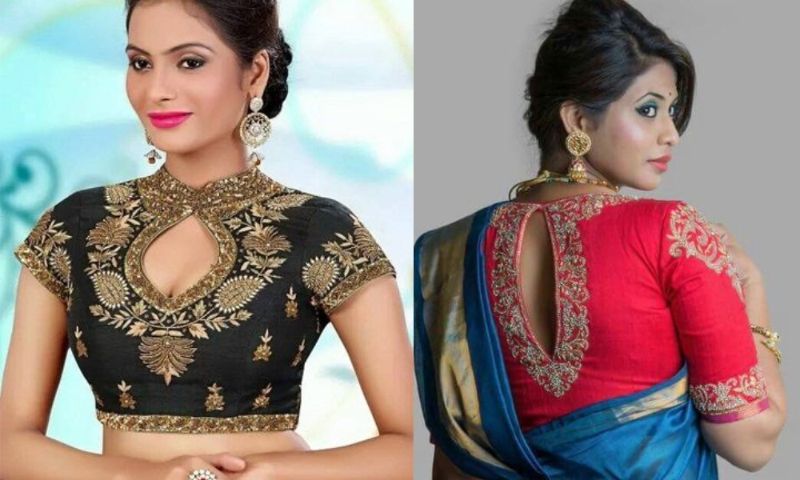 Apple cut design
Apple cut design with embroidery works well with heavy and designer sarees.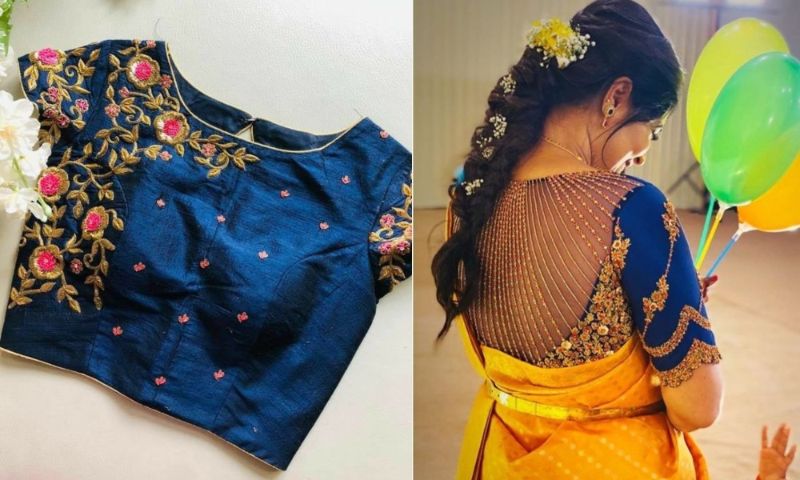 Jaipuri blouse work
Ethnic patches and floral patterns and a touch of mirror work works well with most sarees because it is multi-colored.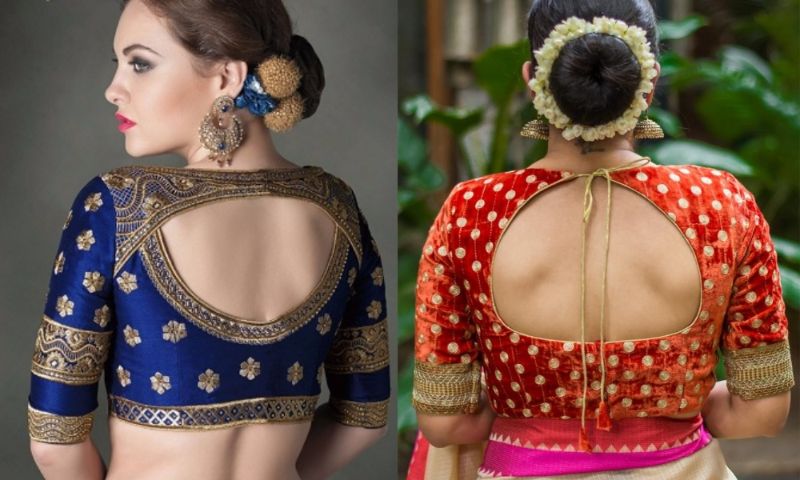 Ethnic peacock design
Threadwork in peacock design can give a very ethnic touch to your deep-necked blouse.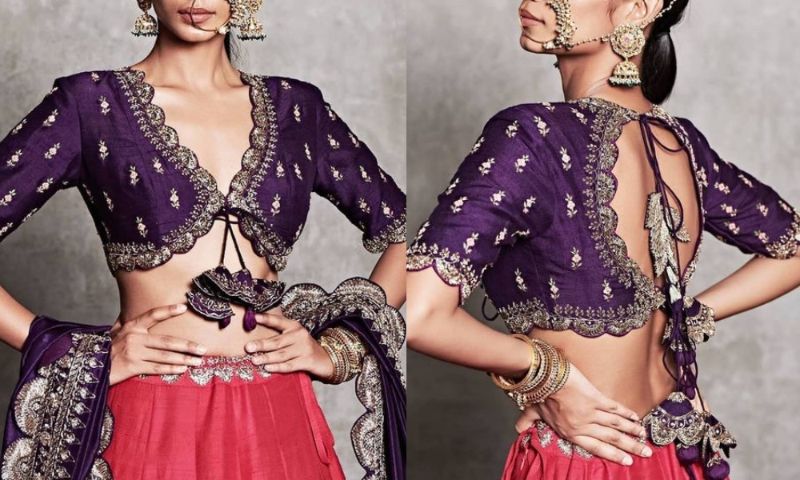 Deep V neck design
It is sort of a backless blouse which when combined with heavy borders and studs, gives a very bold look.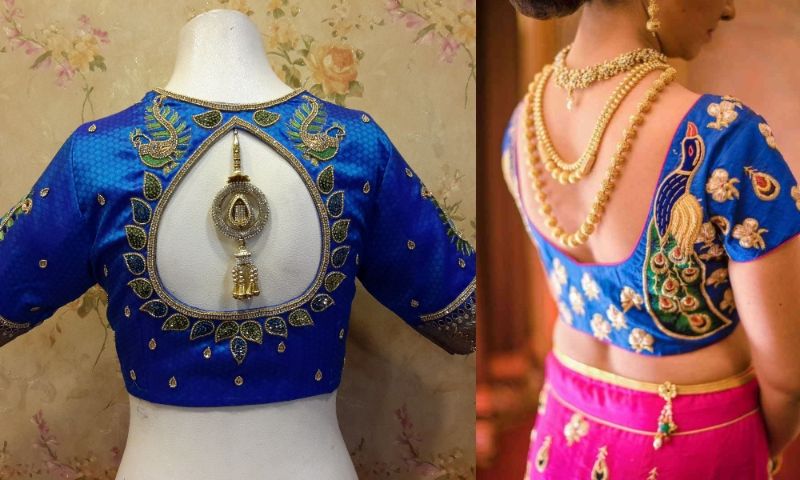 Puffed sleeved blouse
It suits a broad shoulder woman with maybe a square shaped neck pattern and silk cloth.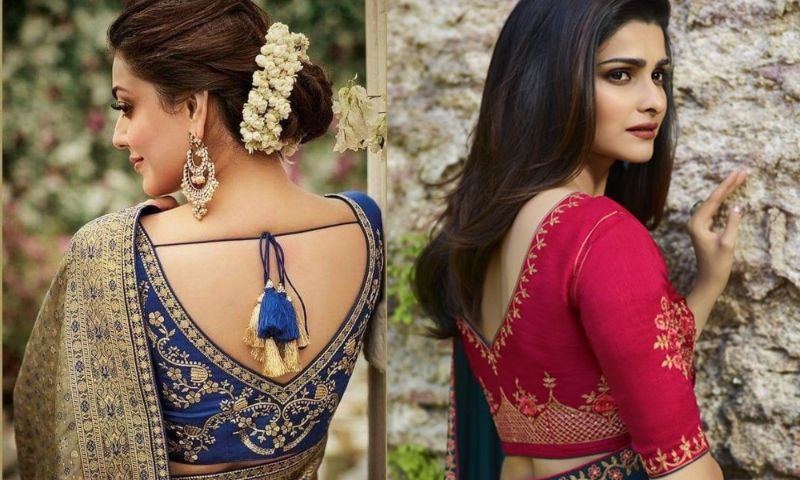 Plain golden blouse:
Golden blouses with minimum work bode well with heavy sarees of different sorts and colours.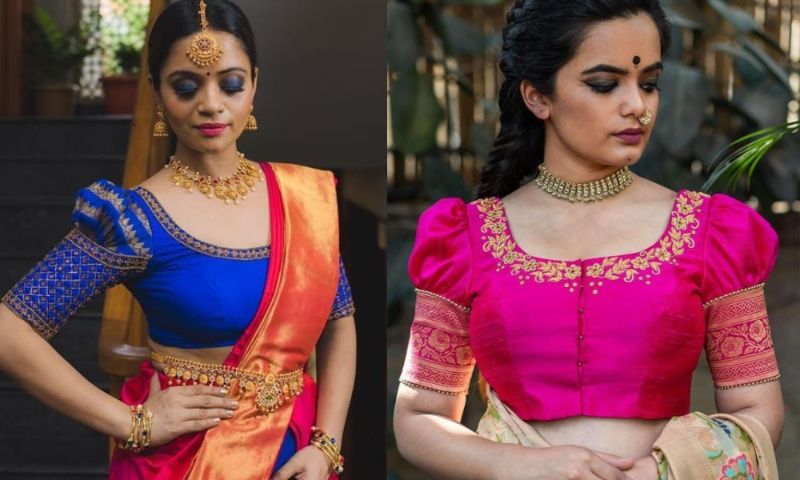 Blouse with designer stones
A plain silk saree could be carried well with a blouse full of pearls and stones.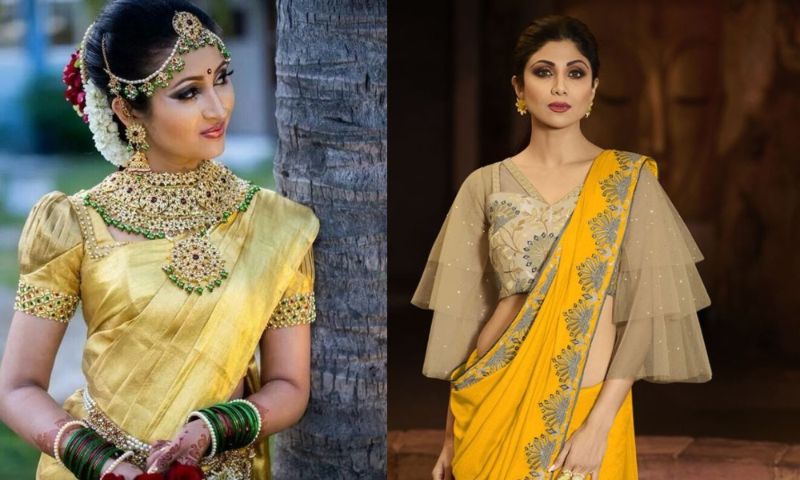 Toran design
Golden beads combined with U neck and strings can give a very ethnic look to the outfit.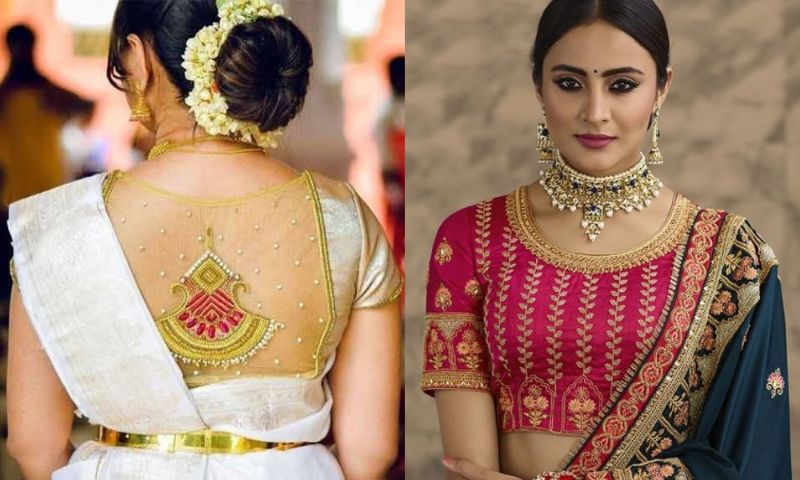 White maggam work
White blouse covered with beads and mini patterns with stones or pink jewels seems sophisticated and pretty.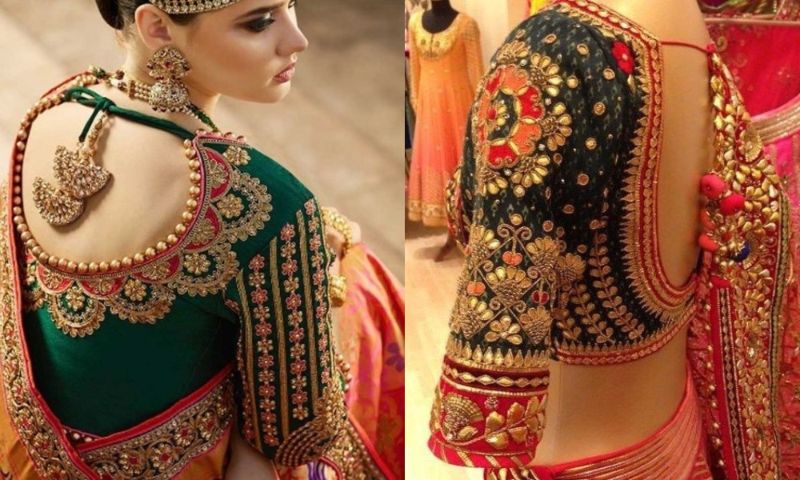 Maggam work Designs on Pattu blouses
Plain green blouse
Simple green coloured blouse with mini patches can work well on silk cloth.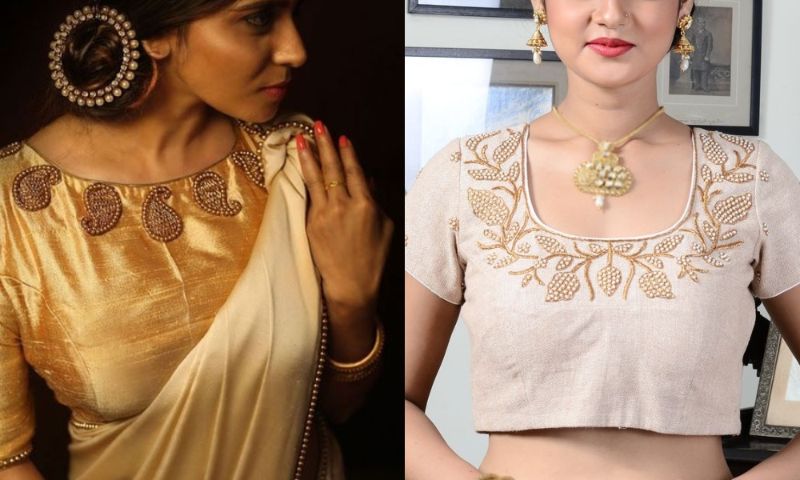 Elephant motif green blouse
Embroidered motif blouse with threaded elephant prints can look pretty ethnic and traditional.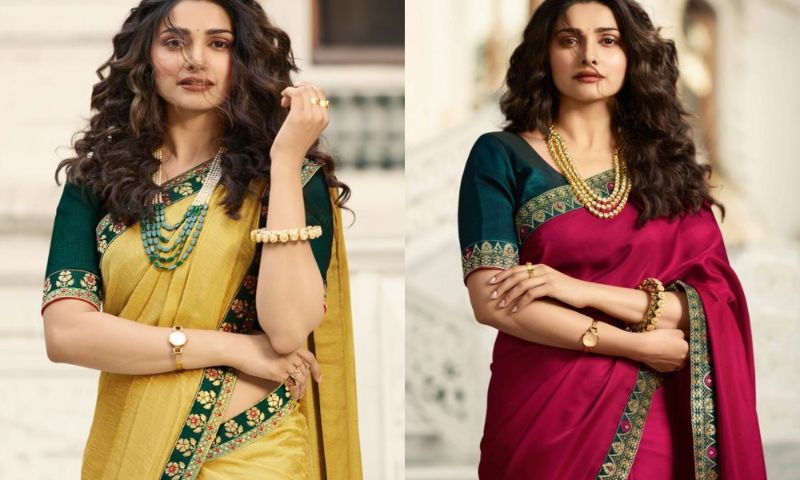 Pink and green patterns
This colour combination works well with silk cloth and a couple of golden-threaded patches.
Bold red
Bright red colour gives a very fancy and bold look when combined with silk and golden work.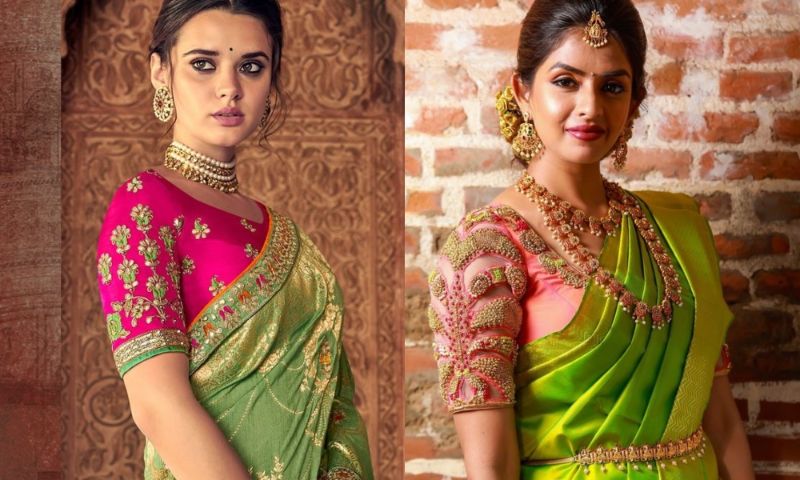 Blue in contrast
Blue silk blouse goes well with a different coloured silk saree. You may combine it with a little golden work.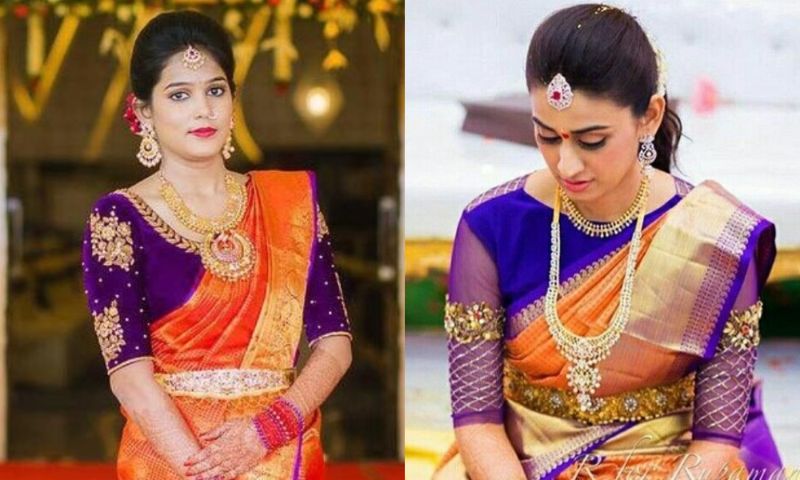 Fuchsia pink blouse
It can be paired with a heavy silk saree with good embroidery work all over.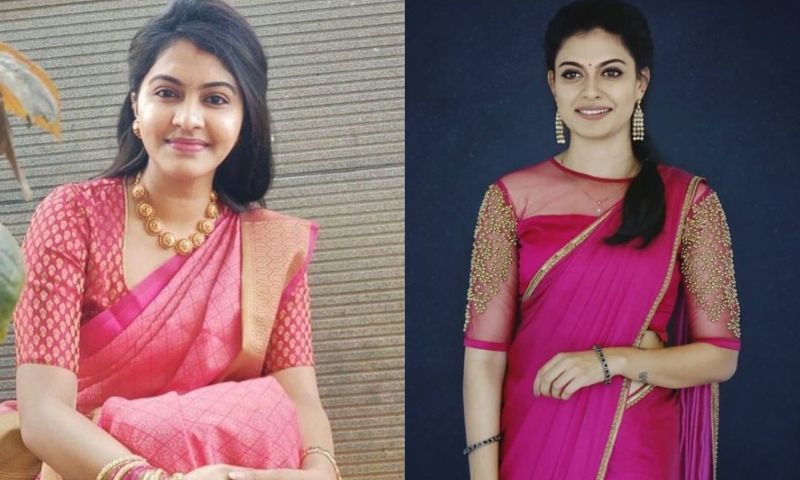 Deep maroon blouse
This colour looks very bold and pretty when combined with silk or velvet and a hint of silver or golden work.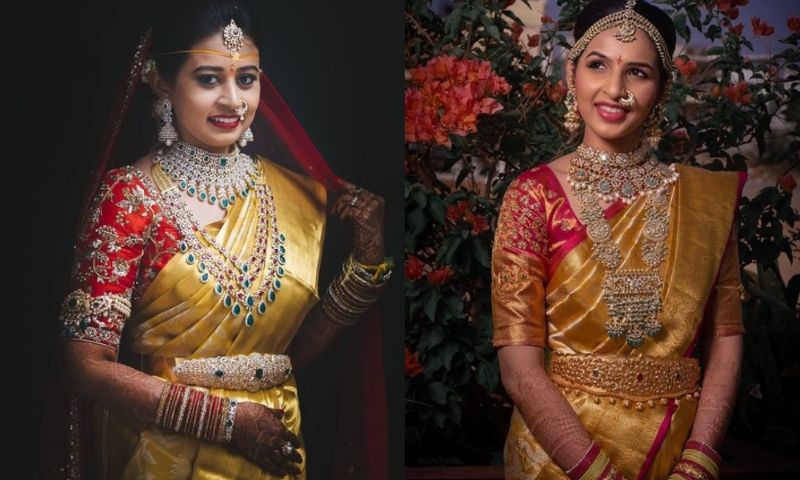 Embroidered sleeves
Simple embroidery on sleeves can work well with contrasted silk sarees.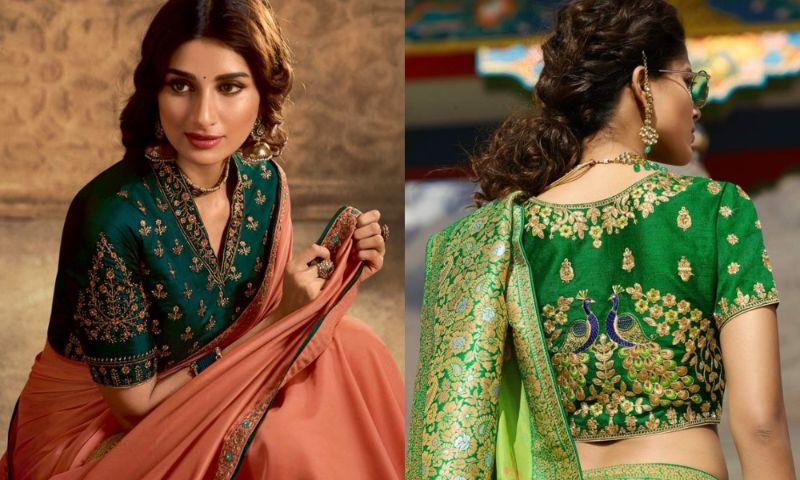 Heavy embroidered blouse in green
Green colour goes well with intricate embroidery work and silk saree for weddings and bridal wear.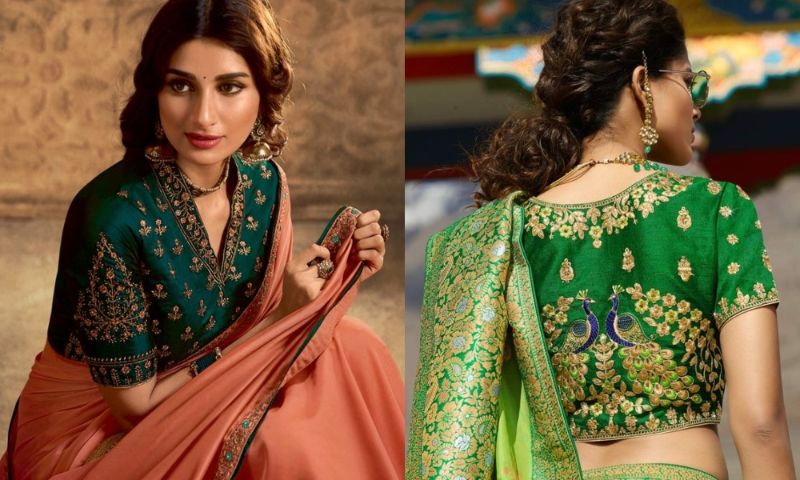 Traditional red with maggam work
It can be combined with delicate maggam work on sleeves and neckline with embroidered silk sarees for brides.