In today's fashion universe, nothing ever goes out of fashion. Everything falls under the trendy category and a large majority of designs that we see and perceive today as trendy are inspired by the styles of the late 1990s and early 2000s. plazo design have suddenly become the apple of the eyes of women. If presented with different bottom wear like; jeans, salwars, pants, churidars, and plazo design , 8 out of 10 women will pick the plazo design . Designers capitalized on this preference of women and created some oddly satisfying designs.
The palazzo looks very similar to the bell-bottom jeans which were the talk of the town in the 1960s. Through the years, there have been various iterations of the plazo but the style we see today pleases women the most. Also, there different designs available which make it a fun experience. Here is a list of 8 different plazo pants design to rock this season.
1.REGULAR PLAZO PANTS
Regular plazo pants are the easiest to find in the market and generally come in pastel shades. The comfort that they bring is perhaps their biggest selling proposition. The plazo design may or may not have flares, pleats, and frills. The palazzo itself is a pretty big piece of cloth; therefore wear something minimal over it like a straight cut kurti or bodycon mini dress.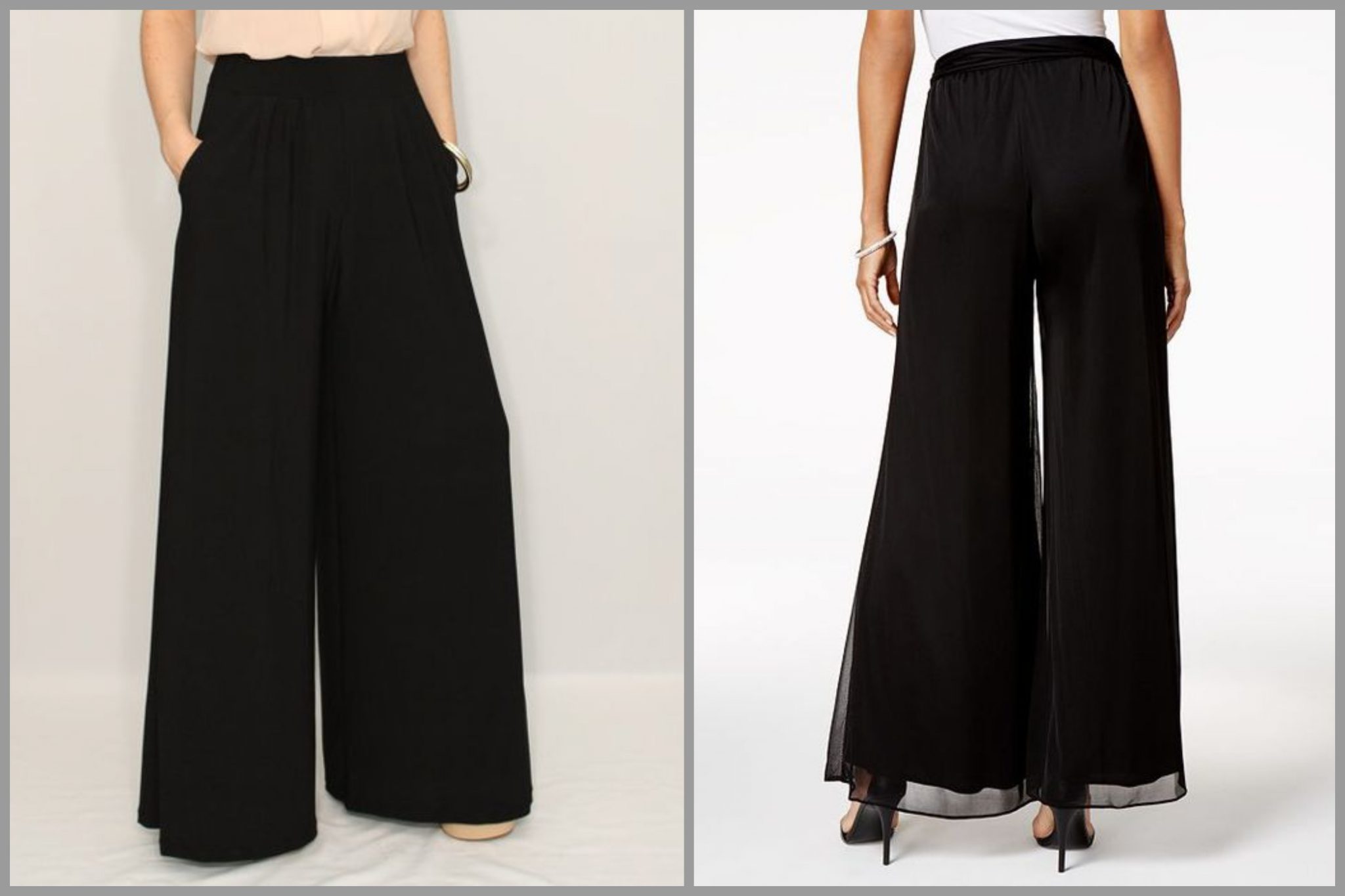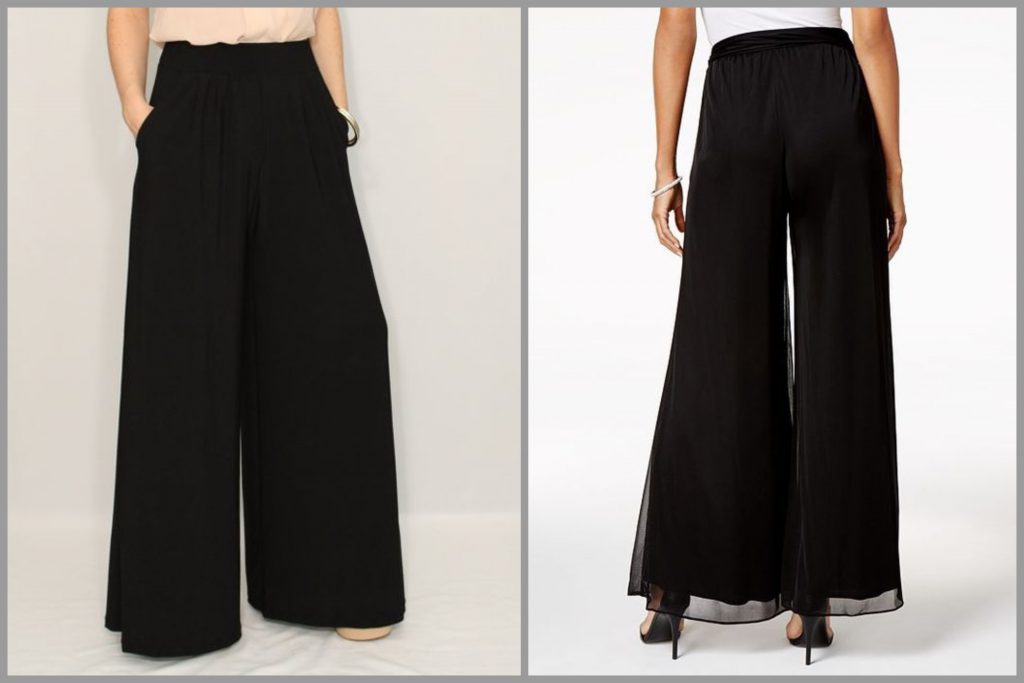 2.TROUSER STYLE PLAZO DESIGN
This type of plazo pants has a bit of a structure and flare as well. Traditional plazo design use elastic to grab the waist but this palazzo has buttons instead. You don't necessarily need to wear a kurti with trouser style palazzo. A simple, short, bright tunic will get the job done.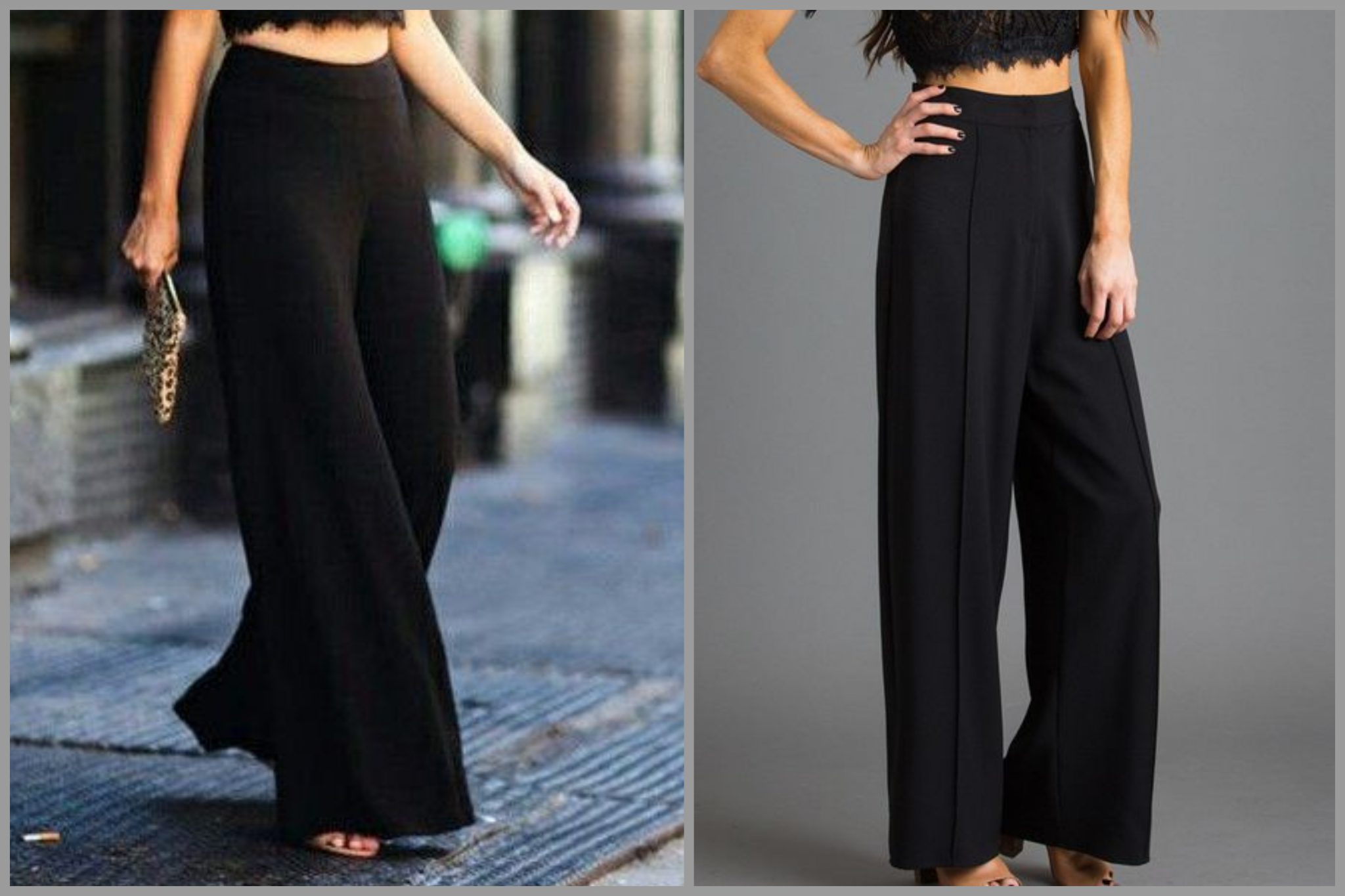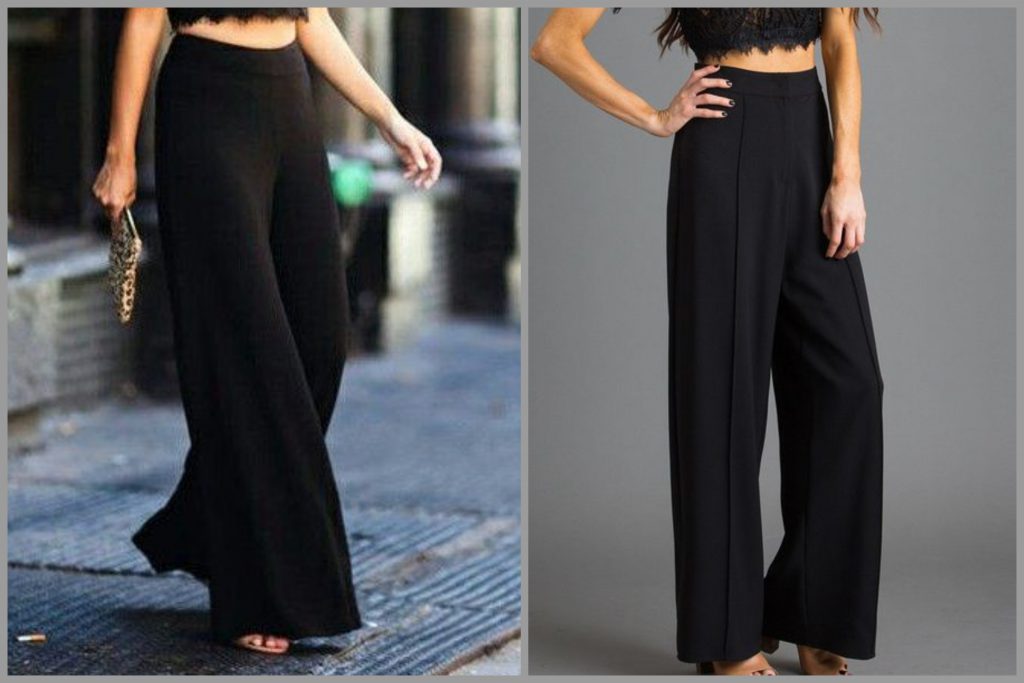 3.PLEATED PLAZO DESIGN
As the name suggests, this palazzo has pleats. When you let the plazo design flow, people might understand it to be a ghaghra. Pleated palazzos, unlike the trouser style palazzos, use elastic to grab the waist. This type of plazo design looks chic with shirt kurtis but you can wear regular kurtis as well.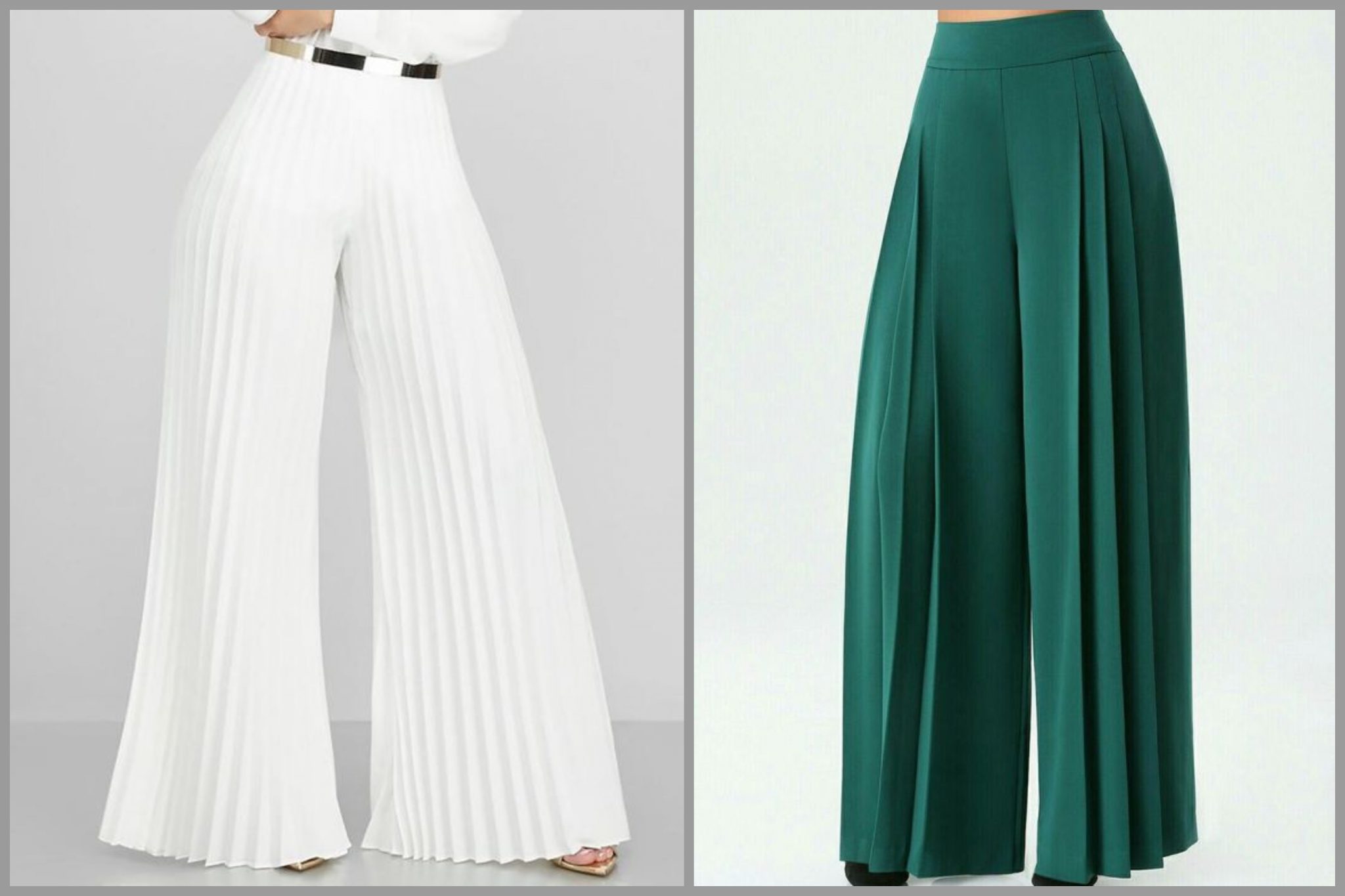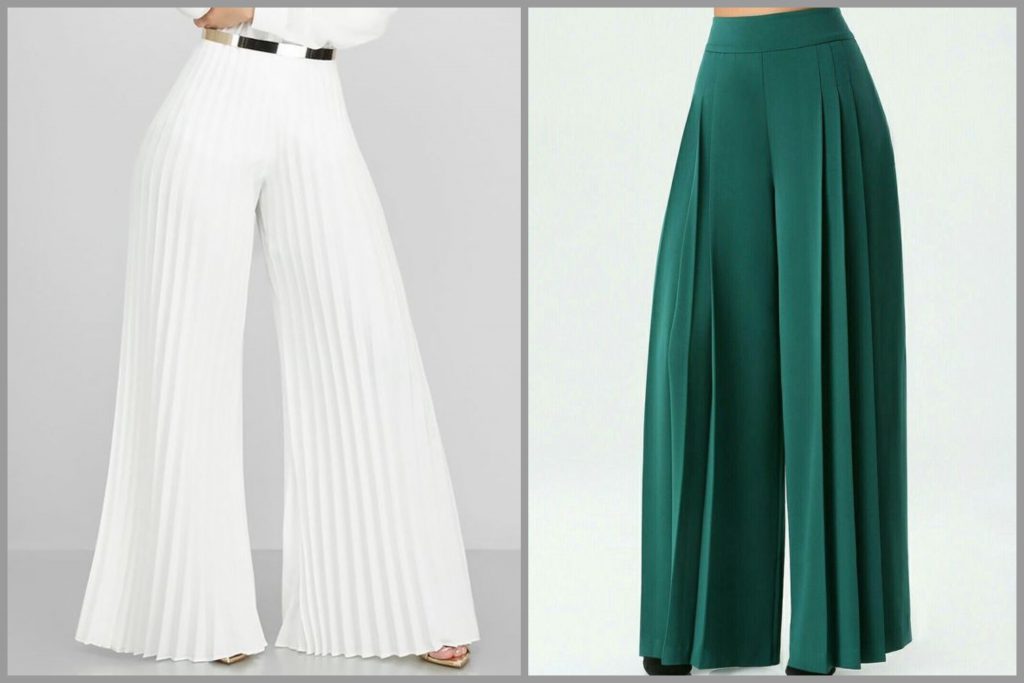 4.WRAP PLAZO DESIGN
This is perhaps the most distinctive iteration of the plazo . Just wrap it around your legs and you are good to go. There are lots of designs available for this type of plazo . Also, the price point of these plazo is fairly reasonable. However, you may not find it easily in the markets but they are readily available on online stores.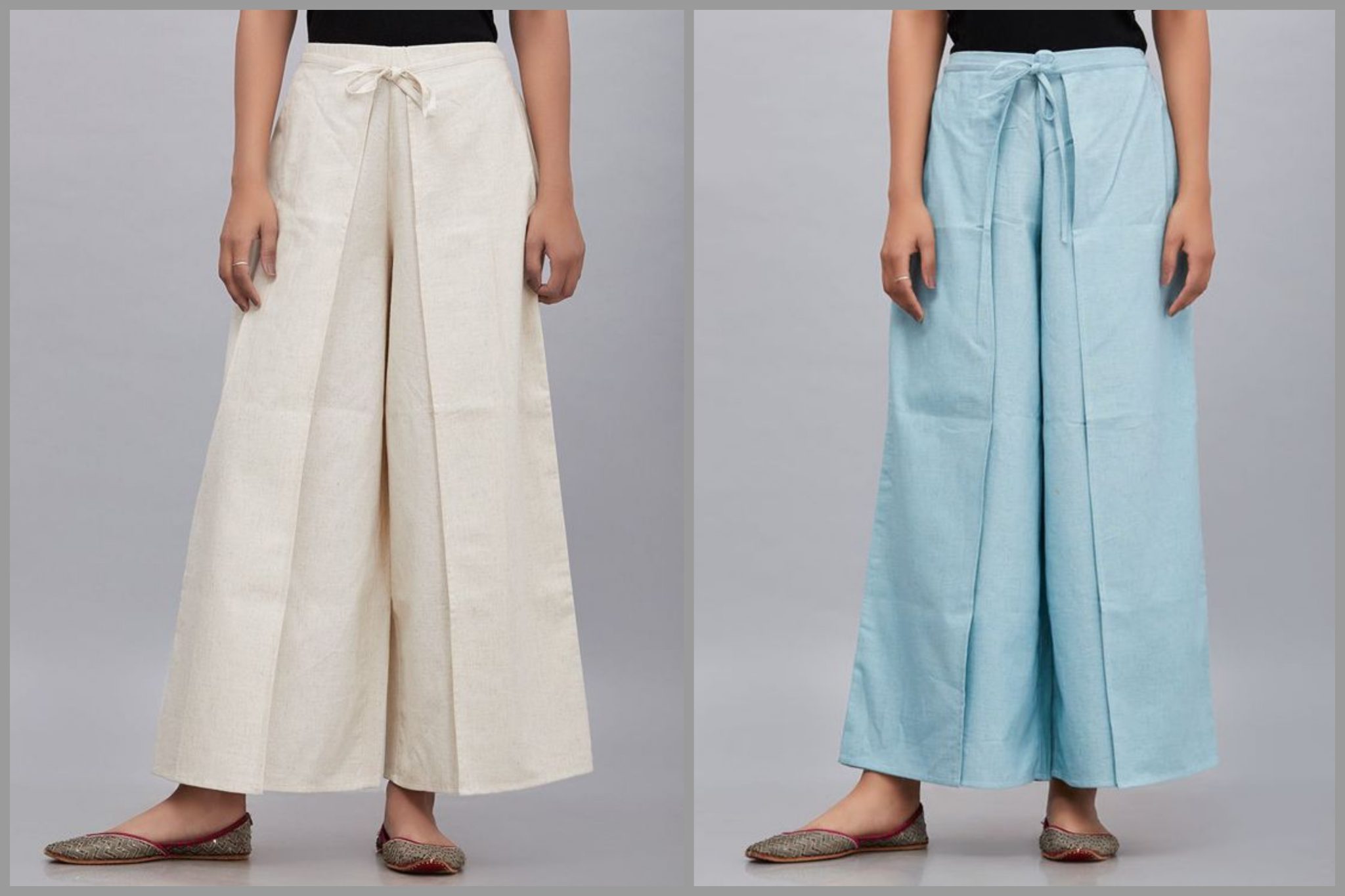 5.DHOTI PLAZO DESIGN
Dhoti palazzos are popularized by Bollywood actress – Miss Sangeeta Bijlani. They look identical to dhotis but are actually palazzos with U-shaped pleats. Draped kurtis, shirt style kurtis, tulip kurtis, and jacket kurtis, all look pretty good with dhoti palazzo. Complete the look by wearing shiny heels and carrying a matching purse. Your attire will look like a fusion of Indian and western fashion.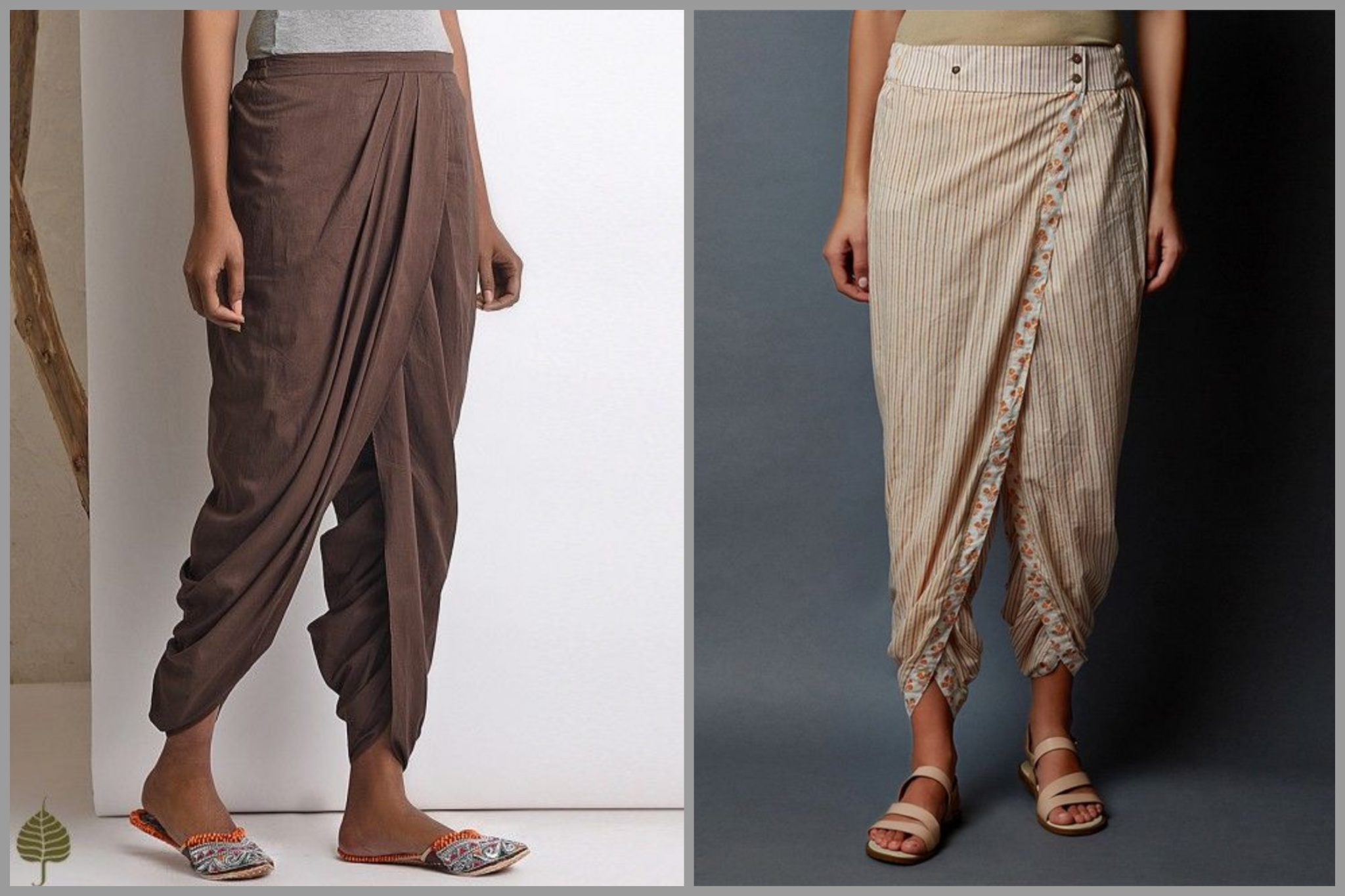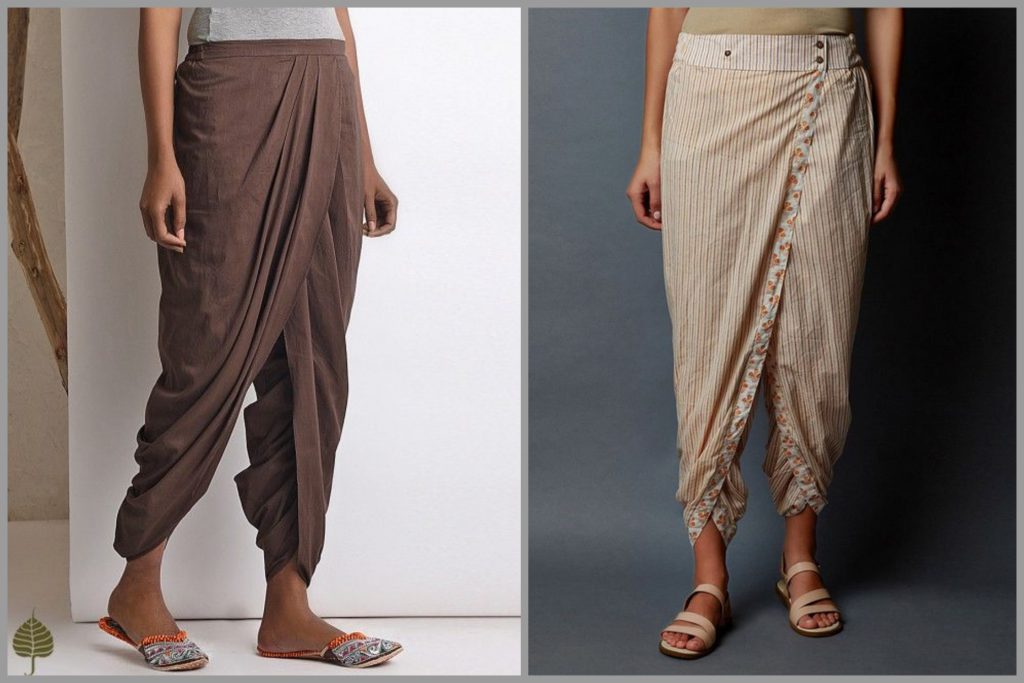 6.SIDE SLIT PLAZO DESIGN
This plazo is all the more airy and comfortable because it has slits on sides. The length of the slit depends totally on your comfort level. Also, you have the option to play with the number of slits in the plazo . Generally, side slit palazzos are made from georgette, chiffon, and lycra because these fabrics are lightweight and flow freely.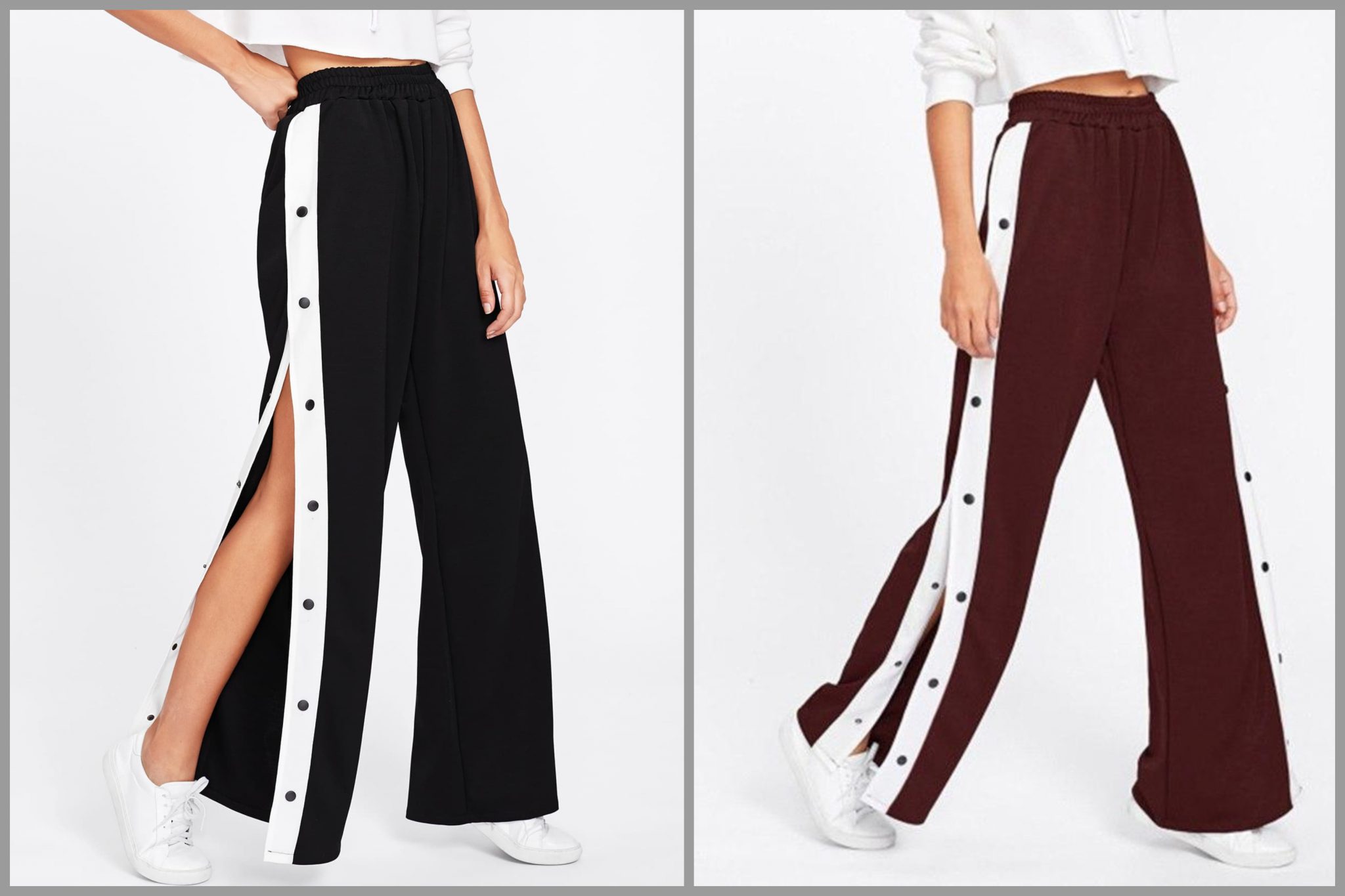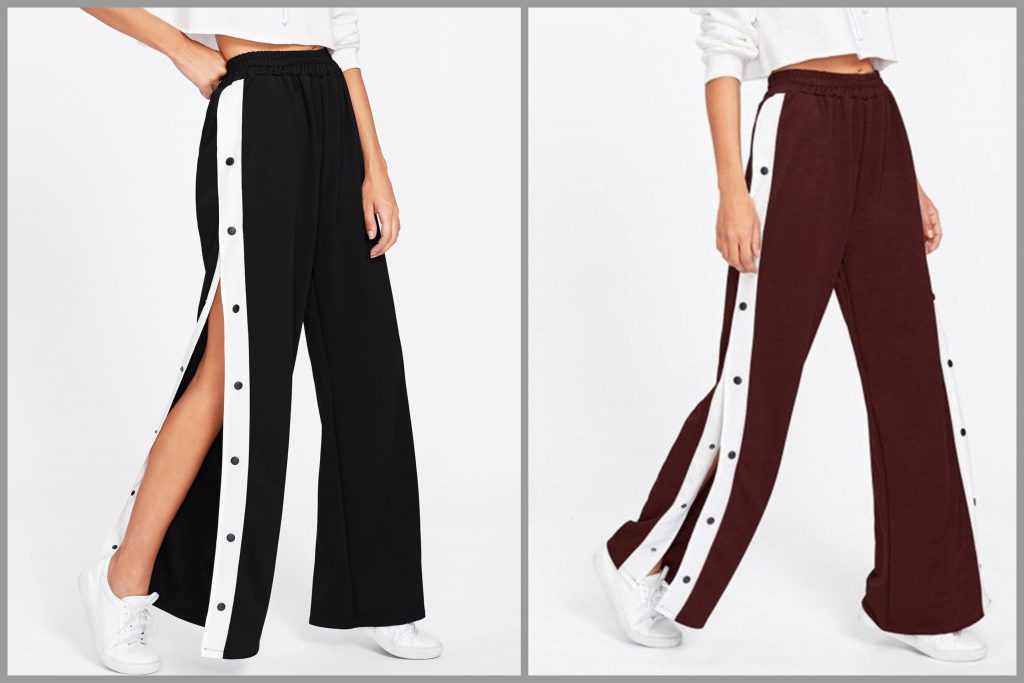 7.CULOTTES
These are basically regular plazo pants with a shorter length. Most of the culottes are made from the crepe fabric but cotton and khadi are also used. There is not much choice left for the top if you with this palazzo style. Spaghetti and short kurtis are the only options left with you. However, you can wear footwear of your choice with this one starting from brogues, boots, and vans to sandals, flats, and heels.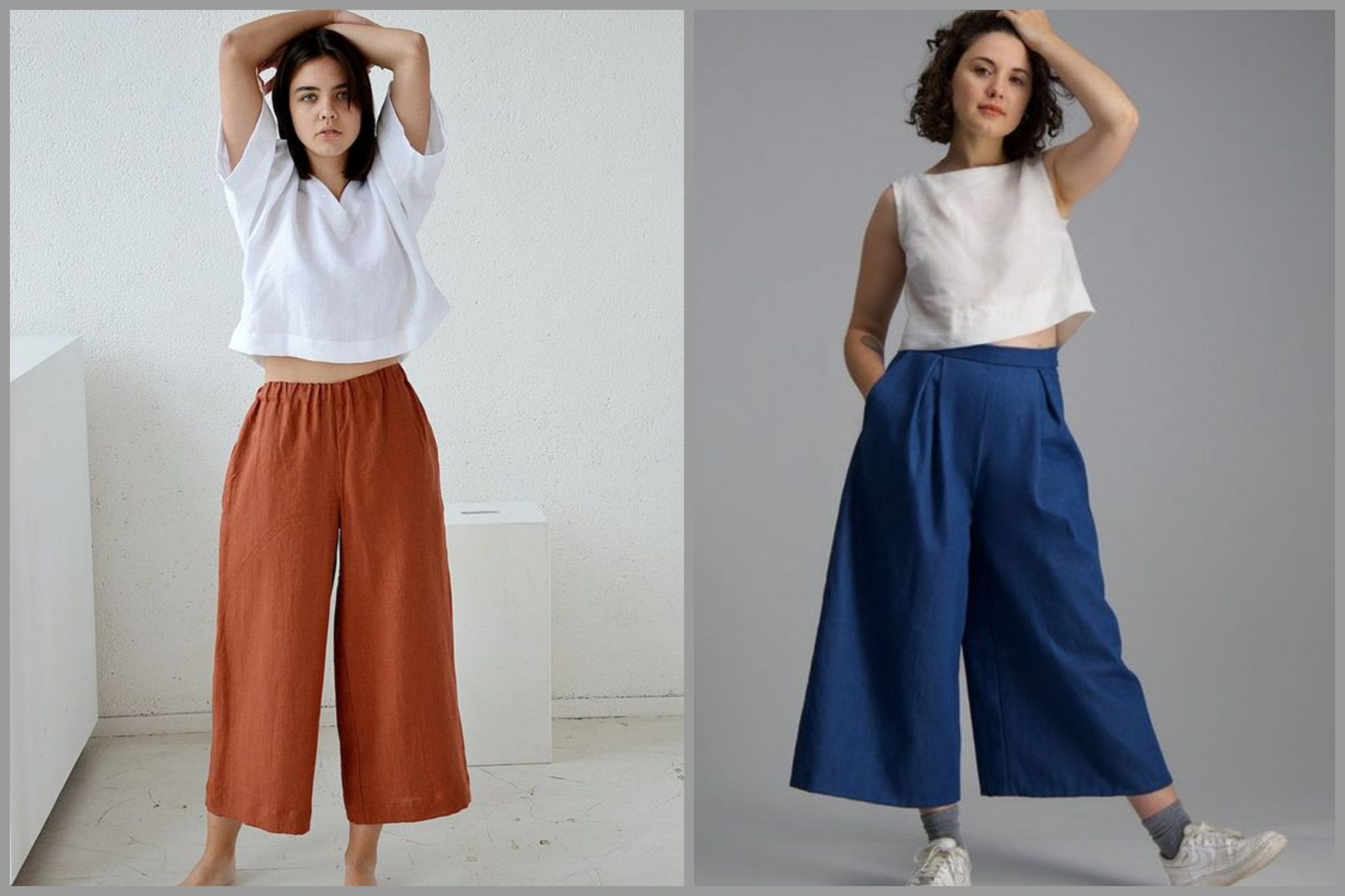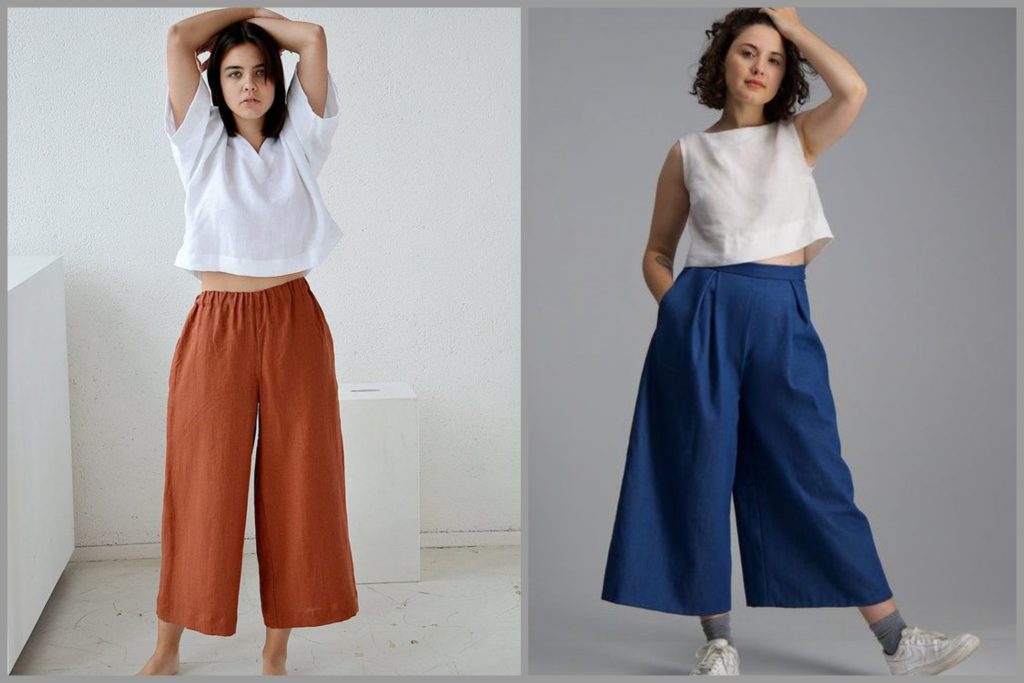 8.LAYERED PLAZO DESIGN
This palazzo is a mixture of the dhoti and regular palazzo. It has layers, pleats, and frills in some cases. This palazzo is not as long as the regular palazzo or the side slit palazzo and flows just below the knees. Formal shirts go pretty well with this type of palazzo and hence you can easily wear this outfit to the office.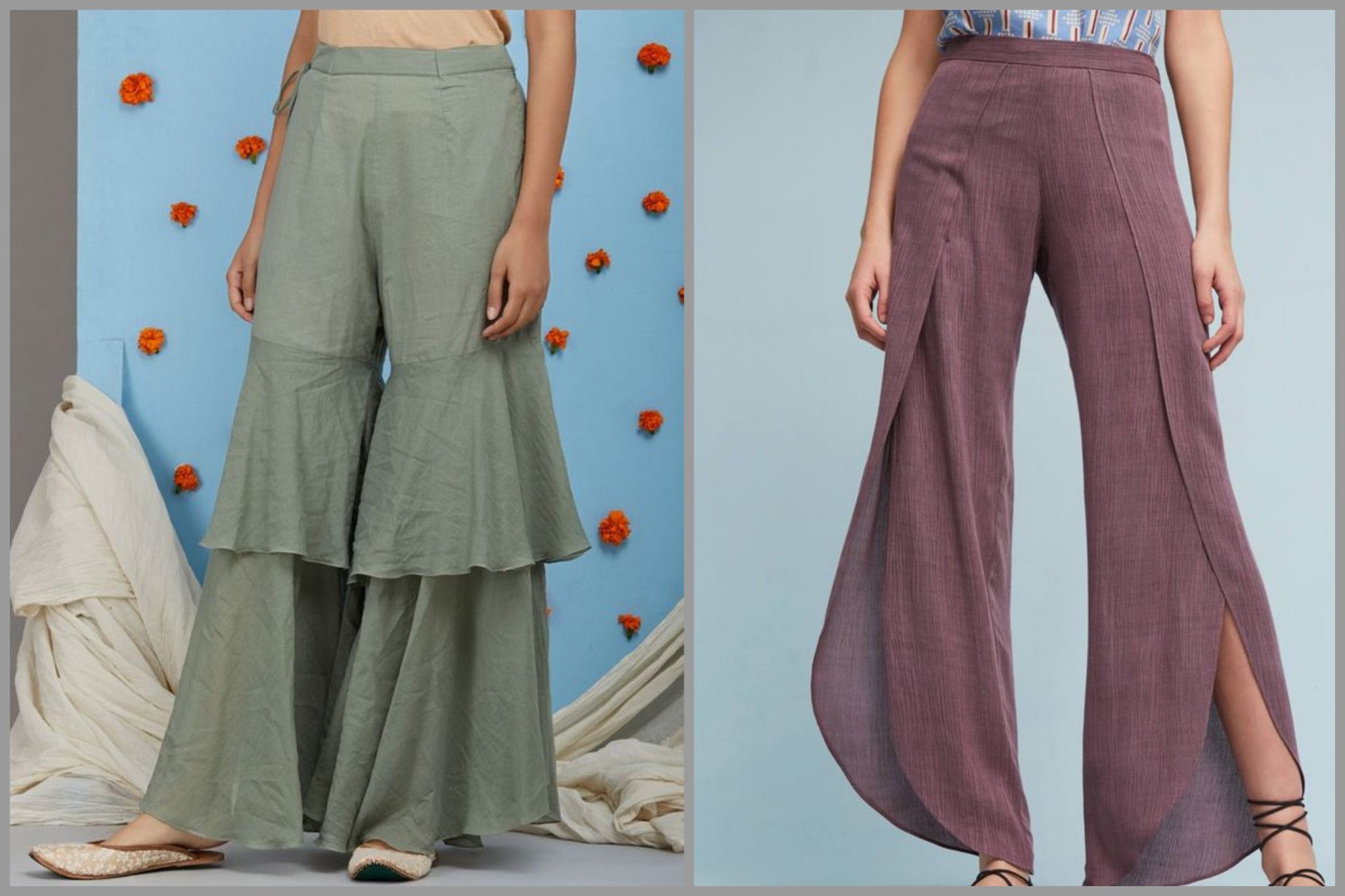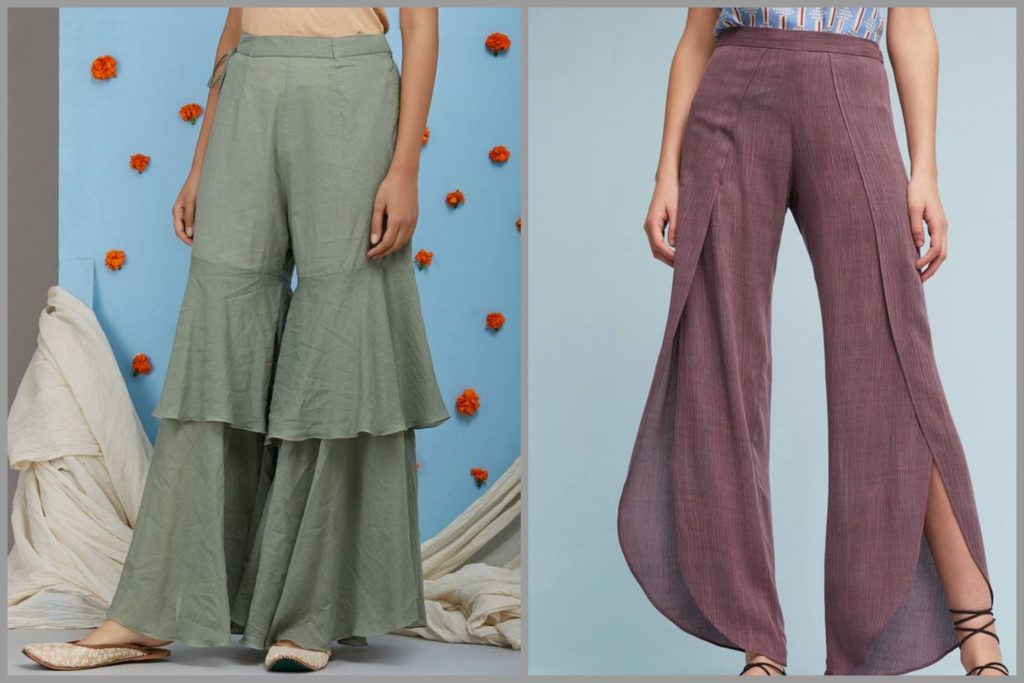 So these were the 8 different palazzo styles you can try out this summer. Hope you find this list useful.