Deepika Padukone is able to gain an irreplaceable in the Film Industry. From Bollywood to Hollywood, she has made her name around the world. But not just her acting, her dressing sense has taken our heart. Either it's the off-screen or on-screen life, she is spotted in the best attires of all time. She has the athletic body and flawless skin and she doesn't miss a chance to show it off.
And India, the most beautiful way to show off your beautiful body is Saree. From Chiffon saree to a traditional Kanjeevaram saree, she can carry any saree and express herself through it. Because of this reason, she is able to set so many Saree fashion Goals. If you really admire her saree look, then you will definitely be going admire our photo collection. Scroll down and have a look.
1.Deepika Padukone in Royal Blue Saree:
How can you forget her look from the 'Batameez Dil' song? Her attire and overall look have stolen everyone's heart. The Royal blue wrapped fabric looks extremely elegant and gave her a full party look. Since then, the golden border and shimmery black blouse on the royal blue saree have become the first choice of most of the women.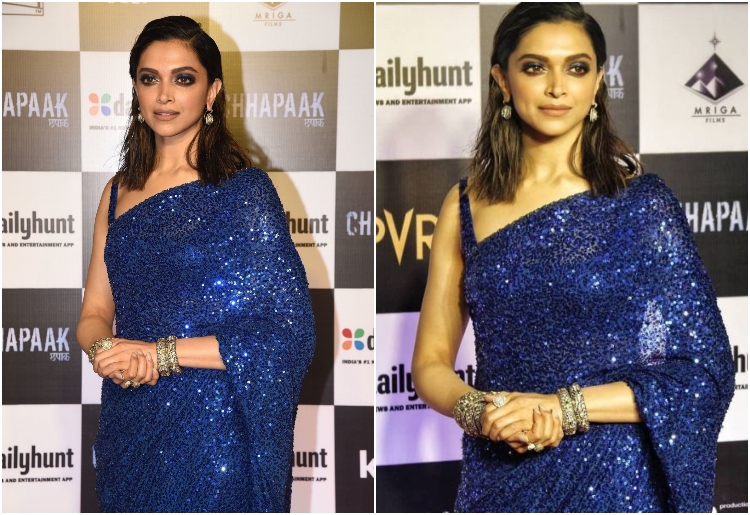 2.Deepika Padukone in the South Indian Saree:
One of the most sophisticated though adorable saree look of Deepika Padukone is seen in the Chennai Express Movie. She played the role of a South Indian role of Meenalochani. It goes well with her bubbly and free-spirited personality. Although her all the sarees in the movie looked amazing on her, the blue and orange saree has definitely standout as a Winner.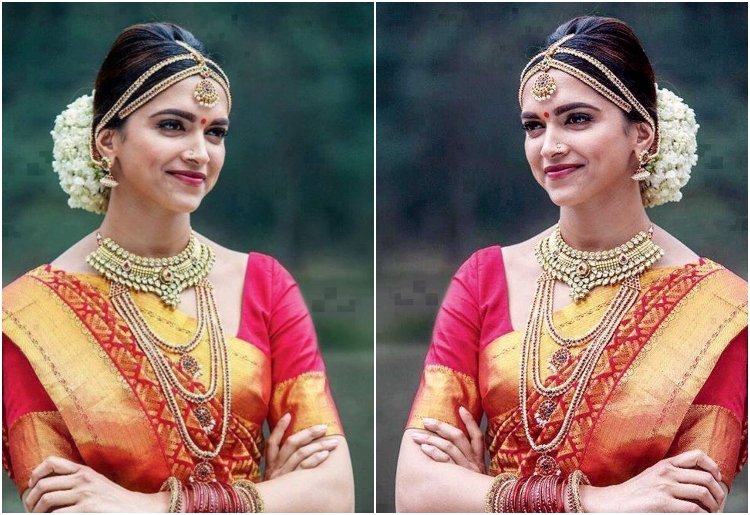 3.Deepika Padukone in her Reception saree:
No doubt, that Ranveer and Deepika had 3-4 reception parties, but saree look has stolen everyone's heart. She wore a royal shimmery and beige silk saree with a green emerald choker and pearl long necklace. She looked extremely sophisticated and elegant in her look. Not everyone can slay these exquisite pieces in such a graceful way.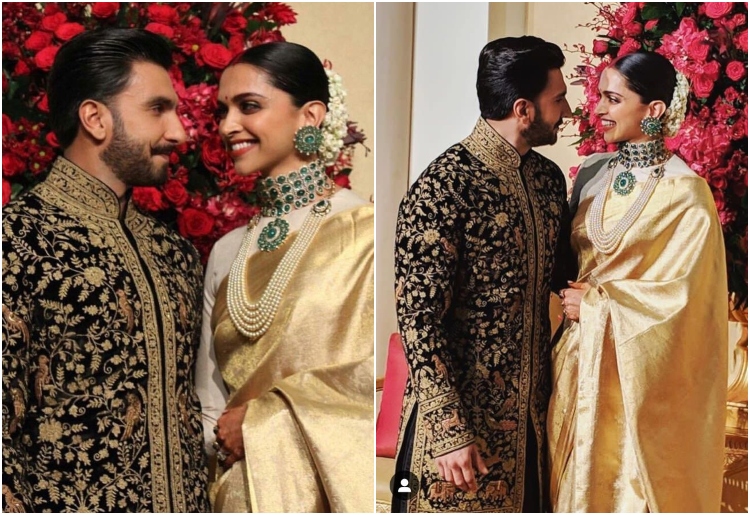 4.Deepika Padukone in Red Saree:
The Red saree looked amazing on the actress. It had ruffled pallu and purely modern touch on itself. The halter style red blouse looks amazing with pure red saree. She paired her saree with multi-layered Polki and pearl necklace. The sindoor and Winged eyeliner added a vibrant hue to her saree. She looked WOW! In the saree.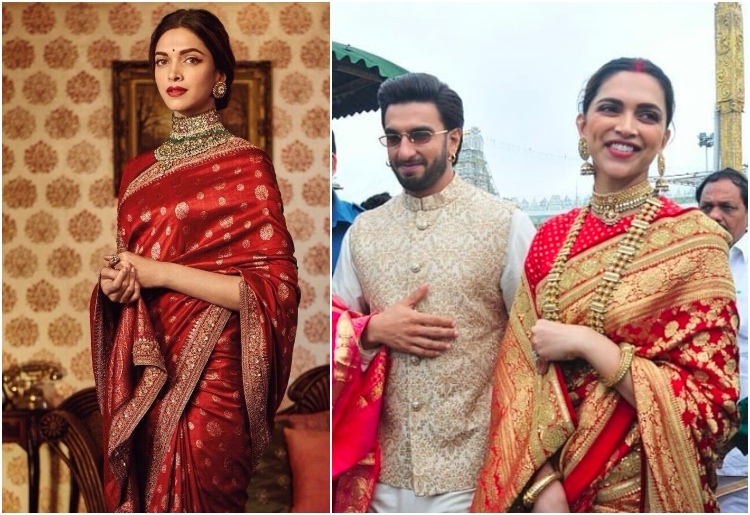 5.Deepika Padukone in Satin Pink Saree:
Deepika looked adorable in Orange and coral silk satin saree. The saree had a beautiful border with golden work. Although the saree is minimalistic, the heavy border has given a heavy vibe to it. She paired this saree with heavy, golden and sleeveless blouse. The minimalistic golden jewellery gave bling to her overall look.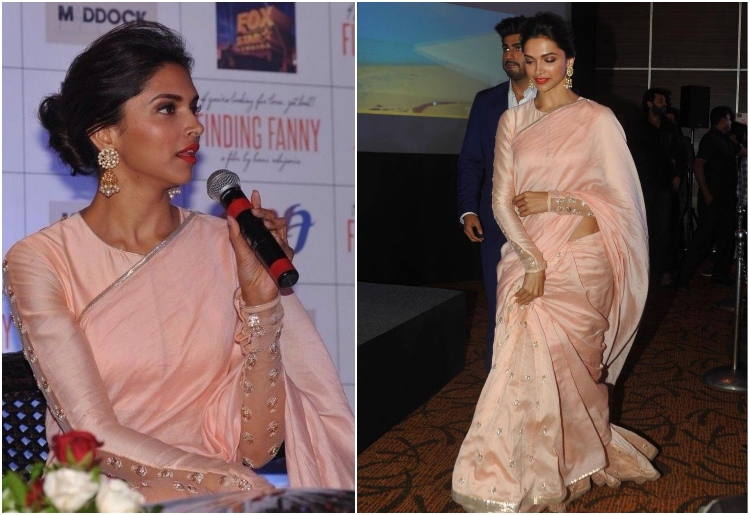 6.Deepika Padukone in Angelic White Saree:
Although the white colour is known for the most dangerous colour to flaunt, Deepika carried it in the most beautiful way. She went for a white net saree with chikankari-like border. She paired it with a matching white blouse. There are no two ways that she looked heavenly in this saree. Even you can go for such saree and complete your look with silver jewellery.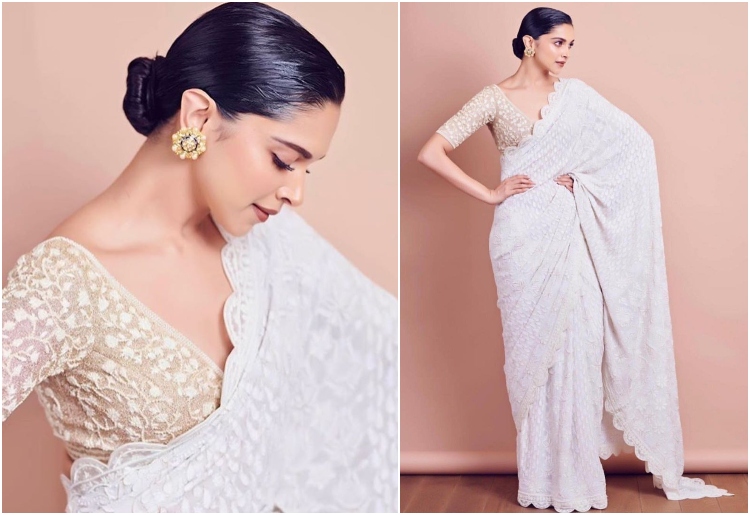 7.Deepika Padukone in the Black saree:
Black can never go out of fashion and when it is worn by Deepika Padukone, it becomes even more gorgeous. She went for a black saree with white floral work, which added an edge to her look. Her saree also had some golden circular work around the border. In total, she decided to keep her makeup and jewellery simple and make her saree flaunt alone.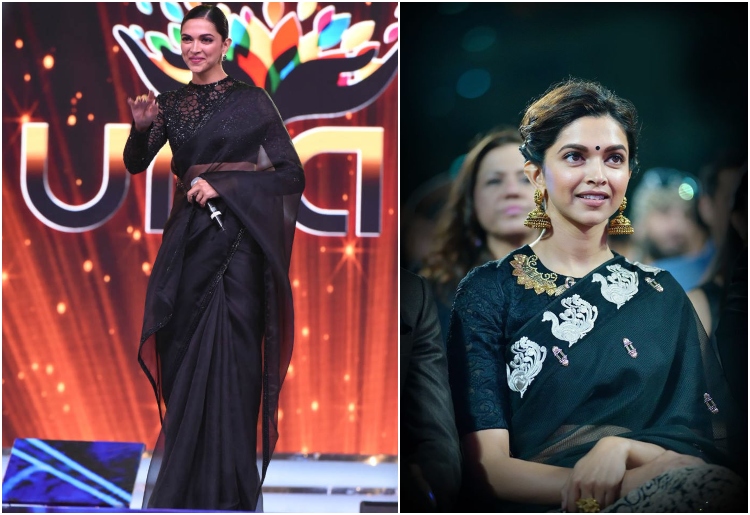 8.Deepika Padukone's half saree look:
Wrapping saree is ordinary, so this time Deepika Padukone wore a half saree look. It has a unique pattern on itself. The skirt style lehenga is worn with a black netty pallu. It has a matching border from the skirt. She completed her look with a velvety long-necked blouse with golden work. Young girls can go for this style.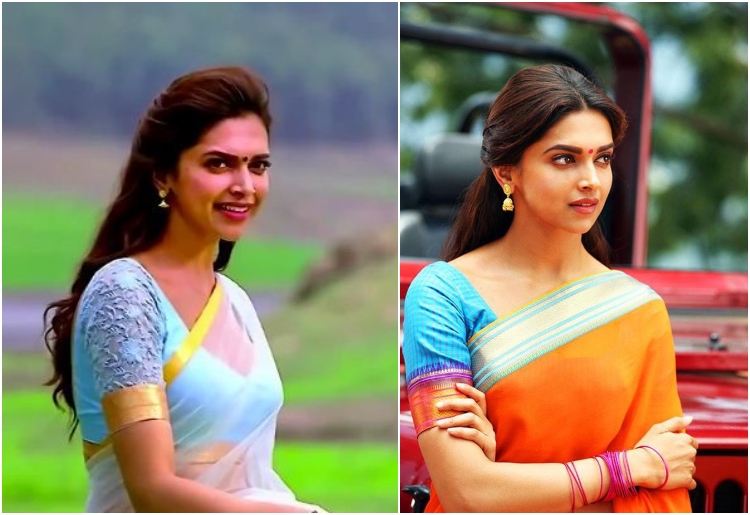 9.Deepika Padukone in Floral Saree:
Florals can never go out of fashion and it looks amazing in the day time. Deepika in her sea-green floral printed saree looks really dreamy. The chiffon fabric highlighted her figure in the most elegant way. Also, the red, blue and pink flowers on the saree help to look more vibrant. She decided to wear a shimmery sea-green blouse, which made it the best.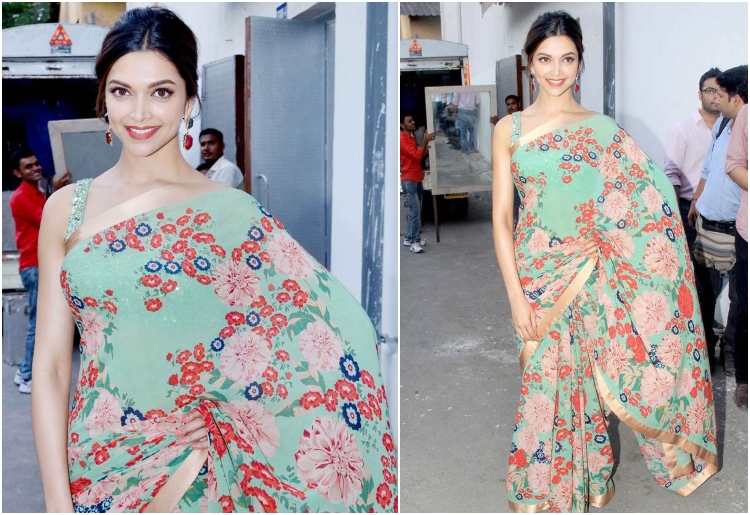 10.Deepika Padukone in Net Saree:
In Kapil Sharma Show, Deepika Padukone wore a delicate net saree. The saree had a classy beige border, which makes the saree look minimalistic. It has silver work in the bottom of the saree. And the thing that added a show stopper to the saree is its floral blouse. The blouse has some many pink flowers on itself that matched perfectly with the pallu work. The saree looks really modern.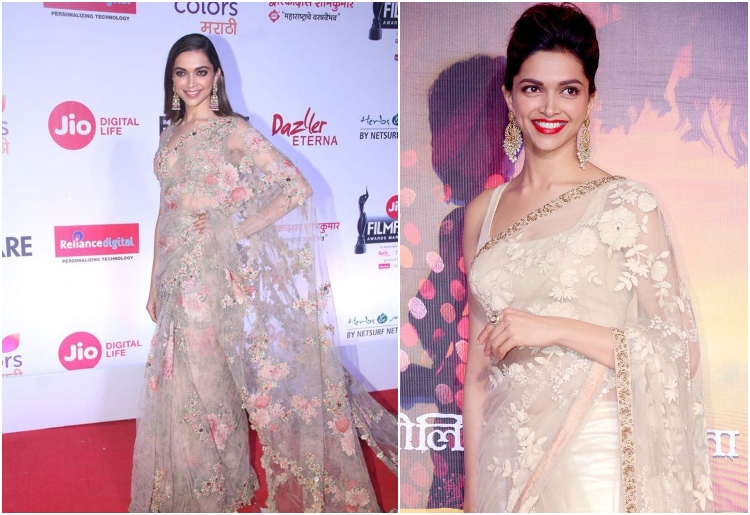 11.Deepika Padukone in Silk Saree:
No other saree can beat the beauty of the Silk Saree. Deepika Padukone wore a head-turner banarasi saree with golden and red thread work. It has proper Ethnic work on itself. The red quarter blouse helps her to look extremely sophisticated. Its pallu is simply filled with golden zari work. You will admire the overall richness and balance of the saree.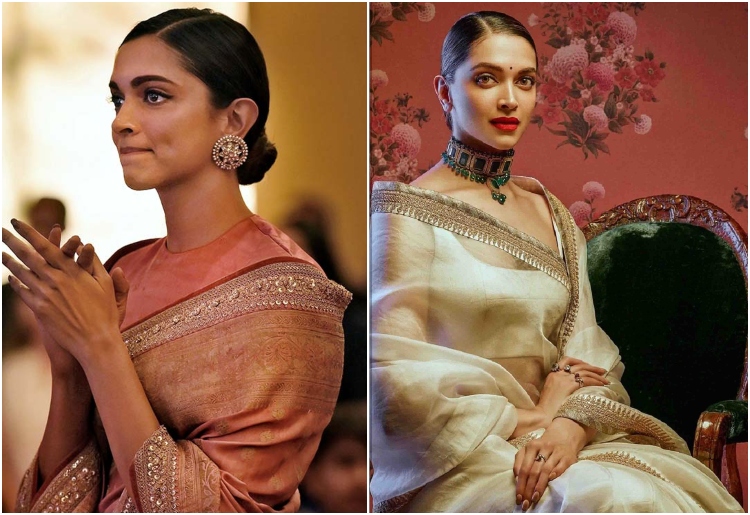 12.Deepika Padukone in Saree Gown:
Saree Gown! Really? Deepika Padukone carried it in the perfect way. Actually, it's a gown with a pallu and appears to look like a gown. It is perfect for evening parties. The white and netty work on the upper side looks really amazing. And when a golden saree-like satin fabric is added to it, it became even better. You can try this look in the next party.