Saree is one of the best traditional Indian attire, which makes every woman look gorgeous and beautiful. One such outfit never goes wrong, no matter what. However, did you know that nowadays the ones sported by the Bollywood Divas inspire most of the trendy sarees that women are interested in? These sarees sport nearly similar pattern as the ones that the Bollywood celeb wear. For such a pattern, the designer works so hard making a replica of that and sometimes in that process, it turns out better than the original one. Here are the top 15 latest Bollywood saree designs with pictures as follow:
1.The Pink South Indian Celebrity Designer Saree
At the latest event, beautiful Shriya Saran spotted wearing this stunning pink saree with blue blouse. The south Indian designer definitely came up with the great idea of making such an amazing saree. This design seems unique and one of the most admired Bollywood Saree of all time. Women would definitely want to carry such saree on occasions like parties, festive occasions, weddings, etc. This pink saree and blue blouse combination are one the best feature of this saree.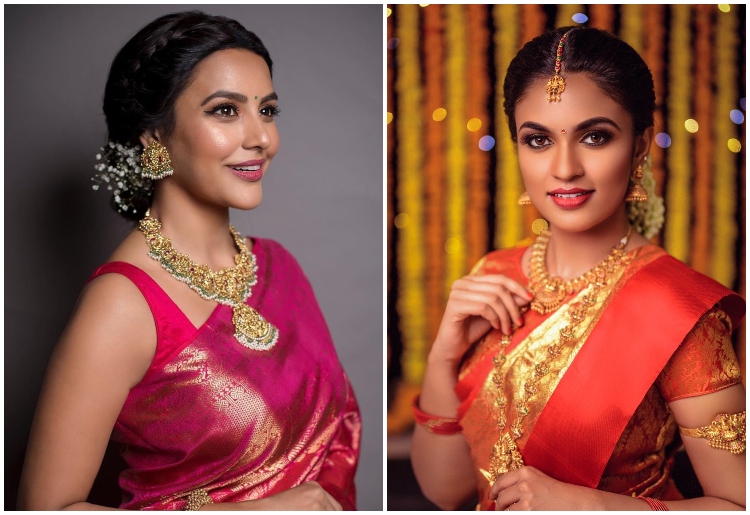 2. The Pink Wedding Bollywood Saree
Here is another unique pink saree that follows famous B-Town saree fashion. It looked plain though perfect on her. Recently at a movie promotion, Katrina wore a beautiful pink saree that she carried in the fabulous way. Although this saree don't have a bridal look, but will be perfect to wear on special occasions.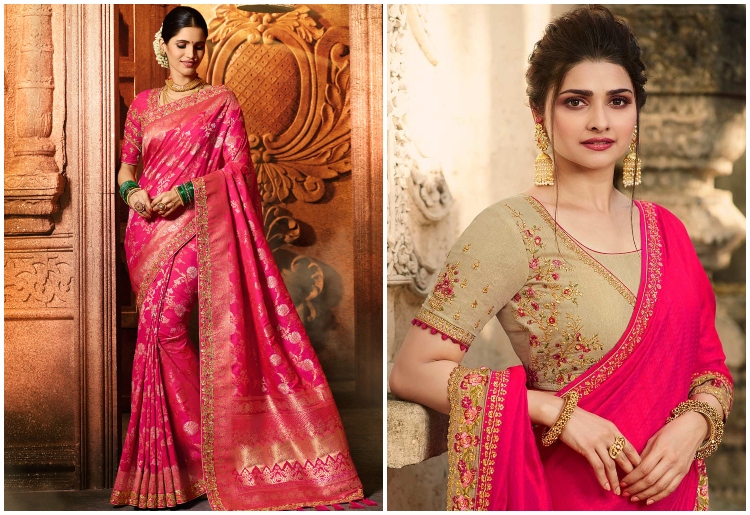 3.The cream Net Fabric Embroidered Saree
Deepika is a style setter and she always look amazing in the saree. This time, see wore a perfect combination of style and glamour. The designer enhanced the beauty of this saree by the thread zari embroidery and patch border work. The heavy blouse added a happy effect and heavy effect to it. This saree is very popular among young women.
4. Beautiful Yellow Georgette Printed Saree
Appear in an ethnic avatar with this yellow printed saree. This saree is made out of georgette fabric with a lace border, which looks beautiful and it is comfortable to wear all day long. Well, georgette saree is very popular in Bollywood and can be seen in many famous movies. This saree is perfect to wear for casual outing and weekend get together.
5.The Heavy Embroidered Bollywood Saree
Heavy work sarees have an impressive appeal that can give any woman with a queen-like grace. This saree is a Mix of Glamour, Tradition, and perfect for weddings. Diya Mirza carried it amazingly with a small Indian handbag. You can say that it is one of the best Bollywood saree of all time (because of its amazing colors and style)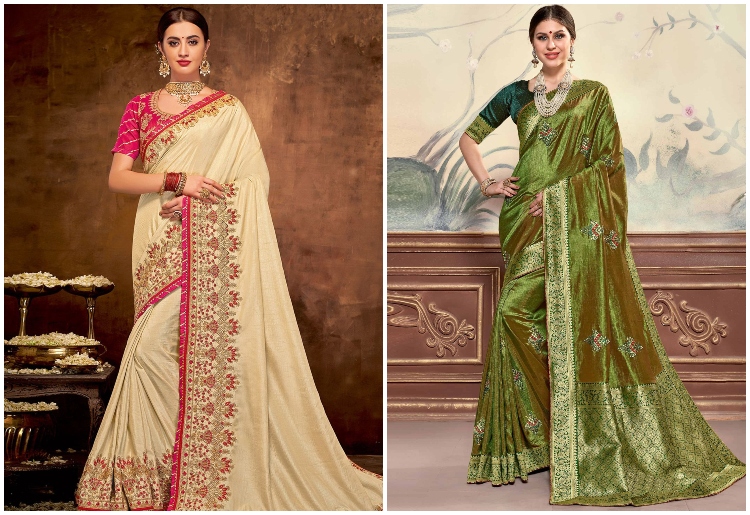 6.The Party Wear Bollywood Saree
This blue saree is perfect for parties. In Yeh Jawani hai Diwani Movie, Deepika wore a hot blue saree with modern blouse. The contemporary gota work around the saree makes it unique. If you are looking for something attractive then this can be on the top of your list. This designer saree is trendy and looks beautiful.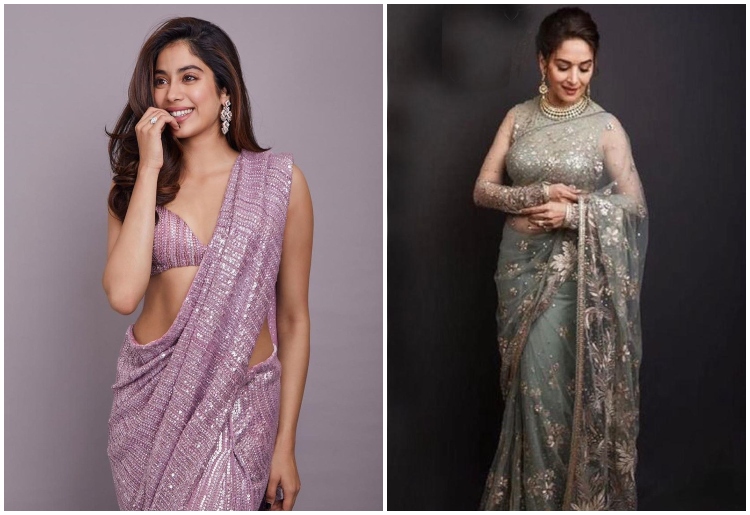 7. The Purple Net Bollywood Saree
It is a purple netty saree with green blouse and border work. These type of sarees are really trending and Bollywood Divas can be seen carrying net saree in events and Bollywood parties. If you are looking for a saree for your best friend's wedding where everyone you know will be looking at their best then this saree will be a perfect choice.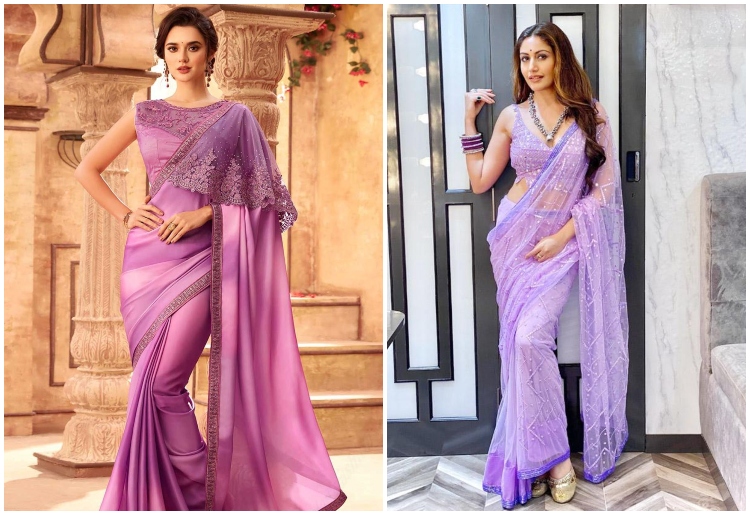 8.The Bollywood Embroidered Saree
This is one of the best designer saree a woman can wear. Just like the netty sarees, the heavy sarees are also loved by the Bollywood. The embroidered work done on this saree is very attractive and elegant. This Bollywood embroidered saree is suitable for woman, who are willing to sport the ethnic look. You can pair it with a matching necklace.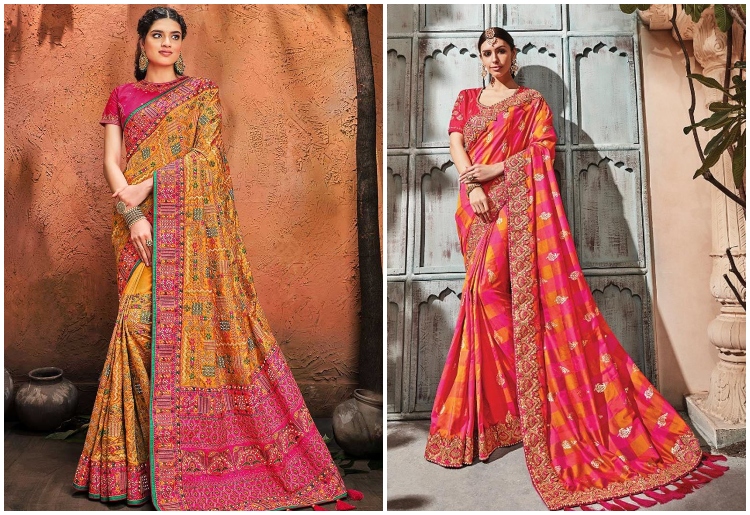 9.The Madhuri Dixit Pink Designer Saree
This beautiful saree is definitely one of the best looking designer saree that is sported by a celebrity in Bollywood. The colour combination of this saree is one of the best features. Just like Madhuri Dixit, any can woman sport up such saree and get a respected look by showing such a beautiful version of traditional Indian Attire.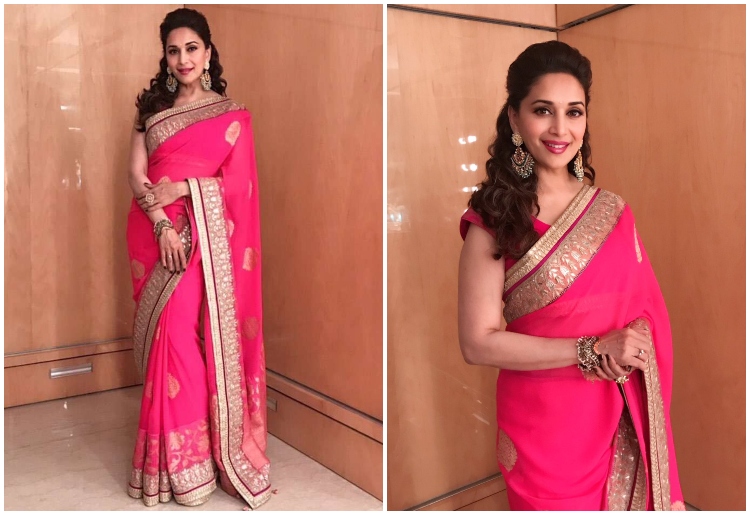 10.The Black Bollywood Saree
This is one of the best-looking saree with a black blouse. The design on the lower portion of this saree is something that makes it look ravishing and unique. This is probably the most amazing looking saree women can sport. Most of the women desire to wear such Bollywood inspired sarees like this on special occasions.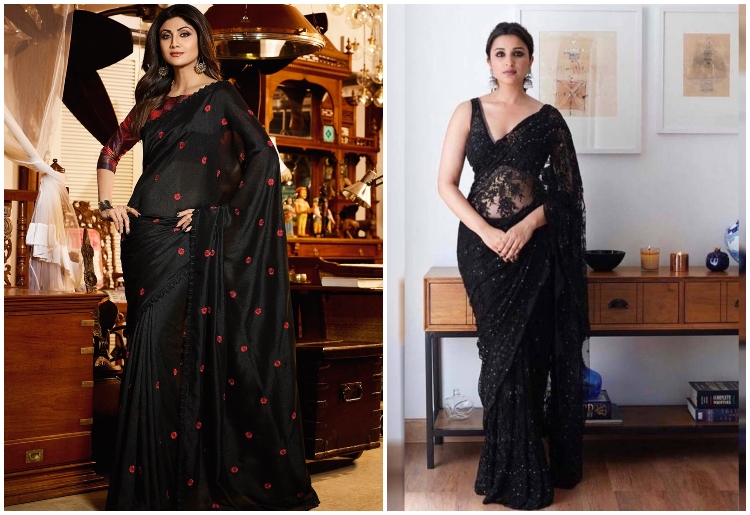 11.The Blue Silk Saree
Silk Sarees has always been the most favourite among women. This blue looks beautiful and work done on the border is simply amazing. Karishma Kapoor has a beautiful figure and she carried it in a fabulous way. The designer has done a brilliant job on this saree and for its impressive artistic work. You can't deny the fact that it is one of the best saree in its category.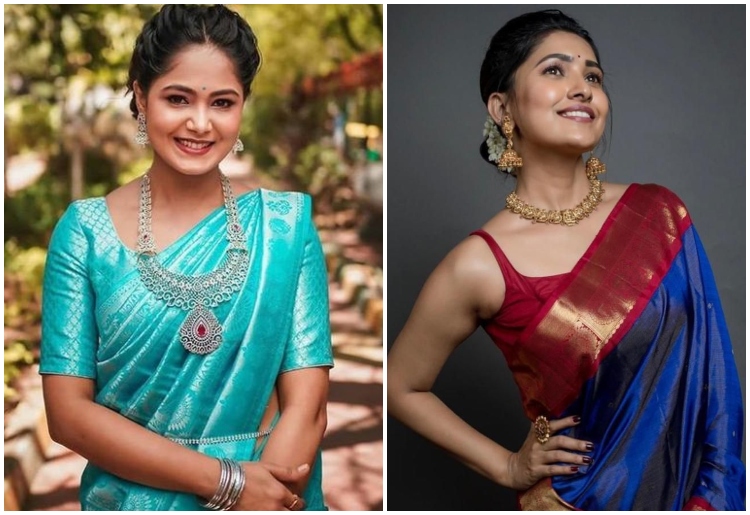 12.The Navy Blue Bollywood Saree
This Blue saree with a golden blouse looks stunning. Women love to sport this kind of saree with a sleeveless blouse and the work done on this saree has followed by the latest trend. Also, the darker version of blue is always better. It is one of the most finest-looking saree of all time. Women crave for sporting such attractive saree.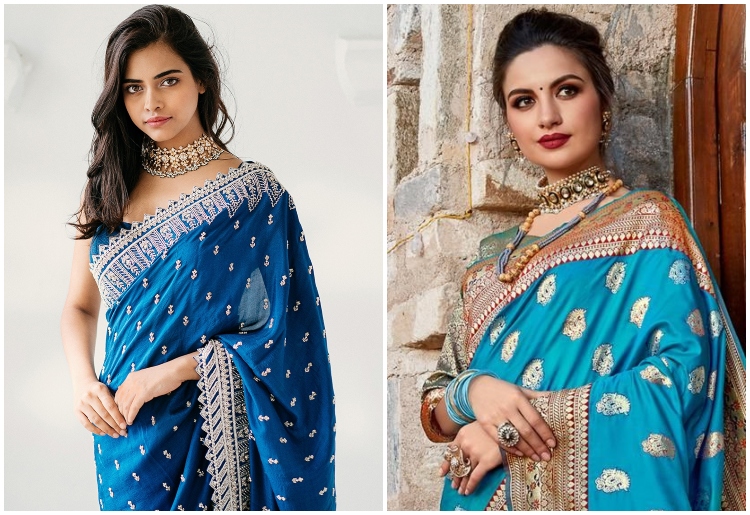 13.Net Crape Bollywood Saree
This beautiful looking saree is an example of true saree designer. The blue blouse look amazing with the netty saree. Its border work makes it even better. The designer has done an exceptional job on this saree. Anyone who sports such saree will look amazing at any occasion. In this way, you can also play with colors and shades.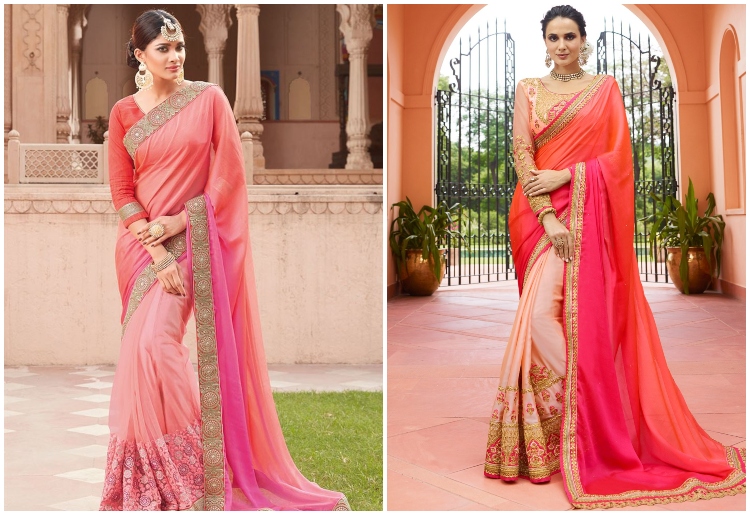 14.Deepika Padukone Designer Saree
Recently Deepika Padukone spotted wearing this beautiful saree with amazing embroidery work. The work done on the border portion is the main attractive feature of this saree. It is definitely the best-looking saree that any Bollywood celeb has worn. This pink colour saree paired with shiny golden blouse looks magnificent. This Bollywood diva's sense of fashion is outstanding and one can easily rely on her choice of clothes. This designer saree will be on the top of the list in every women's bucket list.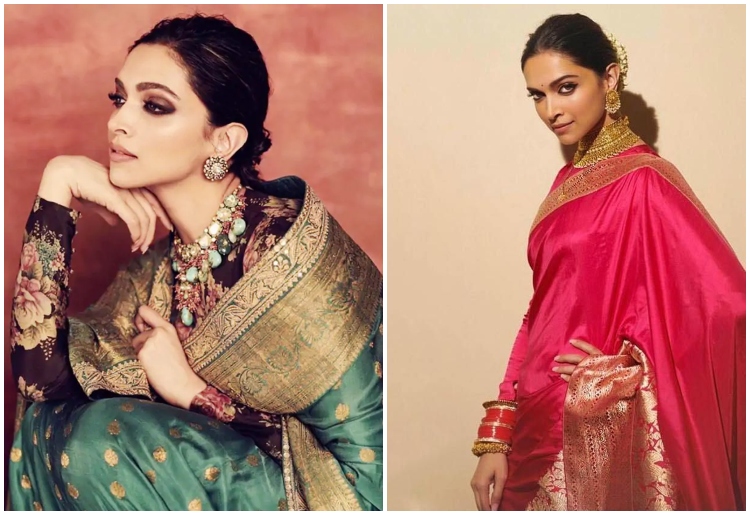 15.The Green Silk Saree
No doubt, that Bollywood has some talented designers. This designer saree is made of silk and the beige colour embroidery done on the border looks gorgeous. It can be seen that the designer worked so hard on this saree to achieve this look. The colour combination of Beige and green is something that stands out and looks appealing. This saree will be the perfect choice for a party or a wedding to gorgeous.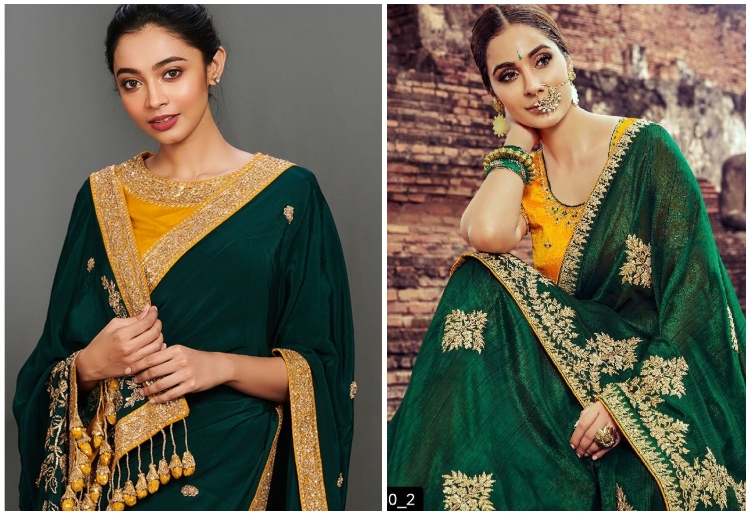 Every woman desire to look like famous Bollywood celebrities and there are designers who are making it possible with their talent and even better than the initial ones. These are some collection of sarees that are suitable for weddings and parties.