Indian is a place that is known for celebrations. Each celebration is commended with excitement, happiness and a bunch of fashion trends. It moreover speaks to our way of life and how we celebrate our social happiness with each other. Among different celebrations, Pongal is one of them. For what reason is the Pongal celebration praised, how is it celebrated? this is the most common question which comes when we say that it's a big festive season.
Pongal, a four-day celebration, is a reap celebration worship to the Sun God. It starts today, January 15 and will proceed till January 18. For Tamilians, this is possibly the most promising celebrations. Pongal is mostly celebrated to offer prayers to the Sun God for decent rabi carbs collections. The celebration, which is held more than four days, comes with Makar Sankranti, which is praised in north India and starts a day after Lohri this year. In this festival, many Tamilian ladies love to wear different ethnic dressing and may get confused while selecting the most preferred ethnic wear which is saree. Selecting a classic saree is the most difficult task where many ladies dose many silly mistakes which spoil your outfit looks all the time. But this time you do not need to worry because we have collected some of the most preferable and trendy sarees collections for you which makes you look beautiful and elegant.
Sarees For Pongal Festival
1. Silver Woven Silk Blend Saree
When it comes to selecting a nice ethnic clothing silk fabric comes on the top of the list. yes, this fabric talks about your fashion sense and if you have selected the right colour for your self then this will be the most eye-catching outfit in the crowd of thousands. This saree will give you a perfect vibe of Pongal festive with their elegant colour combinations.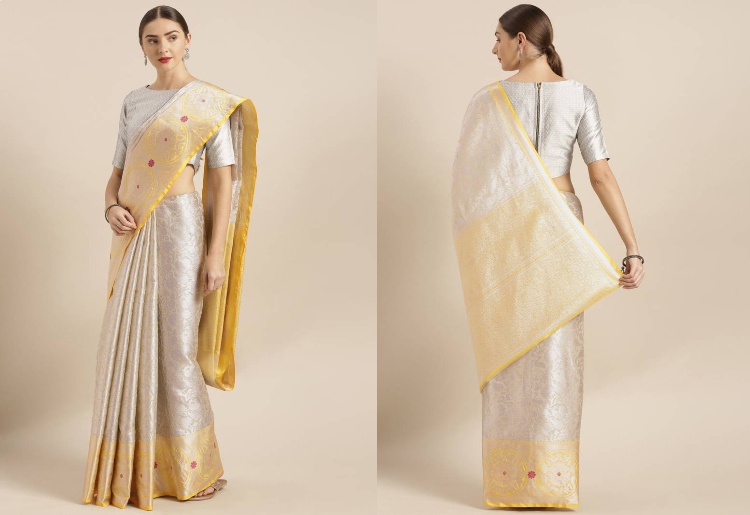 2.Sky Blue Printed Cotton Saree
Sky blue is such a universal colour and always looks fabulous on every skin. This festival celebrates in the sunny day where you may have to face worm or the hot environment in India, at this moment you have to select something which makes you feel comfortable yet elegant, then you can select this kind of blue-toned cotton sarees which keeps your skin healthy without spoiling the vibe of the festival.
3. Yellow Color Designer Banarasi Silk Saree
If you ask anyone about the richest colour then definitely everyone has the same answer Yellow. Yes, this will be the ideal choice when you are dressing up for a sunny day event. This colour will give you more elegance when you select a nice yellow colour Banarasi Silk Saree.
4. White Printed Silk Blend Saree
silk sarees have a right preference when it comes to looking more stylish and elegant but don't wanna spent so much time and efforts on clothing. This option will be there when you want to look more stylish with just a few steps. You can restyle this kind of saree for multiple events, even you can try such colours while night parties too.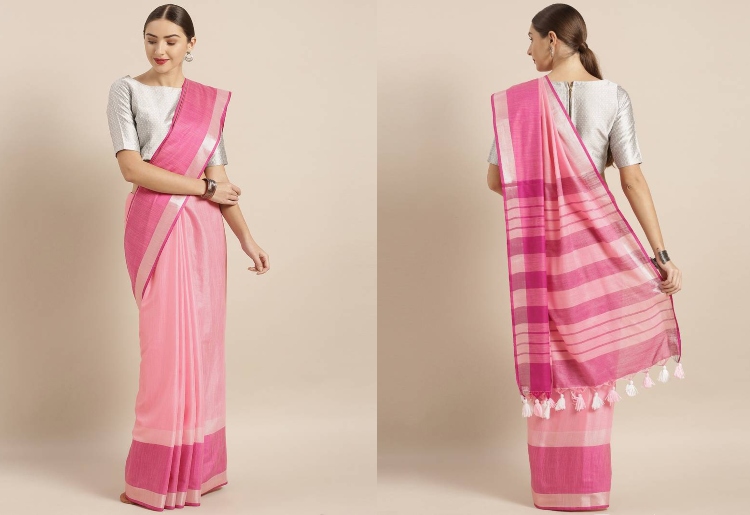 5. Pink Plain Linen Saree with Blouse
linen said comes under the fashion focus now and many of us want that to lift up their look with such trendy pieces. There are many designs that are available in linen saree but the most loved one colour and pattern ins plain pink linen sari. This pink share will enhance your look and gives you a rich fill with a simple dressing.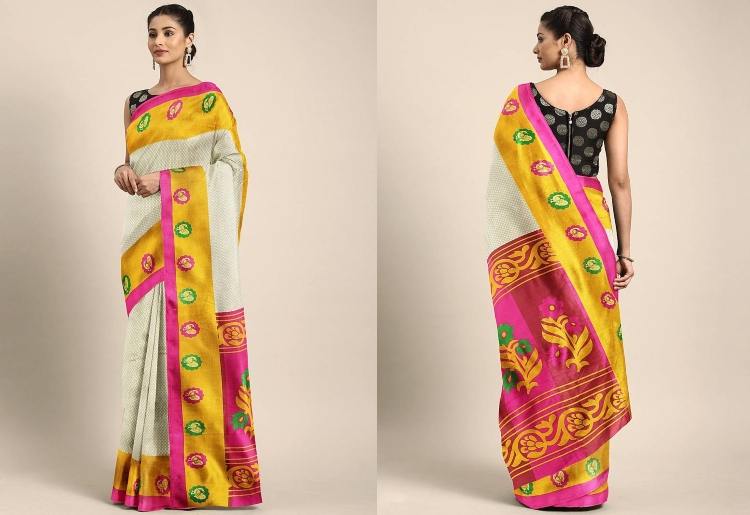 6.Grey Woven Cotton Silk Saree with Blouse
Grey colour becomes a wardrobe special for all of us Because you can restyle them with endless ideas. This colour goes with any colour and if it's in the cotton material then definitely you can use them multiple times.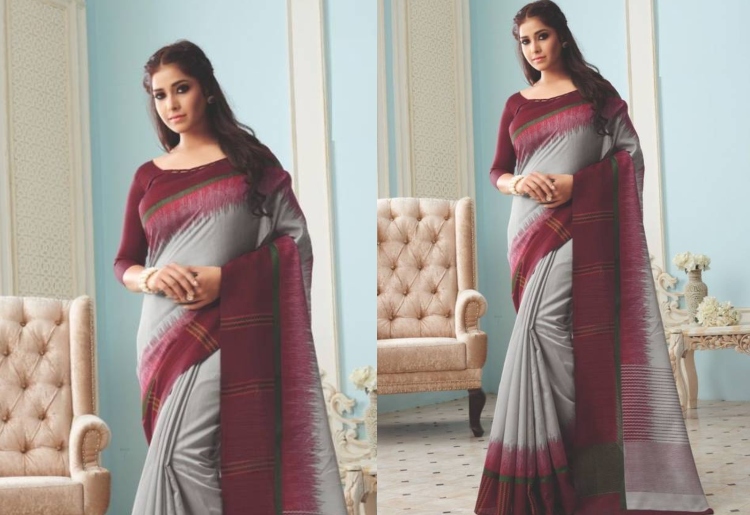 7. Cream Woven Cotton Poly Saree
Silk is way too cosy and classic fabric. This is the pieces of clothing Blend it in with cotton and poly. The Indian conventional clothing has made some amazing progress from being only our 'public attire'. The lightweight texture keeps you cool and pleasant the entire day,.Cream Color is the best choice for this season.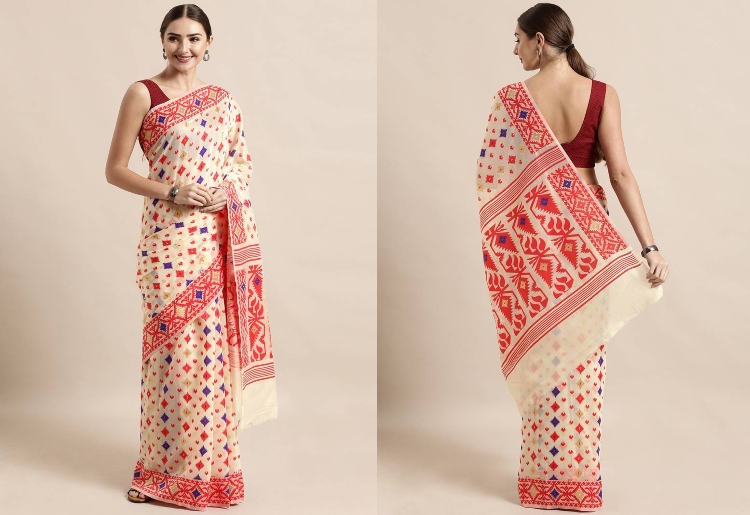 8. Blue Floral Printed Cotton Silk Saree
Have an ethnic-themed decided at work? Nothing talks class than these super classic Blue Color sarees for winter. The Light Blue and white tints are amazing to add lively vibes to your day.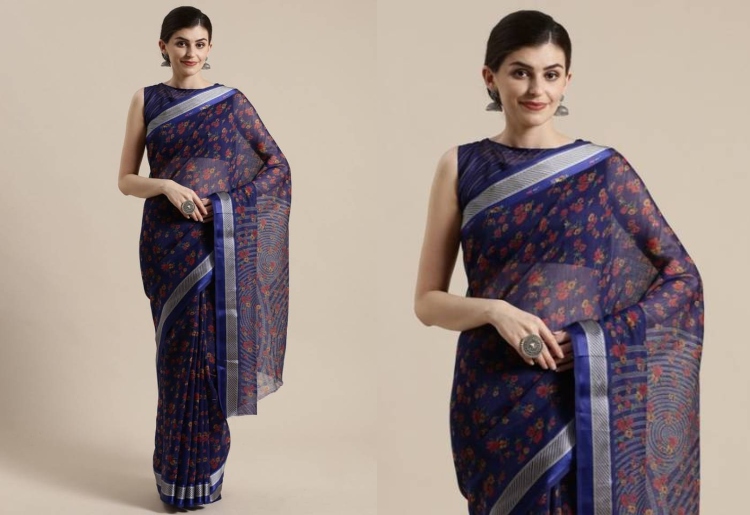 9. Blue Embroidered Satin Saree
Embroidered Satin Saree is the coolest way to stay up to date with the fashion trend, These styles are super handy and no need to accessorize more you can just have faith in the design and the work of saree.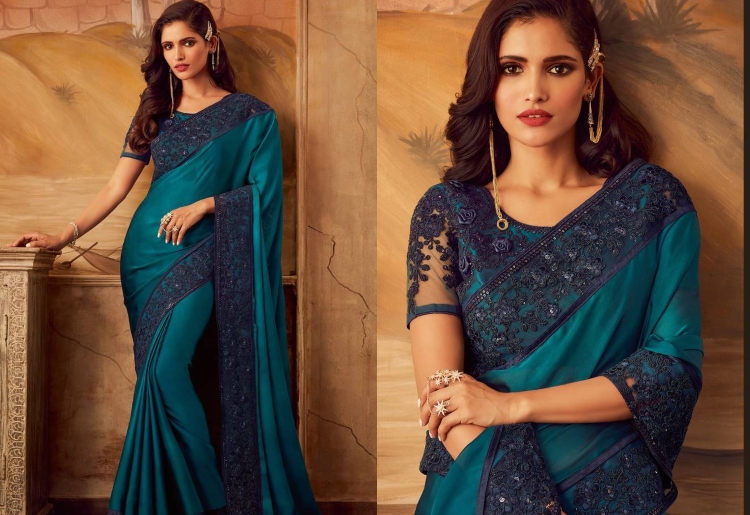 10. Grey Woven Silk Blend Saree
Again, this combination of silk fabric of grey colour looks fantastic on almost all skin colour and for Pongal Festival this saree will add more grace to the sunny day.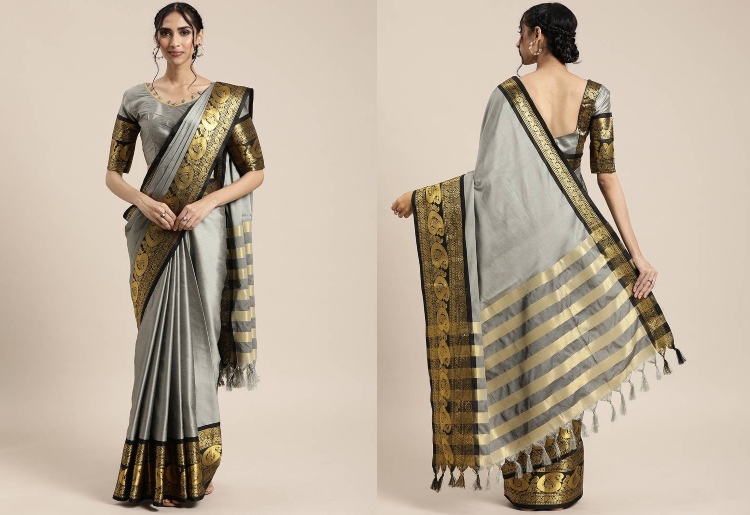 11.Black Woven Silk Blend Saree
Choosing a one Complementing saree for your self is the biggest challenge for everyone but its a statement that if you are confused between multiple choices or cannot make the decision then just blindly select a black colour saree of silk fabric which helps you to grab the attention in the crowd.