Sankranti is celebrated all over South Asia for certain regional variations. It is known by various names and celebrated with various traditions in various parts of the nation. In Maharashtra, it is celebrated by performing exercises like "Haldi-Kunku (in a real sense meaning turmeric – vermilion)", Kite competitions, trade of blessings like utensils, Clothes and so far.
Among all these custom individuals of Maharashtra works deep on this specific day. Notwithstanding the fact that black is viewed as unfavourable by Hindu belief systems however it is somewhat standard to wear black on this day. There is no social reason for wearing such outfits.
Many of us get confused that what to wear on this occasion even though the colour is decided. In black colour, there are many designs are available in the market but some of the classic pieces are always there to make you look unique and beautiful we have collected some of the best black sarees for Sankranti.
Top 9 Black Sankranti Sarees
1.  BLACK WOVEN SILK BLEND SAREE WITH BLOUSE
we all know that the black has its own shine and you can restyle this kind of saree with unlimited options. especially gold and black combination with different prints will create a rich illusion and gives you a perfect vibe of ethnic dressing.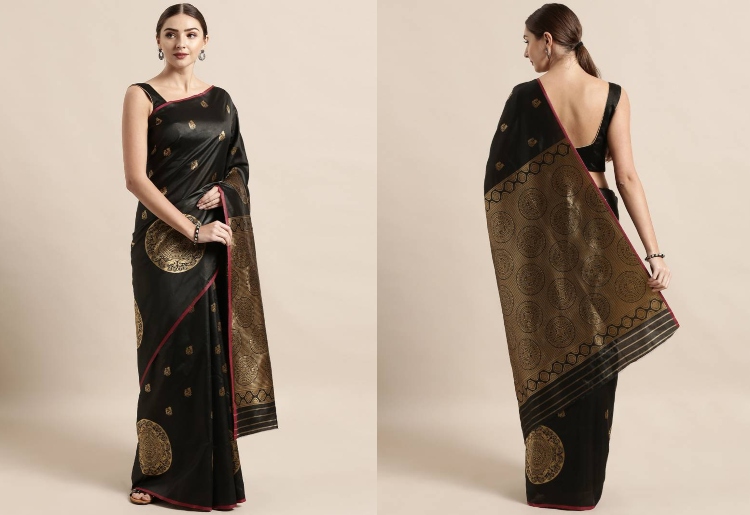 2.  BLACK HAND WOVEN PURE CHIFFON SAREE
Chiffon fabric will be always on the top of the list when you think about the best fabrics for ethnic outfits. if you are planning to wear a saree with the chiffon then this kind of flowery patter will always compliment the vibe of makar Sankranti.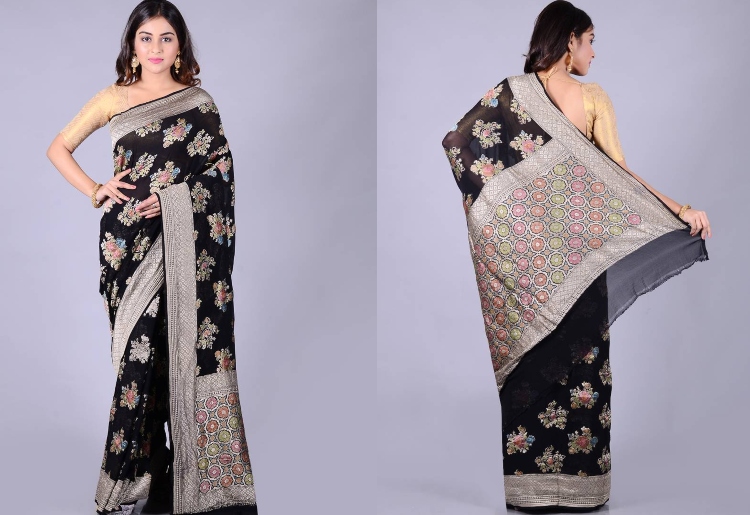 3.  BLACK EMBROIDERED CHANDERI SAREE
Combination of such darker colours with the specific chanderi embroideries will always add a punch of fashion grace into your outfit. This kind of Embellishments is the ideal choice for all occasions.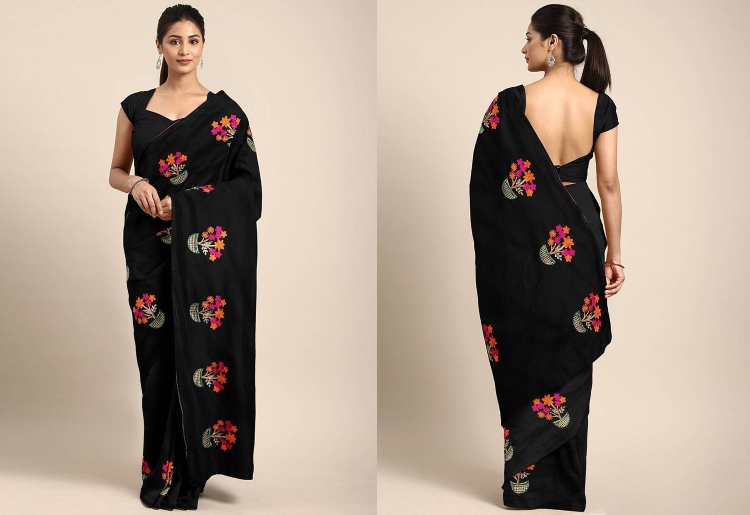 4.  BLACK PURE CHANDERI COTTON MEENAKARI TRADITIONAL SAREE
This season comes with the many designer outfit in which meenakari traditional sarees are trending all over the social world because of its elegance. You can also select such sarees for upcoming Sankranti to make it worthy.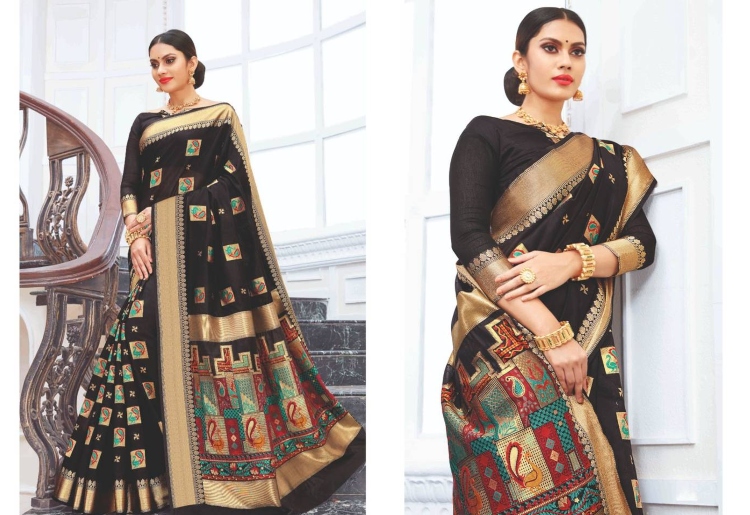 5.  BLACK & RED FLORAL PRINTED COTTON SILK SAREE
Cotton and the silk fabric combination will always be on the list of all ladies wishlists. Nowadays this kind of sarees are popular and loved by the many ladies because it gives you both comfort and fancy look at the same time.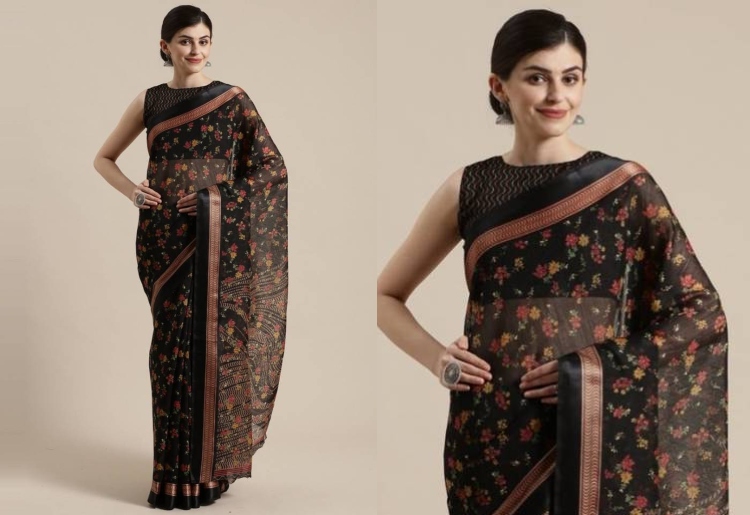 6.  BLACK EMBROIDERED ORGANZA SAREE
Embroidered organza saree has its own rich feeling will always enhance your dressing with just their colours. There are multiple patterns are available in the market but this style takes place in everyone's heart.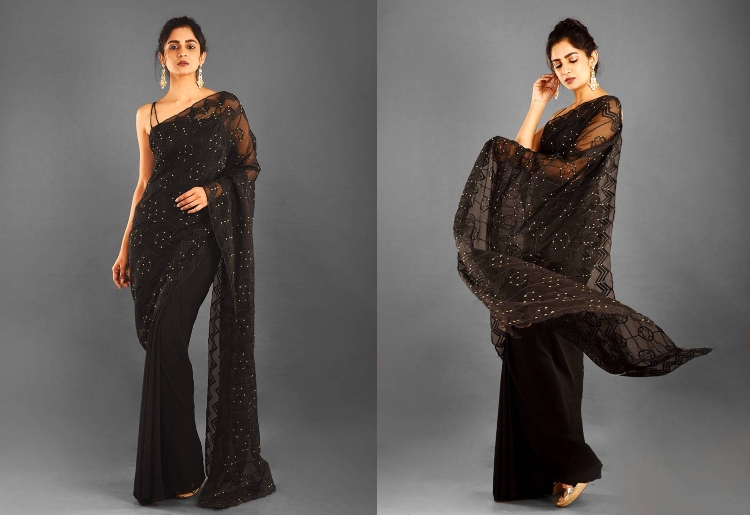 7.   BLACK LINEN SAREE WITH POLKA DOTS
This trending clothing has a huge demand in the market because they are super trendy and handy so that you can plan a long day with this saree styles.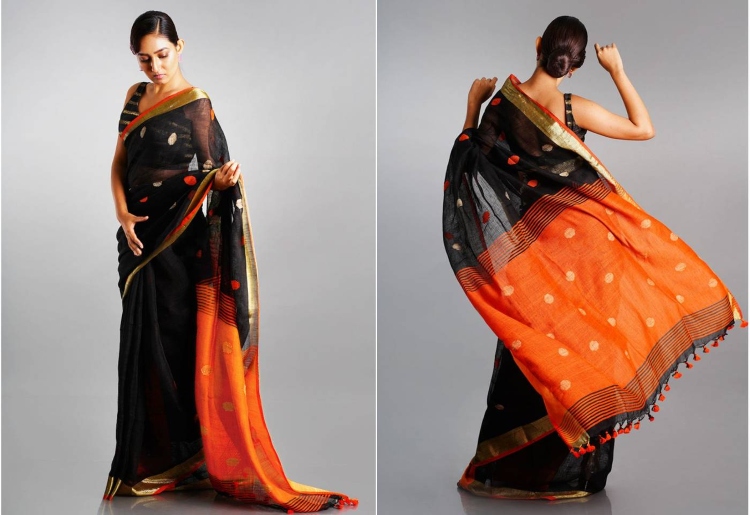 8. BLACK WOVEN SILK BLEND SAREE
The list cannot be completed without a woven silk blend saree, this pattern of saree will definitely take you back in 90's fashion where almost all ladies have the same saree in their wardrobe.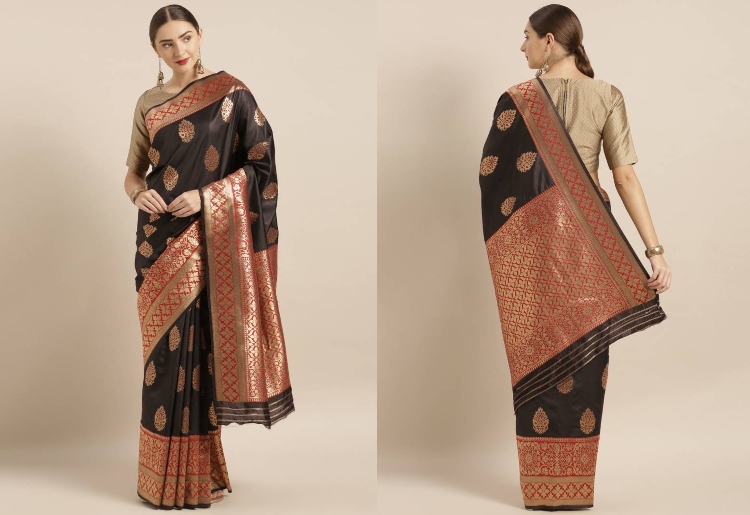 9. BLACK WOVEN SILK BLEND SAREE
Last but not the least a classic silk blend saree will always in the list because it helps you to create a simple and beautiful look with just few accessories.