For Pakistani Dulha, it is definitely not mandatory to wear those traditional and monotonous styles of clothes on their wedding day, right? You can pick and choose the modern, stylish and classy outfits for the wedding rituals to show up eye-catching and exceptional on your special day.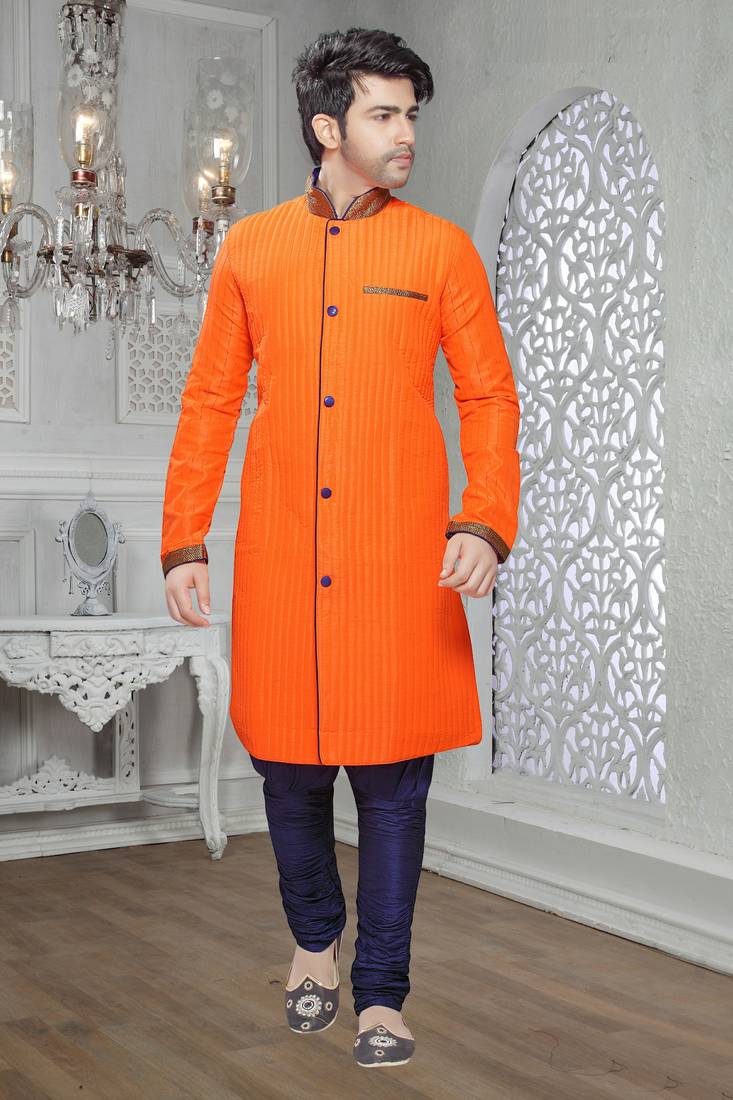 ORANGE (MUSTARD) EMBROIDERED ART SILK MENS KURTA PAJAMA
So, without even thinking twice, catch a glimpse of the below mentioned stylish as well as modern apparels for Pakistani weddings, especially for men.
Plain Sherwani in Solid Hue
Plain and simple Sherwani looks stunning and exceptional with the dhoti or Churidar bottom wear, especially if it's worn in solid dark hue like maroon or navy blue.

Maharaja Style Sherwani
The exquisite and classy design of the Maharaja style Sherwani is absolutely a perfect choice for the modern Pakistani Dulha.

Printed Sherwani in Ivory Silk
One of the latest patterns and designs in wedding apparels for the modern Pakistani Dulha is printed Sherwani. The exceptional prints, ivory silk fabric and hand woven motifs make it a stunning choice for men.

Classic Sherwani Design
You must be aware of the Deepak Perwani, bridal style icon and model. For a classic and stylish wedding day outfit, you can check out his contemporary style wedding dresses.

Embellished Sherwani Style
Nowadays, there are numerous uprising styles and patterns available in embellished Sherwani dresses, which men's can prefer to wear on their special wedding day.

Heavily Embroidered Sherwani
For the latest and stunning collection, heavily embroidered Sherwani outfit is simply exquisite. You can choose the rich fabric and unique design patterns to make a style statement.

Hand-woven Sherwani
The hand-woven Sherwani definitely takes time to prepare, but for an overwhelming look, you should go with this Sherwani, especially in off-white colour.

White Sherwani
The beauty, elegance and flawlessness of the white colour in Sherwani are unmatched. Rather than choosing the dark shade, you can flaunt your wedding attire in a classy white colour.

Stunning Jet Black Sherwani
The combination of stunning and timeless black and golden colour is incomparable to any other look. Moreover, you can prefer to buy it in velvet fabric.

Damask Sherwani
In Damask Sherwani style, there are some exceptional repetitive patterns, which are available in a reversible surface. For a luxurious and classy look, go with this design.

Designer Sherwani
At present, there are countless fashion designers of ethnic garbs which are fusing it with the western look to give it a modern touch. The splendid designs as in embroidery work and ornamentations on the neckline and sleeve cuffs are exceptional for wedding attire.

Bordered Dupatta with Sherwani
To match with the Sherwani, nowadays designers are rendering the designer and bordered dupattas with it to give it a voguish look.

Pastel Hue Sherwani
What is the best shade for the wedding apparel? Pastel shades are definitely the befitting choice for a magnificent look. Additionally, you can make your appearance more dignified on the wedding day by wearing the pastel shade Sherwani.

Trendy Sherwani
In trendy Sherwani styles, you can purchase the distinctive colour contrasts such as black and mustard. Moreover, the smooth and soft velvet fabric is icing on the cake.

Sherwani with Patiala Salwar
For a comfortable yet glamorous look, you should pair your splendid Sherwani with the Patiala Salwar. The colour combination of red and gold is quite popular and trendy in men's wedding wear.

Formal Sherwani
Rather than choosing those boring styles in Sherwani for the wedding functions, formal Sherwani in dim prints is far better to make a fashion statement.

Black and Gold Sherwani
The appealing and alluring look of the black and gold Sherwani makes it a perfect outfit for the Pakistani Dulha.

Vest Suit Style
The pant coat style along with the magnificent vest is simply adorable for the Pakistani grooms. You should handpick the stunning colour in vest suit such as maroon, teal, black etc.

Pant Coat
The timeless and all-time favourite of all men 'Pant Coat Style' can be worn on the wedding day, but it should be extraordinary in style and design to make the wedding look much more appealing.

Coat Style Sherwani
To make your wedding apparel look more fascinating and stylish, the Pakistani grooms can choose to wear the royal coat style Sherwani on their special day. In addition, there are some splendid designs and patterns available in coat style Sherwani, which you can choose according to your preferred choice.