Are you bored from your ordinary and dull room? To enhance the beauty of your room and make it much more vibrant than before, you need stylish and trendy curtains Designs in vibrant and bold colours.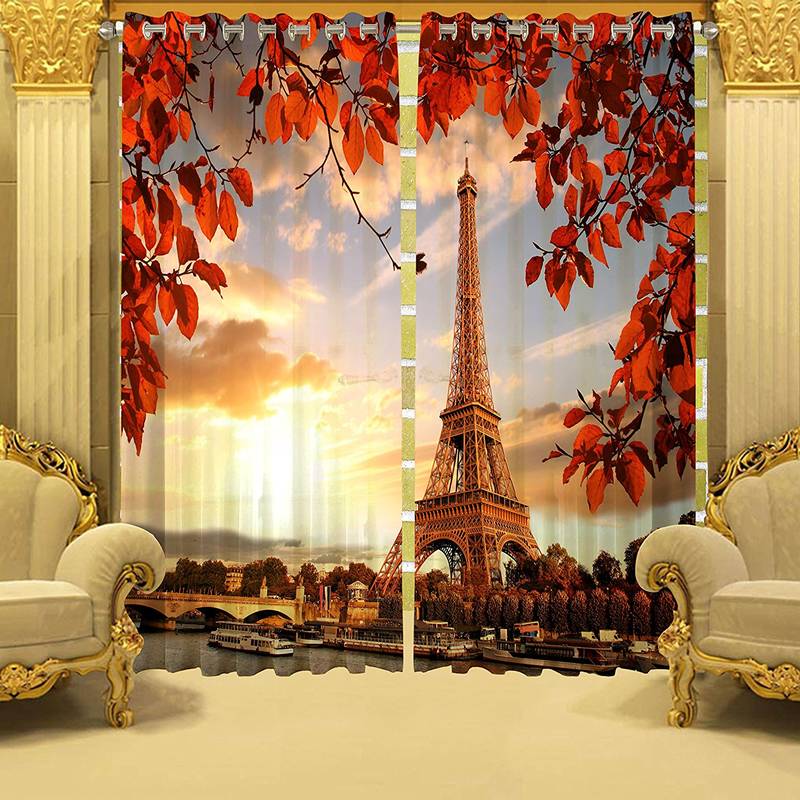 DIGITAL PRINTED BLACKOUT WINDOW CURTAINS FOR BEDROOM
Nowadays, while exploring the online stores and markets, you can easily get a huge variety of designs, styles and colours in curtains Design. It's high time to get rid of the boring and conventional styles of curtains. To add colour and liveliness to your room, you require trendy curtain design like floral patterns, animal prints and suchlike.
Therefore, here we have curated a list of 6 stylish and vibrant curtain designs to enhance your bedroom look.
1. Bold Mandala Curtains Design in Multicolour
The base colour of this Mandala curtain Designs are black and to make it much more attractive, the Mandala design is done with the multi colours. This curtain piece is definitely attractive and eye-catching for everyone. The creative and innovative design, multi-colour and hook style curtain is definitely perfect for every Indian home. You can purchase this beautiful piece to embrace the beauty of your home among your guests and visitors.
2. Multi Colour Mandala Curtains Design
The base colour of this Mandala curtain design is in multi colours. The abstract and alluring design done on the curtain Designs are what attracts the most to the onlooker. If you are a lover of creativity and abstract designs, then you will surely love this piece of two panel curtain Designs set. To beautify your room, you need to add colours to your room, which can easily be done by using these window curtains in your room.
3. Rose Petal Digital print Curtains
Apart from floral patterns and designs, which are quite trendy and looks stunning, is rose flowers and its petals. You can make your beautiful room look elegant and appealing for the onlookers by adding the rose petal digital print curtains into your room. The prominent plus point of purchasing these stylish curtains Design is that you can use it anywhere in your home, either in dining room or living room, it's absolutely your choice. The vibrant and bright white and red colour combination will make your room lively as well.
4. Decorative Tree Design Curtain Designs
The mesmerizing and stunning decorative tree curtain Designs in sky blue colour is perfect for those who admire nature. This beautiful curtain in printed trees and roots in the center along with the bold borders will make you purchase this piece of curtain immediately. The best part about this curtain is that it's available in pure cotton fabric, which is absolutely suitable for the summer season to beat the heat with such stylish and decorative curtains.
5. Frimmer Curtain in Maroon and beige Colour
The bold and beautiful maroon colour with the colour contrast of beige in curtains absolutely adorable for the onlooker. This frimmer curtain is crafted with the polyester fabric and the best part is that it's available in different sizes. To make your room look stunning and beautiful, then you should prefer to pick this classy maroon and beige colour curtain for your room right away.
6. Frimmer Multi Colour Curtain Designs
The elegant and conventional style peacock design on the curtains in white base colour is certainly graceful and charming. To beautify and decorate your room, you should add this frimmer multicolour curtain into your basket while shopping. The appealing and unique printed design for curtains in polyester fabric is eye-catching. Now, you can easily get rid of the old, boring and dull curtains by adding the already stitched curtains in peacock printed design on it to enhance your bedroom or dining room look.
To conclude, you don't need someone else's approval to make your bedroom look beautiful and lively with vibrant colours, especially in summer season. Without even thinking twice, you can look for these eye-catching and adorable digital printed curtains for your bedroom to enhance its look.