Everyone loves the Big Fat Indian Weddings because they are all about fun, enjoyment and happiness. Whether its boys, girls, adults or senior citizens, everyone wants to dress up and look their best. Dressing is not only about wearing stylish clothes. It includes adequate make-up, proper attitude, modest body language, appropriate footwear and hairstyle too. Hair-dos are an important part of the whole dress-up without which make-up is incomplete. Almost every girl wants strong and long hairs, just like Rapunzel. A good hair-do accentuates a girl's beauty and brings out the best in them. While a bad one can ruin ones appearance and beauty quotient.
Indian wedding hairstyles are about thick, long and strong hairs. In a traditional Indian wedding everyone wishes to see girls in a thick braid covered with garlands and flower buds but a hairstyle depends upon the length and quality of hair along with the face cut. The thick bridal braids do not look good on everyone.
The Traditional Aryan Updo
This is the most commonly worn hairstyle. It looks good with every traditional party wear like designer sari, bridal wear, lehenga, etc. It particularly looks awesome in thick and long hairs. The traditional Aryan Updo is a good choice and no matter how common it is, it still looks the best. You can either add a piece of jewelry or flowers. South Indians generally prefer using flowers or garlands or gajra.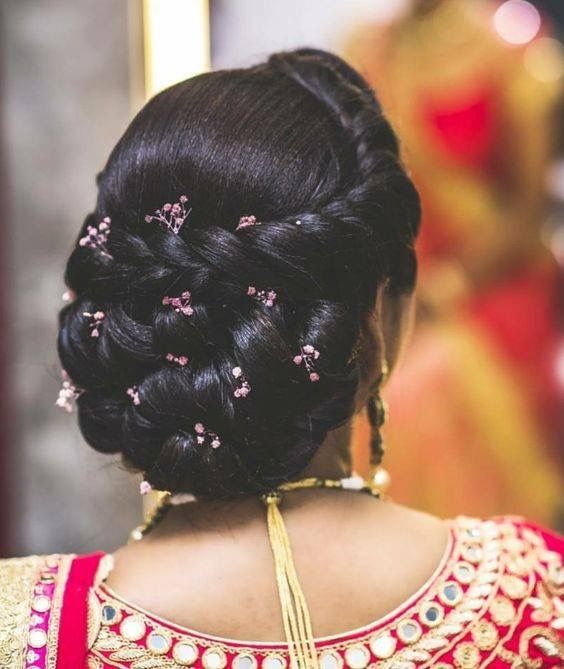 Poola Jadagg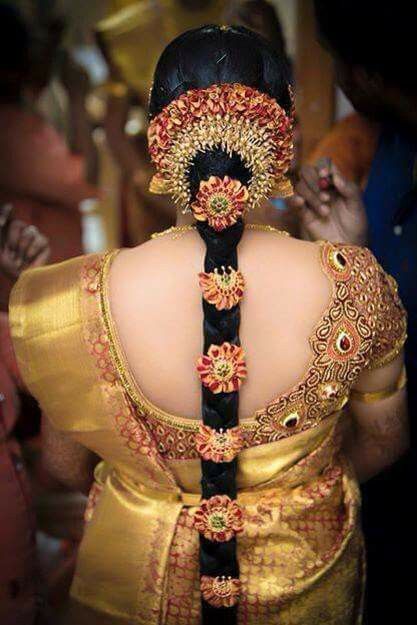 This is a commonly worn hairstyle in South India. In this the plaid is made up of flowers Instead of jewelry, the brides use flowers to drape their hair. You can flaunt your beautiful long hair that will smell of jasmine and rose. You can also make a bun and cover it with. The patterns can differ but the flowers look purely awesome.
Jadanagam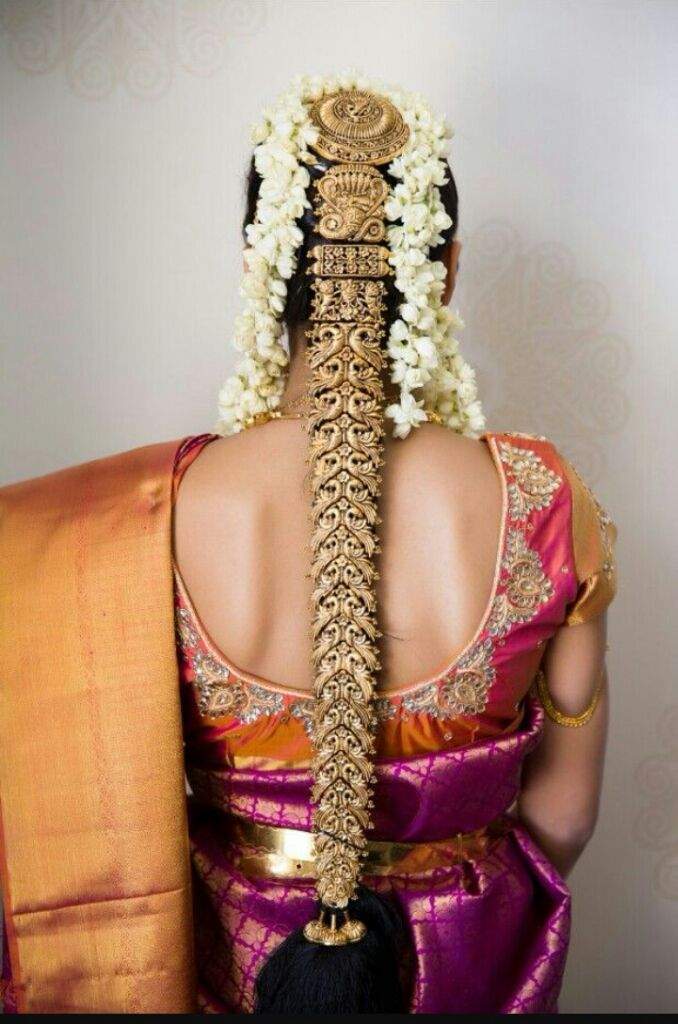 This is an Indian hairstyle in which the plaids are made using ornaments made of pearls, beads and gold. Instead of flowers, hair accessories are used. This looks good but is also heavier than flowers. For those who have a big head, Jadanagam looks good.
Long Hair with Simple Curls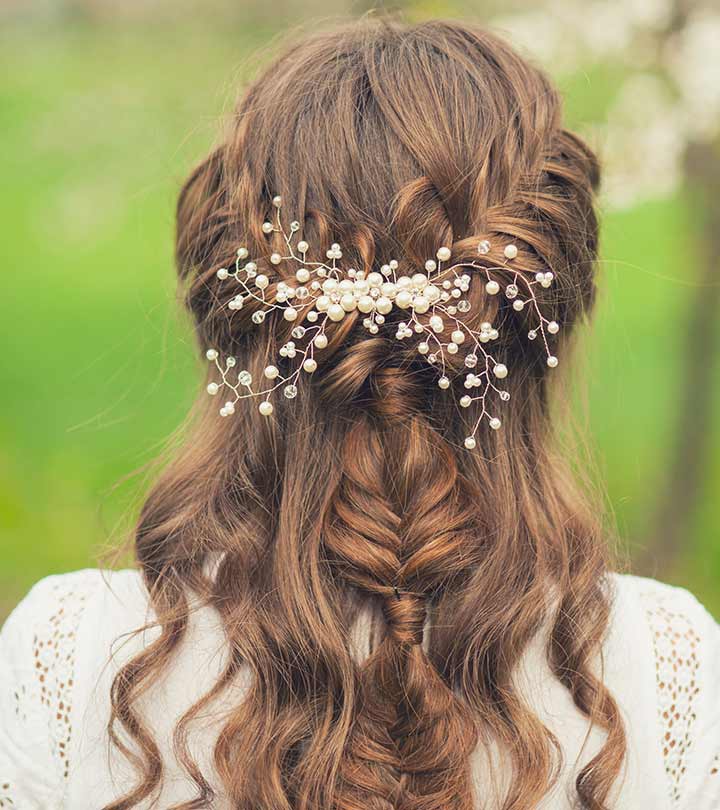 Girls look best when their hair are loose and open. The curls are for those who can carry long hair and do not mind when some of them fall on side of their faces. They are suitable for those who have a round and small face. The curls and frills look awesome on lehenga and sari.
Fishtail Braids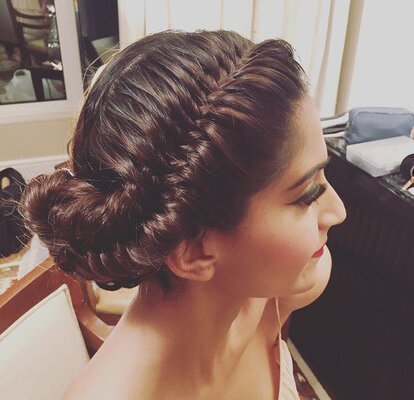 This is an upcoming choice among girls who want a slight modern touch with all the traditional things around. This hairstyle is suitable for those who have long hair but do not want to give themselves a traditional look. If you are wearing a bold dress like a halter blouse with no back, this is the perfect hairstyle for you.
Wedding Hairstyles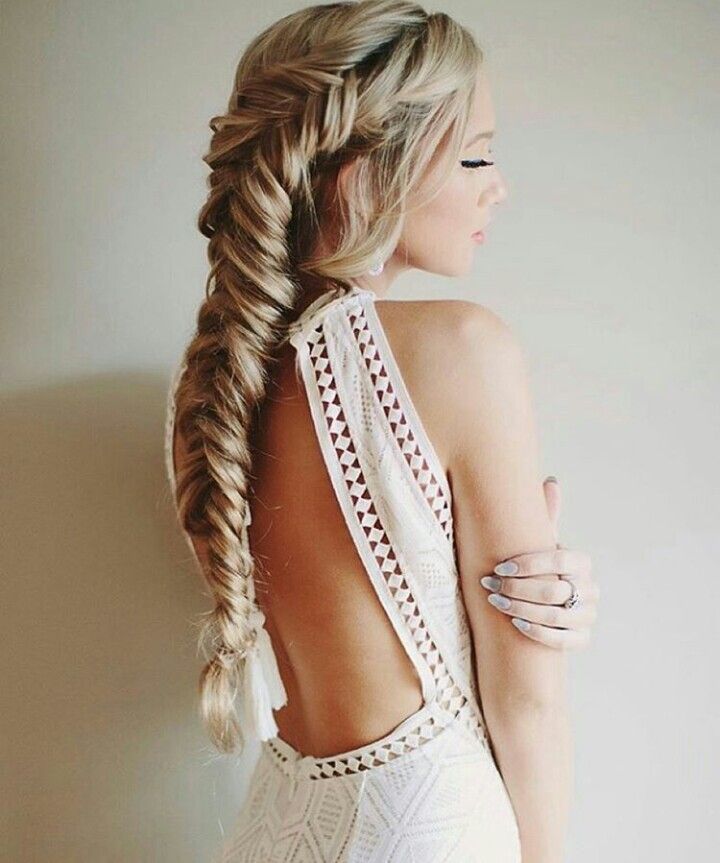 Wedding hairstyles depend upon the face cut and one's figure. On many females long hairs do not look good while on some they just add to their elegance. Hairstyles must be chosen as per the face cut. On some a bob might look nice while on others open hair would suit more. Hairstyles primarily depend upon the girl's physique, face, clothes she's wearing and the occasion. For instance, if you are doing something near fire in which you need to bend a lot, then keeping your hair open might just be risky.
Indian wedding hairstyles are about simplicity and extravagance. They are simple to make and yet look extremely beautiful. Some you can make yourself while for others you'll require a professional hair stylist. But mind you, almost every hairstyle looks good on Indian wedding dresses.