Underwear are an important part of our lives, just like the air we breathe. They have a huge importance in both functional and appearance beauty. It is very important to wear and maintain the underwear as it has its hygiene importance. It helps to keep the outer garments from being soiled or damaged by bodily excretions. It also helps in maintaining the shape of the body and provides concealment of the body.
Now women have plenty of options to wear different types of panties available in the market. You will be amazed after knowing about the various kinds of underwear, each having its own beauty.
Here I am going to show you varieties of options so that you can choose the type of panties you need: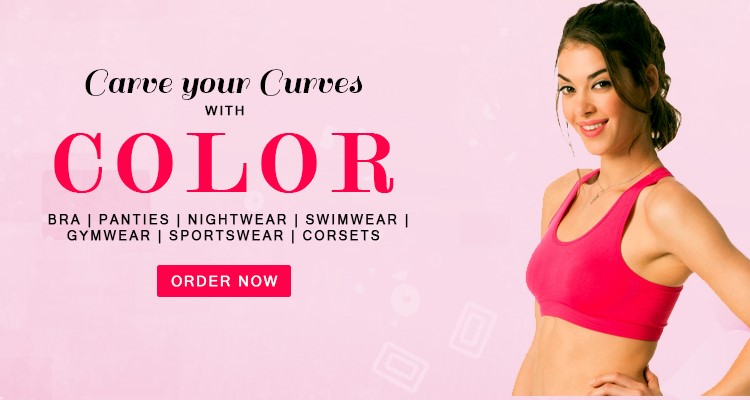 1.HIPSTERS
In this type of underwear, the waistband sits on the hips. They provide a lot of coverage and have a low-cut leg holes and are very comfortable to wear. These are also known as hip hungers.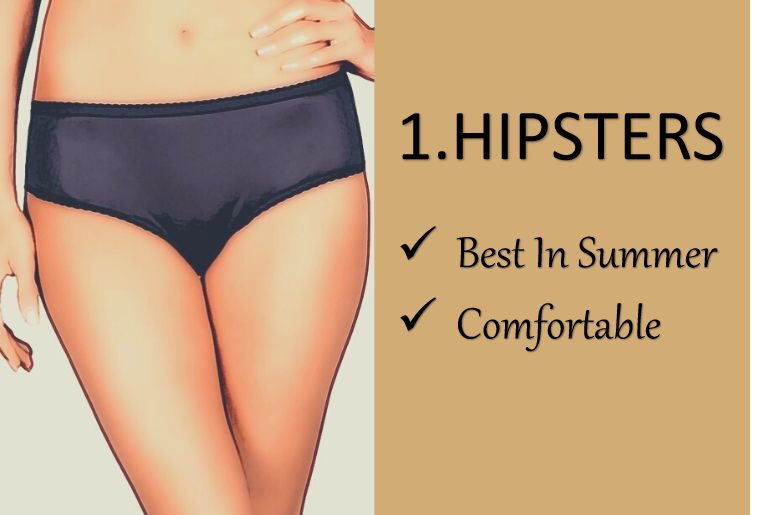 2.FRENCH CUT PANTIES
These are now considered as the most popular type of panties. This style is very common, and it has a lower cut leg at the widest part of the thighs. It has high waistband and provides lesser coverage. You can use it for casual wear and also for the beach as long as the high waist doesn't bother.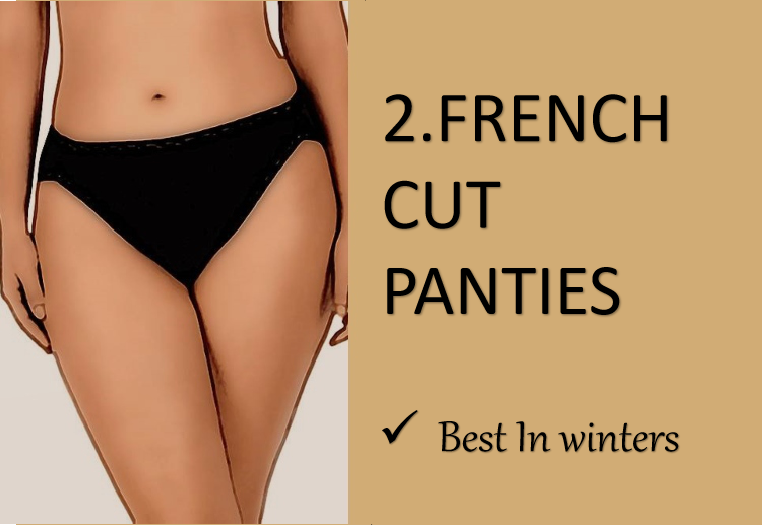 3.G- STRING
This type of panties provides very less coverage and is very similar to the thongs. It is very intimate and the fabric of the front and back directly connects to the waistband. The waistband is very small and a thin string and is usually worn during sunbathing or beachwear.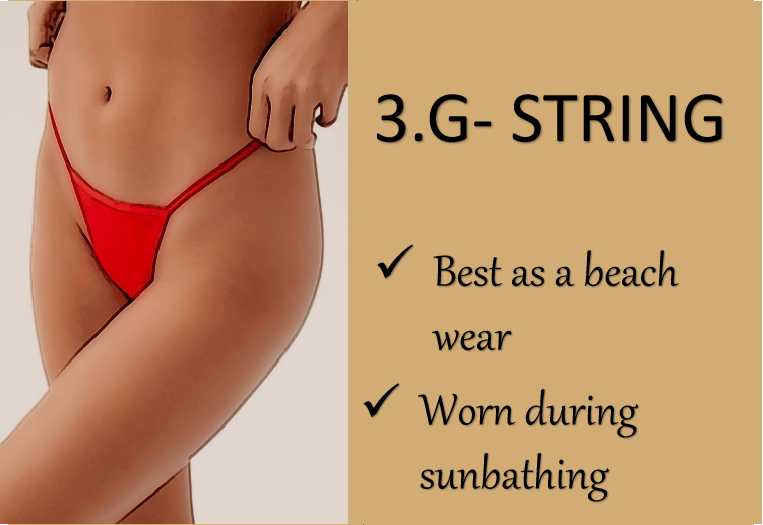 4.BOY SHORTS
This type of underwear has been widely influenced by the men`s briefs. They have a lower cut leg and is similar to hipsters. These types of panties can be worn under skirts and tight fitted clothes. They are rectangular in shape on the thighs.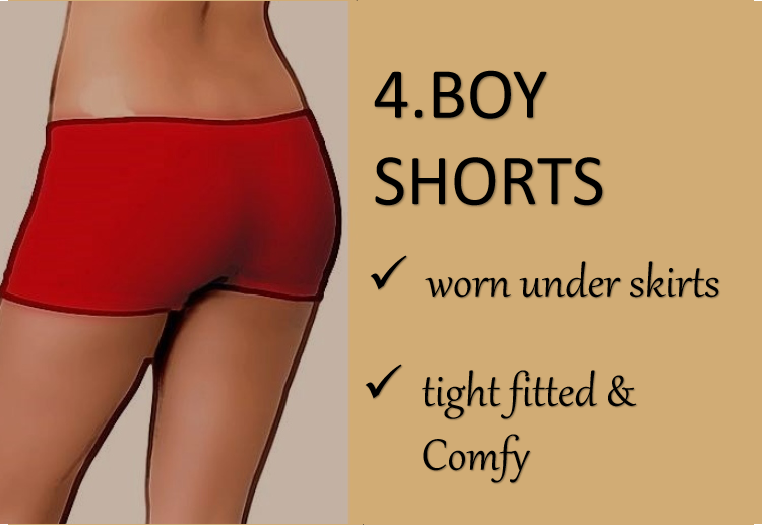 5.TANGA
They are European panty silhouettes and has moderate coverage. It is narrower than a bikini and has a greater back coverage. It can be used for swimwear, loungewear and beachwear. If you want to use it during the periods, then use it during the light days.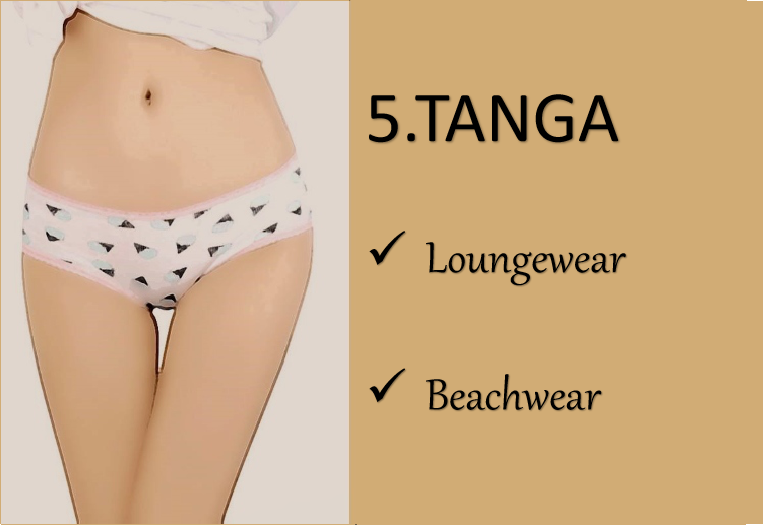 6.BRAZILIAN BRIEF
This type of underwear is elegant yet seductive at the same time and is perfect for the public show. If you don't want to show much, then you should choose this as this will be best for you and is also very comfortable. In this, the waist band is across the hipline and the backside of the bikini is taken from the cheeks of the butt rather than under it. This type of panties can be worn during swimming and in beach. This Brazilian brief are further of three different types: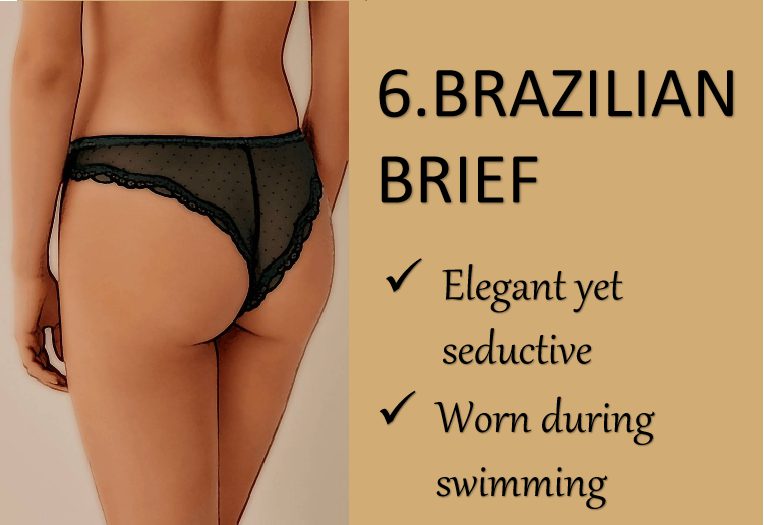 One side knot Brazilian brief.It has a single adjustable closure at the bottom of the bikini. It has a knot on one side and are adjusted accordingly by the varying waist sizes, giving a perky look.
Two side knot Brazilian brief
It has three threads to tie at both the sides of the brief. Wearing this gives a sensual feel to the bikini.
Regular cut Brazilian brief
This has the actual cutting of the Brazilian with a proper coverage.
7.BIKINI
These are moderate in design and the style lies between the conservative brief and the sexy thong which perfectly sync with your casual apparels. This types of panties has a semi-hi-cut leg with a modest coverage of the butt. This underwear is usually worn during workouts.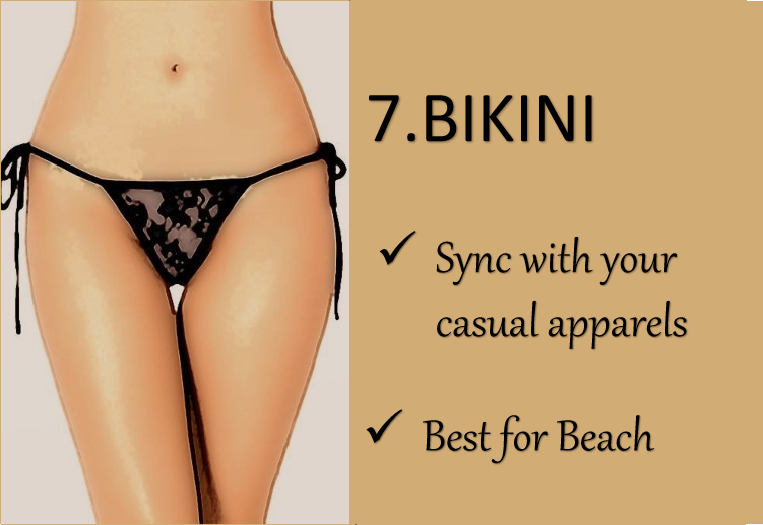 8.HIGH WAIST BRIEF
This type of panty helps with the tummy compression and also for the smoothening. It has an elastic waist band with a high waist brief. It also provides the complete rear coverage and is perfect for the concerned fashionistas out there.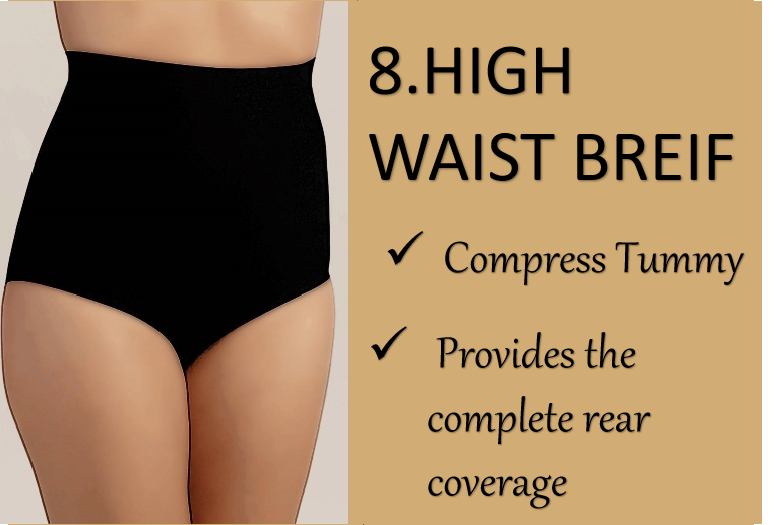 9.CAGED BIKINI
It has a strappy side with a mesh knit thong. This type of underwear has a crotch detailing and a sexy styling and is a perfect wear for the beach. It looks good with a cheeky back cut.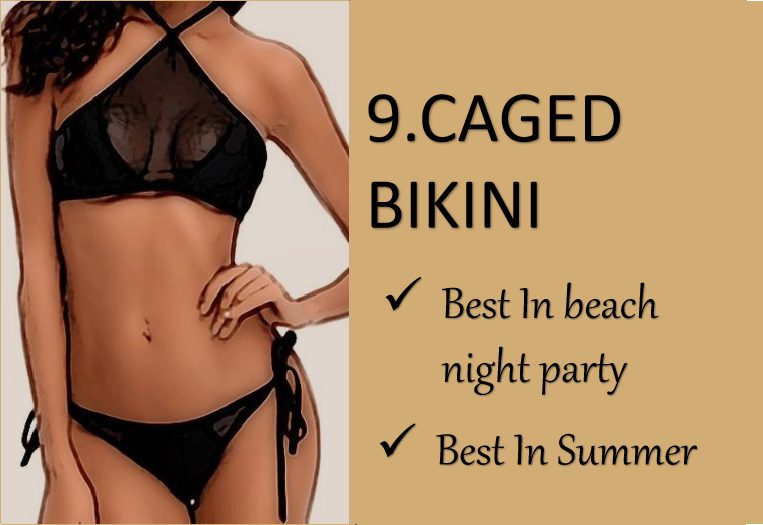 10.GARTER PANTY
These are lacy types of panties which is attached with garter belts. These belts are used to hold up the stockings and is very light in weight. It brings out the sexy side in you and will surprise you man like never before.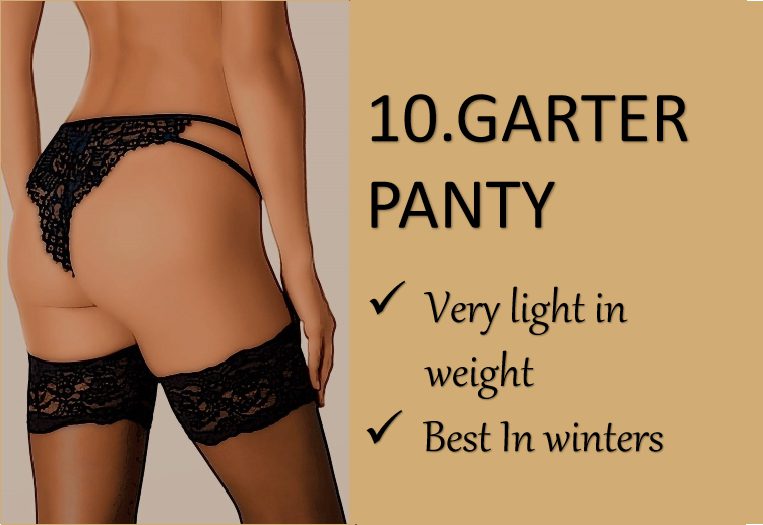 11.CONTROL BRIEFS
This kind have a tighter tummy line and covers a major part of the navel. They are basically usual briefs and is worn to flatten your tummy for a smooth lining. You can wear it with bodycon dresses and skirts, during post pregnancy and can also be worn during heavy days of the periods.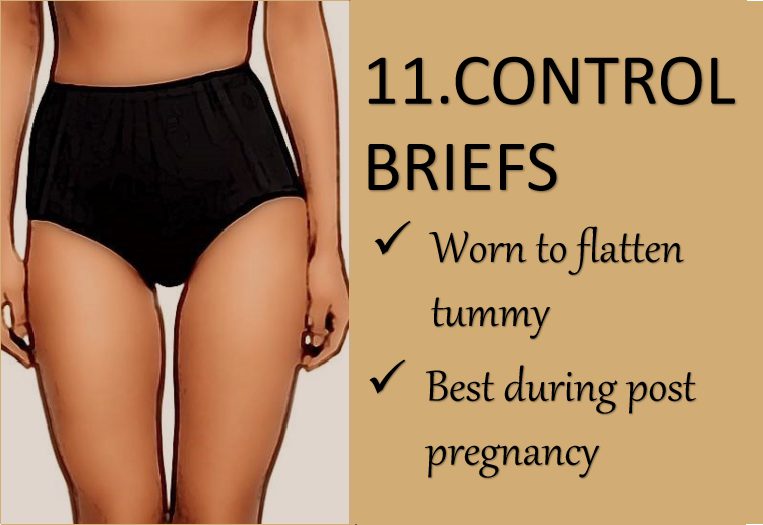 12.C- STRING
This is a new age swimwear and is extremely sensuous and sexy. It is very famous in the beaches and has the least coverage around your area. It has no strings and has been very famous since its introduction.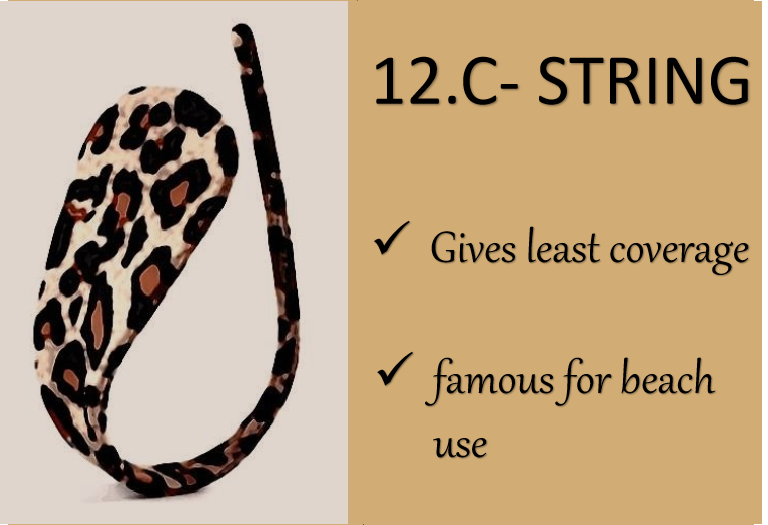 13.THONGS
This underwear lies three inches below the waist and provides a minimum coverage of the butt. It is erotic in design and has a triangular patch in the front. The sides are rested on the hip bone of the person and this style can be widely chosen for your honeymoon. It can also be used with your bodycon dresses or skirts to avoid the impression of the panty lines.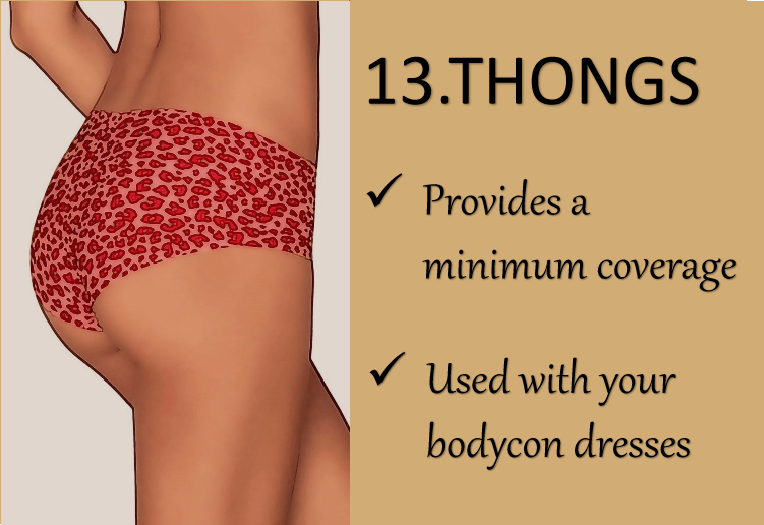 14.SEAMLESS PANTIES
This type of panty has no visible seams and stitches on them. It is completely smooth and is highly comfortable. It is best for the everyday wear which includes the sheer dress, pants, leggings or any other tight clothing too.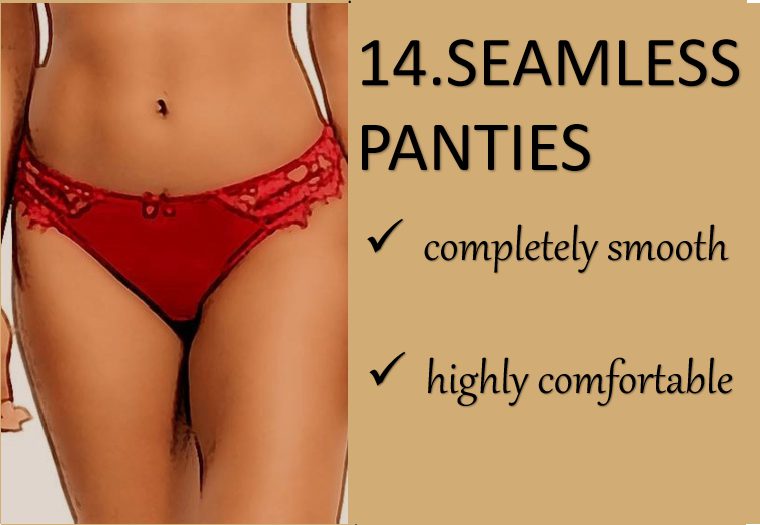 15.BUTT LIFTER
This underwear lifts up your bottom line and promises a firm round shape of the butt with the continuous use. The waistband which is used is made of elastic which further helps in body contouring and slimming. This perks up the butt muscle and is designed with butt cut outs. It is best as it imparts the right volume at the right place.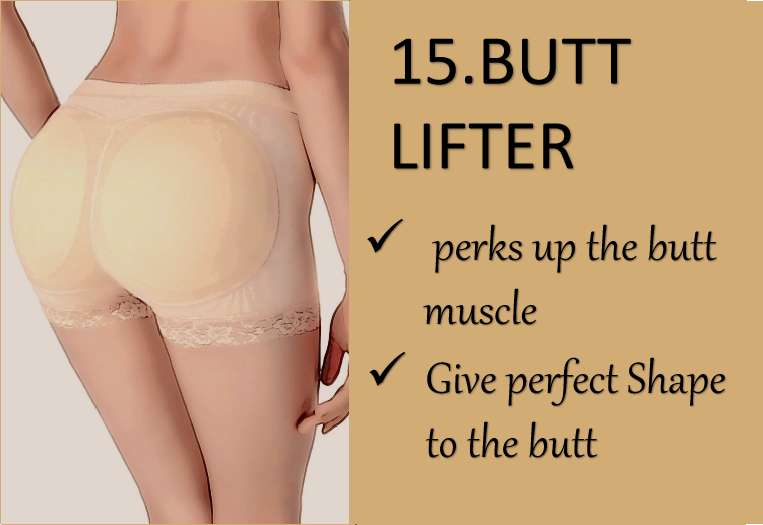 16.SRTING BIKINI
This gives a perky look and has a crisscross look on the side. It gives a trendy look and is perfect wear during sunbathing. It has triangular shaped pieces and provides a minimal coverage. String bikinis are highly comfortable and is one of the best options for the underwear.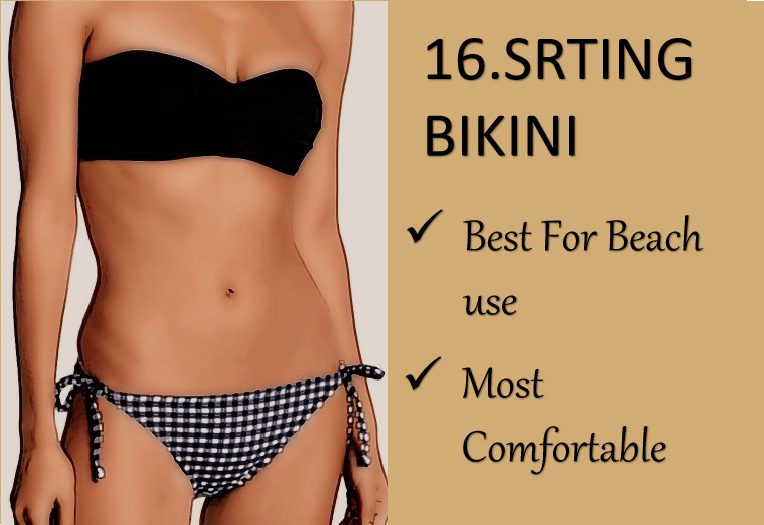 17.MATERNITY PANTY
These panties provide a minimal support without squeezing it too hard. It is made from bamboo stretch material and is worn to support the flow of the changing shape during pregnancy without pressing too hard on the skin. Maternity panties are available in various designs, one of which comes to keep you fresh which is known as anti-odour types of panties.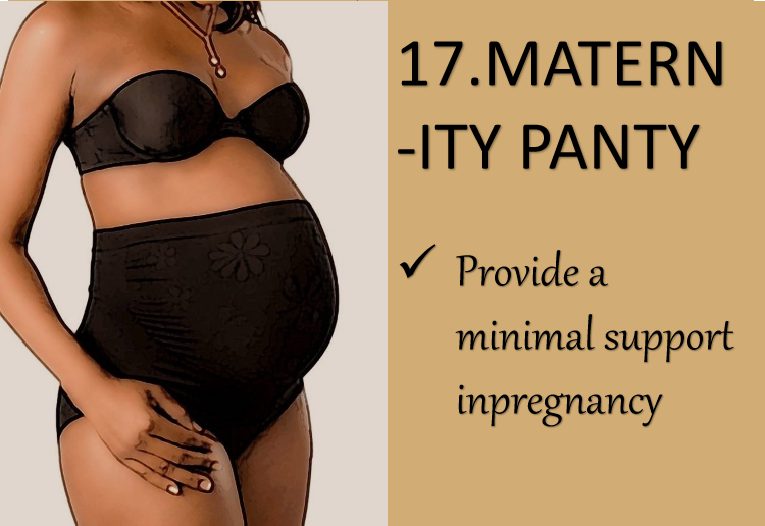 18.CHEEKSTER
In this type of underwear, the butt cheeks are partially visible for you to show off. These panties won't leave a panty line and is best to wear it with leggings or jeans.
19.V KINI
It has a stretchable lace and is best worn under skirts and dresses. It provides a full back coverage and a V dip on both rear and frontal ends. This type of underwear is highly comfortable to wear.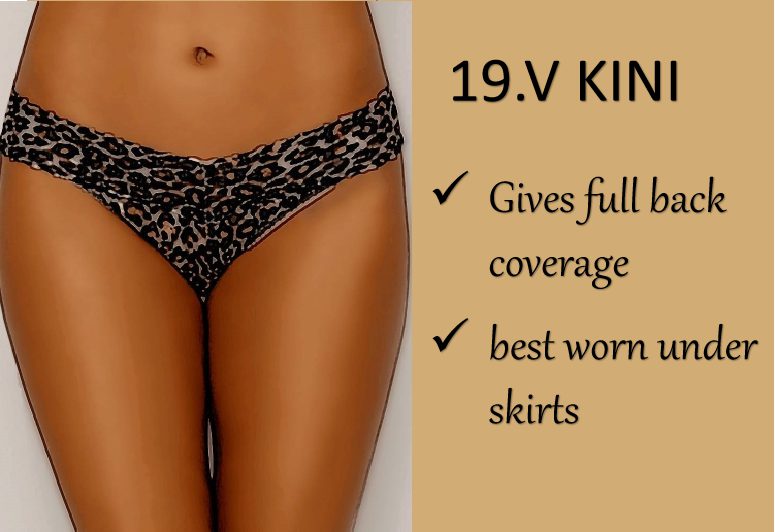 20.BUTT BOOSTER
These kind of underwear boosts the size of your butt instantly. The panties have foam infused inside them which gives a natural curve when you wear them. It is soft and very comfortable.