The Pooja Room is the most sacred space in your house. It is your personal meditative space where you offer prayers to your deity. It is a space dedicated to meditation and spiritual worship of God. The Pooja room design is important because a design that reflects peace and tranquillity greatly uplifts the ambience of the entire room. This room needs to be designed in a way that it complements its purpose.
A Pooja Room is truly the most tranquil space in the entire house. The sweet smell of incense sticks, bells, and chimes, along with hymns and prayers make the entire ambience smooth, calm, and refreshing. A beautifully constructed area makes all the difference. In this article, we will talk about some classy poojaghar designs for your home.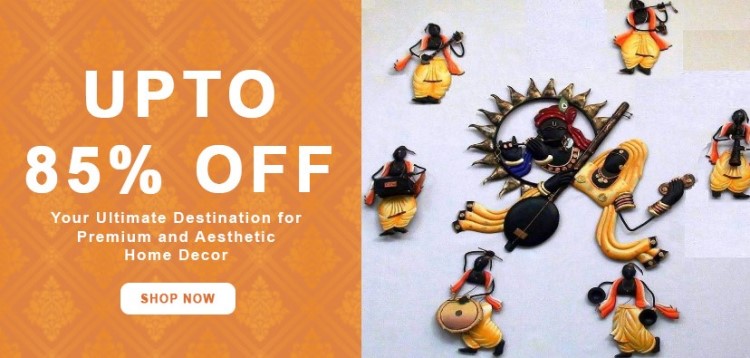 1-Keep it minimum-
Keep the interiors minimalistic and white. You can add a touch of class and sophistication to your pooja room designs by pairing light-brown woodwork with white interiors. The white juxtaposed with brown would add to the serene atmosphere of the room.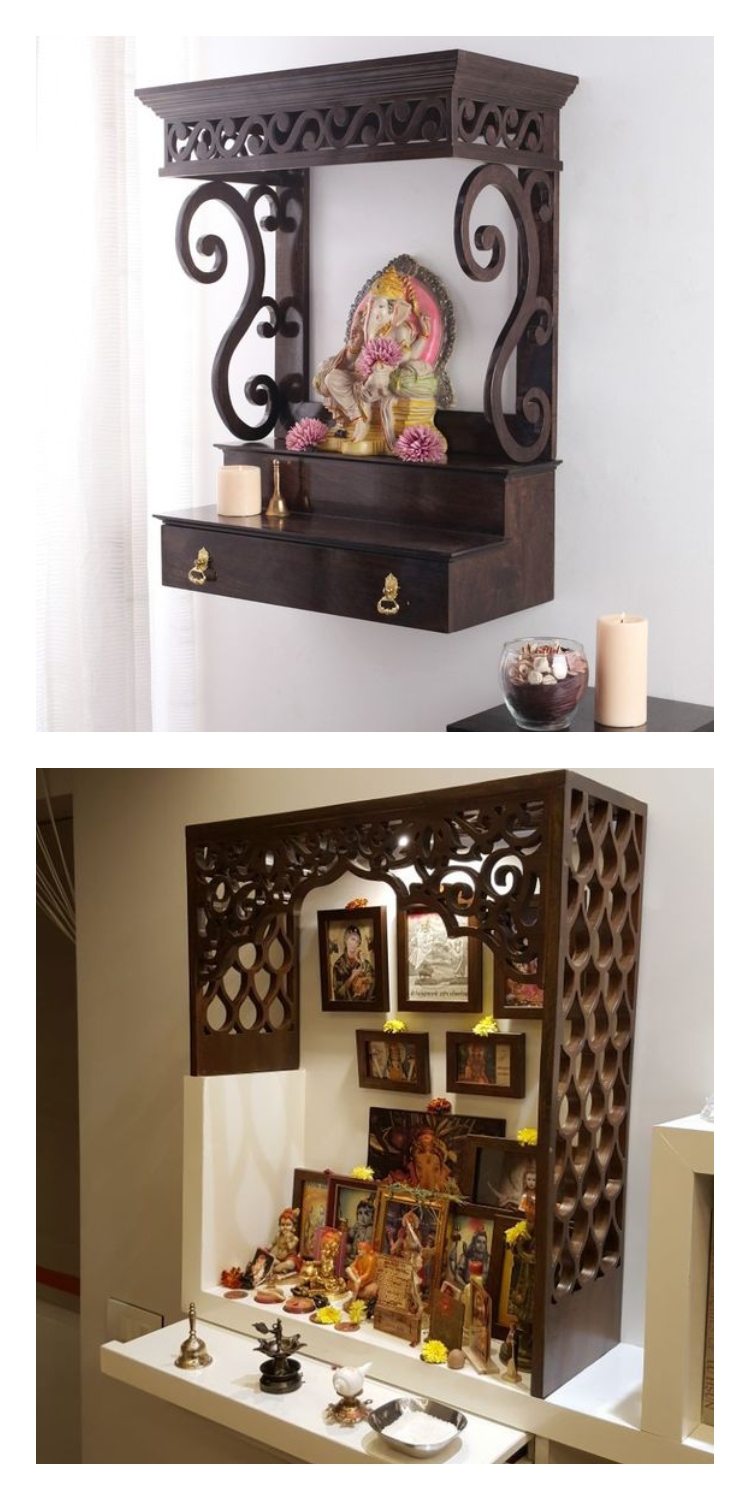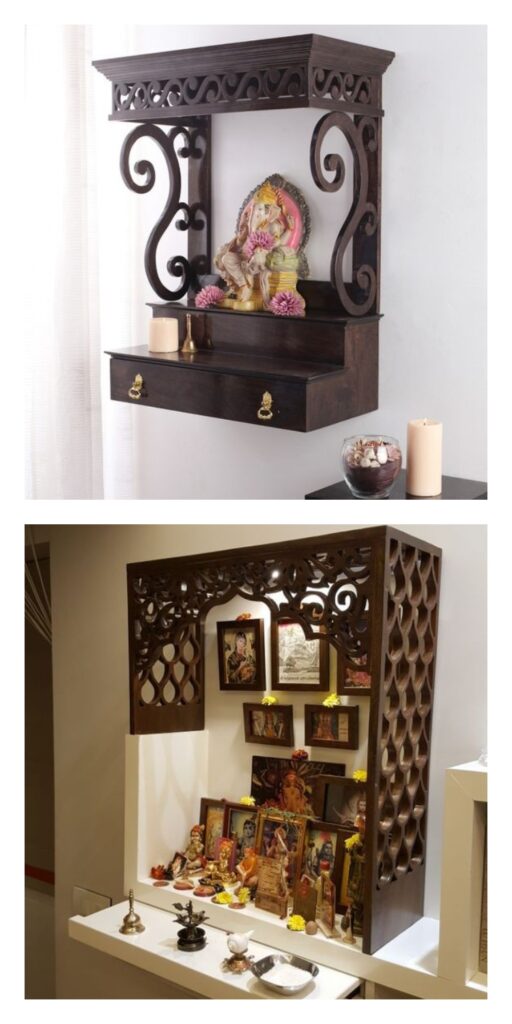 2-Fit in small space-
If you have a space crunch in your house, then you can also convert an isolated wall into a beautiful pooja area designs. Use suspended same-size cabinets to hold the status of your deity and decorate the area with dim lights for a tranquil effect.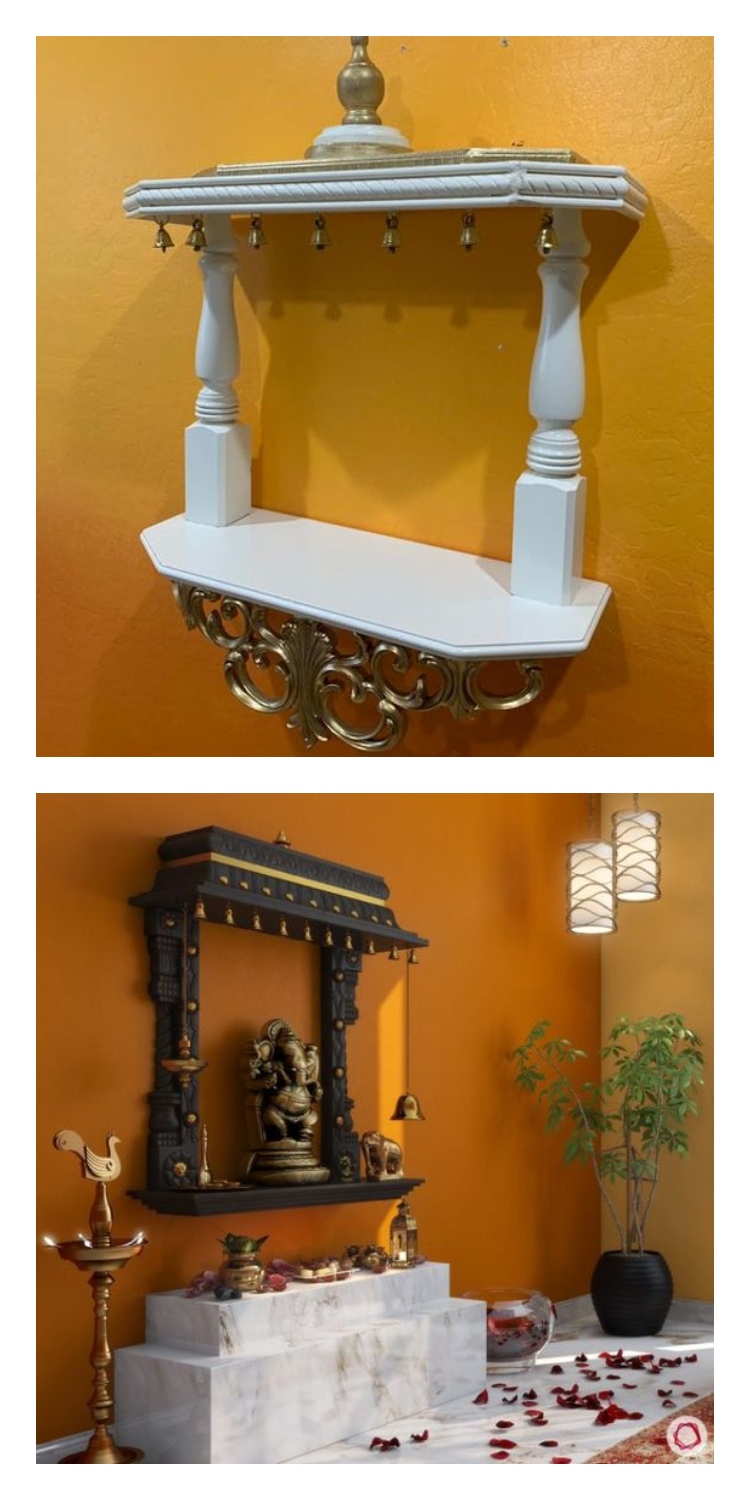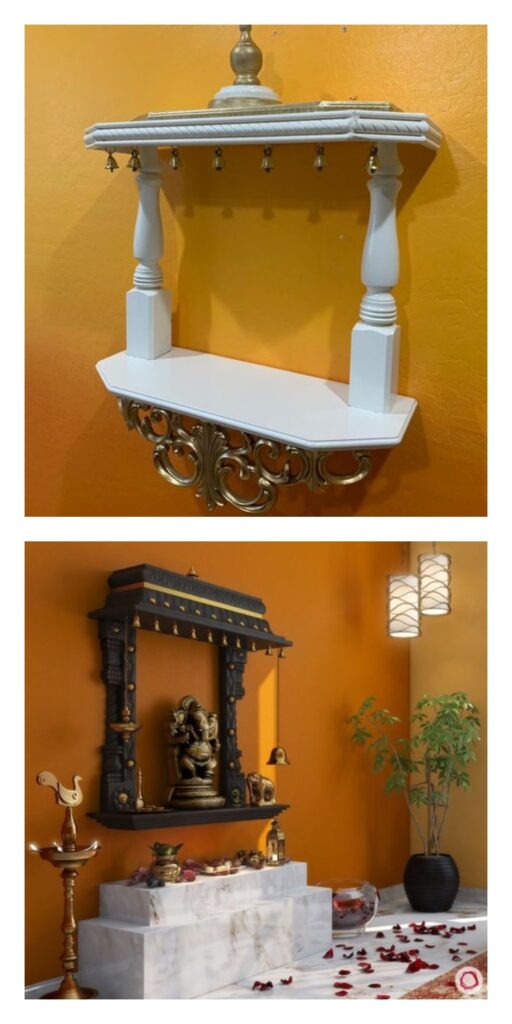 3-Lighten up-
Brighten up your pooja area by pairing yellow with white. You can paint the walls bright yellow, and keep the shrine tasteful white for a complete spiritual effect.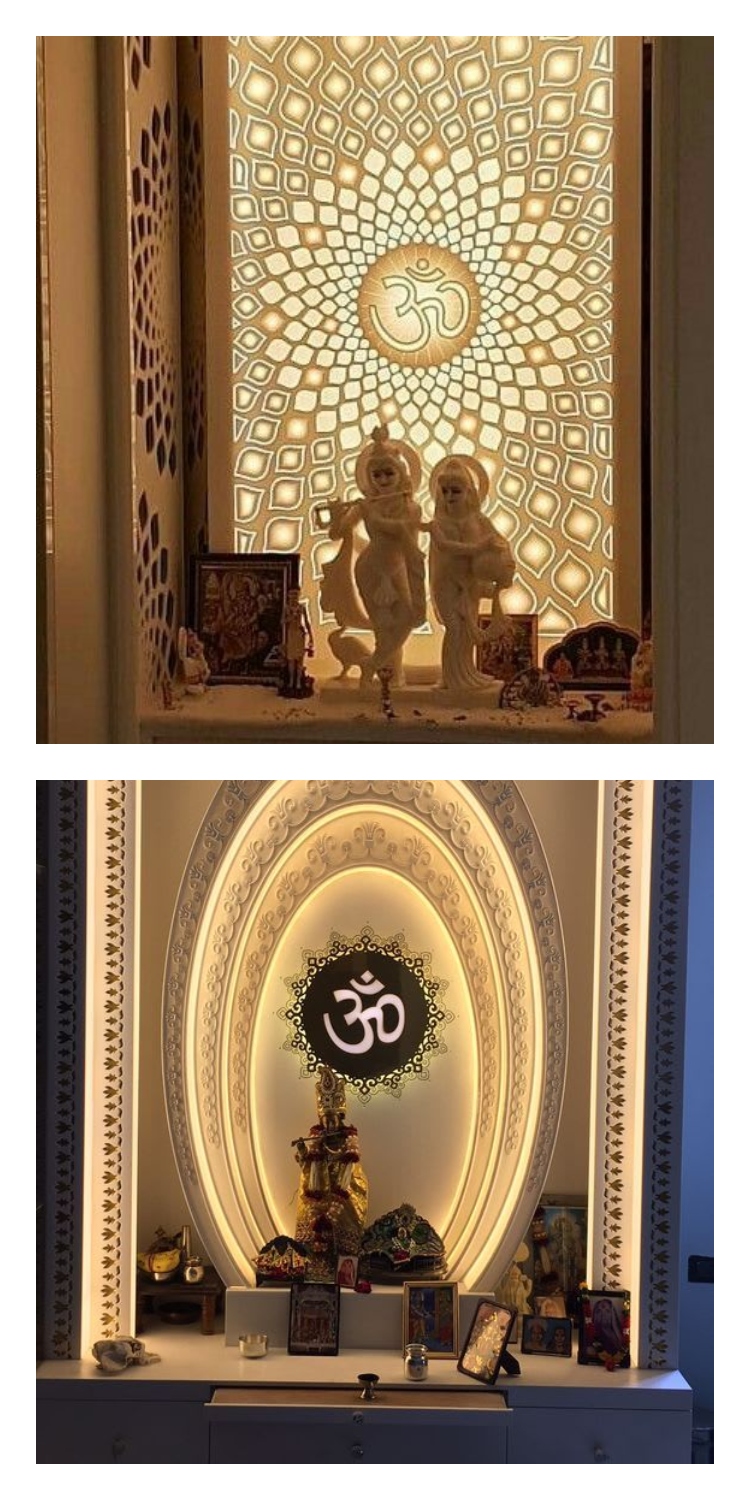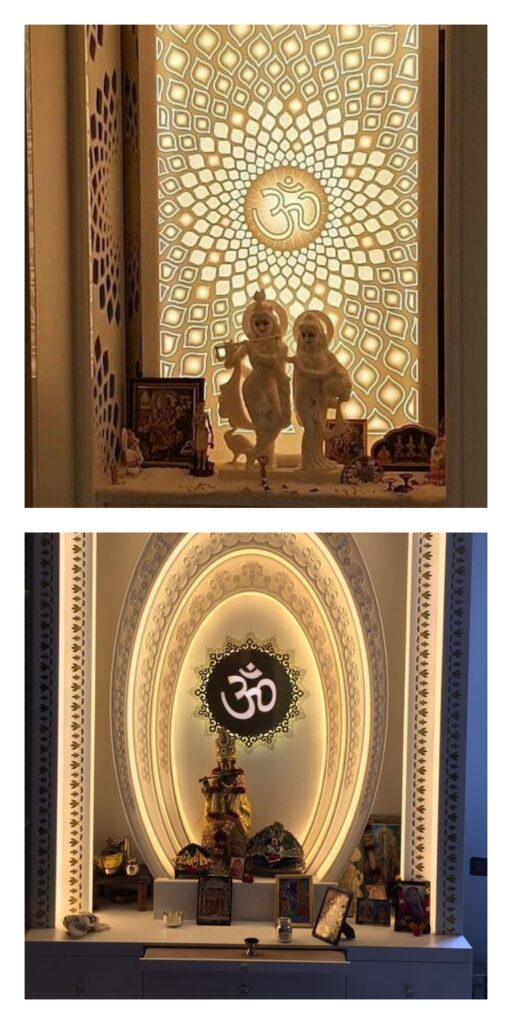 4-Adding creativity-
Be creative and add a little bit of artistic touch to your Pooja room designs. You can craft an intricate cut-out tree design on the wall, and also add some art pieces to give it a tranquil and beautiful look.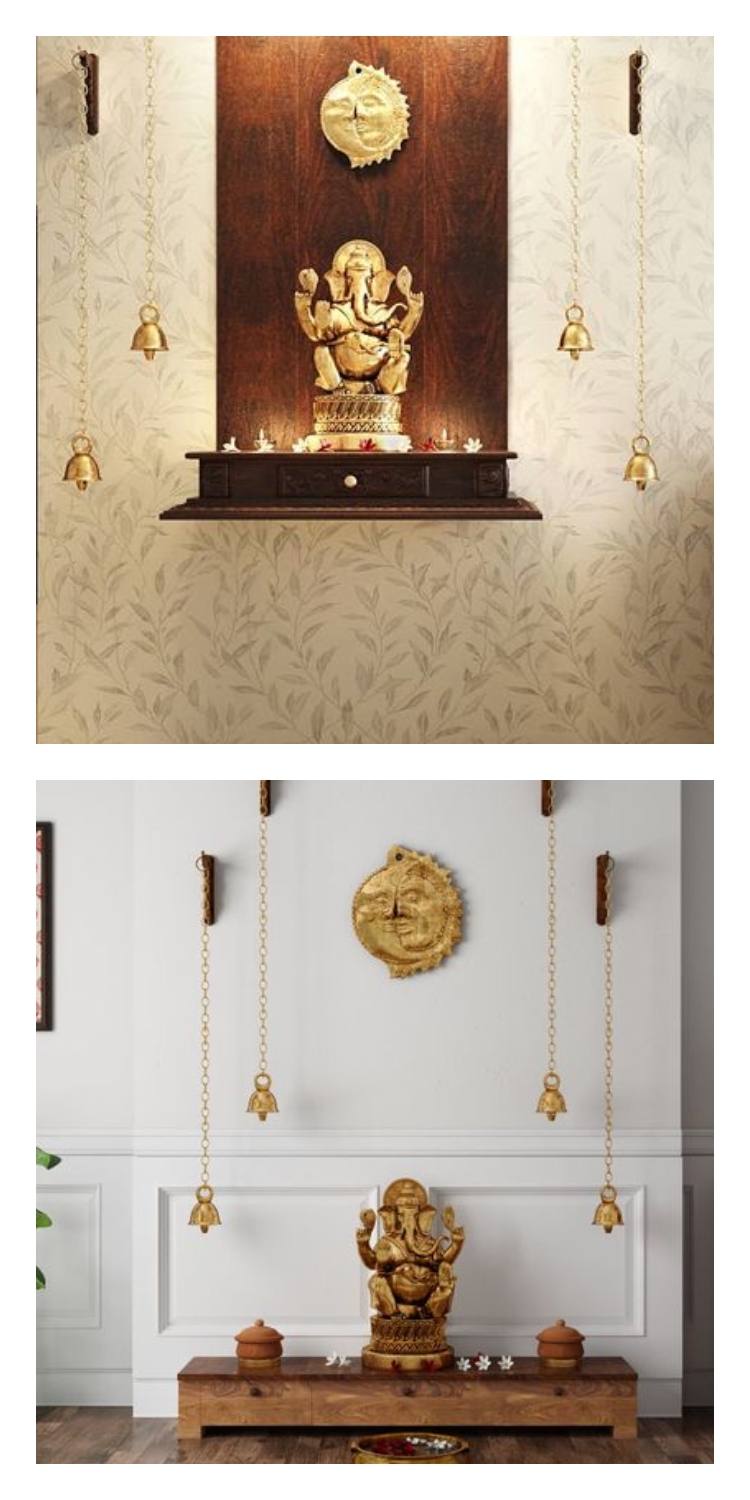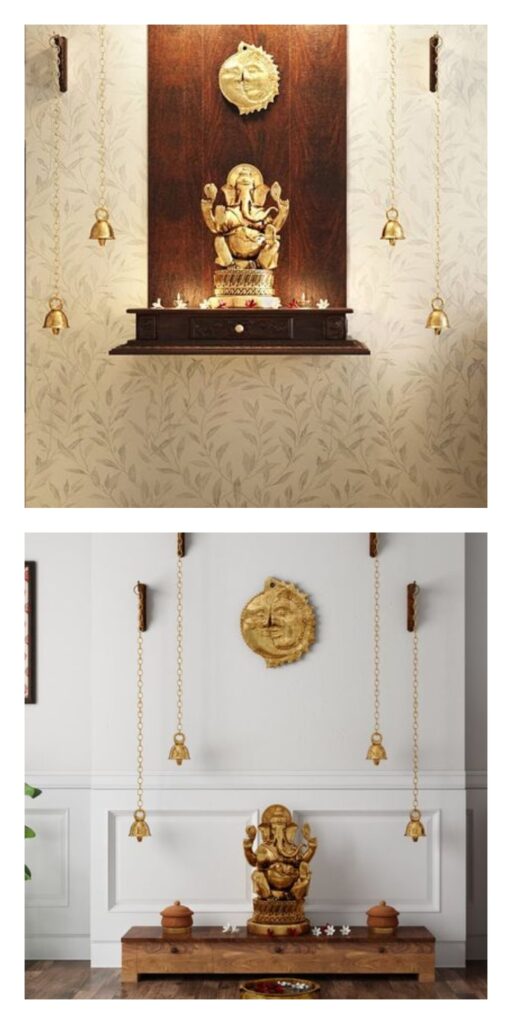 5-Maintaining elegance-
Keep it clean, crisp, and radiant with a backlit wall and elegant woodwork. You don't need to go all flamboyant while designing your poojaghar. Classy and sophisticated designs work just fine.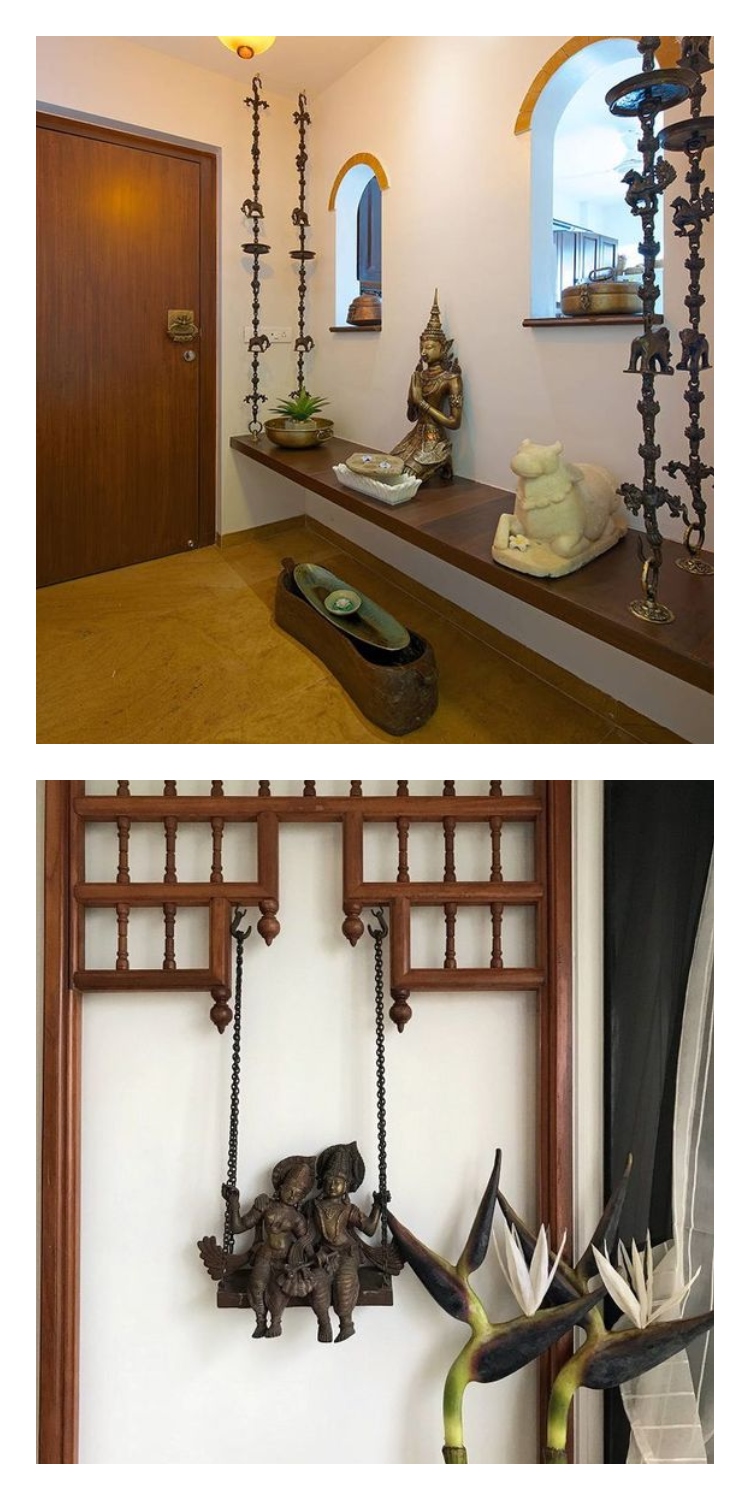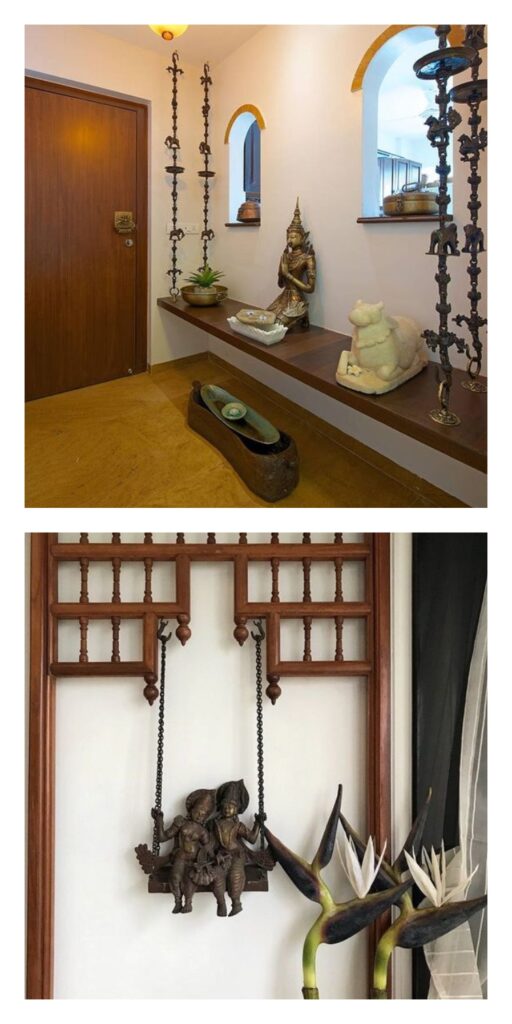 6-The royalty factor-
Add an elegant chandelier to give your Pooja room designs a royal tinge. A chandelier leading the way to a marble shrine would make your rooms just perfect.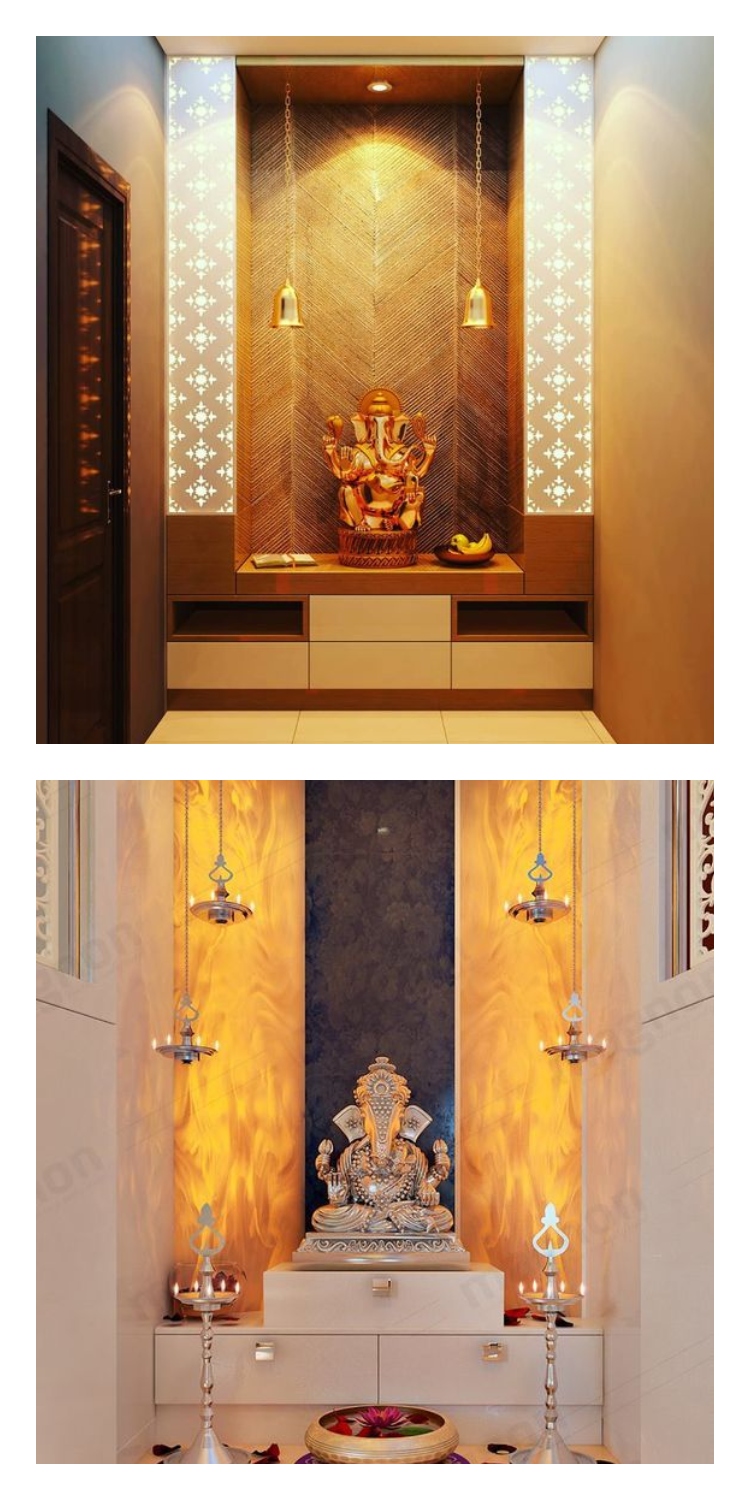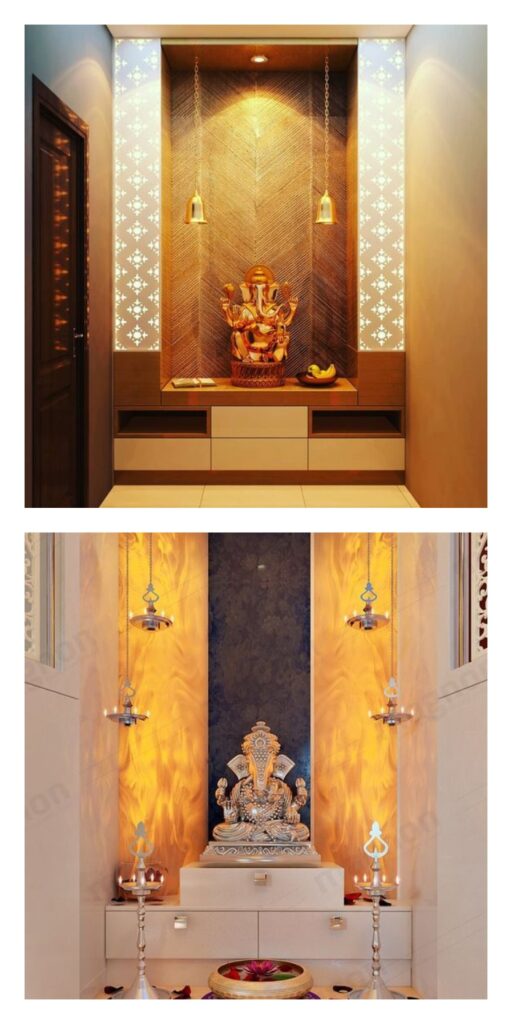 7-Great effects-
Use wall art for a striking effect. You can be really creative here, and can paint the backdrop of the deities with scenes from Indian mythology, or you can paint it in traditional Indian art-forms such as Madhubani or Warli art.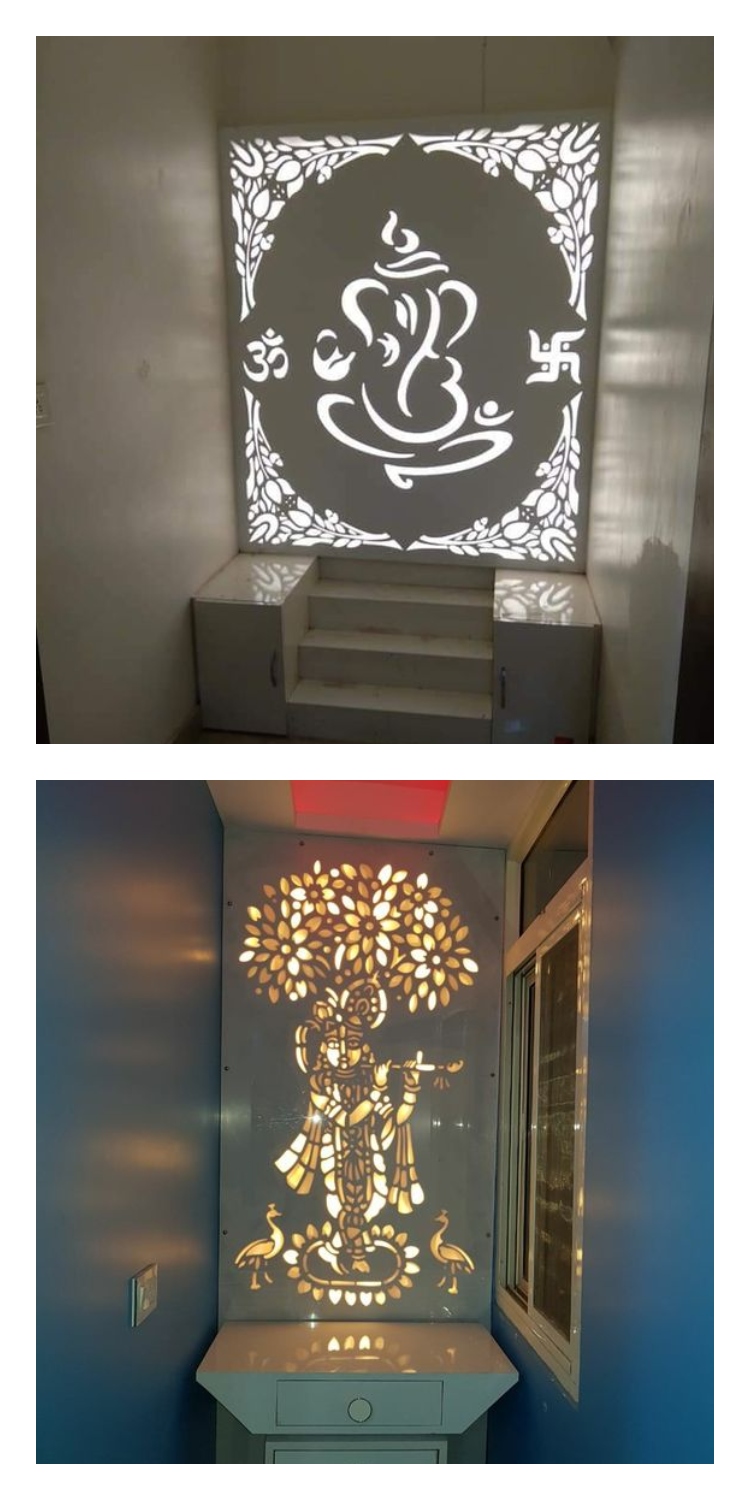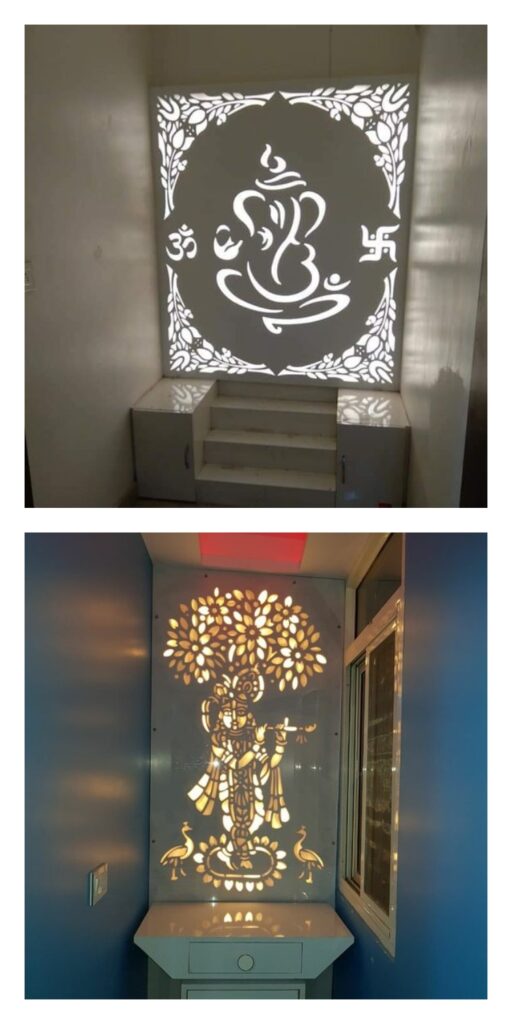 8-Small idols-
You can also opt for a minimal and clean look by pairing a small idol on a compact pooja shelf. This design is feasible for people who have a space crunch at home.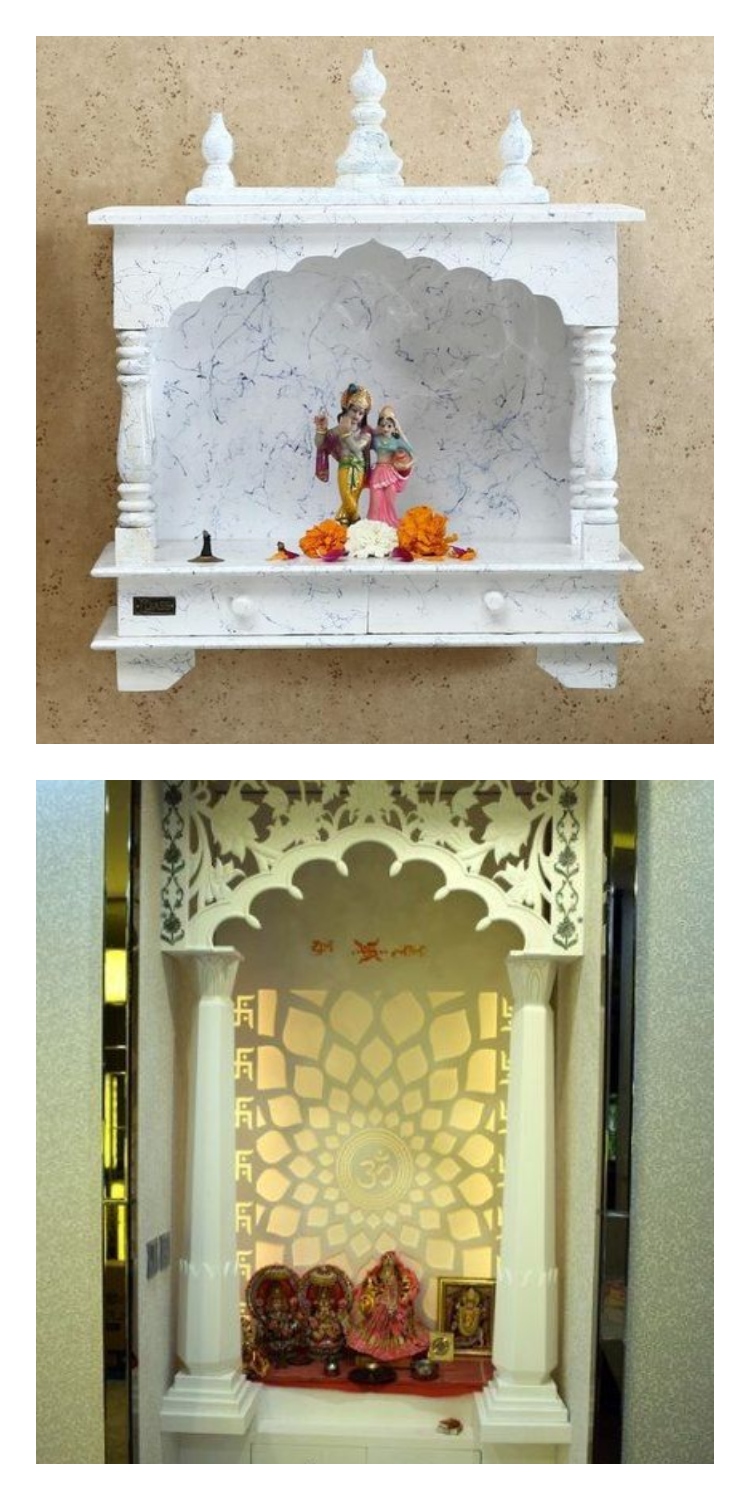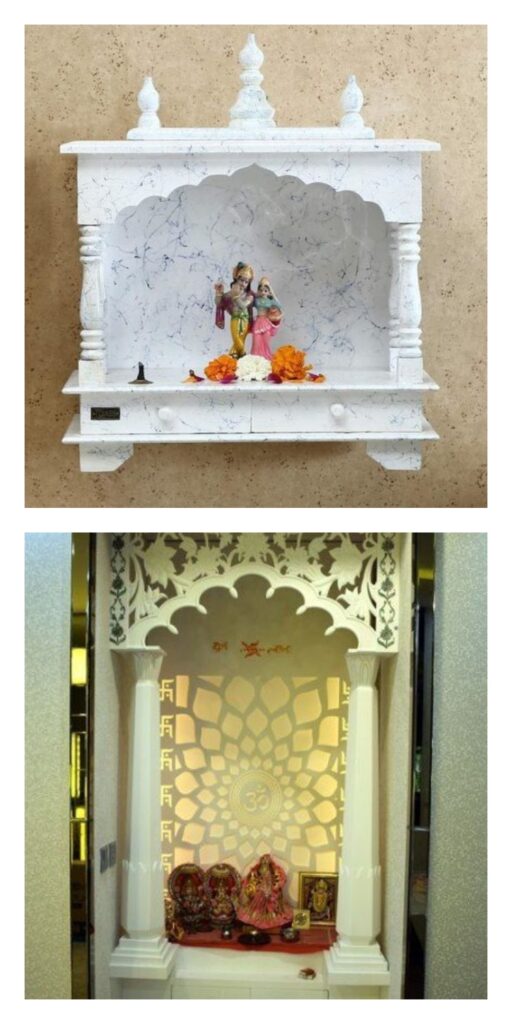 9-Beautiful woodworks-
If you don't have enough space to construct a huge Pooja room designs but want to give a rich feel to the existing one, then you can opt for warm, rich woodwork, and place the alter on a sparkling white shrine. Hang bells from the top to give it a truly divine touch.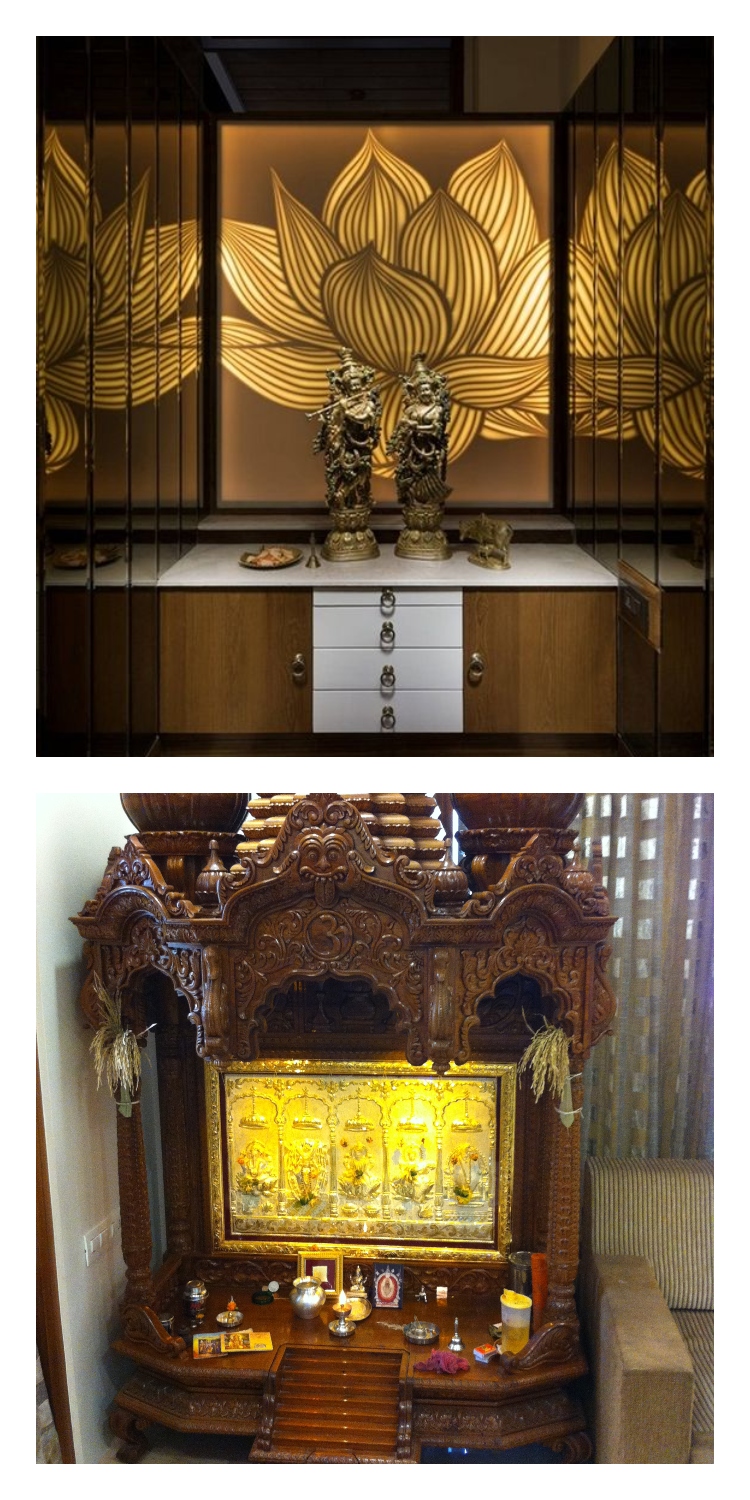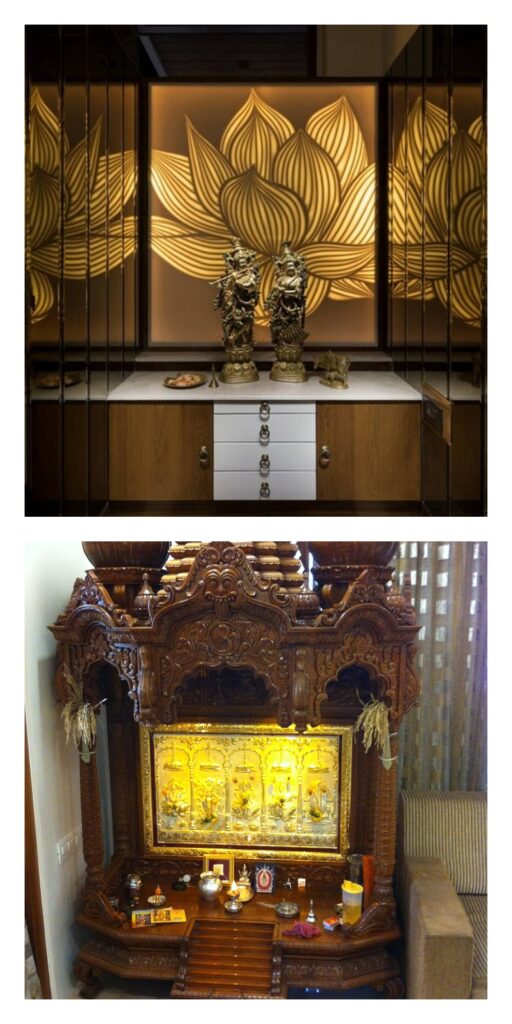 10-Ceiling factor-
Enrich the look of the rooms by depicting elaborate designs on the ceiling. For a touch of divinity construct your door with an Om handle on it.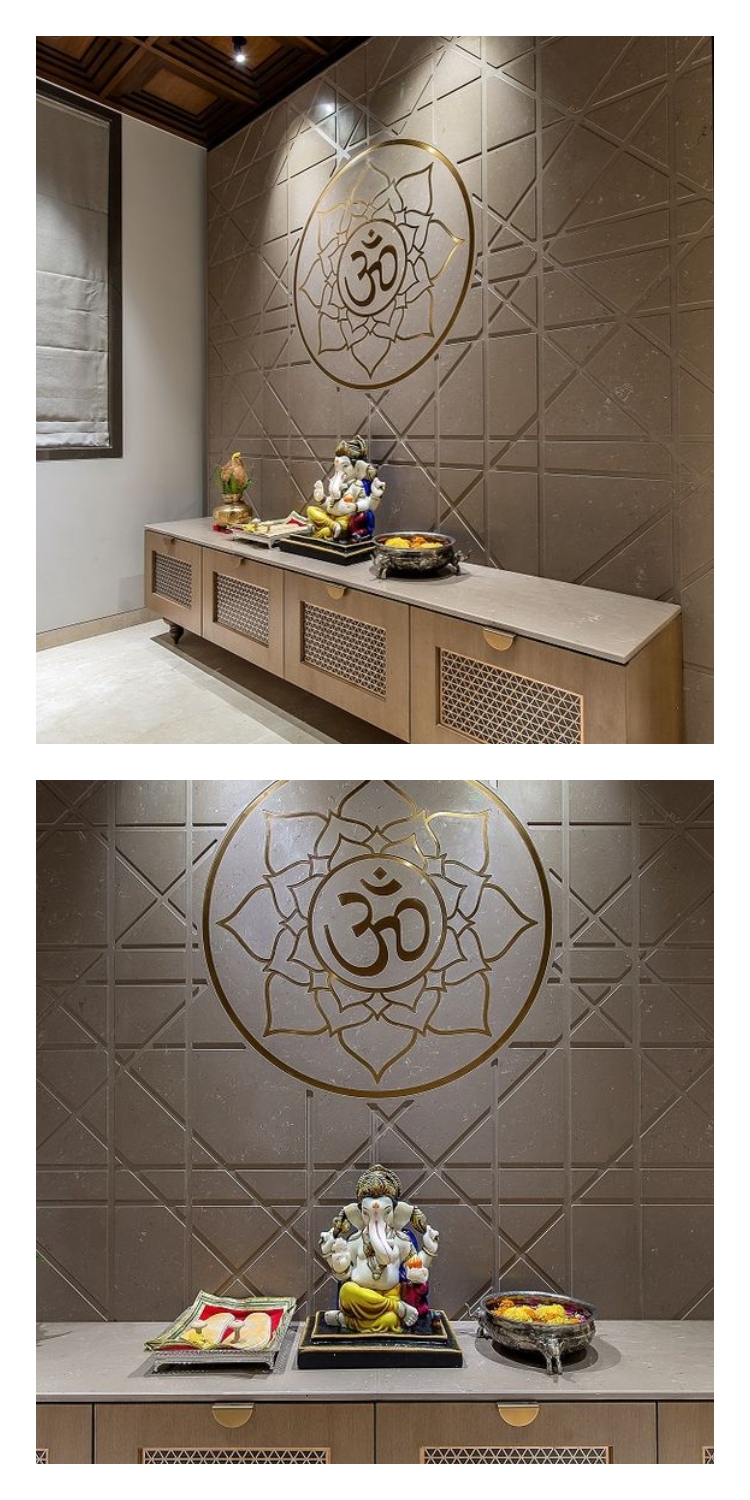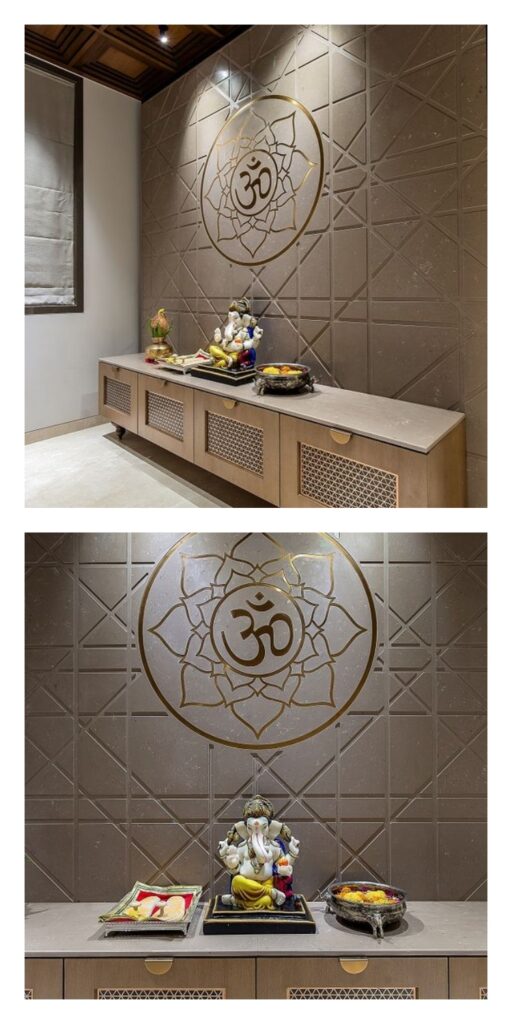 11-Marble effects-
Make a replica of a traditional marble temple in pristine white with intricate carving all through it. The Pooja room designs is your most sacred space, and this temple would reverberate positive vibes around it.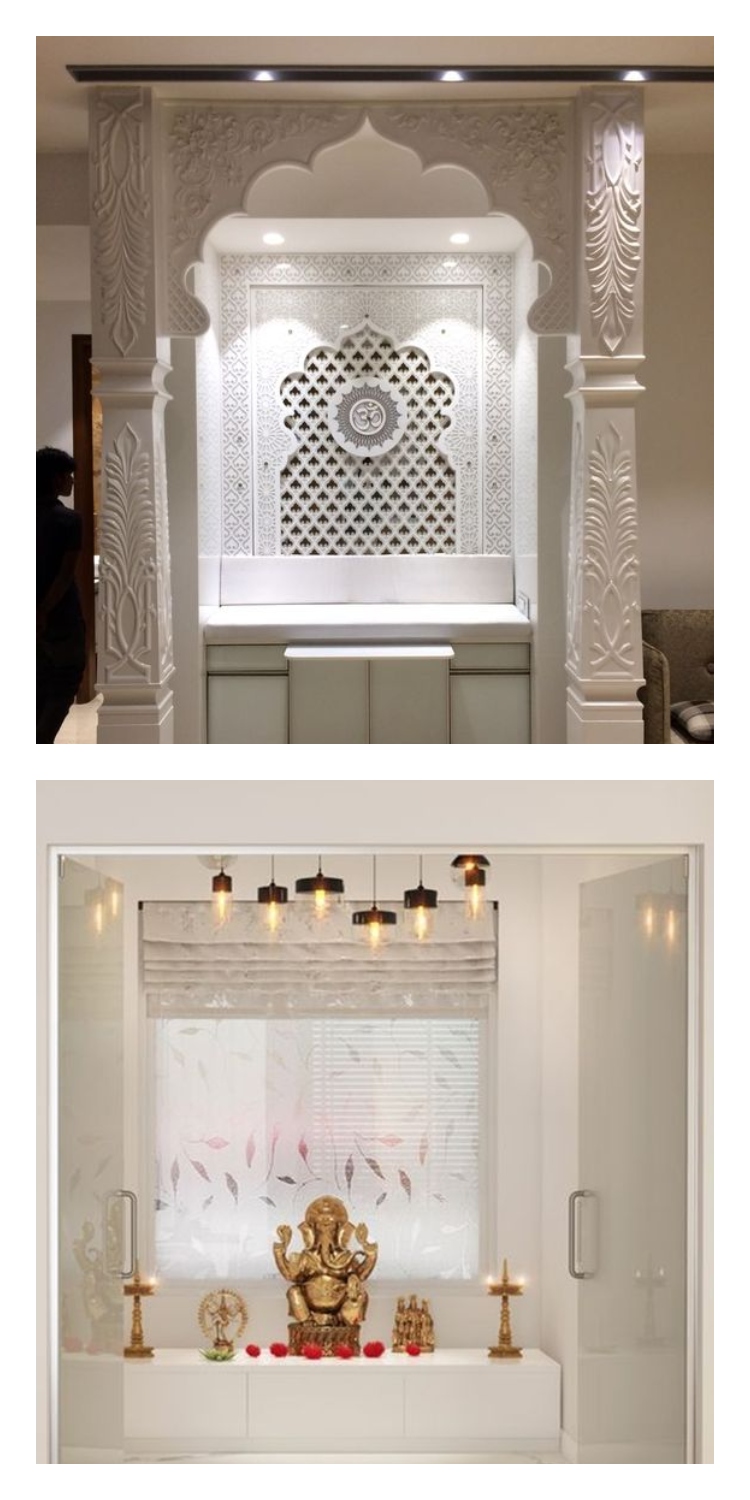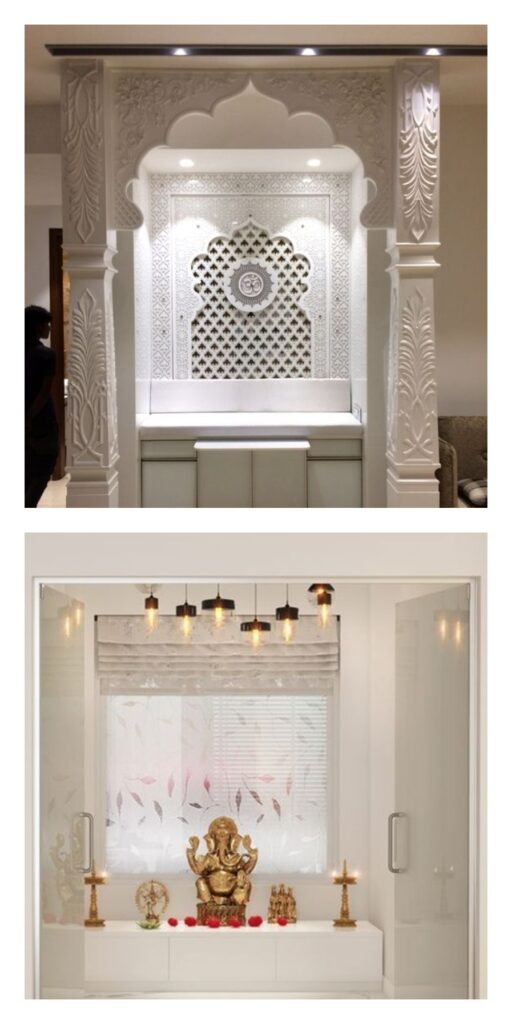 12-The colors-
You can also construct a colourful depicting a small village scene and place the idols in between. This would give a creative and an aesthetic touch to your Pooja room designs and also exude positive energy.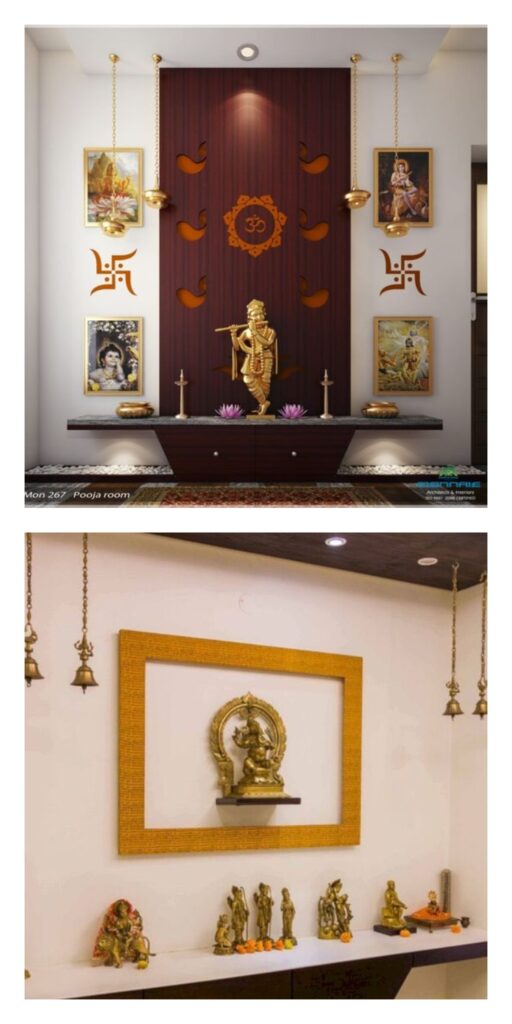 13-Sophistication-
You can also keep it subtle by constructing small yet elegant Pooja rooms with a wooden back panel for an extra tinge of sophistication and class. This clean and uncluttered will help you meditate properly.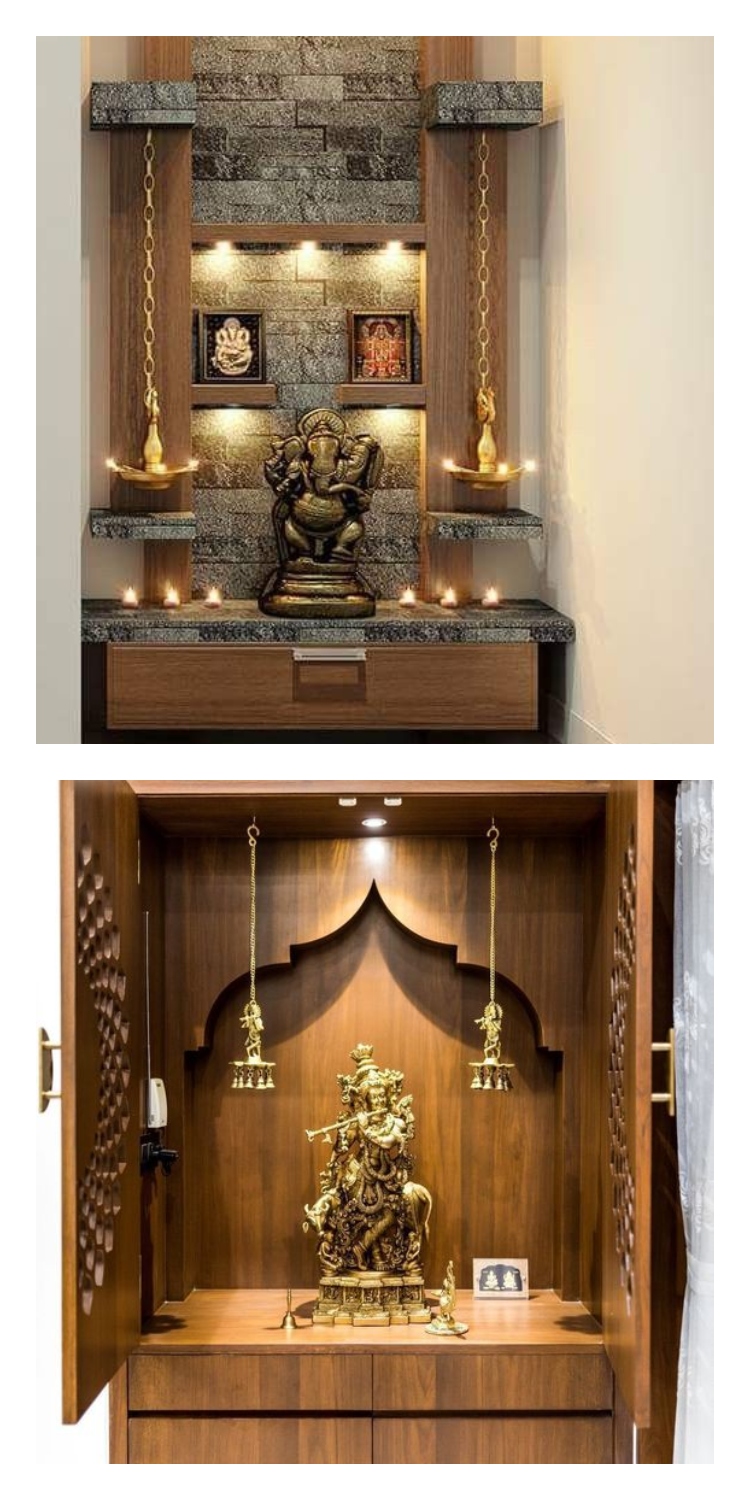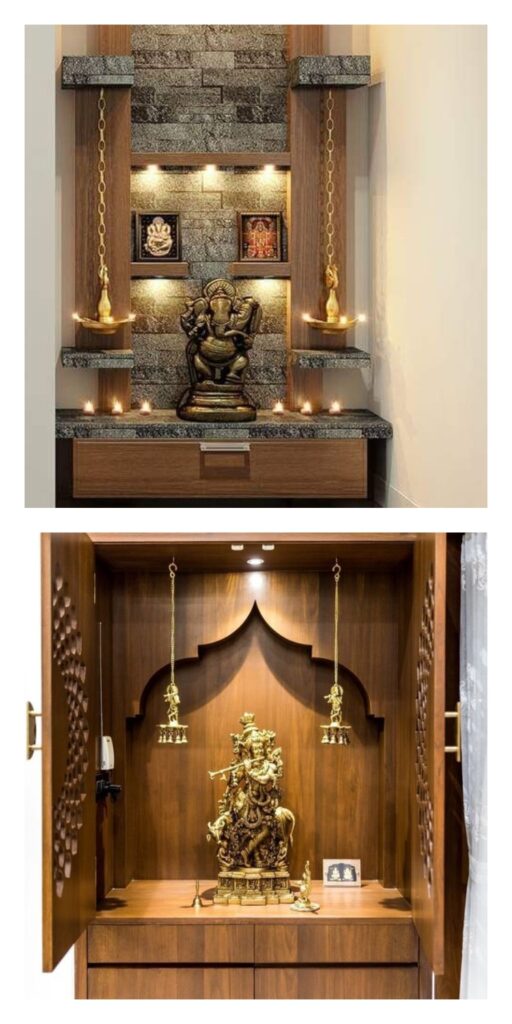 14-Going minimum-
Go for a minimalistic approach, and make your pooja room clean-lined, and light-filled for an environment conducive to quiet prayer.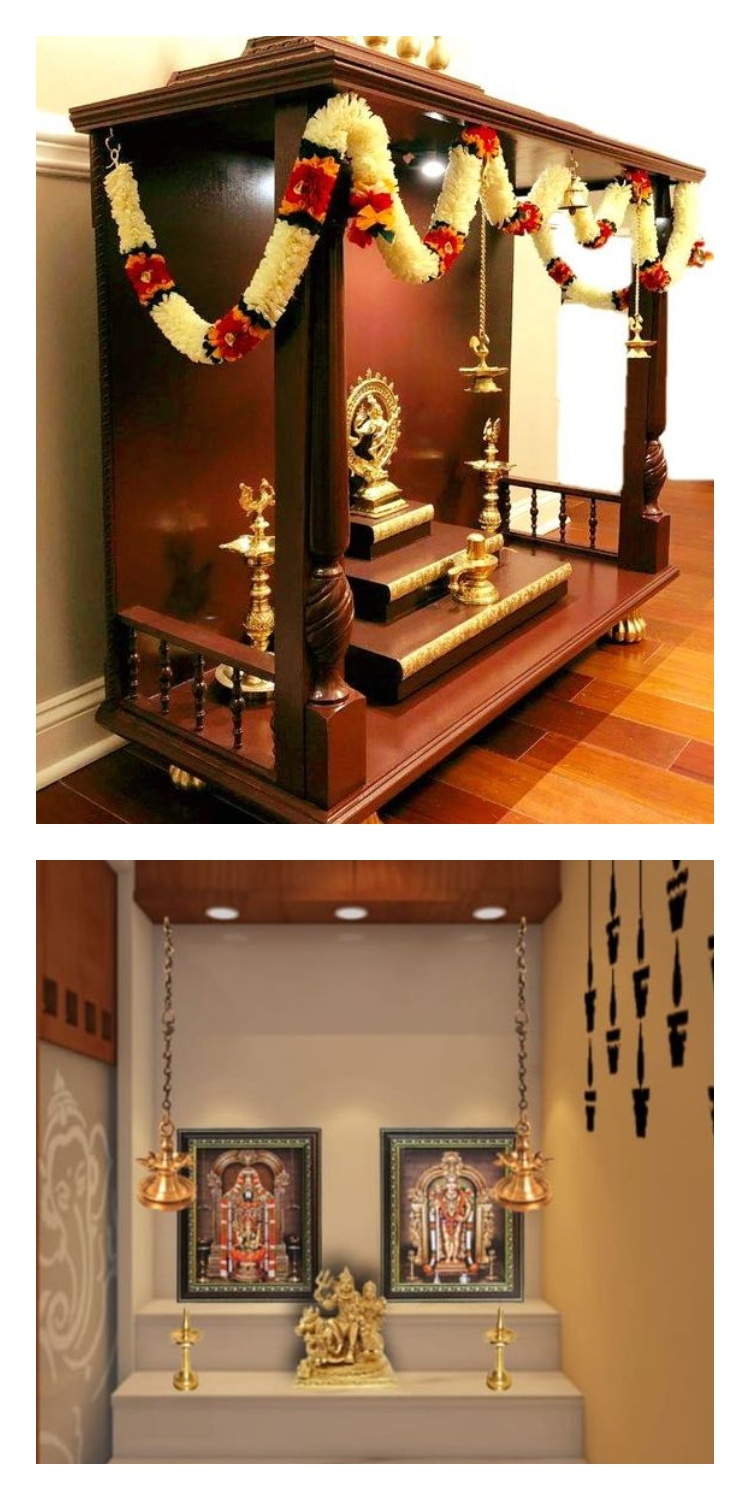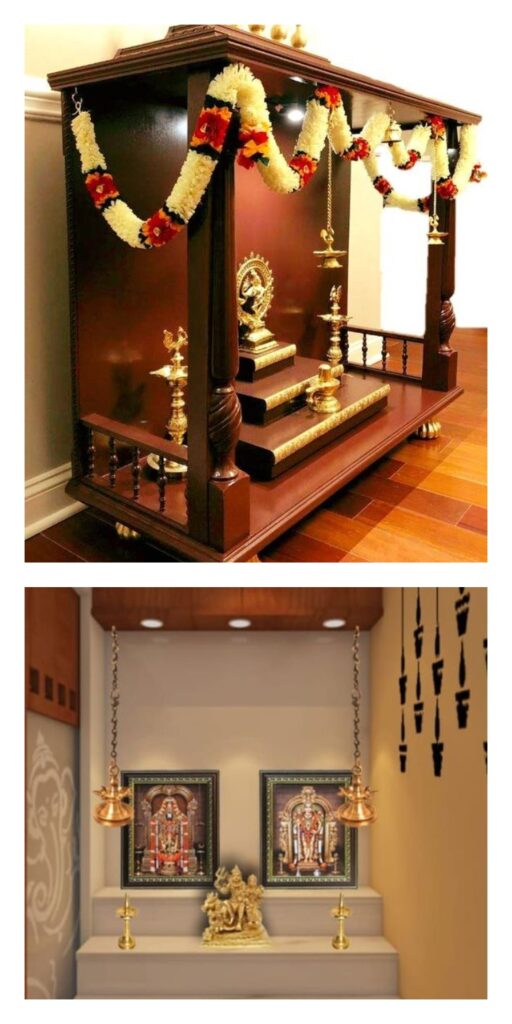 15-Use of metals-
Design your pooja room with metal to give it an elegant touch. Use metallic accessories like bells, lamps, plates etc to enhance the look even further.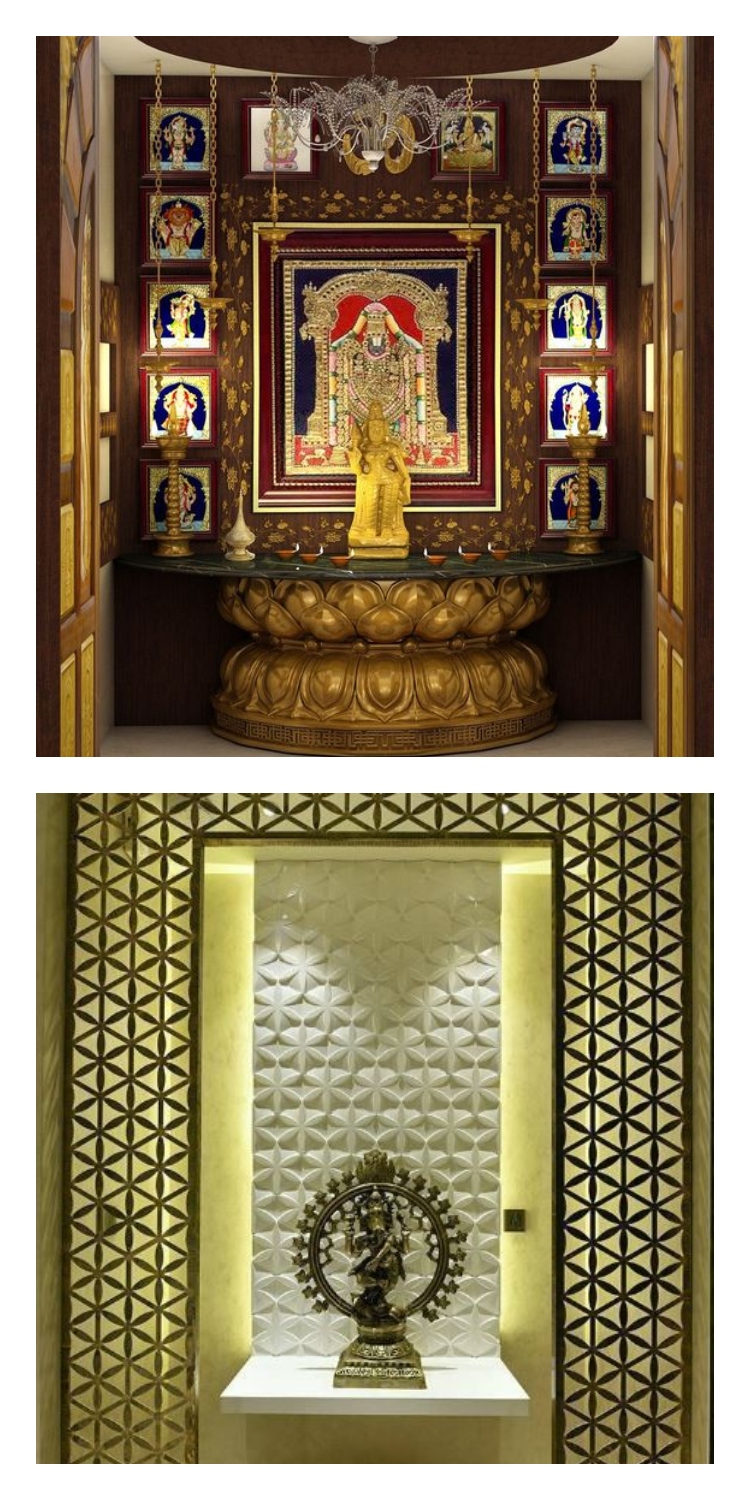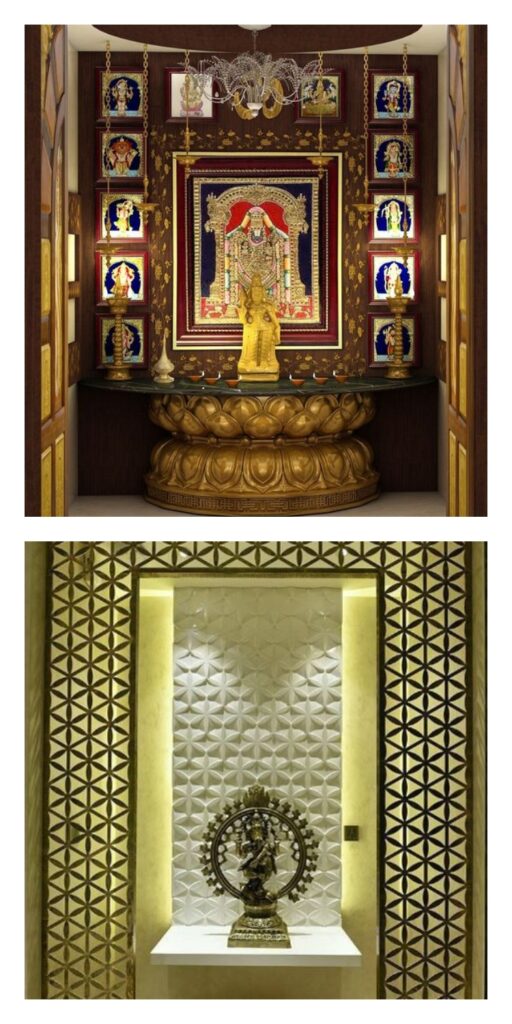 16-Curtains-
Use delicate curtains to give your area an added touch of serenity and tranquillity. Preferably use light-coloured curtains, and place the idol on a rustic wooden stand for an enchanting feel.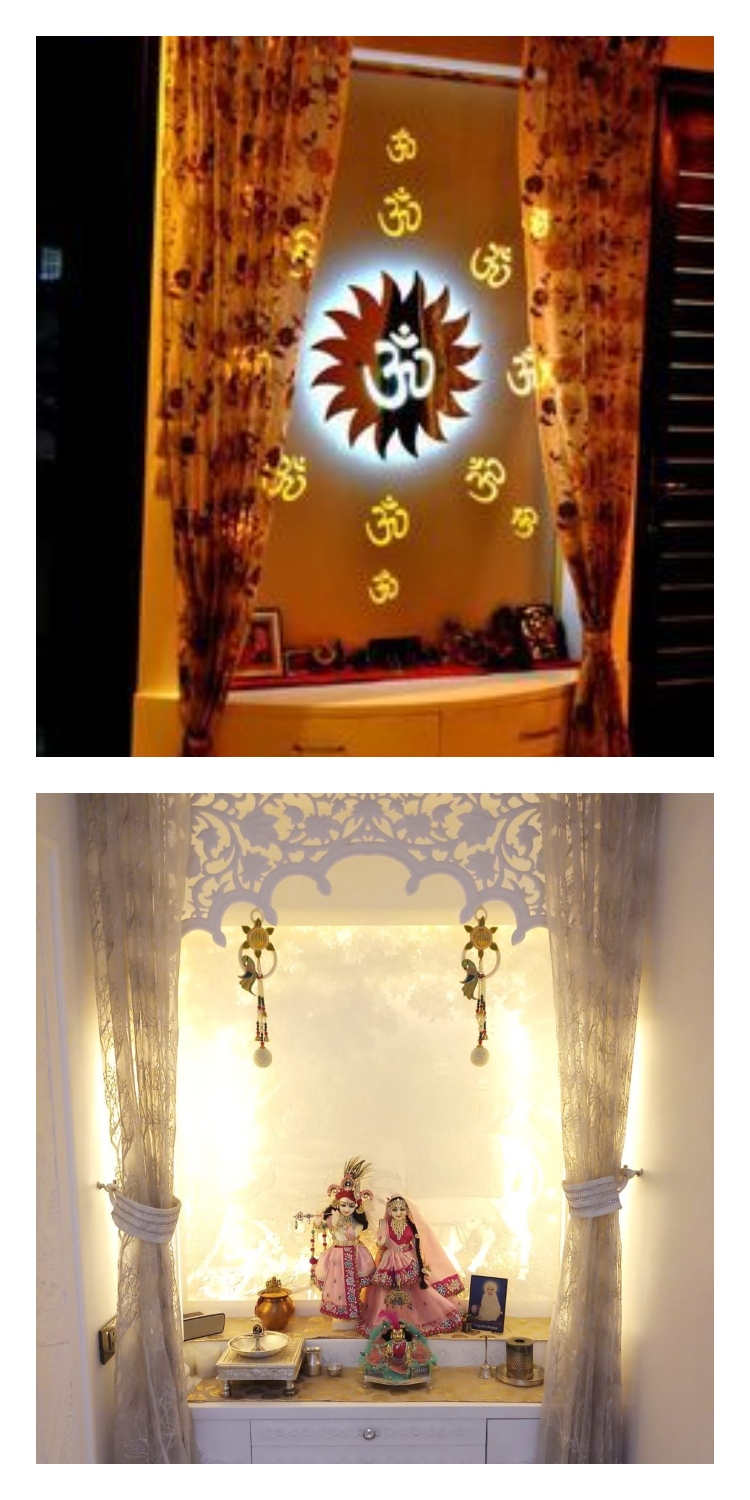 17-Contrasting looks-
Make your pooja room minimalistic and functional by nestling it in the corner of a bigger room. Add shelves and drawers in white with wood at the backdrop to give it a pleasant, contrasting look.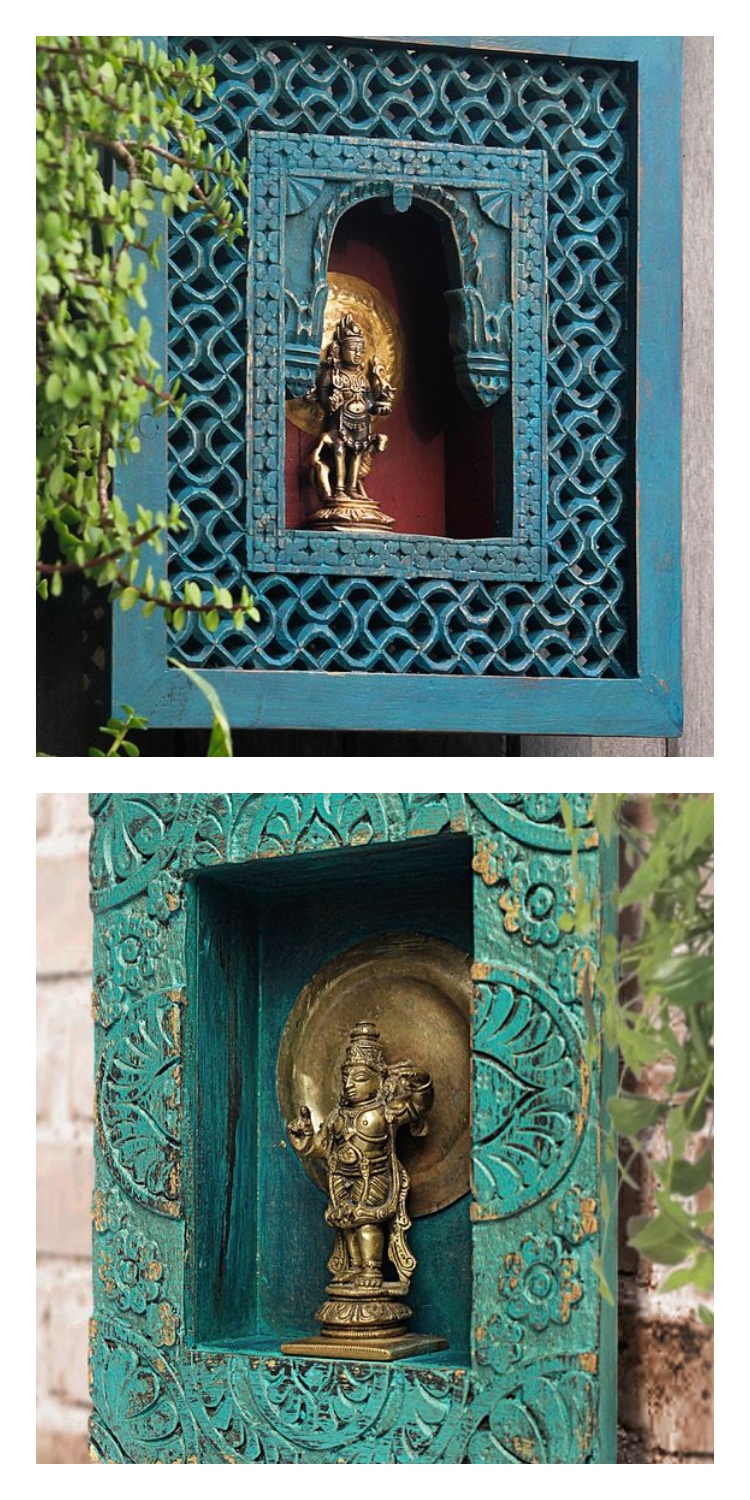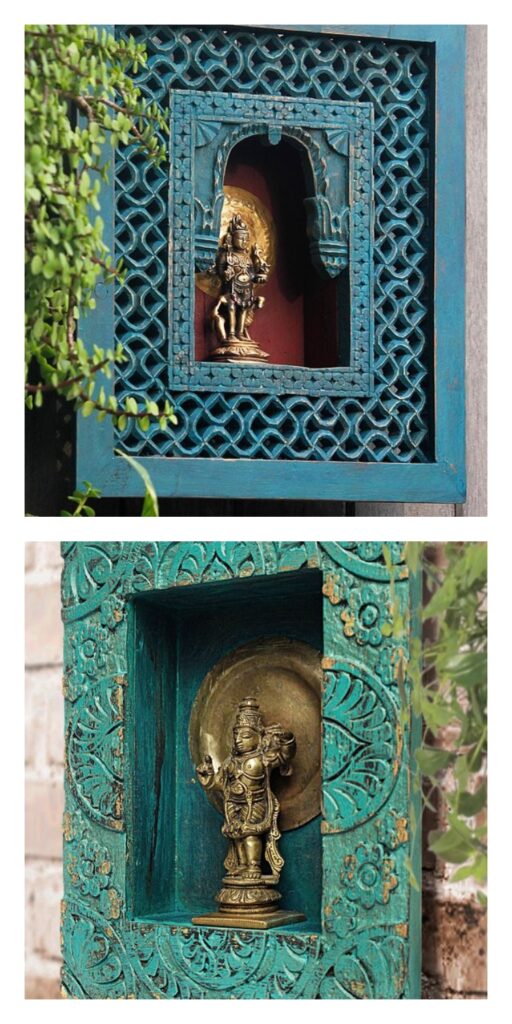 18-Neutral ambience-
Keep the ambience of the rooms neutral and simple by hanging lamps and diyas. A dimly lit pooja room offers great meditative space and exudes warmth and solace with its elegance and simplicity. This room is your perfect place to achieve solace and calmness after your daily grind at work.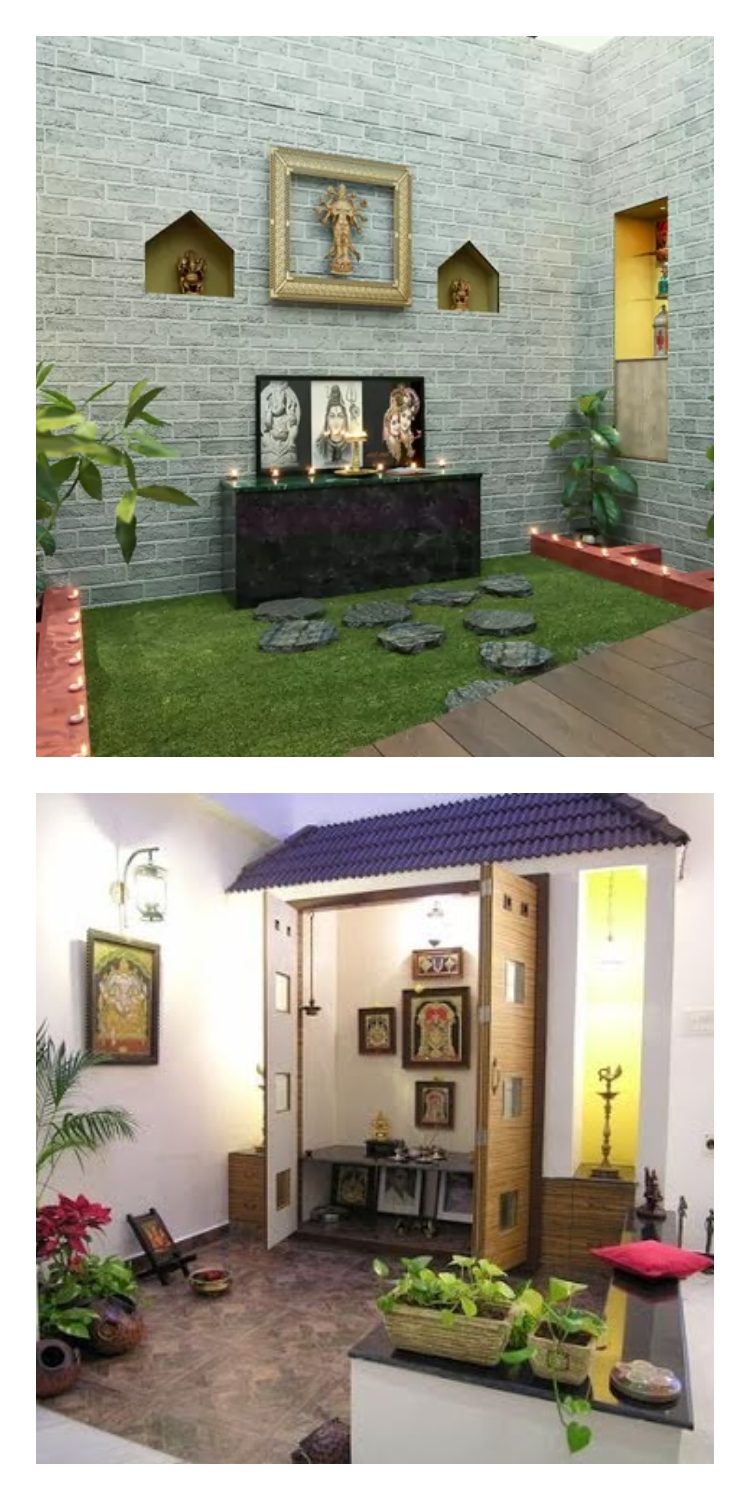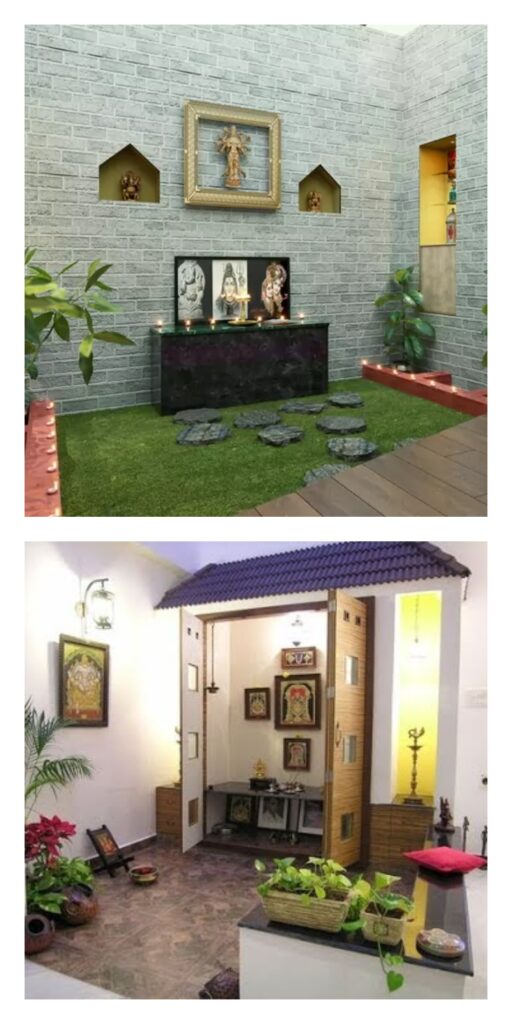 19-Contemporary look-
You can give a chic and contemporary vibe to your pooja rooms by adding some modern art and contemporary design pieces to it. This pooja room will complement the spirit of your entire house and add a tinge of modernity to your spirituality.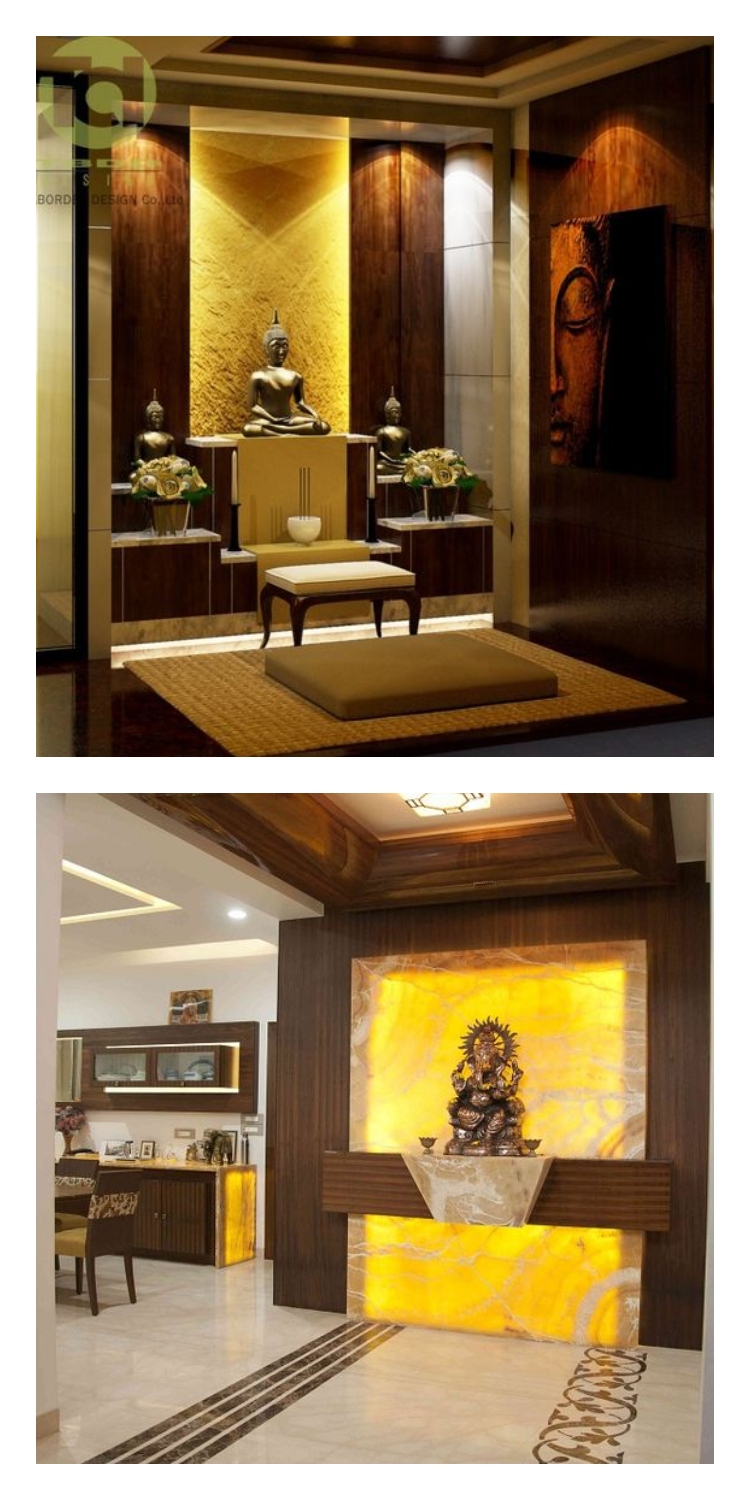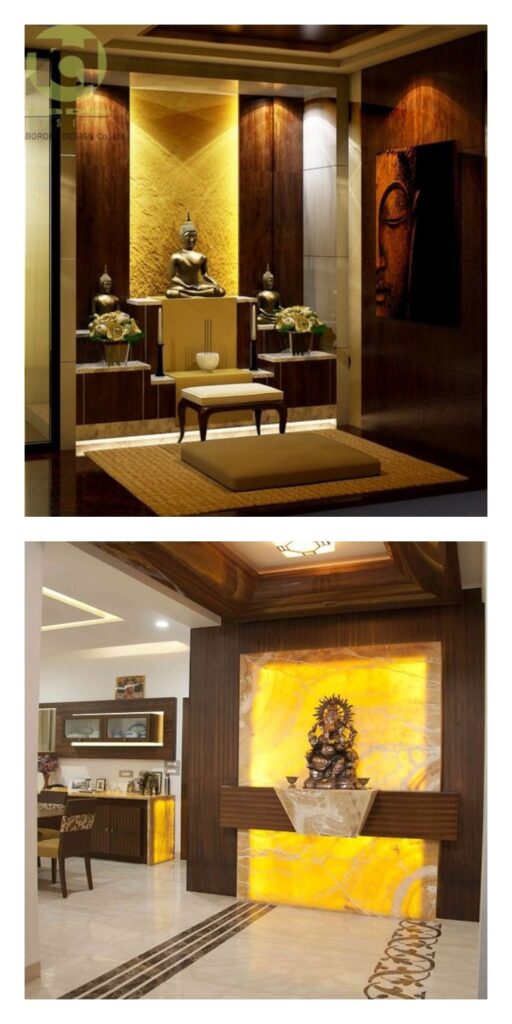 20-Luxurious-
Add a luxurious tinge to your room by constructing bright pillars supporting it. You can paint the walls and pillars supporting the sanctum with various images of gods and goddesses.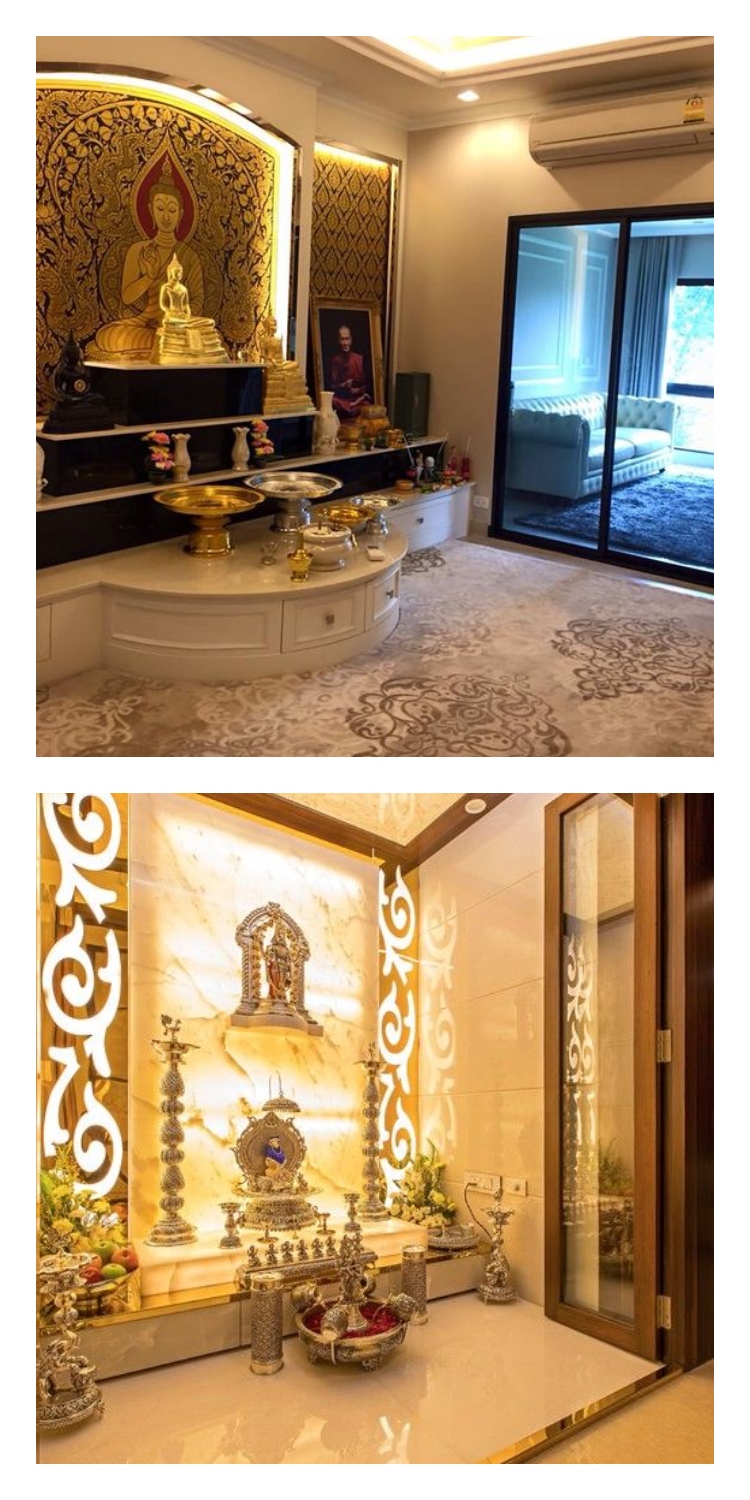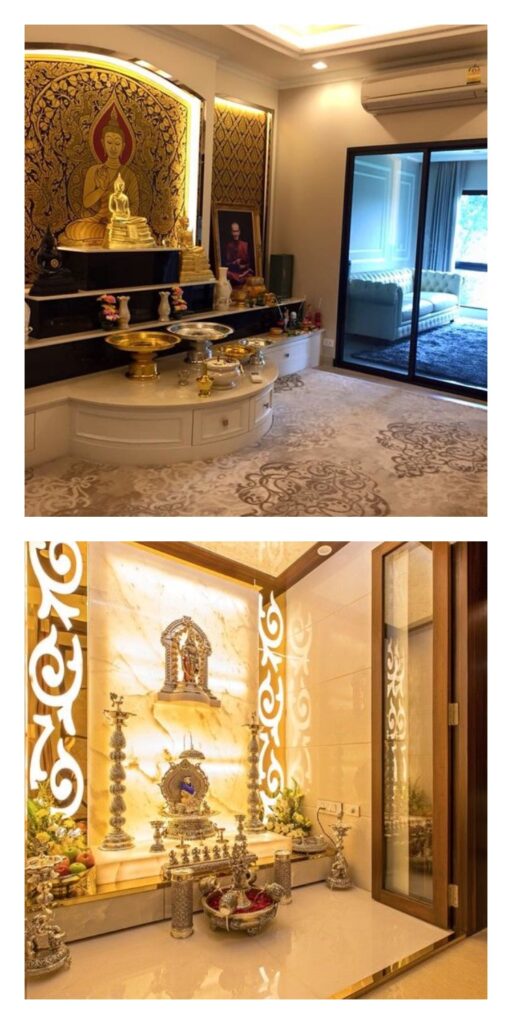 21-The artistic touch-
Give an artistic touch to your room with wall art. Add pendant lights for a spiritual and divine effect. Add an eye-catching tree art as the background to your shrine, and give an irresistible charming effect to your room.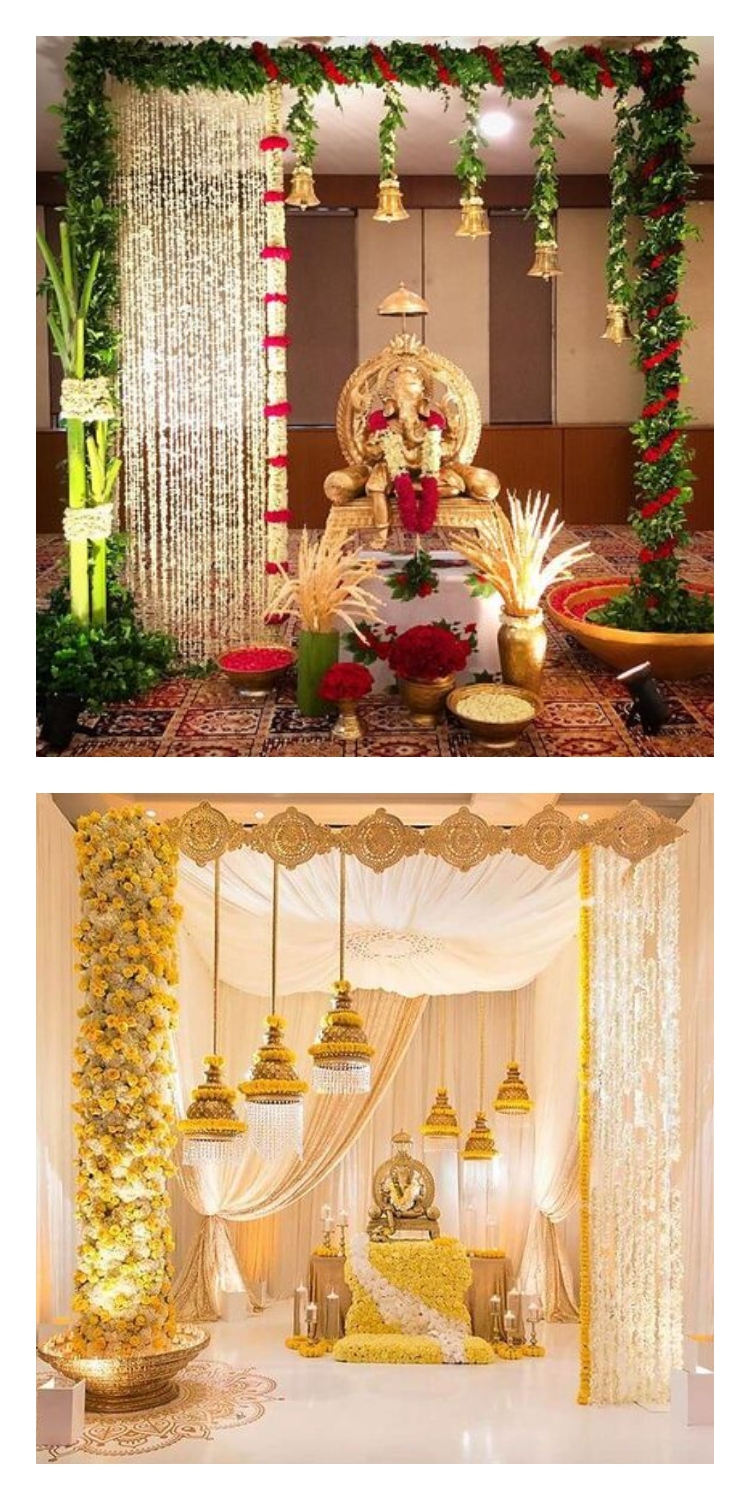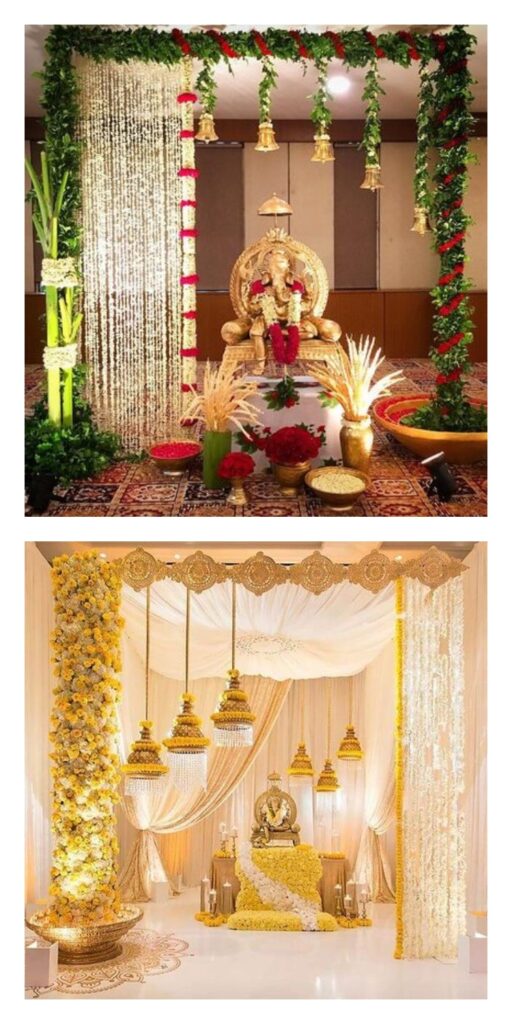 22-Floorings-
Clean wooden flooring with cushions properly arranged gives a meditation centre like look to your area. It transforms it into your own sacred meditative space.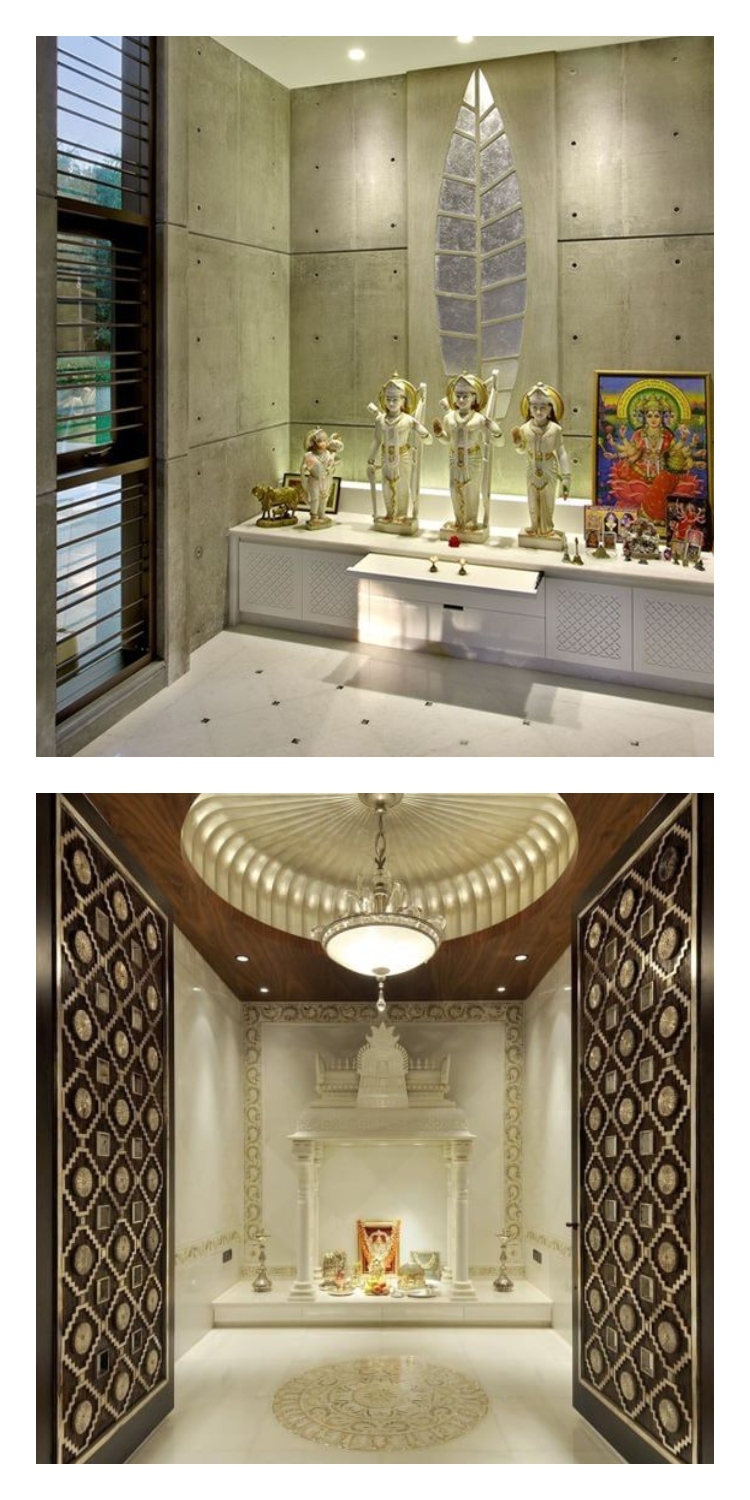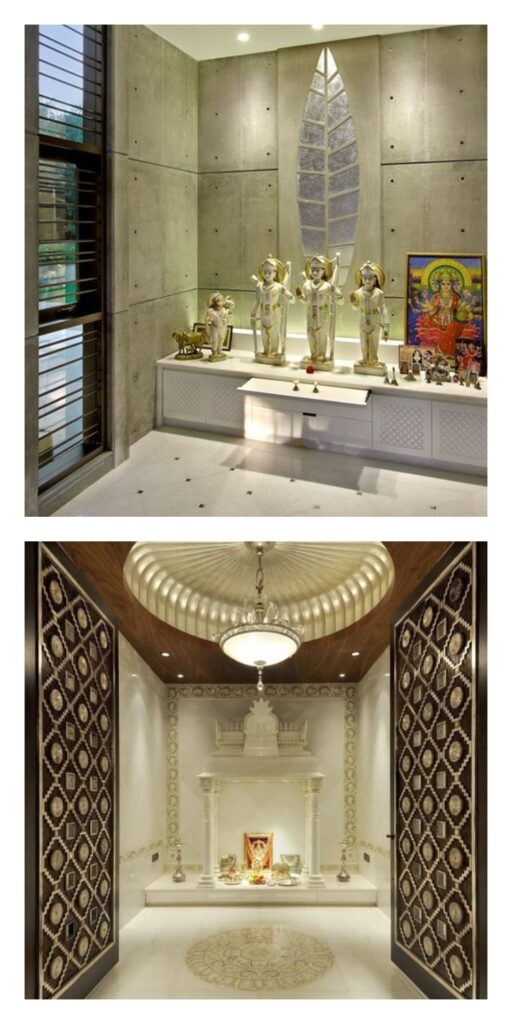 23-Maintaining traditions-
Make it traditional. A traditional poojaghar looks like a miniature temple where hanging light lamps, bells, Diyaas provides the divine look to the pooja area. So, traditional temples usually have some space for rangoli design. So, in homes too, a small space can be reserved in front of god's idol for the rangoli, as this complements to the beauty of the pooja area.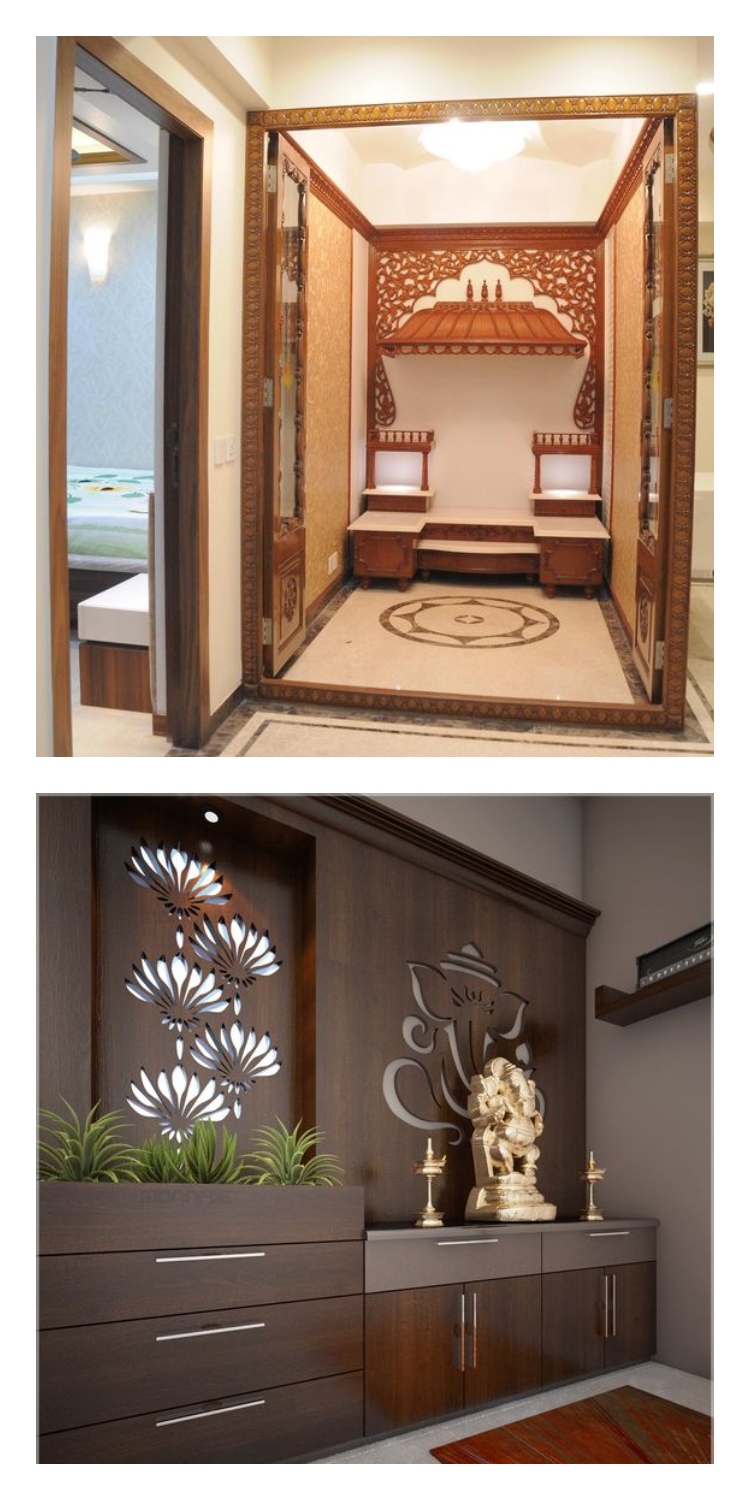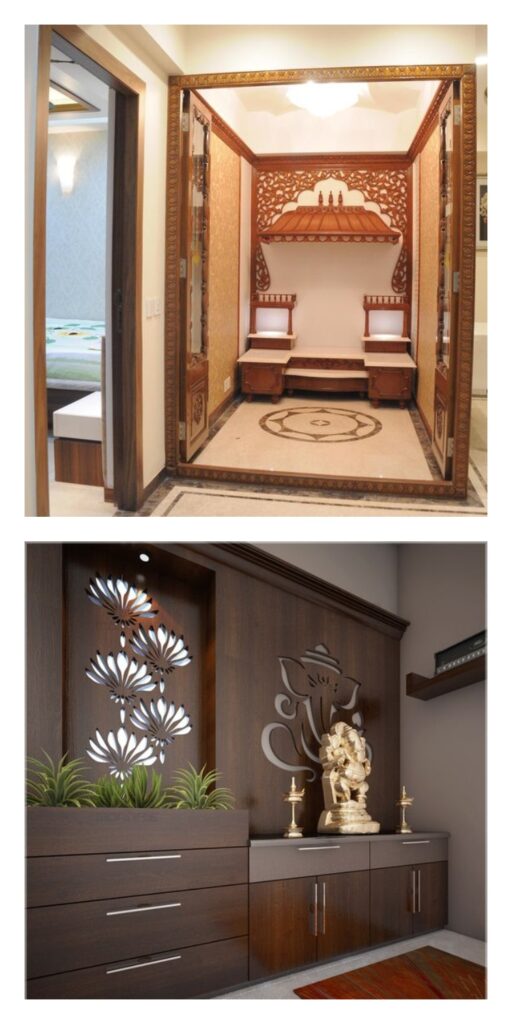 24-Serene Touch-
You can also add a touch of serenity to your home by constructing your pooja room design in glass. A pooja area inside glass walls situated in the corner of your drawing room would add a much-needed positive vibe to your entire house.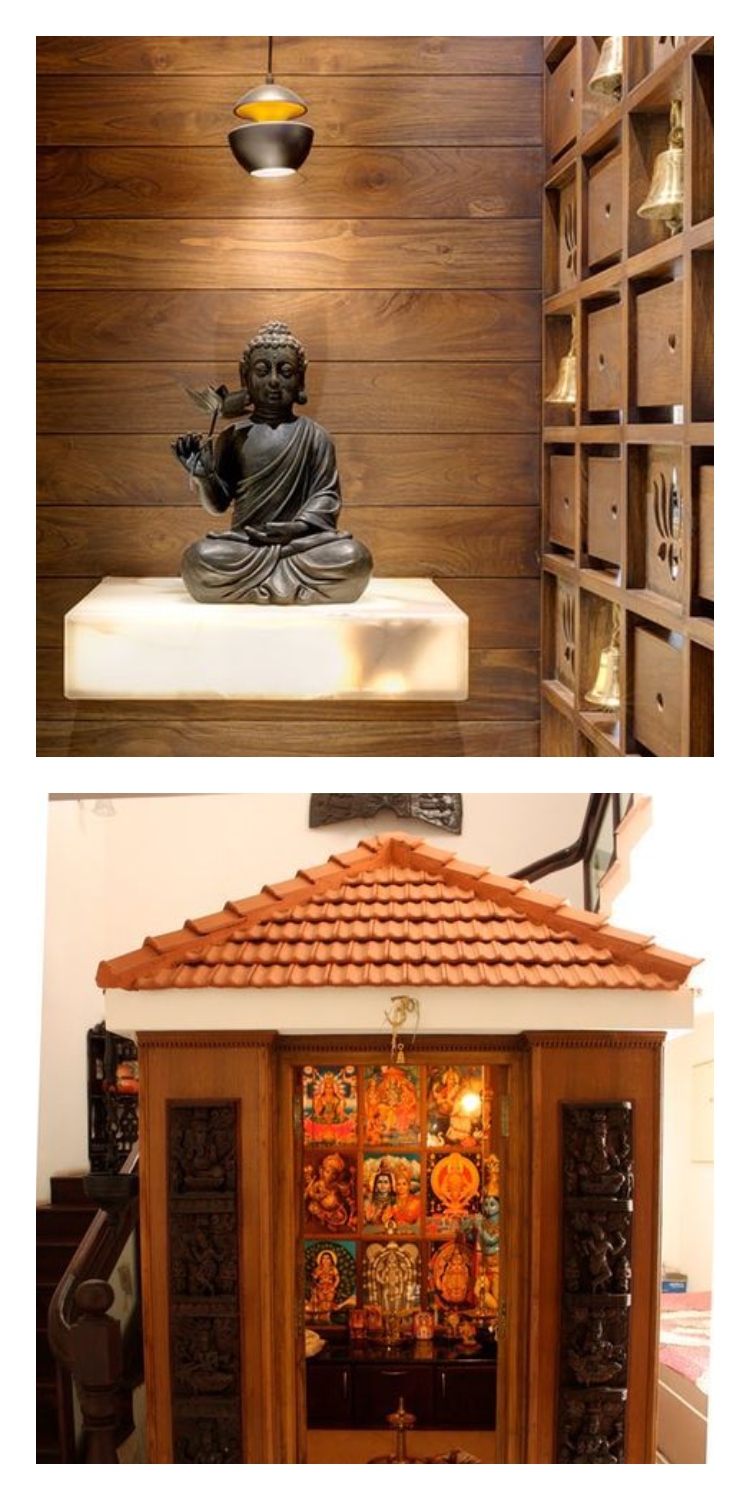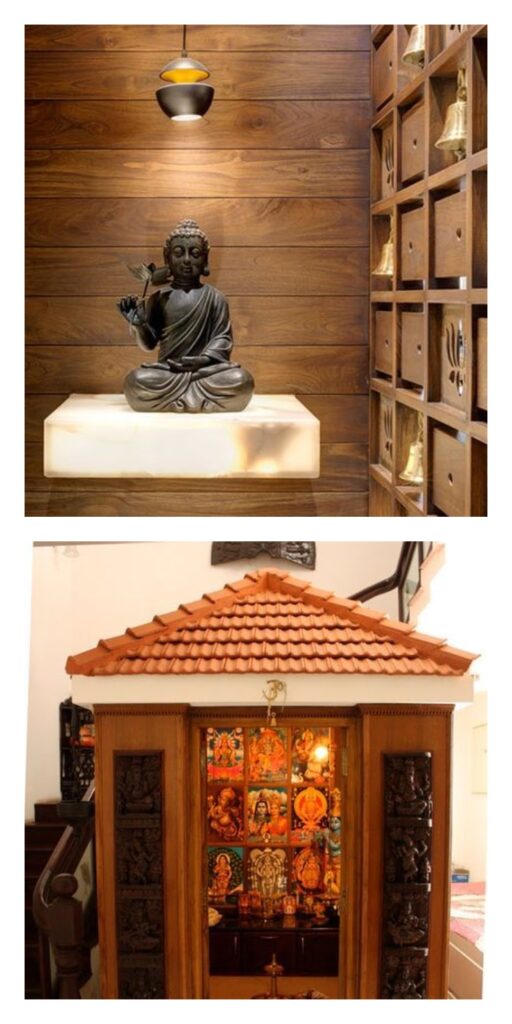 25-Stand alone cabinets-
In many houses, there is not ample space for pooja area. This problem can be solved by using stand-alone pooja cabinets.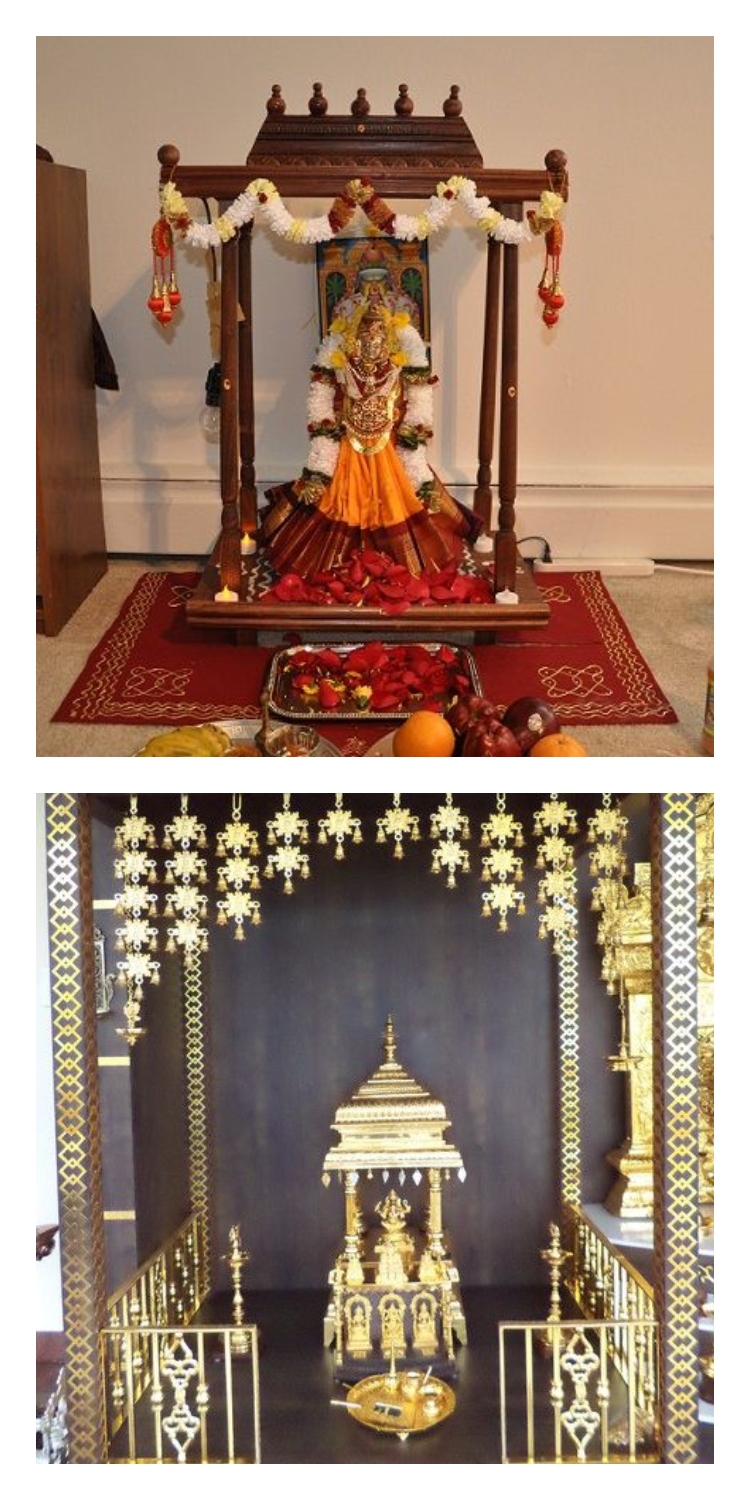 26-Slimming down spaces-
Make a slim pooja space inside a cabinet unit if you have a space crunch in your house. You can always make space for prayers.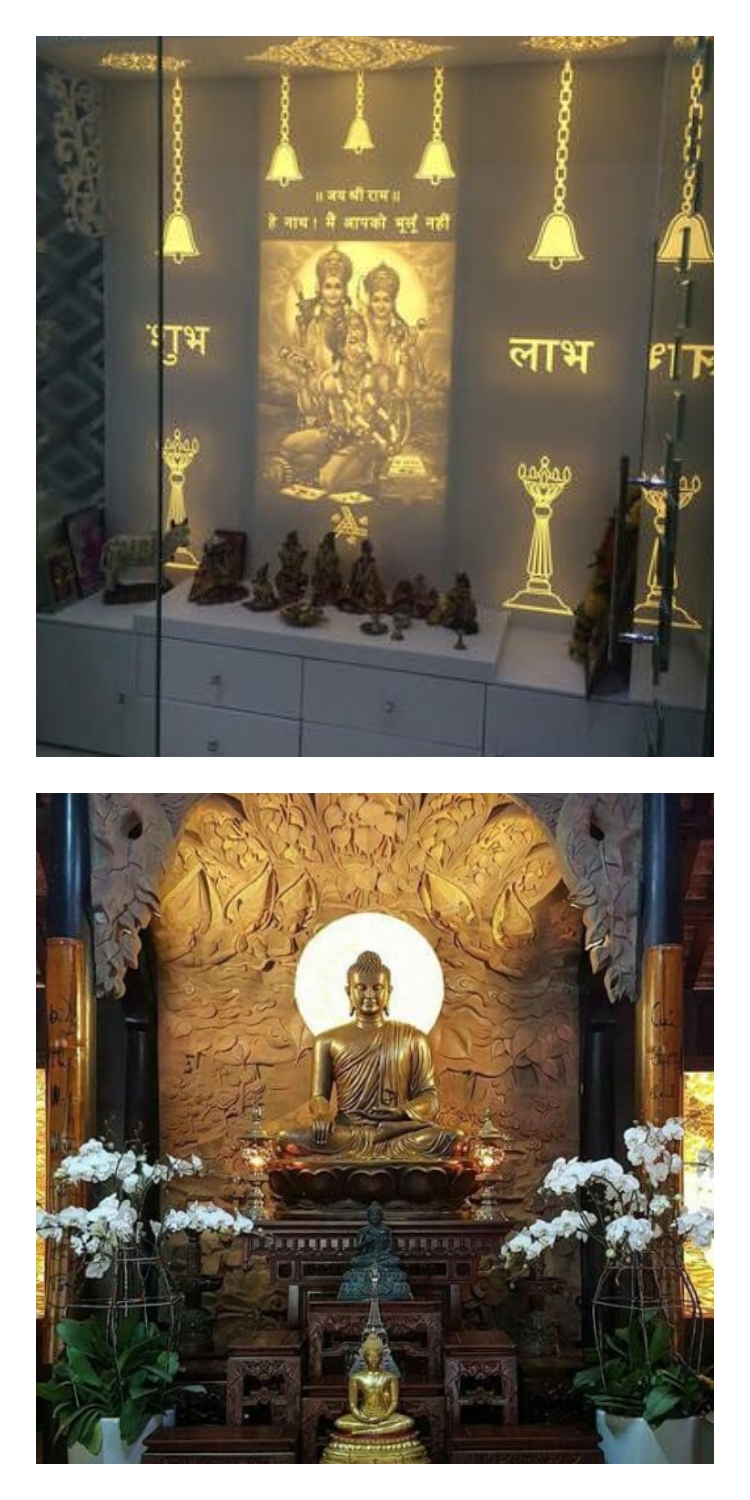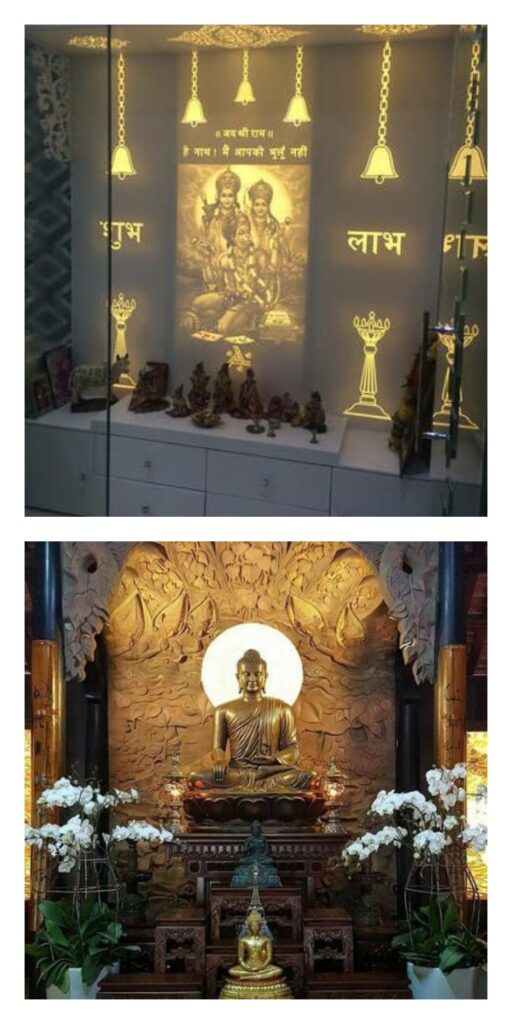 27-Decorations-
Decorate your pooja area with wall motifs and a hanging bell to give it an artistic feel.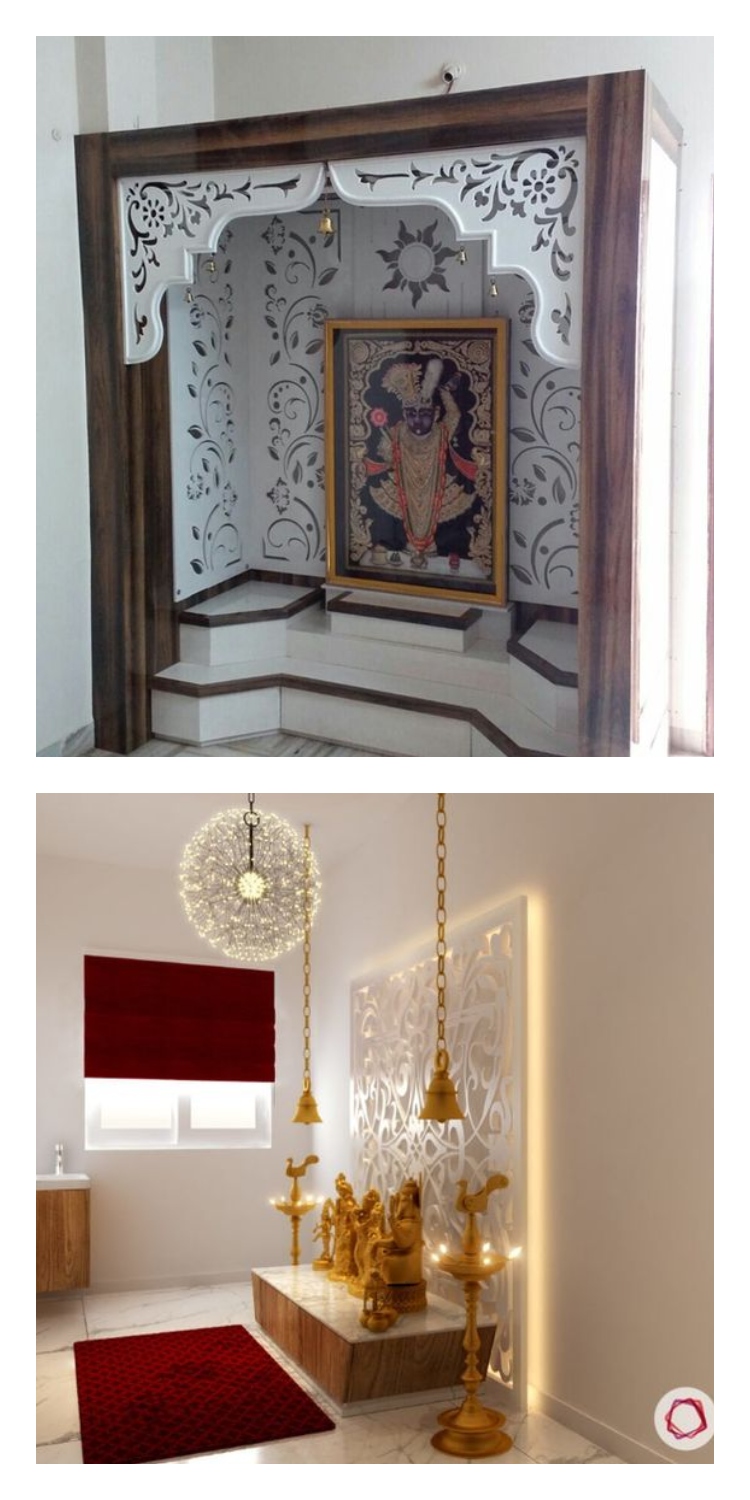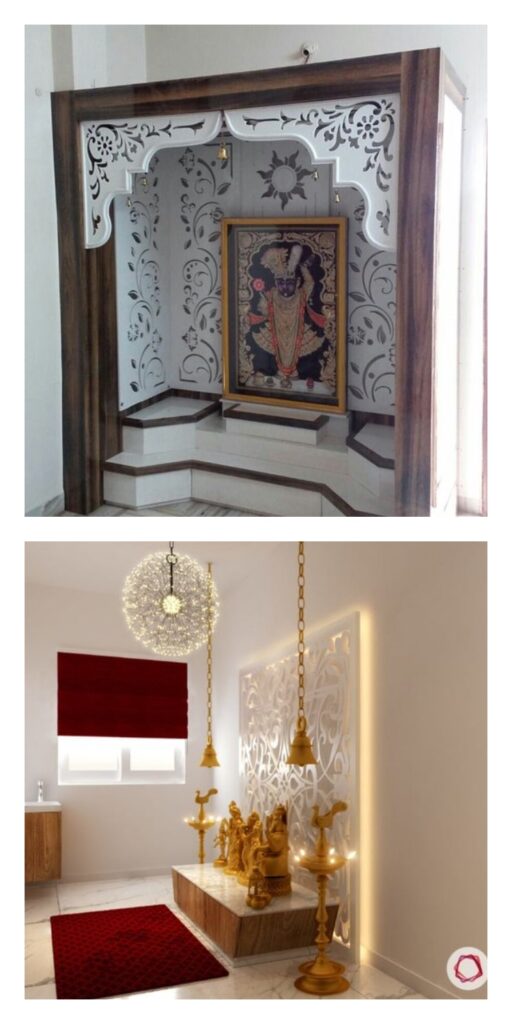 A peaceful and tranquil pooja area will add to the charm of your house, and give it a much needed spiritual vibe.