Dear men, it's time to infuse a new breeze of style into your wardrobe. Gone are the days when a simple T-shirt and jeans were the only choices for a casual look. It's time that you dive into the world of fashion-forward and versatile looks that will fetch you a lot of good compliments. Whether you are out grabbing coffee with friends, walking through the city streets, or enjoying a weekend getaway, we have got you covered.
In this style guide, we explore a range of casual outfit options that will boost your everyday attire and help you stand out from the crowd. From timeless masterpieces with a contemporary twist to modern getups that push the limits, there is something here to serve every taste and occasion. Get ready to update your style game with our handpicked selection of 15 casual outfit ideas for men.
What is the smart casual dress code for men?
The smart casual dress code for men is a versatile and tasteful style that strikes a balance between formal and casual clothing. It presents a refined and elegant look while keeping a casual and comfortable vibe. It is generally suitable for different occasions where a rigid formal dress code is not needed, such as business casual meetings, dinners, receptions, or social gatherings.
Some good examples of smart casual clothing pieces for men are polos, sports jackets, short or long-sleeves-collared button-down shirts, fun patterned dress shirts, casual dress pants, chinos, dark wash jeans, and sensible yet casual foot-wear.
The difference between Casual Vs Smart Casual Dress code
The casual dress code is the most informal and relaxed style of dress. It generally allows for a relaxing and laid-back approach to apparel, appropriate for informal or social scenes.
While the smart casual dress code for men is a level up from casual wear, including more elegant and sophisticated elements while still preserving a comfortable vibe. It is suited for events or affairs that need a more elevated appearance.
Smart Casual Outfit Ideas for Men
Polo T-shirts
Begin with a staple and classic piece – the polo shirt. Go for well-fitted polo shirts in solid colors or muted patterns. They perfectly bridge the gap between casual and classy, presenting an elegant yet relaxed look.
Unstructured Blazers
For a hint of refinement, put on an unstructured blazer. Select lightweight fabrics and neutral colors like navy or beige. Wear it with jeans or chino pants for a smart casual getup that oozes style.
Oxford shirt
The classic Oxford shirt is a must-have in any stylish and casual wardrobe. Its versatility permits you to dress it up for an elegant evening outing or dress it down for a more casual gathering. Pair it with well-fit trousers for a more dressy occasion, or roll up the sleeves and wear it with chinos for a casual yet put-together outfit.
Chinos
Chinos are one of the best smart casual bottoms. Select well-tailored chinos in different shades like khaki, navy blue, or olive green. They can be worn with polo shirts, Oxford shirts, or even a simple t-shirt for a sophisticated and comfy vibe.
Drawstring trousers
For a modern twist, go for drawstring trousers. They present both convenience and class, making them excellent for a smart casual wardrobe. Pair them with a tailored button-down shirt or a light sweater for a trendy and comfortable outfit.
Linen shirts
In warm weather conditions, linen shirts are a wise choice. They deliver breathability and a casual, effortlessly relaxed aesthetic. Pick light colours like white, pastel blue, or earth tones for a refreshed and breezy look.
Denim Shorts
When the temperature goes up, switch your jeans for a pair of well-fitted denim shorts. They present an informal yet modern option for a smart casual summer ensemble. Wear them with a polo shirt or a linen shirt for a relaxed and chic look.
Corduroy pants
For a hint of texture, corduroy pants are a fantastic option. They add character and visual appeal to your look. Go for rich colors like burgundy or forest green and wear them with a crisp white shirt or a well-knit sweater.
Chino shorts
Stay comfortable and fashionable in chino shorts during the summer months. Pick a tailored fit and pair them with a polo shirt or a short-sleeved button-down shirt. Complete the outfit with loafers or neat white sneakers for a sophisticated look.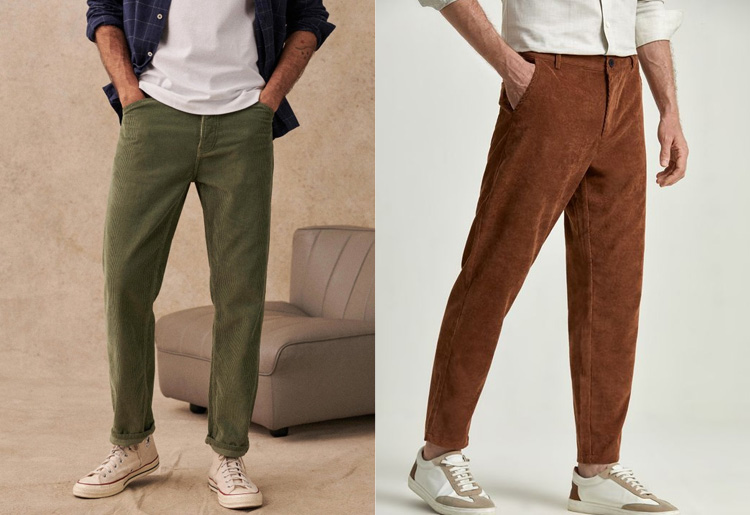 Denim jackets
A denim jacket is a classic piece that can upgrade any smart-casual ensemble. Layer it over a shirt or a knit sweater for a comfortable and trendy outfit. It is best to go for a well-fitted jacket in a classic blue denim wash.
Bomber jackets
For an athletic twist, give a chance to a bomber jacket. Pick a lightweight fabric like nylon or cotton and wear it with chinos or jeans. The bomber jacket adds a trace of urban aesthetic to your smart-casual dress.
Cotton polo sweater
In colder weather, layer a cotton polo sweater over a button-down shirt for a relaxing and refined outfit. Stick to neutral sweater colors like grey or navy blue for effortless pairing with other clothing pieces.
Sneakers
Minimalist and basic sneakers are the go-to footwear for any smart casual outfit. Go for classic white or black sneakers that can easily complement a range of wardrobe choices, from jeans to chino pants.
Sandals
For a more relaxed and casual vibe, consider a pair of trendy sandals. Select leather or suede alternatives and ensure they are in good shape. Prearrange this option for appropriate settings like beach outings or casual meetings.
Watch and Sunglasses
Finish your smart casual outfit with accessories that add a hint of refinement. Wear a trendy watch that compliments your outfit and pick sunglasses that go well with your face shape and complete your overall dressing style.
Smart casual styling tips for men
Play around with different Textures: Include different textures into your ensemble to add character and visual appeal. Wear a textured blazer with a cotton shirt or wear a knit sweater with smart trousers. Experimenting with textures can give your smart casual outfit a more refined touch.
Pick Versatile Colors: Opt for a neutral color palette as the basis of your smart casual wardrobe. Colors like navy blue, grey, beige, and white are adaptable and can effortlessly be paired with other pieces. You can add pops of colour through accessories or slight patterns on shirts or shoes.
Footwear is important: Your selection of footwear can make or break a smart casual look. Go for clean and well-maintained shoes that fit the overall vibe of your outfit. Leather dress shoes, loafers, or minimalist sneakers are excellent choices to consider.
Layering is Key: Layering pieces means wearing different pieces of clothes together in a cohesive manner. It adds depth and dimension to your ensemble while permitting a lot of dressing choices. Try layering a tailored blazer over a button-down shirt, or adding a lightweight sweater over a polo shirt. It's a wonderful way to adjust to changing temperatures and add optical interest to your ensemble.
Focus on personal Grooming: Smart casual dress code goes beyond clothing. Make sure you maintain a well-groomed impression. Pay attention to features like clean nails, a well-trimmed beard or facial hair, and tidy hair styling. These little grooming practices can make a considerable difference in your overall look.


FAQs
What are the best colours for smart casual outfits?
Neutral colour palettes are typically used in smart casual outfits as they present versatility and effortless coordination. Colours like navy blue, grey, beige, and white are famous choices. Modest patterns like stripes or checks can bring interest to shirts or shoes, but it's necessary to avoid excessively loud or vivid patterns to sustain a sophisticated look.
Are jeans appropriate for a smart casual look?
While jeans can be good in certain smart casual settings, it's essential to pick well-fitted and dark-washed jeans without extreme distressing. Wear them with a fitted blazer, a button-down shirt, and shoes to upgrade the overall look.
Can I wear sneakers with a smart casual outfit?
Yes, sneakers are a great choice to complete smart casual attire. Go for clean and minimalist sneakers in neutral colours that enhance the rest of your outfit. Though, for a more formal smart casual look, leather dress shoes or loafers are a better option as they add a touch of elegance.